After seeing Loveland, we decided to hit Dongmun market, a traditional market near our hotel that the concierge had suggested to us earlier. We took a cab there since it really wasn't worth it to figure out public transportation because we were only staying there for a few days.
It was a quick ride, and the market looked clean and inviting, but first we decided to look for a place to have lunch at in case the market took up too much of our time. We went around for about an hour, seeing only American/European brand stores and coffee shops, and a few weird restaurants we didn't care to eat at, before we finally found Han's Deli.
Han's Deli – a self-serve, fast food joint


This place was on the second floor of a building, and it seemed as though it was mostly teenagers and families with children who were eating there. It was a "self-serve" place, which means you order at the counter and wait for your food at your table, and get all your utensils and even water from a table in the corner. We could not find a single person who spoke English here, so we had to rely on an iPhone app called "Tap & Say" to ask for water. The waitresses seemed to poke a bit of fun at us, but we really didn't mind since the food was cheap (around $5 a dish) and actually delicious.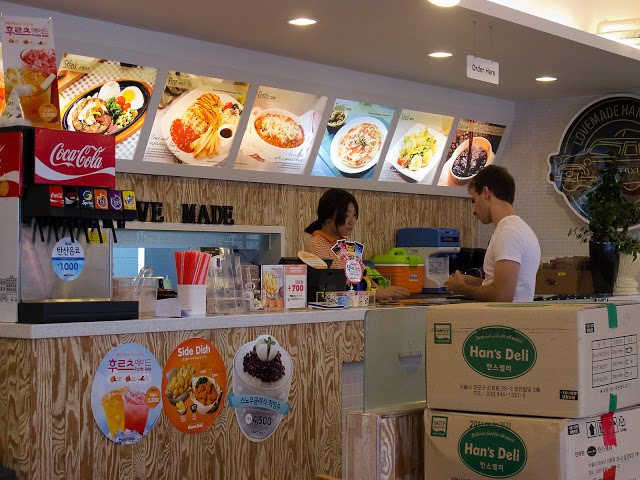 Luckily the menu was in English, and had a variety of Asian and Asian-ized Western cuisine (pasta, steak, etc.), with pictures of everything, so we quickly figured out that they had pork cutlet (which of course Mike ordered) and omurice with hamburger (which I've seen on countless animes and have been dying to try forever). Like I said, the food was really cheap, so we even ordered a fried rice dish on top of that.
Mike's pork cutlet seemed pretty plain but the breading was SUPER crunchy, even with the gravy. I believe it was made with panko breadcrumbs, but we we were already having problems communicating without me adding to the confusion by asking about ingredients.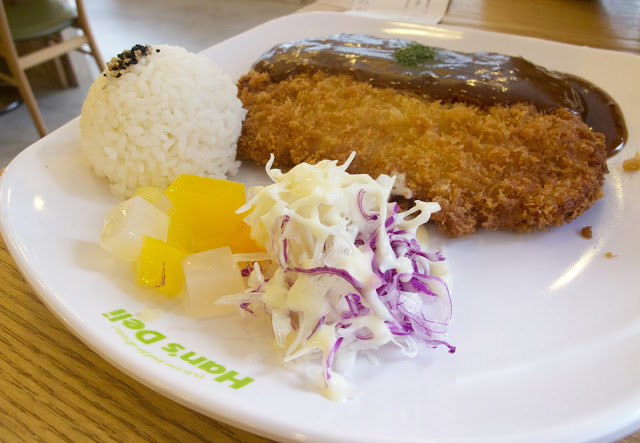 Pork cutlet @ Han's Deli
My omurice with hamburger (and strips of American cheese on top) was phenomenal. The very definition of comfort food for me. Rice, eggs, meat, cheese, and lots of sauce. The sauce was surprisingly sweet, and I'm definitely used to sweet sauces on savory meals due to my Filipino background, so this dish was the best I could have hoped for for the price.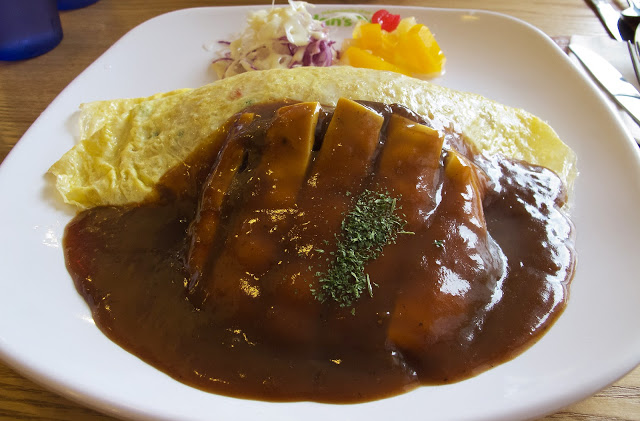 Omurice with hamburger, cheese, and gravy @ Han's Deli
The fried rice was made with beef, and topped with mayo, which seems to be an Asian thing, since I KNOW Filipinos do this and there are definitely plenty of Japanese rolls topped with mayo. This dish was still good, but not as good as the first two.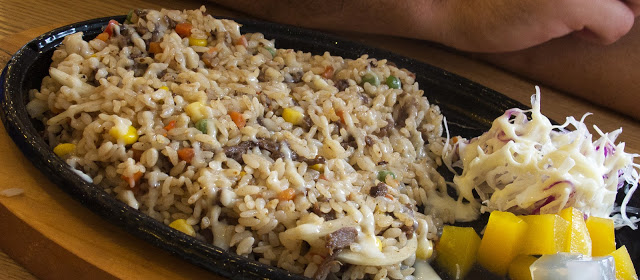 Beef fried rice @ Han's Deli
For the price we paid, we couldn't have asked for anything better than what we got.
With our bellies bursting, we headed back over to Dongmun Market.
Dongmun Market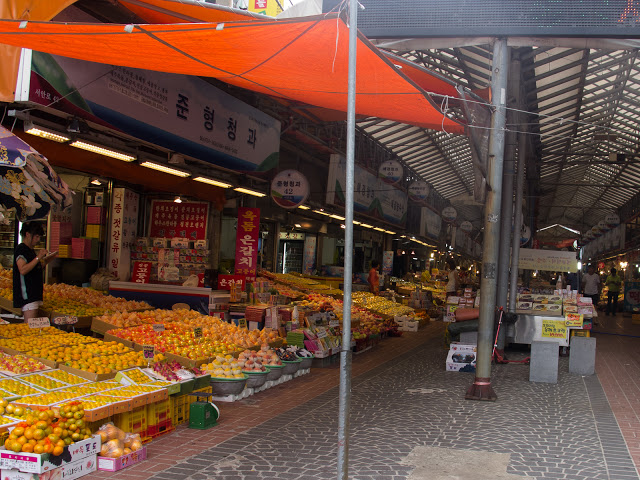 Dongmun market


The market was clean, organized, and surprisingly not crowded. There's soooo much stuff to get here. They had very fresh seafood (which is good to get if you're into that, but we really wouldn't have had a chance to cook them anyway), tangerines (a local product), and plenty of other edible treats. There are cheap souvenirs, and even cheaper local candy. I bought a box of green tea chocolates for about $3. We didn't buy any non-food souvenirs, since we weren't even sure where we could put one in our apartment at this point.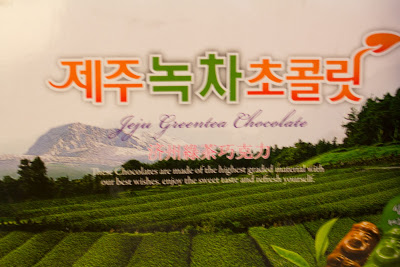 After our very brief shopping experience, we walked around a bit more to see if we were interested in anything else, but we ended up not getting anything. It was a nice stroll though, but it ended pretty early when  it started to drizzle.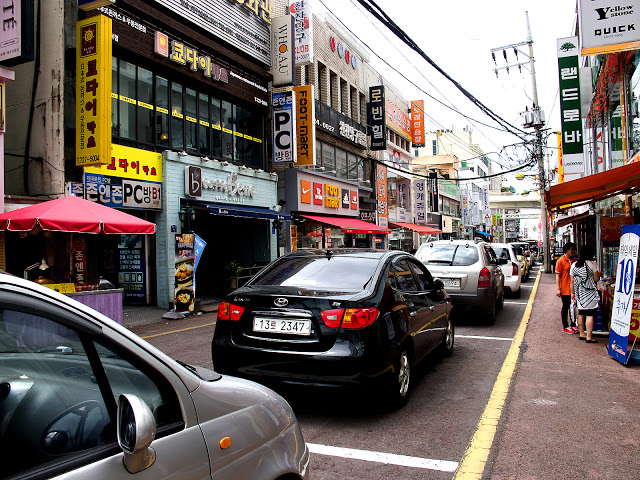 Dongmun market area
When it REALLY started pouring out, we headed back to the hotel to rest a bit, before we decided to stuff ourselves AGAIN. Honestly, what is a vacation without lots of good food?
Gwang Won/Sunny Garden – a Korean BBQ place
We had seen this on several lists of places to eat at in Jeju, and according to our concierge it is very popular. There was also NO way we wouldn't be trying Korean BBQ during this vacation.
Their site isn't very helpful, because it has no English translation, but their actual menu at the restaurant has photos and translation.
We couldn't make up our minds, so we got the mixed BBQ meats. Incidentally, this was also the priciest thing on the menu, but it was delicious, plentiful, and of course came with many side dishes, so it wasn't that big of a deal. We also had our own private room, so that was a big plus. This seems to be a popular thing to do at most of the BBQ places there because we counted quite a few private rooms.
The meat itself was fantastic. I've heard on so many kdramas that their local meat is wonderful and melts in your mouth, but didn't understand until I'd actually tried it. It really was a lot more tender than the ones I've had at BBQs here, although maybe it's all about the cut. I'm gonna have to research this at some point.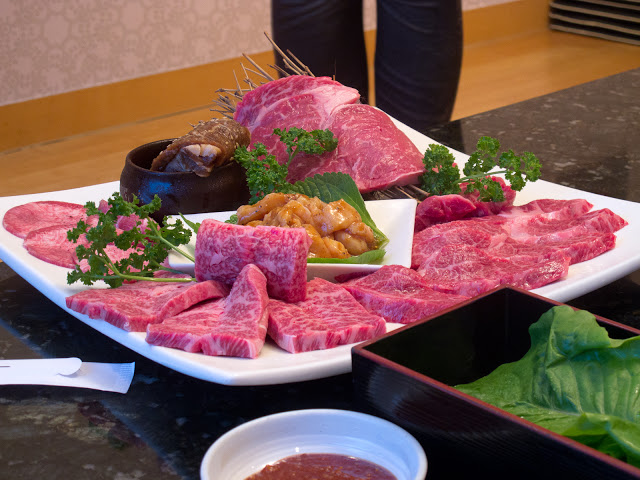 Meats to BBQ at Gwang Won
Our waitress barely spoke any English as well, but she was very good at miming what to do. I mostly knew what was supposed to happen anyway, and she seemed pleased. She started us off by cutting the meat and adding some of them to the grill, but for the most part we were by ourselves and grilled the meat ourselves. She came by once in a while to cut some more of the meat and replace the grill wire (to prevent charring on the meat).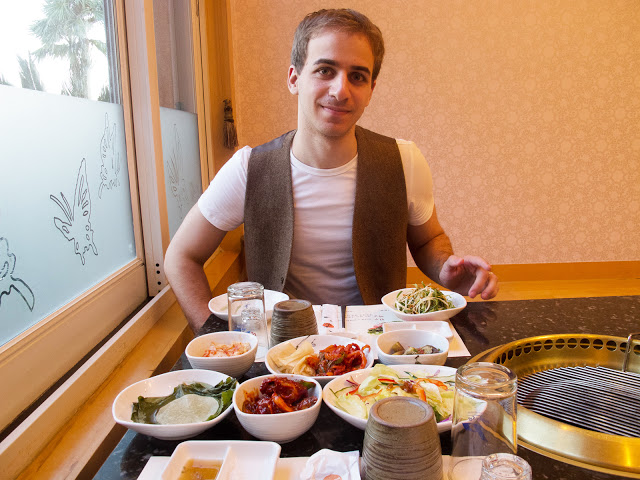 Meekle and side dishes
Scallions galore! I totally didn't mind since I love scallions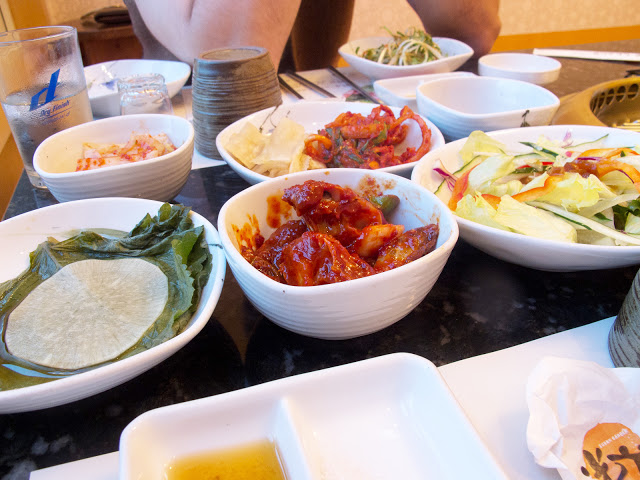 Side dishes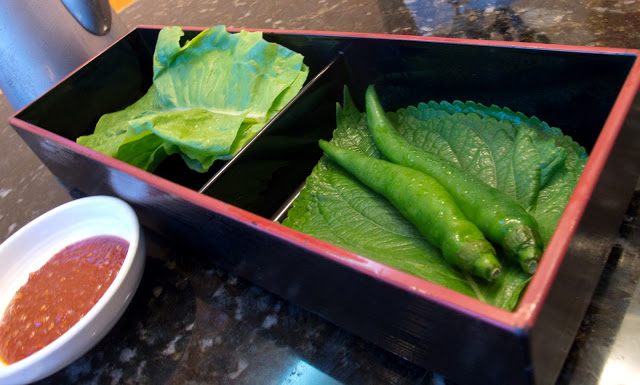 Lettuce wraps and hot peppers for those who want to kick it up a notch. Red pepper sauce on the side.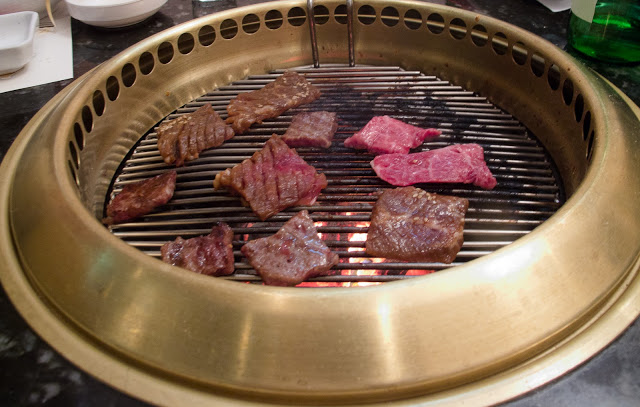 Patiently waiting for the delicious meat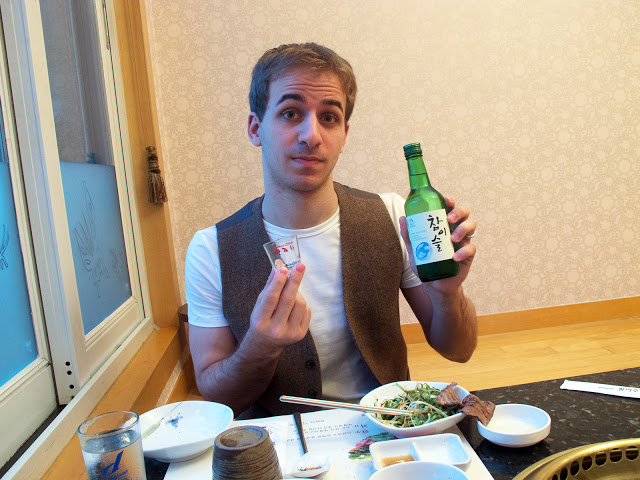 Meekle and some soju
Soju is responsible for a lot of piggy back rides and unplanned confessions on kdramas, so despite the fact that we're married and do not need soju to confess our feelings (although some coaxing is needed for a piggyback ride), we decided to give it a try anyway. It's a distilled liquor usually made with rice, but can also be made with other starches. It is usually compared to vodka, although I find the taste to be sweeter and also that it goes down smoother, at least for the brand that we tried. The fact that it went down smooth with no horrible aftertaste did not stop us from getting home mad drunk, however.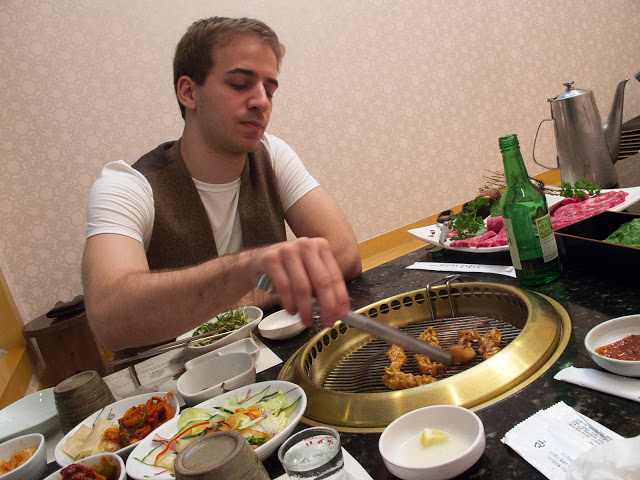 Meekle doing some grilling
Unfortunately (or fortunately?), Gwang Won messed up our bill because it seemed someone thought the 1 was a 7 on our bill, therefore we almost paid 700 dollars for a 100 dollar dinner. They corrected it immediately, but since they felt bad about the mishap, they sent us home in their own van. It was dark and raining pretty hard outside by the time we headed home, but the place was still gorgeous. All in all a great experience, even considering the bill issue.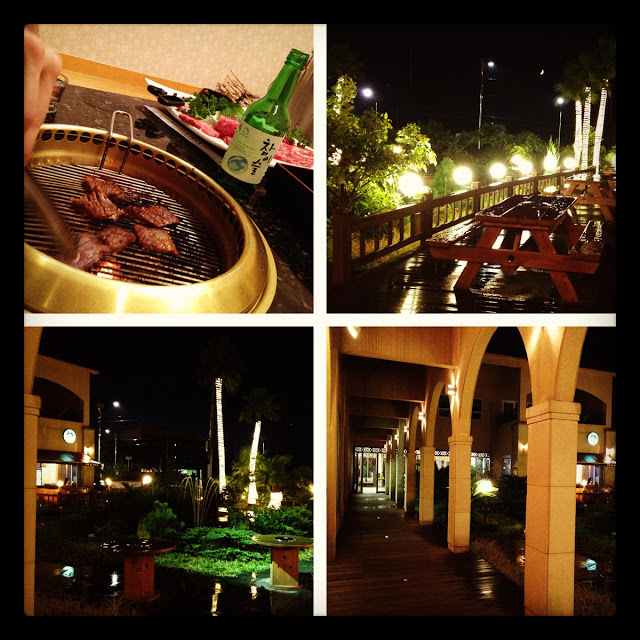 And the day ended there, because apparently they weren't exaggerating about the effects of soju.
Related Entries:
Not Bored in Manila 2012, Day 1 – Mesa Filipino Moderne, Fort Santiago, and Travel Woes
Not Bored in Jeju Island 2012, Day 1 and 2, Part 1 – Airport and Hotel Food, Jetlag, and Jeju Olle Trails Route 7
Not Bored in Jeju Island 2012, Day 2 Part 2 – Loveland Museum
Not Bored in Jeju Island 2012, Day 3 Part 1 – Hallim Park and Jeju Olle Trail
Not Bored in Jeju Island 2012, Day 3 Part 2 – Spirited Gardens, Locadio World, Mt. Sanbang, and Cheonjeyeon Falls
Not Bored in Seoul 2012, Day 1 – Myeongdong, More Korean Food, and Hangang River Park
Not Bored in Seoul 2012, Day 2 Part 1 – UNESCO World Heritage Day Tour
Not Bored in Seoul 2012, Day 2 Part 2 – Hwaseong Fortress and Insadong
Not Bored in Coron, Palawan, Philippines, Part 1: Club Paradise