I usually make 1 post per day as a rule, but this vacation was such an active one I'm forced to separate my entries per activity. Except for that first day in Jeju where we fell asleep for 5 hours after getting to the hotel, but woke up just in time for dinner. 😉 So this post is mostly about hiking part of Route 7 of the Jeju Olle trails, with the addition of that failed first day.
Day 1
We flew from Manila to Incheon Airport in Seoul via Cebu Pacific airlines at 1:15 am on August 20th and arrived in Seoul at 6:00 am. Surprisingly, all four of our Cebu Pacific flights for this entire trip were on time (or early)! I had booked a 10:00 am flight to Jeju from Gimpo Airport (also in Seoul) because apparently, I thought we we'd be so slow it would take us four hours to get from one airport to another. The train ride is actually only about 30 minutes, but of course I had to add time for getting luggage, figuring out the airport rail, going through security again, and optionally, getting lost. We ended up figuring out how to get to the train and pay for tickets surprisingly fast (yay non-native New Yorkers!), and actually spent a good two hours of our time lounging around at Gimpo. During that time, the following things were consumed:
Iced Cocoa Cappuccino from Starbucks, Korea – My friend Katie noted that it's funny how they just had to add Korea to the title. I think everyone knows they're not in Kansas anymore, judging from the strange symbols and the fact that my coffee cost me 4,900. Also what's with "cocoa cappuccino"? I guess that's what mochaccinos are sometimes called? The drink was good as I've come to expect from Starbucks everywhere. My only regret is that I did not order the green tea frappuccino with red beans.
Cappuccino Donut from Dunkin Donuts – I guess people in Korea like coffee so much they made a coffee-flavored donut to go with their coffee. Looking back, I've realized this was a taste of what was to come, since while I was there, I probably drank 4-6 cups of coffee every single day. What can I say? I love coffee, and it was being sold EVERYWHERE. You know how vending machines here always have water and Coke? There they always have canned coffee. Or even HOT coffee. In fact I got a can of coffee from a machine at the very start of our Jeju Olle trail hike, and at the airport, and in the middle of walking up 400 or so steps to a buddhist shrine in a cave on the face of a mountain.
You're also probably wondering why in the world we had Dunkin Donuts while in Korea. We discussed it as a joke at first, when we first saw the sign. But as we perused their selection for anything new and/or weird, we realized how many unique and delicious looking items they had on the menu. Not only that, everything looked fresh and perfectly glazed, as opposed to the 2-day old, half-glazed, depressing crap we usually get in NYC (which we eat anyway, btw).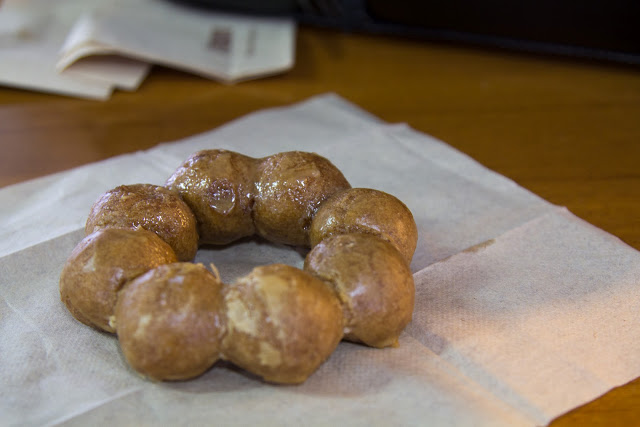 Cappuccino donut @ Dunkin Donuts Korea. Mike had a honey bun, which he devoured while I was taking shots of this
Ramada Plaza, Jeju
Upon arriving at the Ramada Plaza, Jeju (after having to call an English translator to tell our cabbie where to go), I took some photos of our room. You'll probably notice there aren't any more photos of the Ramada, and that some of my Jeju photos are not of the best quality. That's because earlier in our trip I realized that I committed one of the worst errors a budding photographer (right!) could make while traveling overseas: I forgot to bring the charger for my camera battery. And there was no store that sold it in Jeju. So some of the trail photos were taken with my Canon G12 compact camera. I have to admit my G12 still did quite a decent job.
This hotel was actually massive, and has three restaurants, 1 cafe/bakery, and 1 bar/cafe/restaurant combo. It was definitely built with conventions and big elaborate parties in mind. The only downside to it is that it's on the northern side of the island (Jeju City), while most of the attractions are on the southern side (Seogwipo City).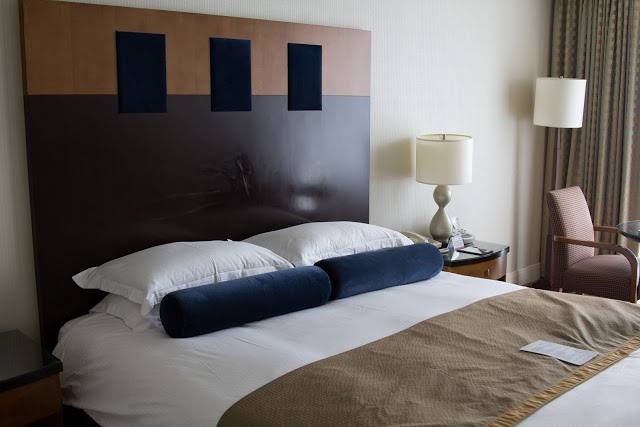 Ramada Plaza, Jeju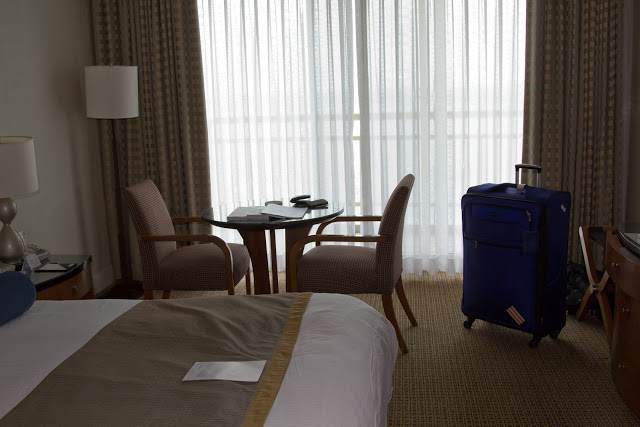 Ramada Plaza, Jeju. Featuring our new travel luggage. LOL.
This balcony faced the ocean, I opened the curtains wide and did yoga 2 out of 3 days there. 🙂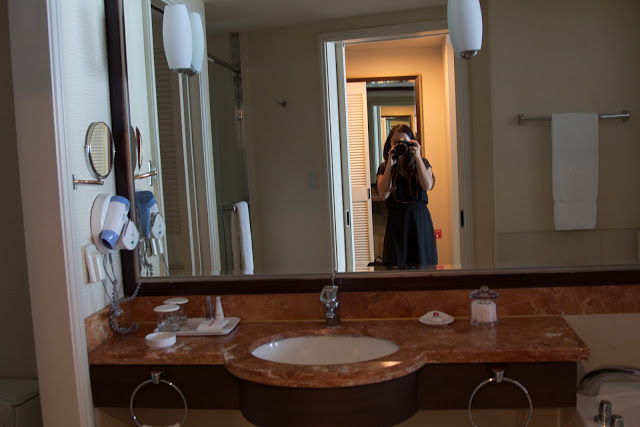 Bathroom self-portrait.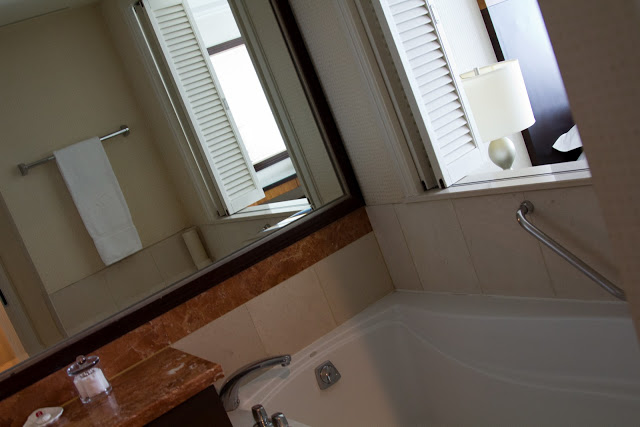 I'm not sure why there was a window opening to the bedroom.
Maybe so you can have conversations while one person is in the tub.
After hanging around and planning what to do the next day, we decided to take a nap before heading out.
….
We woke up 5 hours later.
It was around 8 pm when we woke up. Since it was a bit too late to go elsewhere, we decided to have dinner at one of the cafes in the hotel. This sounds super boring, but the food was actually fantastic. In fact everything we had in that hotel including their breakfast, lunch, and dinner buffet, was really good.
Abalone Seafood Omurice – I had the fried rice with abalone viscera and flying fish roe wrapped in a thin omelet with chili shrimps. In other words, I had a seafood omurice (any fried rice wrapped in a thin omelet). Abalones (the sea creature, not mushroom kind) are a big source of income for Jeju locals. There used to be a lot of women divers (called haenyeo divers) that make money off of collecting and selling abalone, but now there are only a few left. It is still possible to find/watch one of them and have freshly caught, raw abalone, but we weren't able to do that (there's a LOT to do on Jeju, depending on your tastes). So I had to settle for this, and some abalone porridge for breakfast the next day. I have to say I definitely have no complaints. I've never had seafood omurice before, and this definitely was a good first try.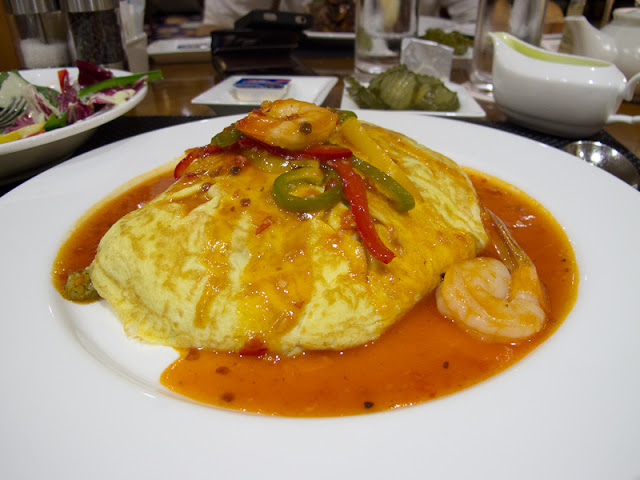 Abalone Seafood Omurice @ Ramada Inn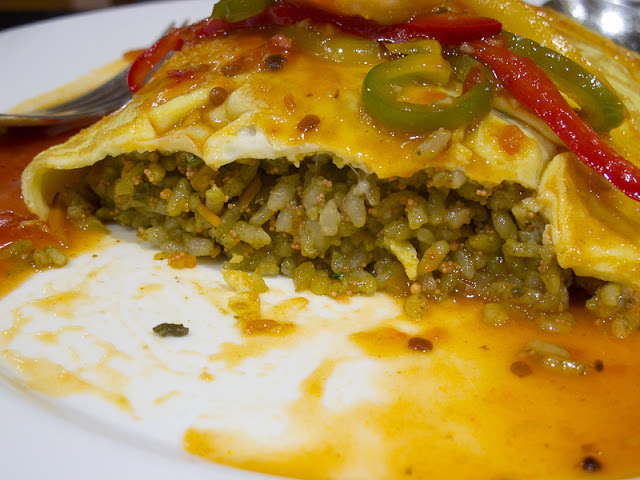 Yummo.
I also had a side salad, because at this point I was still pretending to be somewhat healthy. It of course, tasted like rabbit food, but it looks pretty. 🙂
Steak with mushroom gravy and mashed potatoes – Mike had some kind of steak (SUPER tender and perfectly medium rare) with mushroom gravy (DELICIOUS). It was so good he wanted it again the next night, but of course I dragged him to a Korean BBQ place instead.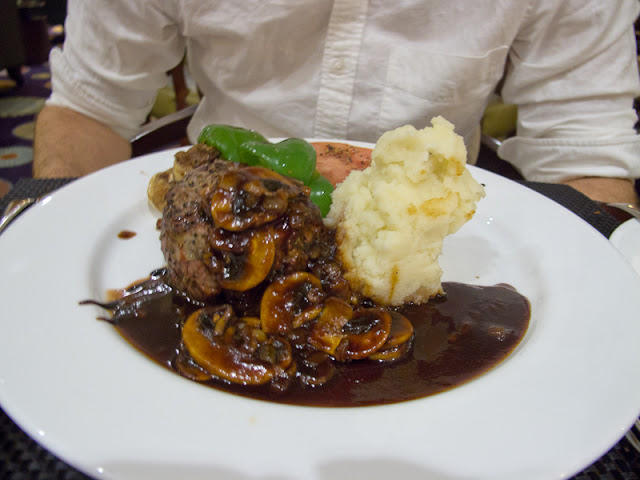 Steak with mushroom gravy and mashed potatoes
And with that, and some photo editing as I drank a big cup of Viennese coffee (purrrrrrrrrr), we ended the day.
Day 2
We woke up not-so-bright and ridiculously early the next day. Early as in we were out the door in a cab at 5 am. The cabbie was surprisingly upbeat the whole ride, and kept trying to teach us a few words in Korean. He taught us the proper pronunciation of Seogwipo (which I forgot the minute we left Jeju of course, 🙁 ), Oedolgae (weh-dol-ge, the start of the hiking trail/route we were about to go on), and of course "annyeong haseyo" or a formal "hello", which anyone going to Korea should learn at the very least. It was about a 30 minute drive to the southern part of the island, so he got to show us a few sights that could still be seen in the very grey light of dawn. He taught us that they call Mt. Halla (the tallest peak in Korea, right in the center of Jeju Island) Halla-san. He gestured to a green tea farm (I'm not sure why I thought it was one, since he was mostly speaking in Korean), and then let us blearily stare at other stuff in silence the rest of the time. I will remember it fondly as a very pleasant cab ride. I surprised him with a "kamsahamnida" or formal "thank you" before we got off.
Jeju Olle Trail Route 7


The olle trail was inspired by the Pilgrim's Trail in Spain. It snakes all the way across the southern coast of the island. There are 12 routes (or sections) displayed on their site, but I believe they've added quite a few. Each of them are around 15 km (or 9.3 miles) long. I chose this trail because it mostly goes on the coastline, and that's really what I was interested in.
The trail starts at Oedolgae rock, known as a shooting location for the drama "Daejanggeum" or "Jewel in the Palace", which I surprisingly have never seen. It is a bit of a shame, since I also by chance went to more of its shooting locations in Seoul. I really need to get to seeing that at some point.
Anyway, so there we were right at the start of the trail. There are various food stalls there (all closed at the time), but for the crazy early hikers like us, they at least had a few vending machines, where we grabbed some cans of Gatorade and coffee. I kept taking photos of Mike as we were about to leave.
I was taking so long he started gesturing for us to go.
Then he realized he should probably take photos of me too. Which I did not have any problems with.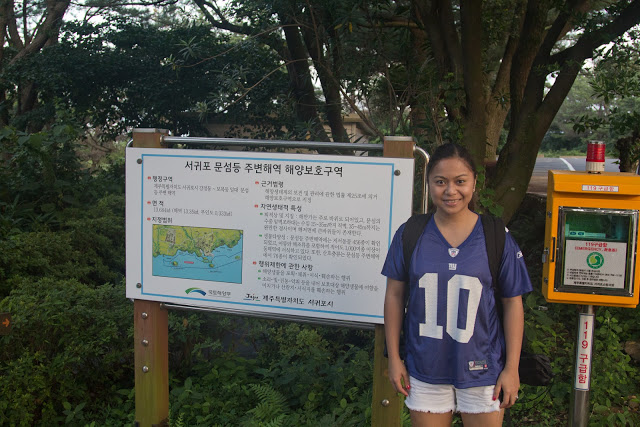 In front of one of many signs on the trail that were almost completely useless to us.
Seriously, why did I not try to learn Korean as I had planned?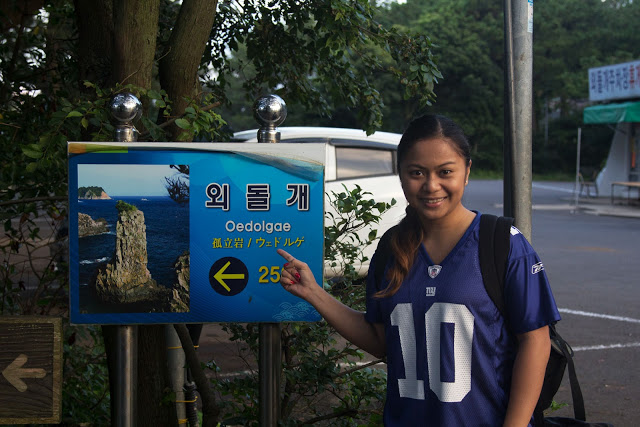 Look, this is where we are!
And so we started our hike, and when the path opened up into cliffs with views like this, Mike conceded that it was worth it to have taken a 30 minute cab ride to go hiking. If you don't want to do that and you're going to Jeju, I suggest staying somewhere in Seogwipo. Or get an international license so at least you don't pay a fortune ($25 to go from north to south).
Here is the actual Oedolgae rock (lonely standing rock):
After me taking about a million photos of this, we went on our way. At this point I'll mostly let the photos speak for themselves. 🙂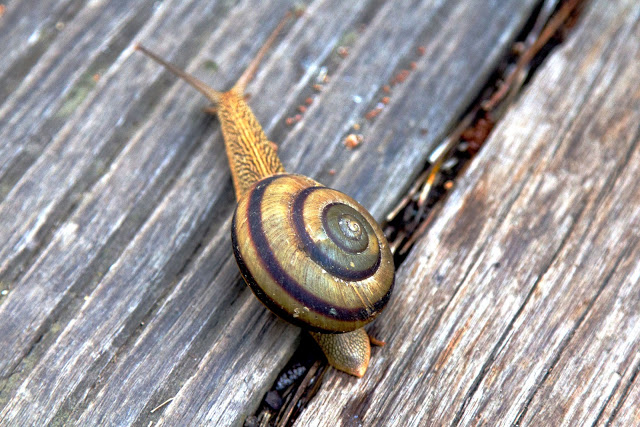 I love random wildlife that won't have a chance to fly into my face or crawl up my leg
Scattered here and there on the trails are several resorts. We ran across one of them that had some stone sculptures in a backyard facing the trail. Mike was interested in this one. Too bad there was some tape that ruined that photo.
After walking across a wooden path for quite some time, we got to a weird place in the route. The wooden path ended, and the arrows were quite confusing. Then there was also this staircase that led down to a bunch of rocks on the beach.
There were a few people scattered way down across the rocky beach, but we figured the trail probably didn't go across a rocky beach. Or did it? We went back and forth but weren't sure where to go. At least there was a big building with restrooms at that point. The trail flags weren't much help either.
These are scattered across the trail so hikers know they're on the right track, but it also went down to the beach. Sometimes they take the form of painted arrows on roads, walls, light posts, or wherever people's eyes might be drawn to. We found an arrow leading up to a residential area, and a little path that went into a forest. After judging that the little path was too scary, we went back and began following arrows into town. At this point I stopped taking photos to save batteries and because there really was not much to see.
There were a few convenience stores on the first road we walked on. We bought a couple bottles of water from one. The owner didn't speak English, but was able to convince us to buy bottles of ice water instead of just cold water. He mimed putting the bottle against our necks and cheeks, which cooled us along the way and also served to thaw the water but keep it cold longer. I guess he had judged us to be hikers from how sweaty and tired we looked. FANTASTIC idea, btw.
We walked a few roads at this point and experienced the following:
1. We saw a girls' high school (where Mike was stared at quite a bit)
2. We saw a tangerine orchard (Jeju is also known for its tangerines)
3. We got barked at by a dog without a leash, whose owner laughed and shouted "mung mung mung!" to us (mung mung is the Korean equivalent of woof woof or arf arf), which pleased me to no end since I love "barking" mung mung even though no one understood what it meant except Mike and Mshel, and now YOU
4. Saw a few of these weird looking trees.
At the end of the road part of the trail was a path across a stream emptying out into the ocean. I thought the fact that you have to go across these little stone blocks was interesting, though Mike was afraid for my DSLR the entire time I was crossing. This was in fact one of the lesser dangers that faced my camera on this trip.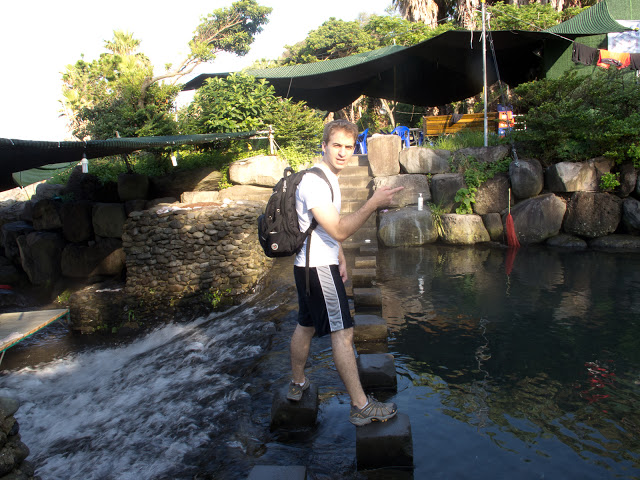 Mike letting me know there's a great view on that side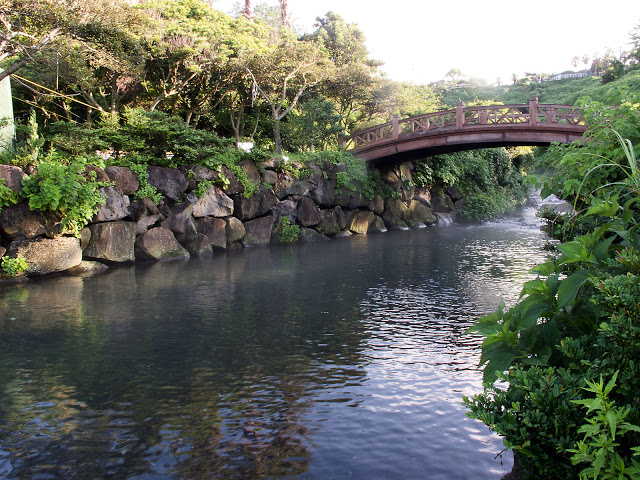 This is what he was talking about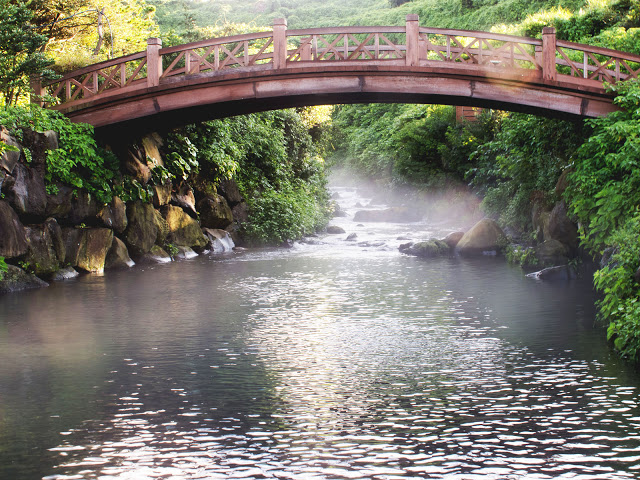 Waaaahhh…
On the other side were these tables facing the ocean. From what I've gathered from Kdramas, these tables are used as a table/seating combo. People sit near the edges, with the food and/or alcohol and/or playing cards in the middle. I assumed these were owned by the restaurant across the stream, which was not open at the time. Of course, I could be completely wrong ;P.
Across the stream there was a path to a bridge that wasn't part of the trail, but it looked pretty so we hung out there for a bit.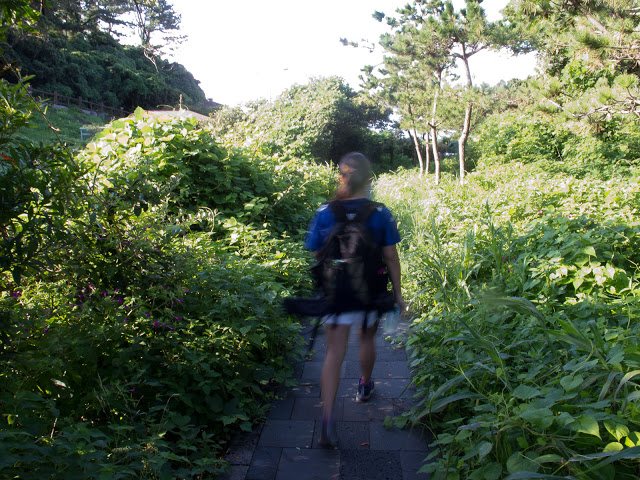 Me in action!
We continued to sweat across a somewhat rocky dirt road, up and down a few hills with only jagged rocks (and more blue arrows) to show the way, seeing lots of beauty everywhere.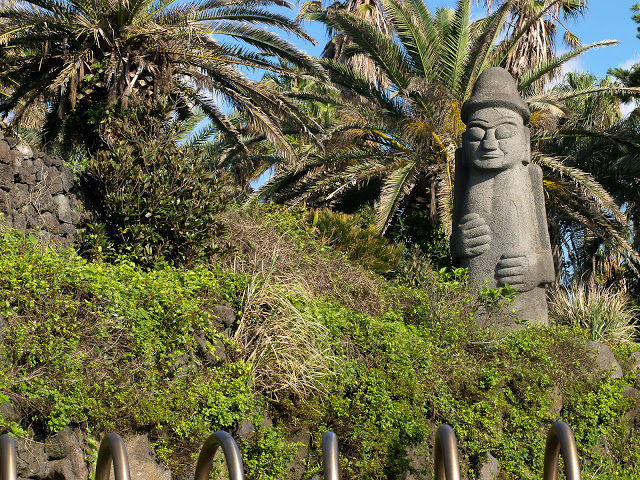 The statues are called "dol hareubang" or "grandfather stones". They are everywhere on the island.
They're made with volcanic rock and are supposed to be for protection and fertility. Our tour guide
the next day said that the back side of them looks like a penis. Yes she said that.
After that very long leg we came across another stone path leading to a fishing village.We were again confused as to where we were supposed to go, because as usual, the map there did not have romanized titles. I cannot stress enough the importance of printing out an English map if you ever decide to go on the olle trail in Jeju.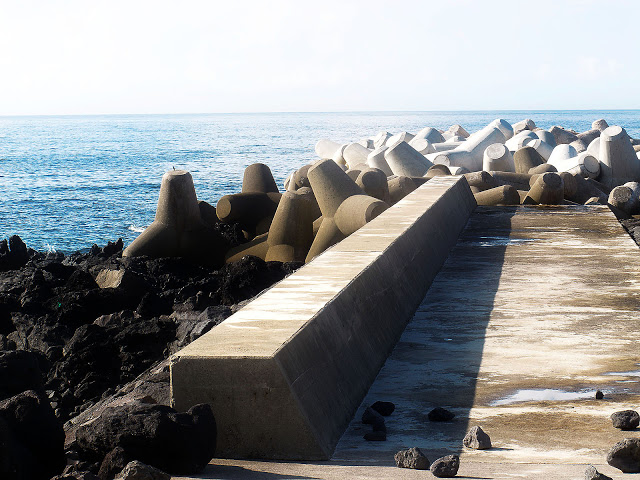 I've seen these massive stones that look like jacks several times on Jeju, and other places in Kdramas.
I guess they make an artificial jetty of sorts.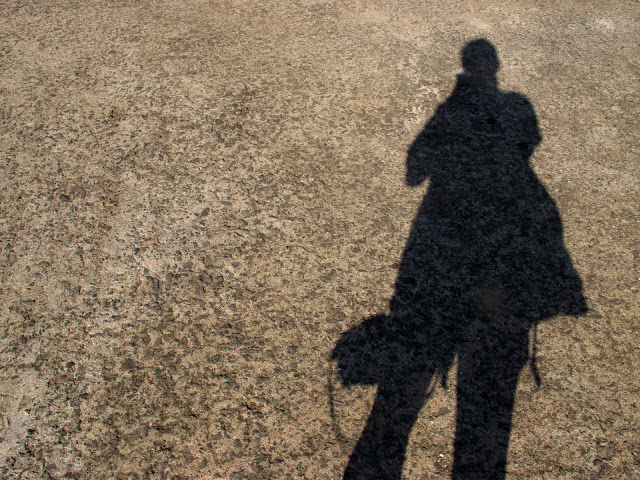 The sun at our backs.
Exhausted and confused about where to go next, we decided to go up a promising road to look for a cab to get to where we wanted to have breakfast. This was at around 9 am. We could find no cabs, but we did find a clean and modern-looking hotel that had signs in English. Desperate to find someone who could could call a cab for us, we went into the breakfast area and found that the guy at the counter spoke perfect English.  Mike immediately judged him to be Australian from his very generous use of the word "mate", while I not-so-discreetly eyed the 3 steaming pots of coffee by the entrance. He called a cab for us and while we waited, he let us sit and even offered cups of coffee. The place was also gorgeous and well-kept. So if you ever want friendly service at a nice hotel near one of the olle trails, book your stay here: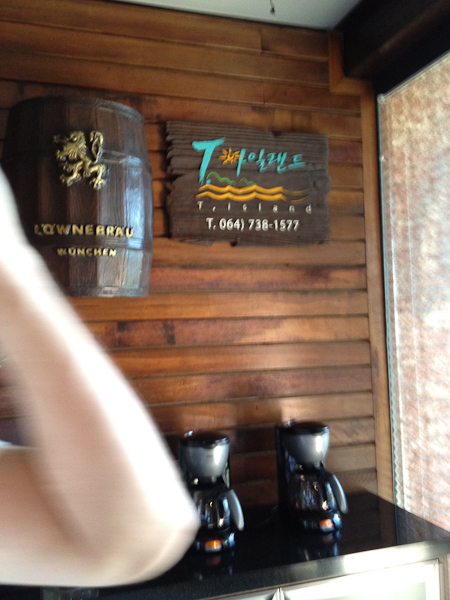 Yes I'm perfectly aware of how terrible this Iphone photo is. I felt too shy barging in without paying
and taking photos while everyone else was having a peaceful breakfast. I think
it's called T. Island (Tamna Island is what they used to call Jeju)
Pumped with coffee and well-rested from a cab ride, we got to our breakfast spot.
I had tried not to make the entire Korea trip all about visiting Kdrama spots, but since we needed to have breakfast anyway and this was near, Mike agreed to go. It was a shooting location for many popular Kdramas such as: Boys Over Flowers, Snow Queen, Goong, and Secret Garden. We unfortunately were not able to see most of the resort since they reserved most areas for guests only. But what we did see was still beautiful.
Good morning Olle HAPPY HOUR.  Awesome.
Though I think the drinks sold were health/energy drinks for hikers.


Despite obsessing over camera settings in the previous photo, I couldn't get a decent enough shot of the bench from the kiss scene in "Secret Garden". Mike offered to mimic the scene with me. I said I wasn't quite that cheesy. I kinda wish I decided to be at the time.
And then we ended that part of the morning with some abalone porridge and spicy noodle soup, with an American breakfast on the side. We had a hard time telling the waiter we wanted to order three sets. LOL.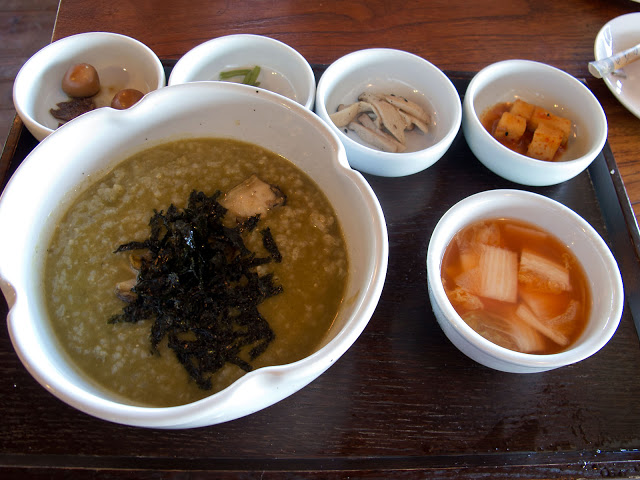 Abalone porridge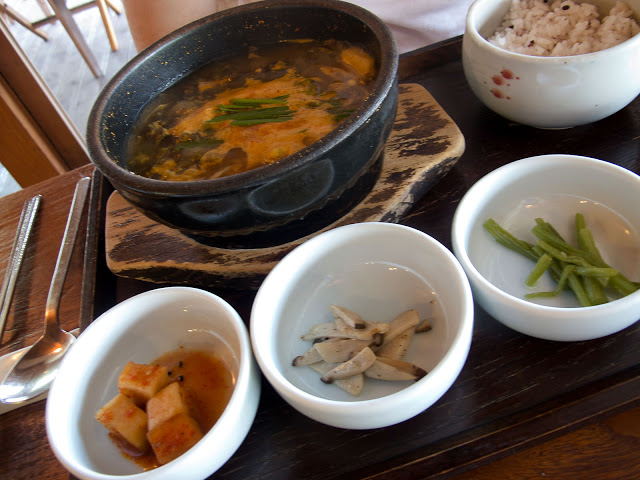 Spicy noodle soup
This was hardly the end of day two. I think it was 10:30 am when we finished eating. The next part is completely different though, so you'll have to wait for that entry.
All in all this was an amazing hike. I really wish I were a better photographer to show you how gorgeous it truly is there, and that I had more time to spare just going through all the routes. But for now, this will do. 🙂
Related Entries:
Not Bored in Manila 2012, Day 1 – Mesa Filipino Moderne, Fort Santiago, and Travel Woes
Not Bored in Jeju Island 2012, Day 2 Part 2 – Loveland Museum
Not Bored in Jeju Island 2012, Day 2 Part 3 – Dongmun Market, Han's Deli, and Gwang Won (Korean BBQ)
Not Bored in Jeju Island 2012, Day 3 Part 1 – Hallim Park and Jeju Olle Trail
Not Bored in Jeju Island 2012, Day 3 Part 2 – Spirited Gardens, Locadio World, Mt. Sanbang, and Cheonjeyeon Falls
Not Bored in Seoul 2012, Day 1 – Myeongdong, More Korean Food, and Hangang River Park
Not Bored in Seoul 2012, Day 2 Part 1 – UNESCO World Heritage Day Tour
Not Bored in Seoul 2012, Day 2 Part 2 – Hwaseong Fortress and Insadong
Not Bored in Coron, Palawan, Philippines, Part 1: Club Paradise