Guest Photographer: Mshel Reyna (Mesa restaurant photos from our previous trip)
Our vacation did not start out well. Our flight coming from New York was delayed so we had to rush through Hong Kong to get to our next flight, then our luggage wasn't on the plane with us so we had to wait around 3 hours for it. This is the short version of all our travel woes that day, but I figure you probably don't want to read about crappy airport experiences too much. By the time we got out of the airport we were starving, so my aunt and brother took us to a very popular roadside Filipino BBQ place where you can sit and stare at them cooking your food while you wait. We ordered the chicken, pork, and chicken intestines.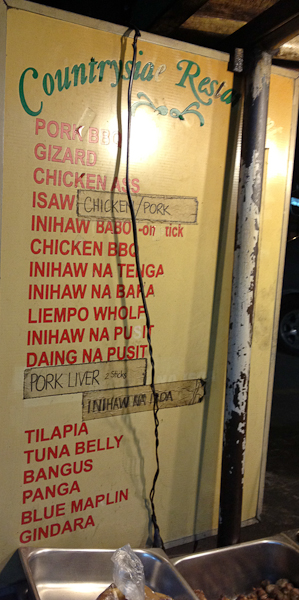 This seems like a pretty boring menu, until you look closer and read "chicken ass"
The food was excellent, but due to how popular the place is (note that this was at around 1 am and the place was packed with people hanging out and drinking or waiting for their orders) we didn't get home until around 2 am. Of course, not having seen my family here for 7 months, I had to have a chat with them. So by the time we went to bed it was around 3 am.
We woke up at around 6 am. I did my workout at home (which was doubly difficult with the jetlag, little sleep, and humidity), and then we headed out to the mall so Mike could go to the gym while I waited for my friends to arrive.
Mesa Filipino Moderne
Our first sit-down meal out was at Mesa Filipino Moderne, my current favorite Filipino restaurant. They do mostly traditional Filipino food, with a few flairs here and there and much better presentation than at your regular Filipino restaurant. I have to eat here every time I come back to Manila, and I somehow always end up having a meal here with my best friend, Mshel. Mike and I were both trying to be somewhat healthy so we ended up not ordering half the menu as I always end up doing. We went went there a second time on the last leg of our trip and ordered mostly the same stuff, with the addition of the boneless crispy pata (deep fried pork leg) and crab in salted egg, both of which I decided were safe to order post-beachtime. I've added a few photos of some of our old orders here, since I haven't actually blogged about them yet.
Crispchon, two ways – Our first order of business was to get the quarter crispchon (crispy lechon/roast pig), two ways. The version in rolled up pandan crepes is Mike's favorite. The other two ways you can have it are not that good, but we had no choice but to pick one, so we chose chili garlic. The crispchon is reminiscent of duck rolled up in crepes, but the skin is sooo much crispier. The crepes come with three sauces: garlic mayo, hoisin sauce (i think?), and the classic liver sauce (or Mang Tomas).
Duck basil fried rice – This dish is always fantastic. It has the texture of yellow rice, with a touch of sweetness and of course plenty of duck.
Tofu sisig – This is one of my (and Mshel's) favorites, so of course we had to get it. Sisig is originally a dish made with chopped up pig parts (usually face/liver/ears), served on a sizzling plate. It's seasoned with vinegar, boiled and stir-fried, and topped with any of the following optional ingredients: chili, onions, calamansi juice,  and/or mayonnaise. Tofu "sisig" is of course made with tofu, and is a bit sweeter than regular sisig.
Braised beef – I thought this was a bit too salty, although it might have been because we were already having duck fried rice. This would probably be better with some plain rice.
Pinakbet – This is one of my favorite vegetable Filipino dishes. Of course, it's not ACTUALLY vegetarian, since it's usually made with shrimp paste, but it allows me to get some vegetables into my system and actually enjoy it. This one was served inside a squash shell to get a cornucopia effect.
On our second visit for the trip we also ordered the following, which I think are two of the best dishes there, though it's really hard to pick out of all the crazy deliciousness they have going on:
Boneless Crispy pata (deep-fried pork leg) – This is an absolute Filipino classic. It's usually served bone-in, but I prefer the more modern boneless version. This one has melts-in-your-mouth-fat sandwiched between skin crisped to perfection and uber tender meat. It's topped with scallions, lots and lots of fried garlic, and some chili.
Crab in salted egg – Salted egg is another Filipino staple. We have it for breakfast, lunch, or dinner. It can be a simple meal together with some chopped tomatoes and onions, a little vinegar, and some rice. It can be served in a salad with those same ingredients, and/or a little julienned green mango. I usually don't like having crab unless it's in cake form because I hate having to work to get to my meal (hence the preference for boneless crispy pata), but this dish makes it worthwhile. I've never had crab sauce this good. In fact I would eat just the sauce over a bowl of rice any day.
Some of our previous orders are:
Hito (catfish) flakes on a spoon – This dish is good as an appetizer. I never seem to get enough of it because of the combination of the salty and crispy fish, the sweetness/sourness of the mango strips and the kick of the tiny slices of red pepper.
Sisig in a pouch – This is true sisig wrapped in thin crepes and deep fried. This looks and sounds amazing but it's actually quite a challenge to eat. I would associate the difficulty of eating this with eating a hard taco. It can get pretty messy. I prefer to eat sisig the regular way.
Chicken and pork pochero served with eggplant salad – Pochero is a tomato-based stew, usually made with bananas, which makes the stew a tad sweeter (if you're not Filipino you'll notice we like to add a touch of sweetness to a lot of our savory dishes). This was as yummy as any pochero I've ever had, although that's not really saying much because I don't think I've ever had one that I didn't like :). In general I LOVE a good stew, and it's not difficult to make chicken uber tender when doing a stew.
Pinakbet with bangus (milkfish) belly – I used to get excited over grabbing the belly parts of any bangus dish that was served. The taste is similar to the belly end of a salmon steak, but there's usually a smaller portion of it. It's now easier to have it since a lot of restaurants serve dishes with JUST the belly, but that doesn't make it any less delicious. This version of pinakbet is the original one served at Mesa, and they added the other cornucopia one this time.
Fried bananas with caramel sauce (turon) and langka (jackfruit) ice cream – I can't find the actual name of this dish so I just described it myself. I don't usually order turon but Mike loves getting them at Thai restaurants so we ordered this last time we were in Manila. The turon was really good, judging from the way he inhaled the dish. I also thought the ice cream was delicious and refreshing.
After lunch we hung out at a coffee kiosk at the mall, waiting for our other friends so we could head over to Fort Santiago to do a walking tour. Mike was amazed at the fact that there were so many places to hang out at at the mall. There were sofas, tables, and chairs everywhere. I told him Filipinos love hanging out at the mall because they can escape from the heat (most people don't have central air, or any kind of airconditioning for that matter).
Fort Santiago
Finally complete, we headed over to Fort Santiago. Here's what Wikipedia says about this fort, which is pretty accurate as far as I know:
The fort was named after Saint James the Great (Santiago in Spanish), the patron saint of Spain, whose relief adorns the façade of the front gate. It is located at the mouth of the Pasig River and served as the premier defense fortress of the Spanish Government during their rule of the country. It became a main fort for the spice trade to the Americas and Europe for 333 years. The Manila Galleon trade to Acapulco, Mexico began from the Fuerza de Santiago.
This fort is also where Jose Rizal, the Philippine National Hero was imprisoned before he was executed in 1896 for treason against the Spanish regime.
There was quite a bit of traffic, and we didn't make it on time to start the walking tour we had intended to go on with everyone else, and we immediately felt too lazy to walk around with what looked like over 50 foreigners who were already on the tour, so we ended up just going around by ourselves. Fort Santiago is actually pretty boring without a guide, but we did get some decent photos out of it.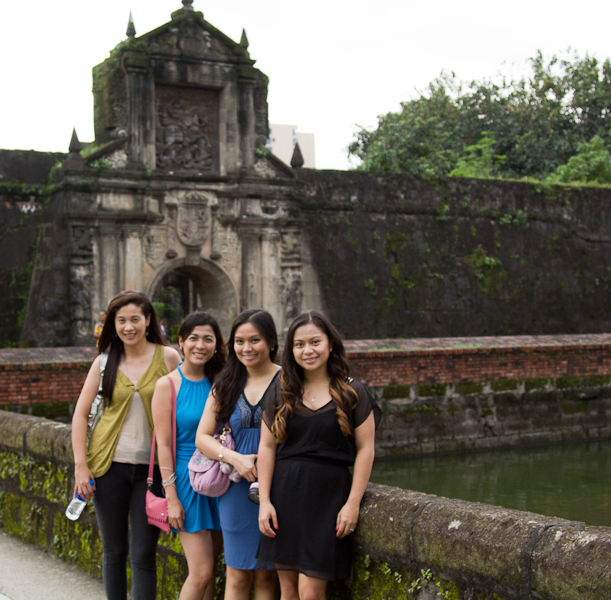 SLAM! (Steph, Lia, Ash, Mshel)
It's ok if you think that's nerdy. We're all computer science graduates after all :).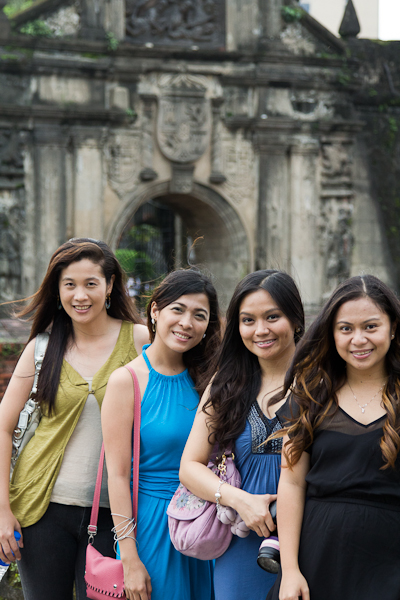 Hair blowing in the wind
Mike and me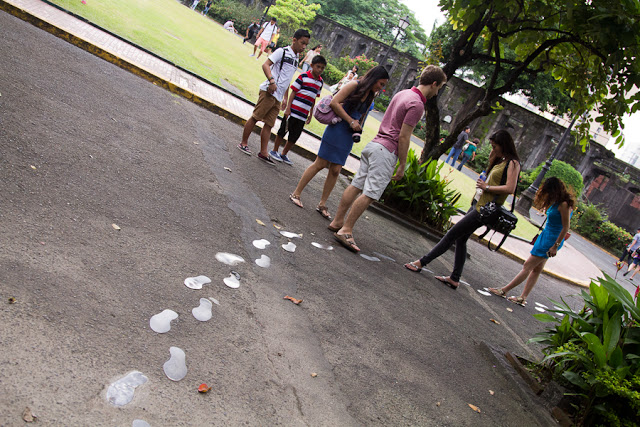 I lagged behind everyone a bit to take this cute photo
More narcissism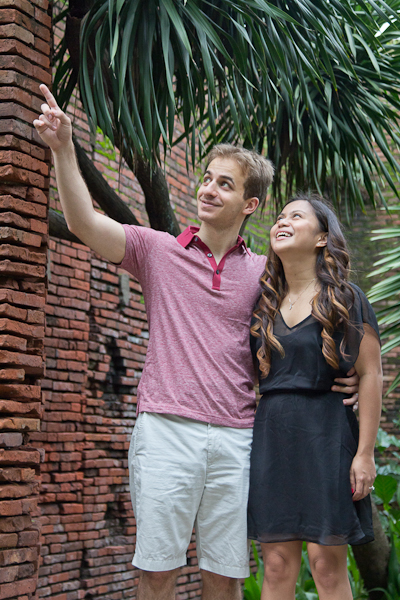 I was actually trying to get Mike to pose properly in this photo. It ended up being rather cute.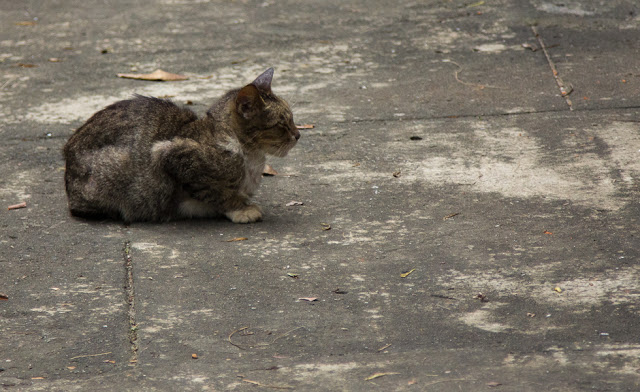 Random stray cat. You should expect more photos of stray cats we saw during our vacation.
After that we (by we I mean I) was in the mood for some karaoke. I wanted to show Mike how awesome karaoke bars are in Manila so we went to Red Box in Greenbelt. That was a complete failure, since the experience was definitely a lot less nice than it used to be. First of all they did not have song lists, so we either had to think of songs off the top of our heads, or pick from the hit list. The menu was also very difficult to navigate. It was so bad that the photos I took there somehow got lost/deleted as I imported photos to my laptop, so I unfortunately have none to show. The two good things we got out of the room were 1) Mike was able to sleep after 48 hours of barely sleeping on the plane and 3 hours of sleep in Manila, and 2) My friends Mshel, Steph, Lia, and I found out, after around 12 years of friendship, that we are all Carpenters fans and have most of their popular songs memorized.
After making the most of our karaoke experience, we headed to the airport for our 1:15 am flight to Seoul, South Korea, then another to Jeju Island.
Related Entries:
Not Bored in Jeju Island 2012, Day 1 and 2, Part 1 – Airport and Hotel Food, Jetlag, and Jeju Olle Trails Route 7
Not Bored in Jeju Island 2012, Day 2 Part 2 – Loveland Museum
Not Bored in Jeju Island 2012, Day 2 Part 3 – Dongmun Market, Han's Deli, and Gwang Won (Korean BBQ)
Not Bored in Jeju Island 2012, Day 3 Part 1 – Hallim Park and Jeju Olle Trail
Not Bored in Jeju Island 2012, Day 3 Part 2 – Spirited Gardens, Locadio World, Mt. Sanbang, and Cheonjeyeon Falls
Not Bored in Seoul 2012, Day 1 – Myeongdong, More Korean Food, and Hangang River Park