Inspired by Schmidt's 29th birthday party on "New Girl" and my friend (who I will not name lest she get mad), who informed me that she was going to have a huge birthday thing this year because it was her last birthday in her 20's, I started planning a big birthday celebration (how many times can you say birthday in one sentence?). It was not Anthony-Hopkins-in-Meet-Joe-Black kind of big, because I am not a billionaire and I have not quite touched that many people in my life. However, it was big for me, because the other thing I was planning to do was stay home in my PJ's watching Korean dramas all night and eat an entire cake by myself, after eating an entire order of Korean fried chicken first. So, I decided to actually go out this year, and since Mike wasn't going to be home anyways I figured, oh what the hell, make it a girls' night out.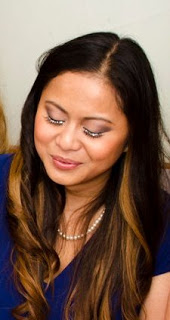 Birthday Glitter Lashes
My night started out at one of my favorite places in the world: Sephora. I'd been toying with the idea of having my makeup done there for years, and I finally gave in and tried to figure out how to pull that off. It really isn't that difficult. They will do full makeup for you for "free" as long as you buy at least $50 worth of their stuff. It doesn't even have to be the makeup they used on you. You can buy a $50 gift certificate to be used at a later date when you actually need to buy something. So basically you get $50 worth of stuff AND get your makeup done. Awesome deal. Especially if you get a makeup artist as good as the one I got. She asked me plenty of questions to make sure she got exactly the look I wanted, and then proceeded to do a fantastic job. When I told her I was there because it was my 29th birthday, she looked all shocked and told me I looked like I was 16, which of course pleased me to no end (whether or not this is true is an entirely different matter). She also put on these TOTALLY natural-looking eyelashes for me. If eyelashes normally grew glitter (as either Katie or Kim pointed out to me later that evening).
146 Essex St.
New York, NY 10002
The REAL party started at Beauty & Essex, which is a restaurant, (tapas) bar, and lounge on the lower east side. Hyg had first suggested the venue to me, and I was immediately drawn to the idea since we had previously been to The Stanton Social (also dreamed up by the creators of Beauty & Essex), and had great food (and a great time!).
I got to Beauty & Essex a few minutes earlier than our reservation time, which was surprising after walking about 10 blocks in my 4-inch heels. I tried to cool down and not melt into a giant puddle of makeup and glitter while I chatted with Katie and flitted about the foyer, which looked like a very interesting pawnshop. They had some gorgeous jewelry in there, some electric guitars hanging on the wall, and weird stuff like a Dylan doll (from the original Beverly Hills 90210) and an old-school vibrator box (I'm not sure the actual product was in there). Yes, I said vibrator on my blog. Get over it.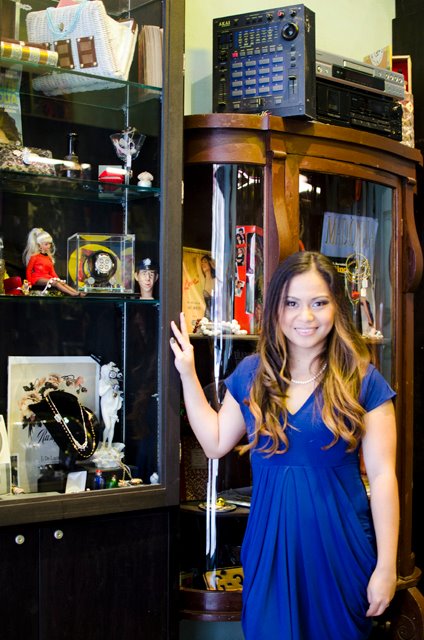 @Beauty & Essex
Once we were complete we were immediately seated at the best table for photographs due to this skylight overhead:
The rest of the place was veiled in a dark, sexy atmosphere (which is ok for seducing dates, but not so much for taking photos of your birthday party). I think I may have been having a good run of birthday luck. That or there were no other available tables for eight. Either way, we had excellent lighting, as evidenced by these amazing portraits of my lovely friends and myself: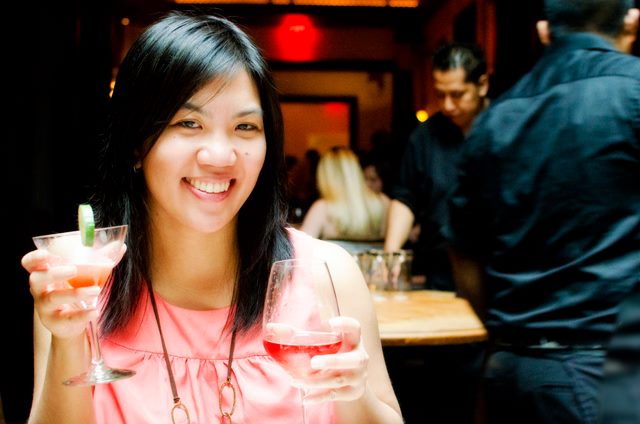 Geena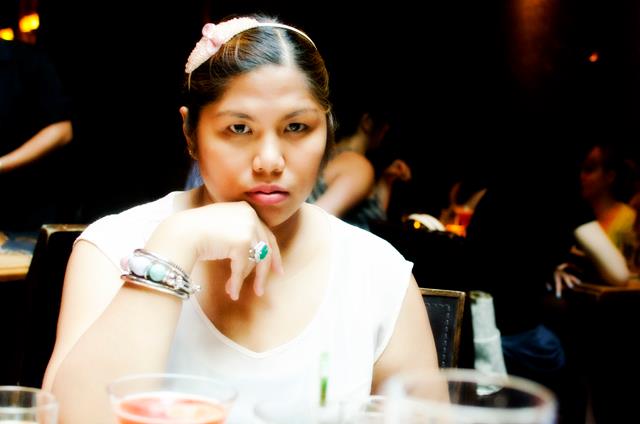 Judith  or "Bone Jewel" as she was nicknamed by Shannon later in the night
Hyg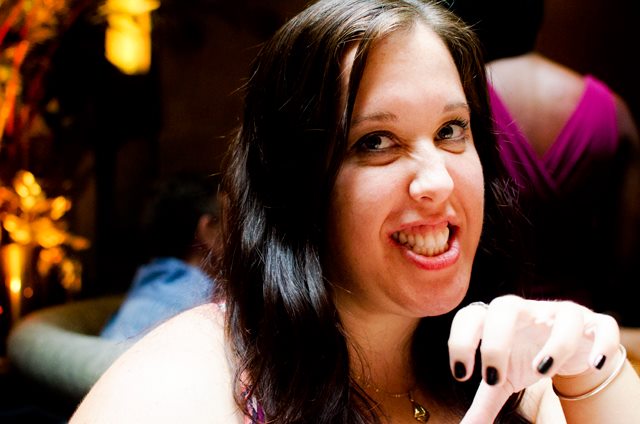 Kim or "Kitten" as she was nicknamed by Shannon very early in the night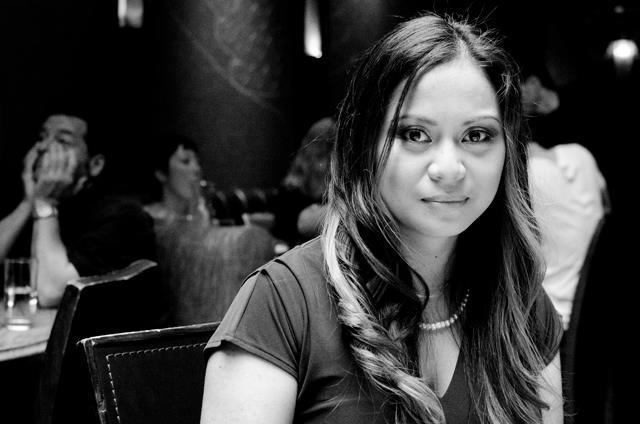 Me
After being seated there was quite a long debate over what to order. All the dishes are designed to be shared, and every single dish served will have individual portions for everyone on the table. As you can imagine, this is quite a predicament for eight people, but we eventually made our choices, and I'd like to think we didn't regret any of them.
They started us off with some amuse bouche involving beets, what tasted like sour cream and onion chips (pointed out by Katie), and some very Mexican spices. I love all three of those things so you KNOW I had no problem with this dish.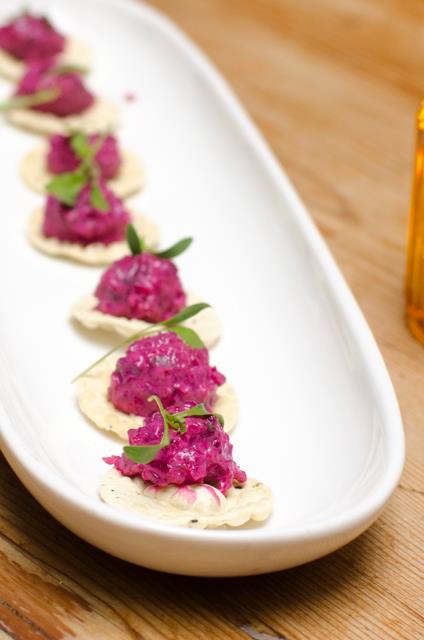 Amuse bouche @Beauty & Essex
I tried my best not to order the roasted bone marrow on toast, since if you're not Filipino or used to that kind of thing it sounds (and looks) completely gross. However, several of my Filipina guests wanted it anyway, and so I was able to try it. We attacked the marrow as our American friends looked on in wonder and/or revulsion. I'm glad we ordered it though because I realized that it is a GREAT idea to have it on toast, and that it goes well with shallots. These were served split into two, with little spoons to transport the marrow and rioja (Spanish dry wine) braised shallot marmalade onto the perfectly done pieces of toast. The only complaint I had about this one could have been prevented if we had immediately devoured it instead of me holding back everyone so that Katie could take a photo. It wasn't quite warm enough when I finally tried it. But like I said, it was all my fault anyway.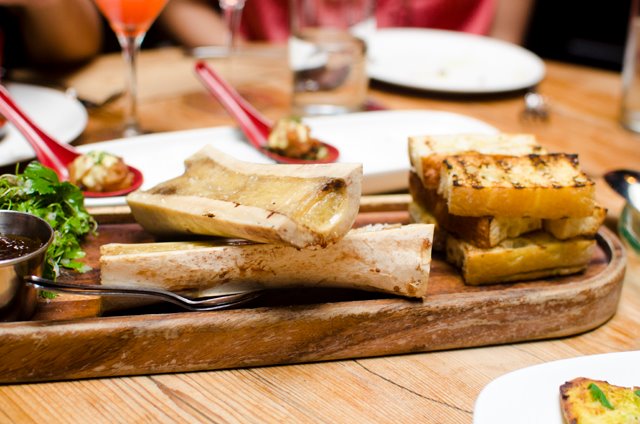 Roasted bone marrow, rioja braised shallots marmalade, toast @Beauty & Essex
The kale and apple salad was a perfect choice for me, though I wasn't the one who suggested getting it. I've been into kale lately due to its hardiness in the face of overwhelming amounts of dressing, and I had tried a pretty good version of this salad at Dig Inn. This one had apple cider vinaigrette, candied pecans, and shaved goat cheese. The menu says it's supposed to have pancetta, although honestly I don't remember tasting any. I might not have taken enough of it, or this dish was changed a bit.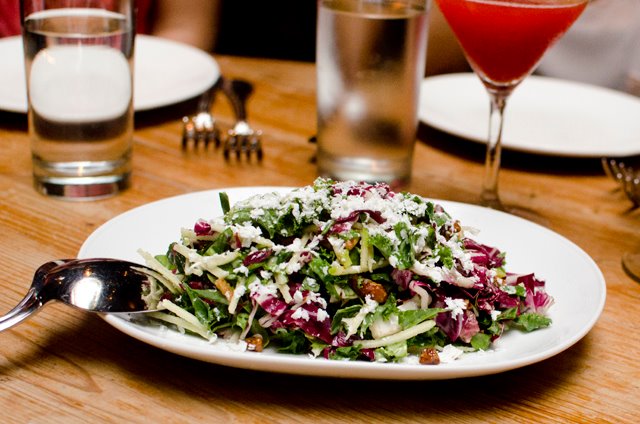 Kale and apple salad, apple cider vinaigrette, shredded goat cheese, candied pecans, pancetta @Beauty & Essex
Katie ordered the grilled cheese, smoked bacon, and tomato soup dumplings. These were not what I expected of soup dumplings. The soup is actually at the bottom of the spoon, and not inside of the dumpling as is the usual (I don't want to say "traditional" since I am not really the best judge of what traditional soup dumplings are). Despite this, it was still presented beautifully, and tasted GREAT. Verrry comfort-y, as any good grilled cheese should be.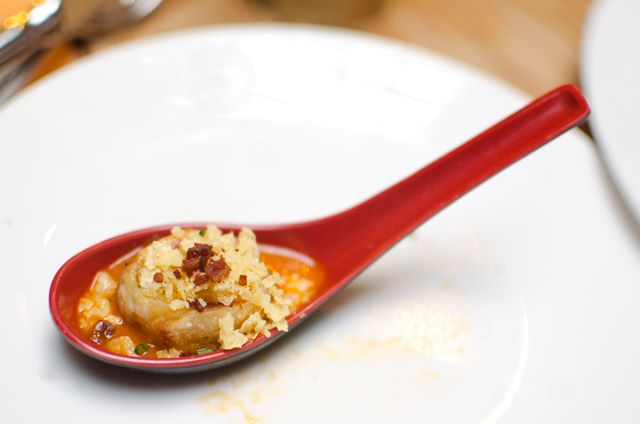 Grilled cheese, smoked bacon, and tomato soup dumplings
There were at least two people at our table who didn't like oysters, but at Kim's urging I ordered them anyway, and I couldn't have been happier about the order. The combination of the taste-of-the-sea from the oysters, the texture of the chicken fried batter, and whatever that lovely sauce was, was perfect. Either that or anything with bacon tastes great to me. Either way I thought it was GREAT. Plus frying takes away the yucky texture raw oysters have.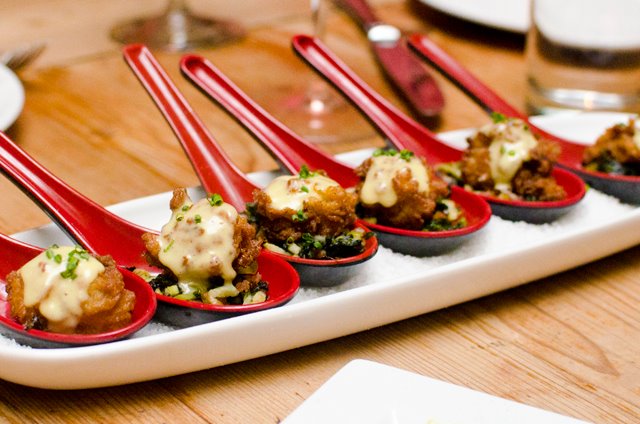 Chicken fried oysters, apple and bacon braised spinach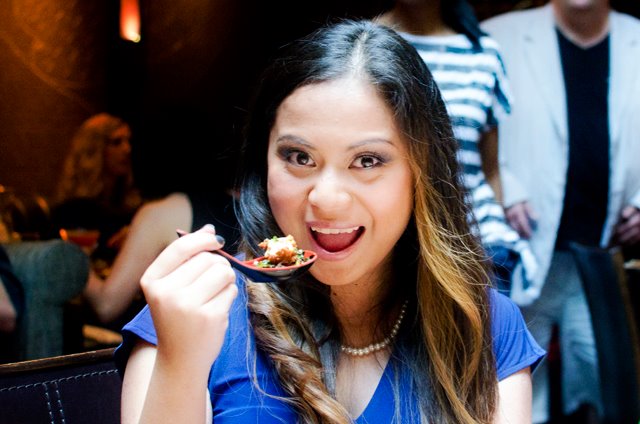 I was clearly excited about those oysters
Someone ordered the vidalia onion ring tempura. I was not able to try these, but I was told they were nicely crispy and "fancy". Honestly I don't know if I would normally care to order onion rings that cost $9, but they did look perfect and didn't fall apart like regular onion rings usually do.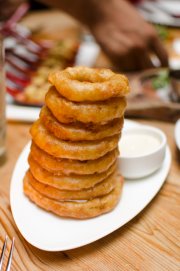 Vidalia onion rings
The next order was oven braised chicken meatballs with sheep's milk ricotta, wild mushroom, and truffle. I thought these meatballs were good, hearty, and the serving was rather large per person for tapas. These were hardly one of the best in the selection that we ordered, though. I wouldn't order these again if I came back since I'd like to try some more dishes, but I would eat them if they were right in front of me :). Sadly there are no photos of these, but it doesn't matter that much since they pretty much looked like meatballs.
The brick pressed chicken with creamy mascarpone polenta was Shannon's choice, and I agreed that anything involving "mascarpone polenta" deserves to be ordered. The polenta was definitely phenomenal and something I will likely research similar recipes for (or experiment with) in the very near future. Like maybe tomorrow. I remember the chicken being good, but not amazing.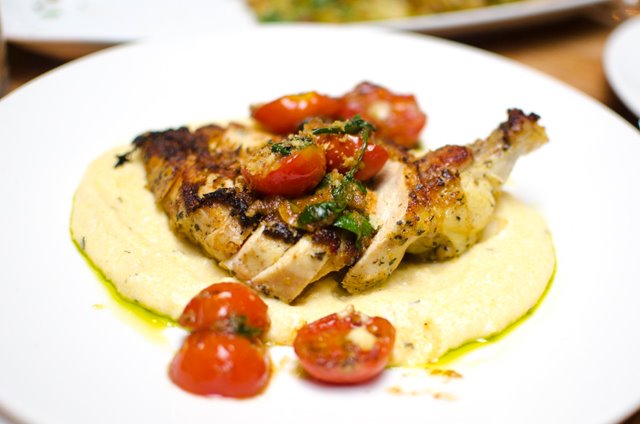 Brick pressed chicken, creamy mascarpone polenta
I usually don't order scallops even though I don't mind eating them, so thank god I am friends with someone who does (if you are this person and reading this, feel free to comment and let me know how awesome you are). The scallops with sweet corn risotto were THE BEST SCALLOPS I'VE EVER HAD IN MY LIFE. Perfectly tender, with a mild taste of the sea. The risotto was just FREAKING RIDICULOUS. Sooo good. The only issue might be that it's $25 for 3 scallops, so we ended up paying $50 for 6 of them. Depending on how well-off you are that might be a complaint, or a downright steal for the best scallops ever.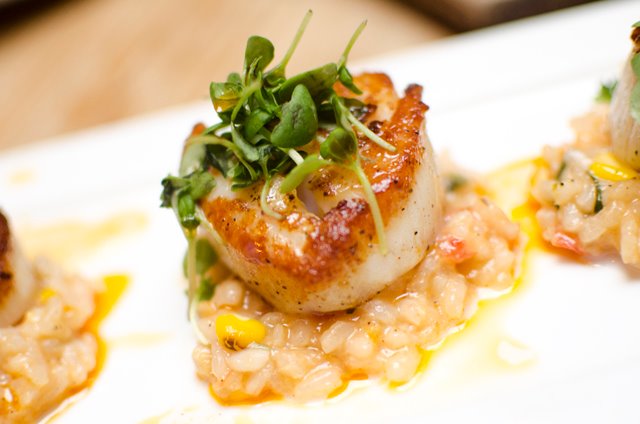 Scallops with sweet corn risotto
There were a few items that are not on their menu online. I forgot to write them down because I was too busy taking big gulps of several cocktails and a few free glasses of champagne (oops).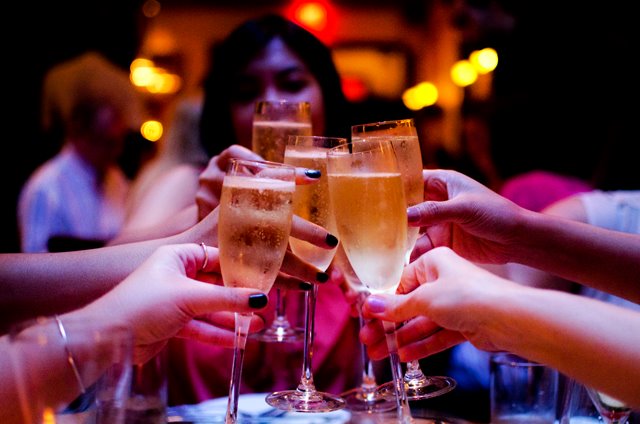 Cheers!
One of them was this Thai salad. I remember that it looked like something a rabbit would eat to me, but it actually tasted really good. For a salad, that is.
Another was a wild mushroom pizza, which I did not try. Katie later described it as "Super crisp and buttery. And the mushrooms were so meaty." And then I cried because I didn't have any. I blame the other yummy dishes on the table. And the fact that there was some green stuff on it, though it looked like pesto, which I actually love.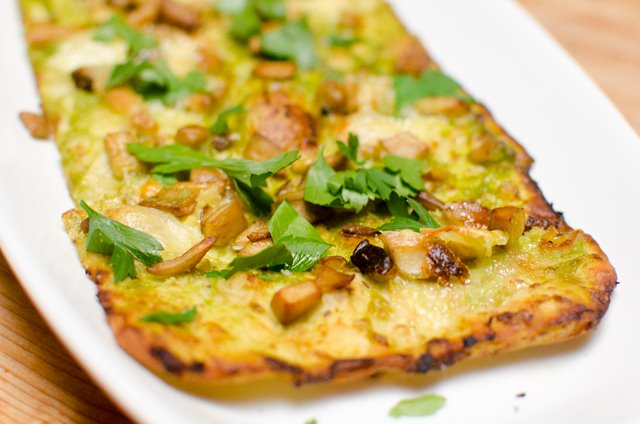 Wild mushroom pizza
The last savory dish was empanadas with some sort of gooey cheese in them. I think maybe it was some kind of mild cheddar or colby. I remember the bread being super soft and warm, and the gooey cheese perfectly salty.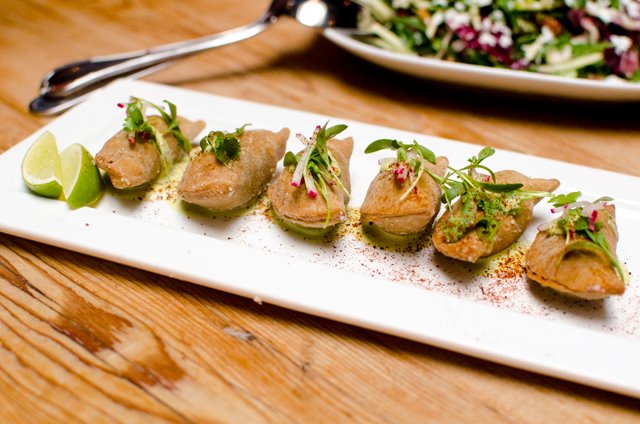 Empanadas @Beauty & Essex
We had several things for dessert. First was the black bottomed butterscotch pot de creme, which was a suggestion from our waitress. This was oh-so-creamy and had a surprisingly mild butterscotch taste. I usually find that butterscotch flavor is a big punch in the face (albeit a very welcome one in my case), so this was quite refreshing.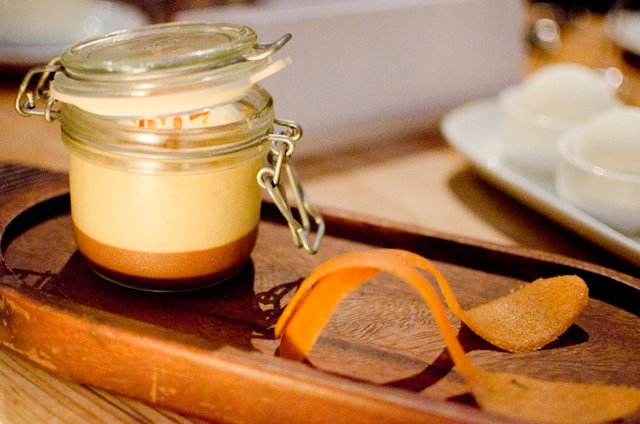 Black bottomed butterscotch pot de creme
We next had the box of doughnuts (really a box of doughnut holes or beignets) with chocolate hazelnut creme, raspberry jam, and butterscotch (I believe there was butterscotch but their online menu doesn't list it). This was the only dish I was really disappointed in for the night. We even ordered a few scoops of vanilla gelato to put on top of them (which were to die for, so I forgive them the doughnuts), but the gelato didn't really do much for the doughnuts' taste. They were just too plain, not quite warm or soft enough, and honestly I would've been happier with a boston creme from Dunkin Donuts (sue me).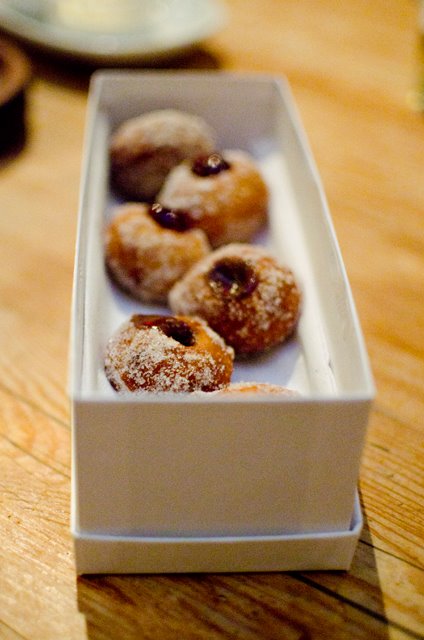 Box of doughnuts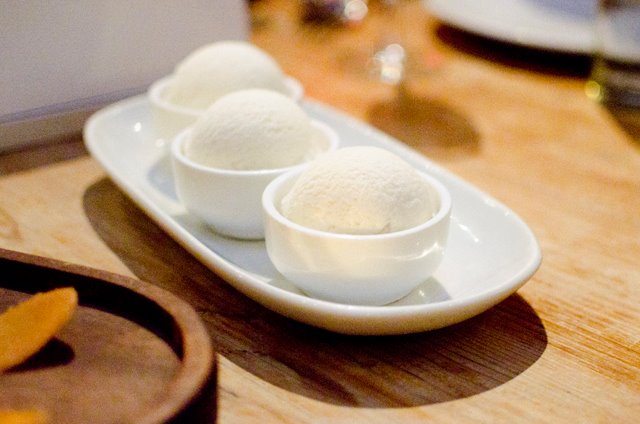 Gelato
Believe it or not my favorite of all the desserts was the free chocolate cupcake with cream cheese icing they sent over for my birthday, with a little candle on top. The cake was chocolatey and moist, the icing creamy and not too sweet (honestly some cupcake places make me feel like people just want Americans to all drop dead of diabetes), and even the little metallic pastel sprinkles were yummy.
I LOVED Beauty & Essex. The food was GREAT, and as expected from the creators of Stanton Social, VERY inventive. In addition the atmosphere was more chic and the place was very open. The skylight probably added to the experience. They have a gorgeous ladies' bathroom with a little anteroom where they serve free pink champagne (tips not included). They have a very nice bar/lounge upstairs which we checked out after dinner, and they have a few rooms for functions. They also have a set menu, which I would suggest if you are with 10 or more people, because you'll probably end up spending more than their cheapest set menu.
Sing Sing Karaoke
1 Avenue A Apt 1
New York, NY
I immediately hogged the mic though I'm not sure what I'm singing here
When people think of karaoke in New York, from my experience they more often than not think of Sing Sing. The wall behind their cashier is full of autographs of celebrities who have been there to sing. Honestly, I can name at least five karaoke places in the Philippines with better ambiance, more updated songs, and immensely better sound systems than Sing Sing, but hey, this is where I live now :). It's really dark in there (don't let Katie's indirect flash fool you) and the decor is… industrial. I really do prefer Pulse karaoke which is on Times Square, but that area is a pretty boring area to hangout in, unless you're ONLY doing karaoke (and don't mind spending more money).
Romainne joined us for this leg of the night. There she is in the above photo probably looking for LMFAO's "Party Rock Anthem", which we sadly were not able to find. No 2011 version of YMCA for us that night. Well, what else can I say about karaoke? I love it, I always think of going when I'm bored, and I have a hard time letting go of the microphone, as exhibited in this next picture where I kept on singing even though I was completely aware that a monumental 29th birthday photo with my Filipina ladies was being taken: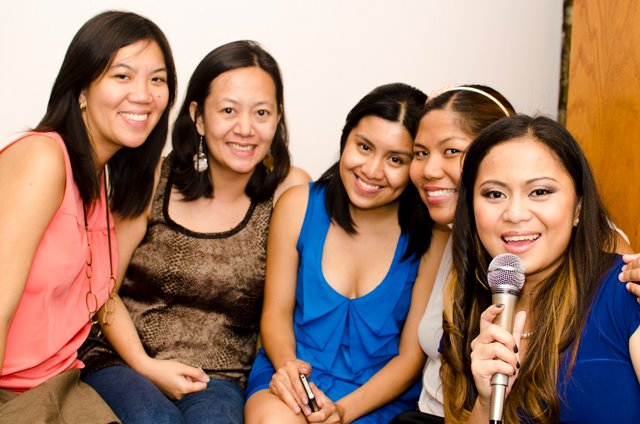 L to R: Geena, Romainne, Hyg, Judith, and Moi
Here I am mimeing the song "Call Me Maybe", which I surprisingly was not singing to (because I am the only person in the world who hasn't gotten this stuck in my head):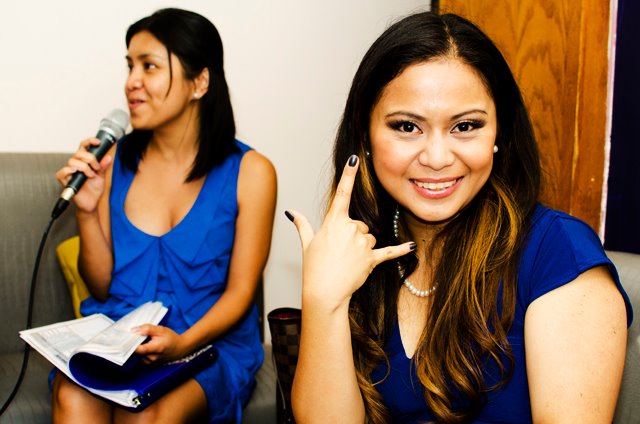 Call Me Maybe
We even got Kim (who had planned to lurk in the corner the entire time) to start singing, so apparently we did get her drunk enough. That or she got majorly excited about "Don't Stop Believin'":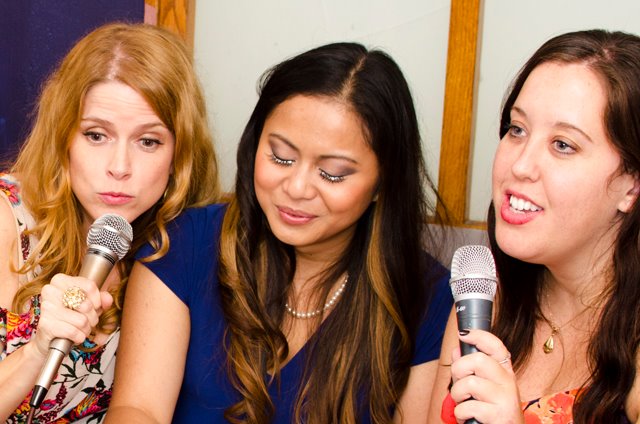 Priceless.
I did get some great photos with these ladies as well, and even ordered Geena to take some photos with Katie (our brilliant photographer) in them.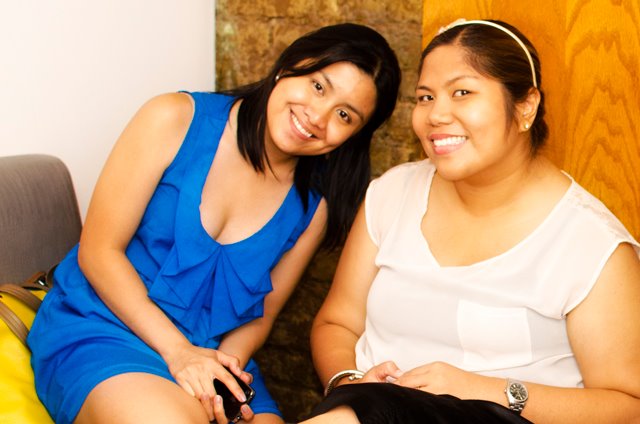 Hyg and Judith
Shannon and Kim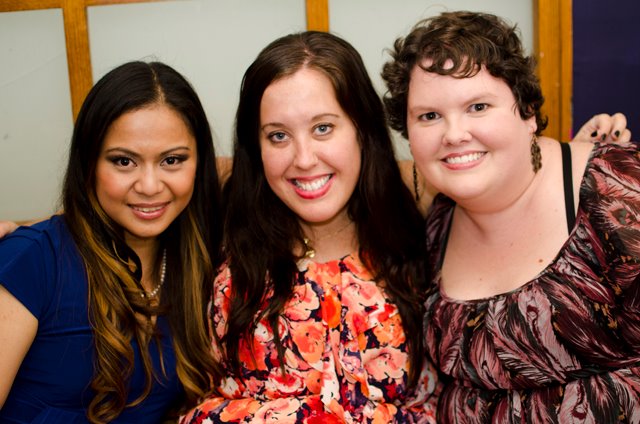 Me, Kim , and Katie. Game of Thrones marathon ladies!
At the end of our karaoke session everyone seemed exhausted, and so everyone went home. Everyone that is, except for me and Romainne, who pointed out that when we were single, we used to go out by ourselves AALLLLL the time. So we went on to my next planned stop for the evening:
Pyramid Club
101 Avenue A # 1
New York, NY
Pyramid club has 80's dancing on Thursdays and Fridays. I almost couldn't find my ID to get in, so I started to panic, at which point Romainne very amusedly told me I had put it in the pocket of my little baguette. Errr. Yeaaahhh… I may have had a few more drinks at Sing Sing. 🙂 She said it was 'coz I was getting old, which was fine by me since I had been told I looked like I was 16 earlier in the night. As soon as we got in, Romainne got us some cosmos, because clearly, I had not had enough to drink. We spotted a small bench on the corner of the dance floor where we parked our bags right beside the bouncer, who so nicely took this hilariously terrible photo of us which I made a tiny bit better via Instagram: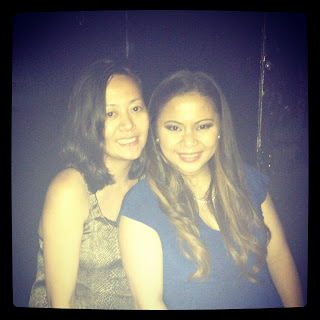 @ Pyramid Club
This photo is the only evidence that the following things happened:
We danced to "Take On Me" and "Hey Mickey"
We danced to other random songs while I secretly wished they would play something by Madonna
Some gay guy danced over and introduced himself to us, then proceeded to make out with his equally gay friend on the dance floor (clearly it was because of how fabulous our dancing was).
I boasted that I had worn 4-inch heels all night without stumbling or stepping on someone, at which point Romainne told me I had stepped on the girl dancing near us, but that it was ok because the girl seemed crazier and/or drunker than I was.
Folks, all I can say is, I wish all of you a birthday as fun and hilarious as this one at some point in your lives.