I've written about (or taken photos of) quite a few walks here, but if you know me and/or have been reading this blog, you'll know most of the places on here are ones that I don't normally go to. Some of them I would probably visit once every few months, but there are none that I actually frequent. After all, this blog is all about exploring neighborhoods in NY, so why would I write about what I normally do everyday?
I've realized that's kind of a dumb way to think though. I do in fact want you to know that everyday life here can be fun. Even without finding something new and interesting at the turn of every corner (which is what I love the most about this city), it's still a great place to live. I realized that as I was doing this "walk" with my sister. I used the quotes because I wasn't really planning on writing this up as a walk, which you'll probably observe from the lack of photos. I just wanted to go out and have fun without messing around with a camera.
The point of this whole thing was really to watch a movie. There are three movie theaters I go to quite frequently (I'm scratching the Times Square ones off this list because every time I go there I want to tear my hair out due to the stress of too many people). One is the Kaufman Astoria in… wait for it… Astoria. Lawl. Another is the one in Kips Bay. I love these two because the theaters are huge with high ceilings, so even with there being a chance of so many people there, I find I still have room to breathe and not have the desire to elbow people out of the way. Luckily enough though, these are almost NEVER crowded, except for that one time when my sister and I went to see Harry Potter at the stroke of midnight in Astoria and had to sprint to get seats before everyone in line. Wait. Just kidding, we were totally cool and made fun of the kids who were doing that ;). The last theater I usually go to is the one in Union Square. It's not quite as big, and it does get fairly crowded normally, so why do I go there? Because it's in Union Square. 🙂 (Also because it's easy to get to from Queens and Hoboken, which is where my sister lives).
Union Square is a haven for me amidst the craziness of the city. This is surprising, because I have never seen Union Square in broad daylight without crowds. But it has everything I could ever want in one spot:
1. a HUGE bookstore (Barnes & Noble) with a
2. place you could get coffee (Starbucks) inside
3. DSW (for those who don't know what this is, it's an acronym for Designer Shoe Warehouse, and most of their stores really are as big as warehouses)
4. Forever 21 (really, do I have to explain this?)
5. Sephora (where all my money disappears to)
6. Whole Foods (where all the rest of my money disappears to, so I can pretend to eat healthy while eating cookies and key lime pie)
7. a park
Barnes & Noble
33 East 17th Street
New York, NY 10003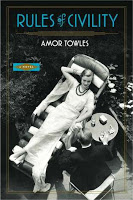 No visit to Union Square is complete without me going into Barnes & Noble (or staring longingly at it). Anytime I'm bored in the city and too lazy to figure out something new to do, this is where I go. I was annoyed by them once, when they banned people from sitting on the floor to read, but I've forgiven them since they posted signs that it was a fire hazard, which I guess I can get on board with.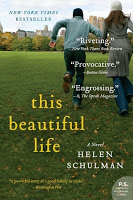 There are several things I love about Barnes. I love that they have racks/tables setup for different types of suggested reading. Paperback favorites, paperback classics, summer reading, bestsellers, staff suggested reading, new hardcovers, and new paperbacks are only some of the displays they usually have. Sometimes I head over to the young adult section and pretend that I am the right age to be there. These racks greet you the moment you enter (although there are more upstairs), and I usually hang around here and grab a few before heading upstairs to look for more. Sometimes I already have a significant stack in my arms by the time I head over to the escalator, in which case I go directly to the cafe, get a coffee (after which ensues a juggling act featuring my bag, stack of books, and coffee) and sit down and browse through the books. The tables are usually all filled, but there also will usually be one nice looking person who is occupying one seat in a table for two, and will let you sit opposite them.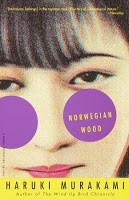 That day I left early on purpose so I could visit my mecca. I only picked three books that seemed interesting because I was meeting my sister in 30 minutes. Two of them are set in New York City. It always amazes me how many great stories are set here. It's probably because it just seems like anything is possible in this city.
I barely had time to peruse "This Beautiful Life" before my sister texted that she was there as well. I immediately went to meet her at DSW, where I found the third pair of black flats I've bought in an effort to find the perfect ones that won't slip off, shrink, or chafe. These are CL by Laundry, and they're just perfect.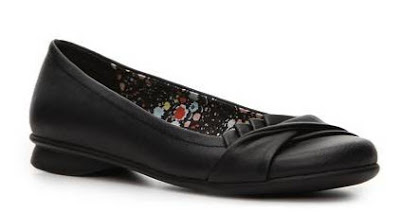 DSW
40 East 14th Street
Union Square, 3rd Floor, New York
Regal Theatre
850 Broadway
New York, NY
After trying on endless pairs of shoes at DSW we headed over to the theater to see "Men In Black 3". I'm not that great at reviewing movies so all I'm gonna say is that I loved it, and I cried a little bit.
Farmer's Market
Union Square Park
East 14th Street, New York, NY
I should mention before we get into the market that Union Square Park has free wi-fi. 🙂
As we planned, after the movie we shopped a bit at the farmer's market at the park. Some of their fruits are a lot more expensive than at your regular grocery, but they have some very unique ones and definitely a lot of unconventional vegetables. I was never really interested in farmer's markets before because I always was either on a planned, prepared food diet or the diet where I eat whatever the hell I want. I've made a bit of a lifestyle change recently where I still have a planned menu (on most days), but allow myself some leeway and substitute items as long as they fall under a pretty balanced diet (I manage everything under sparkpeople.com if you're interested). I also cook a LOT, which it turns out is good because I can a) control my nutrition and b) make sure I actually find what I'm eating delicious. I eat plenty of fruits and vegetables now, so I was finally interested in what they had to offer at the market.
My sister exclaimed over some golden beets, which we both bought a bunch of. I turned them into curried beets together with the regular red beets I already had in my fridge.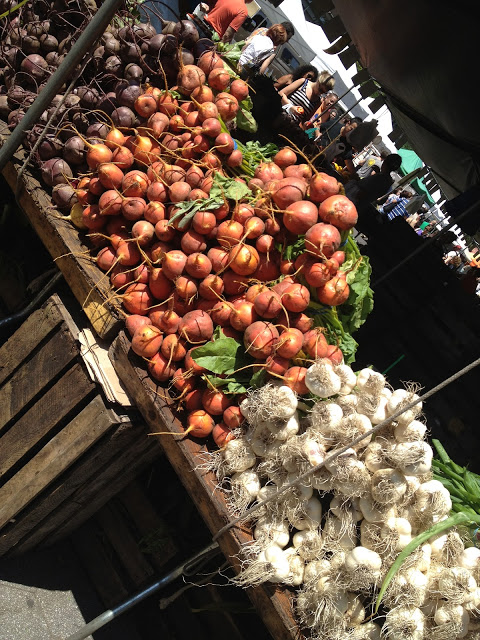 Garlic & Beets @ the Farmer's Market
I also bought a huge bunch of kale, which I turned into kale chips. I'm actually a little sad I never took a photo of them. I was too busy stuffing them into my mouth.
The market, as I said, is full of fruits and vegetables. But they also have plants, flowers, cider, tea, organic eggs, meat, and PLENTY of bread and pastries for the fans of all-natural whatevers. I tried not to buy them, though because it's hard for me to keep track of food items that don't have nutritional facts.
Dig Inn Seasonal Market
17 East 17th Street
New York, NY
Since my sister and I were both trying to eat healthy, we opted to go to Dig Inn, where they offer healthy and  unconventional choices (you won't find plain old spinach or romaine lettuce here). You get to choose one protein, one grain and 3 side dishes. She had the turkey and I had braised beef. We both had sides of roasted sweet potatoes and broccoli and quinoa salad. She also had the wheatberry salad, while I tried their kale & apple salad. Everything tasted fresh and healthy. I especially liked the kale and apple salad and their house hot sauce.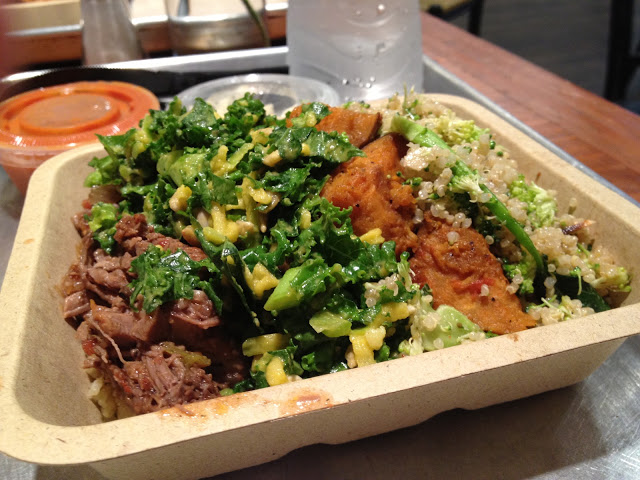 Braised Beef, Kale & Apple Salad, Roasted Sweet Potatoes, Broccoli and Quinoa Salad on Veggie Brown Rice @ Dig Inn
After dinner we decided to go home since we had spent a decent amount of money already. Instead, after saying goodbye, I went to spend my money at Sephora and she went over to JCrew and bought some stuff there, and also bought jewelry from the vendor outside. A week later we went back to Union Square to watch "Ted", so I bought a few pieces from her as well: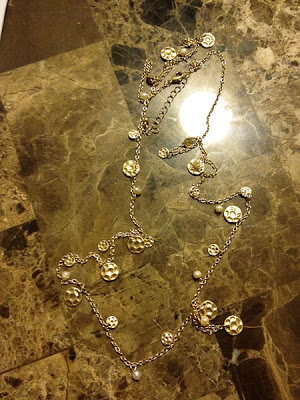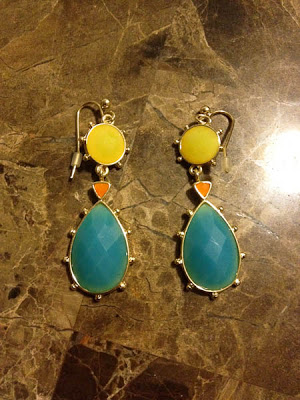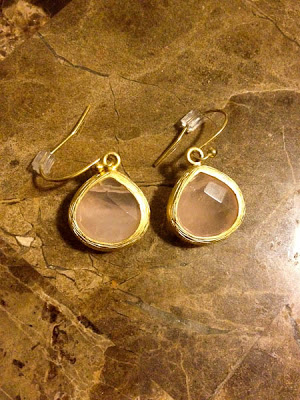 I finally headed home after that. All in all a very fun regular day in NY.
Map of this Walk

A: Barnes & Noble – 33 East 17th Street, New York, NY 10003
B: DSW – 40 East 14th Street, Union Square, 3rd Floor, New York
C: Regal Theater – 850 Broadway, New York, NY
D: Farmer's Market @ Union Square Park – Union Square Park, East 14th Street, New York, NY
E: Dig Inn Seasonal Market – 17 East 17th Street, New York, NY