I actually went on this walk before my Central Park walk, but I couldn't for the life of me find the business card of the first place I went to (it was an unplanned stop), so I'm only writing this up now that I've finally figured out the store's name. It's pretty important because that was actually my favorite part of this walk.
The lower east side is a great place to meet with friends, hangout, eat, and shop for trendy and/or one of a kind items. Basically it's an ideal place for a walk such as this one. Before I started this blog the lower east side in my mind was just an area where co-workers, old and new, invited me for drinks at small jam-packed bars. These places are usually full of people in their 20s and 30s (basically people my age) even on weeknights. The bars I've been to have had a very casual feel to them and a good variety of clientele, so despite being dismayed at the condition of some of the restrooms I have never felt out of place.
This time around my goal was to go shopping and eat well instead of getting shitfaced in front of people I'm supposed to act professional around.
I had planned to meet my friend Hyg at The Stanton Social for dinner after walking for a bit that day so I wanted to head over there first to make sure I didn't get lost later on. Of course, as I was walking towards the restaurant, I passed by several neat stores (one of them being Steve Madden, but I don't think I have to write about that one). I was immediately drawn to a tiny store that had a pretty window display, especially when a nicely dressed lady walked in. I read in a magazine somewhere that if you don't know where to shop, just follow the people whose wardrobe you'd love to steal. And so I went into:
147 Orchard St
(between Rivington St & Stanton St)
New York, NY 10002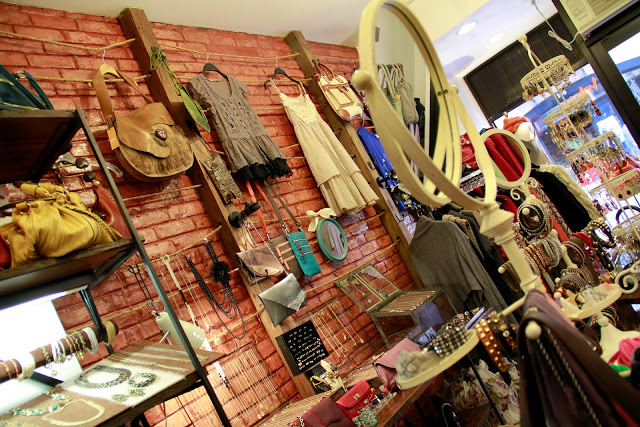 I absolutely adored this store. Everything from their clothes to their bags and jewelry made me drool. I must have spent an hour in there trying to figure out what I wanted to buy. Most of their stuff are fit for the modern hippie or bohemian style, but there definitely is something for every woman, in my opinion.
I ended up getting a cameo ring, which somehow got lost in my dresser, but here's something similar to it, which used to be available at modcloth.com: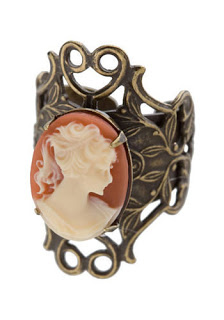 I tried on a dress which fit me nicely, but they didn't have new stock in the same size, and it was a little frayed at the edges so I didn't get it.
I loved everything in there but I was mostly drawn to their jewelry. They were all very unique and if I were that kind of rich I probably would have bought all of them.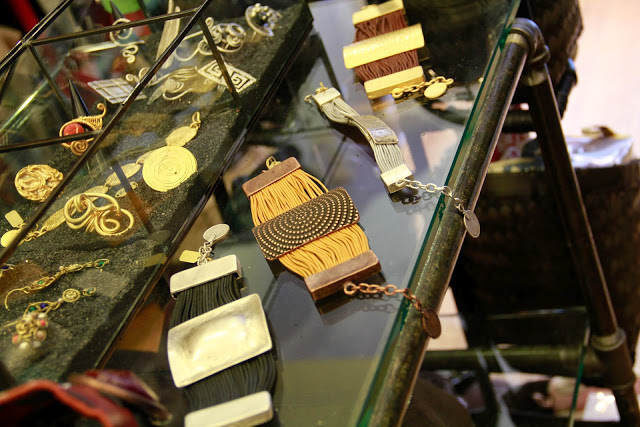 I wanted to get one of these wide bracelets as well, particularly the one in the middle
I can't wait to go back and buy more jewelry to lose months later :P.
Upon finding The Stanton Social I also noticed there was a macaron shop right next to it. This was another unplanned stop, but boy do I love macarons. So, of course, I went in.
101 Stanton St
(between Orchard St & Ludlow St)
New York, NY 10002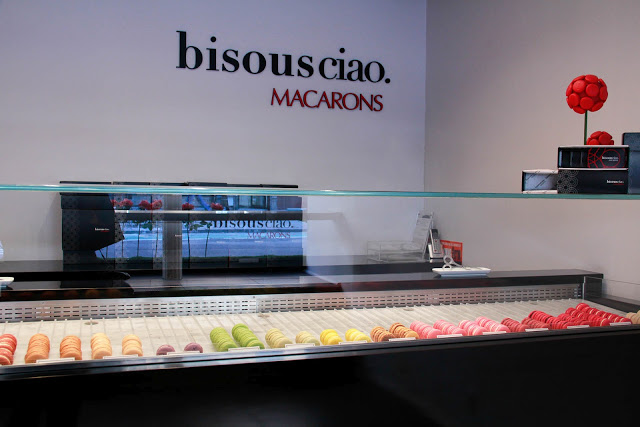 This store is pretty simple. They sell macarons and nothing but. It works out well for them too, since these were probably the best macarons I had tried in the city until I got to try Laduree a few weeks later.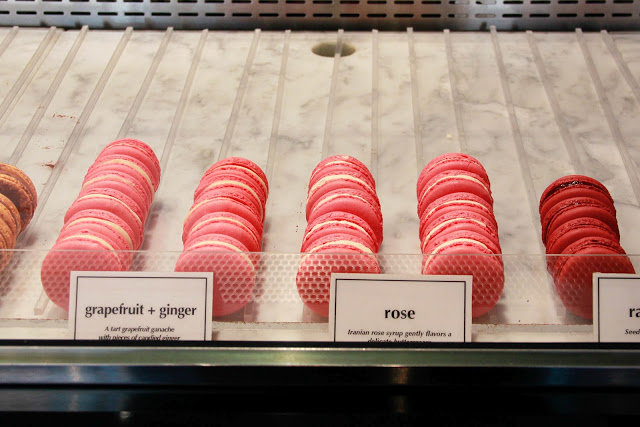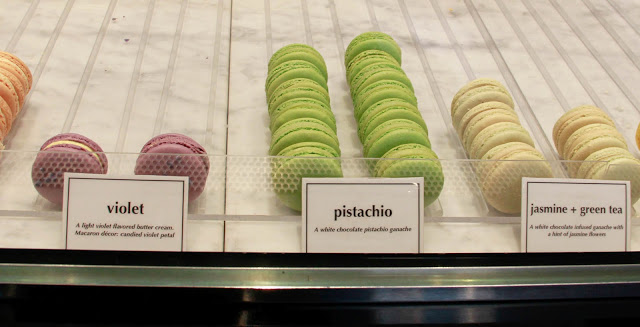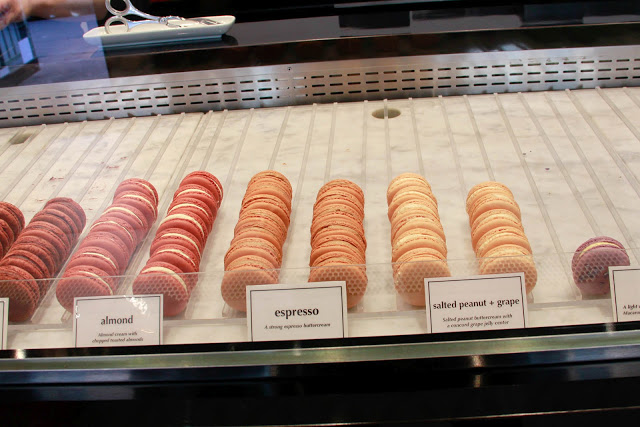 I ordered their salted caramel, pistachio, rose, lemon, violet, and grapefruit + ginger macarons. My favorites were the salted caramel and lemon.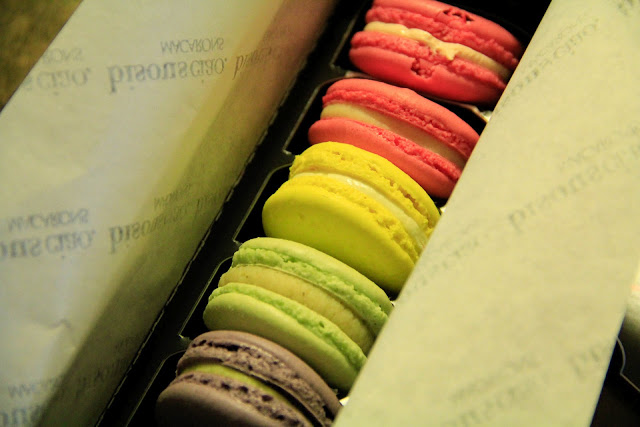 I love these babies.
Already carrying a few bags of stuff I headed over to nearby D'Espresso for some coffee. I also wanted to rest my little legs, which were tired from standing around looking at jewelry for an hour.
100 Stanton St
(between Ludlow St & Orchard St)
New York, NY 10002
This place is decent enough. It's not amazing, but I felt really comfortable sitting in there. It's small, but there are a few tables. The ambiance is a bit sterile, but the big windows are nice for people watching. It also still felt cozy in there, probably because the windows let in a lot of sunlight. I ordered an iced cappuccino, and it was only ok.
After my coffee break I went to a consignment store which was so unimpressive I didn't bother to take any pictures. I don't even care to find out what the name is. Let's just say they were selling clothes I wouldn't care to buy EVER, AND they were expensive.
245 E Houston St
(between Avenue A & Norfolk St)
New York, NY 10002
I actually was neither hungry nor thirsty when I went into Remedy, but I was in dire need of a bathroom, and the iced cappuccino I had just consumed did not help. I got a regular coffee here anyway, just so I could use their facilities. So I basically paid $4 here to get to a bathroom.
Despite all that, the coffee was good, and the place was cozy and spotless. This diner is also open at all hours, and I've read quite a few Yelp reviews of people satisfying their hunger here at the tail end of a bar crawl.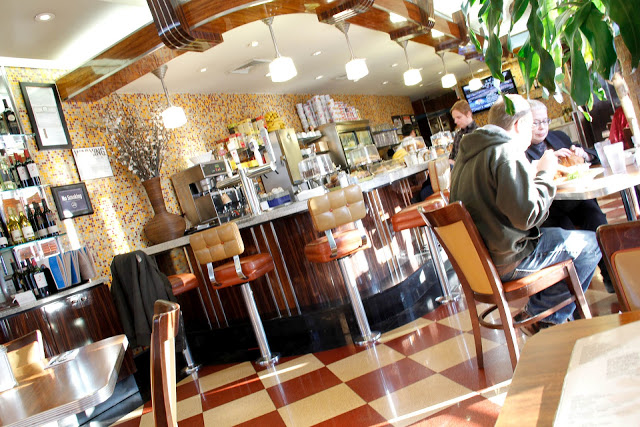 Remedy Diner
157 Rivington St
(between Suffolk St & Clinton St)
New York, NY 10002
This place has great reviews on Yelp so I listed it as a stop, but I was honestly disappointed. They supposedly have great jewelry but all I saw was boring, boring, and boring. For a steep price. Maybe my taste just isn't sophisticated enough, but honestly I wouldn't even buy any of their stuff if they cost $25. Which brings me to the next stop, which was unplanned but right next to this one:
157 Rivington St
(between Suffolk St & Clinton St)
Manhattan, NY 10002
Drawn by the sign that said everything in the store was $25 and under, I quickly went in. The store itself isn't super impressive, and their selection is definitely not as great as Volang's. But what they did have was a men's section, and their men's shirts are decent.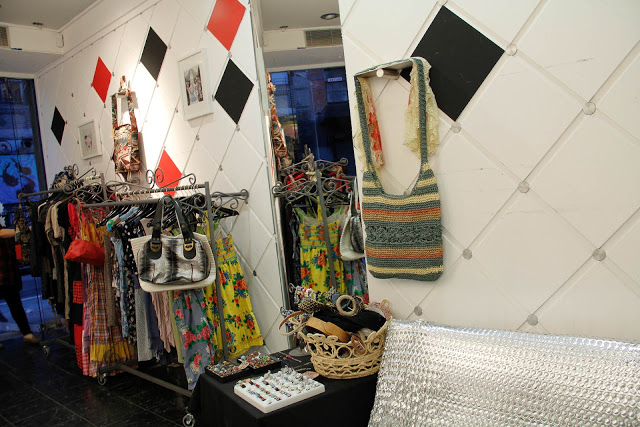 I ended up buying two dresses for myself and a shirt for Mike, which he is wearing in this next picture: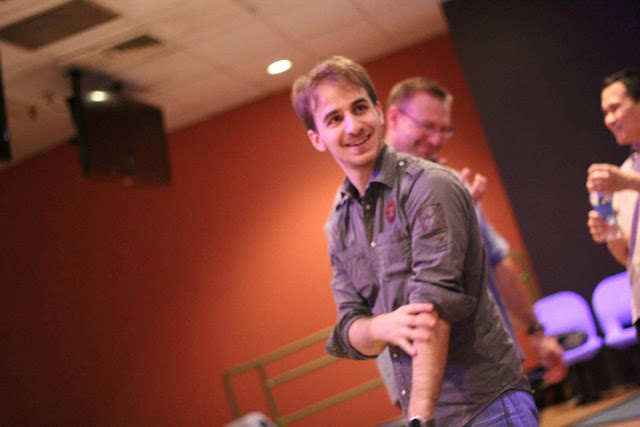 Arms loaded with shopping bags, I headed over to The Stanton Social for dinner. I got there 5 minutes before our meeting time.
99 Stanton Street
New York, NY 10002
We started our meal by both ordering the "Strawberry Fields" cocktail, which is a mixture of Grey Goose Citron, muddled fresh strawberries, lemon syrup, fresh lemon & a Riesling floater. I read "strawberries" and "Riesling" and I was quickly on board. It definitely did not disappoint, and if it wasn't for the fact that I was saving room for all the food we were about to consume, I would have ordered another one.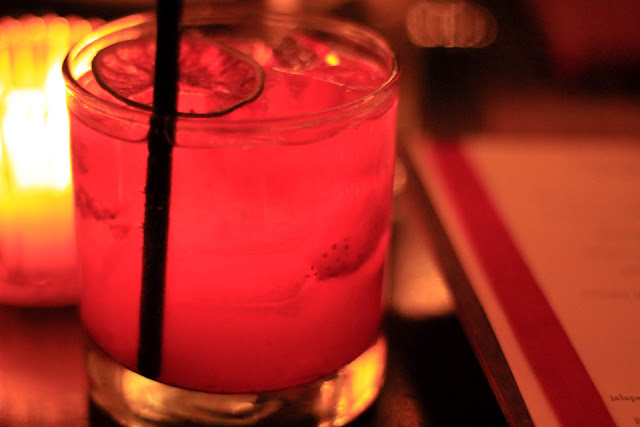 Strawberry Fields cocktail @ The Stanton Social
You might notice that my photos are a bit dark here, and it's because I refused to use the flash, and the inside of the restaurant is very dark (at least at night). I just hate the look of a photo using direct flash. In retrospect it might have given me better photos anyway, but at least you'll get a feel of what the inside of the restaurant is like from the lighting. That's what I'm telling myself, anyhow :-P.
We were presented with an amuse-bouche on the house. At that point I was too busy figuring out my camera settings to take notice of what the waitress said about it, but to me it tasted like hummus on little round cutouts of bread. I've always liked hummus so I thought it was pretty good.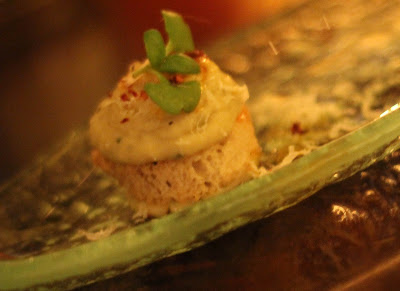 Amuse-bouche @ The Stanton Social
The Stanton Social is a tapas restaurant, meaning they don't serve "appetizers" or "main courses". All of their dishes are designed to be shared. There were only two of us so we decided to order three items.
We first ordered the French onion dumplings. This dish is quite popular on Yelp, and I can see why. A bite into one of the dumplings gives you a burst of flavor in a much more concentrated form relative to its soup namesake. I like that the bread is in crouton form, since I'm not usually a fan of how soggy the bread gets in regular French onion soup.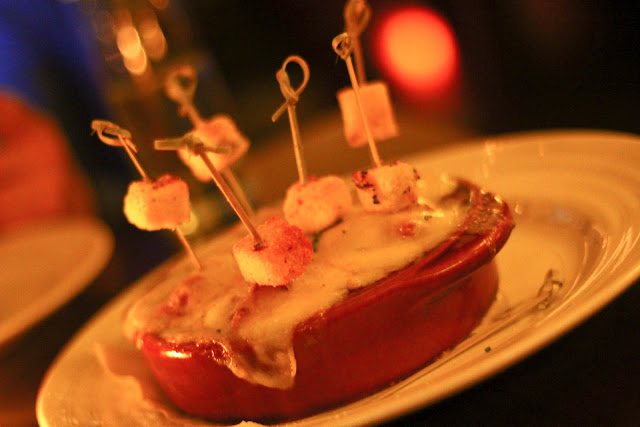 French onion dumplings @ Stanton Social
Next we got the red snapper tacos with creamy avocado and spicy mango. I love "island" flavors with seafood, and this was no exception. The shells were delightfully crispy as well.
Red snapper tacos @ The Stanton Social
Our last savory order was probably the closest I came to being disappointed with any of the items we got. The grilled apple & brie quesadilla with mustard-maple syrup and smoked 'bacon bits' sounded like it should've blown me away, but it did not. I thought the sweetness of the apple and the syrup overpowered the brie and the bacon, and despite my fondness for sweet and savory dishes, I would have preferred the brie to mingle with those flavors instead of getting smothered. I did say I only came CLOSE to being disappointed because overall I still thought this dish was yummy. It just thought it had a lot more potential to be amazing.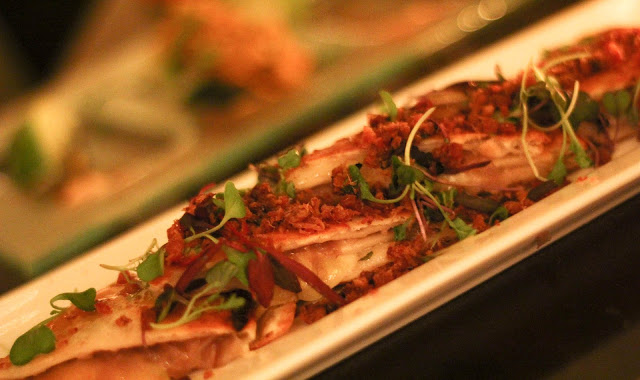 Grilled apple & brie quesadilla @ The Stanton Social
For dessert we got the Guinness Toffee Cake with Bailey's Ice Cream. This dish was PHENOMENAL. I'm usually a bit scared of chocolate cake because I tend to get sick of them super fast, but this dessert was well-balanced. I'm not sure if it was the Guinness in the cake, but it was so pleasantly (as opposed to overpoweringly) sweet, even with the syrup (which was so good I would have happily spooned it from a jar directly into my mouth as a snack).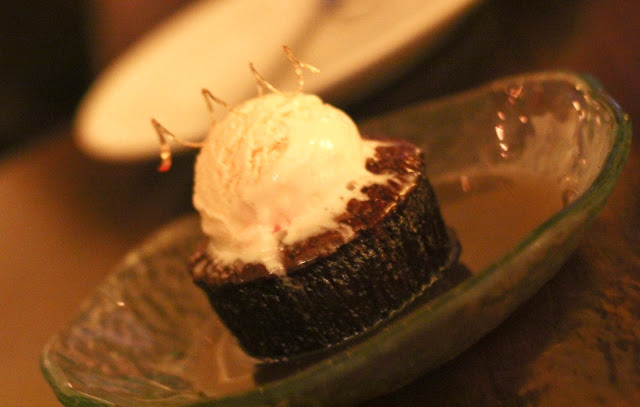 Guinness toffee cake with Bailey's ice cream @ The Stanton Social
Overall I thought The Stanton Social was fantastic, and I'd love to go back and try more dishes soon.
The Best Thing About This Walk: Volang and the Guinness toffee cake @ The Stanton Social
The Worst Thing About This Walk: That unnamed vintage clothing store and Szeki
Would I Come Here Again? Yes, and soon!
What Would I Do Differently? I'd like to try Sugar Sweet Sunshine Bakery cupcakes and visit Edith Machinist (a consignment store).
Map of this Walk
A: Volang – 147 Orchard St, New York, NY 10002
B: Bisous Ciao – 101 Stanton Street, New York, NY 10002
C: D'espresso – 100 Stanton Street, New York, NY 10002
D: Remedy Diner – 245 East Houston Street, New York, NY 10002
E: Szeki and Ace of Hearts – 157 Rivington Street, New York, NY 10002
F: The Stanton Social – 99 Stanton St, New York, NY 10002