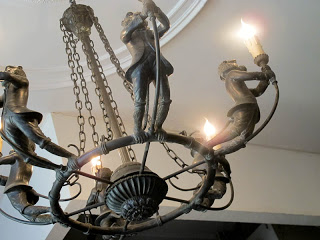 One wintry Sunday hubby and I were craving brunch, and decided that it would probably be a safe bet to try one of the many brunch places in Brooklyn. It isn't a surprise we picked Williamsburg because I had noted on my first walk there that I wanted to come back and check out more stores.
It wasn't hard to find a decent place to have brunch at on Yelp, so we quickly checked that off our list of places to find. Then I discovered that, luckily, Timeout NY has about 4 lists of best shops in Williamsburg and Brooklyn, but I mostly based this walk on this one. After quickly building a pre-walk map (it's always different post-walk), we hurriedly got in the car as we were starving and expecting to have brunch at around 2pm (lazy Sunday!).
Rabbithole – a French/American/Asian fusion restaurant
352 Bedford Ave # A
New York, NY 11211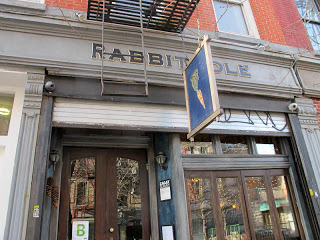 The Rabbithole menu is mostly French-inspired, with some American and Asian influences. It's probably good to note that despite the name and the carrot sign at their entrance, this is NOT a vegetarian or vegan place. They serve foie gras. However, they do have some vegetarian friendly items on the menu such as maple walnut granola and stuffed french toast for brunch. For dinner they have a variety of salads for starters and for the main course they have a hand-cut tagliatelle with ricotta, oven-dried cherry tomato, white wine, butter and basil (sounds good to me!).
The interior of the place is interesting. It's full of antique-y looking items and the tables look old and scratched (on purpose?). I thought the monkey chandelier (see above) was a good mixture of creepy and interesting. They have candle holders set on the walls, holding candles that look like they're actually used at night. They do have garden/patio seating, but it was closed when we went since it was the middle of winter. The music was a mix of old-style rock and blues. The tables are a bit on the small side but cozy, perfect for a first date.
Since we were having brunch, we started by having our normal discussion of the fact that I always get egg dishes and hubby always gets french toast. So this time, we decided to switch orders. I ordered the stuffed french toast and he ordered an egg sandwich (otherwise known as a breakfast sandwich). Honestly the breakfast sandwich is also a favorite of his for brunch, but I'll give him points anyway for getting something that had whole basil leaves in it.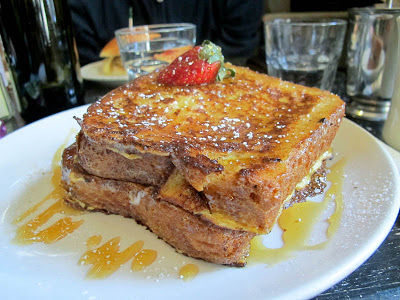 Stuffed french toast @ Rabbithole
The first thing I noticed about the stuffed french toast was that it was delicious. The second thing I noticed was that it did not appear to be stuffed (what?). It was supposed to come with strawberry mascarpone stuffing. Blame it on the fact that I'm Filipino and grew up in a culture where people do not complain and send back their food no matter how bad it is, or the fact that this dish was still delicious. Either way I didn't ask about why my french toast was not stuffed. I admit I assumed that it was so lightly stuffed that whatever was in there had melted. Guess I'm still not a real New Yorker. Now that I'm blogging about it weeks later, I realize it really was meant to be stuffed (see the "real" dish here). That stuffing looks pretty damn amazing too! Despite all that, I still can't get myself to complain too much about the dish. The toast (made with their own brioche) was perfectly toasted (no soggy parts!) and the syrup was delicious. I'm sure it would have been heavenly with the stuffing, but I gotta say I would definitely still go back.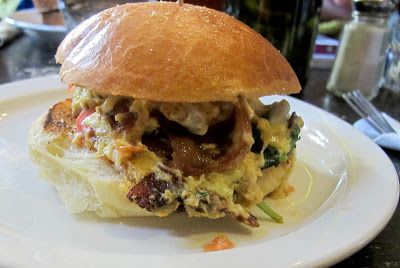 Hubby had their egg sandwich, which is really just a variety on your usual bacon, egg and cheese sandwich. They used swiss cheese and added tomato and basil. I didn't have to ask hubby if he liked it, since he devoured it in all its messy goodness.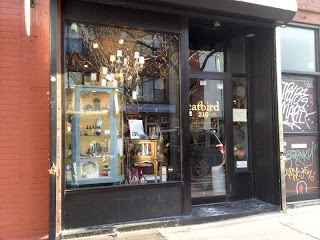 Catbird – a jewelry store/gift shop
219 Bedford Ave
(between 4th St & 5th St)
Brooklyn, NY 11211
Catbird sells mostly jewelry, but if you're the type who's always looking for unique trinkets to give as gifts (or to keep for yourself!) it's a nice little shop to check out.
They sell jewelry made by local artists, so you'll definitely spot some one of a kind items here. Be prepared to spend quite a bit of money though, because a lot of their stuff isn't cheap. To be fair, most of them are made with real material (gold, silver, opal) but if you're patient you can still find some pretty interesting items for less than $100.
Here are some nice items I found: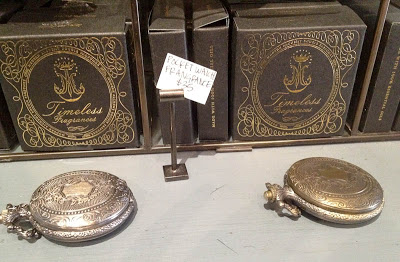 Pocket watch fragrances
First tooth keepsake containers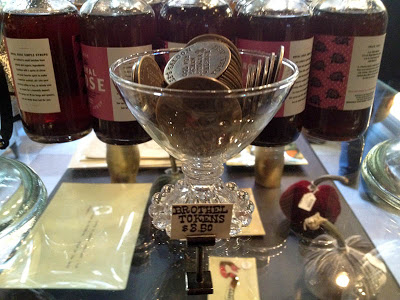 Brothel tokens (for all your old-school whoring needs)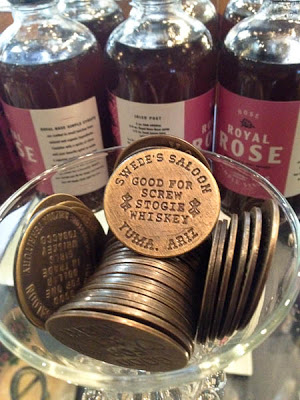 Brothel tokens
I fell in love with this finger bracelet. However it costs a pretty penny ($385)
I consoled myself with the fact that my husband thought it looked strange.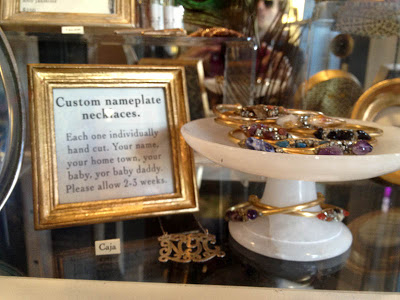 Custom nameplate necklaces, if you want a personal necklace just like Carrie 🙂
They come in silver ($200) or vermeil ($240)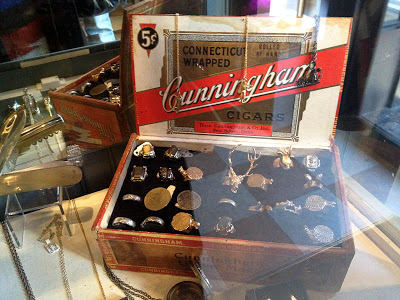 It was really the presentation more than the rings that caught my attention here
They also sell engagement rings or wedding bands, if you're looking into buying something different or conflict-free.
The Future Perfect – a home goods store


115 North 6th Street
Brooklyn, NY 11211
We had quite a bit of fun looking around The Future Perfect. Once again the theme is items you'd be hard-pressed to find elsewhere. As is usually the case with these type of indie stores, the prices are really high. For example, they have an armchair that costs over $6,000. You probably won't see me buying any of these until I own my own house, if at all. I'd hate to see a $3,000 couch get destroyed because I moved apartments. They do have some slightly more affordable decor though, if you're really looking to find stuff that don't look like they came from Macy's or Bed Bath and Beyond.
Glass table with skateboard wheels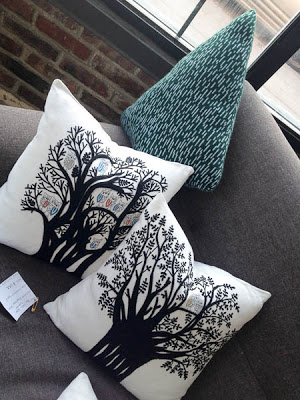 Tree-inspired pillows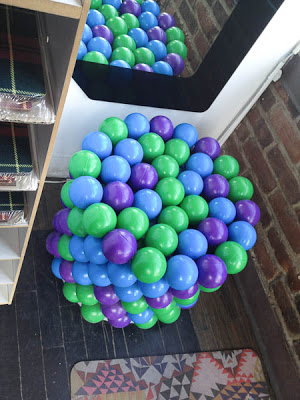 An end table made with plastic colored balls

Asymmetrical width clocks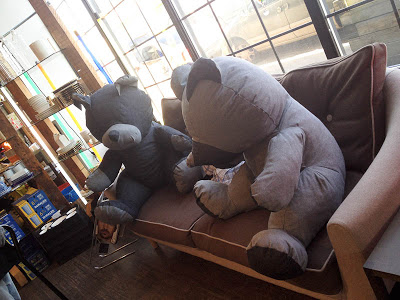 Giant teddy bears, coz they go so well in NYC apartments 😉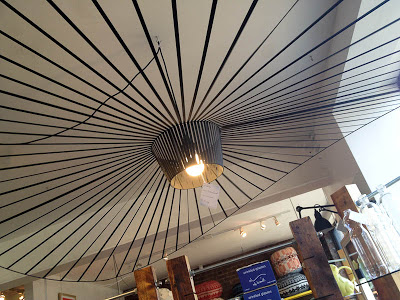 This was one of my favorite items. The fabric strips move as air passes.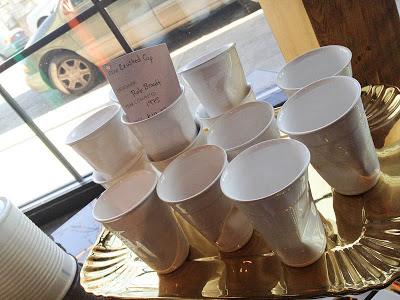 Porcelain that look like plastic crushed cups. Cute!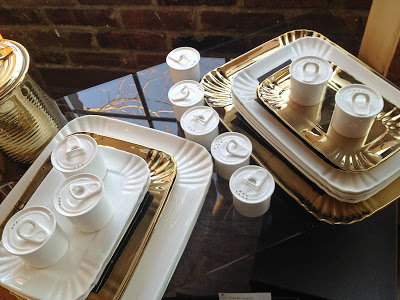 Porcelain salt and pepper containers that look like easy open cans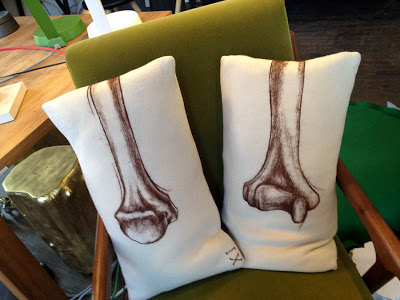 Humerus bone pillows for that creepy touch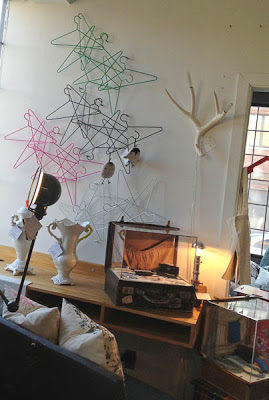 Hangers for hanging your stuff on the wall instead of your closet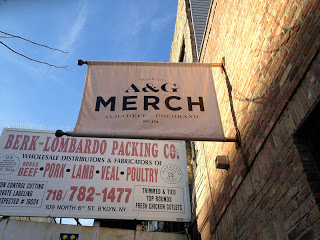 A&G Merch – another home goods store
111 N 6th St
(between Wythe Ave & Berry St)
Brooklyn, NY 11211
This place was not on the list of shops we wanted to visit, but on our way to our next stop we passed by it and the window display hooked us. The items are a wee bit more affordable than The Future Perfect and I definitely would consider buying items here if I were redecorating. There's no lack of one of a kind items either.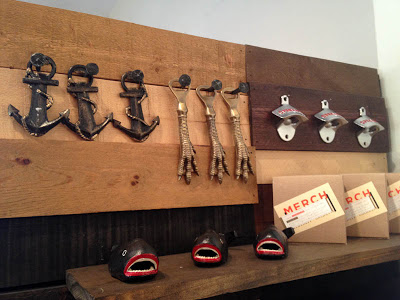 Chicken feet bottle openers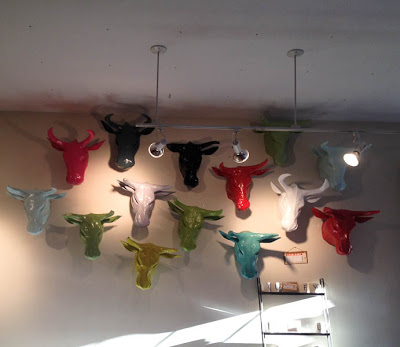 Colorful paper mache bull heads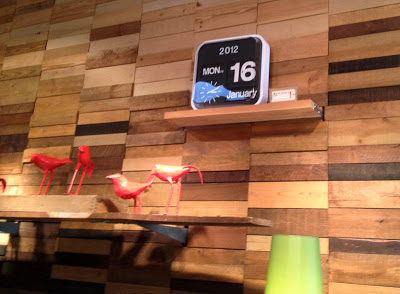 A big clock that also tells the day/date
Jack paper weights (also big enough to be book ends)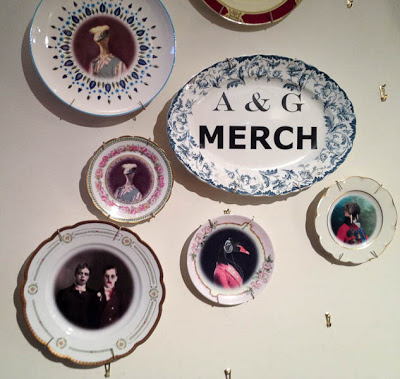 Some cool, mostly creepy altered antique plates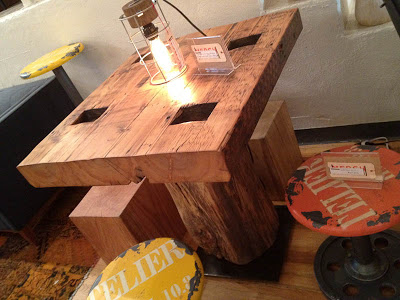 Some pretty interesting furniture. I'd consider these if I had my own bar/restaurant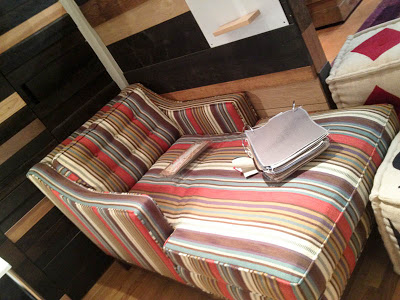 You can get some furniture upholstered in cool colors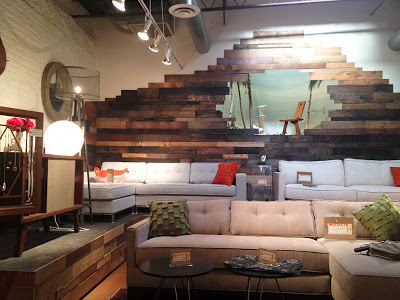 Displays @ A&G Merch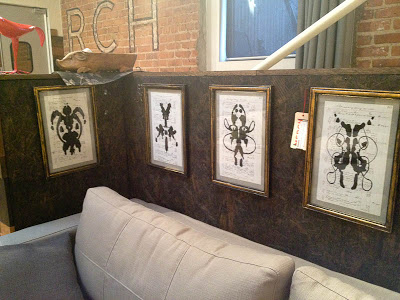 Rorschach/Rorschach-inspired frames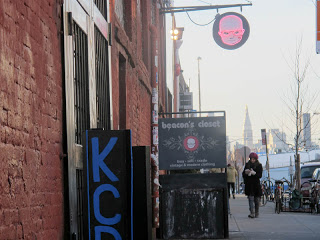 Beacon's Closet – a thrift/consignment store
88 North 11th St
(between Berry St and Wythe Ave)
Greenpoint/Williamsburg, Brooklyn
If there was ever a reason for yours truly to move to Brooklyn, this place would be it. Remember how I kept complaining that I liked the idea of consignment stores but have never found anything good? This was the answer to all my frustration. I had to exercise quite a bit of self-restraint in this place. This is not where ugly clothes that no one likes come to die (which I have decided is true for many thrift stores). This is the place where I believe you'll find something cool (that someone else may have outgrown) no matter who you are. Not only is it as big as a warehouse, you'll be able to find items at all price spectrums.  Some well-known brands I saw are: Dolce & Gabbana, Catherine Malandrino, Marc Jacobs, Diesel, Betsey Johnson, American Apparel, Topshop, and even H&M. They also have some gorgeous but cheaper items from brands I haven't heard of. They even arrange their apparel by color, so it's a lot easier for someone who's trying to find a specific outfit.
Here are some of the stuff I bought (lighting is bad in our apartment, sorry :P).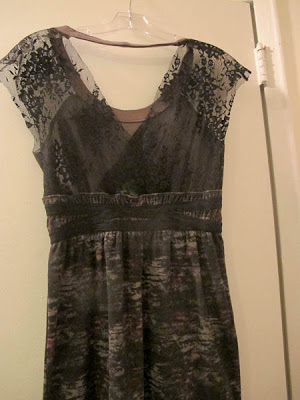 Lace back, studded front, black/camo Free People dress ($15)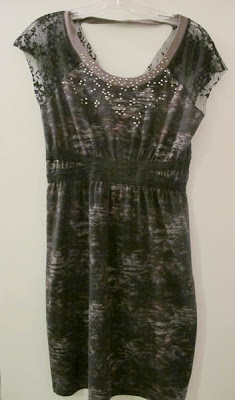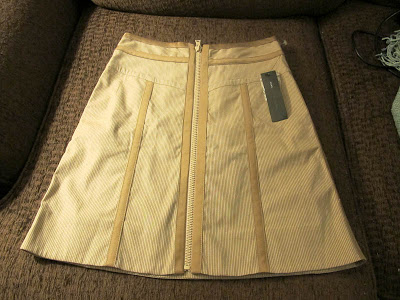 Marc by Marc Jacobs skirt with tag still in place! ($60, retail price almost $200)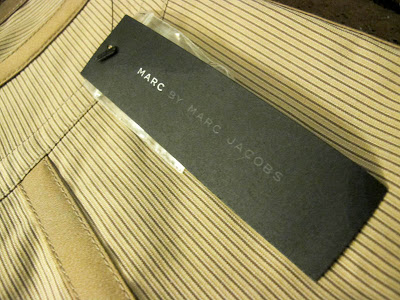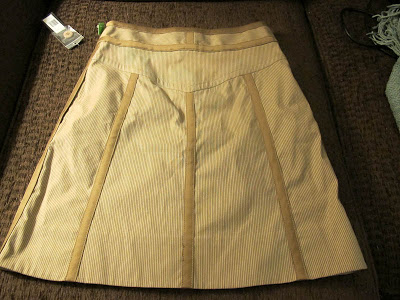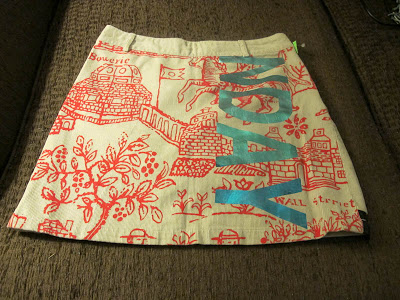 Unknown brand skirt ($15)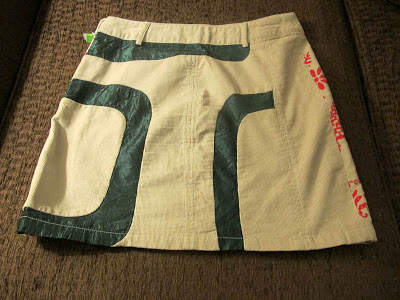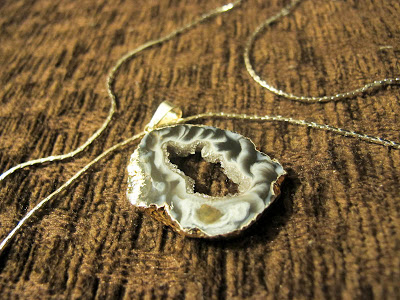 Stone slice necklace, $15 (I had just seen a similar one for around $50 at A&G Merch)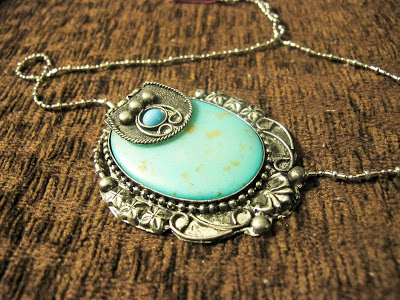 Large turquoise necklace, $15
We kept on going around trying to find random shops and bars (and failing!) then we somehow ended up here: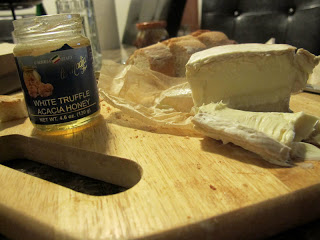 Brillat-Savarin from Bedford Cheese Shop
Bedford Cheese Shop
229 Bedford Ave
(between 4th St & 5th St)
Brooklyn, NY 11211
The fact that he was somewhat rudely treated here on our last Williamsburg walk did not deter hubby from entering the same cheese shop in search of his beloved fromager d'affinois. He was again foiled but they suggested we try the brillat-savarin, which is a type of triple-cream brie. Normally he isn't into brie (although I myself am quite fond of it). However, this one was a bit milder than your usual brie, and easier to spread than affinois. We brought it home, and it went great with some white truffle acacia honey and the loaf of bread we also bought from the Bedford Cheese Shop.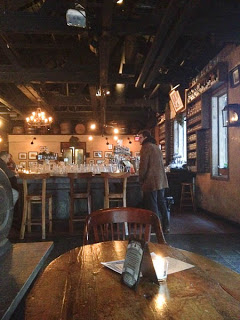 Radegast Hall & Biergarten – a beer hall/garden. Duh.
113 North 3rd Street
New York, NY 11211
I had realized that I hadn't spent nearly as much time as I should in bars on these walks (by that I mean I've NEVER gone to a bar on these walks), so I decided that Williamsburg would be the place to check out a bar instead of a coffee house. We strode into Radegast and were happy to find there was plenty of space for us to sit and enjoy our beers… IF I had actually remembered to bring my ID, which of course I DID NOT (loser). But, before I left with a heavy heart I got a snapshot of the interior and their impressive selection of beers.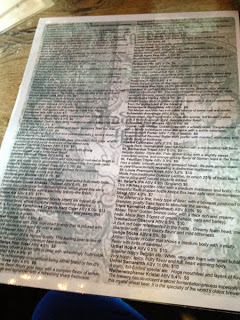 Beer menu @ Radegast
Note to self: plan these things better.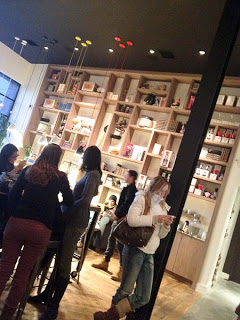 125 N 6th St
(between Berry St & Bedford Ave)
Brooklyn, NY 11211
This is one of those stops that I didn't plan out, but I found that it had decent reviews on Yelp and I REALLY needed some coffee after my very embarrassing experience at the beer garden. The ambiance in this place is terrific as well. It was somewhat crowded, but with the high ceilings and giant windows facing the street, it still somehow felt refreshing. The massive bookshelves, cluttered with books, coffee, and coffee brewing equipment appealed to my inner bookworm/nerd as well.
This place, like many of the establishments in Williamsburg, has an interesting history. Toby Smith, its namesake, started roasting his own coffee beans in his mom's garage in Sydney (from this I'd like you, reader, to automatically infer that he had quite a passion for coffee haha). Most of his cafes are in Australia, but there is one in Singapore and the most recent addition is this one in Brooklyn.
I had a caramel macchiato, which was very similar to the one I had at Ninth Street Espresso on my Chelsea – West Village walk. It was very earthy, but not crazy bitter.
The coffee house ended our very long and mostly successful walk/drive. Despite this being our second venture into Williamsburg, I feel I've still barely cracked the surface. Expect some more entries about this neighborhood in the future.
The Best Thing About This Walk: Beacon's Closet!
The Worst Thing About This Walk: The fact that I forgot my ID. Oh and also the blistering cold.
Would I Come Here Again? Without a doubt.
What Would I Do Differently? Bring my ID.
Map of this Walk
A: Rabbithole – 352 Bedford Ave # A New York, NY 11211
B: Catbird – 219 Bedford Ave (between 4th St & 5th St) Brooklyn, NY 11211
C: The Future Perfect – 115 North 6th Street, NY, Brooklyn 11211
D: A&G Merch – 111 North 6th Street, New York, NY 11211 (A&G Merch)
E: Beacon's Closet – 88 North 11th St (between Berry St and Wythe Ave) Greenpoint/Williamsburg, Brooklyn
F: Bedford Cheese Shop – 229 Bedford Ave  (between 4th St & 5th St)  Brooklyn, NY 11211
G: Radegast Hall & Biergarten – 113 North 3rd Street, New York, NY 11211
H: Toby's Estate Coffee – 125 N 6th St (between Berry St & Bedford Ave) Brooklyn, NY 11211