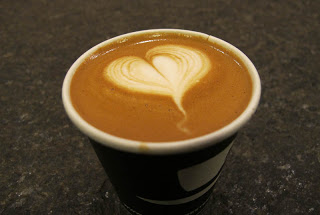 I had originally wanted to plan out a High Line/Meatpacking District walk, but I ended up mostly hanging around Chelsea Market, and then venturing into the West Village a bit for some coffee. (Pic: Macchiato @ Ninth Street Espresso)
After trying to walk on the High Line, where I got bored to death, I wanted to meet up with my hubby somewhere where I could have coffee and plan what to do next. The only other place to check out was Chelsea Market,  but it was a little to early to head over there, since we wanted it to be our last stop. We decided to check this place out:
Grounded – A coffee & tea house
28 Jane St
New York, NY
This was a little out of the way because we had originally planned to stay within the meatpacking district/chelsea area, but the reviews were just too good to ignore. It isn't very noticeable since it's surrounded by houses/apartments, and we only found it because we were looking specifically for it. It's worth a visit if you're a big tea person, because as you can see here, their tea selection is quite ridiculous in the most awesome way: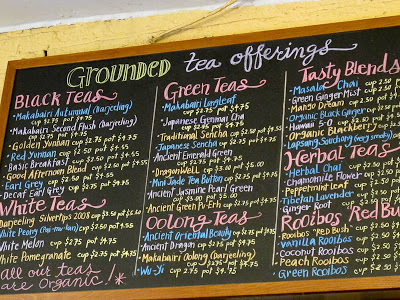 Tea Selection @ Grounded
I'm not much of a tea fan, so I ordered a pumpkin latte and a chocolate covered pretzel. They were both decent, but not mind-blowing. But I do like the ambiance in this place, and I won't hesitate to go back if I'm ever in this neighborhood again. Here are some more pics: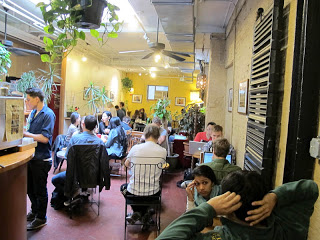 @ Grounded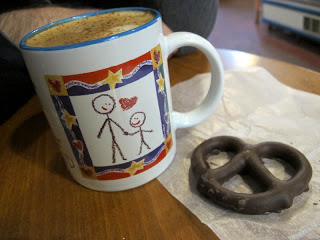 Pumpkin Latte and Chocolate Covered Pretzel @ Grounded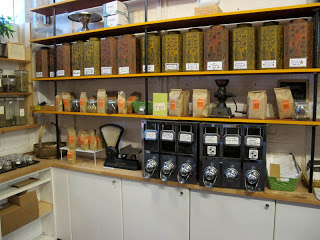 Teas @ Grounded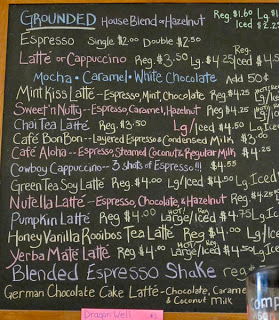 Coffee Drinks @ Grounded. Not sure why I didn't get the German Chocolate Cake Latte
Rags-A-GoGo – a thrift/consignment store


218 W 14th St
New York, NY 10011
I like the idea of getting stuff at consignment stores, but I've never actually bought anything at the ones I've been at. This place was no different. However, they were selling some beautiful leather skirts for $25 that I would've bought if only they weren't an awkward length for me (being short sucks sometimes).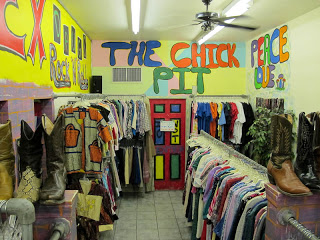 Not sure I want to get something from "The Chick Pit"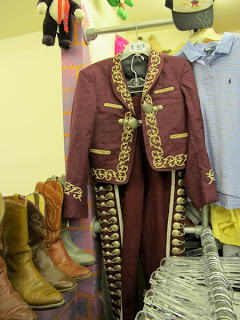 Interested in a mariachi costume for $75?

Chelsea Market
75 9th ave
New York, NY


"Chelsea Market is an enclosed urban food court, shopping mall, office building and television production facility located in the Chelsea neighborhood of the borough of Manhattan, in New York City. Built in the former National Biscuit Company factory complex where the Oreo cookie was invented and produced… it also provides standard office space for tenants, including media and broadcasting companies such as Oxygen Network, Food Network, and the local New York City cable station NY1. Also, more recently, Google has moved into some of the second and fourth floors." – Wikipedia
Chelsea market was packed when I first got there, and even more so when I returned later in the day. It was a bit overwhelming what with all the tourists and strollers everywhere. We even saw someone carting around their puppy in a stroller. I guess she felt a little out of place and decided this was the best way to go about solving it. It might be crowded, but it's worth going here if you're visiting NY and haven't been to this place. It's definitely a foodie paradise, and you don't have to spend a lot either.
These are only some of the nice shops and restaurants you can find at Chelsea Market. There are many other stores to check out when you're there. They have a Jacques Torres, a creperie, and also a Tuck Shop which I wrote about on my St. Marks walk.

Chelsea Market: Ninth Street Espresso
I had actually gone here earlier in the day, before the whole high line fiasco, but I returned to Chelsea Market later that day with hubby so I grouped it into the same section. I'm not usually a fan of espressos because I'm such a wimp when it comes to coffee and cocktails, but this was my first coffee stop for the day and I wasn't about to say no! Good thing I didn't because first of all, my macchiato came out like this: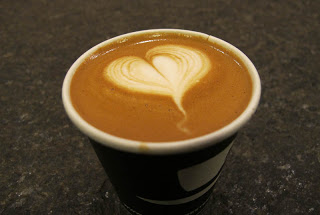 I've always wanted coffee with a heart on it :). If it's not obvious from the picture, this is an espresso cup (one of those tiny ones). It definitely tasted very espresso-ey, earthy and bitter, but not SO bitter that it overwhelmed the taste of everything else.
Chelsea Market: Amy's Bakery
If you haven't noticed from my posts yet, New York is FILLED with all sorts of amazing bakeries, and this is one of them. I stopped here to grab a coconut dream bar for breakfast at the high line, and later on to grab some more bread and slices of cake for hubby and me. The coconut dream bar was delicious, although a bit too heavy for breakfast. Their brioche loaf, which hubby later turned into grilled cheese sandwiches, was very, very good. Here are some more of their goodies: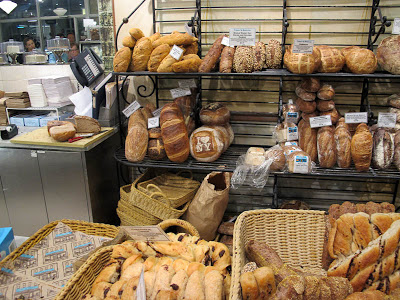 Mmmm bread. Wait, is that… ??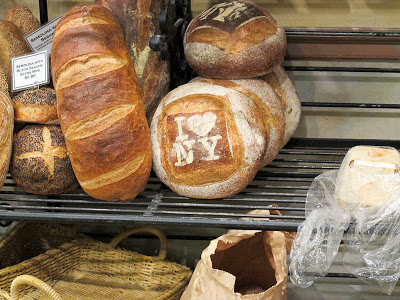 ..an I Heart NY loaf of bread?? Yes it is. Also see the Yankees loaf above it.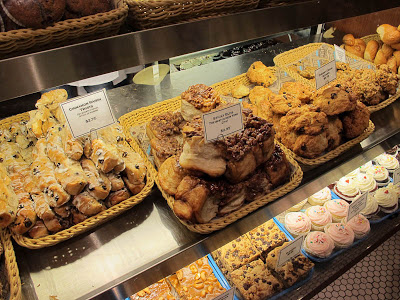 Cinnamon Raisin Twists, Sticky Buns, Scones, Cupcakes, and other goodies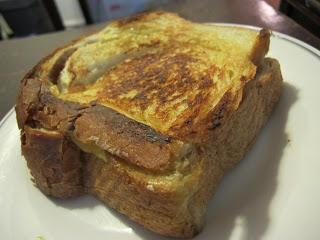 Brioche grilled cheese made with bread from Amy's
Chelsea Market: Chelsea Wine Vault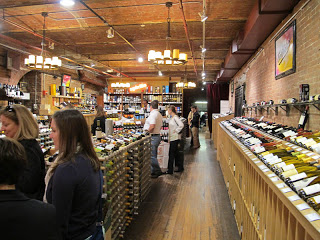 Chelsea Wine Vault


This place has a pretty extensive selection. Hubby found a bottle of wine he'd been looking for for quite sometime, which he had first tried in Europe. I found this…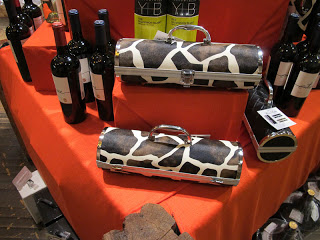 … which I really wanted to buy, although I'm not sure why because I don't think I've ever had the need to walk around town carrying a bottle of wine in a fancy bag. Hubby looked at me with a there's-no-way-you're-ever-gonna-use-that look.
Chelsea Market: Chelsea Market Baskets
This place is adorable. The idea for the store is somewhat like Harry & David's where you can pick out one of the many empty baskets they have, fill it with all sorts of goodies you can find at their store, then have it wrapped as a personalized gift basket. The main difference is that they have a wide variety of things, and you're not stuck with whatever brands Harry & David carries. They have Leonidas chocolates, bottles of truffle oil and truffle honey, a decent variety of cheeses, fresh fruits and flowers, bath items, candles and lots of NYC related paraphernalia. Here are some photos of what they have: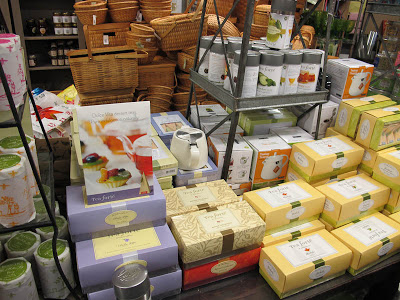 Tea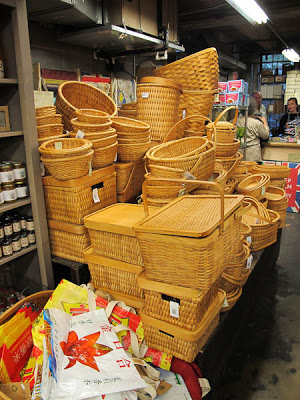 Baskets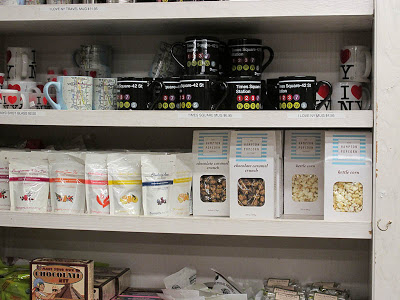 NY mugs, hot chocolate, caramel popcorn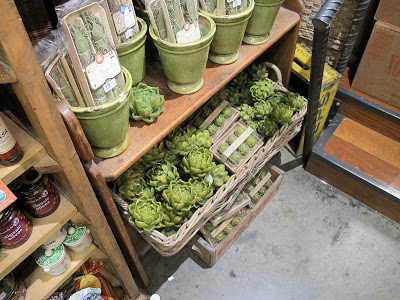 Artichoke candles! So cute.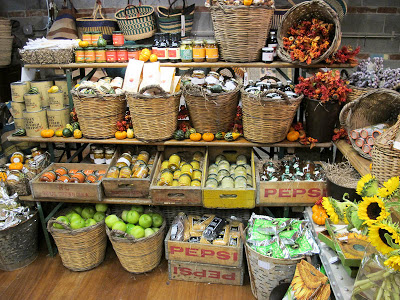 Fruit, flowers, jam and honey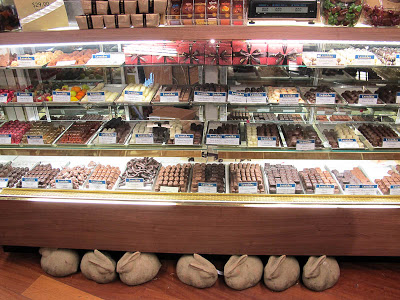 Leonidas Chocolates!
Spice Market – A mid-priced Jean Georges restaurant
403 W 13th Street
New York, NY 10014
I debated between having dinner at Spice Market and Buddakan, but hubby was enticed by the Spice Market menu so we ended up going there. Their fare is inspired by the street food Jean Georges sampled in his travels in Asia, and the decor indeed made me feel like I was in some generic South East Asian country. The seats are very comfortable and the wait staff were extremely pleasant. They have a very relaxed, cozy and pleasant vibe. This would be a great place to have a first date (just make sure your date is ok with Asian food).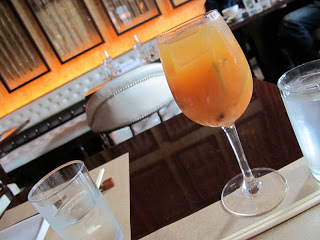 I started off the meal with a passion fruit sangria. I've been in a bit of a sangria mood lately due to the last one I tried at Crooked Tree on my St. Marks walk. This one was also excellent.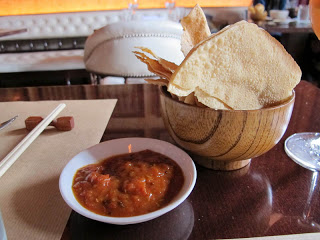 The next thing I tried (and sadly, the best thing I had in this restaurant), was the papadum. They were serving bowls of these instead of bread baskets. This is a crispy cracker type appetizer or snack which originated in India. I've had it plain, savory and spicy before, but I've never had it this perfectly crisped. The dip that came with it was mildly spicy and pretty similar to salsa.
I had their prix fixe menu, which gives you 3 courses for $24. Not a bad deal. The courses are normal-sized, so it doesn't feel like you're being jipped because of the price. Unfortunately, most of my meal wasn't great. The only reason I still think it's worth going here is I would've given my hubby's meal a good review if I was the one who ate it. Also, I liked everything I had that didn't have anything to do with being vegetarian (like the "bread basket" and the sangria). I don't think you should come here if you don't eat meat.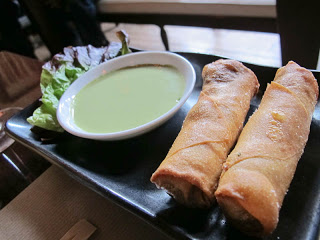 Fragrant Mushroom Egg Roll
I started the meal with the fragrant mushroom egg roll. As I said, the portion was decent, but I was pretty disappointed with the taste of the egg roll. The filling tasted like plain old mushrooms. I felt as though there should have been more vegetables included, or the mushrooms should have had more flavor. The sauce didn't help much. I tried dipping it in the "salsa" meant for the papadums, but honestly the only reason that made it better is because I love spicy food.
Chili-Garlic Egg Noodles with Thai Basil and Mint
Next up was the chili-garlic egg noodles with thai basil and mint. I was pretty disappointed with this as well. The sauce was sour and just a tad sweet, and the chili didn't even make it that spicy. I didn't want to say it, but I really feel like I should. It reminded me of an Annie Chun's noodle bowl I had over the hurricane weekend. If you're not familiar with Annie Chun's they make those instant noodle bowls that have fresh looking noodle packs instead of the hard noodles you need to boil.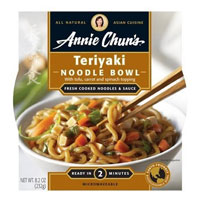 Shall I compare thee to an Annie Chun's?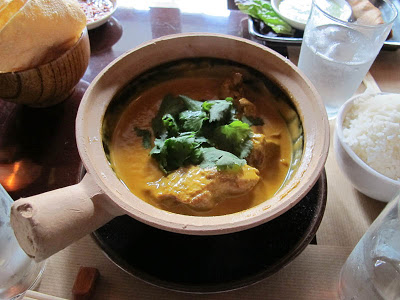 Duck Curry
My hubby, who doesn't like ordering appetizers, ordered one dish, which was the duck curry. I cheated a little and had some of the sauce with a spoonful of rice. It was divine. I can only imagine what it tastes like with the duck. He said he preferred his duck crispy (peking duck style), but I've always been partial to fatty, jiggly bits of duck drowning in curry sauce. I have no doubt I would have devoured this if I still ate meat. Are you proud I didn't "go all the way"? ;P I know all you meatatarians (don't worry, I know that's not a real word) are probably rolling your eyes at me right now.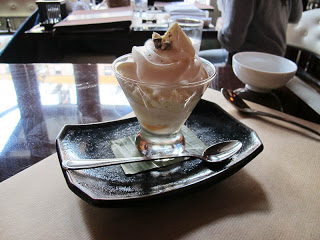 Peach Sundae, Vanilla Tapioca, Ginger Ice Cream
For our last dish, we shared my peach sundae, vanilla tapioca and ginger ice cream. These things were layered on top of each other. It was light but very delicious. All the flavors complemented each other wonderfully.
All in all my Spice Market experience was not the best. I would not come back here until the day I give up being vegetarian.
The Best Thing About This Walk: Chelsea Market
The Worst Thing About This Walk: The High Line (although I put that in another entry)
Would I Come Here Again? Sure, although I'm not in a hurry.
What Would I Do Differently? Try Buddakan and/or Pastis. Make a customized gift basket for someone.
Map of this Walk

View Larger Map
A: Grounded – 28 Jane St, New York, NY
B: Rags-a-GoGo – 218 W 14th St, New York, NY 10011
C: Chelsea Market – 75 9th ave, New York, NY
D: Spice Market – 403 W 13th Street, New York, NY 10014