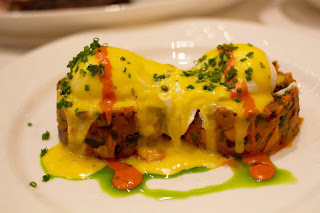 I think the best brunch meal I've ever had was at Mesa Grill in Las Vegas. So when Mike suggested having a belated birthday brunch somewhere my thoughts immediately turned to the original Mesa Grill right here in NYC.
We of course made a reservation, since it's a pretty popular place for brunch, but I guess it's either we were coming it at a weird time (1pm) or we were just there on a slow day, since a couple of people came in without reservations and were seated a few minutes after us.
I was a little depressed at first, seeing that the New York menu does NOT have the tiger shrimp + roasted corn tamale, which was so yummy I had to take a pause and remember it while writing this post. This is so good that if I were asked what dish I would wish to eat if I were to die soon after, I would probably pick this. I've always been a fan of the flavor and texture of tamales. But the juicy tiger shrimps, sweet corn kernels, and the creamy corn and cilantro sauce take this dish to a whole new level. I was so amazed by it that I actually took a semi-decent photo of it even though this was at a point in my life where I couldn't take a nice photo to save my life.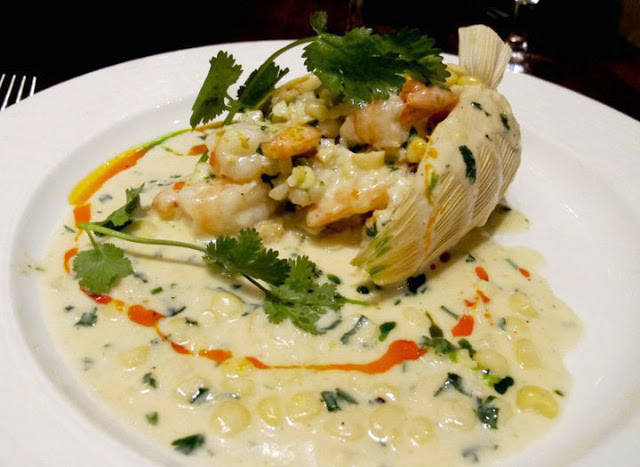 Tiger Shrimp + Roasted Corn Tamale @ Mesa Grill, Las Vegas
I quickly got over my disappointment when we were served my favorite bread basket EVER. I remember it being pretty much the same in Vegas. The blueberry scones are to die for, and they have a delicious coffee cake in there somewhere. There's also savory corn bread and jalapeño biscuits. Every single thing in this bread basket is good, so it's really hard to get to your actual order, but you have to because it is just as delicious.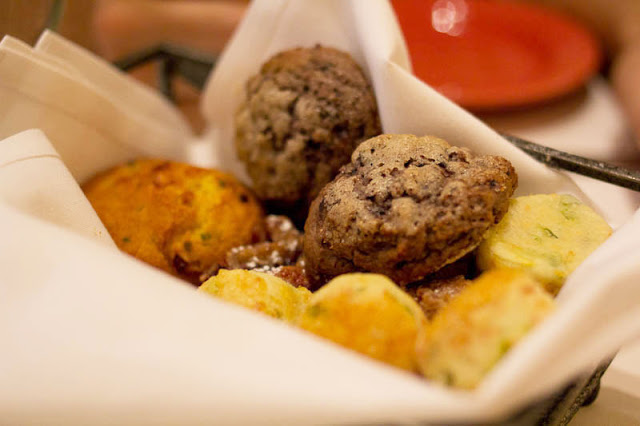 Bread basket @ Mesa Grill
The bread basket also comes with a nice sweet and spicy salsa, which I've never seen done at any other restaurant. This is especially good with the jalapeño biscuits.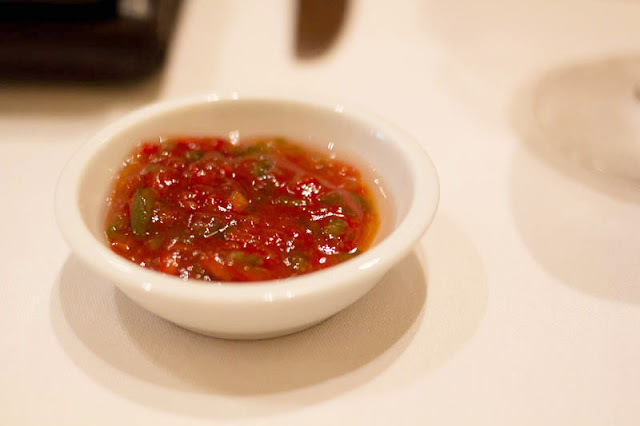 Mike had the blue corn buttermilk waffle with blackberry bourbon syrup and vanilla creme fraiche. He was so excited that he starting cutting through it before I could yell at him to let me take a photo first. Oh well. He had ordered the same thing in Vegas and absolutely loved it then. This time he thought it was not as delicious, but I would beg to differ since I kept stealing pieces of it from his plate. There's something about the texture of this waffle that makes me keep going. I also like that it's just sweet enough to be delicious, but not so sweet as to induce a coma after.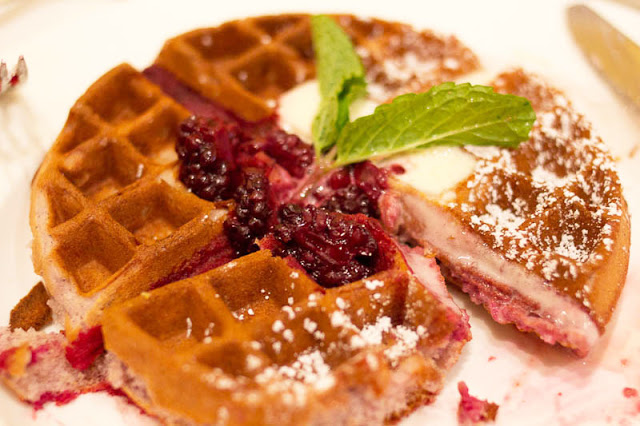 Buttermilk Corn Waffle with Blackberry Bourbon Syrup @ Mesa Grill
I wanted to order something different, but ended up getting the same thing I had in Vegas too (the tamale was an appetizer). The spicy chicken + sweet potato hash with poached eggs and green chile hollandaise sauce is yet another 'mmmmmmm'-worthy dish on the menu. In fact, the man sitting beside us loved it so much he actually told me that this thing tasted fantastic. People don't usually talk to random people in this city, so that's a sign of how truly great this dish is. It has all the things I love about eggs benedict, which is my favorite normal brunch dish, fused with tex-mex flavors. The sweet potato hash is also a lot easier to eat than an English muffin.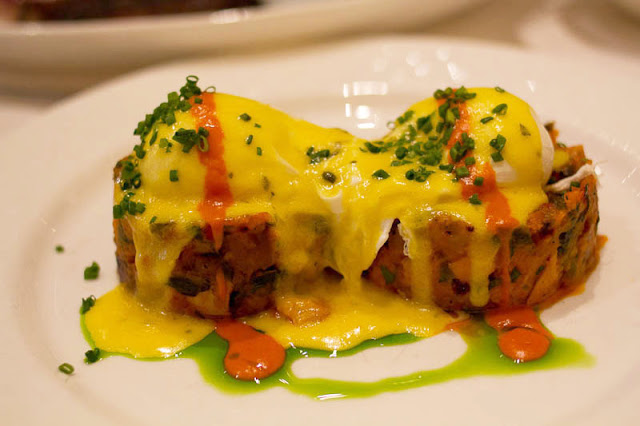 Spicy Chicken + Sweet Potato Hash, Poached Eggs with Green Chile Hollandaise @ Mesa Grill
Mike wanted to split some kind of protein dish instead of an appetizer to offset his waffle order, so we also got the eggs + aged sirloin tortilla, which was pretty much the same as steak fajitas. Our opinions differed quite a bit on this dish. I LOVE fatty cuts of steak, in fact those cuts are usually the only ones that make me happy, and this one had nice and melty bits of fat on it, with a lot of flavor. Mike hates eating fatty cuts of meat, so he had to cut out quite a bit of fat to get to the meat.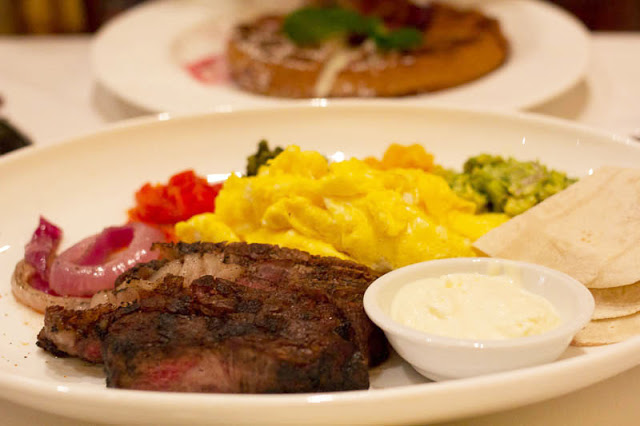 Eggs + Aged Sirloin Tortilla @ Mesa Grill
Last but not the least, I had two lovely cups of cappuccino. I never order more than one cup of coffee with a meal, so this should tell you how much I liked it. The only other cup of cappuccino that might rival this one is the one I had at Cafe Orlin in St. Marks, and it's not really fair to compare the two because the one at Cafe Orlin has almond flavoring.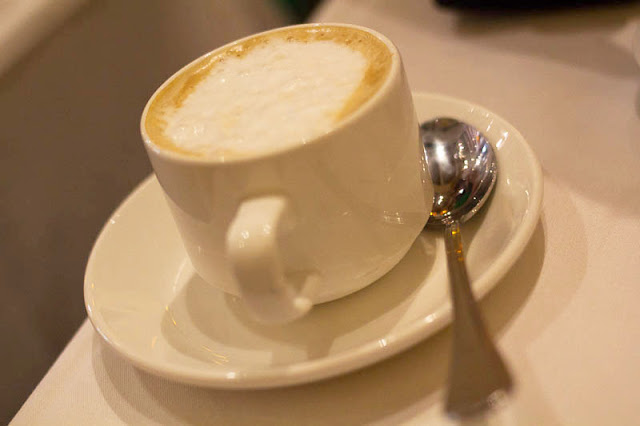 Cappuccino
It's probably pretty obvious how I feel about this restaurant, at least for brunch (I've never had dinner there but I sure am considering it now). If you're a fan of inventive dishes, this is definitely a great place to try. It's obvious that Bobby Flay likes to "fancy-up" classic dishes from his show "Throwdown with Bobby Flay", but I only realized how good he really is at it until I had brunch here. So if you're visiting the city from out of town, I highly suggest going here.
Mesa Grill
102 5th Avenue
New York, NY 10011