41 Saint Marks Place New York, NY
I first read about Cafe Orlin while I was looking up what to order at Mud coffee on Yelp for my St. Marks walk. Someone mentioned Mud is less crowded than Cafe Orlin, which is a popular brunch spot. I filed it in my head as a place to check out in the future, since I had already planned what to do for that particular walk.
Last week as I was figuring out where to go for lunch, Cafe Orlin popped up in my search again. I immediately decided to go there, since I saw that they had a vegetarian section on their menu. Cafe Orlin sounds French to me, but its menu is actually more of  a mix of brunch items and dishes from all over the world. Aside from the normal breakfast fare, they have different pastas (Italian), hummus and falafel (Mediterranean), Schnitzel (German), basmati rice (Indian) and even burgers.
As I approached, I noticed that their outside seating was full, which was pretty surprising because it was a weekday and I had left the office at exactly 12 pm. I'm glad I wasn't discouraged by that because there were plenty of seats inside (although I guess seating would be much more problematic during winter).
I was torn between ordering the veggie burger or the mushroom ravioli in a walnut basil cream sauce. I asked the waitress and she told me they were both good (of course), but that the mushroom ravioli was ESPECIALLY good. I'm sure you can guess which one I ordered. I also got an almond cappuccino. Don't ask me why I was ordering coffee for lunch, it's just one of those things I did once and have been doing ever since. I find it helps me stay awake during siesta hours.
As I was waiting for my order to arrive, I started taking notes with my ipad. I got a little bored so I tried to see if there were any accessible wifi networks nearby, and discovered that Cafe Orlin actually has free wifi. One big plus! 🙂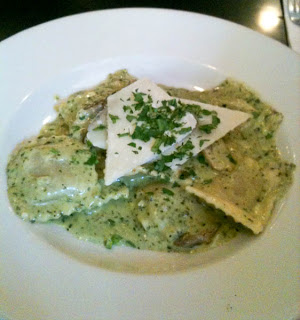 Mushroom Ravioli in a Walnut Basil Cream Sauce
The waitress wasn't kidding when she told me the ravioli was especially good. The ravioli was as good as any ravioli I've ever had, which is saying a lot considering there was no meat in it. But what really blew me away was the sauce and the parmesan slices on top. The sauce tasted very similar to pesto, but I guess since it was made with walnuts instead of pine nuts, and cream instead of extra virgin olive oil, it couldn't be called pesto. Regardless of what it was called, it was to die for. The thick parmesan slices took the dish to the next level, because I'm sure it would not have been as good if they just sprinkled Kraft grated parmesan on there. My only complaint was that I wish I had a double portion. I'm not saying it was a tiny plate, I'm saying I would've eaten two normal-sized portions because of how delicious it was.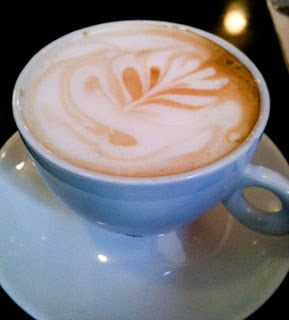 Almond Cappuccino
There was no better way to end my already excellent meal than with the best cappuccino I've ever had. I have a weird tendency to order cappuccinos because it sounds like it should be delicious, but I find that most cappuccinos I've had are lacking in flavor. I know, I know. At this point I can't really blame anyone but myself. But I've decided to treat all those other flavorless cappuccinos as the ones that finally led me to this. It was perfect. Not too sweet, and not too bitter, with just a hint of almond. The cute design helps as well.
Overall this place was GREAT. Free wifi? Check. Great food? Check. Excellent coffee? CHECK. I can't wait to go back and try other stuff on their menu.