Hi all… I've returned, a bit jealous of pushed by all the recent social media coverage of San Diego Comic Con (don't get me started on Thor: Ragnarok, or I will not shut up), and the fact that I have a free day to putz around at home despite thinking I should be doing more summery things (but not actually doing them). I've also been feeling quite down lately. I won't bum you out with details, but let's just say I've been needing reminders of more cheerful days, and this is one way to do it. I'm continuing my series on our California trip from last year so I can finally hit the SDCC days. But before that, there was Hollywood…
And pig's feet.
If hiking Griffith Park was my favorite part of visiting LA, going around the other touristy spots in Hollywood was my least favorite, which is probably why it's taken me so long to get to this. I think it was because it reminded me so much of the crushing crowds of Times Square, minus the exciting billboards. The itinerary was also quite poorly planned on our end, which did not help. Luckily, it was saved by the best proper meal we had the entire vacation (I'm not counting our doughnut binge here), at a lovely restaurant called République.
101 Coffee Shop
We started with breakfast at 101 Coffee Shop, which was right in front of our AirBnB place in Hollywood Hills. It's apparently well known for being used as a shooting location for the movie "Swingers". For those who haven't seen it (like me), Zagat describes it perfectly — '"Diner kitsch in its highest form" serves as a "hipster", "celebrity" and "tourist"magnet at this "late-night" Hollywood Hills hang that dishes up plentiful portions of "spot-on" American coffee-shop eats, plus some "mean" java and "amazing"milkshakes at "fair prices"; an "enthusiastic" staff keeps it "vibrant", so it's "always hopping" whether curing "hangovers" in the morning or "getting them started" in the first place.' I thought they had decent diner food, and it wasn't crowded, so I liked it well enough. I wouldn't seek it out specifically, but I wouldn't mind eating there again.
Hollywood
The simple breakfast was meant to kick-off a simple day in Hollywood. We wandered around and quickly hit the TCL Chinese Theatre, saw the Hollywood Stars, and went back to the Hollywood & Highland mall to find a hat so Mike could be the Ash to my Pikachu. We took in the view of the Hollywood Sign from there as well. All very boring standard stuff.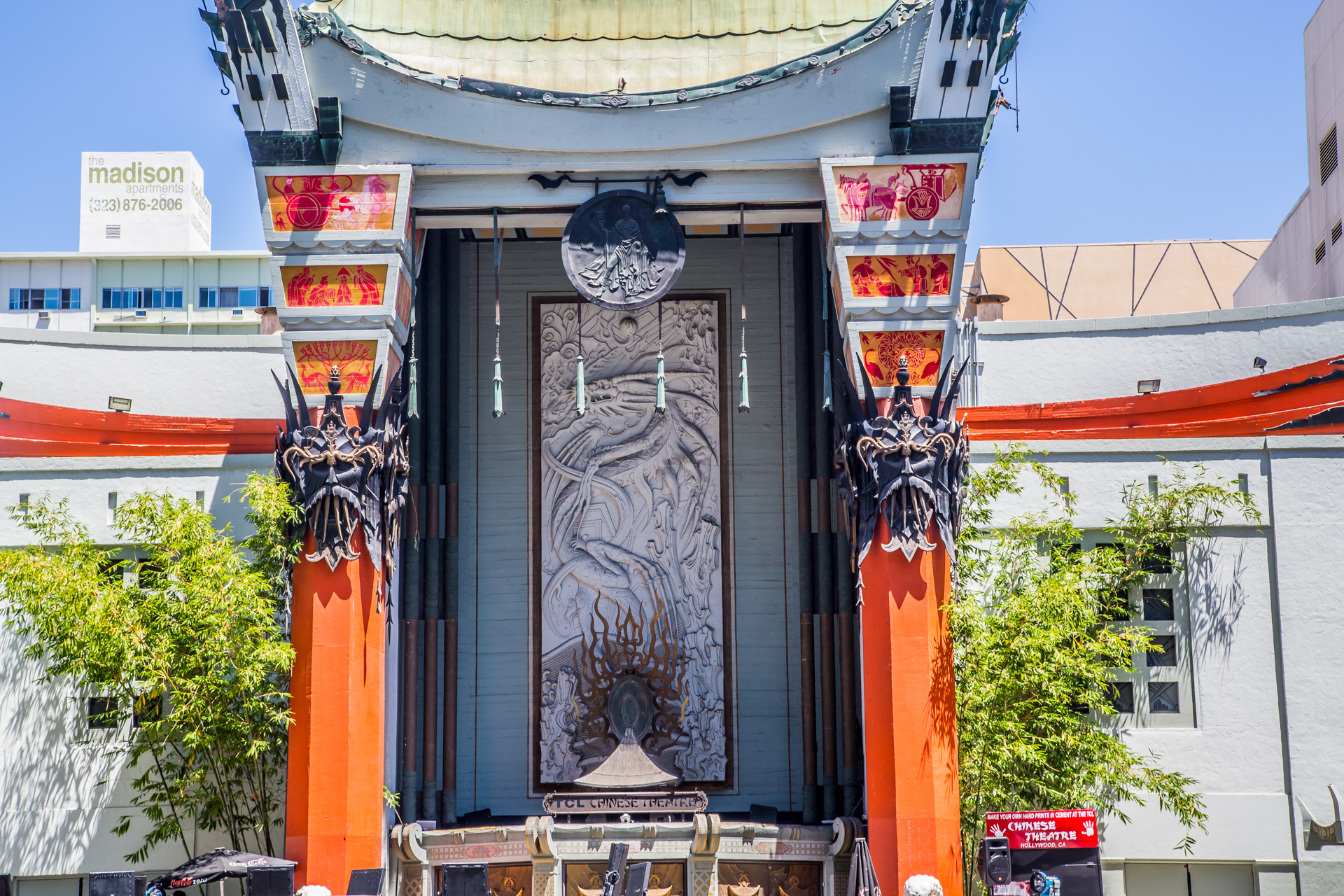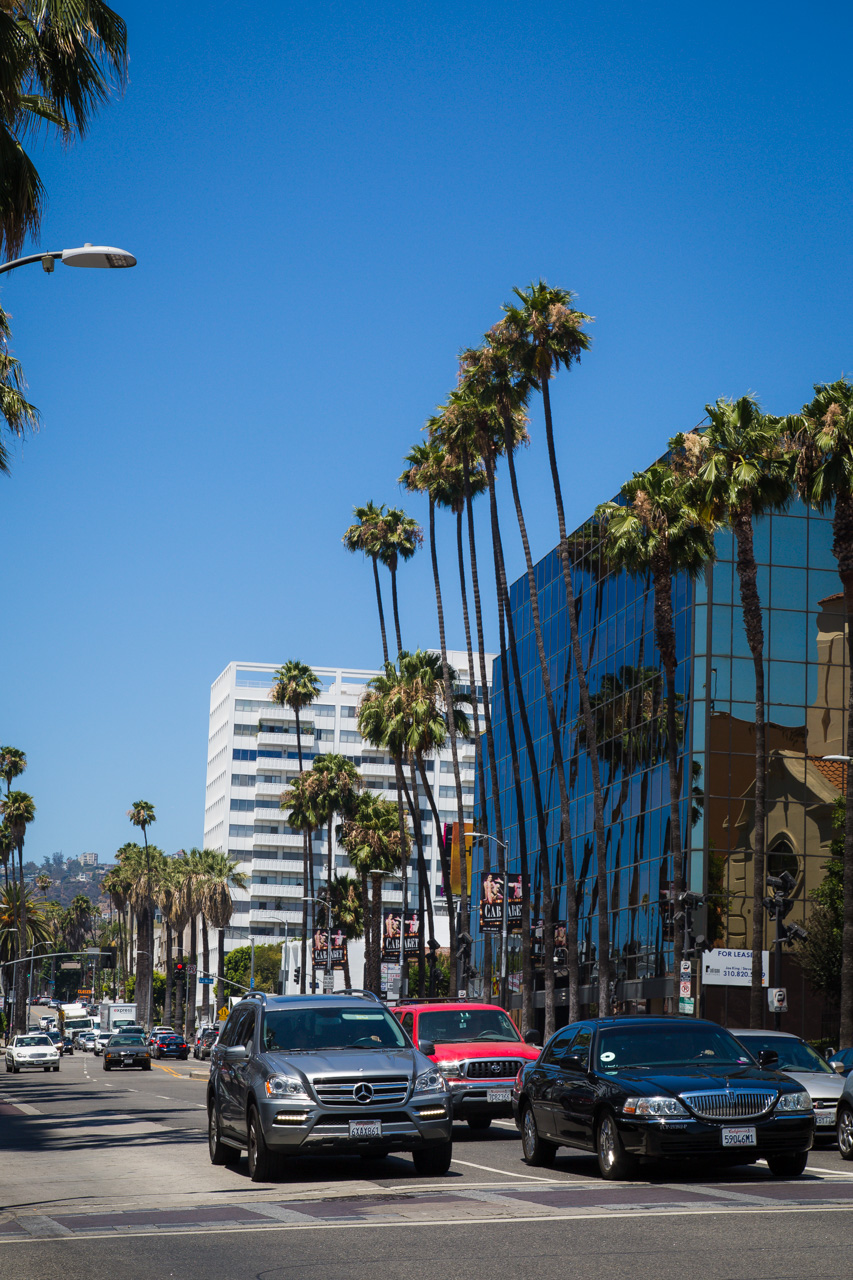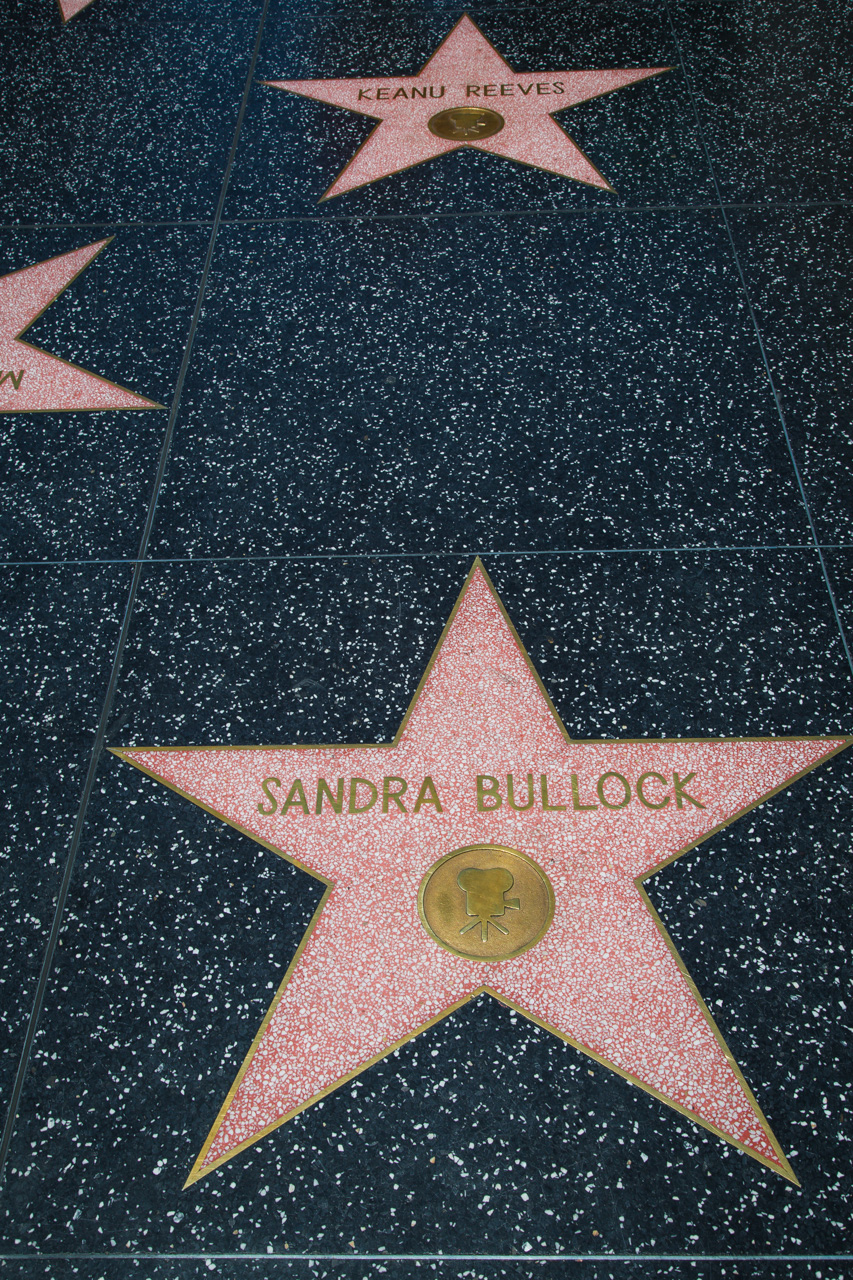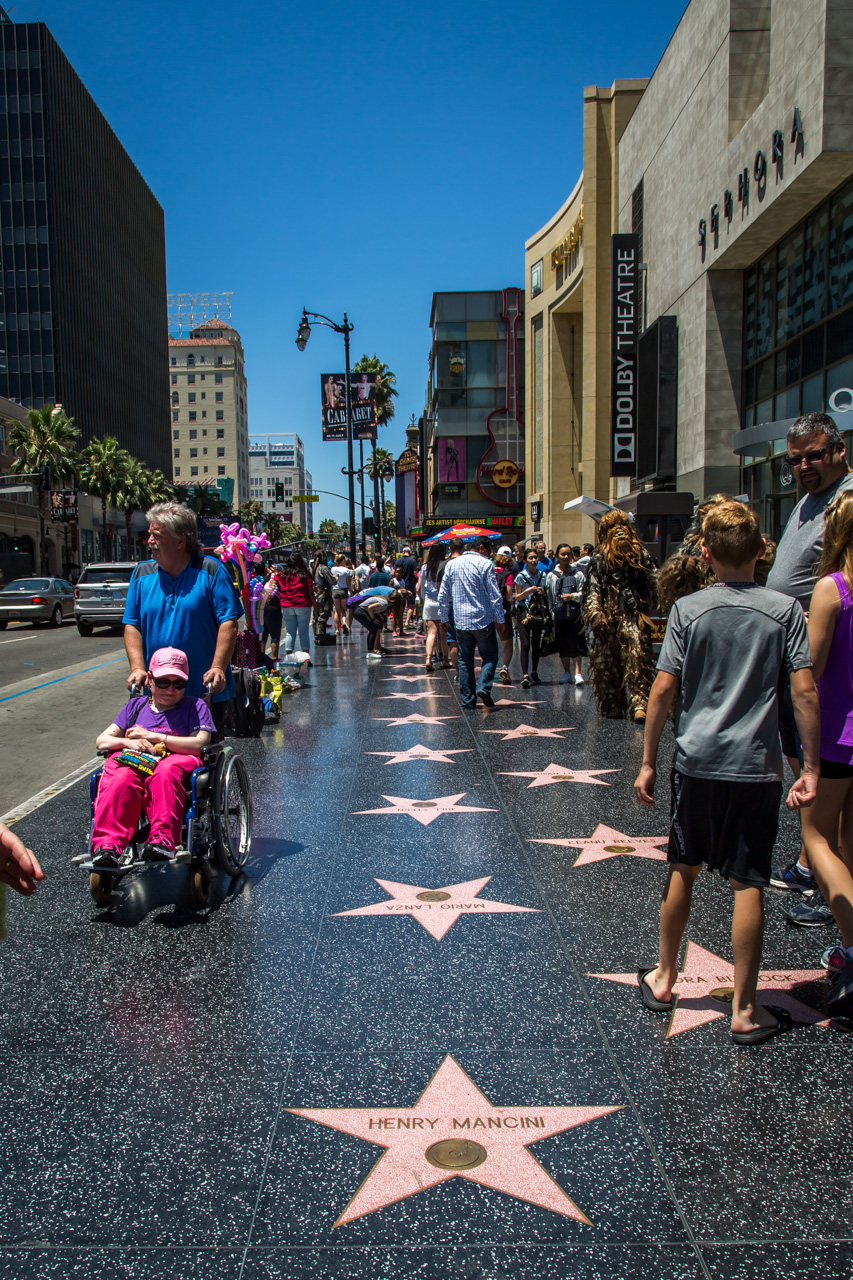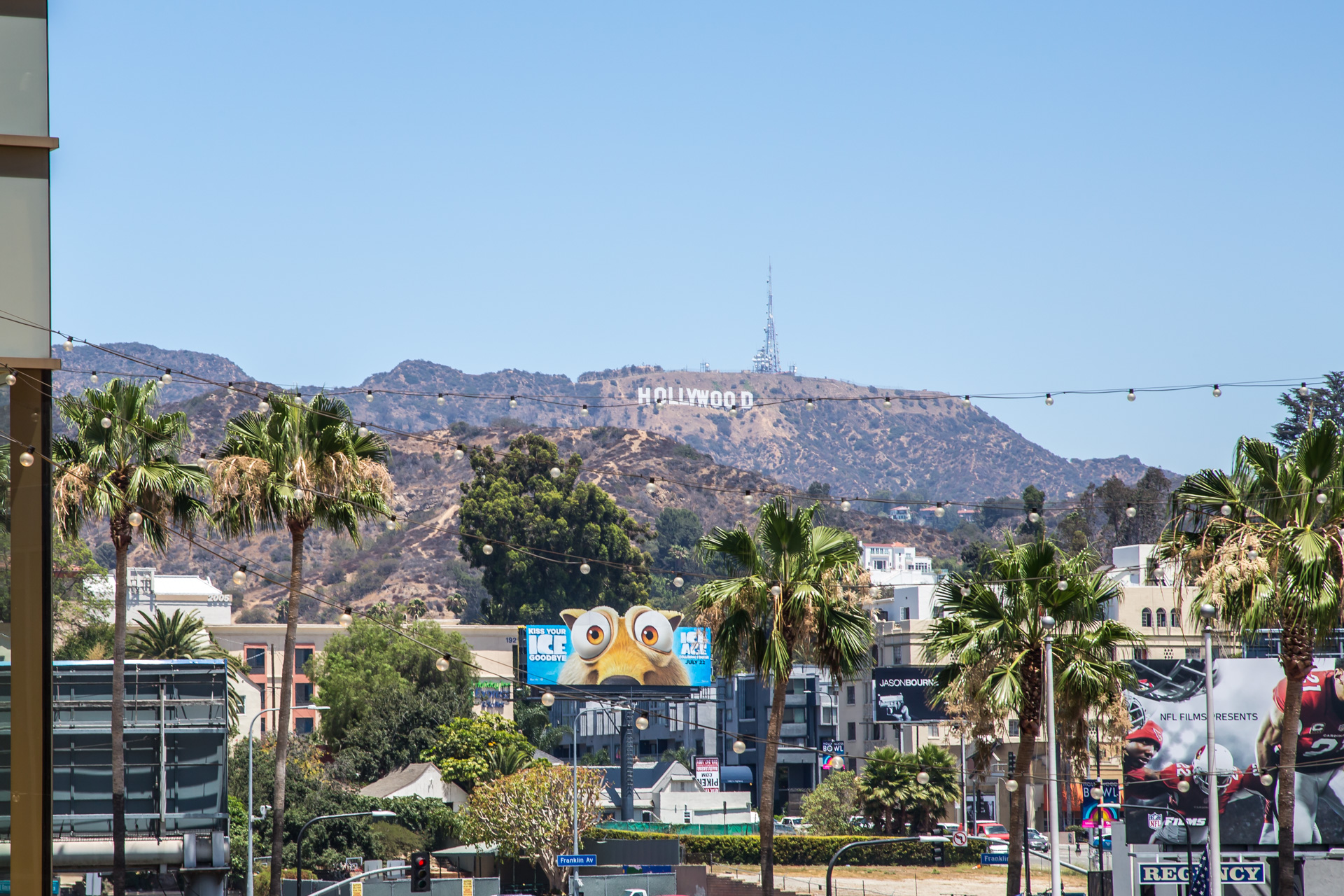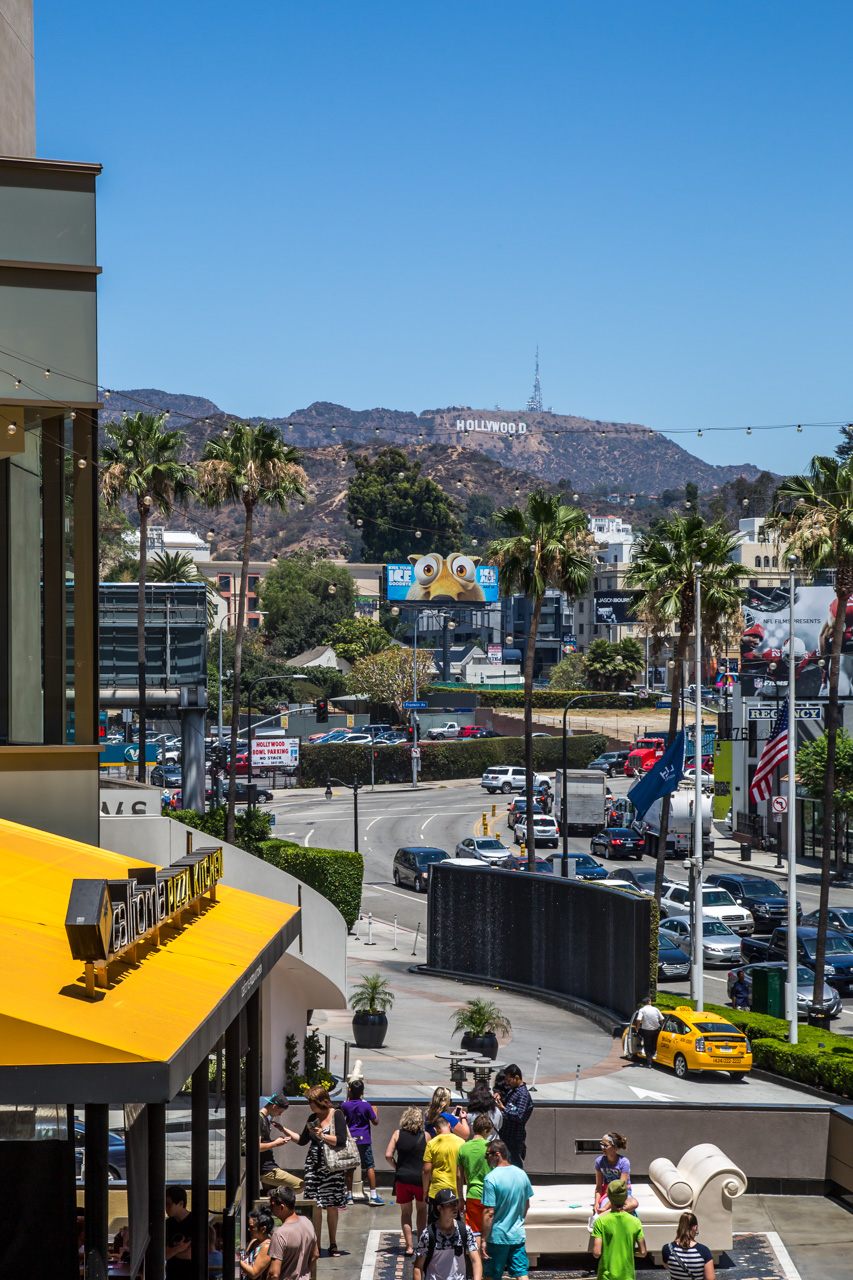 Hugo's
Our next stop was Hugo's, which was nice enough but a bit out of the way. I honestly would have skipped this if I had the chance to redo our itinerary because it cost us going into LACMA (Los Angeles County Museum of Art) and the museum at the La Brea Tar Pits. Their main attractions as far as I could tell from research were their breakfast pasta called Pasta Papa (fresh pasta scrambled with eggs, garlic, parsley, parmesan cheese, bacon, turkey sausage & scallions), and their "Create-A-Pasta", which is exactly what it sounds like. I sadly did . not order the breakfast pasta, but I've since made a version of it myself and I just love the idea!
Mike went with a garlic parmesan cream sauce with grilled chicken, spinach, and sun-dried tomatoes on top of spaghetti. He thought it was a bit lacking in taste, but much better with a few dashes of salt.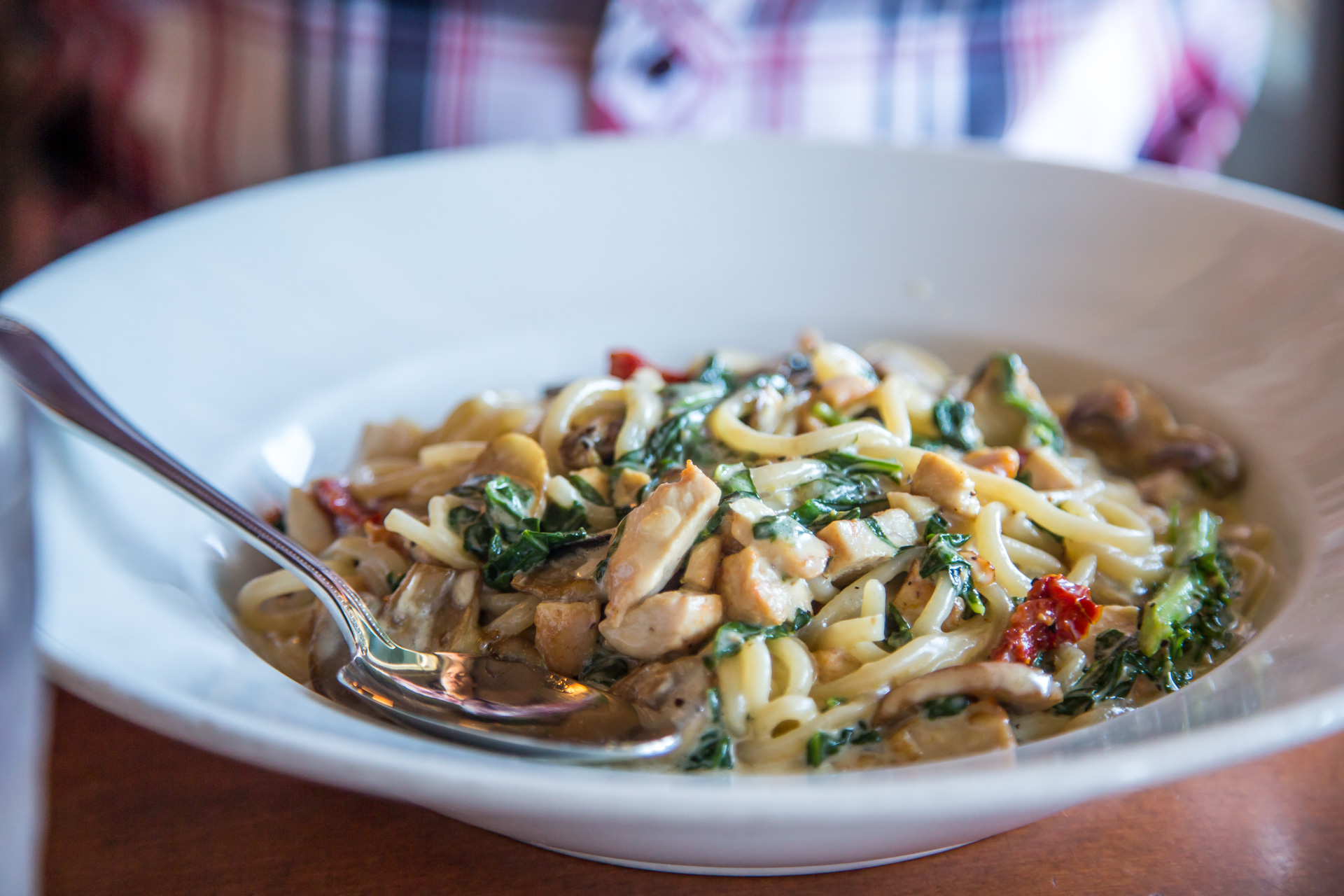 I went with the Pasta Victor, which is grilled chicken breast, garlic, sun dried tomato, corn, chili flakes, cilantro, parmesan cheese, and a slightly spicy chipotle‐cream sauce on top of spaghetti. It was perfect. Creamy, flavorful,  with a bit of sweetness from the corn as well as a kick from the chipotle.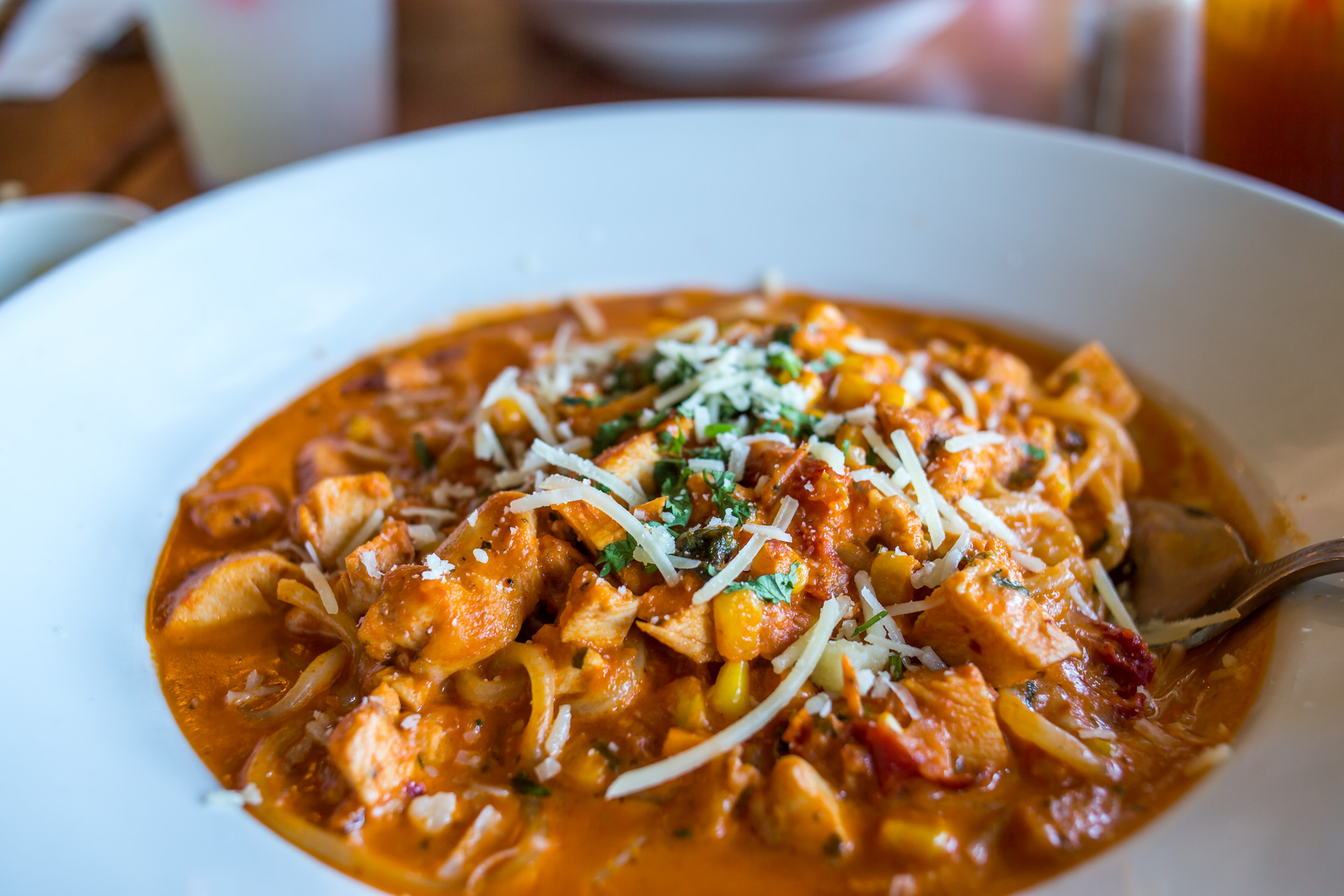 Neveux Artisan Creamery
We wasted more time getting lost looking for a dessert place that wasn't really there (I'm thinking it was probably a food truck), and found yet another ice cream place that was good. This spot earns its name with artisan flavors such as Blueberry Chevre, Honey Lavender, Pineapple Sage, and Strawberry Balsamic.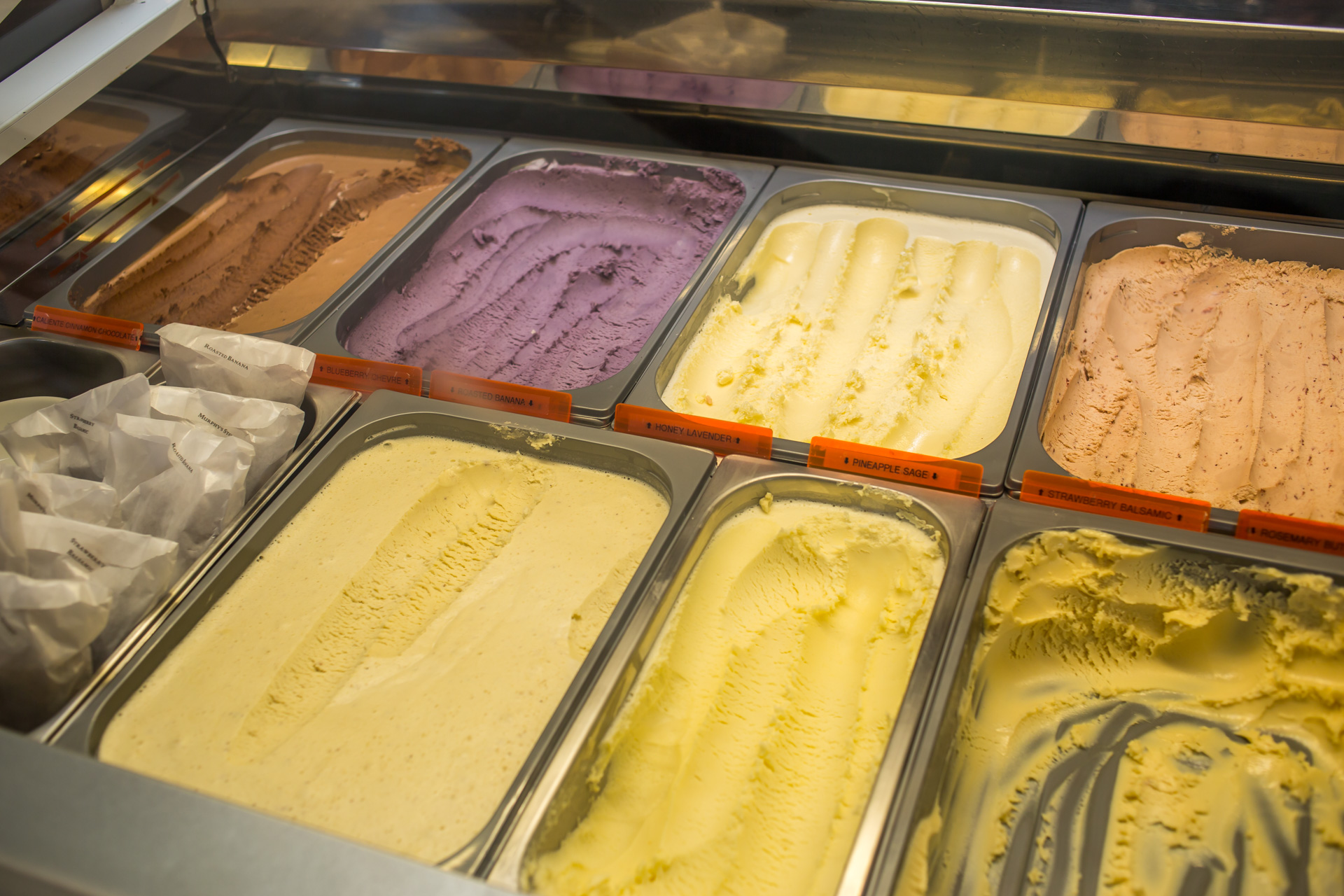 I believe I tried their Blueberry Chevre and Honey Lavender, while Mike tried the Salted Caramel and something close to vanilla (what else?). The portions were moderate, as they usually seem to be in LA, but full of flavor.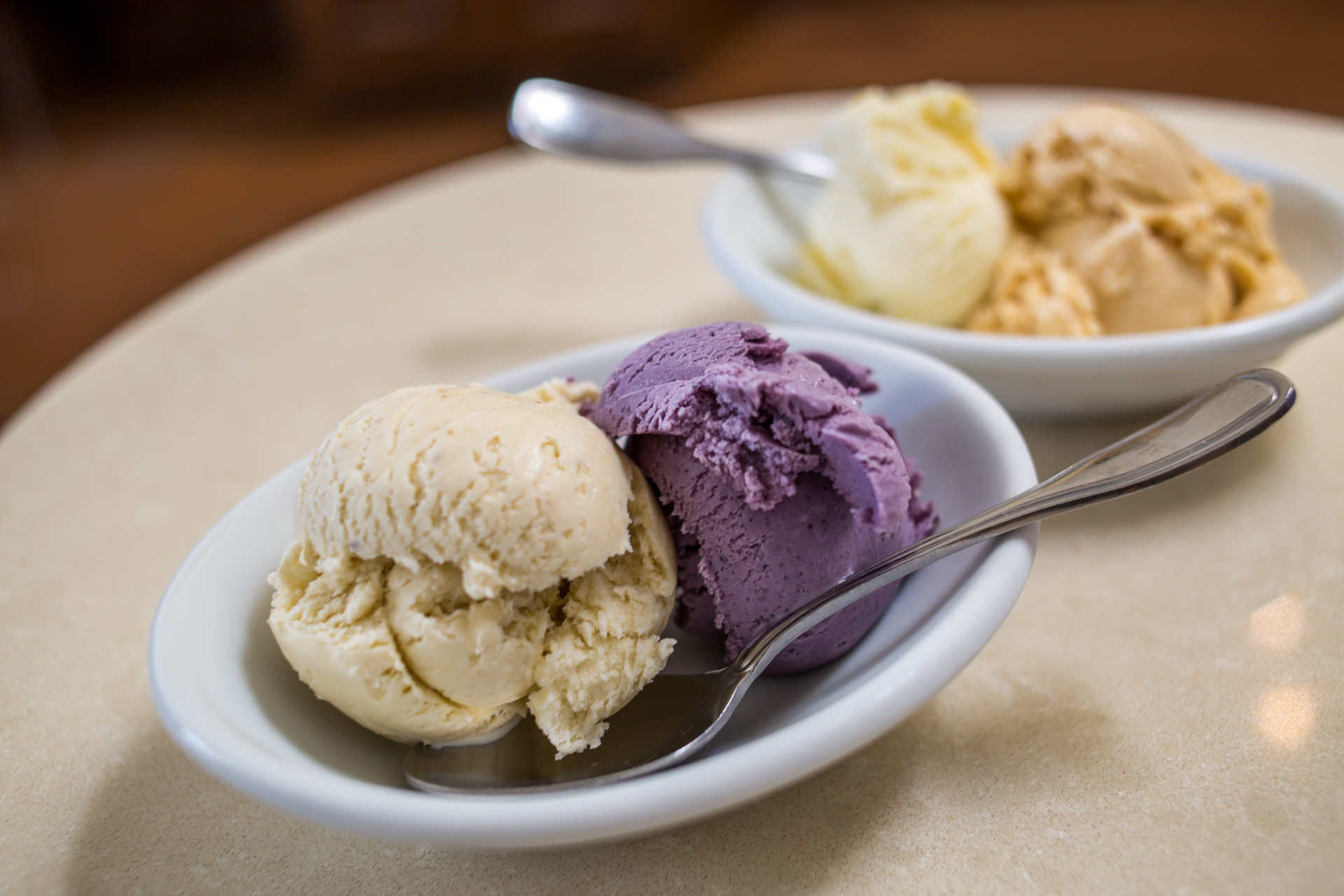 LACMA and La Brea Tar Pits
We then proceeded to LACMA, which was right beside the La Brea Tar Pits. Like I said, we had no time to go inside the museums so we just took a bunch of photos outside. Talk about a "check-in only" moment. I can't really go into detail obviously, other than the little detail that there were so many people (literally of all age groups) trying to catch Pokemon at the time, but here are some photos anyway!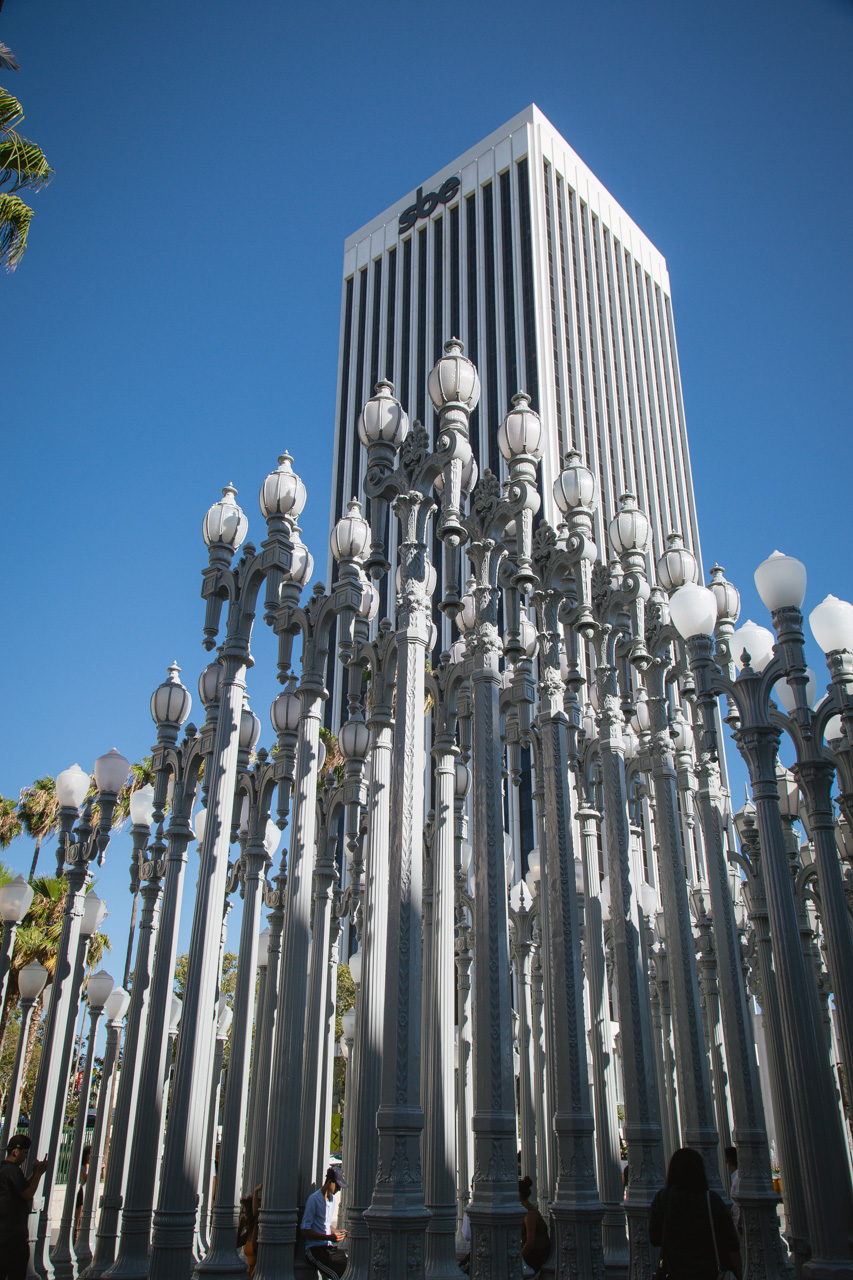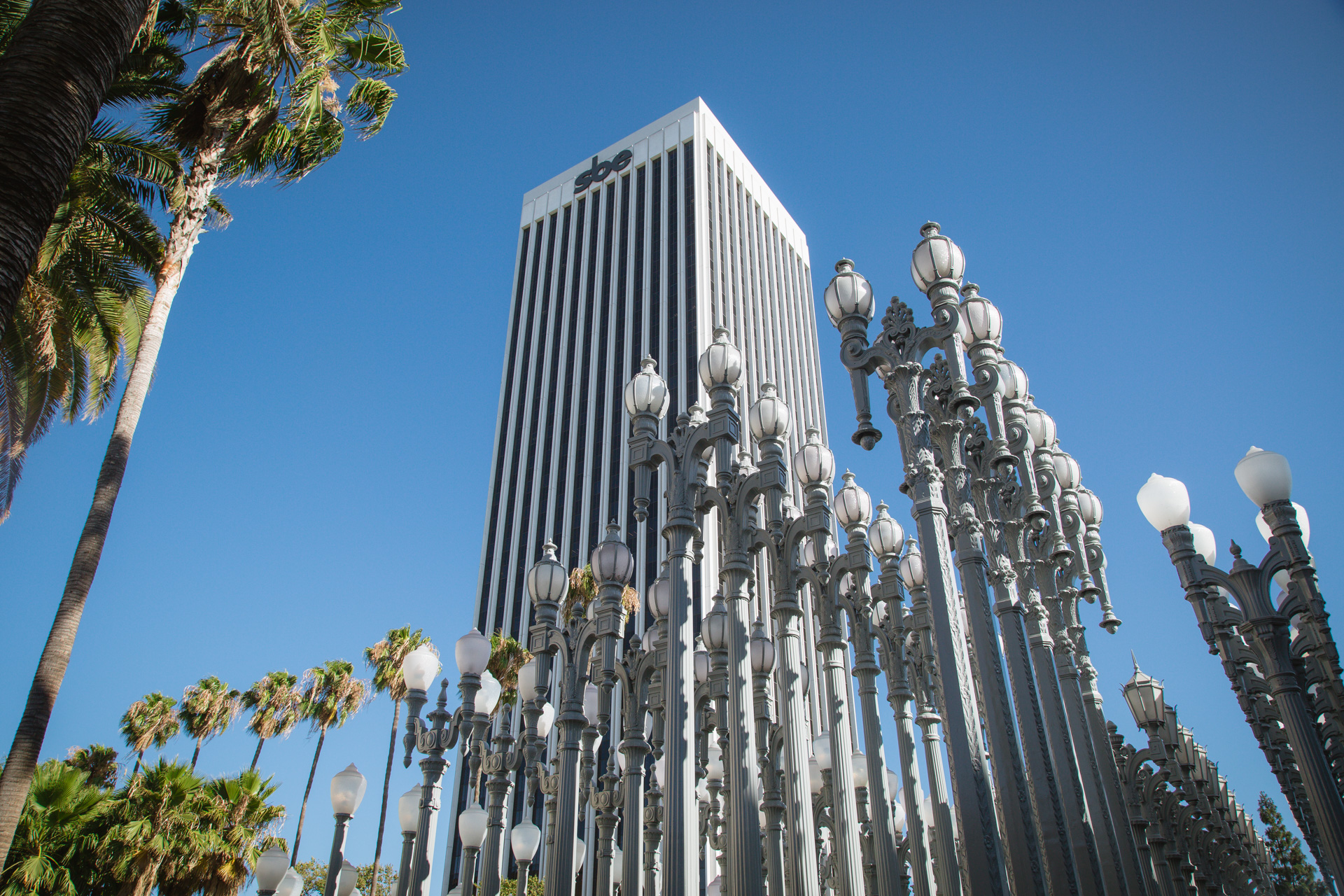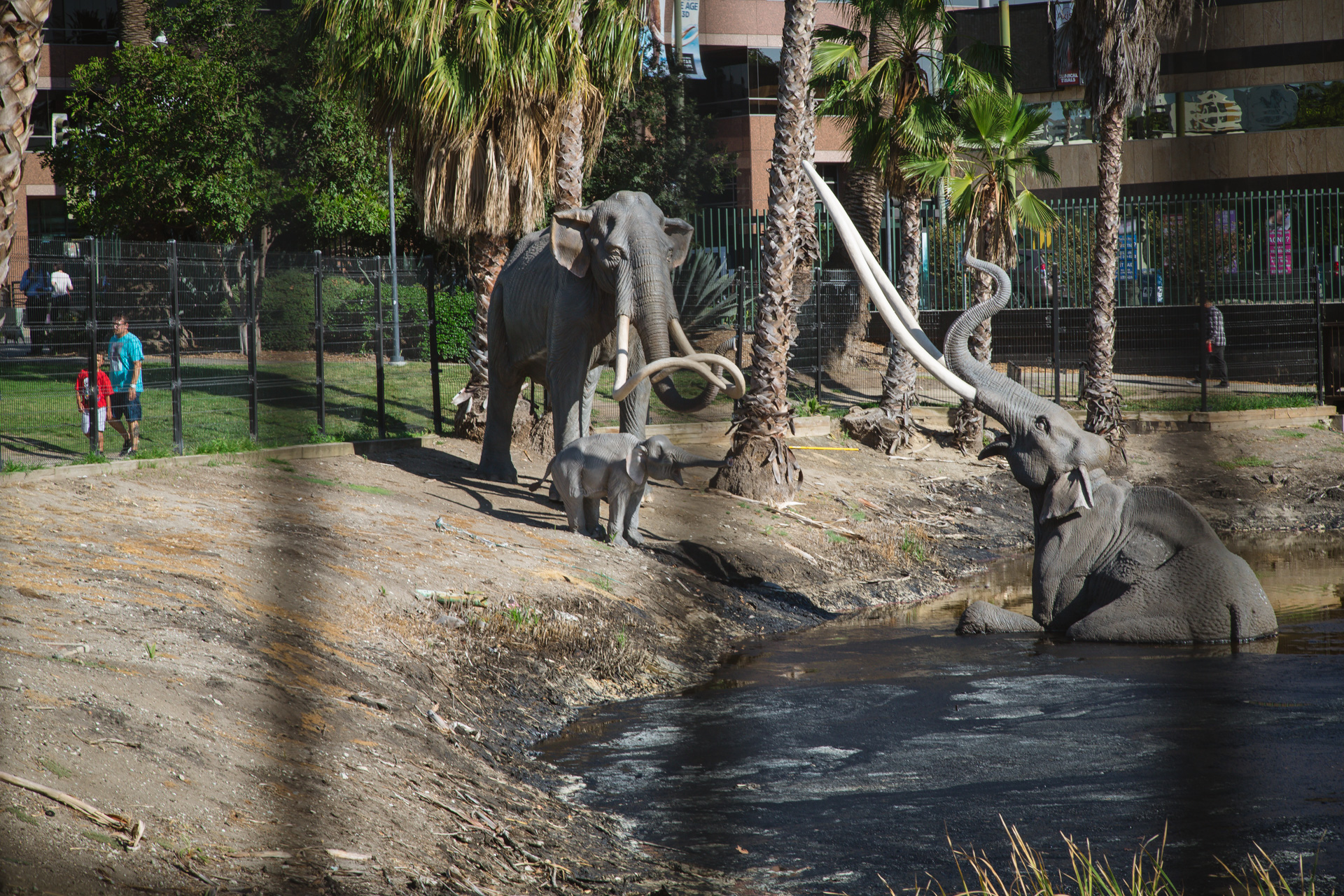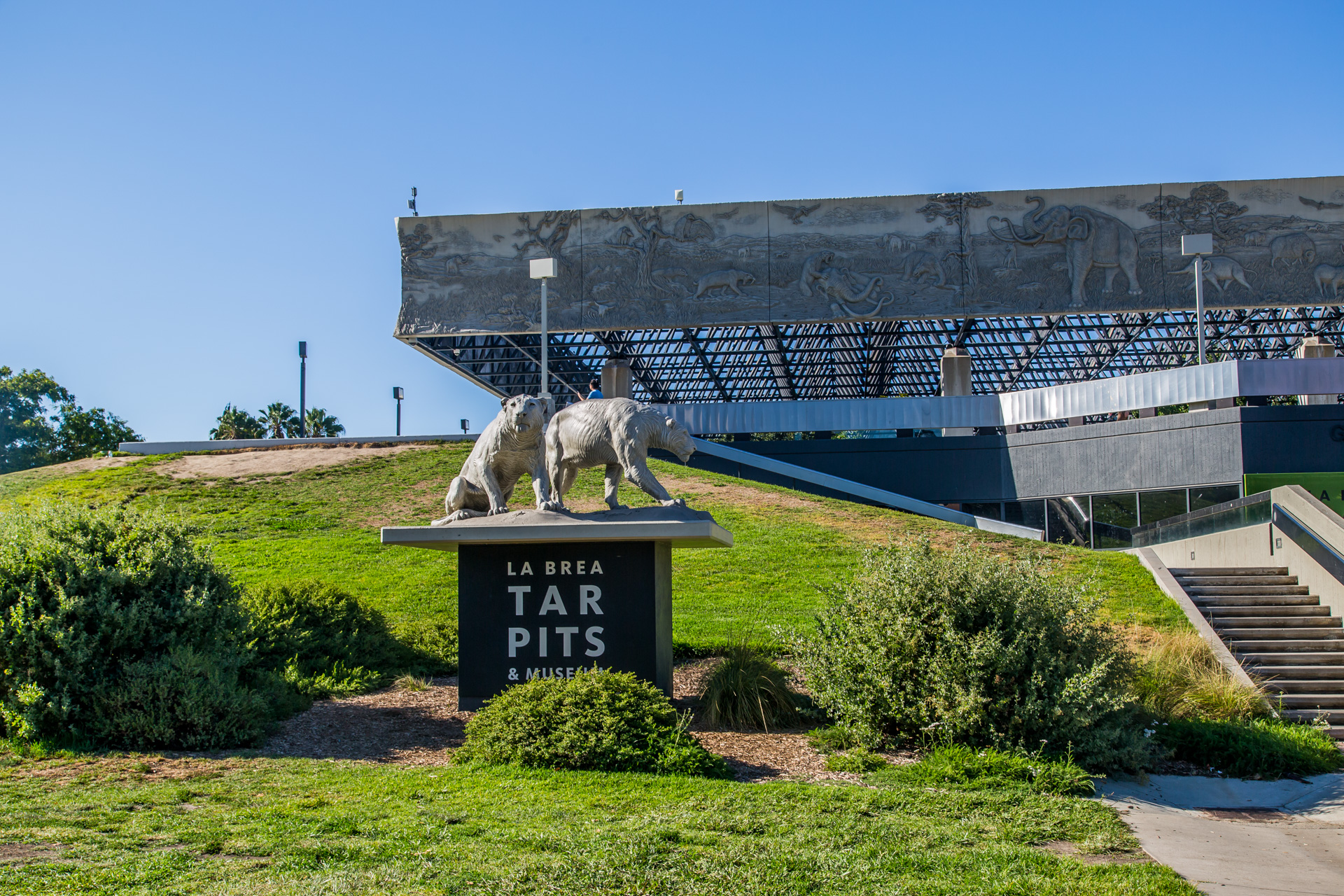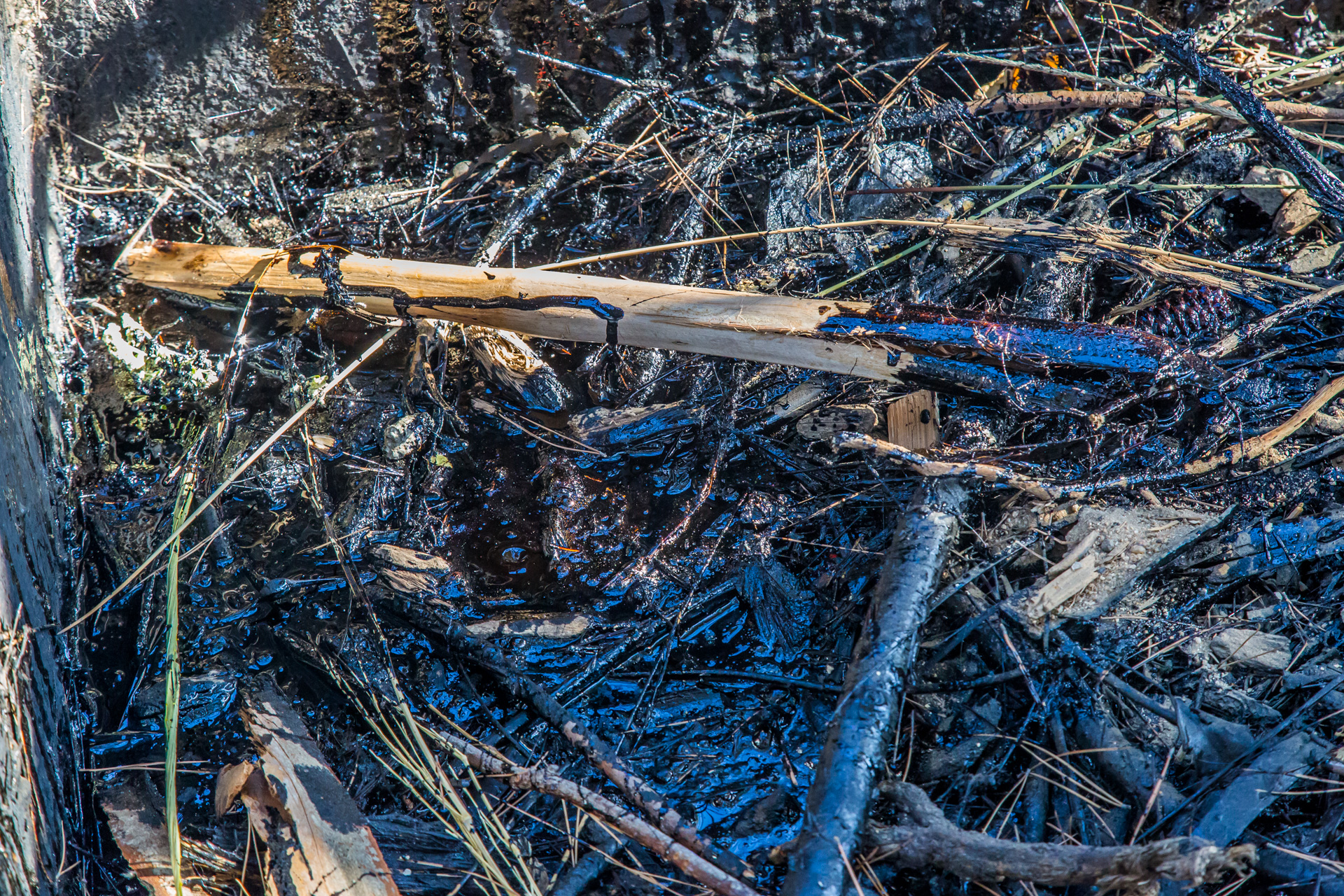 République
And now we've finally gotten to the best part of that day – dinner at République.
République is a contemporary French restaurant housed in a Spanish-style structure which was built in 1929 for Charlie Chaplin. It was later turned into Campanile, which was apparently one of LA's favorite dining spots until it closed in 2012. Obviously, there's a lot of history there, but you can tell the place was lovingly restored by its current occupants.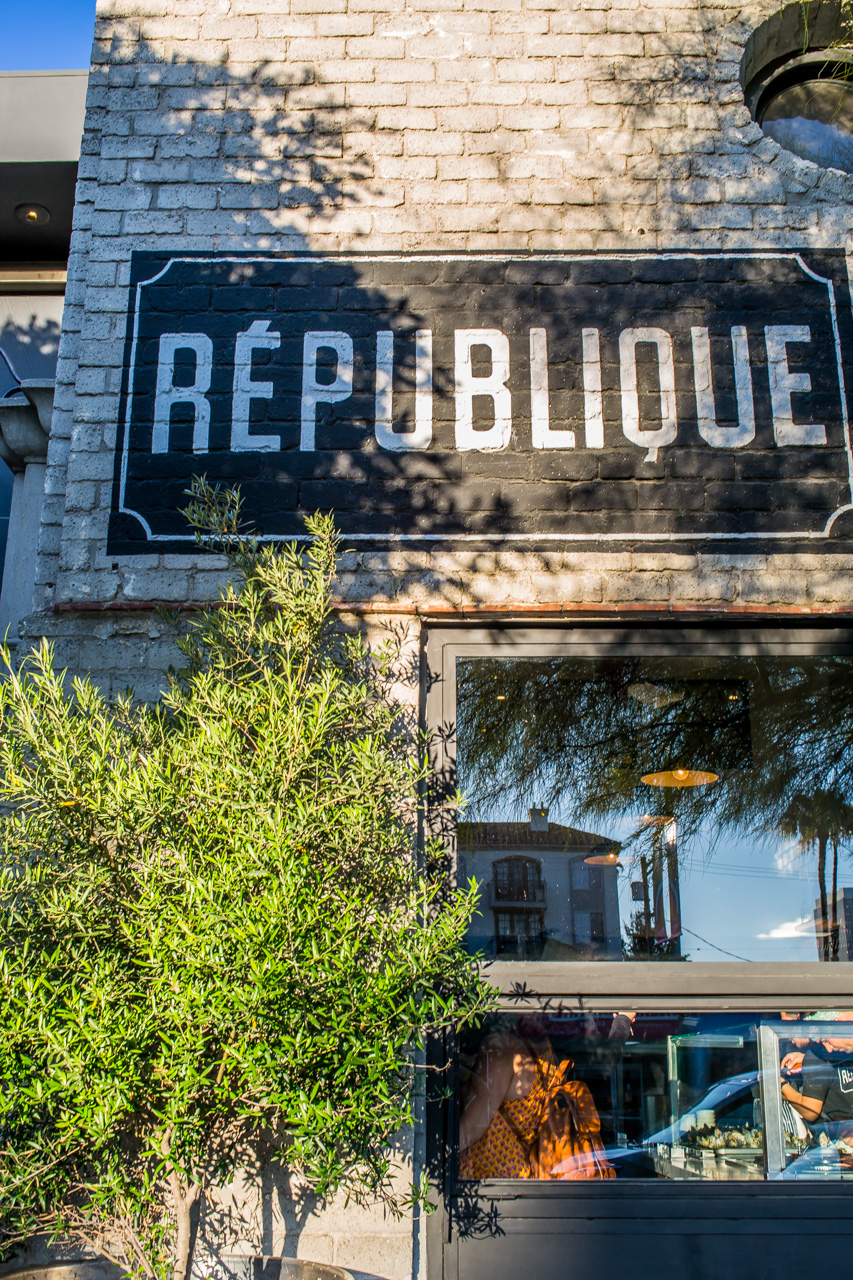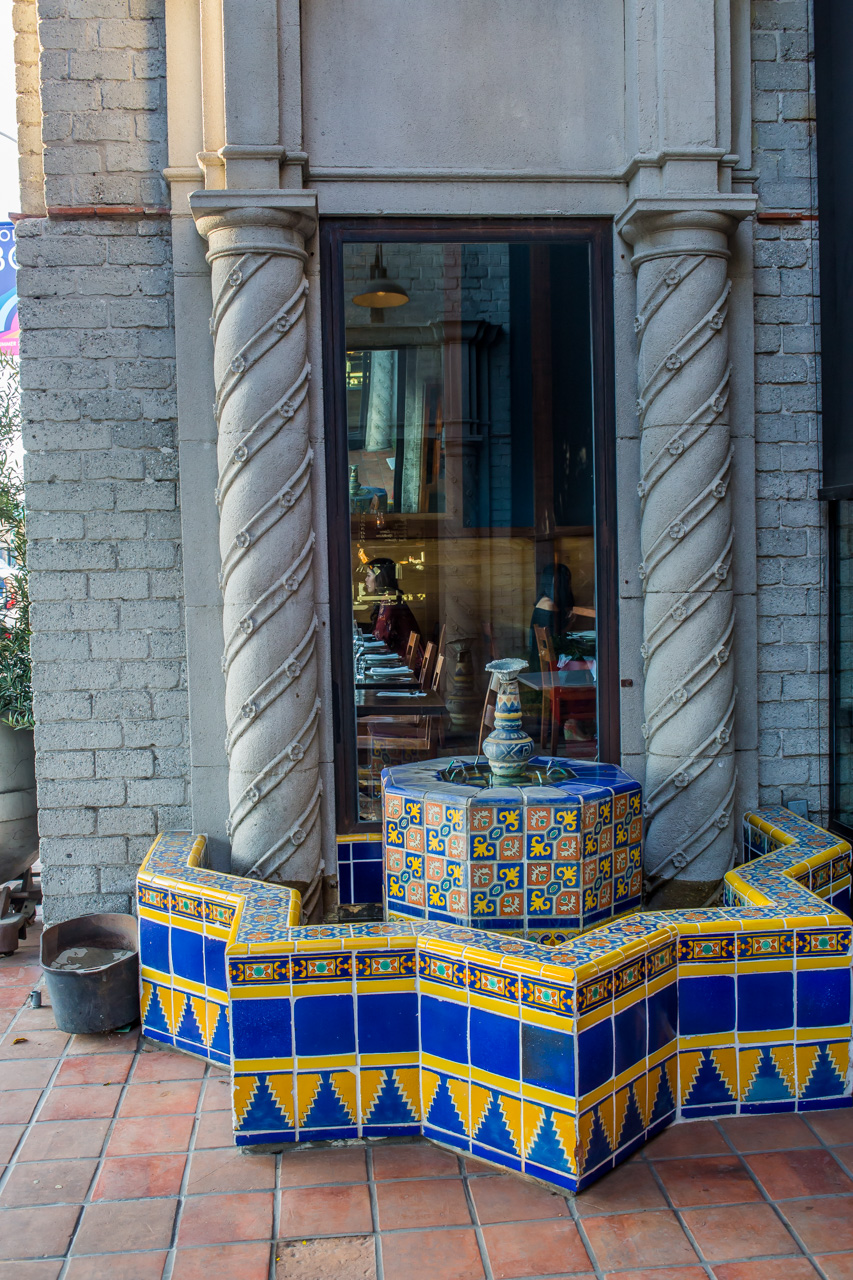 Th first thing I noticed about Republique was that I absolutely loved their interior design and decor. A nice blend of traditional and modern, with the white bricks and accents of blue contrasting wonderfully with all the wood, giving it a nice Provençal charm. (Edit: After initially posting this I found out that the Manzkes had tiles, yakal wood, and wrought iron pieces shipped from the Philippines in order to renovate this space. I guess it now makes sense why I felt so at home here.)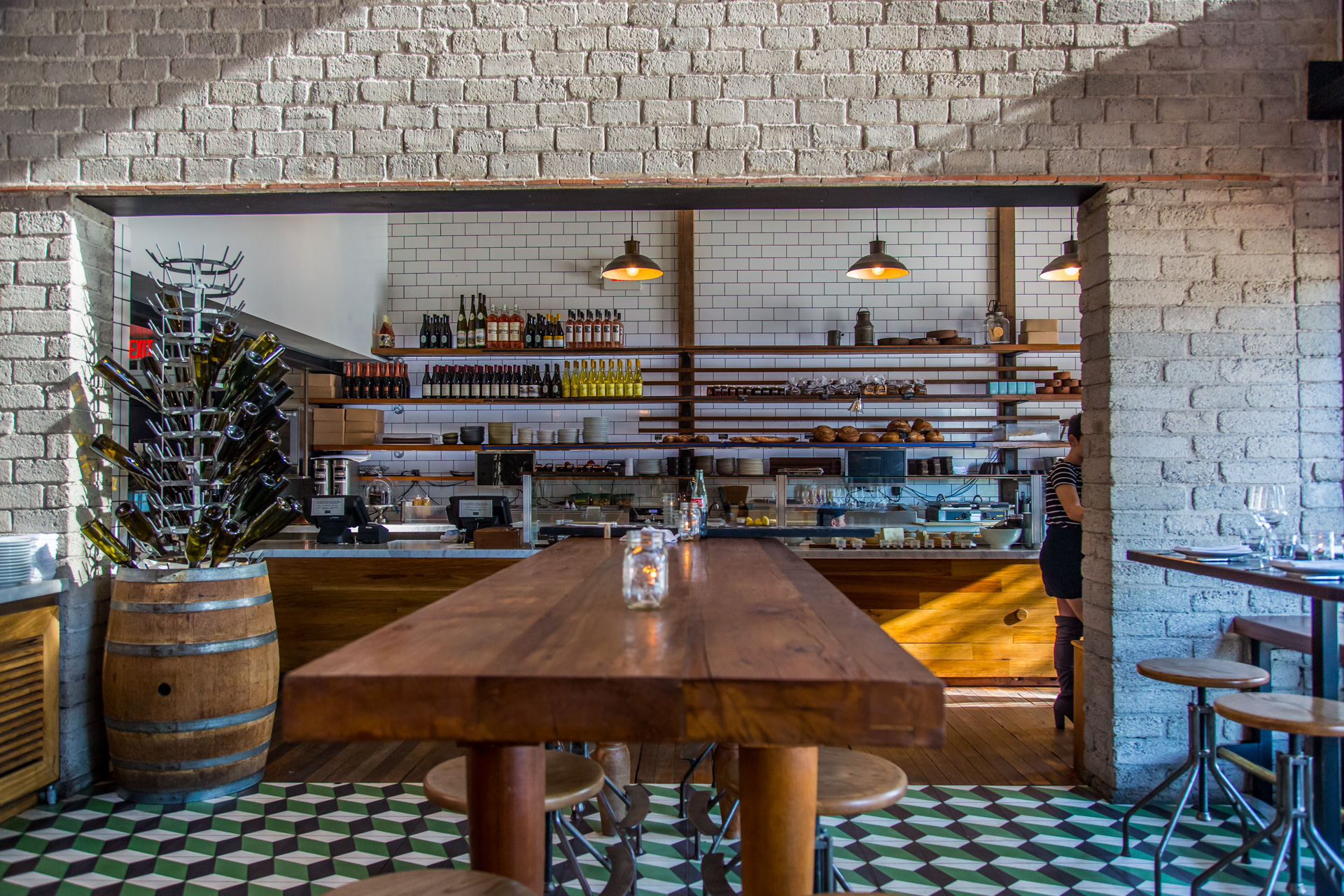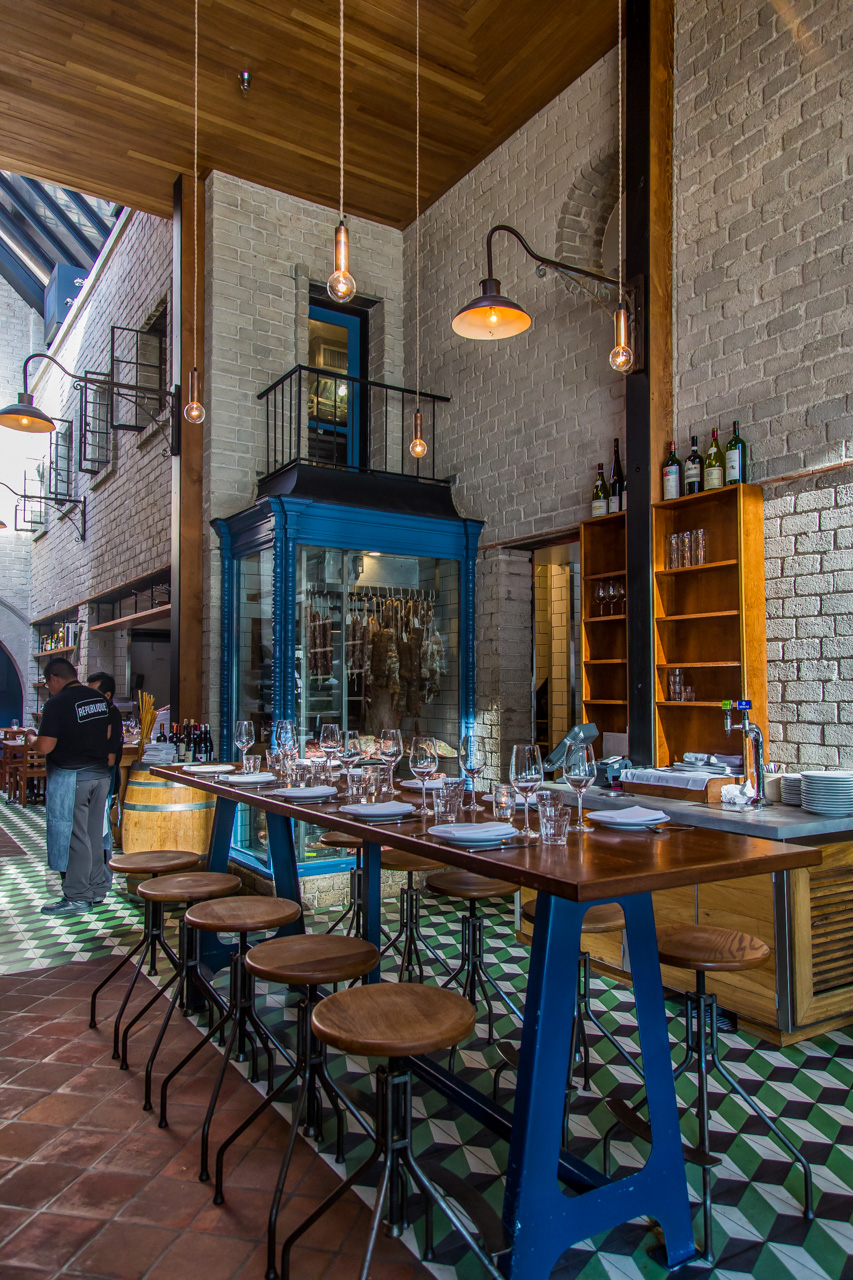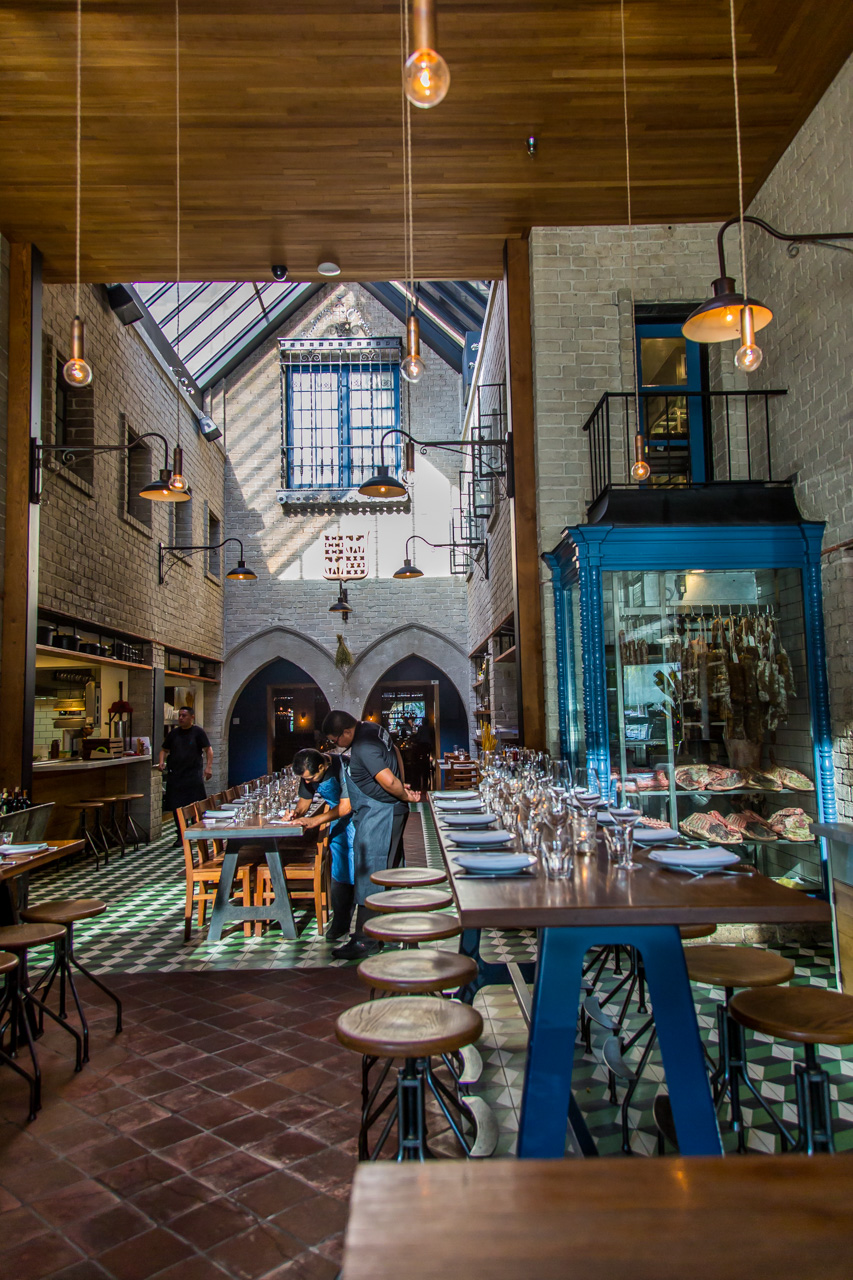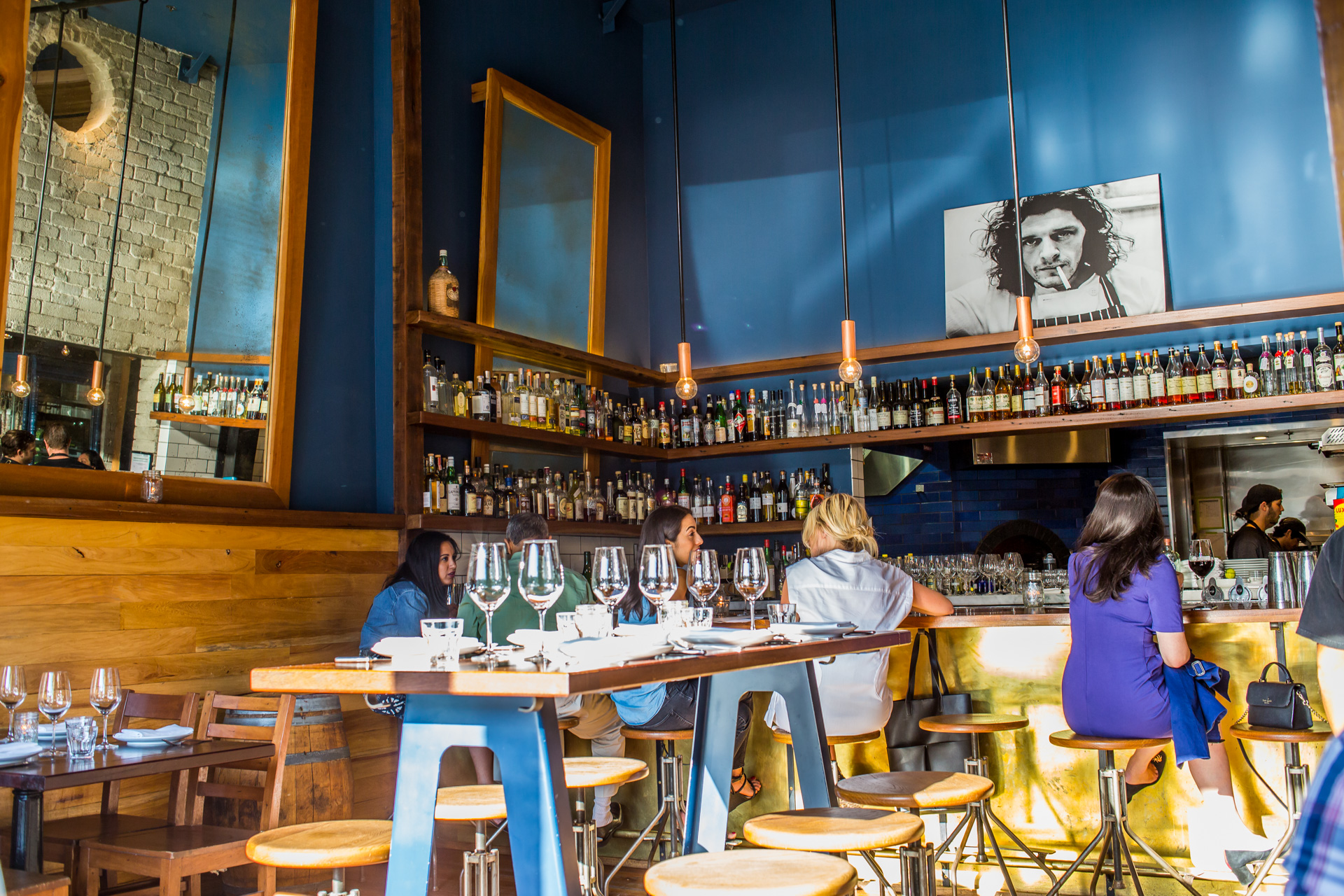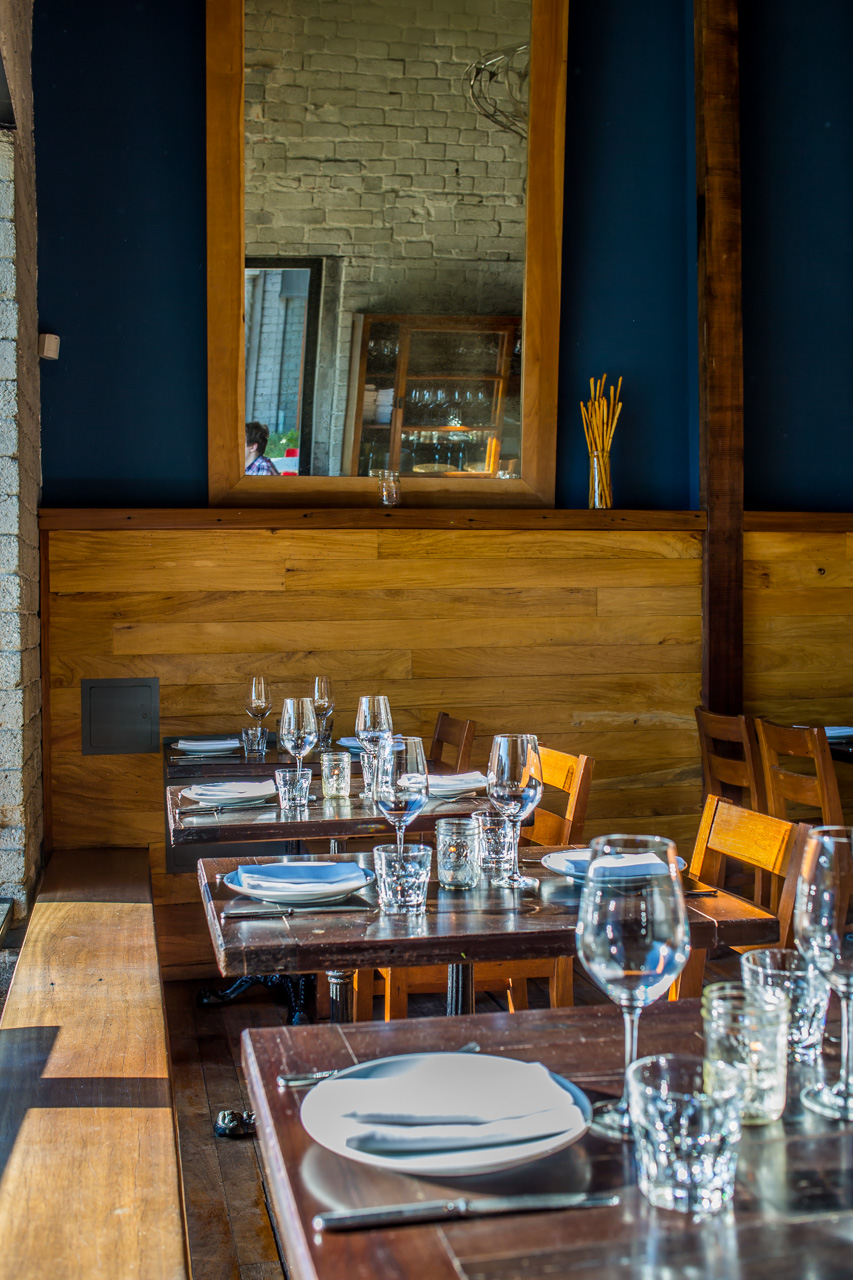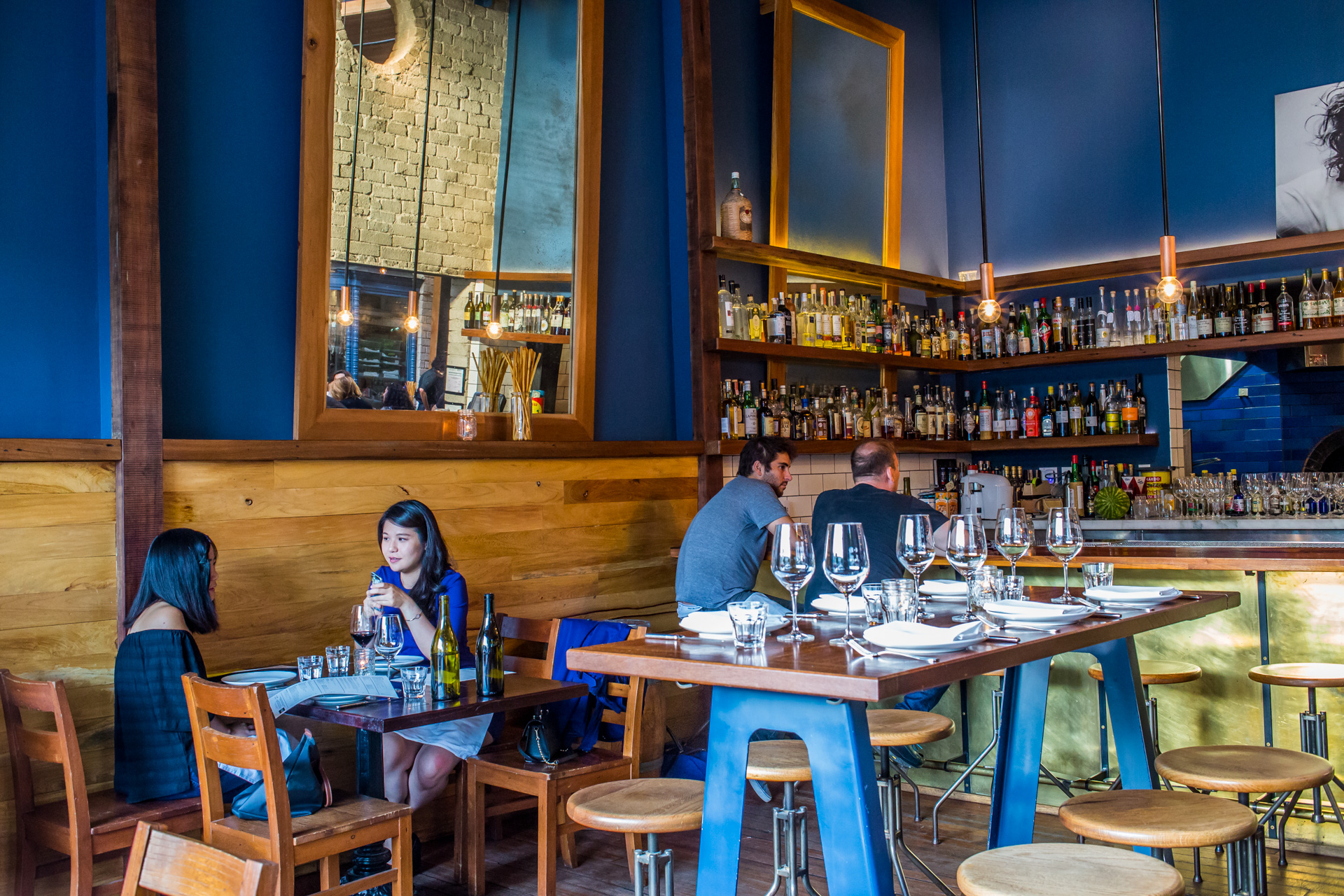 We got in a bit early and ordered drinks. To be honest I don't remember if I ordered a cocktail or a house made soda. I only know it was delicious, because that's what this meal was, from top-to-bottom.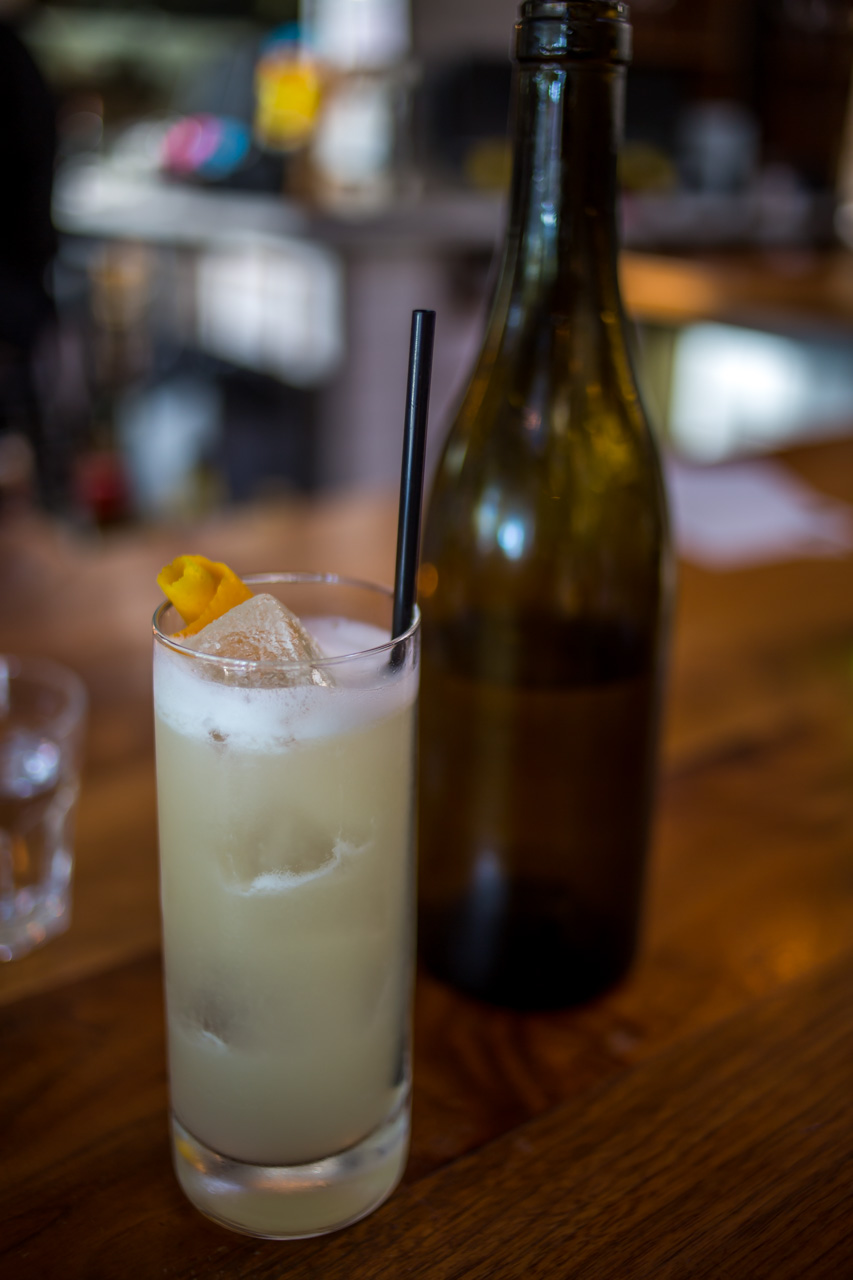 The next thing I noticed about République was that they use seasonal ingredients, so the menu we had at the time we ate is very different from what they are serving now. In fact they switched the menus a few minutes after giving them to us, likely due to availability. We started with their Corn Beignets. These were to-die-for, and I remember mourning the fact that there weren't more of them. They were like… incredibly flavorful, crispy on the outside but chewy on the inside. Several level upgrades to hush puppies.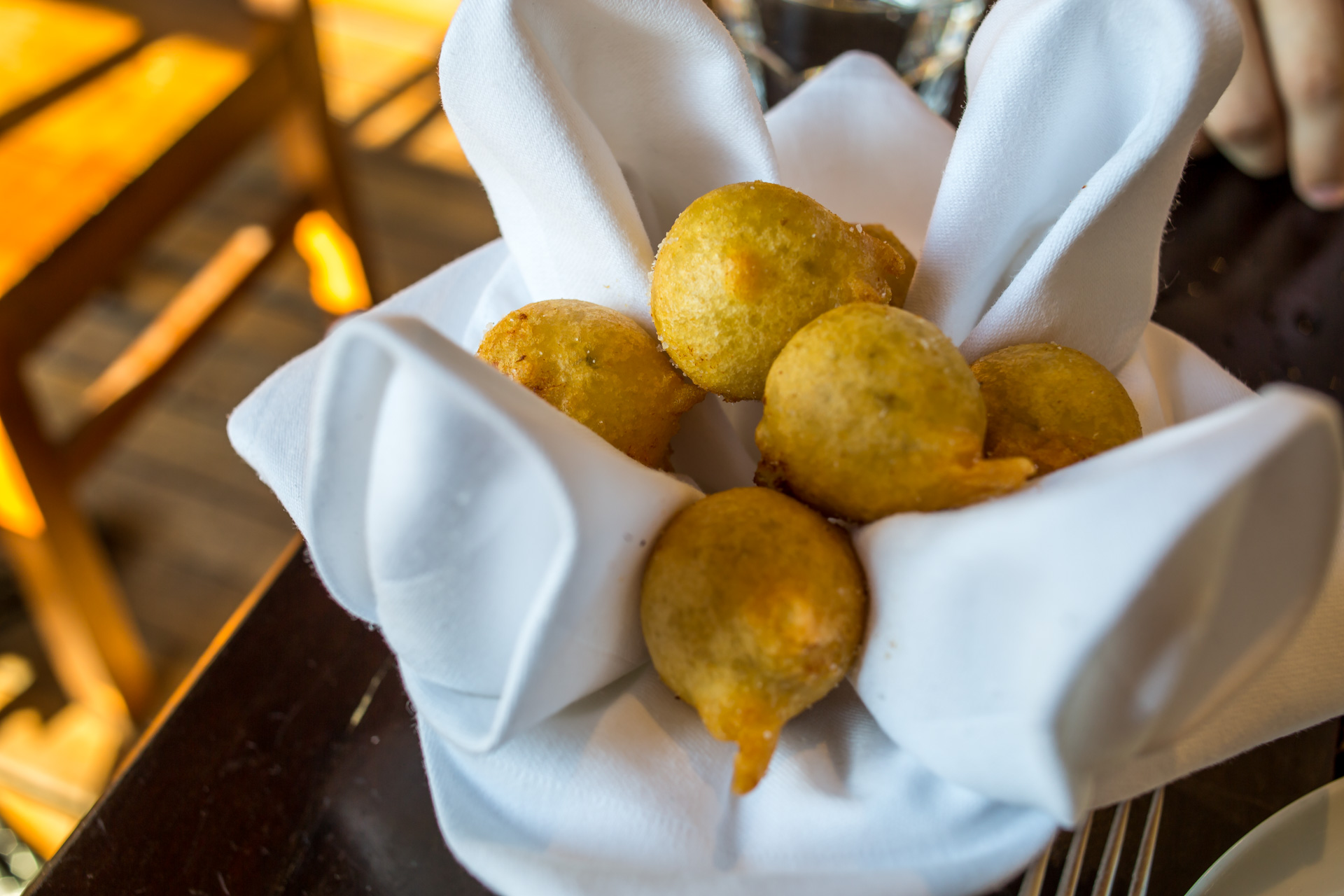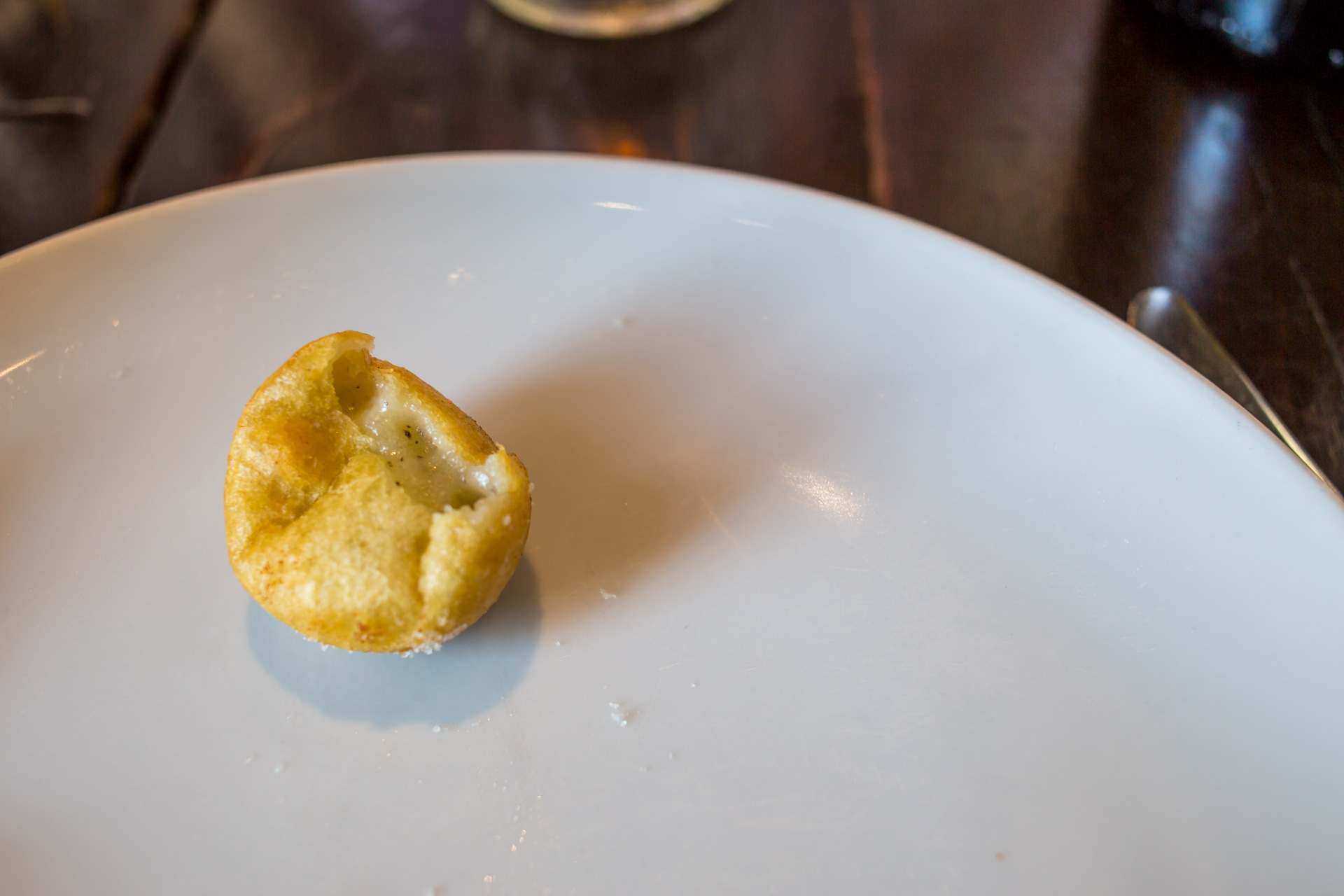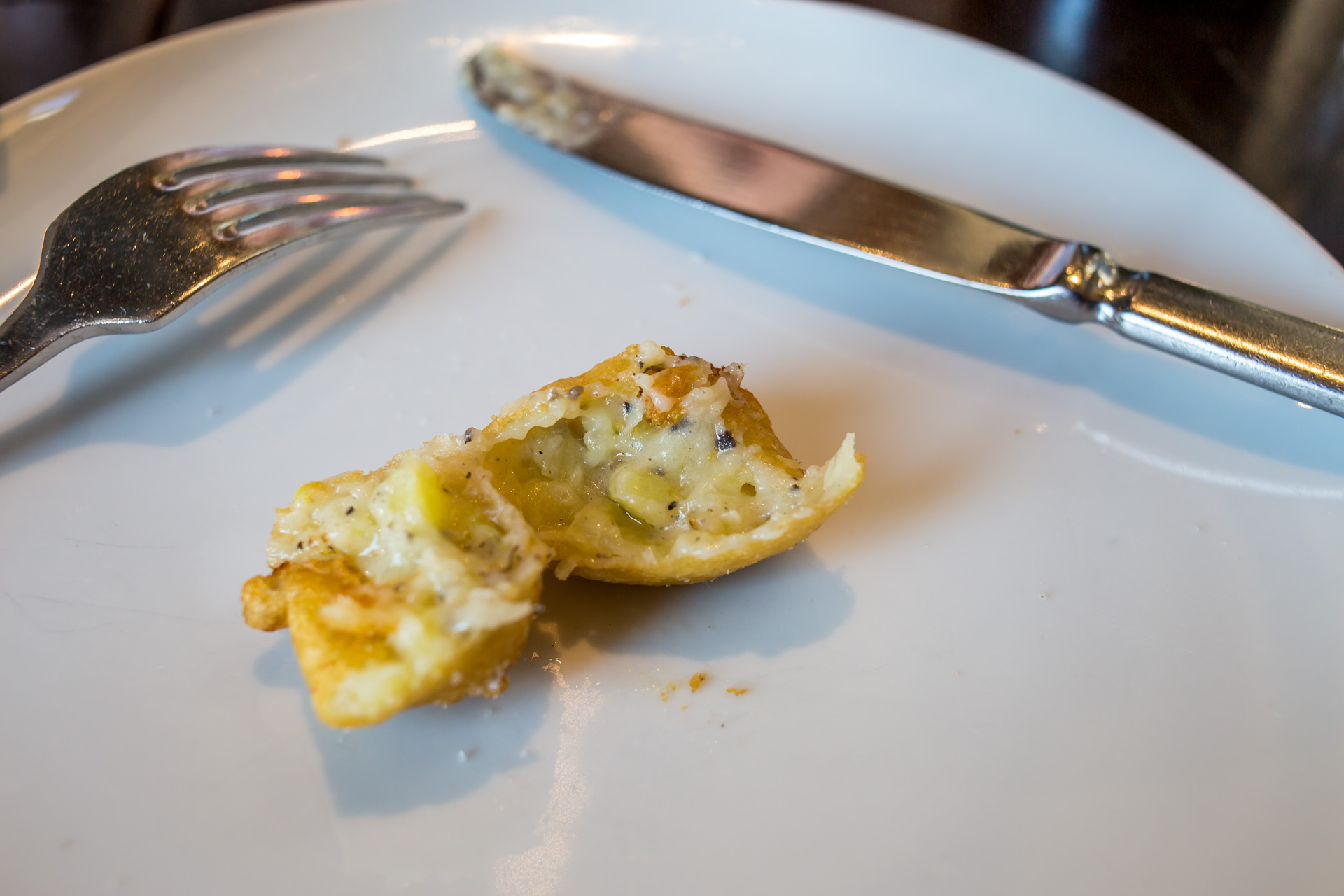 Michael had the Spinach Cavatelli with Porcini and Chanterelle Mushrooms, Duck Leg, and Foie Gras. This one was very subtle, but having each bite with a piece of the parmesan really ups the flavor. It was like a reallly true-to-itself cream of mushroom sauce with some fresh spinach cavatelli. Win.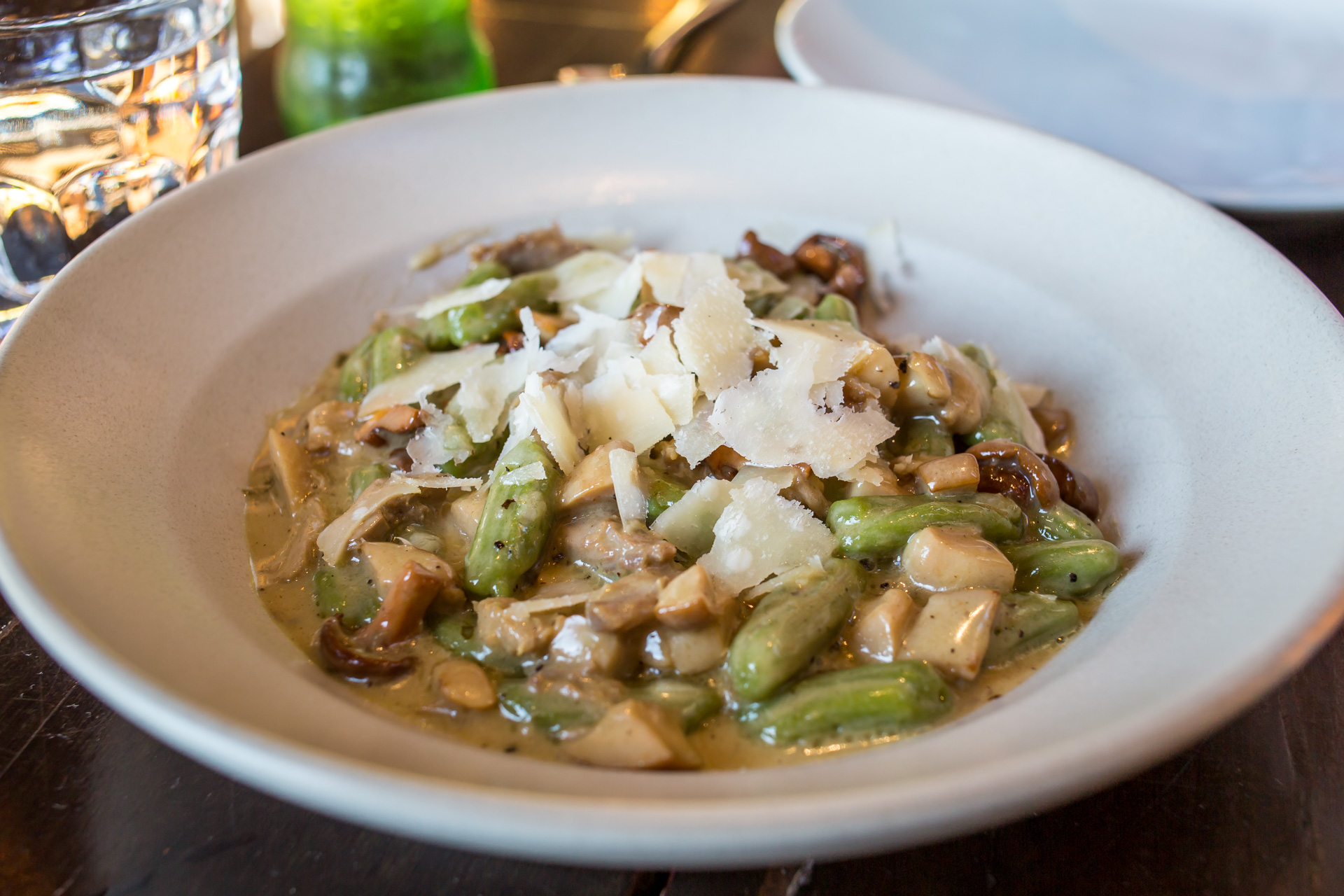 My dish was (and you've probably guessed this) Cook Ranch Pig's Feet with Depuy Lentils, Bacon, Frisee, and Farm Egg. The meat, skin, and everything else that wasn't bone on the feet were chopped up and fried in a little shell, almost like a minced pig's feet cutlet. Everything about it was perfect — the little cutlet that melted in my mouth, the egg and the bacon punching up the flavor, and the frisee to balance the fattiness of the entire experience. I've only recently looked up the details of this restaurant, and looking back, I should've known that one of the husband and wife duo who are responsible for this restaurant, Walter and Margarita Manzke, was born and raised in the Philippines. One of the things my husband always points out to me is the Filipinos' love for pork, and this was truly a masterful use of it.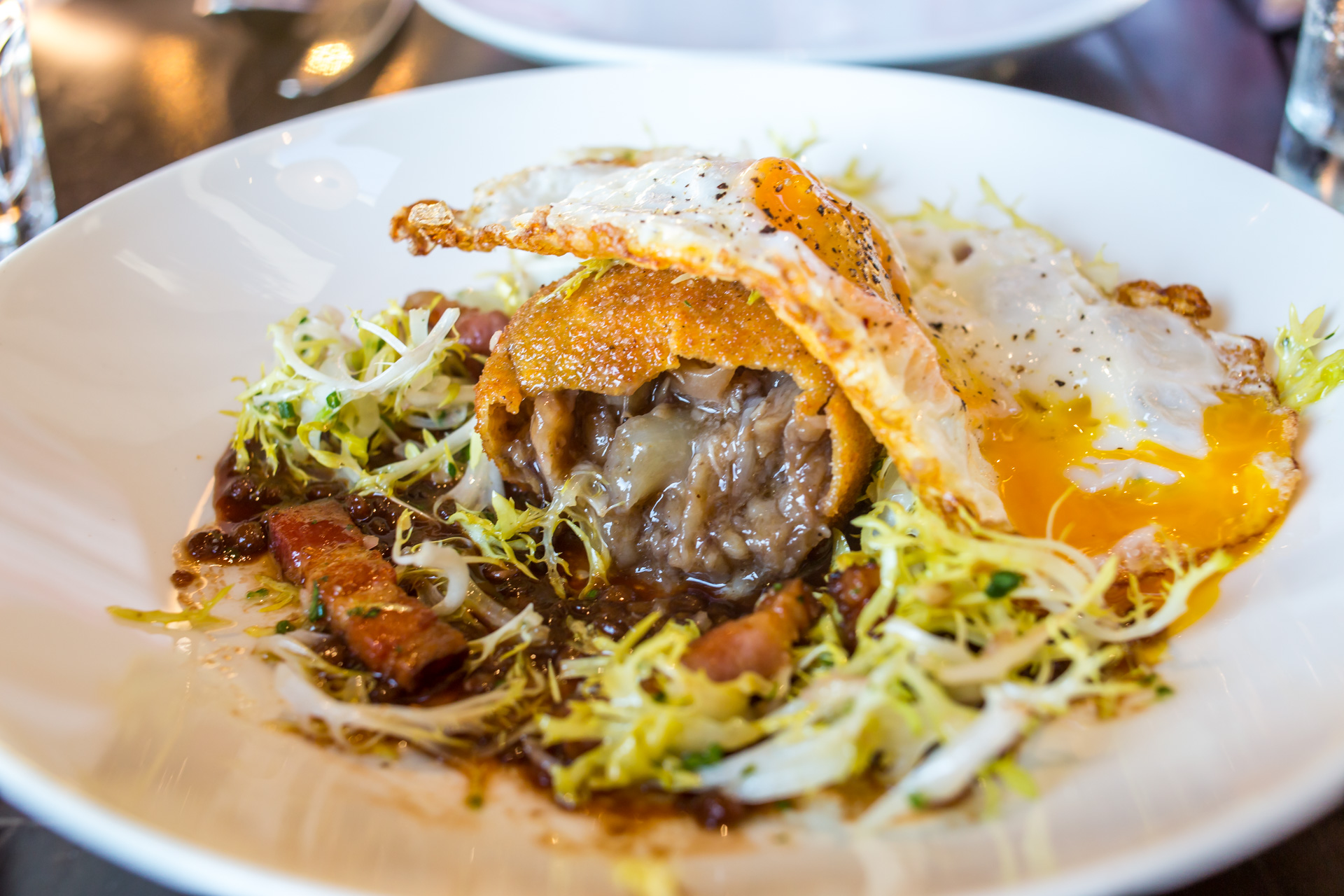 After this I had a quick cup of coffee, because we needed to hurry back to the Hollywood Bowl for a concert. Before ending this I'm gonna tell you that my one regret was that we didn't have dessert there. Margarita Manzke was one of the finalists for the James Beard Award for Outstanding Pastry Chef this year.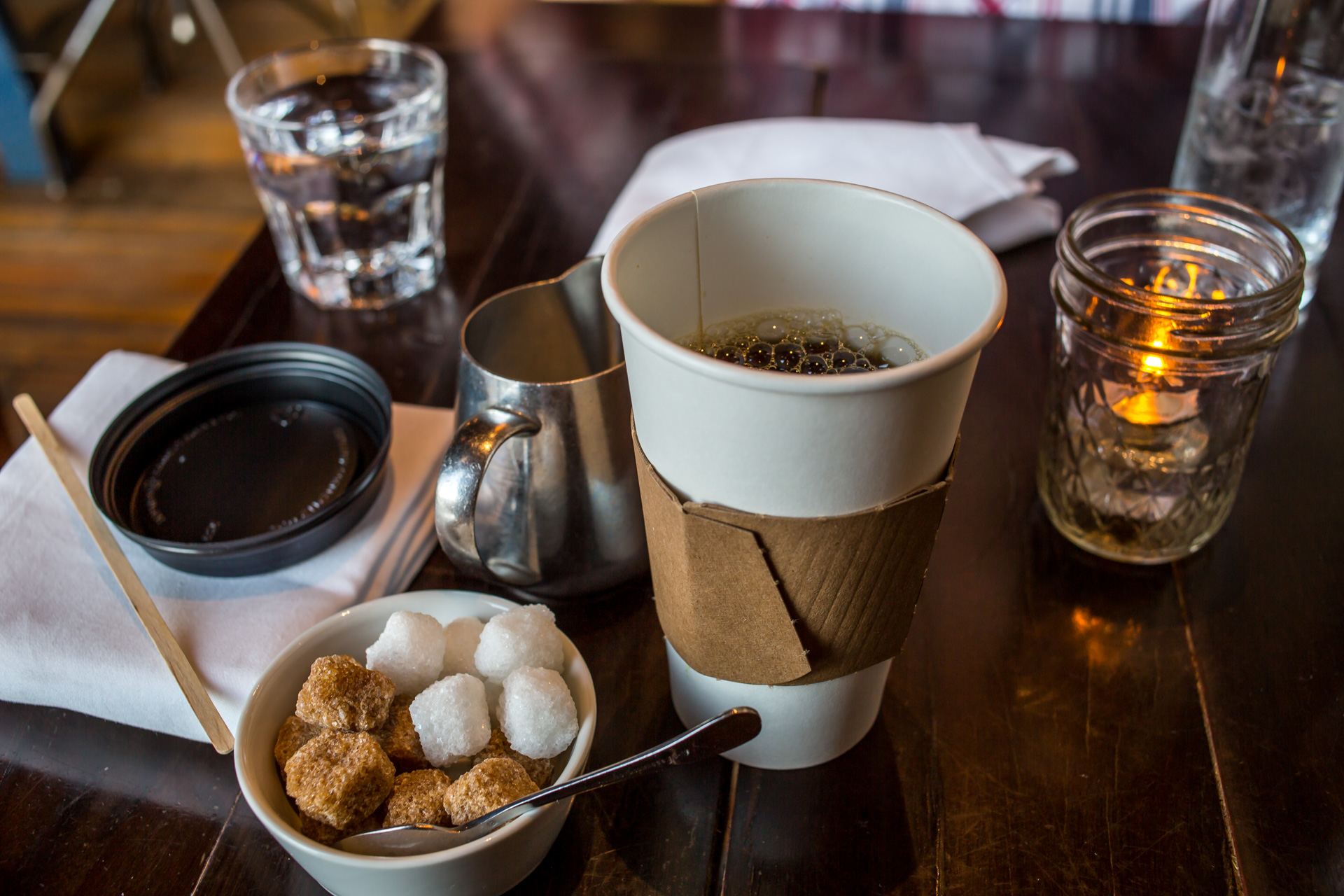 The Hollywood Bowl
We decided on a whim a few days before our vacation that we should attend an event at the Hollywood Bowl. Luckily,  a concert performance of The West Side Story at The Hollywood Bowl, with Gustavo Dudamel conducting the LA Philharmonic was showing while we were in town. We came in late due to the insane LA traffic, which we finally waded into that evening. But this was a wonderful experience nonetheless. Watching a show with the hills of LA and the Hollywood sign lit up in the background (not obvious from my photo but take my word for it anyway), was a perfect way to end our time in Hollywood.