Our second day in Santa Monica started out wonderfully. I was still on New York time, so I woke up at 6 am (9 am in NYC) to do some P90X yoga while looking out at the nice yard. Then, in epic Liz Lemon style, we went out and had way too many donuts and treats to cancel that out. I don't think you can blame us since DK Donuts, currently my favorite doughnut place in THE WORLD, took Dominique Ansel's cronut craze and turned it into a very delicious obsession with making pastry lovechildren. We loved it there so much we returned to try more of their evil things the next day.  I'm merging the two visits, so don't be surprised if it looks like we ate enough food for ten people in this post.
DK's Donuts 
1614 Santa Monica Blvd
Santa Monica, CA 90404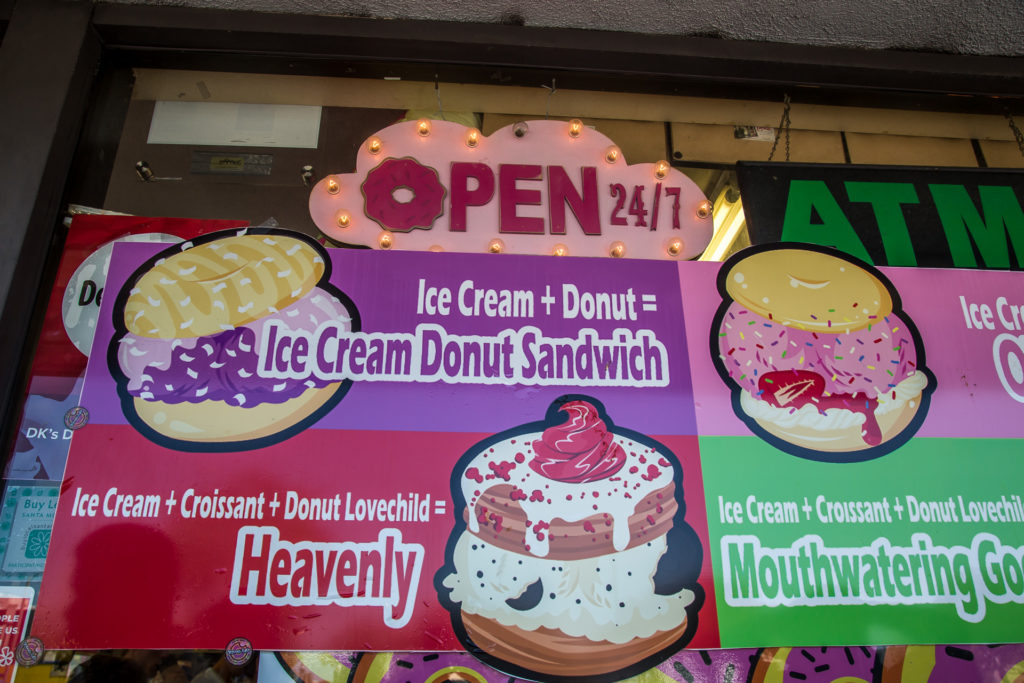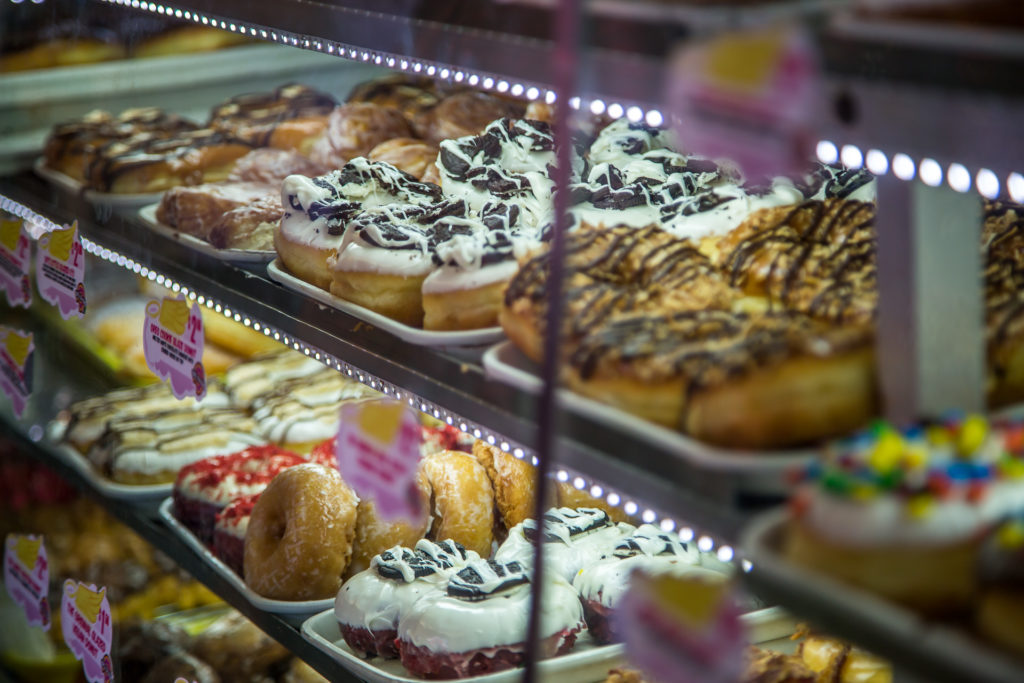 Take a look at the Spam o-nut (o-nut is their version of a cronut) and the bacon egg and cheese o-nut – basically breakfast sandwiches, cronut style! Honestly, I would line up for these babies more than I would line up for Dominique Ansel's original cronut (GASP)! Go ahead and judge me,  because I'm too busy reminiscing about what it tasted like in my head to notice.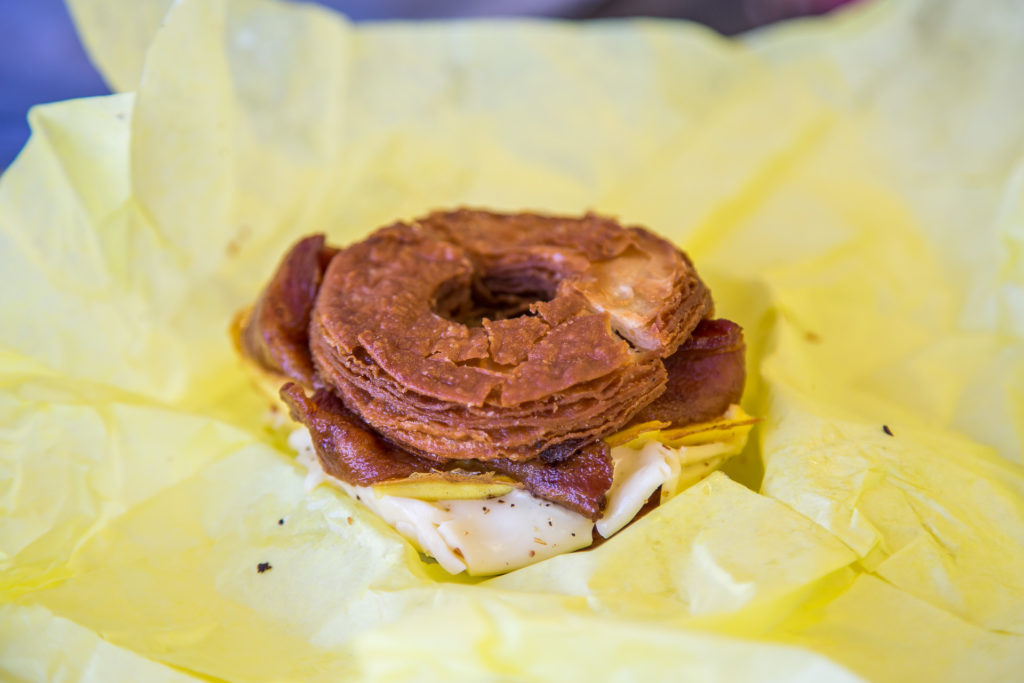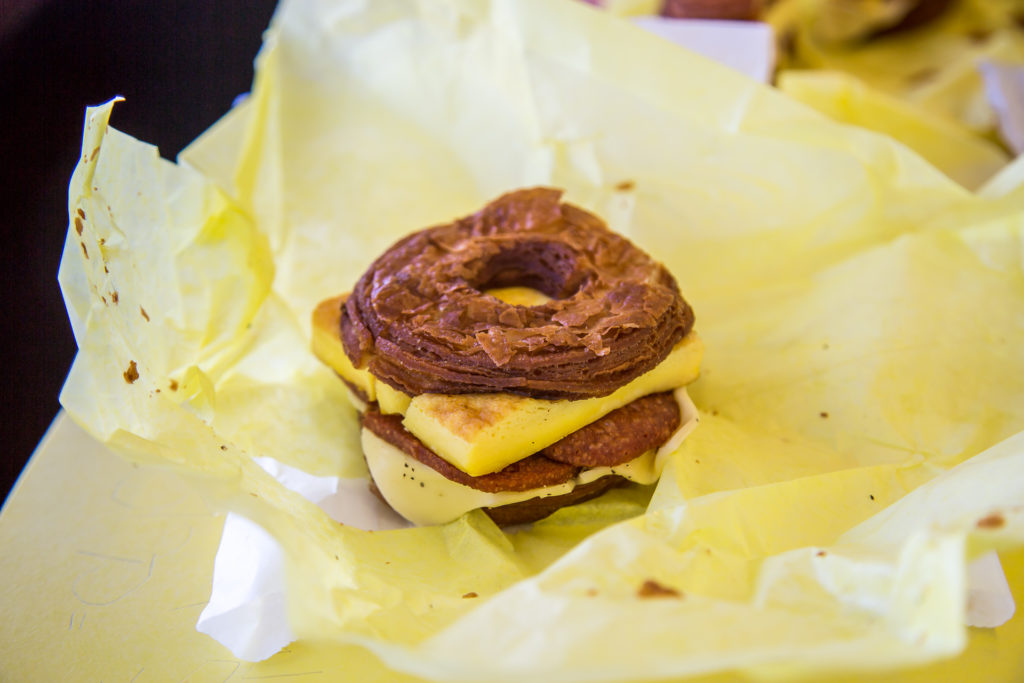 Or what about the Wow-nut? It's a "half-waffle half-donut hybrid". You get to pick the flavor of the waffle, the icing, and the topping. Not sure how this was made, but likely there's some sort of frying action going on there because the waffle was mega-crispy on the outside and perfectly chewy on the inside. I picked the "red velvet" waffle with cream cheese icing and bacon topping. I did wipe off some of the cream cheese because I felt like maybe I shouldn't end the vacation with a heart attack.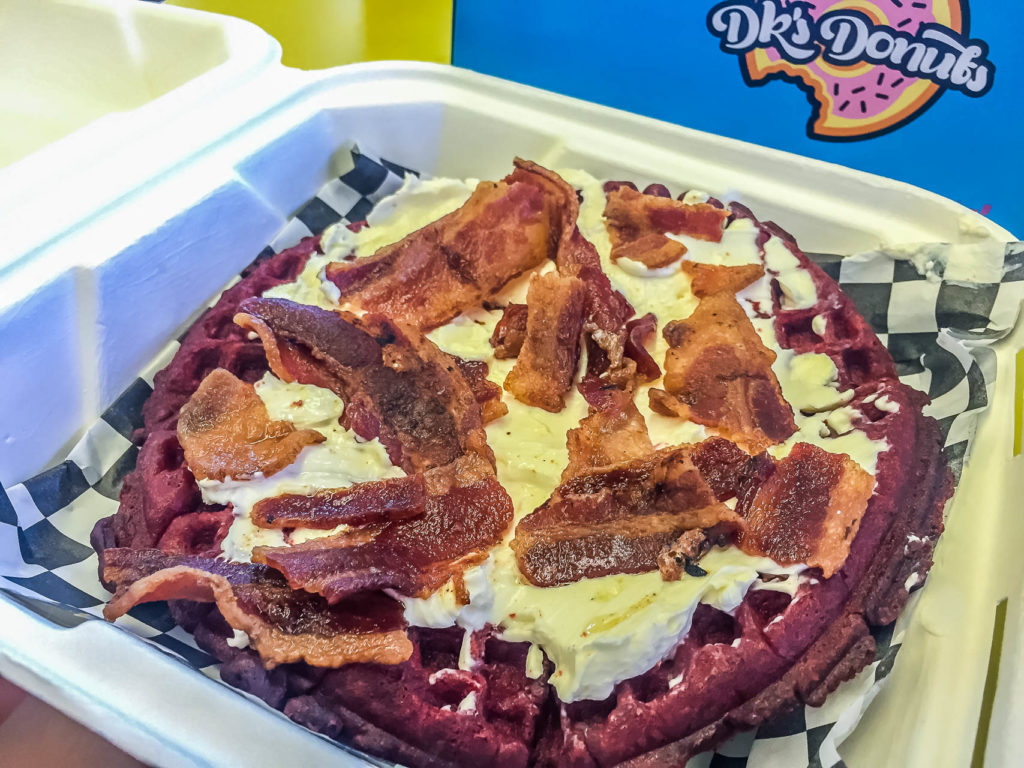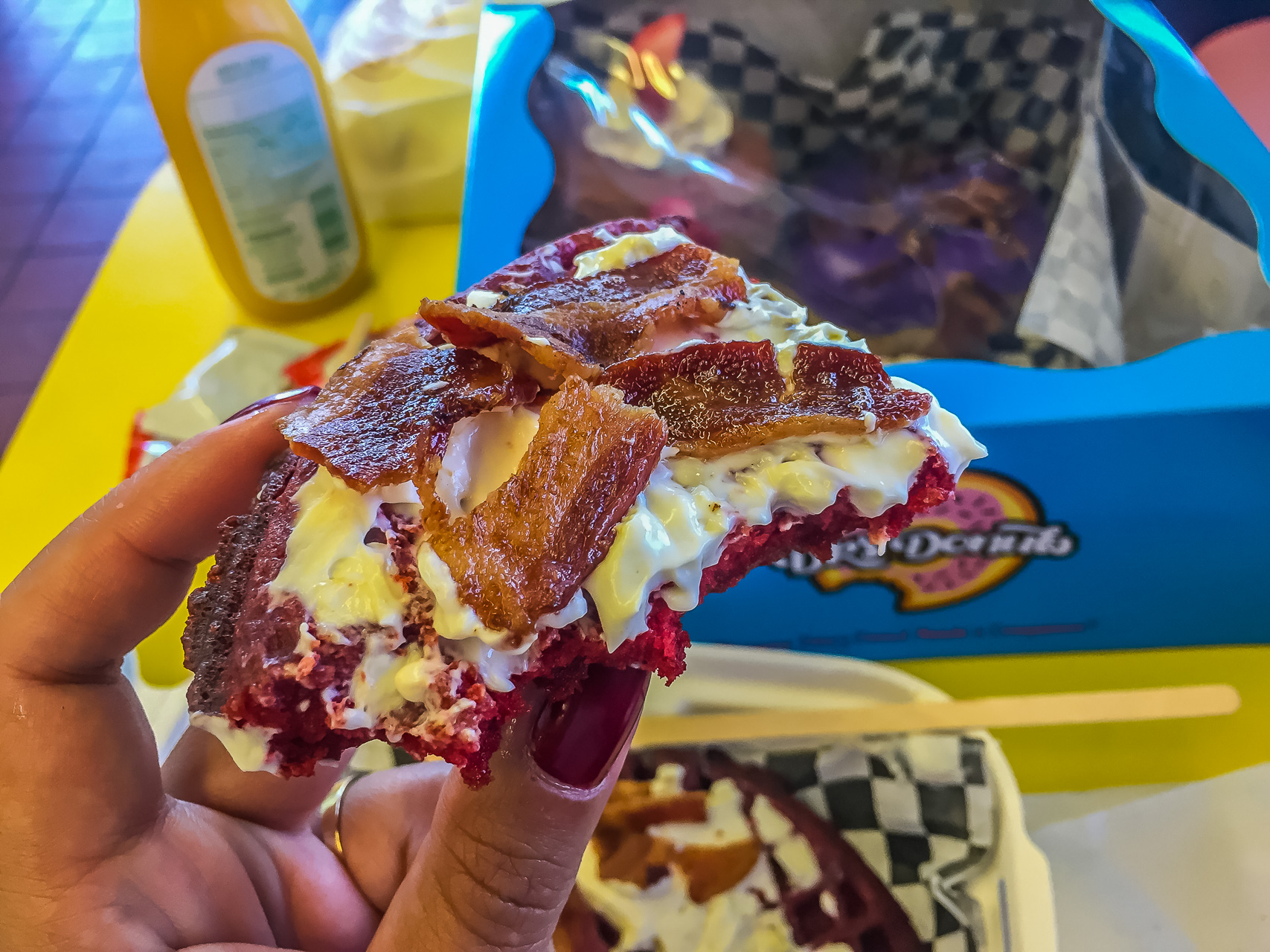 Oh, also, if you're into samoa/caramel delite girl scout cookies, and/or plain yeast doughnuts, get the "So Samoa Girl Scout Cookie" donut immediately. Simple. Delicious. Filed under things I would eat half a dozen of.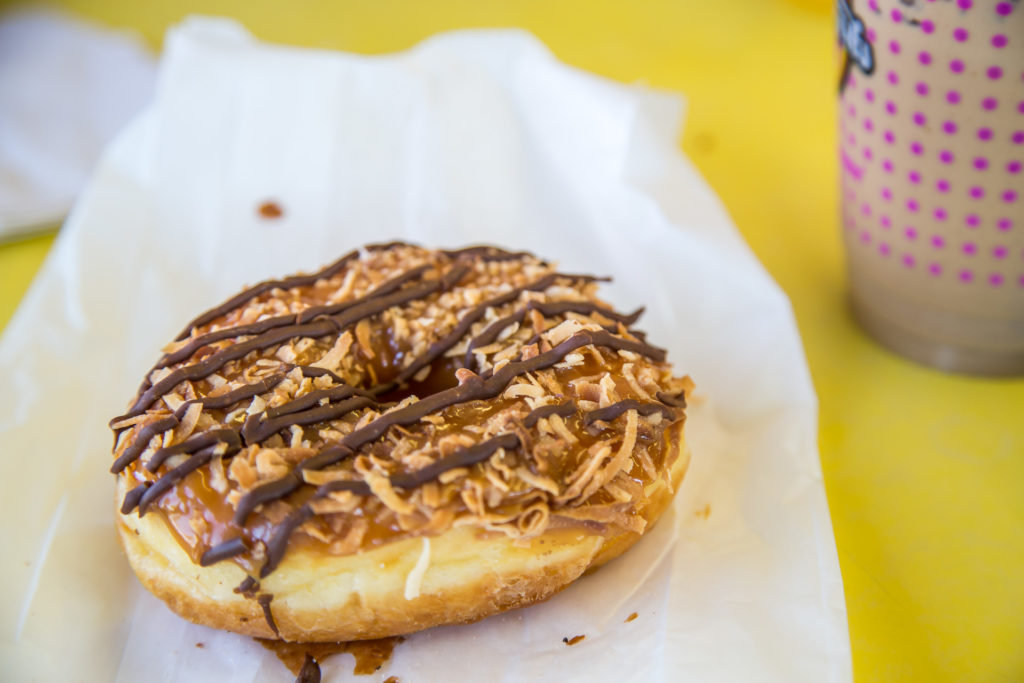 If Mike was writing this, he would probably tell you to just get the DK's Special House Cream O-nut. He loved it so much he got two of them on the second day so he could have the other one as a snack later on. Not that we had a lack of places to get snacks, really. Too many cups of ice cream were devoured on this trip.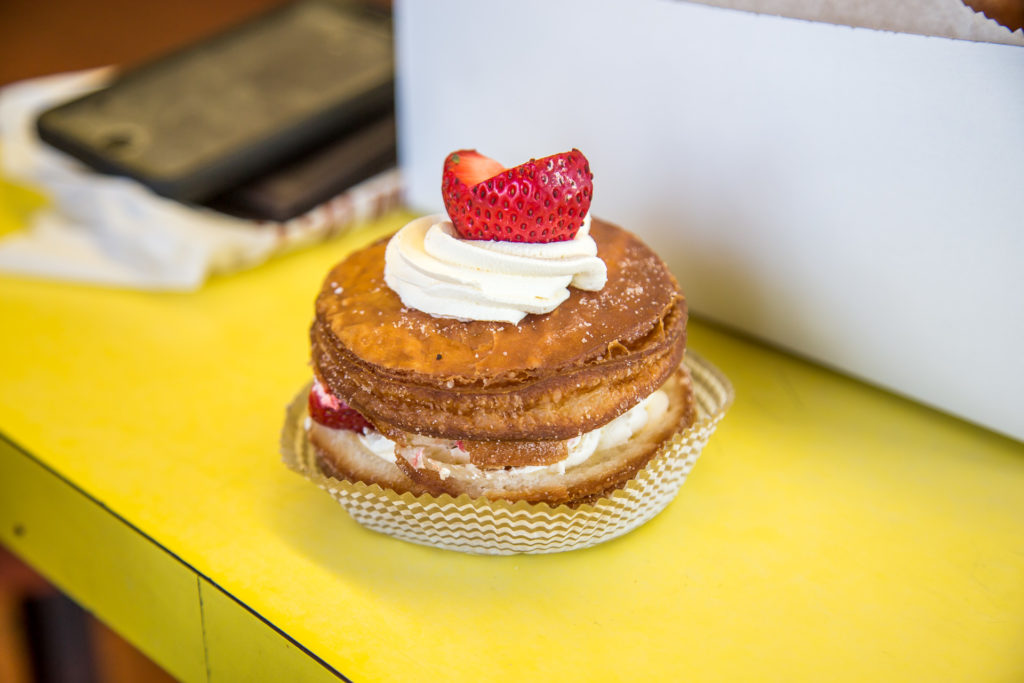 And now we get to the ube bacon cake and yeast doughnuts. These were the doughnuts that brought me here. Because, true to my Filipino heritage, I love all things ube. My favorite cake to make is ube cake. One of my favorite ice cream flavors is ube. I NEEDED to try these ube donuts. Surprisingly, they were good, but not as good as the spam o-nut or the wow-nut (and in Mike's case, the cream o-nut).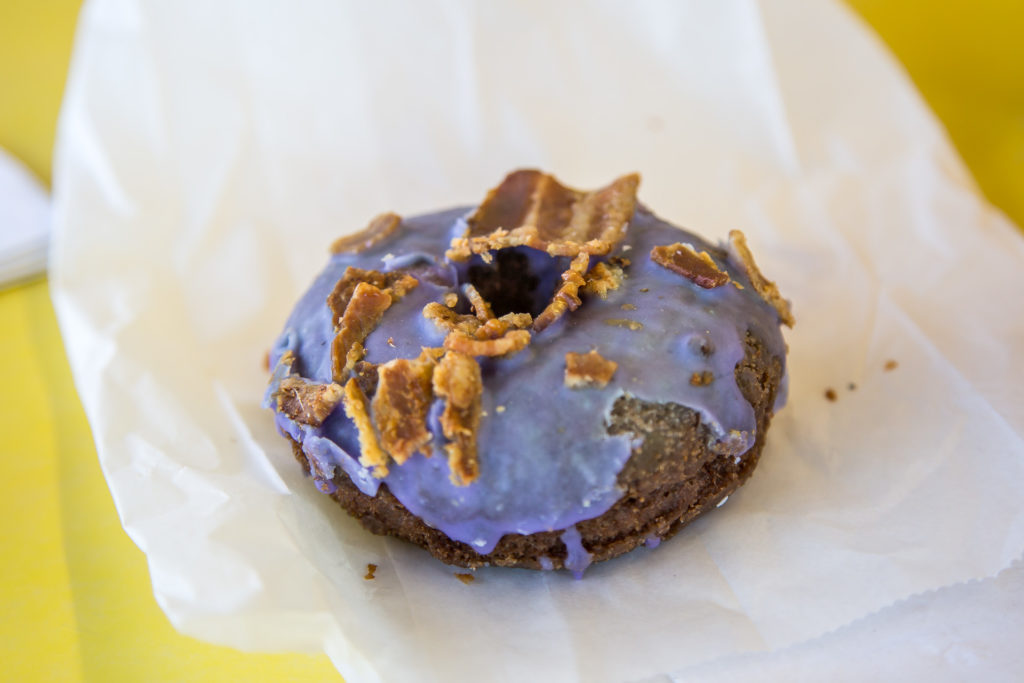 If these don't float your boat, they have a very wide variety of other treats you could check out.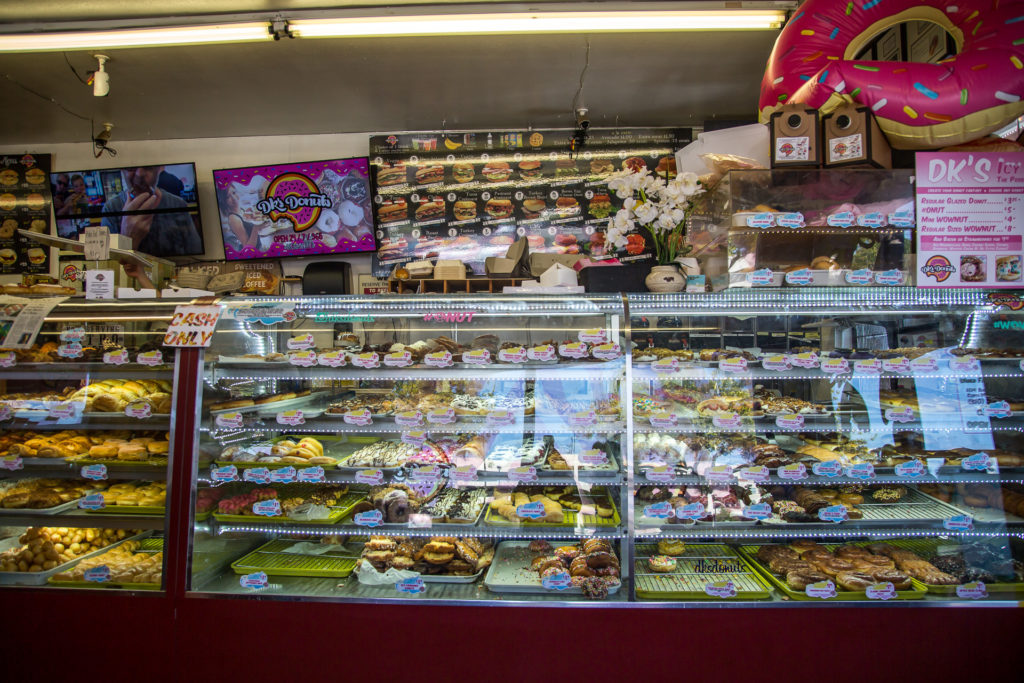 As a side note, if you're coming here with health nut friends and are afraid they'll be less than pleased you brought them here, DK's has a low-carb menu and fruit smoothies. Yes. This is in Santa Monica after all.
Palisades Park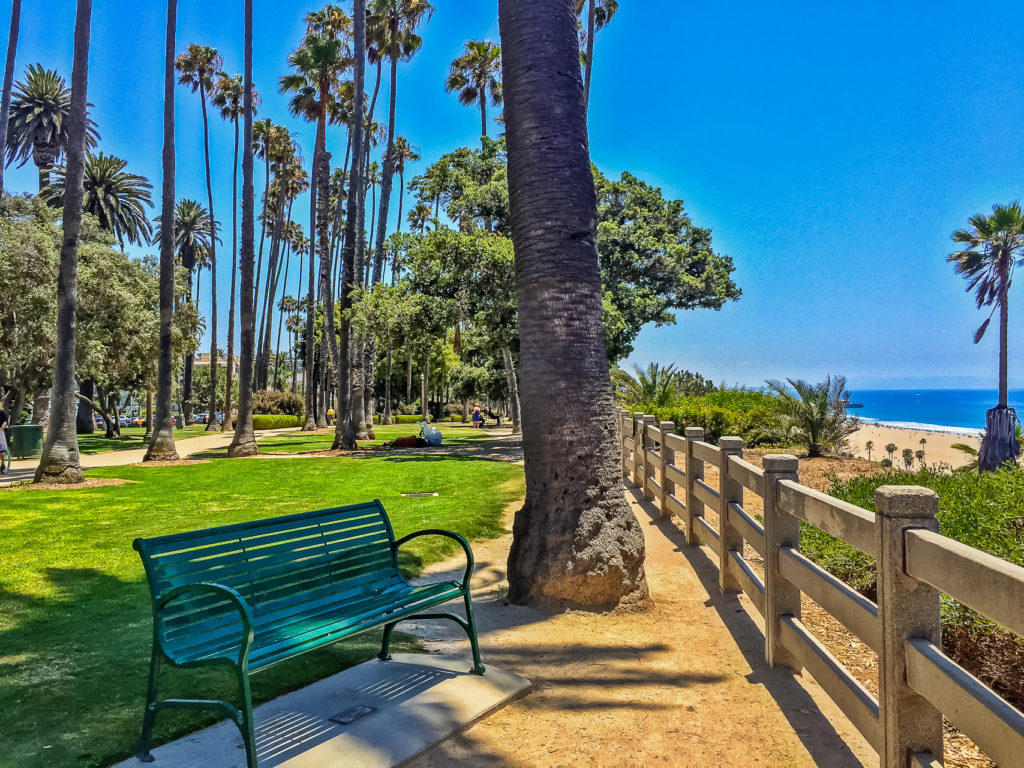 After all that food we went on a long walk down Palisades Park. Oooh and look, a photo of the red car we rented. I picked it out because we would never buy it for ourselves. If you didn't already know, insurance for red cars costs more here. So there we were, pretending we weren't the same as these basics with grey and black cars.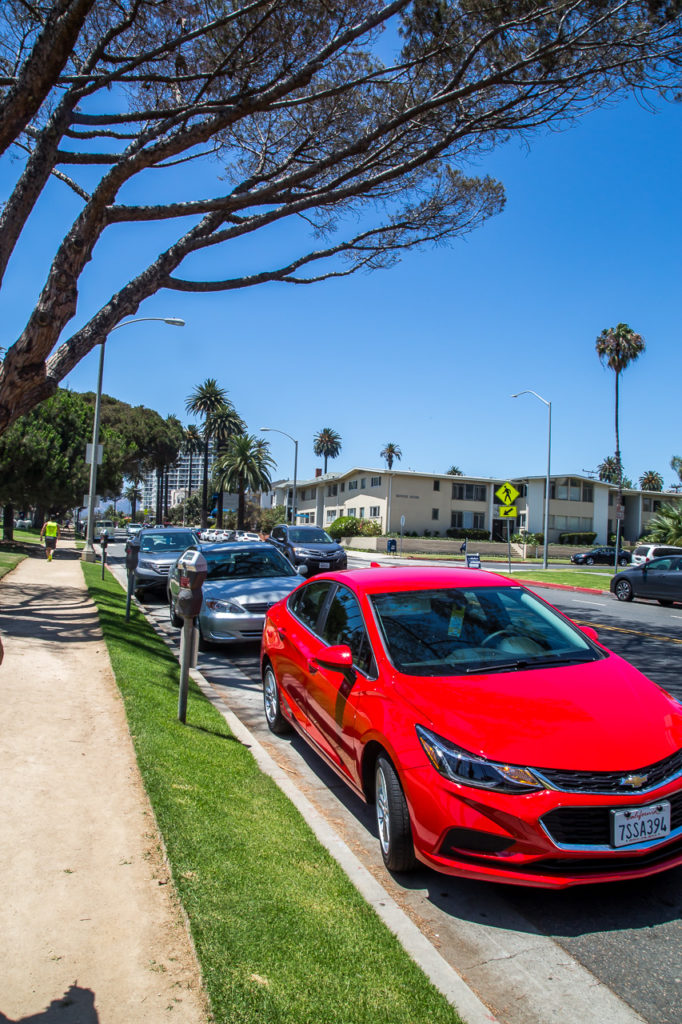 ANYWAYS…Palisades Park. I would've loved to go running here but we didn't have the time to go back and forth. So we just went on a very pleasant, leisurely walk.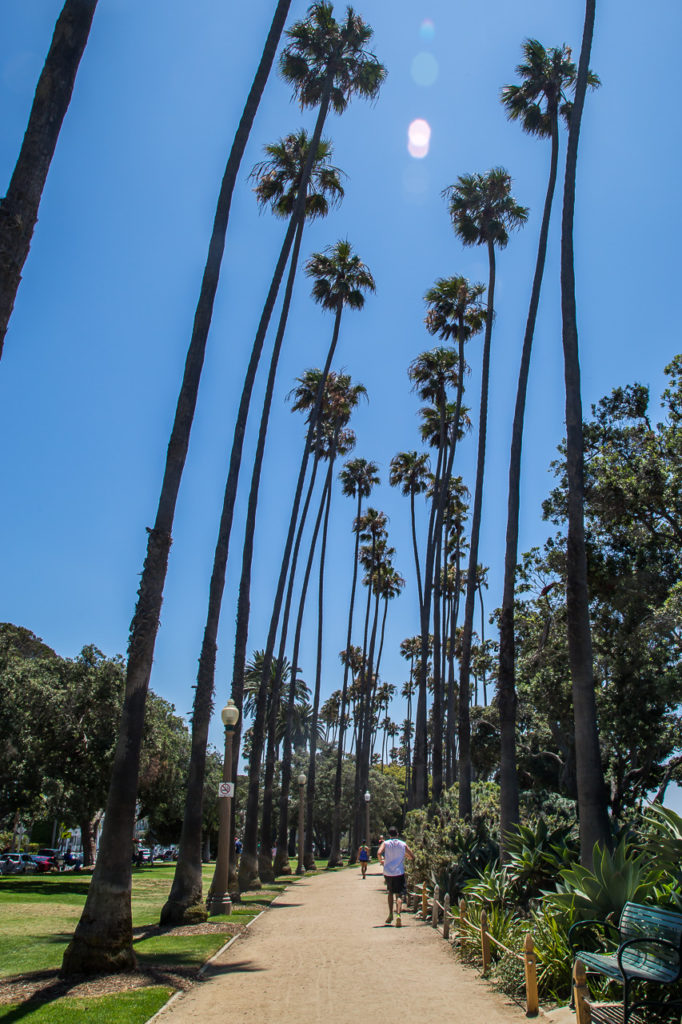 I'm gonna go ahead and say I had a little too much fun walking around, since I asked Mike to take this photo, one of the cheesiest photos of me ever taken. But I would like to document (publicly apparently) my ridiculousness. Also my wonderful gladiator sandals. 😜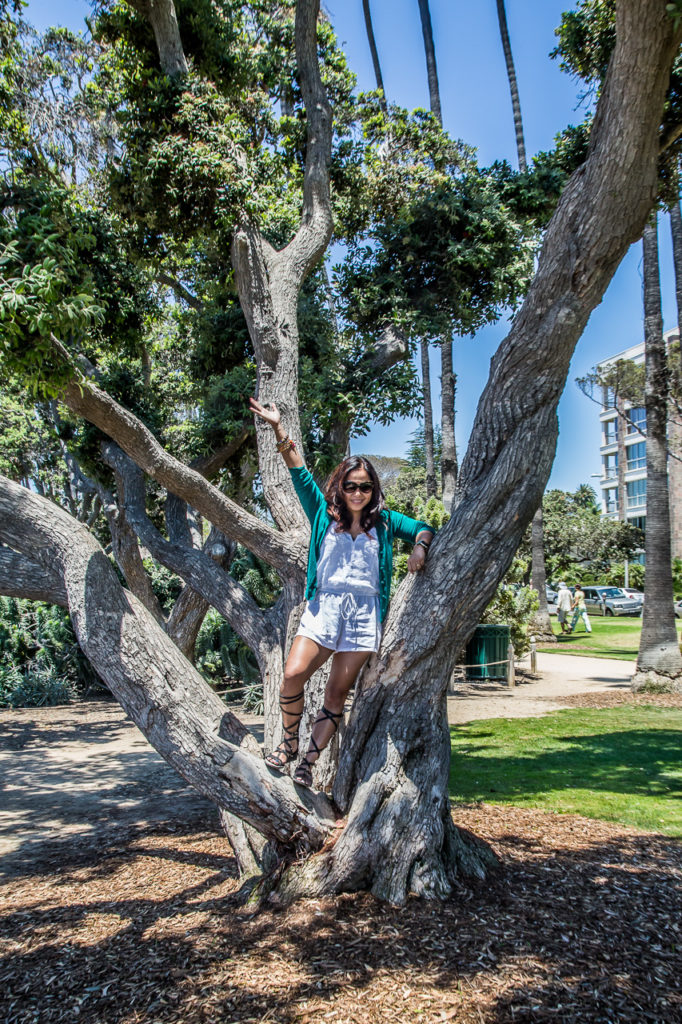 But I mean, the views were just too lovely so my brain probably short-circuited. (Who am I kidding? I've always been secretly cheesy.)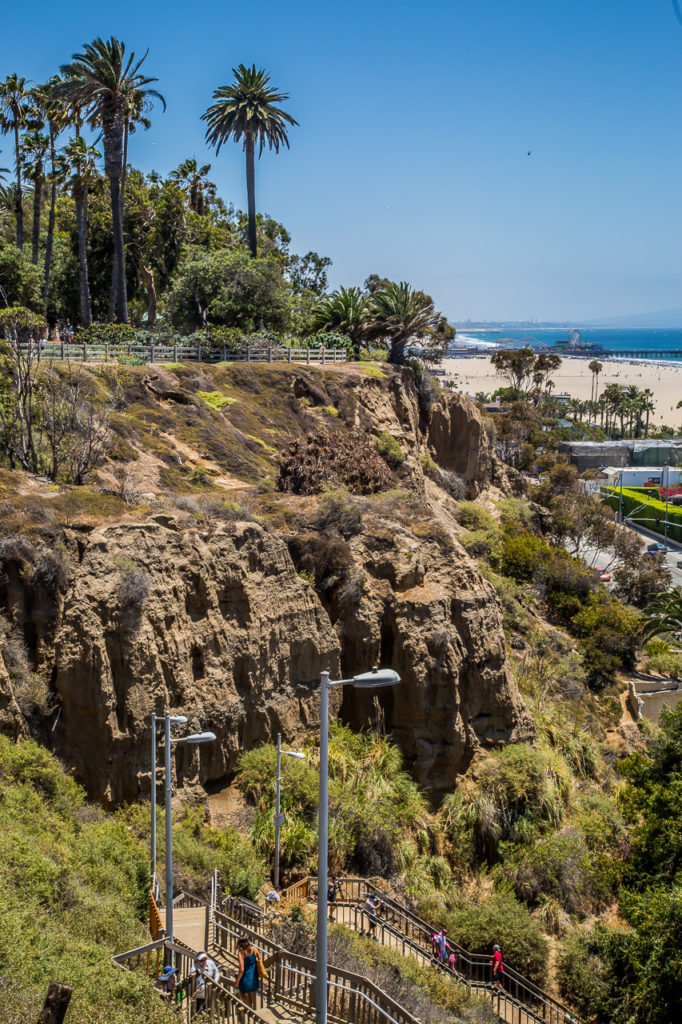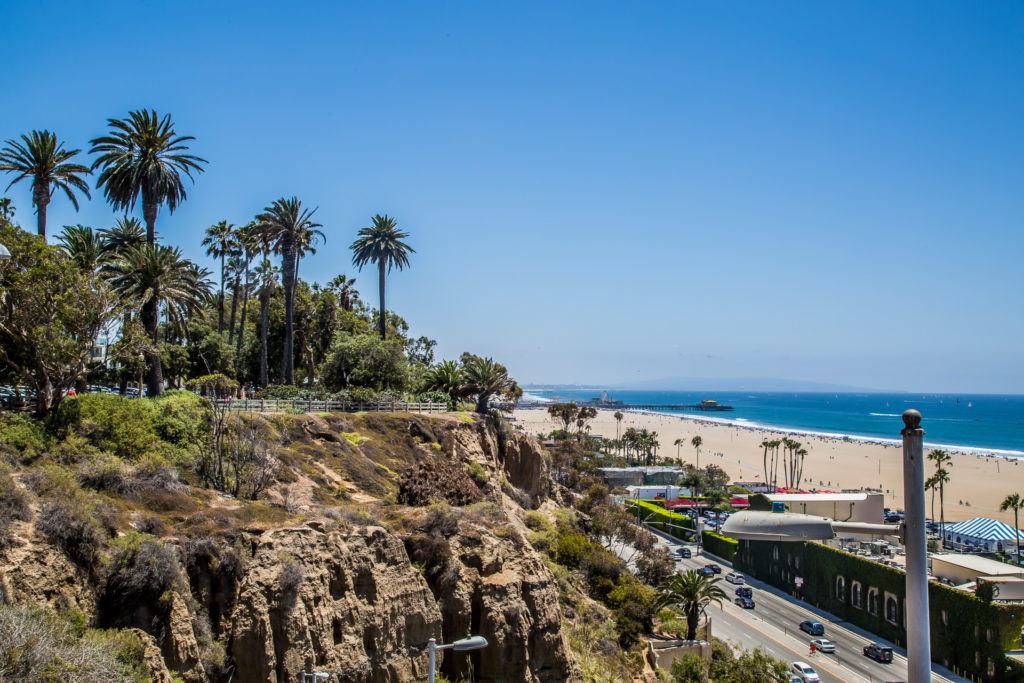 Rori's Artisanal Creamery
910 Montana Ave
Santa Monica, CA 90403
After that long walk, it was clearly time for ice cream (what?). Actually I remember being just as baffled as you probably are when Mike mentioned that he wanted to have a snack of ice cream. (Hadn't we just eaten like a million calories worth of doughnuts?) But we HAD been walking for a while and it had gotten pretty hot, so I GUESS I can't really blame him. #excuses. A quick Yelp search led us to Rori's Artisanal Creamery, where I discovered the "mini" scoops of ice cream that are about as big as golf balls prevalent in LA and Santa Monica. I went with those, but naturally, I had three scoops 😅. The good thing about it is I was able to try three flavors – maple pecan, malted milk ball, and cup o' joe I think. Mike had his usual vanilla and salted caramel. I remember the ice cream being impressive – flavorful and creamy. Also that I tried to steal some of Mike's salted caramel. I would recommend this place. The only reason I'm rating this 4 stars is because the space is small and the tables are so close together and hugging the ordering line that it's a little stressful in there.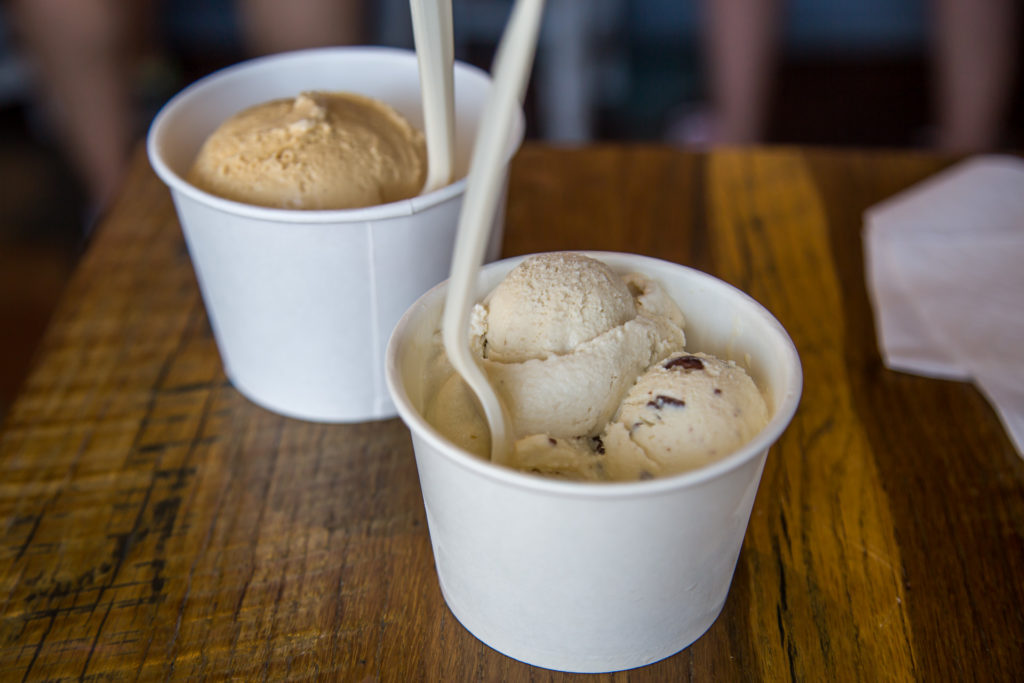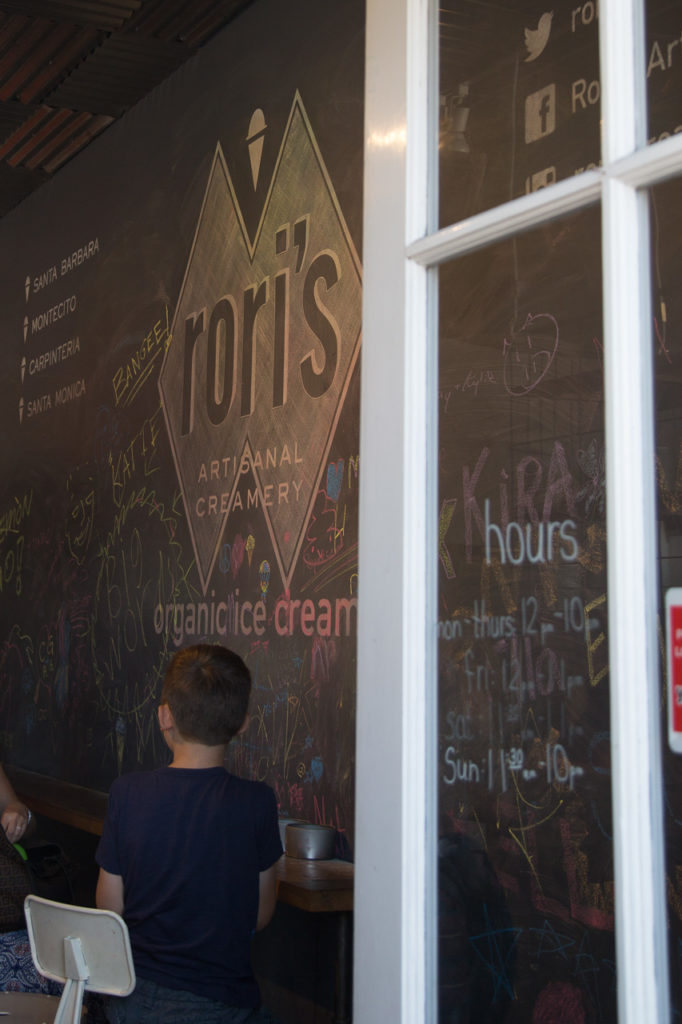 Fruit Stands
The fruit stands pop up in the many lists of must-try eats in LA and Santa Monica. They're cheap, they're freshly cut, and they're delicious. We dropped by one and grabbed a humongous portion of fresh mango slices. These were a (very) ripe version of what we call "indian mangoes" in the Philippines, the kind that are more easily found here in New York. I loved them, and I come from the Philippines, home to the most delicious mangoes in the world. Normally you can have them add honey and/or cayenne pepper (yeah apparently that's a thing), but I had them plain and I thought they were perfect. They were a lot sweeter than what I'm used to here in New York, without even any added sugar.
Seoul Sausage Company 
11313 Mississippi Ave
Los Angeles, CA 90025
After grabbing the mangoes, it was time to hit our planned lunch spot. Yes, yes, this turned out to be a foodie type of day, which I'm sure isn't surprising to any of you who know me. We would have waited until later to grab lunch but… this was closer to where we were than Venice Beach. So we just went for it.
We picked Seoul Sausage Company, a "Korean-inspired street food" joint because a list of the best cheap eats in LA had their korean fried chicken in it. This was the first place Mike and I weren't fans of. The chicken wasn't as crispy as the korean fried chicken we're used to here in NYC, and it was definitely not as flavorful. I kind of wish we had tried their sausage for a better review, but based on this it was only ok. It was saved a bit by the delicious cornbread it was served with though, I'll give them that. Definitely an excellent pairing I will keep in mind in the future. I will ALSO say that with the mangoes we bought, this meal wasn't half bad. Three stars because we only tried one item on their menu and that's on us, and because of the cornbread.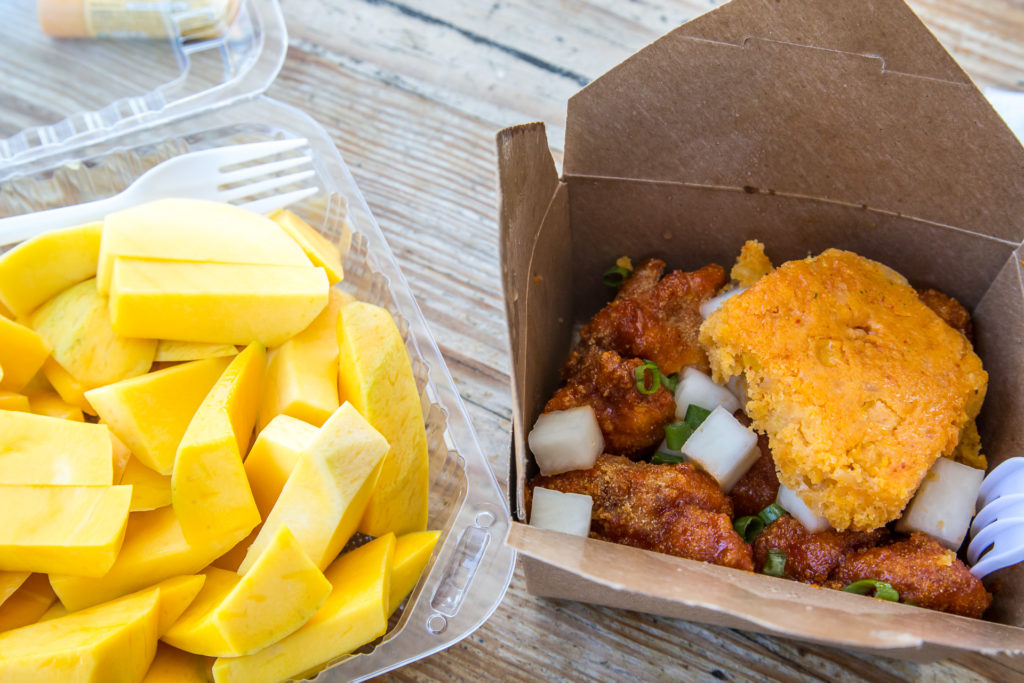 Tokyo Japanese Outlet
2109 Sawtelle Blvd
Los Angeles, CA 90025
Across the street from Seoul Sausage Company was a little strip mall containing Tokyo Japanese Outlet. We only discovered it because we were trying to park there. Across the street from THAT, is the famous Japanese equivalent of a dollar store called "Daiso". Apparently we had inadvertently hit LA's "Little Osaka", also known as Sawtelle Japantown. I guess it's called Little Osaka because it's west of Little Tokyo. Japanese outlets like these aren't hard to find in New York, but I am always drawn to cute little Asian things, so naturally we still went in.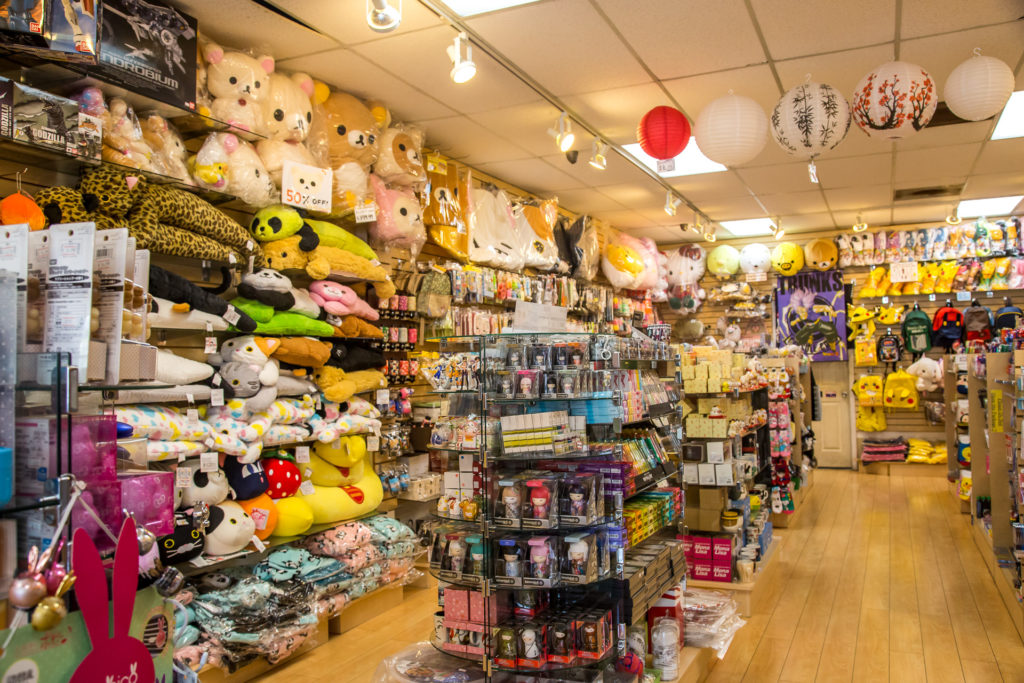 I'm glad we did, because our little problem of not being able to use the cosplay we'd originally planned on doing (more on this in the San Diego Comic Con post!) was solved by my discovery of a Pikachu costume that fit me perfectly.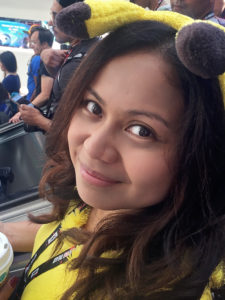 Venice Beach
What can I say about Venice Beach? My very first experience with it was in the Sierra video game Leisure Suit Larry, when Larry is strolling along muscle beach. This is not exactly high praise. (For it OR for me lol. What can I say? I found it funny.) Later on I got the impression from movies and TV shows that it is full of artists and performers, which is more along the lines of what I found. Venice Beach is quirky, laid back, and crowded. The boardwalk is lively and loud, with different genres of music blasting from so many of the vendor stalls. The water is cold, but you'll find plenty of people still swimming in it. We opted for a long walk, and then more coffee for me afterwards.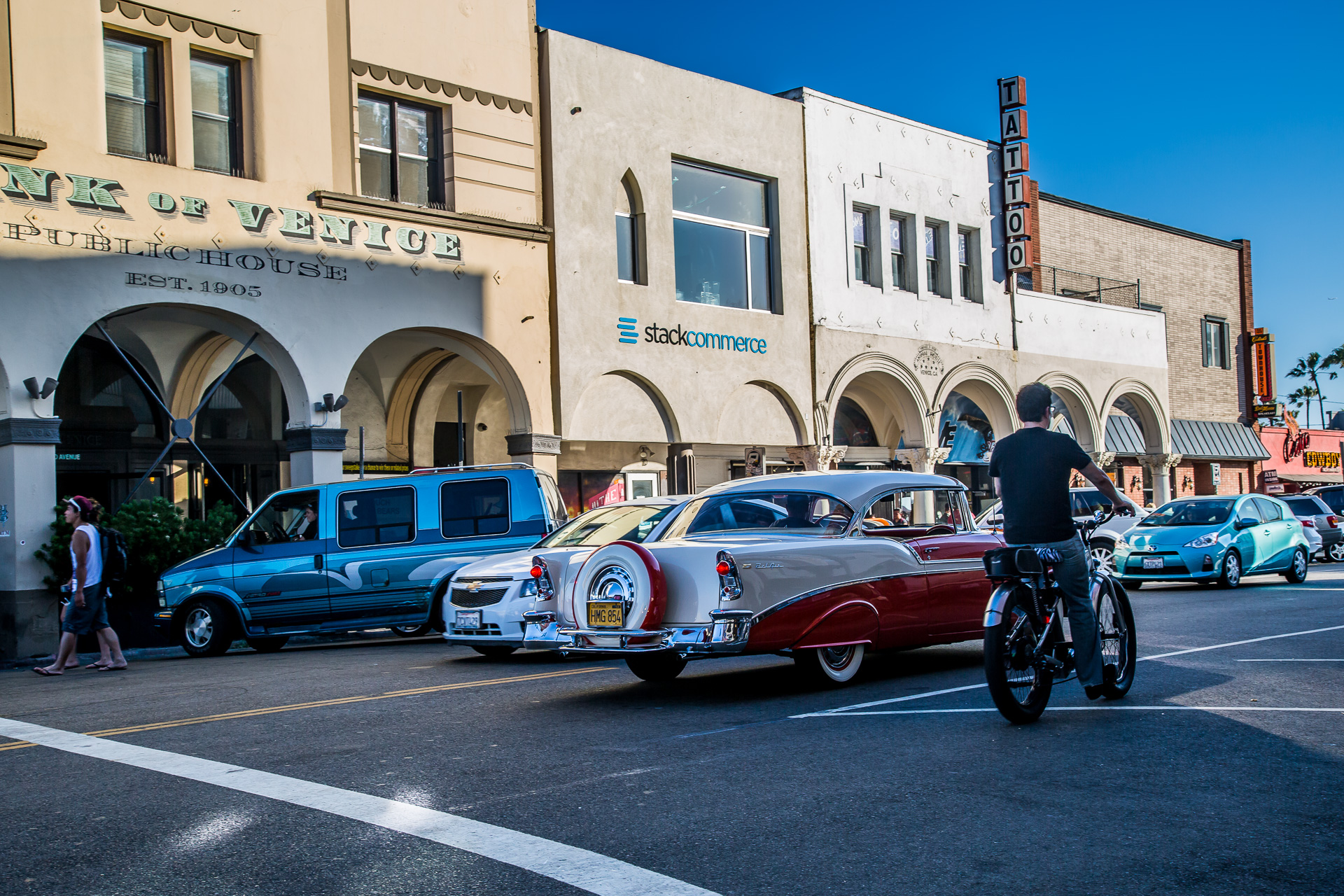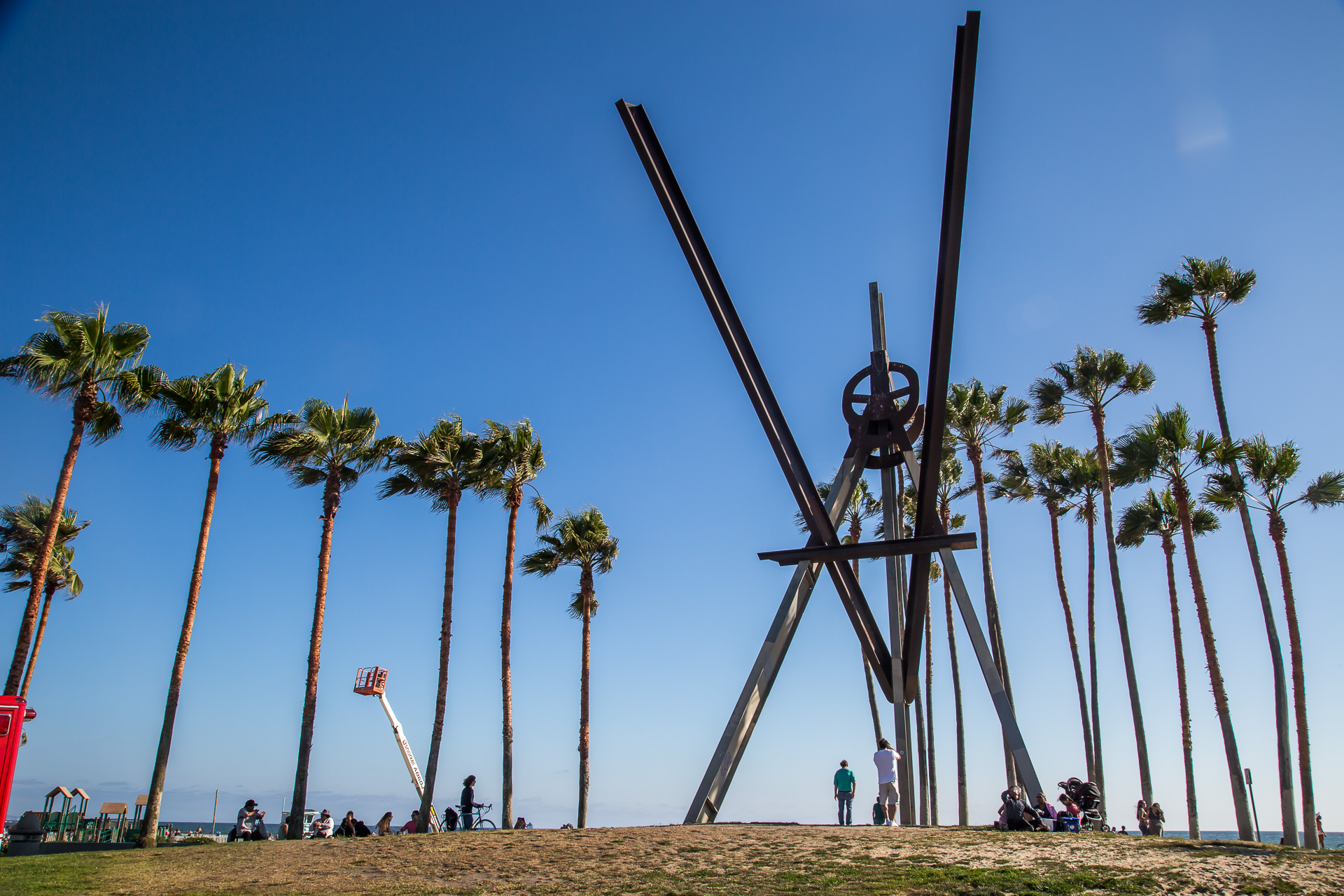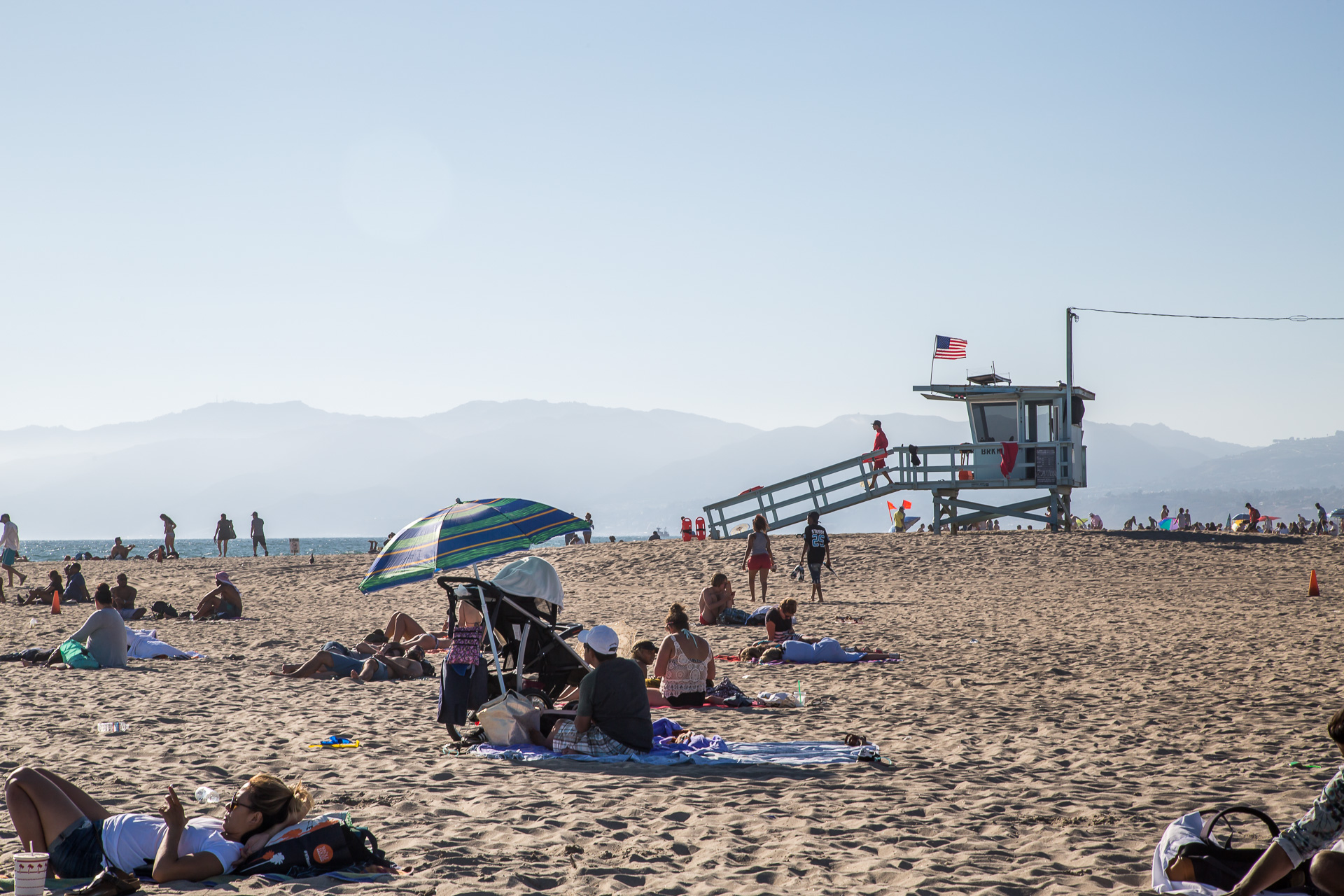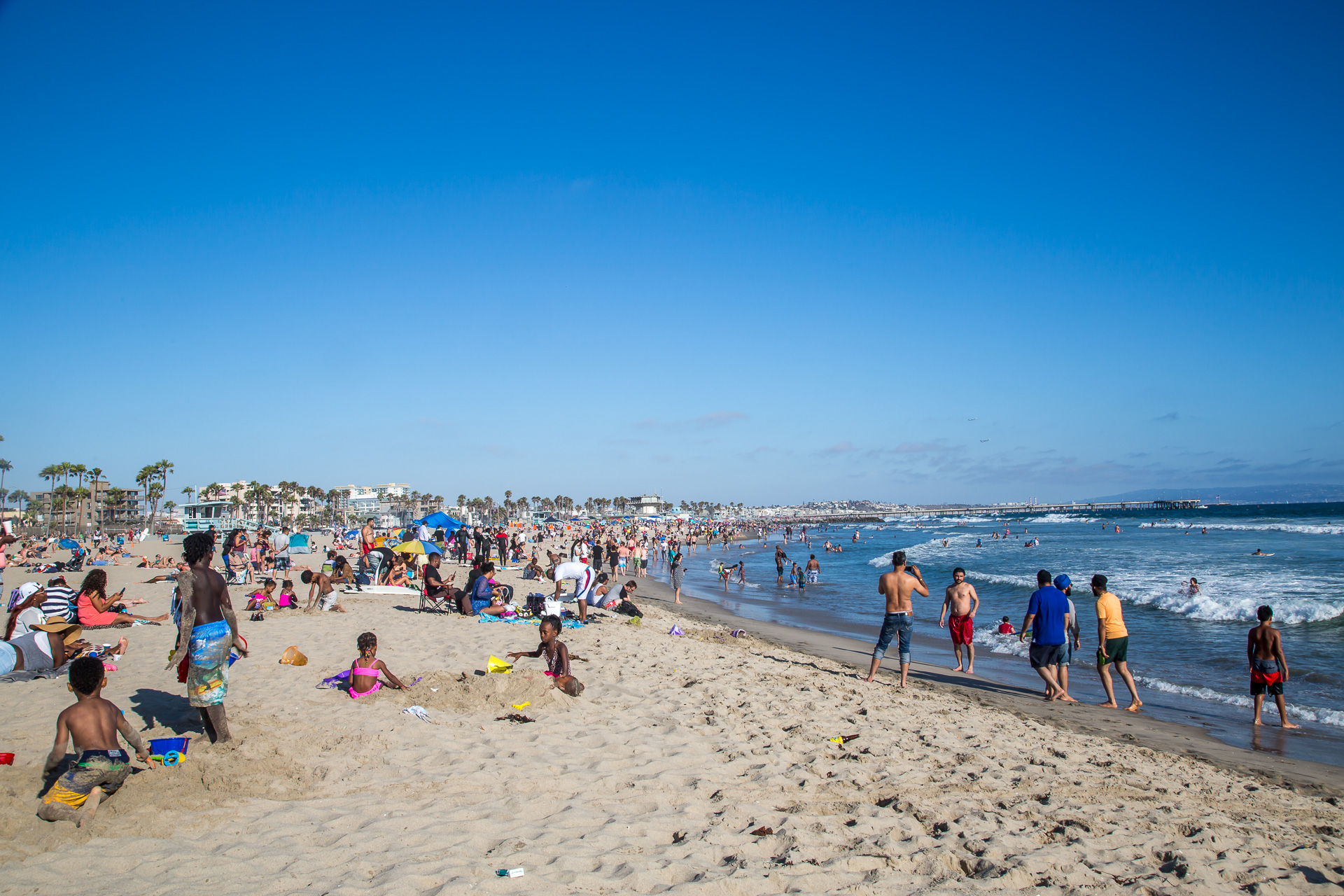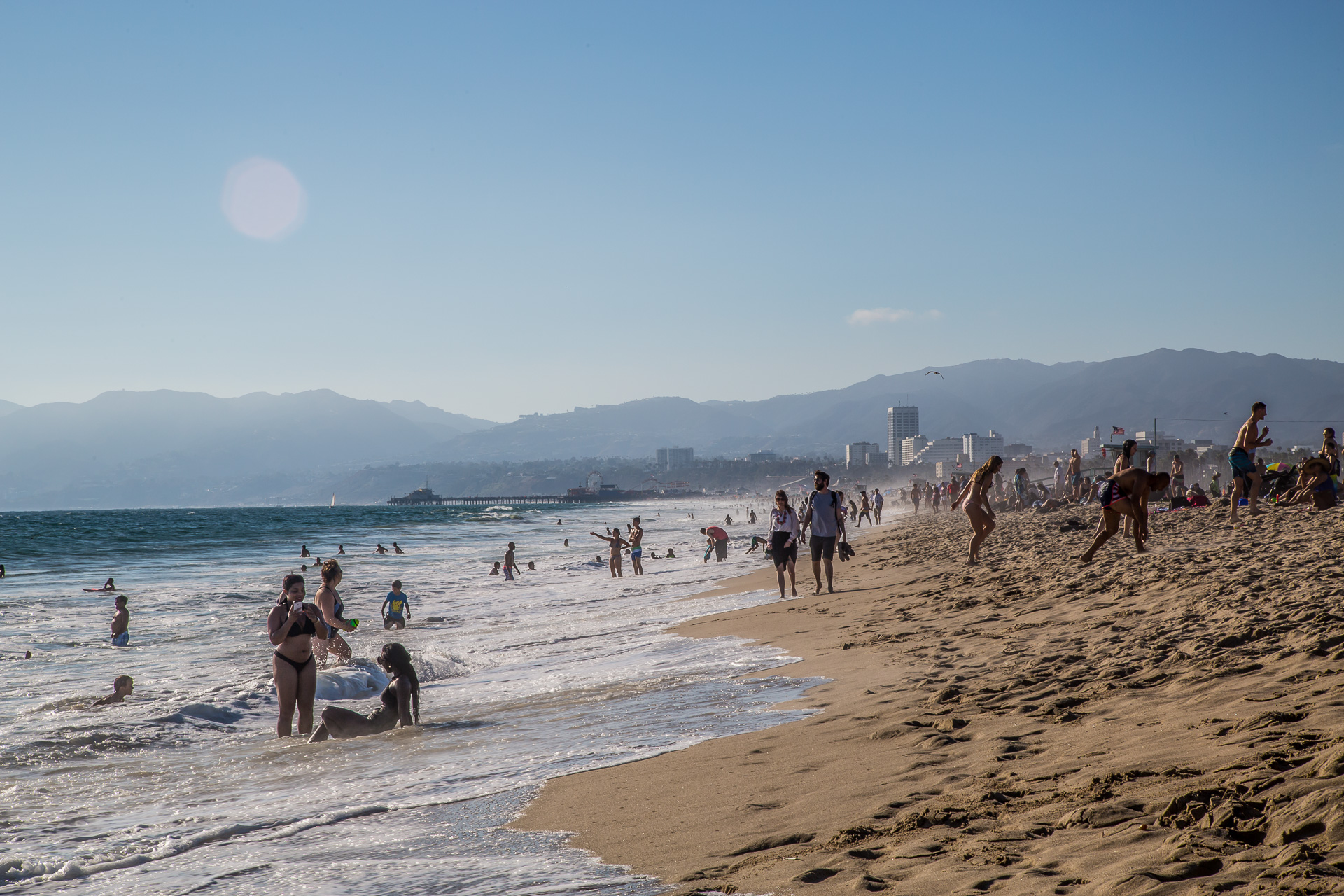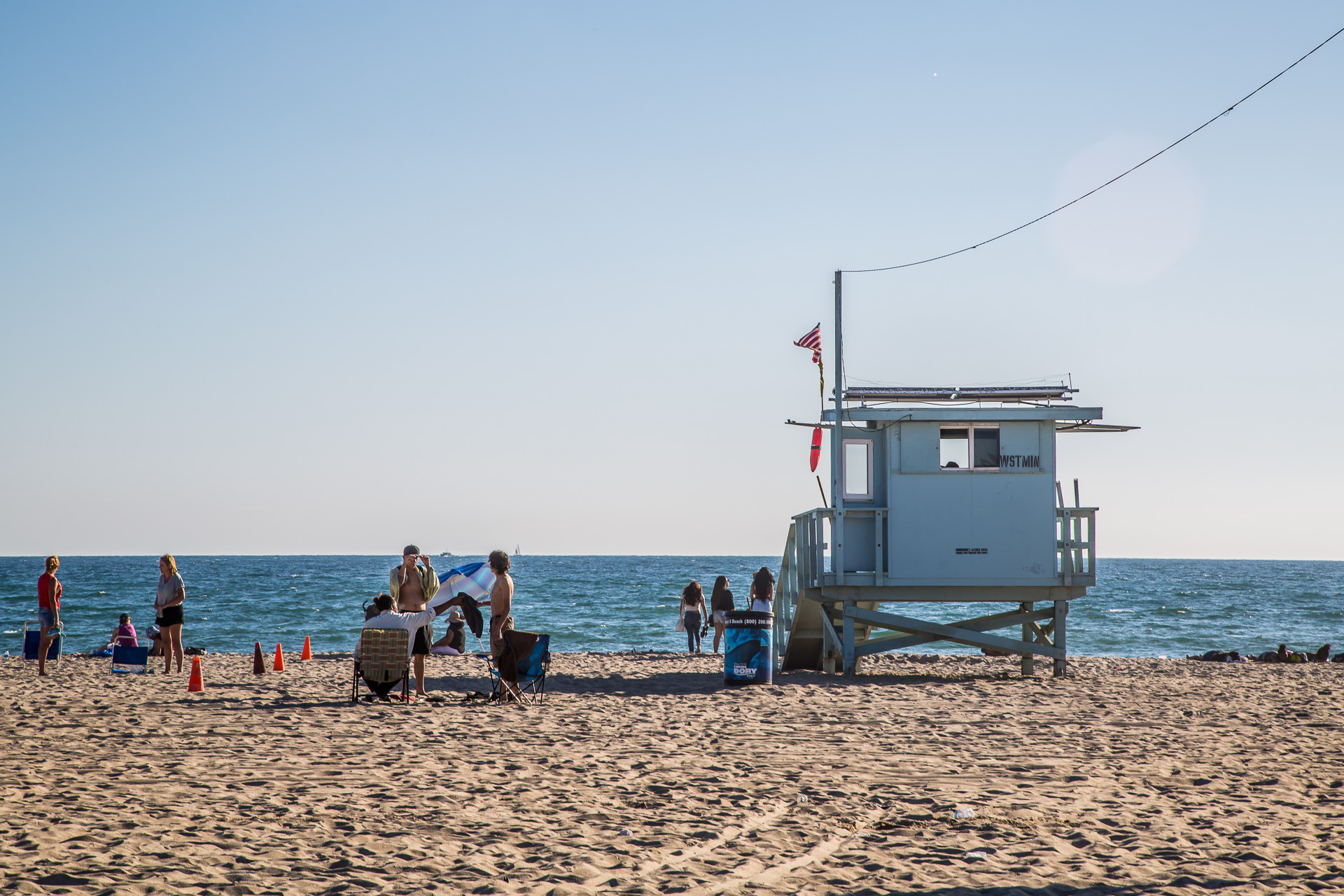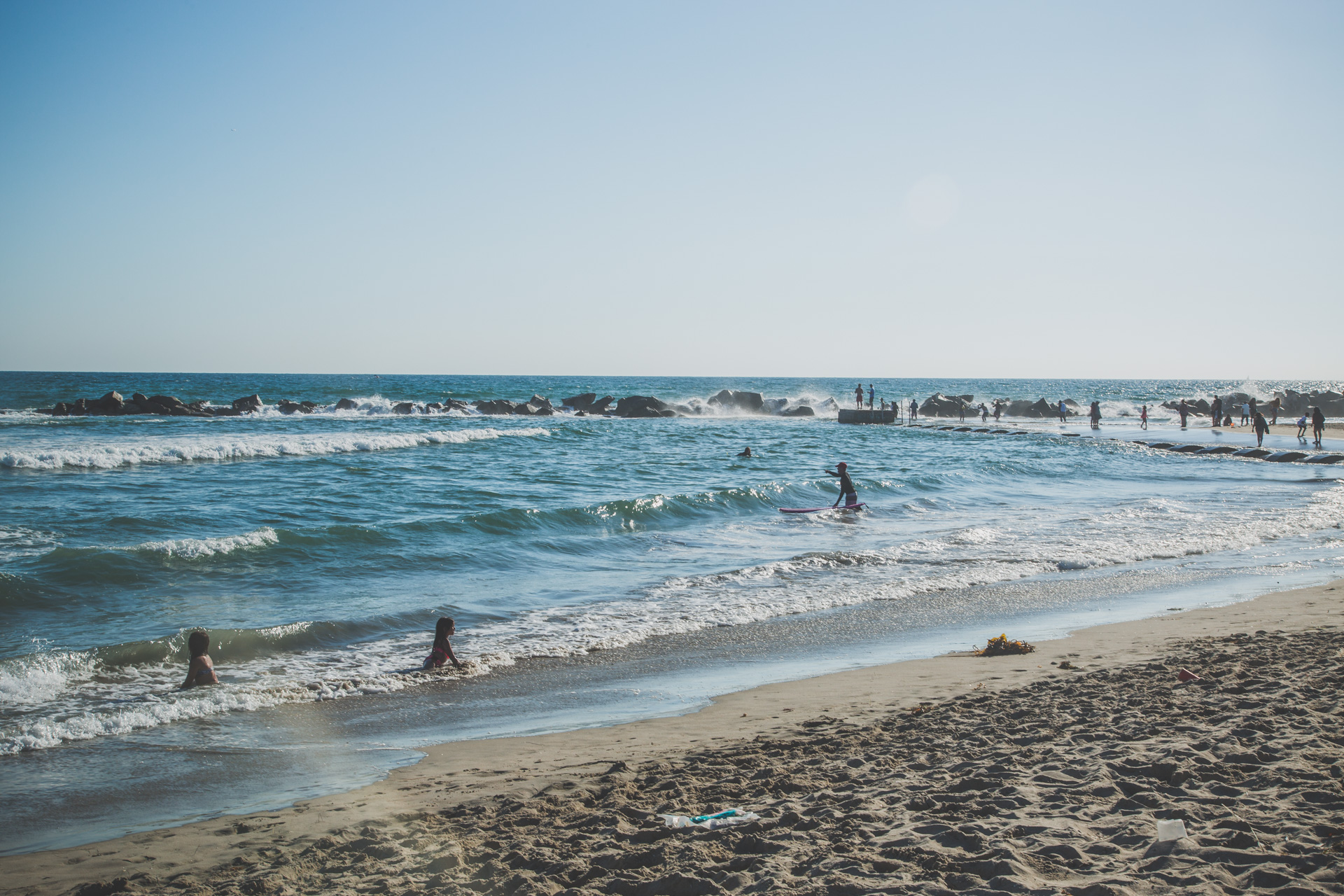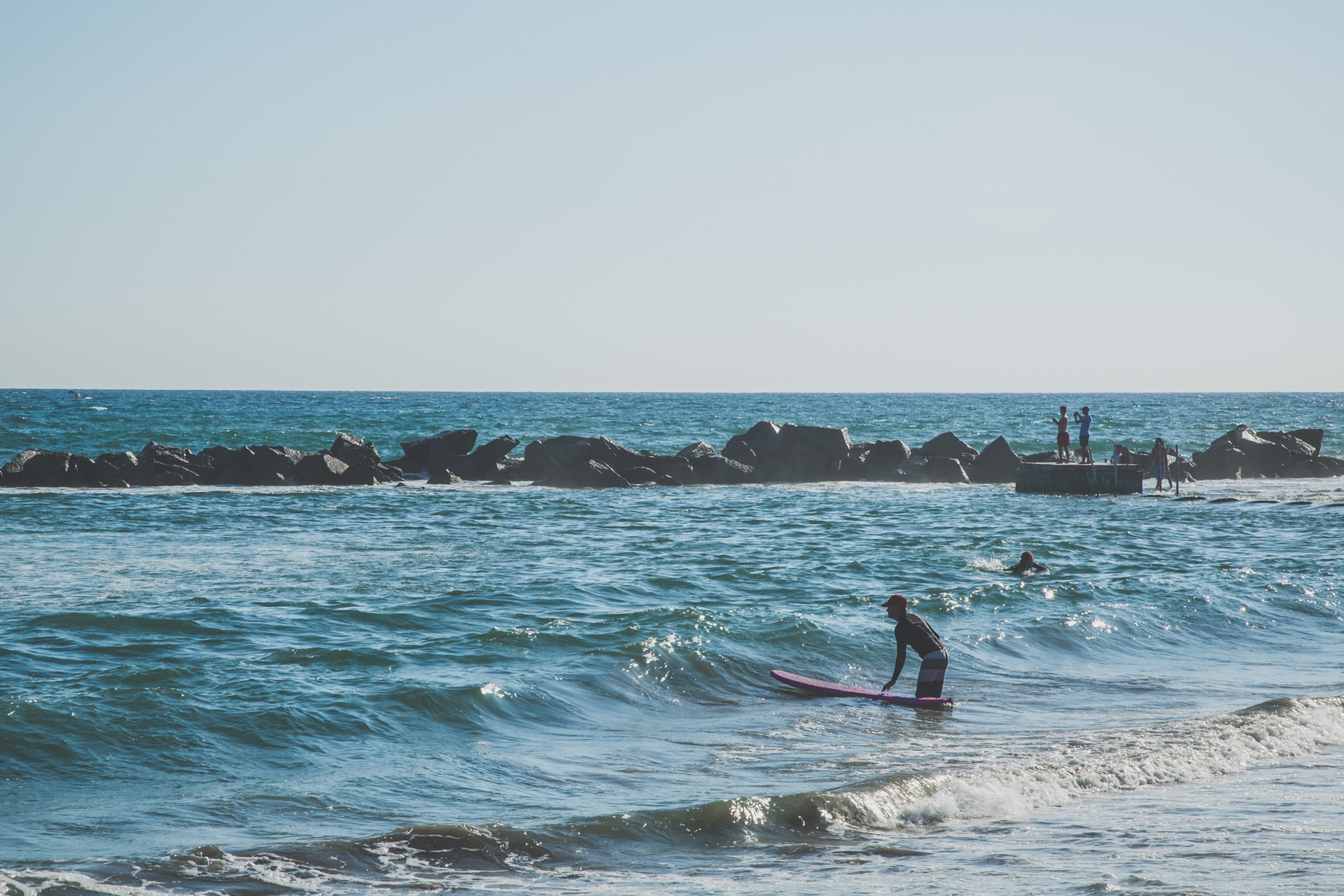 For me, the most interesting thing about Venice Beach is that I've never experienced anything like it on the East Coast. There are plenty of parks to run in and quite a few beaches with boardwalks to visit, but the crazy mix of artsy urban culture with a beach town vibe is so unique to Venice Beach, in my mind.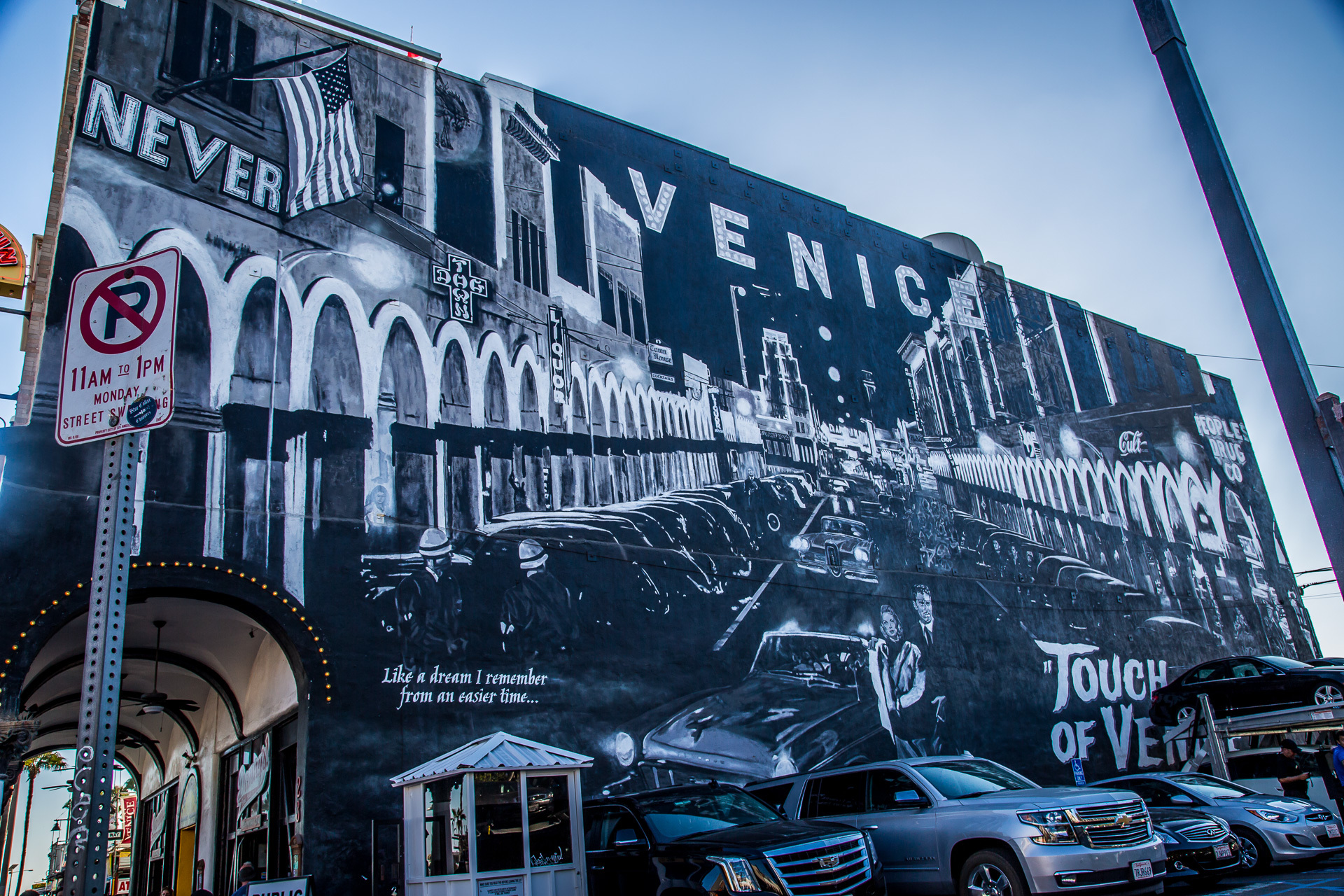 Gjelina
1429 Abbot Kinney Blvd
Venice, CA 90291
After our long walk on Venice Beach, it was time for dinner at Gjelina on Abbot Kinney Blvd. This is a nice strip with several decent-looking (indie!) shops, restaurants, and bars, described on one GQ gallery as "the coolest block in America". Somehow, I ended up with no charge or extra batteries for my camera, so for the first time in a long while I am "borrowing" some photos from Yelp, because I think this is totally worth reviewing properly.
The outside of Gjelina absolutely looks like it belongs in Venice. Urban + artsy.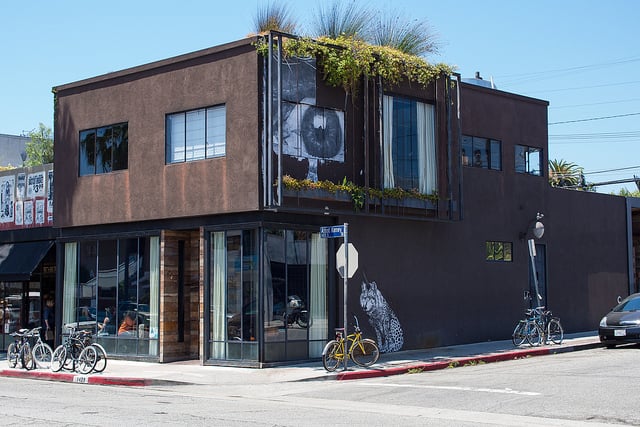 However, it was nighttime when we went, so the effect was more muted. Sort of like you're entering a restaurant not many people know about, which is absolutely untrue given that this was one of the restaurants I had to struggle to find a decent reservation time slot for, and it was 3600+ reviews on Yelp.
We had two pizzas, because it was that sort of day. Luckily, they were medium-sized, and both delicious. Michael picked the one with truffle oil and mushrooms while I picked the one with lamb sausage. Both very good. (Again, these pictures are not my own, but I do remember them looking quite similar.)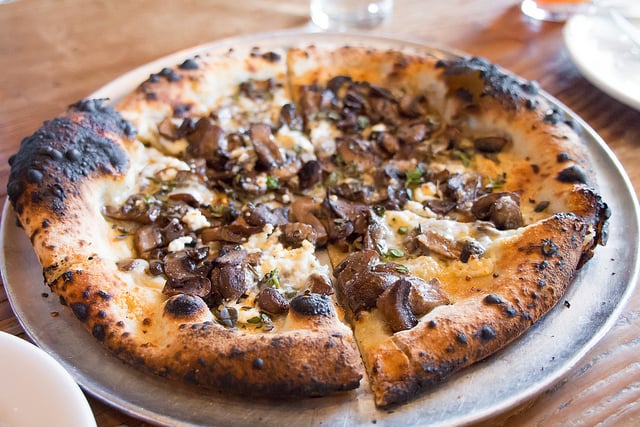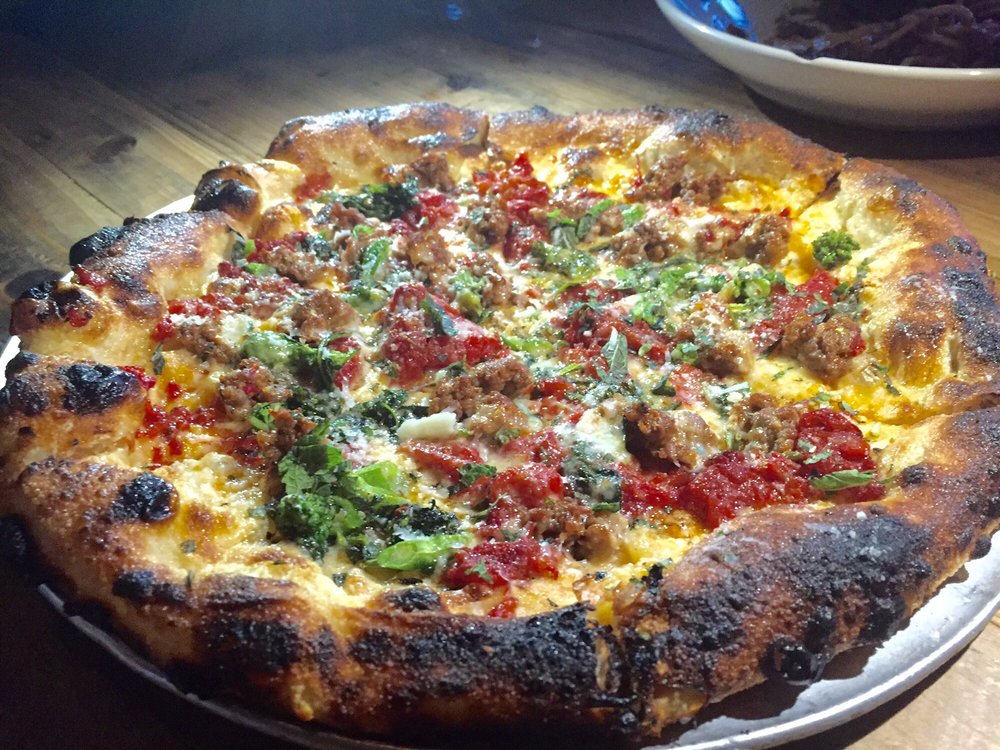 My only (terrible) photo for that night was of this little spice plate they provide with the pizzas, but it does have me remembering a nice detail. I loved it because it made us feel like chefs, sprinkling red pepper and parmesan with our hands.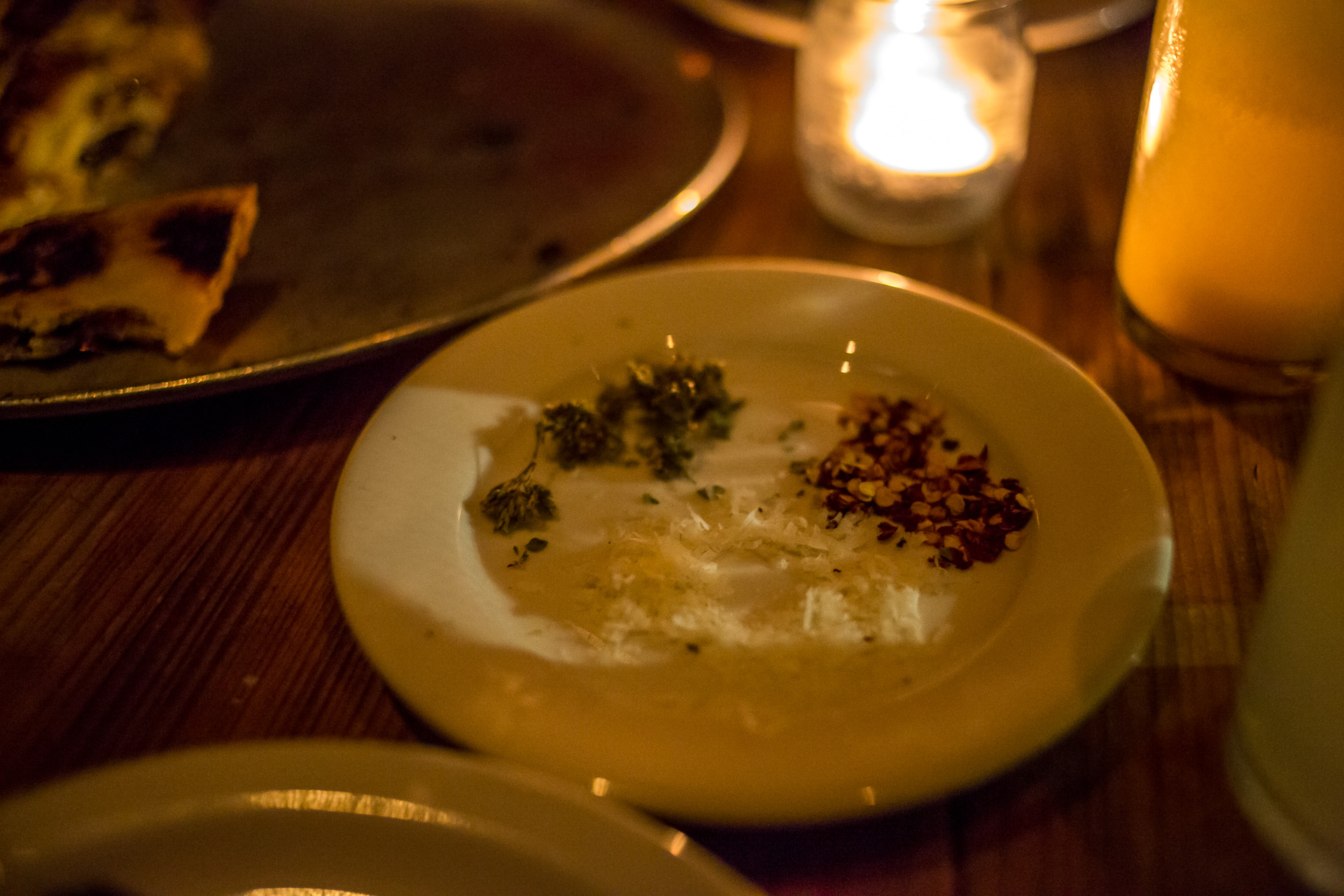 All in all the place felt very cozy to me, the food was really good, and the menu had so many unique items in it. My only complaint is that it felt a little too dark at night, so I really had no concept of what the inside looked like other than that it was very dark in there.
For dessert we had wanted to try an ice cream place nearby, because apparently our plan was to roll ourselves home, but the place had an insane line, so we decided to head "home" and munch on the pile of doughnuts we'd bought that morning. Not a bad ending to a long, interesting day in SoCal.