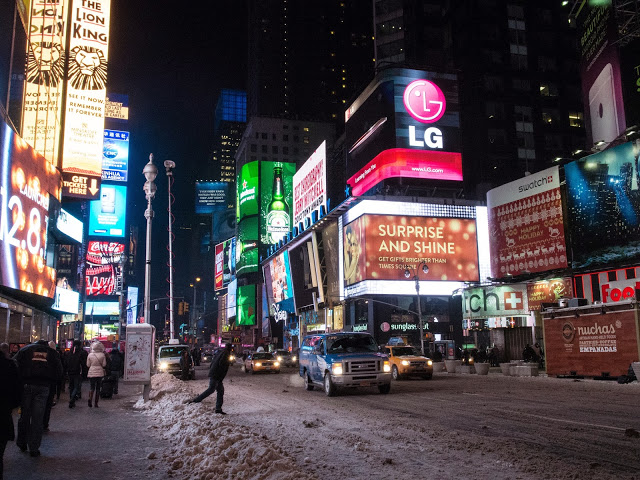 On New Year's Eve, after adding "Watch 2 Broadway Shows" to my 2014 bucket list, Goldstar (think Groupon specifically for shows and activities) put tickets to the show "First Date" on sale for a little less than half off. They gently reminded me via email that I should probably get on that, since their last curtain call is on January 5th (that's tomorrow folks). Now, I'd had this show on my radar for quite some time after seeing various Facebook posts regarding how wonderful it was, so, I jumped at the chance and grabbed two out of their four remaining tickets for last night, not even considering the fact that a blizzard was going to hit New York the day before. As you can see from the above photo, Michael and I went ahead and saw it anyway.
We met up at Fuel Grill on 9th avenue for a quick healthy dinner. I had their salmon wrap, and Michael had their chicken parm wrap. Both were delicious and came with a gorgeously fresh-looking side salad.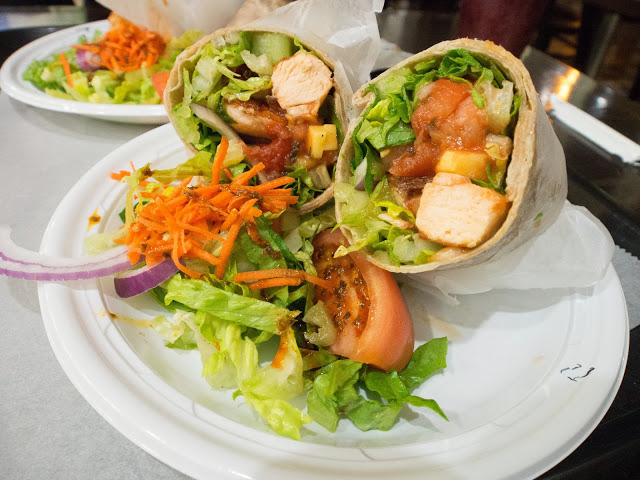 Then we had a mini-fight over the fact that Michael couldn't/I couldn't teach him how to properly work my new Olympus camera in order to get a shot of the theater (and that's why there isn't one). And then we entered the theater after I thought I had frozen my toes off in line outside, and we sat silently as we waited for the curtain to go up (see, not all awkward dates are firsts) ;P.
Our short freeze-out didn't last very long though, since the show started out strong and just kept on going, so it wasn't very long before we went back to having a good time.
"First Date" stars Zachary Levi, known for his titular role as the hapless nerd in "Chuck", and as the egotistical yet charismatic Flynn Rider in "Tangled". He also does Nerd HQ at the San Diego Comic Con. The gal he's on a date with is played by Krysta Rodriguez, who, despite starring alongside Zach, who probably hauled in a significant percentage of the audience due to his fangirls, garnered even bigger applause (though significantly less shrill screams) than him upon her first appearance onstage. She was after all, part of the original casts of several big titles on Broadway: "The Addams Family", "In the Heights", and Spring Awakening", three shows I've been kicking myself for not watching.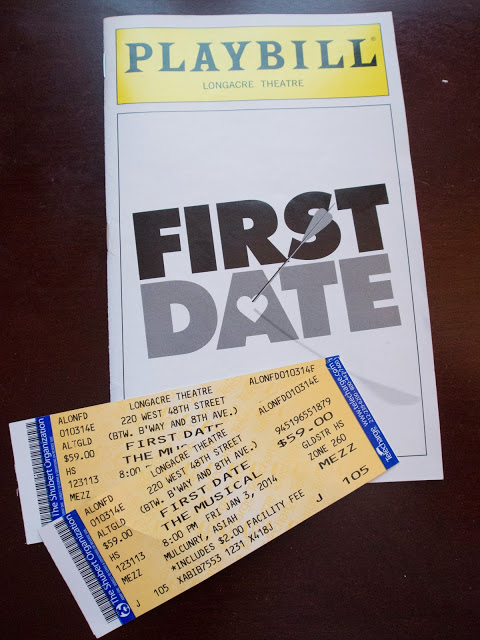 The show has the audience go through a (blind) first date with Aaron (Levi) and Casey (Rodriguez) from the incredibly awkward start to the adorable and hopeful finish. If you've ever been single and have gone on a few streaks of meh dates, you will find plenty of familiar moments in the show. If you are still single some of those could potentially be a sad reminder of what's still in store for you, but I don't think you'll have to wallow in self-pity for more than a few seconds, since the riveting and IMHO extremely talented cast might have you enjoying the show so much you'll just keep laughing, even at some of the lamer jokes, like I did. There were also a lot of funny New York/New Yorker references, which I thought were cute.
If you've seen a few episodes of "Chuck" like Michael and I have, you'll probably be familiar with about 90% of Aaron's mannerisms, but somehow they worked so much more for me in the musical than it does on the show. Oh don't get me wrong, despite my being able to take the show only in small doses due to the ridiculous amount of Yvonne-Strahovski -being-super-hot montages, I still won't allow Michael to watch it without me. But somehow Zach's excellent comic timing is so much more apparent in "First Date". Plus he has a nice set of pipes, and he had me both laughing ("In Love With You") and crying ("The Things I Never Said"), which to me is the mark of any good show/movie. His performance, in my opinion, seemed to come from an honest place.
Like I said, I never saw any of the shows Krysta's been in live, so I can't really comment on her performance relative to the others, but she has a wonderful voice that I wouldn't mind listening to everyday, and that spark and presence that only people born to be stars have. More, please!
The show wouldn't have worked as nicely as it did though without the rest of the cast. They flitted seamlessly from one role to another (e.g. opinionated waiter/father/therapist or gay best friend/douchebag rocker guy), which is always something I really enjoy (hence my 2013 obsession with Benedict Cumberbatch).
Overall the show was everything I want from a musical, ++ a lot more laughter.
At the end of our nth date, Michael, always patient about my fangirling, asked me twice whether I wanted to wait for Zachary Levi outside to hopefully get an autograph or even a pic, but I declined as I imagined my toes freezing again like earlier that night. I'm quite happy even with just the memory of that wonderful performance, knowing the show is about to end.
If you haven't seen it (and likely won't be able to given that their last performance is tomorrow) here are two of my favorite songs from it at least.
**Edit**
After listening to the recordings this week, I've grown fond of these two as well and realized they're probably more representative of what the show is about: