Since leaving Manila in 2005, I've somehow been able to meet up with my best friend Mshel every single year. Sometimes I go back home, and sometimes she pops over for a "quick" visit. We weren't expecting to see each other this year since I had planned a very long visit to Italy, so I was pleasantly surprised when she told me she was flying to Houston for a business trip and spending a weekend with us. We of course got uber excited and planned all sorts of things like we always do, half of which we didn't actually end up doing. But, that's to be expected when trying to plan an epic weekend in NYC.
Mike and I had already bought tickets to the New York Comic Con that weekend, so we bought another ticket for Mshel so we could spend part of Saturday there with her.
On our way to NYCC, we passed through what seemed to be a very small street fair, and found this booth selling old cameras. I considered buying one for decor, but decided against it.
NYCC
At the Comic Con, I was struck again with the shyness I usually get when given the opportunity to take portraits of random strangers, so I was only able to take a few.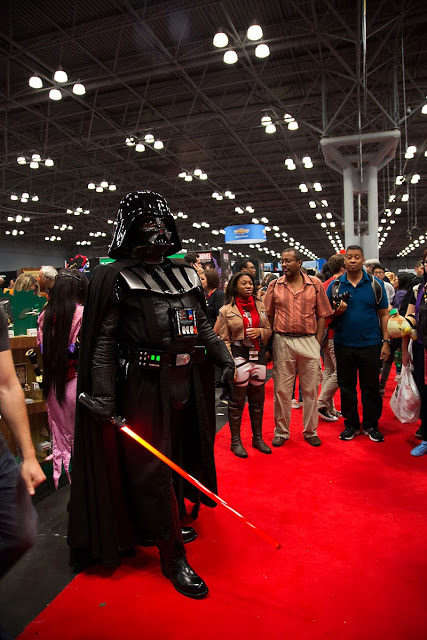 A somewhat paunchy Darth Vader
We didn't do much except ogle people, shop (Mshel) and window shop (me). I almost bought a replica of River Song's Tardis notebook, life and mana potion bottles, and a little 10th Doctor vinyl figure (then I realized I'm 30 years old). Mshel bought a gorgeous mockingjay fob watch for her lil' sis.
We weren't able to make it to any of the panels due to our busy schedule, but at least I was able to "meet" David Duchovny and get his autograph, thanks to Mike, who searched the autograph lines a few times while Mshel and I discussed how intense the whole thing was. Mike seemed happy enough to have gotten some "eye contact" with Gillian Anderson, and I ogled John Barrowman (Doctor Who's Captain Jack Harkness) while in line. (Yes, if you didn't already know it, I can be quite the nerd.)
Most of our day was spent at Comic Con, so by the time we got out it was time to have dinner with a few friends. I picked Ayza Wine and Chocolate bar because it was near the Javits Center (the NYCC venue). Our friend Nik found us 20% off Groupon for that time, so it was perfect.
Our reservation was for 6:00 pm, and it was somewhat empty when we got there around 5:30 pm to hang around at the bar and wait for the rest of our group.
Waiting was kind of fun though, what with their amazing chocolate martinis and discussing our NYCC experience.
I had their Goat Cheese Brûlée w/ mixed field greens, toasted walnuts,marinated beets and truffle walnut sherry vinaigrette. I have never had goat cheese this good. The crunchy caramel coating the creamy goat cheese was to die for, and the vinaigrette was one of the very few vinaigrettes I've ever enjoyed.
Someone ordered the Roasted French Brie Crouton w/ organic honey, cracked black pepper and walnuts. I don't think I ever tried it, but it looked delicious. And brie with honey and walnuts is always a winning combination.
Their Angry Chicken Lollipops w/ spicy, sesame, hoisin sauce and crispy rice noodles was probably my favorite dish of the night. Mike and I inhaled these delicious, crunchy, spicy babies.
A few of the guys ordered the BBQ Pulled Pork w/ slow braised tender pork, aged cheddar, pickles & ayza bbq sauce, which they all raved about. Mike loved it so much he ordered another one to go so he could eat it at home…
For dessert, our friend Kim got a choice of three chocolates. I'm not sure what the rest are but I'm pretty sure one of these was the rose hip pistachio by Xocolatti.
The guys shared a Chocolate Pizza w/ strawberry, banana & hazelnut.
Mshel and I shared their red velvet cupcake. It was adorable, but pretty boring, though that didn't stop our friend Jack from annihilating it when we decided we didn't want any more.
David Burke Townhouse


Our plan to have brunch at Norma's didn't pan out because we left a bit late, and we *tried* and failed to get seats at Alice's Tea Cup on the upper east side, so we ended up having brunch at David Burke Townhouse, which was a few blocks away. This ended up being a lovely choice. The decor is gorgeous, the food was amazing, and it wasn't all that crowded (though Mike did notice that an opera singer was seated at the table beside us).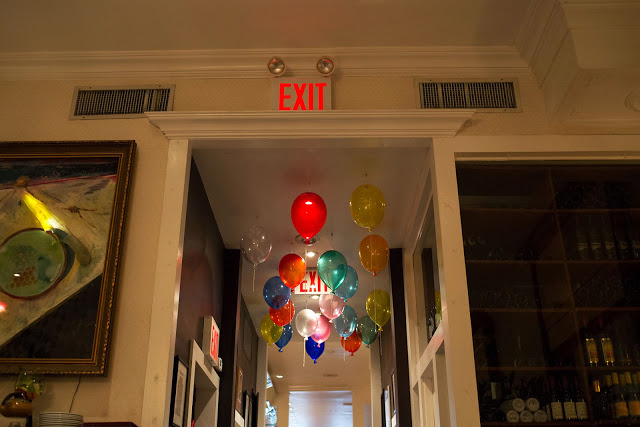 Glass "balloons"
Instead of a bread basket, they served individual-sized brioche with a crunchy outside and a soft, warm, and tasty inside.
I had the Duck Duck Duck with scotch egg, ham steak, and hash. This one was such a winner, and had everything I could ever ask for in a brunch entree: a lovely egg with a soft but not too runny yolk, rich and tender meat, and tasty potatoes.
The hash was so gorgeous (and delicious!), and the thin potato layers gave it an interesting texture.
Mike had the titanic french toast with two marmalades, and strawberry maple sauce. Again, this baby was beautiful and delicious.
Mshel had the Seared Diver Scallops with creamed corn, sauteed mustard greens, sunny side up egg, truffled chicken jus. She loved it, and I thought it was good for it was (a somewhat healthy dish).
The dish that made the day was their Cheesecake Lollipop Tree with bubblegum whipped cream and berries. Ugh, I am drooling just thinking about these. The white chocolate/strawberry ones were my favorite, and really the only ones that went well with the bubblegum whipped cream. But they were all phenomenal. The peanut butter ones were pretty classic. The chocolate nut ones were my least favorite, but still good. The chocolate shells were such a good combo with the creamy cheesecake.
We were so enamored of DB Townhouse that we did a bit of a photo shoot outside. You probably know I don't usually post photos of myself here so this is kind of a big deal ;).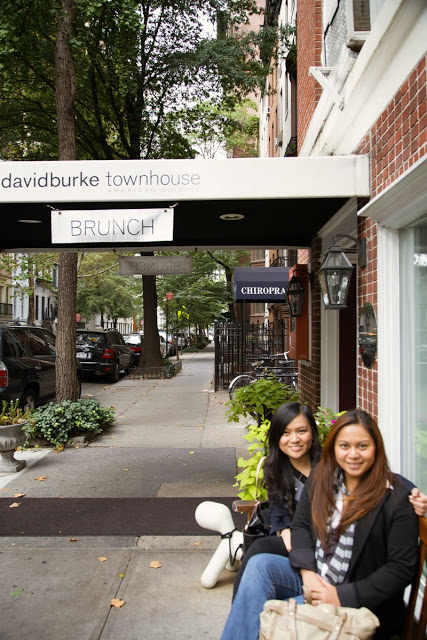 Blurry us.
We were scheduled to hit MoMA next, but Mshel wanted to check out Niketown, which was about a block from it. There wasn't much there but this ceiling of shoes was kind of interesting.
MoMA (Museum of Modern Art)
Mshel and I had gone to MoMA on her second visit here, but we didn't really get to a lot of the more popular works when we breezed through it last time. I'm not very good at describing art, I just know what I like, love, or hate, but here are a few of my favorites: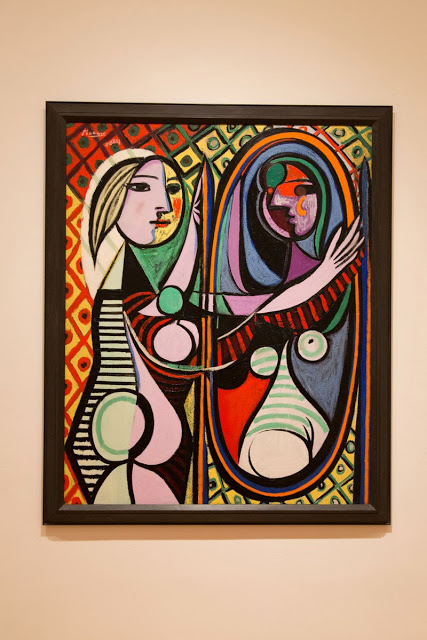 Girl before a Mirror 1932
Pablo Picasso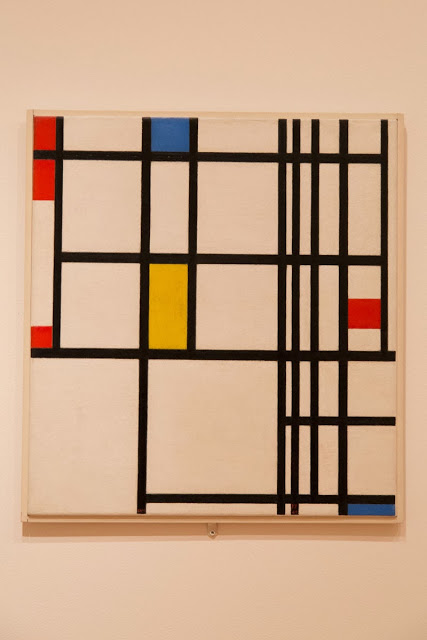 Composition in Red, Blue, and Yellow
Piet Mondrian
Composition with Red, Blue, Black, Yellow, and Gray
Piet Mondrian
Mondrian's works are so popular people make them into cakes. You can get a Mondrian cake for $75: http://www.bluebottlecoffee.com/products/mondrian-cake
Or if you're stingy just get the cookbook and make it yourself: http://www.amazon.com/Modern-Art-Desserts-Recipes-Confections/dp/1607743906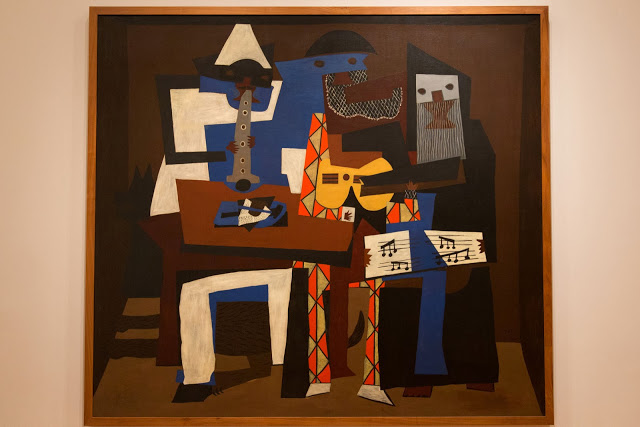 Three Musicians
Pablo Picasso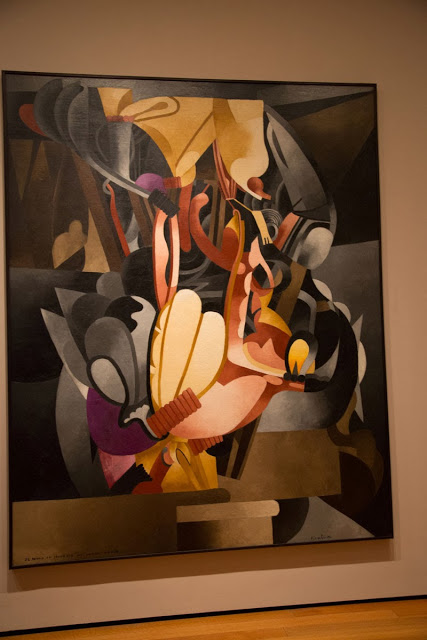 ?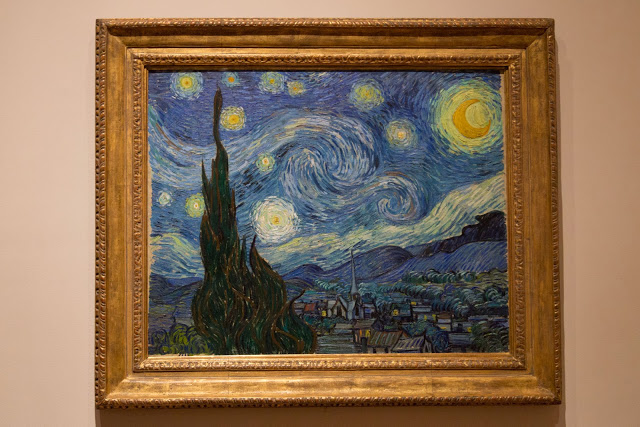 Starry Night
Vincent Van Gogh
Man with a Guitar
Georges Braque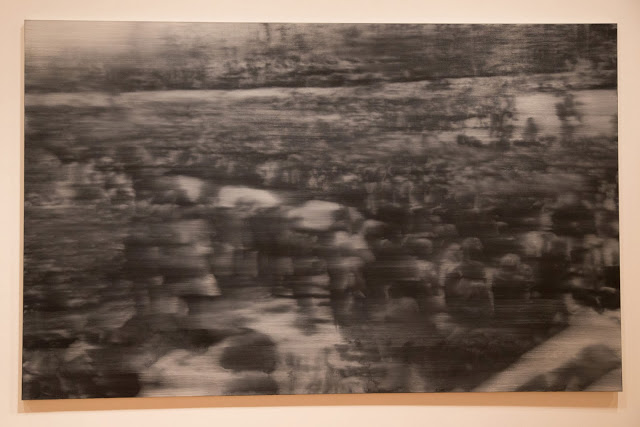 ? – I didn't look at the label, but this made me dizzy the more I looked at it.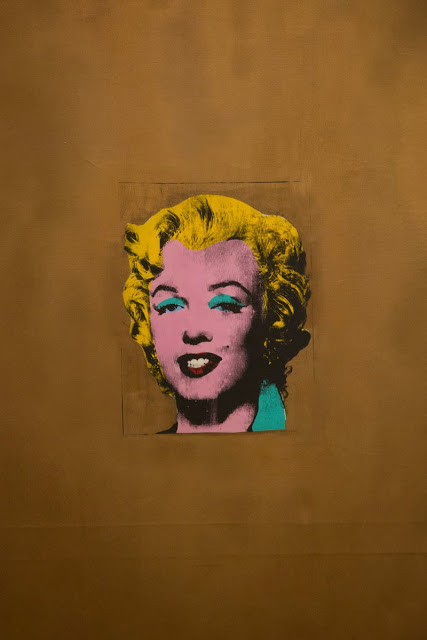 Gold Marilyn Monroe
Andy Warhol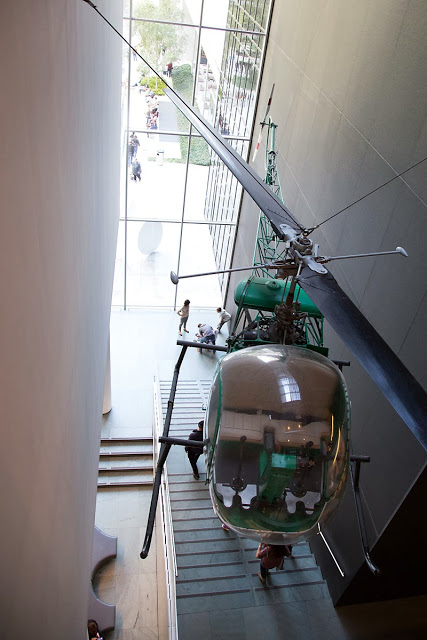 Random helicopter
Romeo and Juliet
Every time Mshel has visited, we've seen one Broadway show, so it's become a tradition at this point. As I perused the list of shows we could see, I casually mentioned that Orlando Bloom was starring in Romeo and Juliet, and Mshel basically was like…
Ahaha! Kidding. She was a bit more subtle than that. In any case, that's what we ended up watching. To be fair, he was all sorts of charming, though I thought Christian Camargo stole the show as Mercutio.
And then we stalked Orlando a bit by waiting for him outside the theatre (a first for me, I really should have stalked Paul Rudd when I had the chance last year). I think he was staring at my camera here, probably wondering if I was a paparazzo.
He was super nice though and spent a few minutes signing autographs.
Walter Foods


I wanted to take Mshel to a few shops in Williamsburg, so we drove over there after Mike so patiently waited for us to finish our stalking. By the time we got there though, most of the shops were closed, so instead we hit Walter Foods immediately for dinner.
We started out with some drinks. I had a fig sidecar (aged rum, fig syrup, fresh lemonade), and everyone else had… I don't remember. Mike's drink looks like it was some kind of beer, and I think Mshel's was a Manhattan.
We were quite underwhelmed with the food at Walter's considering how well-reviewed it is on Yelp. The lollipop chicken wings were only ok, and I can name so many places with better wings, including some pizza chains!
My blackened catfish was a little too salty, though it looked perfect.
Mshel had the double cut porkchop, which also didn't wow her.
Mike's burger had really charred buns (he hates burnt things), so he had them bring him back normal buns. I'm not even going to post a photo because it didn't look appetizing either. The atmosphere is great though, and people really seem to love the music, so, points for all that.
Fabiane's


Since all the shops were closed, I wanted to at least have some coffee and dessert before leaving, so we hit Fabiane's which was thankfully still open, and had quite a long conversation over coffee and a tiny strawberry shortcake. It was a pretty "normal" shortcake, but I loved that the place was open late, and that we didn't feel like we were being rushed out of the store. All in all it was a great Sunday evening.
Related Post:
Not Bored with Mshel Day 3: Sant Ambroeus, Central Park, Artichoke's Pizza, and Banoffee Truffles