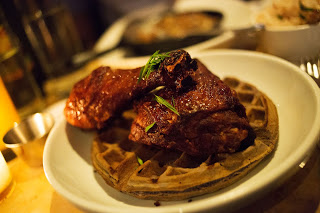 To be honest, I have never been completely satisfied with any of the Filipino restaurants that I've been to in NYC. Most have a good selection of dishes that are "pwede na" (translation: good enough), but there's usually nothing that's truly outstanding. Count on one or two of your orders being lame.The menus usually have the same stuff, like general tso's and beef with broccoli at Americanized Chinese restaurants. Some staples are: sisig, kare-kare, lechon kawali, adobo, and Filipino BBQ. Don't get me wrong, I always still devour Filipino food from anywhere just because I don't have it that often and it's just a comfortable reminder of home, despite all the mediocrity.
So, it's not that surprising that I had low expectations when I decided to have dinner with Mike at Maharlika, a Filipino restaurant in the East Village. According to them, their dishes are not fusion, but rather, "reinterpreted" versions of regular Filipino fare.
The interior of the restaurant is very dark, and lit by teensy candles. In a way, this separates it from the other Filipino restaurants I've been to in NYC, which are usually lit well and have a comfortable and airy feel to them. The tables that are near the entrance have better lighting, so it's not like everyone in there has to stay in the dark, but we were shown to a table behind the bar, so goodbye window lighting. In the end it didn't matter that much, because the food was still really good.
We started out with a mango juice and calamansi seltzer. I just got the calamansi seltzer for the heck of it, but it was actually very delicious and refreshing. Mike immediately got rid of his mango juice and ordered another seltzer. Then he ordered another one halfway through the meal. This could easily have been too sour or too sweet, but instead it was perfectly balanced.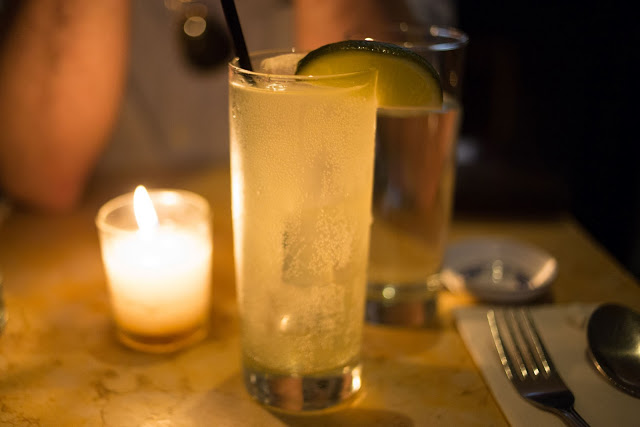 Before anything else, they served fried chicken skin as a sort-of amuse bouche, together with some vinegar. I inhaled this, since I have never seen this on a menu in NYC and it's one of my favorite snacks. If you're a chicken skin lover I doubt I have to explain to you how great this is.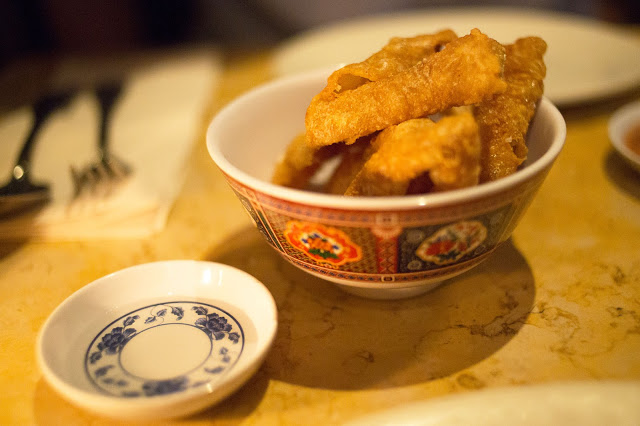 Fried Chicken Skin
We had a few of their "pulutan" dishes (snack-type dishes usually eaten with alcoholic drinks). The first was the "Lumpiang Barquillos", "crispy, tightly rolled rice paper cigars w/ beef, pork, & aromatic vegetables". Basically it's a longer version of lumpiang shanghai. It's one of those "pwede na" dishes, but at least it was imaginative.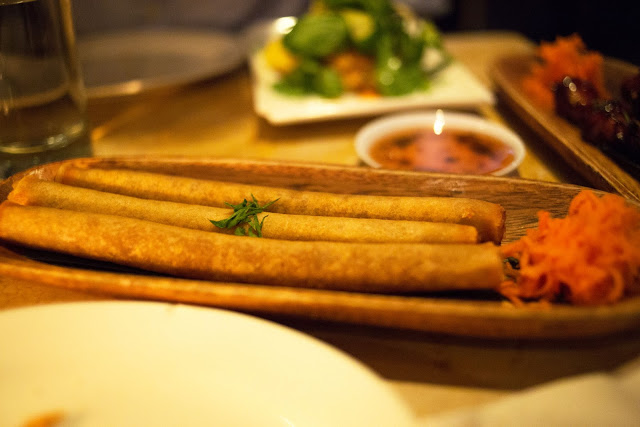 Lumpiang Barquillos
Next we had their pork BBQ, which Mike says is the best Filipino BBQ he's ever had. This is quite a claim, since literally every Filipino restaurant I've been to in the city has this on their menu. I think it differs in that it's a bit on the saucy side and the chicken is more tender. I definitely loved it, BUT, I still have not found BBQ that can beat the Beach House at University of the Philippines, Diliman, in the Philippines. That isn't really fair, but it is what it is.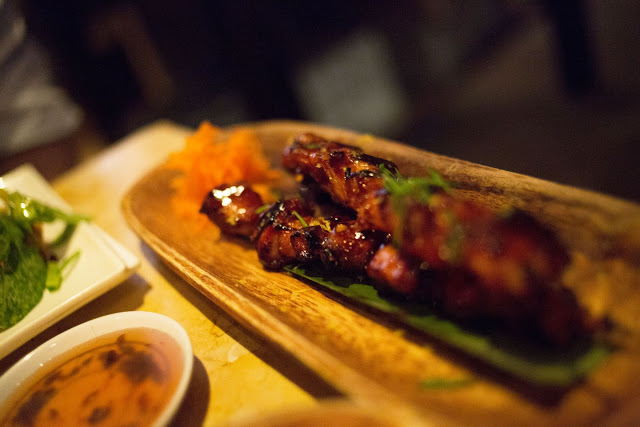 Filipino Pork BBQ
They had a crab cake special that I absolutely could not ignore. I love crab, but I don't care for going through the trouble of scraping the meat out of its shell, so ever since I had my very first crab cake in the States, I've been tempted to order it every time I see it on a menu. This one was decent, a level above "pwede na".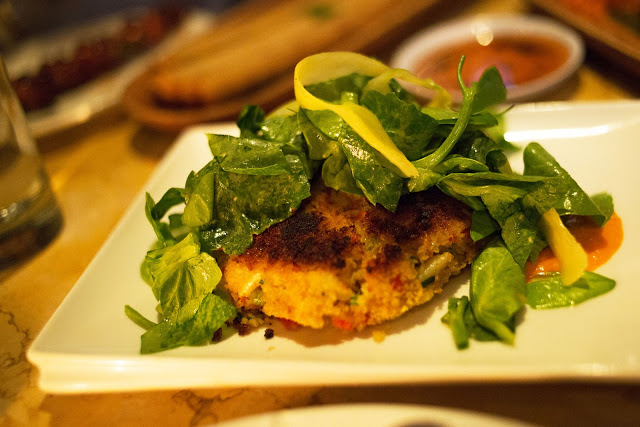 Crab cake
Also coming from their "pulutan" menu, we ordered their "Pampangan Style Sizzling Sisig", "pig ears, snout, cheek, & belly cooked 3 ways w/ garlic, bird's eye chili's, red onions, & kalamansi". Judging from the Yelp reviews, this should have been the highlight of the meal, and sure, I thought it was great. The garlic rice that came with it was phenomenal. But taken together, I thought the flavors were a bit too much, and I think I would have appreciated the sisig with plain white rice, and the garlic rice with something sweeter, like tocino. If you're wondering what tocino is, it's "pork fatback marinated in anise wine, annatto, water, salt, sugar, and saltpeter", and is a common Filipino breakfast dish. Despite all this, I still thought the two were great. Although, just to be fair, I have to mention that my sister, who had eaten at Maharlika sometime ago, found it mediocre, since it wasn't crispy enough for her. I happen to like non-crispy sisig, so other than it being too flavorful to have with the garlic rice, I didn't have a problem with it.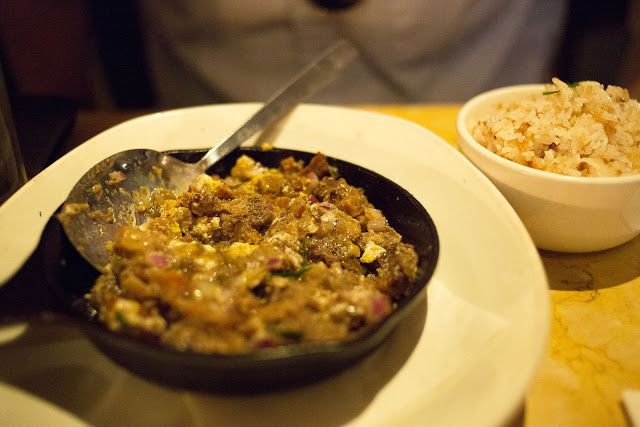 Pampangan Style Sizzling Sisig
The last, and without a doubt the BEST thing we had was the "Filipino Fried Chicken and Ube Waffle", "batterless fried chicken on top of purple yam waffle w/ anchovy-bagoong compound butter & caramelized macapuno syrup". Yes, folks. Filipino fried chicken is traditionally batterless. Not a pinch of flour or even chopped nuts in sight. This brings back memories of my lola's (grandma's) fried chicken, which I usually had with plain white rice, sometimes ketchup. Simple but delicious. Maybe because of nostalgia, I thought to myself that it was great, but of course, not as good as my lola's. The ube waffle, on the other hand, was what made this dish something Mike and I would talk about for days. I don't need the chicken, just give me the waffle, compound butter, and caramelized macapuno syrup!!! Fantastic! To be honest, I would not have guessed the butter had bagoong in it to save my life. And judging from the fact that Mike kept exclaiming over the butter-drenched quarters of the waffle, I know he also was not aware that the "stinky" seafood paste was a part of this dish. It was that subtle. I was expecting the waffle to be purplish for "effect", but it actually REALLY tasted like ube, and I'd say it even seemed like it had pockets of ube "halaya" (ube cooked in evaporated milk, condensed milk, and butter) in it. The compund butter added a creamy, salty (probably from the bagoong) component, which kept the dish from being overwhelmingly sweet. I kept somewhat loudly wondering what the syrup was because it was just so delicious. Now I know it's caramelized macapuno. Genius.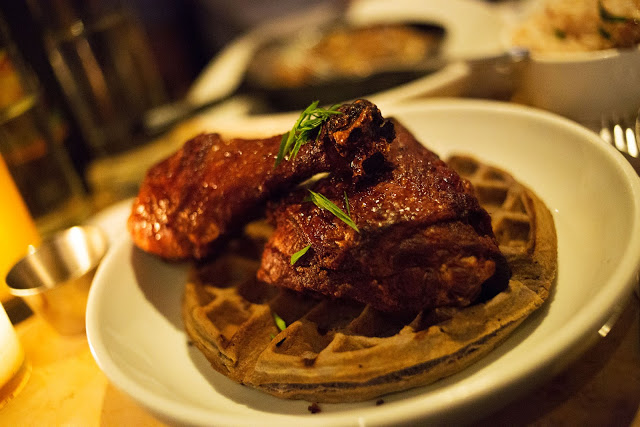 Filipino Fried Chicken and Ube Waffle
Overall I had a very pleasant experience at Maharlika, and would love to go back. It's definitely a bit more expensive than its Queens counterparts and Grill 21 in Manhattan, which I used to frequent, but overall I was ok with the slight price bump in exchange for just a bit more effort to be imaginative.
111 1st Ave
New York, NY 10003