DUMBO (Down Under the Manhattan Bridge Overpass) is one of my favorite neighborhoods in NYC. It's not very big, and the activities you can do are limited, but the view is gorgeous at Brooklyn Bridge park and there are plenty of nice places to eat. It's such a pretty (but urban!) looking area that you will be hard-pressed to find a weekend where there aren't any wedding parties taking photos. You will also usually find people doing random graffiti shots and engagement photos there. If you don't believe me, see exhibit A: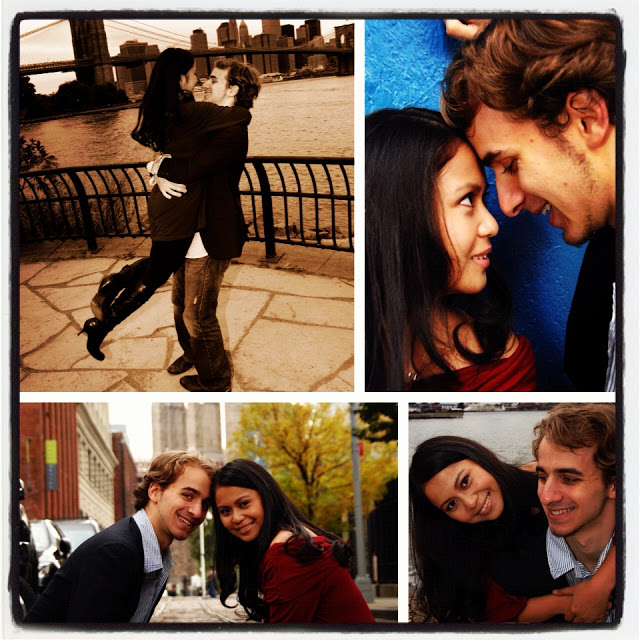 Mike and I did our engagement photo shoot in DUMBO
AlMar – An Italian restaurant which is also known for having a good brunch menu
111 Front St
(between Washington St & Adams St)
Brooklyn, NY 11201
We started our walk by having brunch at AlMar since we were both starving.
The ambiance of AlMar is cool and laid back. The place has high ceilings (which, I noticed was an ongoing theme in every establishment in DUMBO), which I LOVED because I have a tendency to get stressed out in cramped spaces. I know, I know. I probably shouldn't be living in NYC if that's the case, but let's face it: this is a ridiculously awesome city.
As always I was drawn to ordering a cappuccino, because well, it was BRUNCH. Mike had a glass of freshly squeezed orange juice. We were both pretty happy with our drink orders, and he even got another glass of orange juice.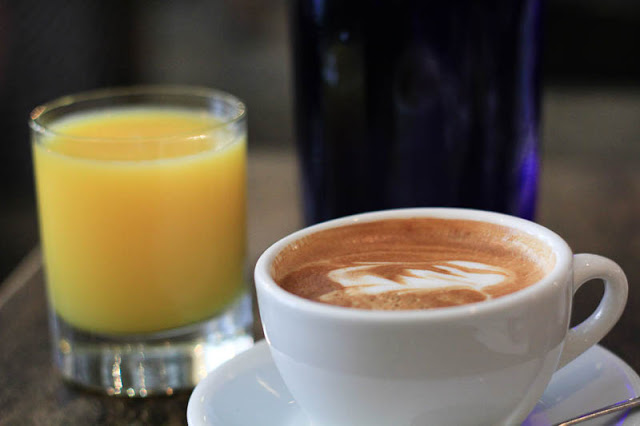 Orange juice and cappuccino @ AlMar
Mike had the AlMar breakfast sandwich, which consists of farm eggs, fontina cheese, and ham on ciabatta bread. He thought it was okay but not fantastic.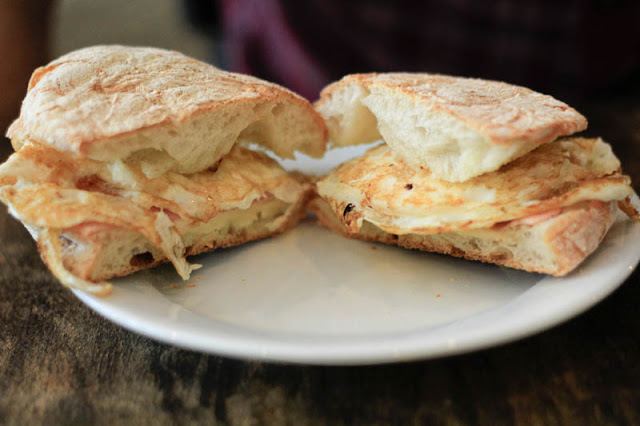 Breakfast sandwich @ AlMar
I had the egg in a cloud, which is baked egg yolk floating on whipped egg whites, fontina cheese, smoked ham, toasted brioche, and served with sautéed spinach. Let me tell you, I'm hard-pressed to remember any point in my life where I've been that excited about my brunch order. I'm a huge fan of eggs for breakfast, and this sounded so delicate and delicious that I was practically drooling while we were waiting for the order. Unfortunately, it was not as amazing as I had hoped it would be. Yes it looks damn pretty, and the whipped egg whites were fun to eat, but I thought the ham and especially the fontina cheese overpowered everything else in the dish, and so the taste of the egg disappeared in a barrage of saltiness. Still, if I had made this for myself for brunch I wouldn't be disappointed.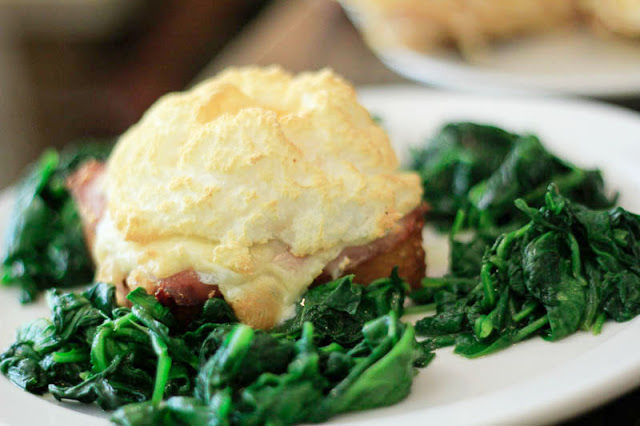 Egg in a cloud @ AlMar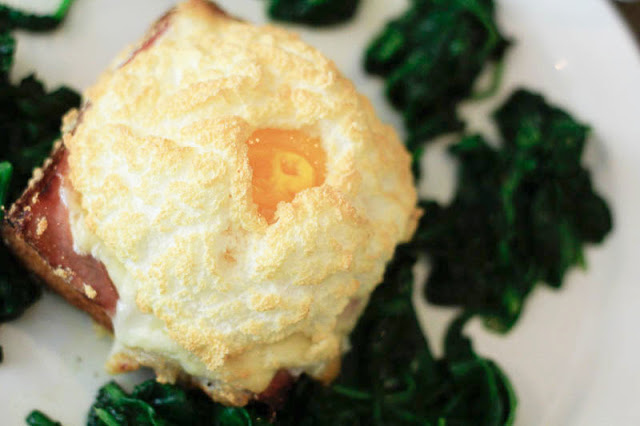 Egg in a cloud @ AlMar
After an "okay" lunch at AlMar we decided to take our full bellies out for a walk along Brooklyn Bridge Park. I've been dying to take photos here for quite some time and I was doubly excited because I finally remembered to take my polarizing filter with me (hooray)!
Brooklyn Bridge Park


You can see both the Manhattan bridge and the Brooklyn bridge from this park. There's also a pretty decent view of the Manhattan skyline from here. It's never as crazy crowded as Central Park, and there's always room to hangout at any of the lawn areas, so it's a great place to go on a picnic with a date or your family.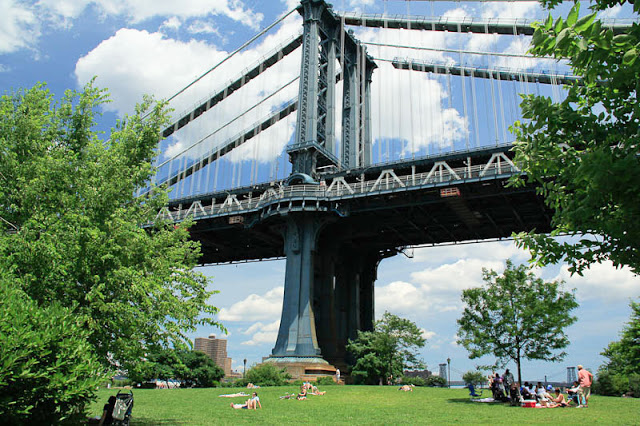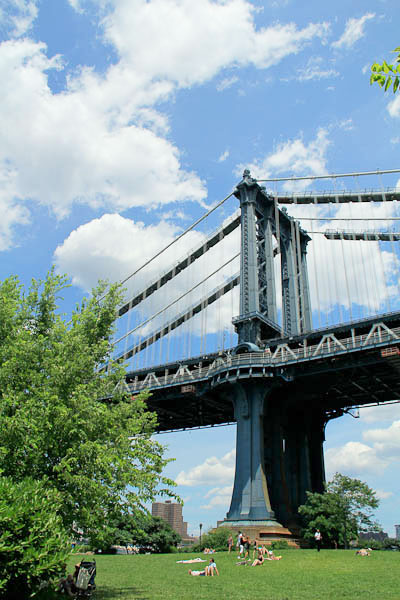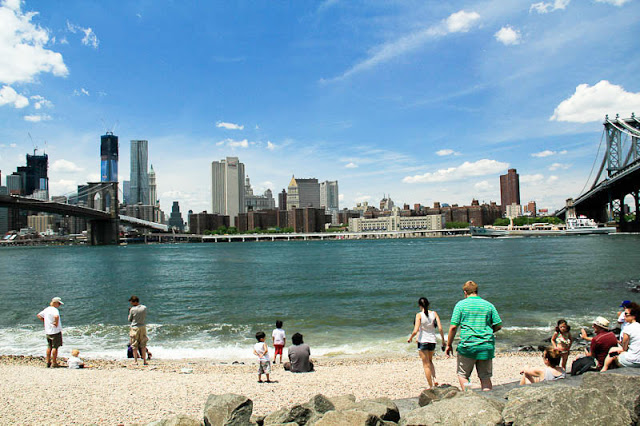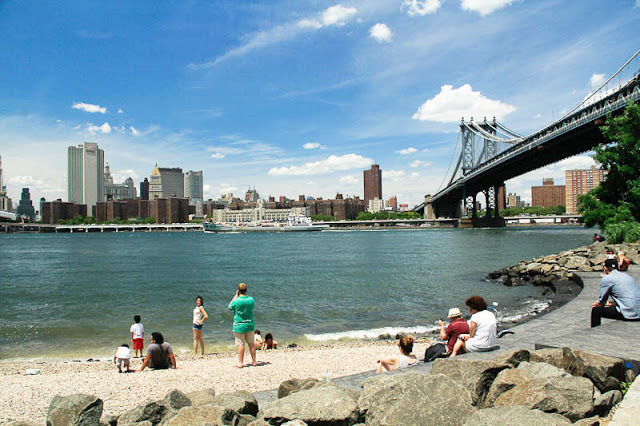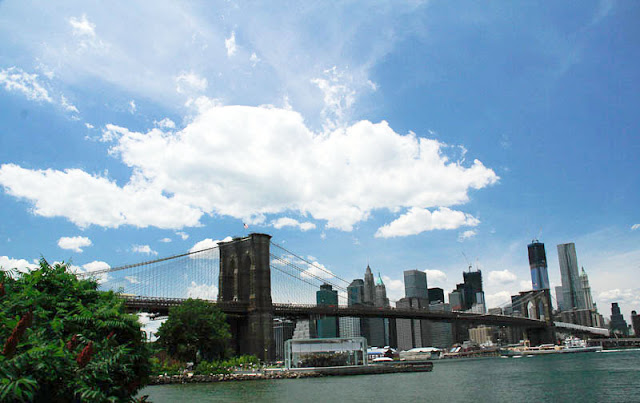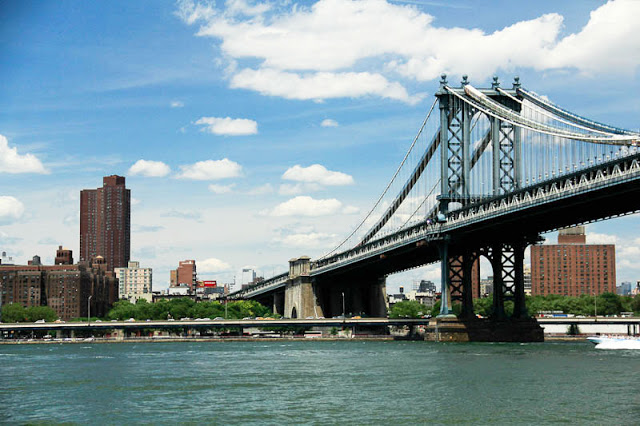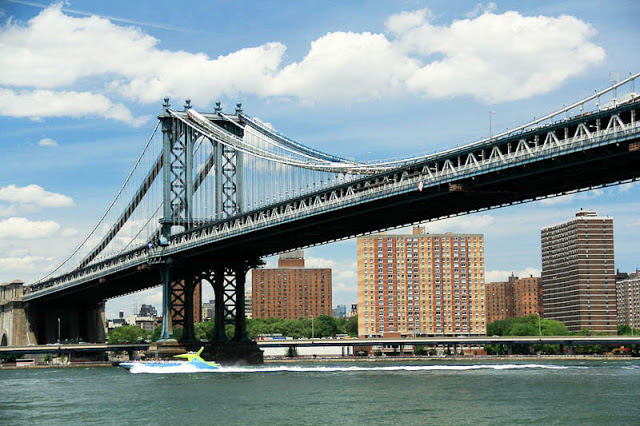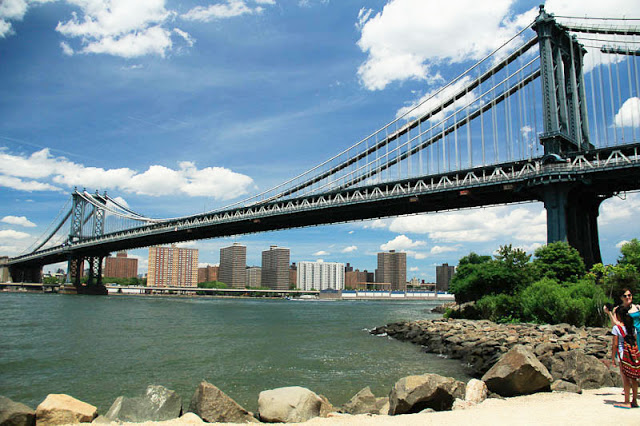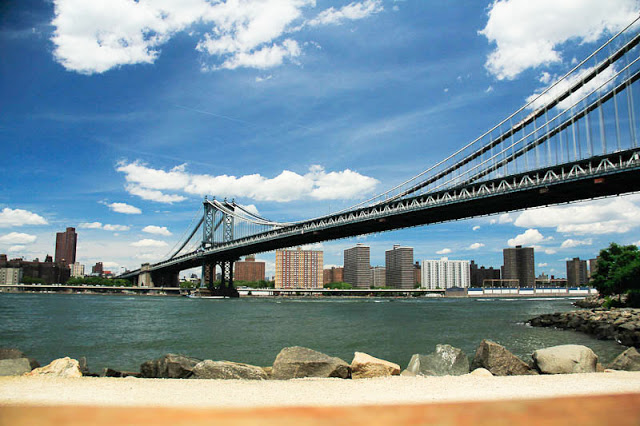 You'll have to excuse the ridiculous number of bridge photos because, well, I like them :).
Brooklyn Ice Cream Factory
Fulton Ferry Landing Pier
1 Water St
Brooklyn, NY 11230
The Brooklyn ice cream factory is actually not reviewed that well on Yelp, but it was right there and we wanted ice cream so whatever. Clearly people are not deterred by this fact because there was a long line out the door, which I refused to get into. Luckily they had a small cart outside selling a limited number of flavors. Mike had the blueberry and I had the butter pecan. These were pretty expensive, but definitely delicious.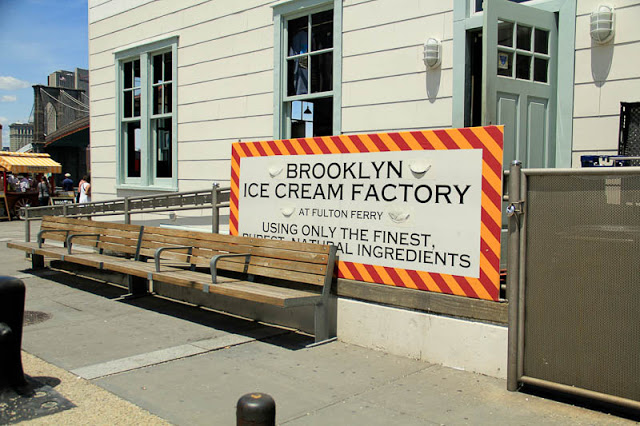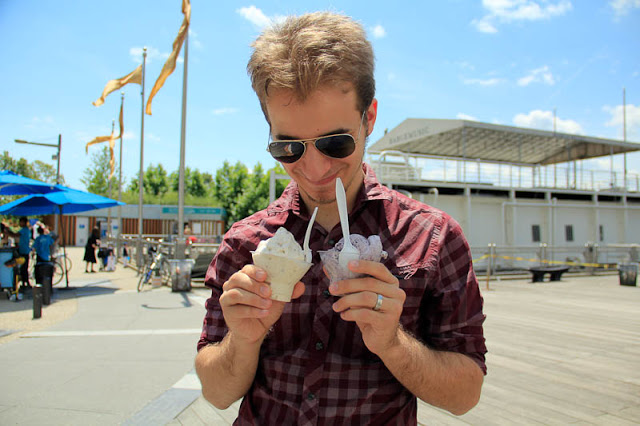 Mike, happy about having ice cream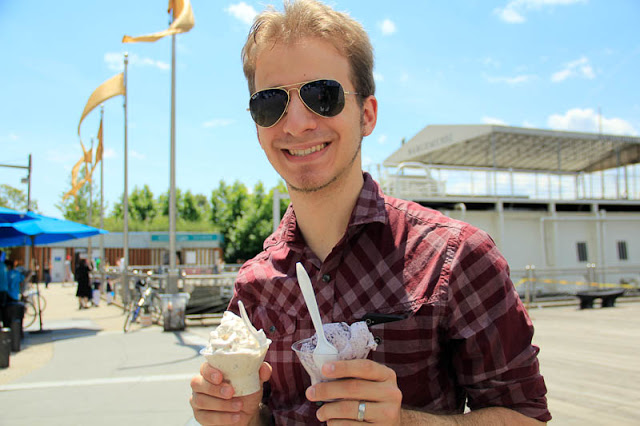 🙂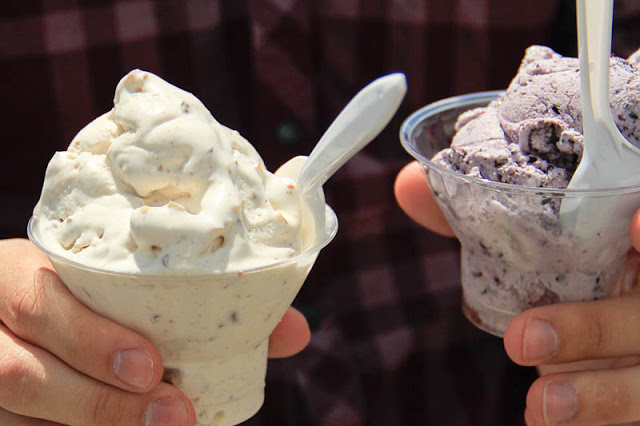 Butter pecan and blueberry ice cream @ Brooklyn ice cream factory
After that we decided to walk off the ice cream and I spotted some really pretty hydrangeas which of course I couldn't NOT take photos of.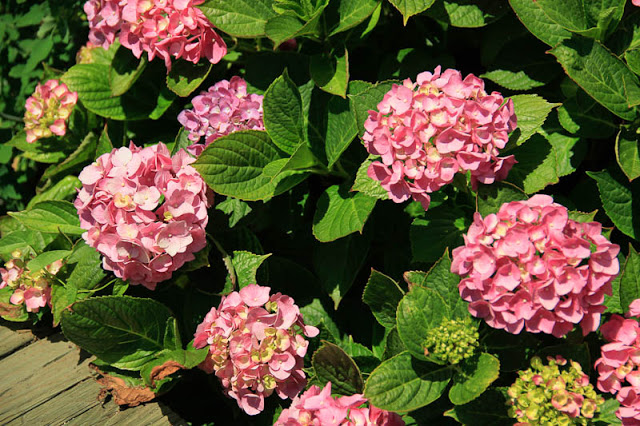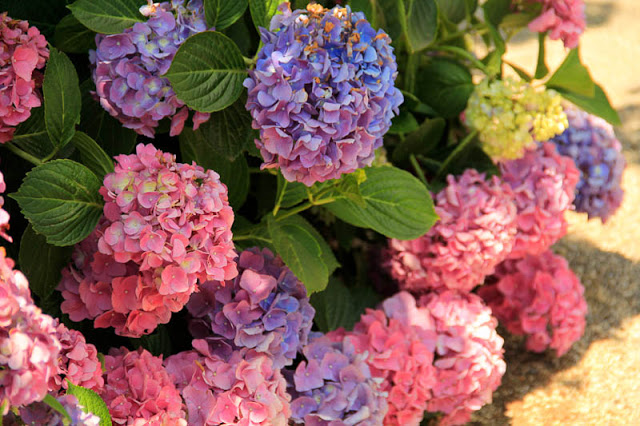 One Girl Cookies – A dessert place/coffee house
33 Main St
(between Water St & Plymouth St)
New York, NY 11201
We passed by One Girl Cookies on our way to brunch and I just couldn't stop myself from coming back and trying their pumpkin whoopie pie. They also sell coffee (they have coffee ice cubes for iced coffee!), so it was a perfect last stop (never mind that I had already had some ice cream a few minutes earlier). Both the whoopie pie and the iced latte were delightful, and I wouldn't hesitate to come back and try more of their desserts.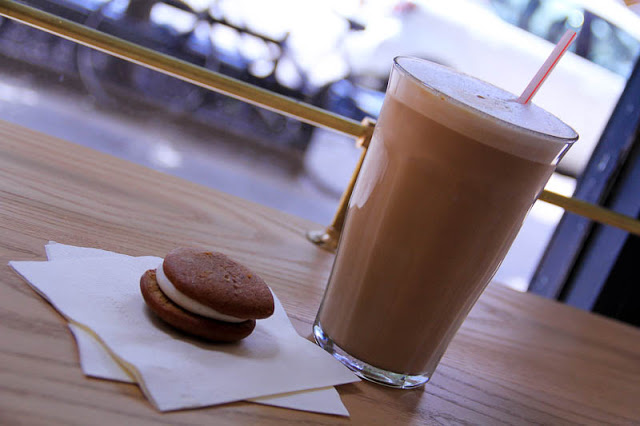 As always I enjoyed hanging out in this neighborhood. If you're ever visiting New York for an extended period of time and are tired of (or don't want to do) the touristy stuff, don't forget to drop by DUMBO.
*Note: I'm removing the map part of my posts because it takes me forever to make them, and I've been behind on posts FOREVER.