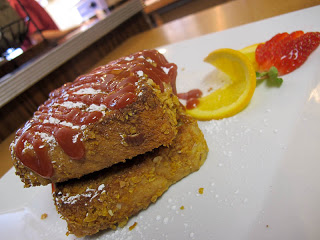 My sister who lives in Hoboken, NJ invited us over to watch the Superbowl this year so we came over early to have a mini walk. We didn't do much due to budgetary reasons, and also because the weather wasn't really conducive to a long walk, but we were definitely happy with the two places we hit.
Hoboken is well-known as a party city. Sunday mornings are (or were) usually quiet because Saturday nights are spent partying 'til early Sunday morning. Nowadays some of the party people have grown up a bit, had children, and decided to stay in the area even after giving up their party habits. This hasn't stopped the current party people from having fun though. In fact I've seen some New Yorkers who otherwise wouldn't be caught dead in Jersey making the trek on the Path train just to join all the revelry in Hoboken.
This was my second Superbowl Sunday spent in Hoboken. The other time was in 2008, and both times the NY Giants were playing against the New England Patriots. The Giants won both times (a-woohoo!) and not surprisingly, Hoboken is a great place to be at whenever that happens. For those unaware, Giants quarterback Eli Manning lives in Hoboken. As you can imagine, those crazy Hoboken-ers(ites?) get pretty excited about the Giants. On my way back to Astoria in 2008, I had to wade through a sea of blue jerseys and hoodies, and my eardrums took quite a beating from all the screaming and car honking. Needless to say, if you want a relaxing post-Superbowl experience, it is not the place to be visiting.
I have to admit it's taking me some time to get into any sport/team here, despite the fact that I used to be a crazy basketball fanatic back in my high school days in the Philippines. The Giants are the closest thing I have to a team I'm actually interested in, one because I really have no affiliation to any state here other than NY and two, because my husband loves the Giants. But, like I told my hubby, fans aren't always made overnight, and he's lucky I'm paying attention at all ;P.
Going back to our walk, which happened a few hours before all the rib-eating and nail-biting during the Superbowl, we decided to stick to Washington st. which is Hoboken's main thoroughfare, and our first stop was: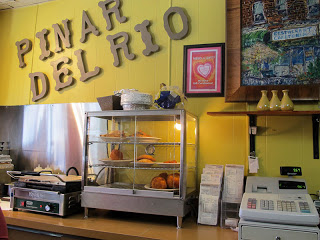 La Isla Restaurant – a Cuban restaurant
104 Washington St
Hoboken, NJ 07030
La Isla is well-known for great Cuban food and their much lauded stuffed French toast, which was even featured on "Throwdown! with Bobby Flay". The place isn't huge, and the ambiance is more of a crowded cafeteria than anything else, but the food is definitely delicious. Prices are what you would expect from a place like this (around $10-$15 per dish).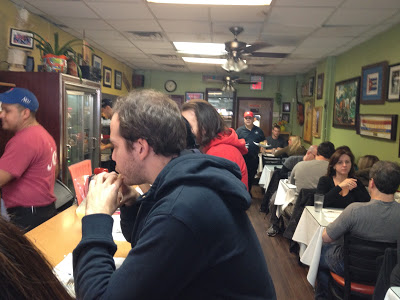 Interior of La Isla
I've never been a fan of Cuban pressed sandwiches, so though these seemed quite popular (they were making a huge one a-la-Subway for takeout, probably for the Superbowl) , I had some shredded steak with eggs on rice: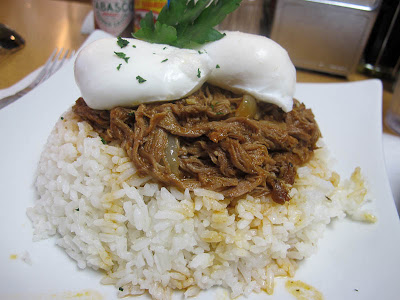 Shredded steak with eggs on rice @ La Isla
It also came with a bowl of beans: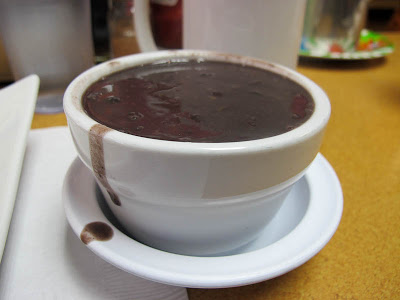 Beans @ La Isla
Since this was brunch, I had a Cuban latte as well: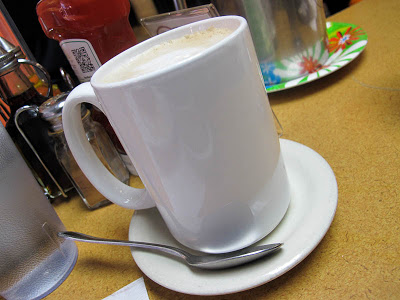 Cuban latte @ La Isla
The shredded steak meal was excellent. Everything about it, from the flavor of the steak and the beans to the perfectly poached eggs, hit the spot. I'm Filipina, so meals involving meat, eggs and rice make me especially happy. Certainly no complaints here. The latte was REALLY good, so good that I bought a bag of their coffee. I haven't tried it yet, since I've been known to hoard bags and bags of coffee so it takes me a while to get through my collection.
Hubby had their stuffed French toast: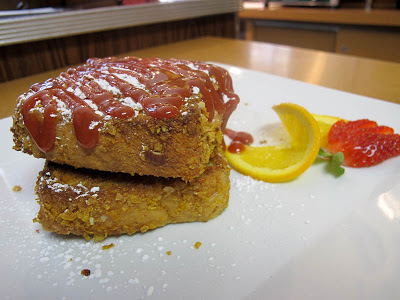 Stuffed French toast @ La Isla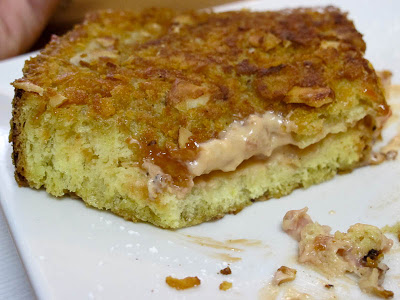 Hours before ordering, he found out they put almonds on it and decided he would ask them to please not ruin his French toast with nuts. Luckily, he completely forgot about this and had it as is. He loved it, especially the crunchy exterior, which is made with cinnamon batter and coated with cereal and almonds. The filling is strawberry/guava cream cheese. Carb heaven.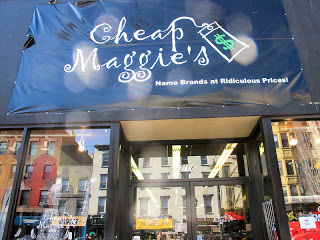 Cheap Maggies – a thrift store
216 Washington St
Hoboken, NJ 07030
After an excellent brunch, I was in the mood to do some shopping. We passed by this place and I was drawn in by the sign that says "Name Brands at Ridiculous Prices!". With the loot I got from Beacon's Closet on my Williamsburg walk still fresh on my mind, I excitedly went in.
I must be having a lucky streak with regards to thrift stores because I again had to keep myself from buying everything in sight. They have an EXCELLENT selection of outerwear and footwear. Most of the items are at least half-off. Here are some things I found that I would have bought but were not in my size: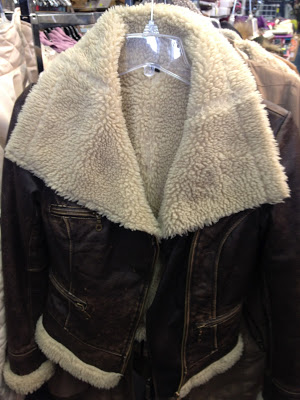 Leather bomber jacket: $60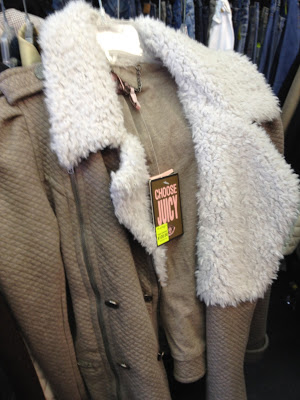 Juicy shearling/quilted jacket: $120. A little steep but it IS Juicy
Here's what I bought: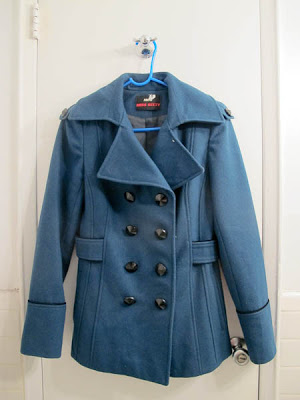 Baby Phat peacoat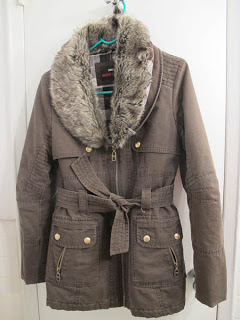 Baby Phat rugged jacket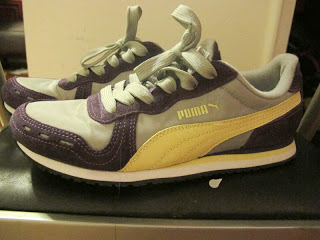 Puma sneakers
I also bought a lively pair of yellow corduroy pants for just $15. They are currently in the wash, so I can't take a photo of them.
With my arms full of stuff and my pockets a little lighter, I decided it was time to head over to my sister's. Like I said, this walk was short, but I was perfectly happy with it.
From the looks of it, I don't think anyone will be needing this map, but I made it anyway :P.
Map of this Walk



View Larger Map


A: La Isla – 104 Washington St, Hoboken, NJ 07030
B: Cheap Maggie's – 216 Washington St Hoboken, NJ 07030