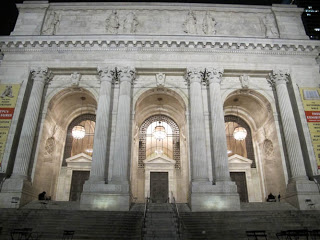 Midtown Manhattan is the area featured in movies and TV the most. I hadn't done a walk midtown until this one because it's very touristy and I wanted to add to my NY experiences first before getting back to what I'd already seen (I WAS a tourist here once, after all). I had wanted to go on a walk in Manhattan after work that day, but didn't have anything planned, so I asked my friend and food blogger Katie what neighborhood would be good to explore and she suggested Midtown. This was an excellent idea because I'm pretty familiar with the area, so it's easier to navigate and less of a stress to figure out since I was coming from work at the end of a very long week.
Just to warn you, this actually turned out to be a not-so-normal Midtown Manhattan walk, which made me extremely pleased, but may not be what you're expecting.
The Walk
Sunrise Mart – A Japanese grocery store with a cafe and bakery inside
12 E 41st St
(between 5th Ave & Madison Ave)
Manhattan, NY 10017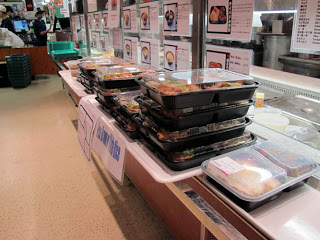 Bento box heaven @ Sunrise Mart
Katie also gave me what would've been a great place to get dinner if I had not been vegetarian, Sunrise Mart. If I had known I would be cheating on my diet later that night anyway, I probably would have eaten whatever I wanted, because I could barely contain myself when I entered the grocery store/cafe. Their bakery consists of items from Panya Bakery, which has a bigger store in the East Village.
They serve a lot of Japanese staples at the cafe including:
oyakodon – "Parent and child" donburi consisting of simmered chicken, egg, green onion, and other ingredients over rice
katsudon – Donburi consisting of tonkatsu (fried breaded pork cutlet) over rice with egg and other condiments
bibimbap – "Bibimbap is served as a bowl of warm white rice topped with namul (sautéed and seasoned vegetables) and gochujang (chili pepper paste). A raw or fried egg and sliced meat (usually beef) are common additions. The ingredients are stirred together thoroughly just before eating." – Wikipedia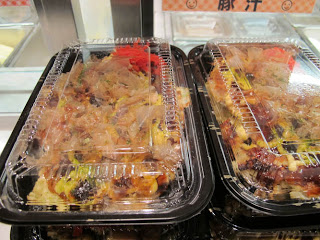 Okonomiyaki
okonomiyaki – "a Japanese savoury pancake containing a variety of ingredients. Kansai- or Osaka-style okonomiyaki is the predominant version of the dish, found throughout most of Japan. The batter is made of flour, grated yam, water or dashi, eggs and shredded cabbage, and usually contains other ingredients such as green onion, meat (generally pork or bacon), octopus, squid, shrimp, vegetables, kimchi, mochi or cheese." – Wikipedia
I stared despairingly at all of the food I couldn't eat for a few minutes and then decided to hit the grocery store. It was full of stuff I'd always wanted to buy, so I got those and a few other interesting items, which I've listed below.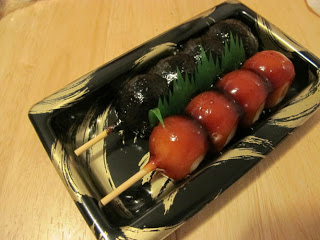 Kushi Dango w/ sweet soy sauce and black sesame sauce
Kushi Dango
This was something I had never seen before, and it wasn't even labeled so I had to Google it when I got home, but it looked interesting so I just had to have it. "Dango" means round dumpling and "Kushi Dango" means sweet skewered dumplings. Like I said, these weren't labelled so I had no idea what those two sauces were. Later on I found out they were sweet soy sauce and black sesame sauce.
This snack was an entirely new experience for me. First of all, it's also a little bit savory in addition to being sweet, and it's COLD. I don't think you can serve it hot since I have no idea how this could be heated without compromising the texture. The dumplings reminded me of "tikoy" in the Philippines (Nian gao in Chinese), which is made of glutinous rice. Kushi Dango are made with rice flour, so it makes sense. This is so much easier to eat, though, because I don't have to go through the trouble of slicing it up and frying it. Also, the sauces added flavors that made them doubly more interesting than "tikoy"
Surprisingly I loved this, and devoured all of it before my husband could ask what it was and complain about the fact that I hadn't left him any. Oooops. Luckily there is a Sunrise Mart downtown, a couple of blocks from my office, and I can make up for it by getting more for him (an excuse to get more Japanese yummies).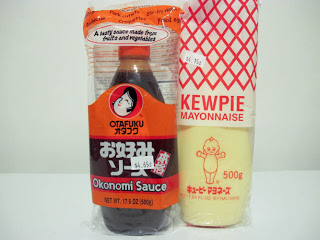 Okonomi Sauce and Kewpie Mayo
Okonomi Sauce and Kewpie Mayonnaise
I was first introduced to Kewpie mayo by my brother. I distinctly remember him saying "it has to be the brand that has the baby on it". I'm not sure why there is a picture of a baby on it. I sure hope it doesn't mean it's made out of babies. :-O Just kidding. The ingredients are almost exactly like regular mayo except for some additional spices. I don't have sophisticated enough taste buds to tell you why it tastes better than regular mayo, but it just does.
Years later I was reunited with Kewpie mayo when I first tried Takoyaki (octopus balls) and Okonomiyaki (Japanese savory pancake) at Otafuku in the East Village. As you order from there, you see exactly how they're making the food, and what goes in them, which is how I found out about the mayo, and also about the Okonomi sauce. If you can remember what I wrote a couple of paragraphs up, you'll know I was extremely disappointed that I couldn't get okonomiyaki at the cafe, so you can imagine how elated I was at the prospect of being able to make it myself. I very excitedly put these in my grocery basket. I was so excited I forgot to get the bonito flakes and seaweed powder, which I'm SURE they have there. I'm just gonna have to go to the East Village one and get those. If you're interested in my okonomiyaki recipe (which was a success in my opinion), click here.

Tofu Shirataki Noodles
I looked and looked for these at organic/health food markets when I was low-carbing and could not find them. Lo and behold, I find them when I've given up low-carbing and have decided to be vegetarian instead.
"According to Hungry-Girl.com, a single package of tofu shirataki noodles contains two servings, and each 4-oz. serving has 20 calories, 0.5 g fat, 3 g carbohydrates, 1 g protein and 2 g dietary fiber. House Foods, the makers of tofu shirataki, adds that each package is sugar-free, low in cholesterol and contains 10 percent of the recommended daily value for calcium." – www.livestrong.com
These nutritional values are pretty damn good for anyone who is on any diet. They have to be prepared a little differently though, so if you're interested in reading more about how to prepare them here's the article on livestrong.com.
Wheat Cakes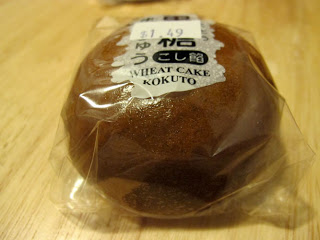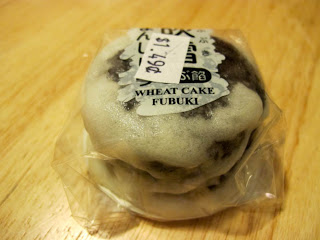 I love buying sweet buns of all kinds, and these were no exception. The wheat cake "kokuto" was very good in particular. Both of these are made with wheat flour and red beans, but the "kokuto" is mixed with muscovado sugar, a type of unrefined, brown sugar, which gives it a nicer flavor.
Rainbow
270 Madison Avenue
New Yok, NY 10016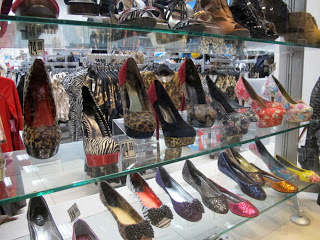 As I wandered down Madison ave. looking for a decent restaurant on Yelp I spotted some crazy looking pumps at a store window. They're a bit out there, but I would totally wear some of these if I was in the mood for it. They also cost $25, so it's not like it's a huge deal if you end up not liking a pair you bought. The sparkly flats are nice too.
15 East 37th St
(between 5th Ave & Madison Ave)
New York, NY 10016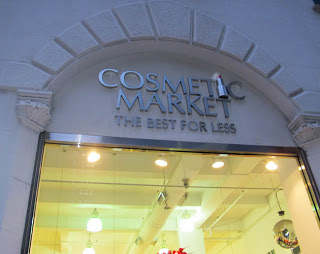 Steps away from the restaurant I was going to have dinner at, I spotted Cosmetic Market, which promised "The Best For Less". Now, there are two things I find hard to resist:
1. Sephora
2. Discounted items
So I don't think I need to tell you what happened next.
This place is huge for a discount cosmetic store, because the only ones I've seen at the outlets are tiny. It has some blah reviews on Yelp, but I feel as though a lot of the reviewers were expecting something similar to Sephora, which is RIDICULOUS. It's a discount store people. Bring your own sponges, cotton and whatnot if you really wanna go at it with the testers. In fact, I was surprised they even had testers at all! They carry mostly discontinued or about to be discontinued drugstore cosmetics (Revlon, Loreal, Cover Girl, Maybelline, Rimmel, Ponds), and a few gems such as Stila and Shiseido. I read someone saw some Mac items but I didn't. They sell for about half off the original retail price. I think the best thing about this place is that you can actually test the cosmetics, which isn't something you can do at drugstores. I've spent a pretty penny on stuff that wasn't my color or looked terrible on me because of that.
I didn't buy anything because I felt a little guilty about having already spent some money on groceries, and I was hungry so I headed out to dinner.
13 East 37th St.
New York, NY 10016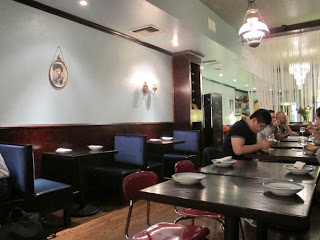 I was lured to this restaurant by decent reviews on Yelp, and did not at all expect to stumble into an amazing find.
The interior of the place has a cozy and comfortable feel, and does not overwhelm you with Chinese decor, as a lot of the nicer Chinese restaurants do. This is one of those authentic Chinese places where you won't find a fork or a knife on your table, just a pair of chopsticks. I'm sure they have some normal utensils in the back for all the lame people, but I forced myself to deal with the chopsticks (I'm not completely useless at it, but grabbing on to dumplings in chili oil is quite challenging).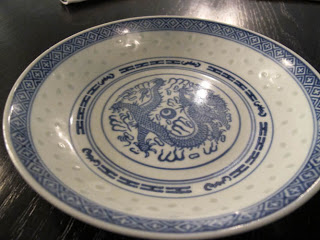 I was surprised to find that they serve food on the type of plates that always used to flash in my head every time someone uses the term "china": blue and white porcelain with some sort of Chinese design. At this point I was already excited, but as I glanced at the menu, I found even more surprises.
Here are just some of the "crazy" stuff they have on there (I say crazy because I was in Midtown, not Elmhurst or Chinatown, where you can find weird shit all the time):
Husband and Wife Special
Ox tongue and tripe seasoned with roasted chili-peanut sauce
Shredded Tripe in Chili Oil
Sliced Conch in Chili Oil
Spicy Diced Rabbit (bone-in)
Duck Tongue with Peppercorn
duck tongue sautéed in peppercorn
Jellyfish in Scallion Pesto
julienne jellyfish seasoned with scallion pesto
Mao's Blood Tofu Stew
pig blood, lamb, beef, loofah, bean sprouts and chili
A lot of this stuff are actually normal fare for me, since ox tongue and tripe are used in Filipino dishes, and I already know I love rabbit (I try not to think of how cute they are). I've tried conch at Grand Cayman (at a restaurant where our waitress was Filipina!) when we went on a cruise in the Caribbean, and I didn't really have the impression that it was any different than clams.
I very excitedly eyed the jellyfish and the Mao's blood tofu stew. This must be what vampires feel when they run into a particularly yummy looking human, but have decided to give up human blood. I already mentioned earlier that I ended up cheating on my diet that night, and before you judge me and show me pictures of cute jellyfish, pigs, lambs and cows, I want to let you know that I am vegetarian for health purposes only. So I really have no guilt regarding this based on religion or principles. 😉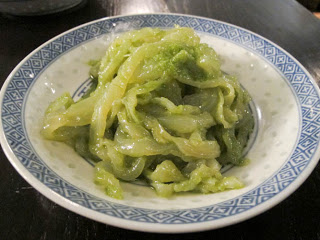 Jellyfish in Scallion Pesto @ China Cafe
Jellyfish in Scallion Pesto
I started with the jellyfish in scallion pesto. This was a cold dish, which really just looked like normal transparent noodles to me. It tasted a bit like calamari, but chewier/more rubbery. In fact, I didn't like the texture at all. What a disappointment. However, the experience was still worth it, as I tensed up before my first bite, wondering whether my entire mouth will be stung (even if I knew for a fact it wouldn't be, since the jellyfish is dead).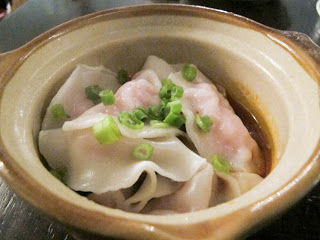 Pork Dumplings in Chili Oil @ China Cafe
Pork Dumplings in Chili Oil
I ordered the pork dumplings in chili oil next. I knew there was a risk of me not liking one or both weird stuff I ordered, so I went for something safe, and since I was already cheating, I figured I might as well get something I've been craving for. The picture I took makes them look a little dry, but the chili oil is actually in the bottom. The chili was a lot sweeter than I expected, which was a wonderful surprise. I'm way into sweet and spicy things, so this bowl was quickly emptied of dumplings.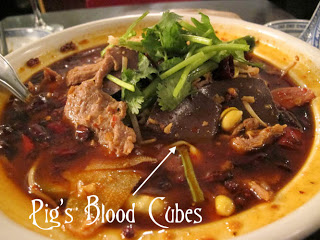 Mao's Blood Tofu Stew
Ok, so this picture looks like the stuff is swimming in fresh blood but it's actually just red hot chili, lots and lots of it. I pointed out in the photo where the blood really is, which came in the form of cubes (called "betamax" in Filipino). These have the consistency of goat cheese, or firm tofu. They add a sort-of "dark meat" flavor when eaten with rice and the other ingredients. The stew was perfect for the early winter weather we've been having. It was spicy hot and warmed me to my bones. I tried to figure out where the "loofah" was but could not. There was something in there that had the consistency of tripe, so I'm wondering if that was it. Overall, this dish was great. It was hearty, packed with flavor, and REAL meaty for all you meatlovers out there.
For anyone who just wants authentic Szechuan style food, they have plenty of normal dishes here. I read that the mapo tofu is excellent . They also have plenty of vegetarian options (which I unfortunately did not take advantage of).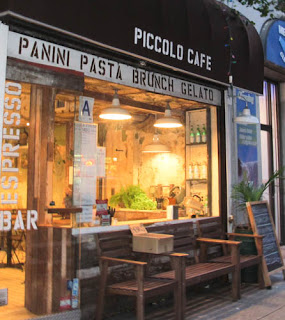 Piccolo Cafe – a cafe that serves Italian coffee and PLENTY of delicious looking vegetarian options
238 Madison Ave
New York, NY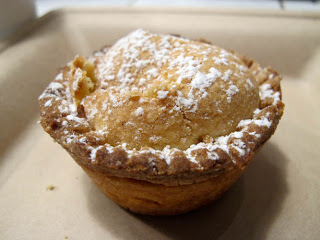 Pear, chocolate and custard pie(?) @ Piccolo Cafe
On my way home, I spotted this little cafe that had a really nice looking vegetarian menu. I had already eaten dinner, obviously, but I wanted to try their stuff so I ordered a latte (for more warmth) and what looked like a tiny pie which had pear, chocolate and custard in it. The latte was decent, but I didn't even stop and think as I devoured the tiny pie. The place itself is nice, although they have tiny tables made for only 4 people at the most. There is a counter with stools facing the street, conducive to people watching.
Some of the stuff on their menu I'd like to try are:
Pesto Egg Sandwich
Truffle Toast – Mozzarella, Truffle Pate, Black Pepper
Green Foccacia – Homemade Pesto, Bufala Mozzarella, Basil, Tomatoes, Arugula
The reviews on Yelp are great, so if you're in the mood for vegetarian this might be a good spot to try.
The Best Thing About This Walk:  Sunrise Mart. China Cafe comes in at a close second, but I can't get over the fact that I can now make my own okonomiyaki, and that I found tofu shirataki noodles.
The Worst Thing About This Walk: Nothing, really.
Would I Come Here Again?  Probably to get some cheap cosmetics and have the truffle toast at Piccolo. Also to try normal food at China Cafe.
What Would I Do Differently? See above.
Map of this Walk
A: Sunrise Mart – 12 E 41st St, New York, NY
B: Rainbow – 270 Madison Avenue, New York, NY
C: Cosmetic Market – 15 East 37th Street, New York, NY
D: China Cafe – 13 East 37th Street, New York, NY
E: Piccolo Cafe – 238 Madison Avenue, New York, NY