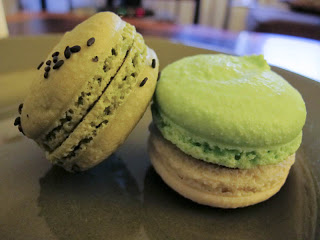 Sesame Green Tea and Wasabi Chocolate Macarons
Panya Bakery
8 Stuyvesant St
(between 11th St & 12th St)
New York, NY 10003
I know my last couple of posts have been heavy on baked goods, but I swear I just get drawn to them like a moth to a flame!
You can actually blame my sister for this one because she was the one who pointed out to me that there is a well-reviewed Japanese bakery near where I work, perfect for a mid-week post!
Panya is first and foremost a Japanese bakery, but they also sell a lot of "fusion" pastries such as Japanese flavored macarons and Green Tea Tiramisu. I've actually been here a couple of times, but just can't get enough of their stuff. The pastries and cakes are pretty cheap. The buns/pans especially are such a steal, since they're all huge and cost less than $3. Here are some of my favorites: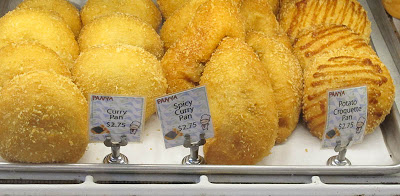 Spicy Curry Pan
Spicy Curry Pan – $2.75
These things are pretty addictive. They're vegetarian, but they're so tasty that it doesn't really matter. Anyone who loves curry will  be a fan of them. The filling reminds me of samosas, but they're slightly sweeter and have a lot more flavor. All of the "pans" are made with soft bread with slight variations. This one is covered in panko breadcrumbs. There is a regular version for those who don't like spicy food.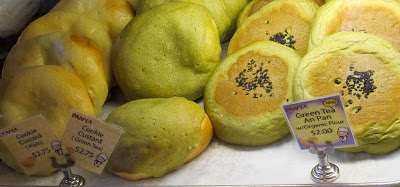 Cookie Custard
Cookie Custard – $2.75
At first I wasn't sure why these have the word "cookie" in their name, but I realized later that they are flattened a bit so they look like very thick and very large cookies. They're also made with soft bread, with a thick and creamy custard filling. I love the green tea ones, but the plain cookie custards are just as good if you're not into green tea flavoring.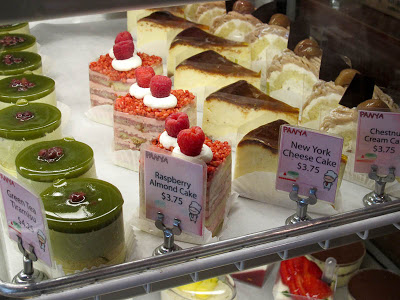 Green Tea Tiramisu (leftmost)
Green Tea Tiramisu – $4.25
This has a very heavy green tea flavor, and (again) not for those who don't enjoy green tea. The slightly bitter taste and the jelly layer on top give this dessert a refreshing twist. It's one of the few cakes I've had that doesn't result in a sugar crash afterwards. On the contrary, I felt as if it gave me a jolt of energy.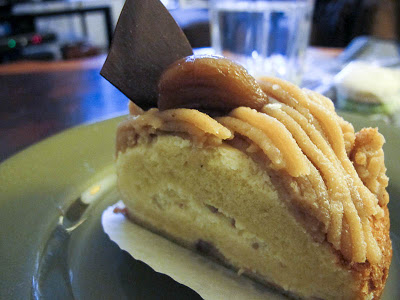 Chestnut Cream Cake
Chestnut Cream Cake – $3.75
I've always regarded chestnuts as a special holiday treat. We didn't have them at home usually, so I eagerly wolfed them down whenever I had the chance. This cake is "frosted" with what looks like a sweet chestnut puree, and then topped with a single fresh chestnut. Despite the fact that there's cream involved, this dessert is also not very heavy, but still very, very delicious. I was glad I only bought one slice, because I could've eaten an entire roll.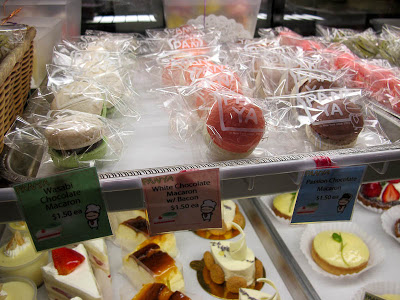 Wasabi Chocolate and White Chocolate w/ Bacon Macarons
Macarons – $1.50
Those who know me will attest to my love of macarons. These ones are infused with unique flavors such as wasabi, green tea and even bacon. I know the wasabi one sounds a little disgusting, but they added just a hint of it and it actually worked quite well.
Other notable items: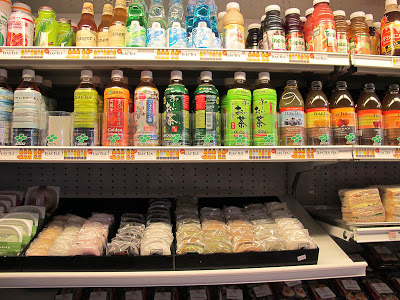 A good variety of teas, including Oi Ocha Green Tea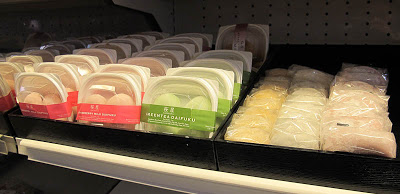 Daifuku/mochi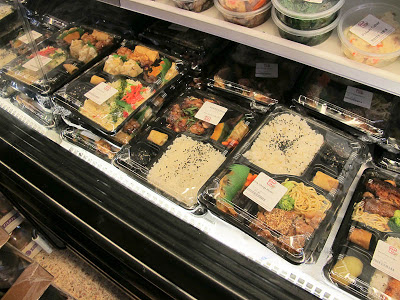 A variety of bento boxes such as katsus, bulgogi, and yakisoba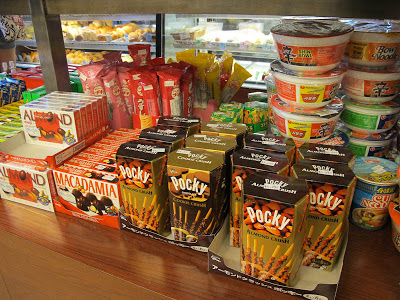 Japanese grocery items such as shin bowls and pocky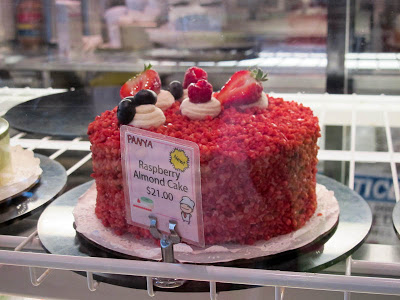 Whole cakes for bringing to parties (or to eat by yourself haha!)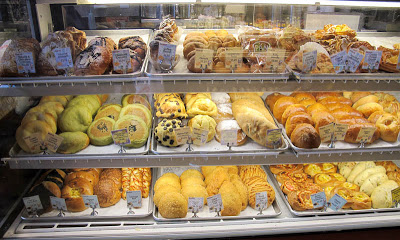 Plenty of other baked goods!
Since the weather is still pretty warm right now, they have the bakery open with some chairs and tables outside.  It's nice to just sit there and enjoy a green tea and one of the pans for lunch. They do have limited indoor seating, so I can imagine it must be packed during the colder days. The pans are also good reheated on the microwave, so taking some of them home is not a bad idea. I know this is a place I will come back to many, many times.
*Tip: St Mark's Bookshop is about two stores away, if you feel like reading while having a snack at Panya.