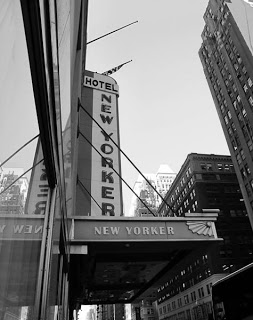 What Got Me Interested?
The decision to do a Hell's Kitchen walk was made the night before at around 11:50 pm, when I ditched my Forest Hills plan because I realized I've been focusing on Queens too much. There is an actual Hell's Kitchen neighborhood walk on TONY, and I figured I didn't need to make too many changes to it, since it seemed to have enough variety of stuff to do.
The Walk
"Hell's Kitchen" generally refers to the area from 34th to 59th streets west of 8th avenue.The neighborhood's name is obviously quite interesting, and I tried to look up the explanation for it. There are way too many different versions of why it was named this way, so I'll let you Google those on your own and decide which one you'll believe. Most of them are related to the fact that this used to be a slum area. Honestly, 'used to be' is not quite the right word, since for half of this walk I ran into crazy, homeless, or crazy AND homeless people every 30 seconds. This was the most uncomfortable I had been walking in New York in quite sometime. In my opinion, most of the HK area below Port Authority isn't worth going to.
The New Yorker Hotel – An art deco building built in 1929, when it was the largest hotel in the city.
481 8th Ave
New York, NY 10001
I started the walk at the New Yorker Hotel, which had a pretty art deco facade that certainly reminded me of New York in the old movies. The lobby was nothing special, and there were already some pretty sketchy people right outside the entrance, so I decided to move it along and walk towards St. Michael's Catholic church. This was built in 1902. That was pretty much the only thing that impressed me, though, because the exterior wasn't any more beautiful than other churches I've seen (in fact I had recently seen a prettier church in Flushing, Queens), and it wasn't even open. I kept on moving towards "The Thrift and New Shop", where I was going to meet my hubby. More crazies everywhere. I spotted (unfortunately) a guy peeing on a wall out in broad daylight as people passed him on the sidewalk 2 feet away. I had almost given this up as a terrible walk until I got to 42nd st. and discovered that I had been driven through here by a cab before and remembered wanting to find out if any of the seemingly countless restaurants there were any good. It was almost as if someone decided they didn't want the tourists to go past this area so they left the streets I'd been walking through so far scary and shitty looking.
The Thrift and New Shop – A trove of used books, antique jewelry and other knickknacks
602 9th Ave at 43rd St
New York, NY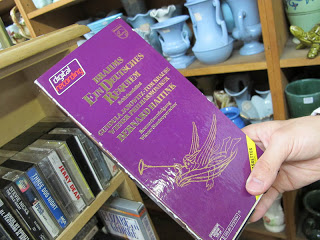 It's not unusual for me to be drawn to shelves of old books, and this was exactly what happened when I spotted this store. I didn't even know that it was exactly what I was looking for at first. There's an entire shelf of 99 cent books right outside, which would be perfect for someone who's doing this walk on a budget.
The hubby and I went in and he immediately spotted a 'digital recording' of Brahms Requiem. By 'digital recording' they meant cassette tapes. We have no means to play cassette tapes in our apartment, therefore he put the recording back with a bit of a frown on his face.
I had expected to find just more old books inside, but I spotted a few of the more recent additions to my book collection being sold at 1 for $3 and 2 for $5: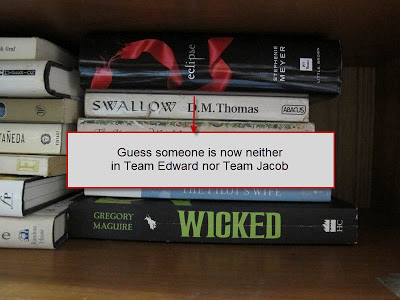 Edward, you're not immortal after all
There's some other random old-looking stuff, like this 'vintage photo' of some person for $18. You can hang it up on your wall and pretend your house has more historical significance than it really does: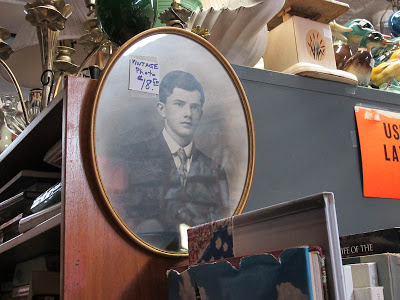 You can also find a lot of gorgeous jewelry being sold for $9 each: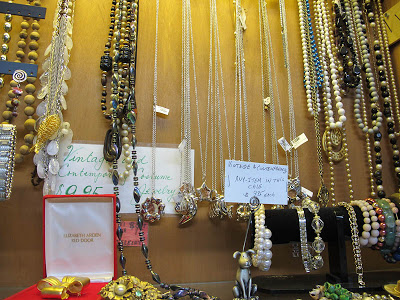 As I perused the jewelry section my hubby whispered to me that a creepy old guy had been eyeing me the entire time. Since I didn't want to see my injured husband in a fistfight with an old man, I decided we should quickly leave the premises.
Poseidon Bakery – A Greek bakery. They had plenty of great looking pastries I had tried or seen before.
629 9th Ave
between 44th and 45th sts
New York, NY
I was originally here for some spinach pie, but when we went in I basically wanted to point at everything and say "Yes, please!". Unfortunately, it looked like they only took cash, so we left and decided to come back later after visiting an ATM. I made the mistake of not checking the store hours again, because they were already closed after we had dinner.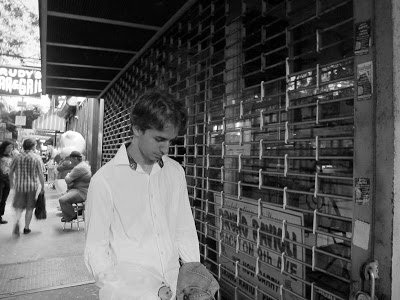 So depressing.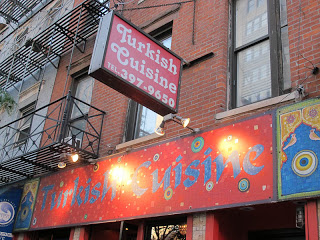 631 Ninth Avenue
Between 44th & 45th St.
New York , NY
No, I didn't forget the name of this restaurant. It actually IS called "Turkish Cuisine". I forgave them for being too lazy to think of a better name, because the food was great and the ambiance was perfect for a low-key date.
I spotted this place while my hubby was taking out some money from the ATM. I immediately looked it up on Yelp, since I was in the mood for something exotic. Besides having 4/5 stars, one of the featured reviews said that they had a really great vegetarian selection, so I was immediately on board. We checked out the menu which indicated there were plenty of meat choices as well.
For my appetizer, I had one of their specials, which was a tomato stuffed with some kind of sticky rice, pine nuts, currant, and Greek herbs. The stuffing was sweet, and reminded me a little of Chinese sticky rice.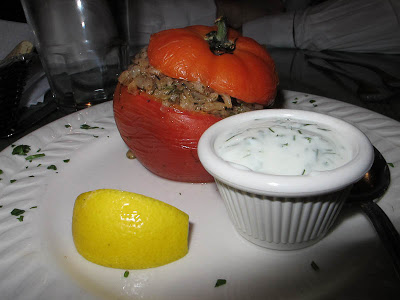 Stuffed Tomato
Hubby devoured most of the warm, freshly made pita bread.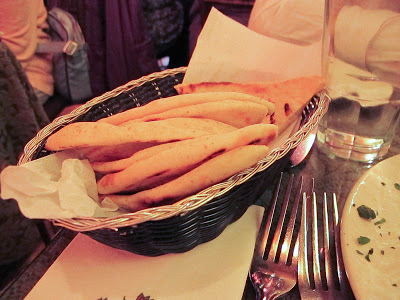 Pita Bread
My main course was the eggplant moussaka (eggplant cooked with tomato and garlic sauce topped with mozzarella cheese) with rice. I've always been a fan of the regular moussaka (containing meat), but I thought this was just as delicious.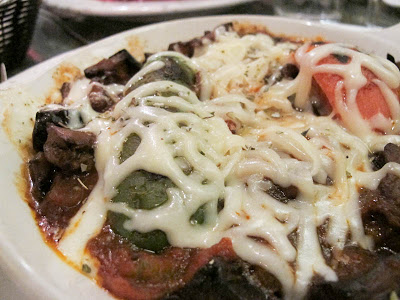 Eggplant Moussaka
Hubby had the Tavuk Shish Kebab (chunks of bonless chicken marinated & grilled over charcoal), which looked to me like it was similar to the Indian dish Chicken Tikka. I asked him and he said the taste was pretty close, and that he loved both dishes.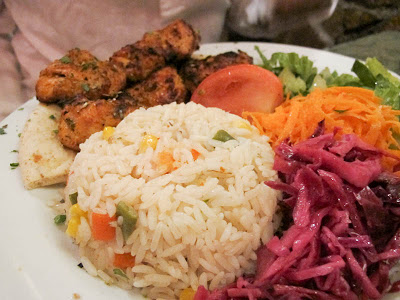 Tavuk Shish Kebab
The place itself was gorgeous, with various colorful Turkish decor everywhere. They also had an outdoor garden area.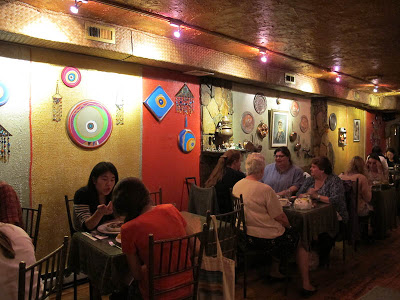 Turkish Cuisine Interior
Meal Cost: $48
Patron Mexican Grill
772 9th Ave
(between 51st St & 52nd St)
New York, NY 10019
After being foiled at Poseidon Bakery, we were lured into Patron Mexican Grill by a lady announcing they had $6 margaritas. If you don't live in New York, you should know that $6 margaritas are considered cheap here. Why not? This was turning out to be more of a Friday night date rather than a walk anyway, so having drinks wasn't at all a bad idea.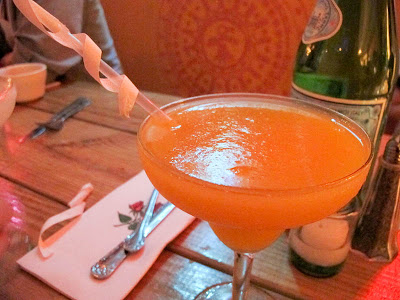 Dean & Deluca
620 8th Ave
New York, NY
After having a margarita, I still couldn't get over the fact that I couldn't have something sweet, so we headed over to Dean & Deluca  right beside Port Authority (42nd st and 8th ave) to grab a Three Little Red Hens red velvet cupcake (the best red velvet cupcake I've ever had), only to find that they were ALSO closed!
In desperation we ended up getting a cheesecake and a dulce de leche cake from our corner Spanish bakery. They were good enough, and at $2 each we didn't really have anything to complain about :).
Other Notable Places to Go
If I was ever back in this neighborhood I'd probably try one of these places
5 Napkin Burger
630 9th Ave
Southern Hospitality – A BBQ Restaurant
645 9th Avenue
Dafni Greek Taverna
325 West 42nd Street
The Best Thing About This Walk: Turkish Cuisine
The Worst Thing About This Walk: Hell's Kitchen below 42nd st.
Would I Come Here Again? Yes, in fact you might see a post this coming week just about Poseidon bakery
What Would I Do Differently? Start my walk at 42nd st.
Map of this Walk
A: New Yorker Hotel – 481 8th Ave, New York, NY 10001
B: Thrift and New Store – 629 9th Ave, between 44th and 45th sts, New York, NY
C: Poseidon Bakery – 631 Ninth Avenue, Between 44th & 45th St., New York , NY
D: Turkish Cuisine – 631 Ninth Avenue, Between 44th & 45th St. New York , NY
E: Patron Mexican Grill – 772 9th Ave, (between 51st St & 52nd St), New York, NY 10019