Half cheese, half garlic spinach, mushroom and onion
pizza from Lombardi's
Walking buddy (sort-of): My hubby

Ok, so I guess I can't expect to not be bored in NY EVER. I DO have to work after all.
To brighten up my dreary 40(+) hour work days, I'm going to try and do short excursions at lunch or after work hours. Also so that you guys don't miss me during weekdays when I'm not out adventuring in random neighborhoods. I'm going to call these mini-walks.
What Got Me Interested?
I originally had planned to only see one store/restaurant at a time, but since my hubby was coming with me for part of this walk, I extended it to include some other interesting shops.
Little Italy, home to some decent (but mostly overpriced) Italian food, is a pretty well known neighborhood in New York City. NoLita is the area North of Little Italy, and that is where most of this mini-walk was spent. I chose this neighborhood specifically because I wanted to go to Lombardi's Pizza. I had read somewhere as I was researching where I could find real, good New York pizza that this was one of the places to try. I remember looking it up and thinking it was really close to where I work, so I figured this was perfect for a mini-walk, especially since my part Italian husband was coming.
I got a little side-tracked by a store that I am not going to mention because they wouldn't let me take pictures inside (bleh! :P) so our first stop was actually the MoMA Design Store, since we could already see it from there.
MoMA Design Store – An extension of the Museum of Modern Art that sells "innovative, fun, and functional gifts, personal accessories, and home items intended to improve everyday living"
81 Spring St
New York, NY 10012
My hubby went with me for this one since I knew they had some home goods and I wanted to see if we could get some inspiration for our apartment. This store is exactly as it is described in their homepage (see quote above). I wasn't really looking to buy anything, but I took photos of some things I might have bought if I had a magic wallet.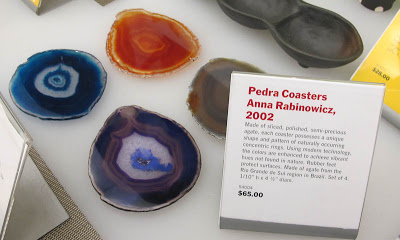 Coasters "made out of sliced, polished, semi-precious agate"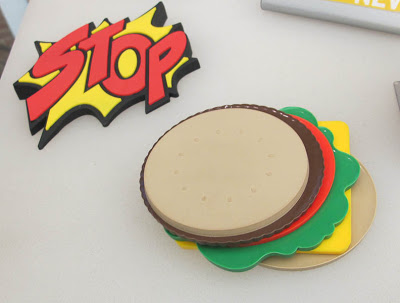 A "STOP" doorstop and hamburger coasters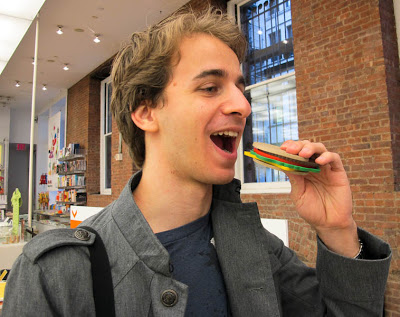 It IS a hamburger, after all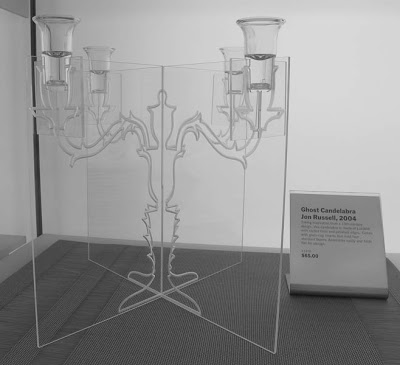 A "Ghost Candelabra"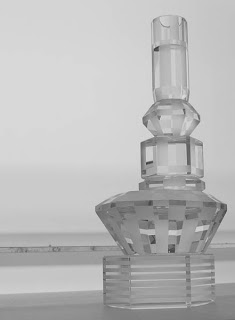 A Candleholder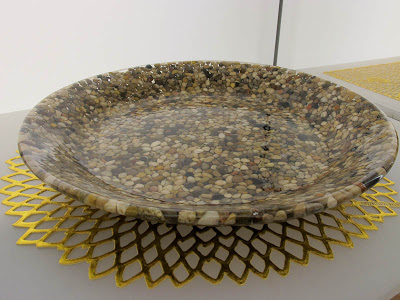 A glass dish with stones inside (this caption sounds pretty lame)
Some interesting bags that include: one made out of bubble-wrap,
one made out of brown recycled paper and one made out of recycled foil wrappers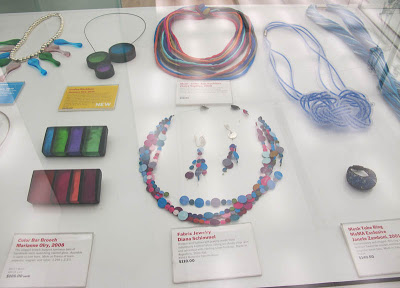 Unique jewelry such as one made out of silk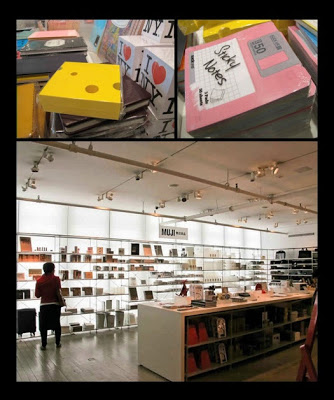 Cheese, I Heart NY and floppy disk sticky notes.
Also an entire wall of MUJI items, which I stupidly thought
I could only find in Hong Kong. This is why I need this blog.
Apparently they have several stores in Manhattan.
A section of coffee table books, coloring books and stickers related
to street graphics, which NY is pretty well-known for. Check out my post that
includes a feature on the legal graffiti wall 5 Pointz in LIC
Paul Frank Store – If you don't know what this is, you might recognize the famous icon shortly
195 Mulberry St
New York, NY 10012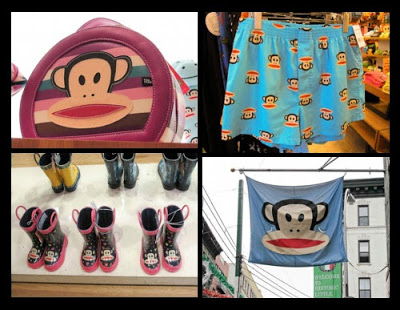 If you've ever wondered where you could get one of those monkey pajamas or hoodies that you see everywhere, this is the place for you. There's more to this store than those things though. As you can see, they have cute bags, boxer shorts (they have underwear for the ladies as well), and even rain boots. They also carry children's clothing.
Papabubble – A hard candy store that sells uniquely flavored and custom candy
380 Broome St
New York, NY 10013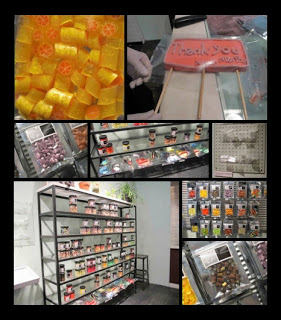 Papabubble Candy Store
When I added this store to my list of places to see, I had originally intended just to review a random candy store (because it was nearby) and did not expect it at all to be one of a kind or more exciting than any other candy store.
I went in and realized that that this was definitely not an ordinary candy store. They had flavors such as passion fruit, guava and lavender. You can also order custom-designed candy art such as the 'Thank You' candy on the left. On their website I saw ones that looked like they were designed to be given away at weddings.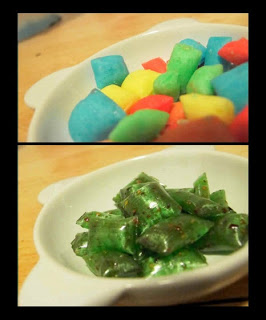 Fruity Pebbles and Lime + Salt + Chili candy
I bought the flavors "Fruity Pebbles" and "Lime + Salt + Chili". My hubby later tried the fruity pebbles ones and told me they were pretty close. The lime + salt + chili, which only I was adventurous enough to try, has that sweet and salty flavor that could get pretty addictive if you're into that kind of stuff (e.g. kettle corn). I thought it could've been aptly renamed "chili margarita".
Cost: $5.49 for each bag of candy
$3 for Edible Glass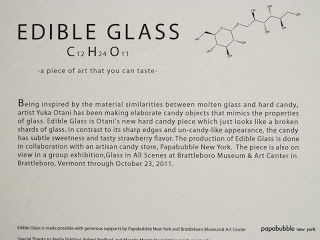 There was a small corner of the store devoted to what they called "Edible Glass". Due to the similarities between molten glass and hard candy, the artist Yuka Otani, in collaboration with Papabubble, has been making elaborate candy objects that mimic the properties of shards of glass.
I bought a small packet of the stuff. They're not very sweet, but the texture and appearance are very similar to that of glass.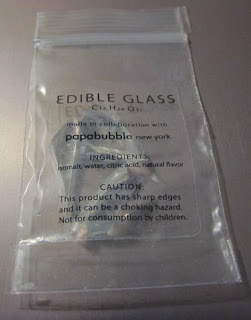 Edible Glass
Lombardi's Pizza – Supposedly the first pizzeria in the US (I'm not sure how accurate this is). They serve thin crust, New York style pizza.
32 Spring St
New York, NY 10012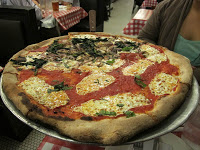 Now that I had had my fill of interesting stores, I finally headed to Lombardi's to meet up again with my hubby for dinner. We ordered a large pizza half cheese, half with garlic spinach, wild mushrooms and red onions. Of course, they do have meat toppings for all you omnivores/carnivores out there ;). We each had a slice and took home the rest since we knew we were looking to get dessert afterwards. The pizza was excellent, and this is high praise from me considering I'm not that into thin crust pizza. The crust was not greasy, the toppings tasted fresh, and the sauce was decent (I like it a little sweeter, but I'm Filipina so my opinion does not count in that area). I would definitely come back here again.
Meal Cost: $20 for a Large Pizza, $3 for each topping for a whole pizza, $2 for each topping for a whole pizza
The Best Chocolate Cake in the World – A little bakery that boasts of having, well, its name.
55A Spring
Street, New York, NY
The original bakery I wanted to check out was Cake Shop in the Lower East Side, however it was too far away for me to walk with my hubby so we went to check out this place I had spotted earlier. I looked it up on Yelp and the reviews were 'okay', although I was still interested from reading the description of the cake, which said that it was made of meringue and chocolate mousse, and topped with chocolate sauce. The place was tiny though, and there was nowhere to sit, so we moved on and spotted what looked like another little cake place that had amazing looking pastries displayed on its window.
CeciCela Patisserie – A pretty well know French patisserie founded by French pastry chef Laurent Dupal.
55 Spring Street
New York, NY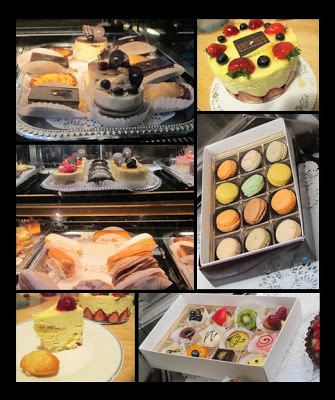 Dessert-wise I think there are none more appealing to me than French pastries and cakes. I could gobble up macarons and madelines all day. In fact, I've done that quite a few times. Once we were inside (I didn't see the sign for it), I realized we were in CeciCela, and that I had been there once before a few years back with some of my Filipino friends. I'm not sure why I haven't returned since then, because they have pretty much all of my favorite desserts: macarons, madelines, eclairs and tiramisu. We had planned on getting a slice of something each, and ended up leaving with a macaron, several mini madelines, a croissant, and an entire vanilla mousse cake. I later on devoured the madelines  and a piece of the vanilla mousse cake, complete with a cup of coffee, as I began to write this entry. I couldn't help but think I should be at Starbucks looking pretentious, but this was waaay better. It's also worth noting that the macaron I had was the best one I've tasted so far in NYC. Sorry Monsieur Payard.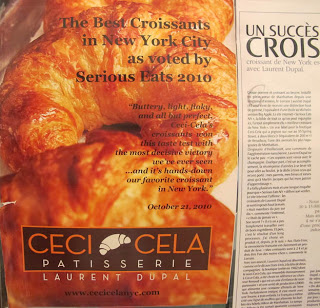 It might also interest you to know that CeciCela's croissants
were voted Best Croissants in New York City by Serious Eats in 2010.
Seriously.
What's sweeter than pastries from a French patisserie? Coming home to flowers already set in a vase: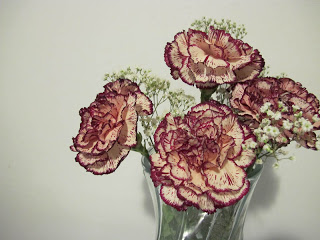 The Best Thing About This Walk: Running into CeciCela Patisserie
The Worst Thing About This Walk: Being reprimanded for taking pictures at a store I am not going to mention
Would I Come Here Again? I have no doubt I would.
What Would I Do Differently? Get takeout from the Best Chocolate Cake in the World
Map of this Walk – I thought of this new feature for my entries. Hope you all like it!
A: MoMA Design Store – 81 Spring St, New York, NY 10012
B:: Paul Frank Store – 195 Mulberry St, New York, NY 10012
C:: Papabubble Candy Store – 380 Broome St, New York, NY 10013
D:: Lombardi's Pizza – 32 Spring St, New York, NY 10012
E:: CeciCela Patisserie – 55 Spring Street, New York, NY