What Got Me Interested?
Due to some computer-related emergencies yesterday I found myself unable to plan my walk properly again. So, to make the most of my time (again) I looked up what other neighborhoods I can check out by riding the trusty (not really) 7 train. I saw this 'Why I Love Long Island City' article that enticed me with the picture of the old Pepsi Cola sign which I've seen many times but never bothered to visit. Since the sign is conveniently located at a park overlooking the East River, I decided this walk was definitely a good idea to relax after my Labor Day holiday was somewhat ruined by the fact that I had to work.
Whenever I'm apartment hunting, which has happened a LOT because I've moved around NYC quite a bit (by a lot I really mean 3 times), I usually see these craigslist posts about gorgeous Long Island City apartments with doormen, balconies and gyms. In the back of my mind, I've always wondered where these apartments are, because out of all the times I've been to LIC I've never seen an area that wasn't dingy and industrial looking. Well folks, I found them. They're all crammed into that stretch of land 2-3 blocks from the East River. I couldn't believe this was in the same zip code as those streets where I used to find myself constantly looking over my shoulder to make sure no creepy person was following me.
The Walk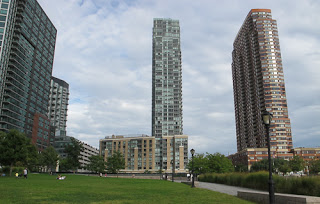 This is actually a view from the park, coz I didn't take a photo
from 48th ave
Gantry Plaza State Park 
48th ave at East River
I started at Gantt State Park as suggested by the article. To get there I had to get off at a stop I always see on the 7 train but never use: Vernon Blvd-Jackson Ave. I guess this was another step towards owning the 7 line (see my Flushing walk). Walking north on Vernon blvd will confuse you because the avenue numbers actually go DOWN as you're going up. This caused me to do a bit of a cha-cha as I tried to figure out which direction I should go. I walked to 48th ave and took a left. There I was greeted with the sight of several of the luxury apartment buildings I had talked about earlier. They were all the way to the west near the water. There was also a very nice park on my left lined with empty benches. Walking further along I also noted there were several basketball courts and a little playground. I got to Gantt State Park and realized it was right in front of a school. This place absolutely screamed "Come live here. It's worth every penny (and you're gonna need a LOT of them). You can even settle down here if you ever want to have kids!".
There are several things you can do here if you're not just at the park to walk around or relax. During the summer there is a free concert series entitled Live at the Gantries. I also found a flier for free yoga classes by The Yoga Room on pier 1. They don't have an updated schedule on their website, but the flier is for Sunday, Sept 18th 2011, 5-6pm. I'm assuming this happens frequently because upon searching for it I found several postings for it from previous years. There is also a playground for all you mommies and daddies  who are bringing your kids.
I would love to be a good enough blogger to describe the park perfectly in words, but since I already took a LOT of pictures (and you know what they're worth), I'm going to just post some of them instead. I took some of the pictures at the end of my walk, because I wanted to see the view at night. Click to enlarge if you feel they're too small.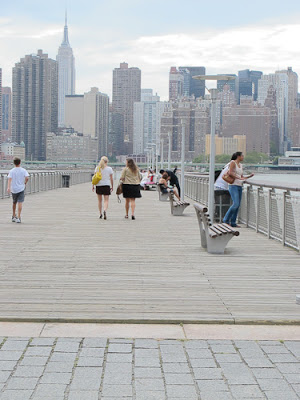 Piers always remind me of San Francisco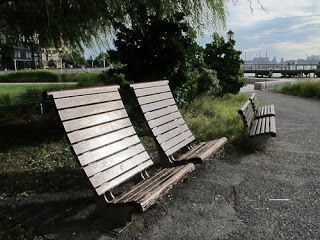 Empty benches everywhere!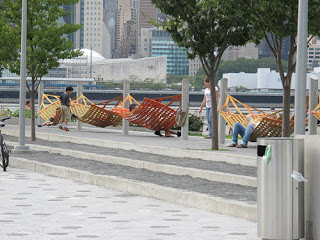 They have permanent outdoor furniture. Including HAMMOCKS.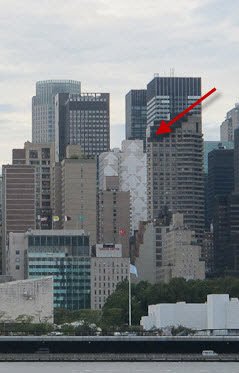 That building with the painted arrows makes me
think it could be a SimCity animation for a building
being built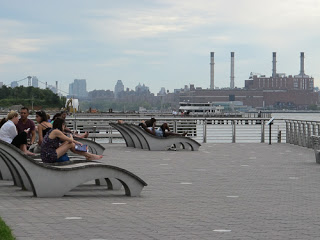 Permanent lounge chairs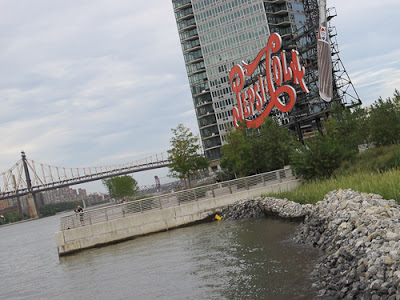 The iconic Pepsi Cola sign
Here's a video because I'm not a good enough photographer to show what the view looks like at night :P. Watch out for the lady who ducks because she doesn't want to be videotaped haha!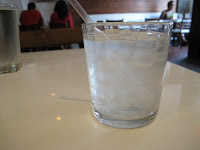 Aloe Vera Drink
Tuk Tuk – A Thai Restaurant
4906 Vernon Blvd
between 49th ave and 50th ave
Long Island City, NY
If you think I should be sick of Asian food by now, think again. I never get sick of Asian food. I was going to order the summer green milk tea but they ran out, which was a blessing in disguise because as I somewhat dejectedly perused the menu again, the aloe vera drink caught my eye. I had never thought of aloe vera as something you would eat or drink. You could maybe put it on your face or in your hair, but to eat it would be really strange. Therefore I ordered it. Because I AM strange. The taste of the drink and the texture of what I assumed to be chunks of aloe vera in it were very similar to coconut water and young coconut meat, with a tad more sourness. I thought it was a very refreshing summer drink and would try it again.
I had the edamame dumplings for my appetizer. The filling had the consistency of mashed potatoes. I thought they were ok but needed more flavor. The presentation was very nice, though, for something that costs $5. I sort of expected the carrots to be sweet and sour, as in balsamic coleslaw, but it didn't taste like anything.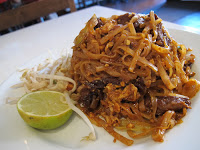 For my main course, I picked the classic pad thai with vegetable duck. I think it must be pretty hard to screw up this dish, since I've never had any complaints about it no matter where I've ordered it. It was delicious, as always, considering I had it with fake duck.
Meal Cost: $19.05
Random Sights and Failed Attempts at Shopping
Walking from 49th ave and Vernon blvd
to 47th rd and Jackson Ave
I considered including the various shops I tried to visit in this entry, but since they were all closed at the time, and I've decided to go back and write another entry someday just for them, I'll just wait until then. I will, however, show you the reason why I definitely have to go back: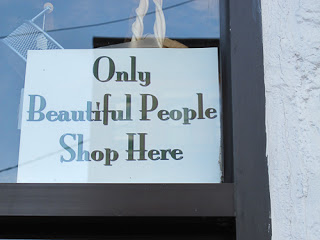 Make of it what you will
In an attempt to find ANY store, I tried to get to a consignment store that was supposedly on 47th road somewhere between Vernon and Jackson. Alas, I couldn't find it.
As I got further and further away from the water, the neighborhood got more and more sketchy. This was the LIC I knew from before. I passed by some pretty interesting sights, though.
The Breadbox Cafe
4711 11th St
Long Island City, NY
This interested me because it looked like it could be a Japanese restaurant. Upon further inspection, I realized what looked like bamboo blinds were actually lots and lots of rolling pins!
I didn't eat here coz I was still pretty full. Maybe for my shopping trip :).
I also passed by this:
Which was probably a faux fur pillow or throw, but due to my crappy surroundings I imagined it to be a murdered pet or muppet stashed in the trash. I may have to cut back on crime tv shows.
When I hit Jackson Ave I was greeted by an imposing and somewhat out of place building, which turned out to be:
MoMA PS 1 – MoMA's sibling in queens. For anyone who doesn't know, MoMA stands for Museum of Modern Art. The 'main' MoMA is in Manhattan.
2225 Jackson Ave
Long Island City, NY
I didn't go in because it was pretty late and I wanted to head back to see the skyline at night, but I did take some photos of the exterior.
45-46 Davis Street
Long Island City, NY
I knew there was a legal graffiti museum somewhere in LIC, and I've seen parts of it while riding the 7 train many, many times. I never got around to going, though. Lucky me, I spotted it as I was taking pictures of MoMA PS1! I excitedly walked around taking pictures and was very impressed with one that looked like it was a portrait of Tupac, done in an impressionistic style (see below). If that's not him, I apologize to any fans who might be reading hehe.
Space Womb Gallery
Near 5 pointz
As I headed towards 5 pointz I noticed a weird entrance with a sign that said "Space Womb" (this was before I took the pics above). I felt like it could be a bar or club of some sort.
I looked closer and realized that this was a gallery space. Clever or just plain strange? See so-and-so artist's work at the "Space Womb". Not sure that works.
To end my LIC walk, I headed straight back to Gantry State Plaza Park to take in the skyline at night. One thing's for sure, I will come back here are some point.
The Best Thing About This Walk: Duh. Gantry Plaza State Park
The Worst Thing About This Walk: Closed shops 🙁
Would I Come Here Again? Yes!
What Would I Do Differently? Make sure the shops are open and bring my hubby 🙂