Around March or April of this year, I had a crazy urge to go somewhere. Anywhere warm, with beaches, and somehow got it in my head that a last-minute cruise would be the cheapest possible way to do it. We wouldn't need expensive plane tickets, we would leave from a port in NYC, and we could stuff our faces without worrying that we'd spent way too much because there's plenty of free food on a cruise ship.
So we booked a last-minute Caribbean cruise on the Carnival Splendor going to St. Thomas, St. Kitts, St. Maarten, Antigua, and ending in San Juan, Puerto Rico. Carnival is arguably the cheapest major cruise line, with prices going as low as $200 per person if you get the last-minute cruises. Their ships are known as 'party' ships mostly because the prices are affordable to the younger cruisers. But, if you're able to go somewhere on a 20-something's budget, that likely means it will be a 20-something experience. Think backpacking across Europe and staying at the cheapest motels or pension houses. Or at least that's what I was expecting when I booked this trip. As long as there was sand, sea, and relatively ok food, I'd be fine.
So armed with very low expectations, I found myself pleasantly surprised. In fact, this was one of the most fun vacations I've ever had. (Even though it is probably one of the most crappily photographed. Let's just say I was besties with my phone and GoPro on this trip.) Cruises I think, are for people who want to enjoy the journey as much as the destination, and at the same time relax (and eat) as much as humanly possible. If you don't want to stress out about multiple hotels to book and which trains to catch, and just want to sit, drink, eat, and maybe watch a musical or two, while being moved around by a massive boat, cruises are for you. This is something I COMPLETELY understand. But the past few years I've morphed into this crazed travel junkie (by junkie I really mean travels once or twice a year and plans for these trips the rest of the time). I LIVE to plan places to visit, how to get there, and to find adorable boutique hotels (or in this case and this case, huge gorgeous hotels with expansive grounds). So the fact that I was going to be stuck sleeping in a tiny generic room with the teeniest bathroom for a week with probably so-so food (something I experienced on my first cruise five years ago on Royal Caribbean) had me completely focused on the ports we were visiting rather than the journey. I was fully prepared to just sit around eating and hanging out without being wowed by anything until we got to the ports.
Okay, so maybe I wasn't really 'wowed' by anything, but the entire Carnival Splendor experience was completely pleasant, with a few highlights and very little to complain about. The ship isn't equipped with insane things like sky-diving simulators, ice skating rinks, boxing rings, and basketball courts like some of the newer super-ships nowadays. Instead, being on it is like living in a decent neighborhood where you have just enough things to entertain you. You'd likely have one cafe and one bar or lounge you'll keep returning to every night, Central Perk and MacLaren's style. And this was a very welcome scene to come back to after having a jam-packed day of activities on each of the islands we visited.
Ship Activities
There are 3 bars, 1 club for adults (and another one for teenagers), and 3 lounges on the ship. We ended up spending our time at none of these, and instead spent most of our time at the 'Splendor Lobby & Atrium', which was a bar, lounge, lobby, and group activity area, listening to a guy named Andy croon a variety of light music while playing his guitar.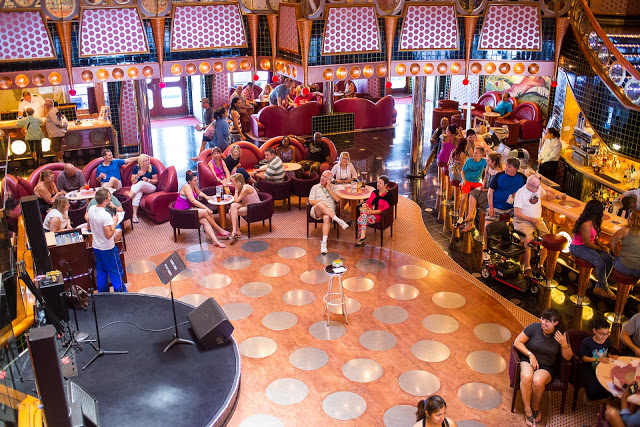 One of the many trivia games they host on the cruise during lazy afternoons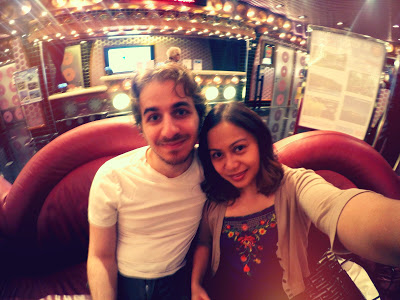 At the Splendor Lobby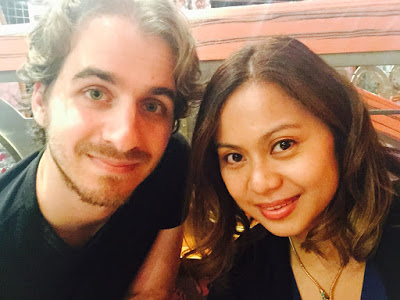 At the Splendor Lobby, again.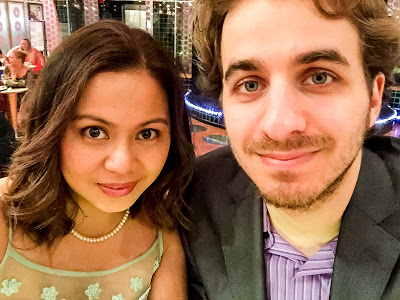 At the Splendor Lobby, yet again.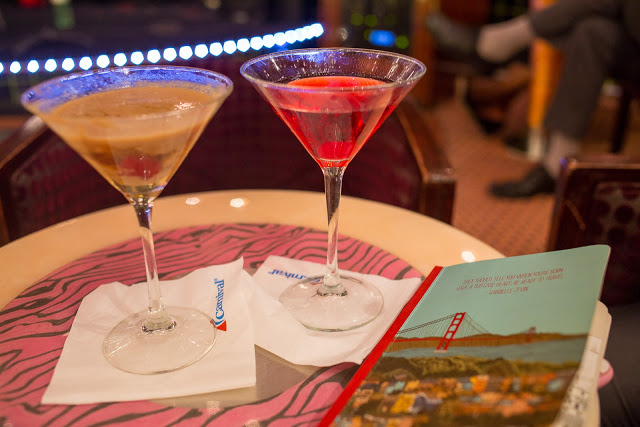 Drinks at the Splendor Lobby
Yeah, I wasn't kidding, we spent a lot of time there lol.
We spent one afternoon at the Cloud 9 spa, where you can get massages and a variety of other usual spa treatments, perfect for when you're annoyed at entitled groups of 20-somethings hogging entire areas they weren't even using by the pool, like we were.
And despite some annoying people lounging in the area, we still spent some of our time in or around the hot tub and pool on the ship. I lost count of how many ice blended drinks I had sitting by the people on that trip.
There's also a wave pool for kids, which we obviously didn't use at all.
But we did hangout in that area one movie night, when they were showing The Hobbit: The Battle of the Five Armies, which we hadn't yet seen at that point. It was one of the most memorable activities of the trip. We got an apple tart and chocolate covered strawberries from the cafe (not free, cost about $5), and the bottle of wine we brought on-board (you're allowed one bottle for each person), and chowed down/got drunk while following Bilbo on his adventures.
We spent a bit of time lounging around the 'Serenity' area of the ship, which was the designated 'adults only' area. It was fairly quiet, but also pretty boring. But if you're looking for a nice spot to read (or in our case, eat some ice cream) with a good view, this would be one of your options.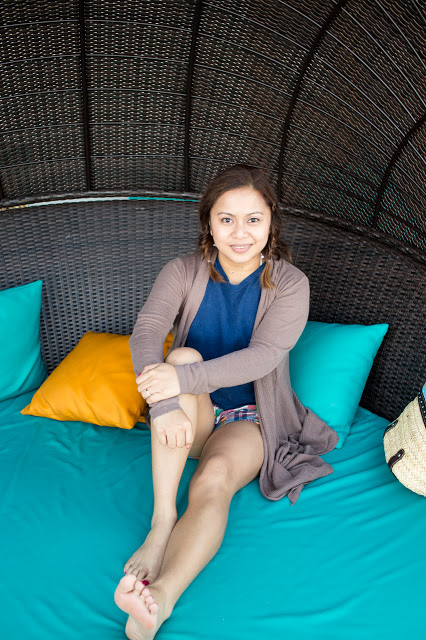 Chillin' in the Serenity area
And since we're basically still a couple of kids, despite not being able to use the wave pool, we spent some time in the arcade as well.
Looking at what we filled our days with, you might think there's not too much to do on a ship like this. Or, you might be overwhelmed. Either way, if you're not quite sure you would fill your days exactly like we did, the major cruise companies will always provide you with a daily sheet of fun activities to do. Parties, trivias, games, competitions, and whatever other things you prefer to fill your social calendar with, they will likely have it scheduled once or twice. The sheets also contain important information like meal times and where to get them, which artist is playing where, and plenty of other info you might be curious about.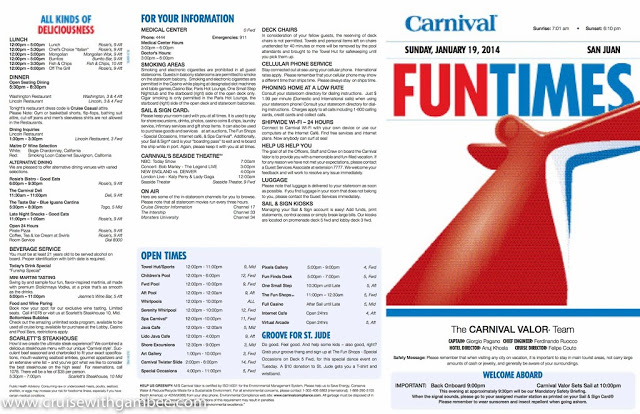 Photo from http://www.cruisewithgambee.com/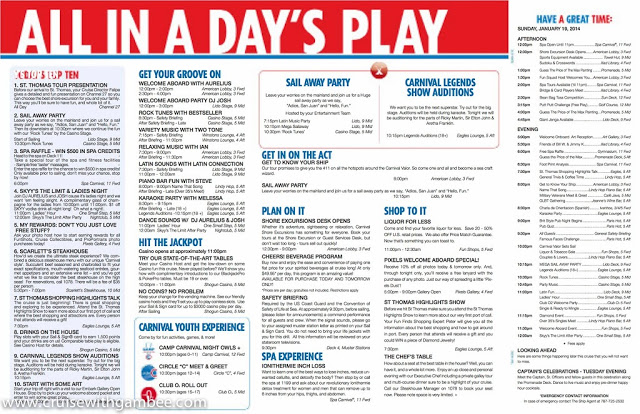 Photo from http://www.cruisewithgambee.com/
Food
Cruises are known to cause weight gain (reportedly an average of 1 pound per day on a ship) due the constant stream of free food served, so I'm sure you're curious to see what kind of treats you'd find on-board. So, here are just a *few* of the things we ate. 😛
Breakfast
On days the cruise ship was docked, breakfast was served buffet style at the Lido restaurant, near the pool. I ate plenty of eggs and fruit, and Michael usually ate waffles, pancakes, and sausages.
On sea days they offer brunch in the dining rooms that are normally used for multi-course dinners. Here's a sample menu.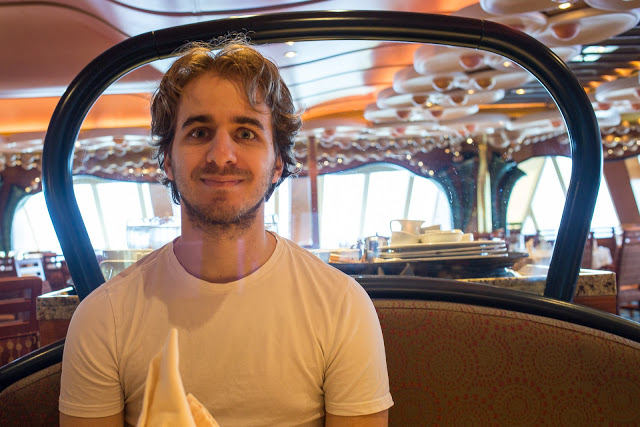 Mike, ready for brunch!
To be honest all seaday brunches were kind of a blur to me, but here are some of the things we ate: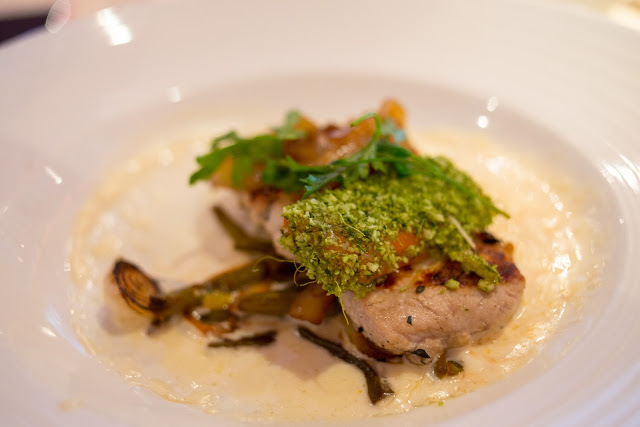 Porkchops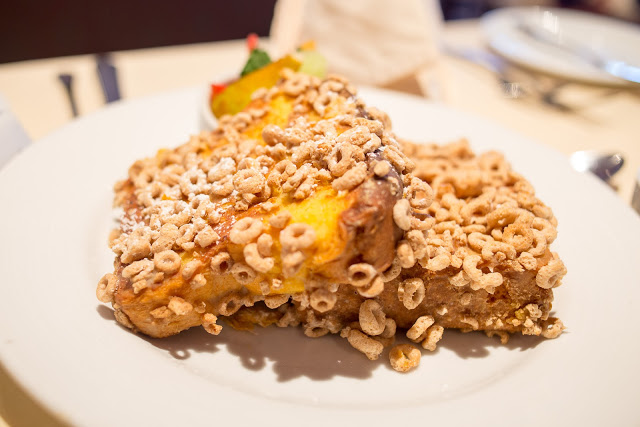 Funnest french toast, coated with Cheerios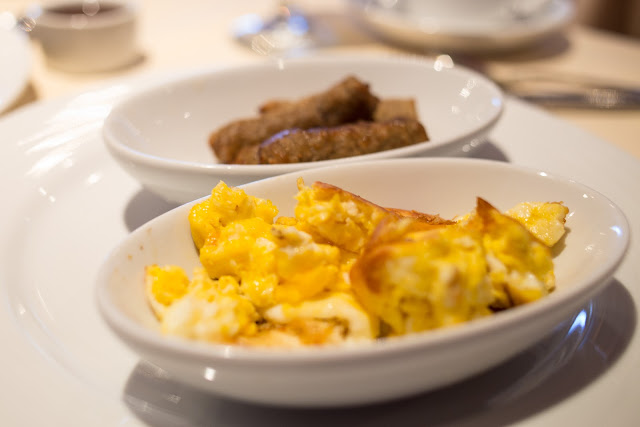 Sausage and eggs on the side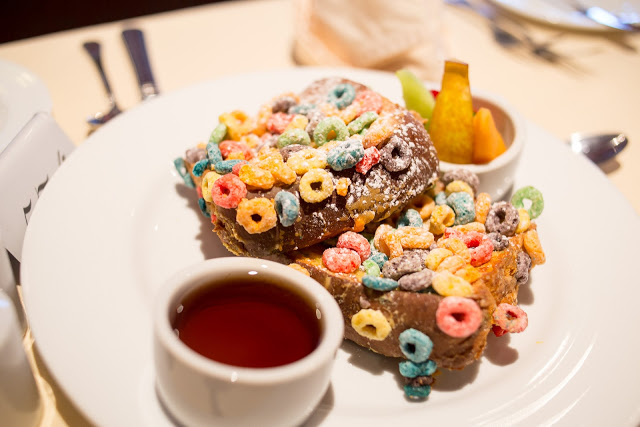 Funnest french toast, coated with fruit loops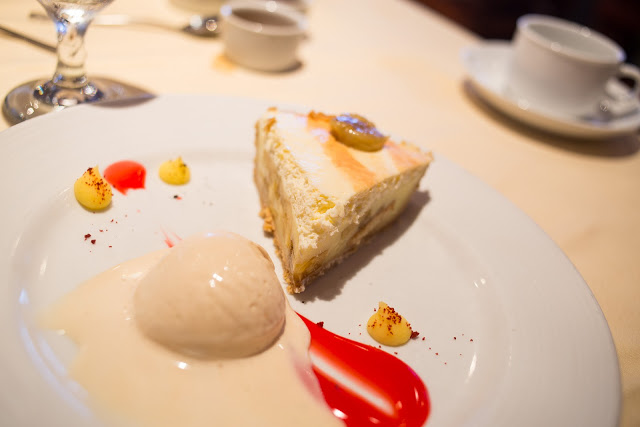 Banana cream pie. Because seaday brunch insanely comes with dessert.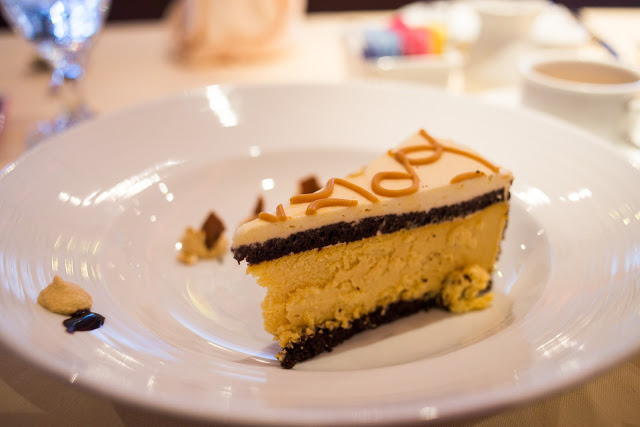 Caramelized cheesecake. Because seaday brunch insanely comes with dessert.
Fresh fruit, for when you're guilty about constantly eating.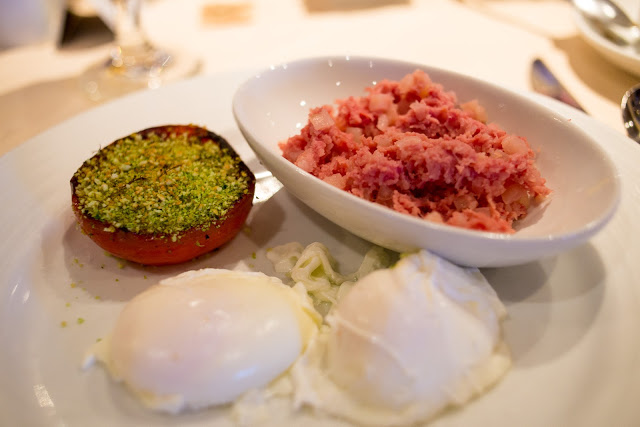 Corned beef hash, poached eggs, roasted tomato
Snacks
During the day there are plenty of things to try on-board. The buffet is pretty much open all day on sea days, so you can have ice cream and random desserts to your heart's content. The burger and hotdog stand by the pool is also open during the day, for poolside snacks. Late at night you have a choice of pizza (made fresh and surprisingly good!) or ice cream if you want to grab something from the Lido deck. Or you can take relaxing to a whole new level by hanging out in your room and ordering from their 24-hour room service menu.
We also spent some of our money on buying coffee and treats from their coffee bar. (Those aren't free, but relatively cheaper than say Starbucks.) The white chocolate fruit cup and apple tart were two of our favorites during our stay, and you can bet I bought quite a few iced coffees as well.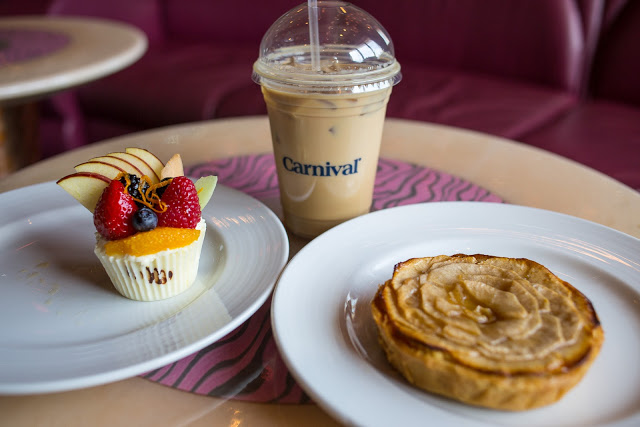 White chocolate fruit cup and apple tart from the Coffee Bar
Pizza Pirate makes yummy fresh pizza. Yar!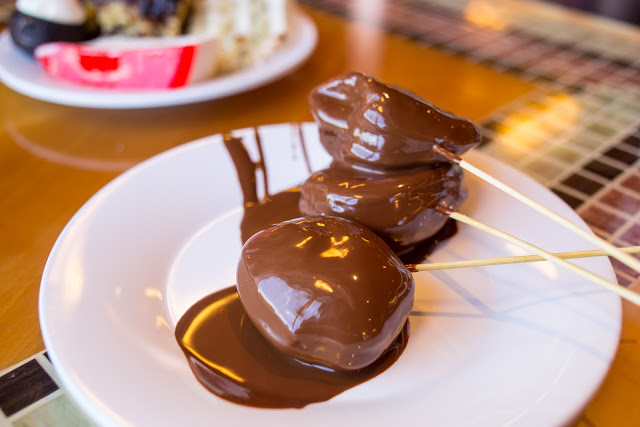 Chocolate-covered donuts, because of course.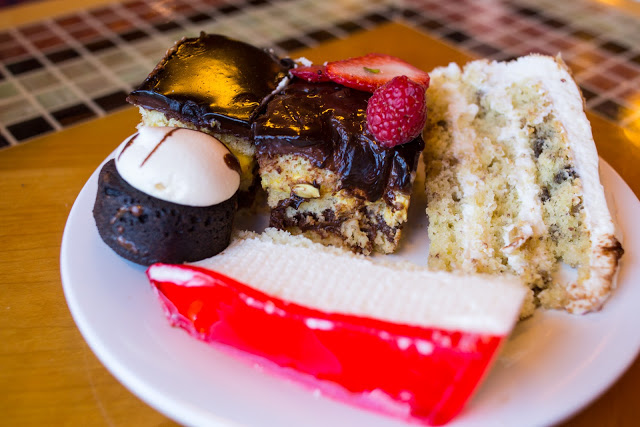 Random dessert run in the middle of the day, because why not?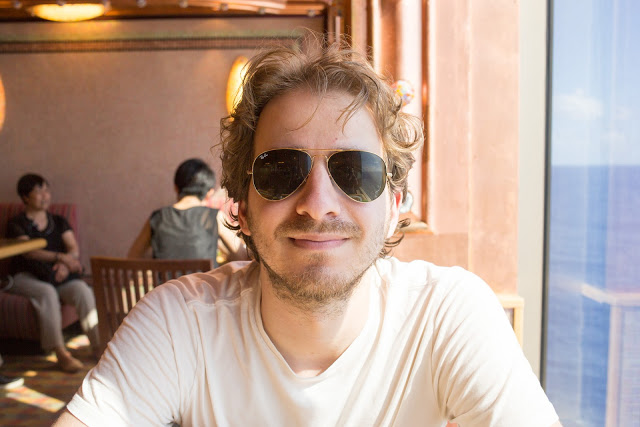 Snacking with a view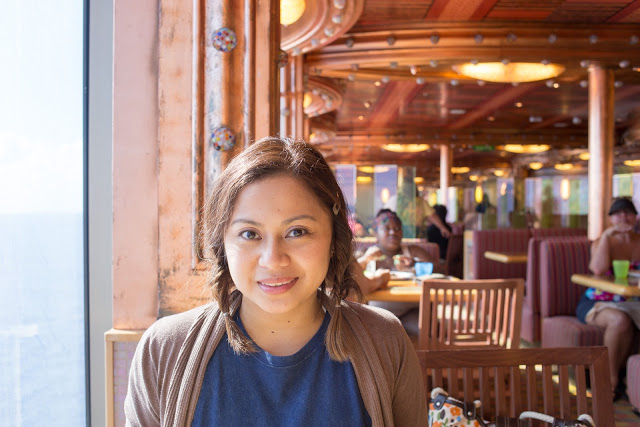 Snacking with a view
Lunch
On sea days, you will have a few choices for lunch. The lido buffet will always be open and they will be serving burgers and hotdogs by the pool. Our favorite thing to do was go to the Tandoor grill, which serves Indian food buffet style, then go directly to the lido buffet and get additional food and desserts.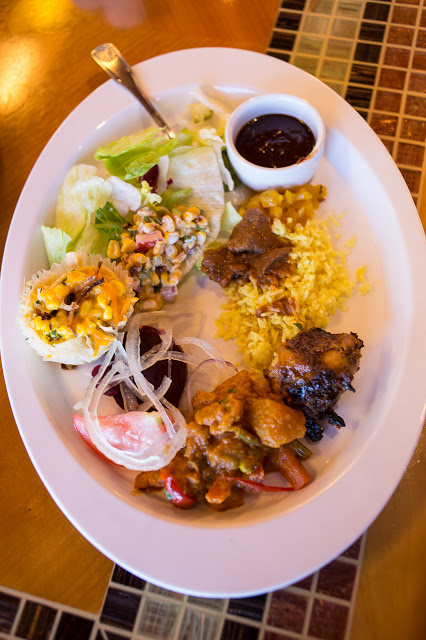 A perfect plate from the Tandoor and Lido buffets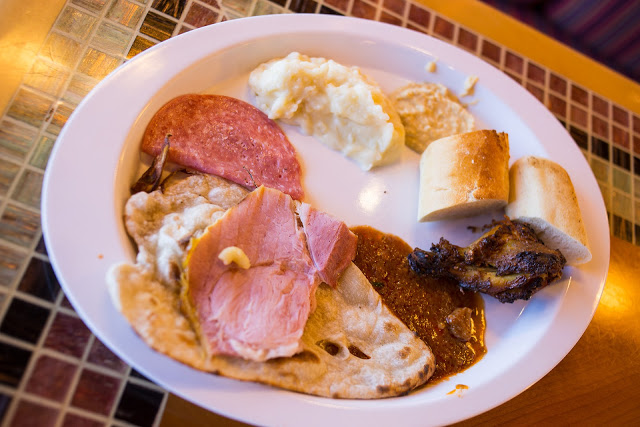 Carbs and meat, Michael-style heheh.
Dinner
Dinners are a big deal on cruises because that's usually when you'll have time to sit down for a long meal after rushing out to your shore excursions and making the most of your shore days.  You either get to choose a meal time, or sign up for "My Time Dining". If you have a set meal time, you will be seated immediately. My Time Dining is obviously for people who want their schedule to be flexible, but note that you may have to wait a bit for a table if you do it that way. You should also probably know you will be forced to socialize with other people at your designated group table, unless you request a table for two, which we were able to do at Royal Caribbean but not on Carnival. We spent our evenings having good food and doing some light chitchat with a few other couples about our day.
Their dinner menus contain "every day" starters and main dishes (staples like steak, chicken, and salmon) for people who have simpler tastes.
You can also make a selection from the steak house for a $20 fee.
You get to choose a starter, an entree, and a dessert. If you couldn't decide, your waiter might even suggest getting two! They also have a daily specials for those who like variety in their meals. This made already pleasant dinners even more lovely. I definitely looked forward to what they had in store for us every night.
Here are just some of the more memorable dishes we had. I can only remember what a few of them are, but what can I say, an entire day of activities (paddleboarding, seeing plantations, or you know, hanging out with sting rays) had me starving at the end of every day. That's probably obvious from how all these photos seem "hurried" haha!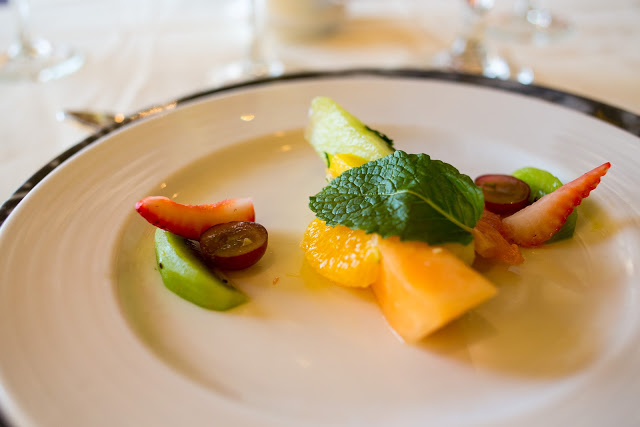 Fresh fruit platter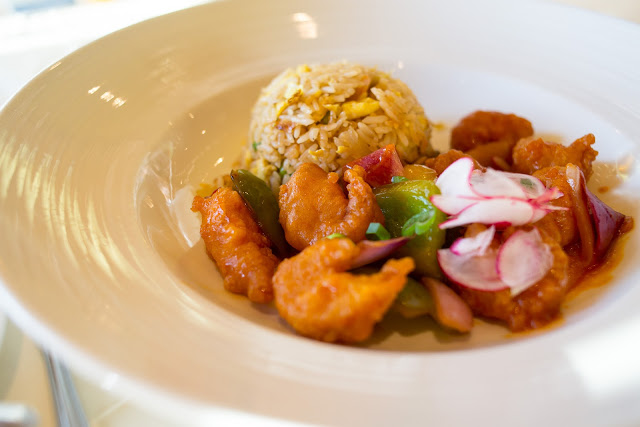 Sweet and sour shrimp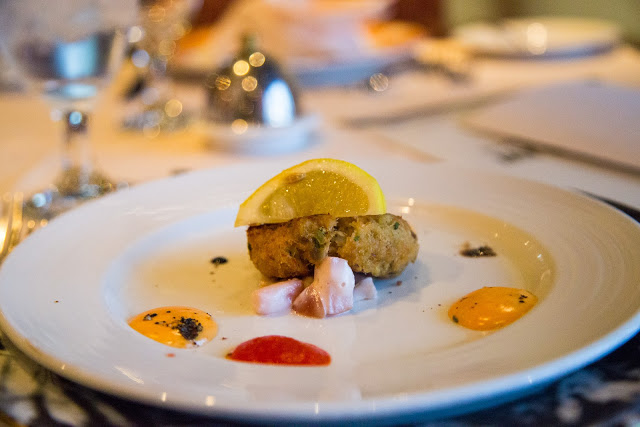 Crab cake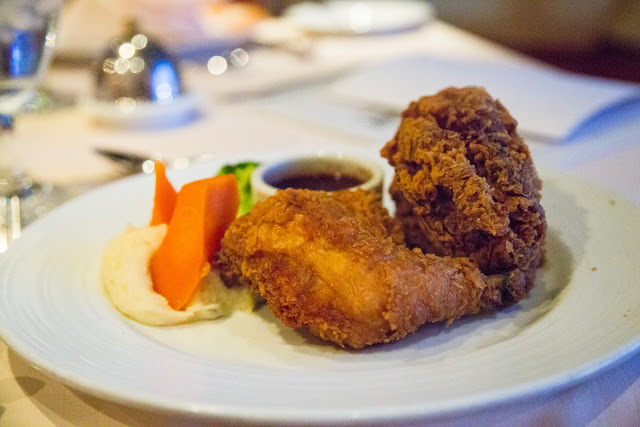 Southern fried chicken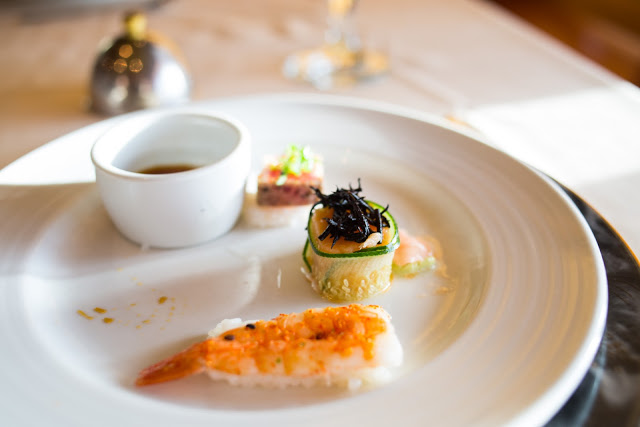 A study in sushi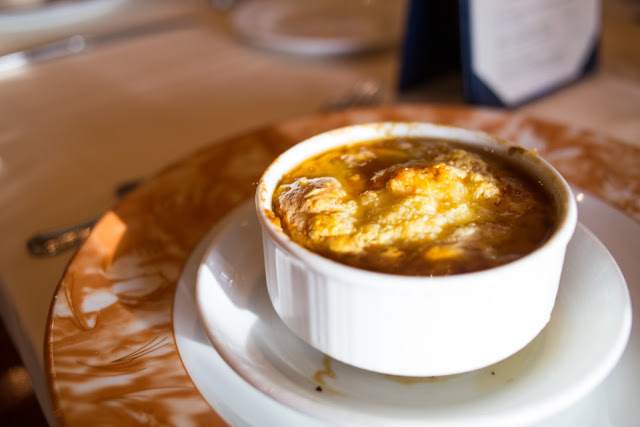 French onion soup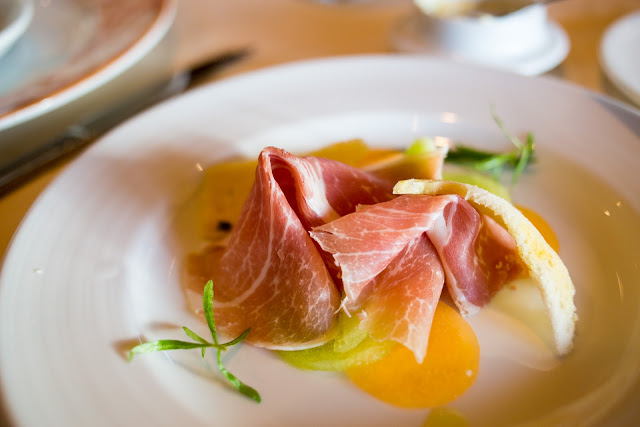 Prosciutto ruffles with sweet melons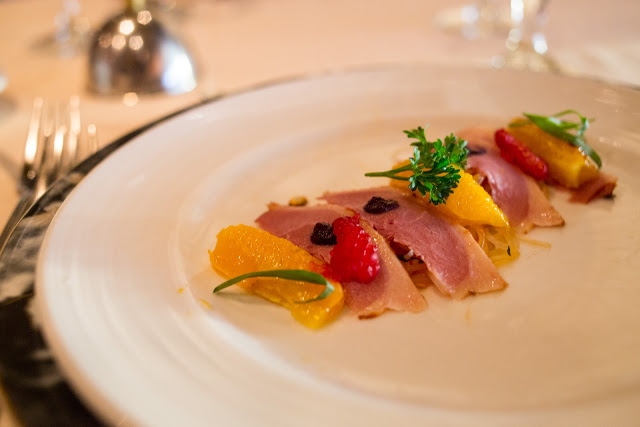 Smoked supreme of duck and caramelized oranges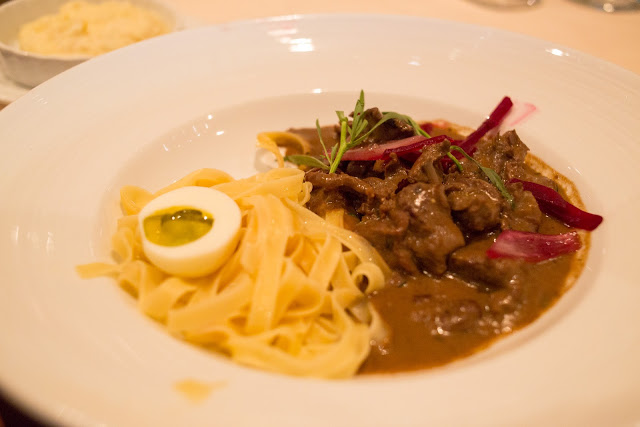 Beef stroganoff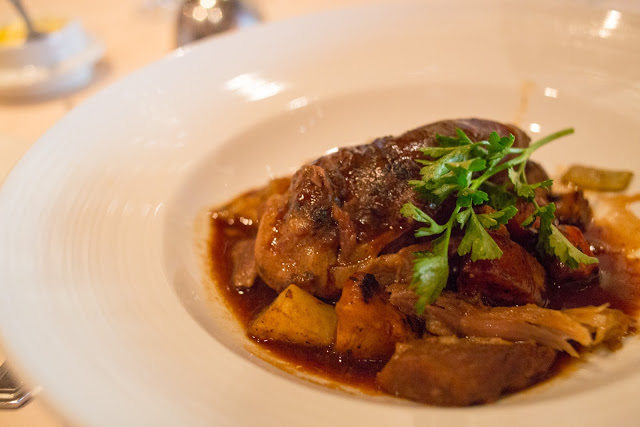 Braised lamb shank in a red burgundy gravy, with root vegetables and potatoes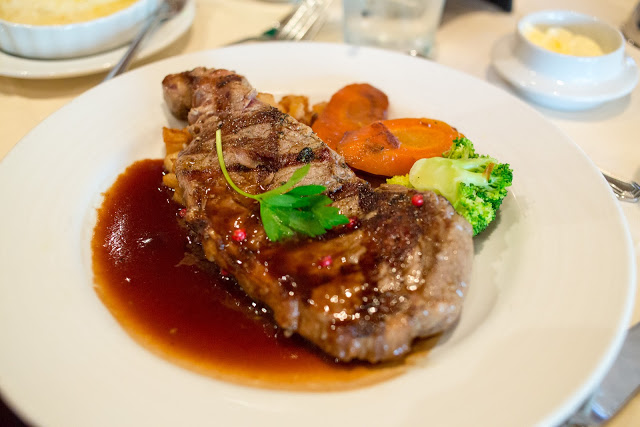 Grilled porkchop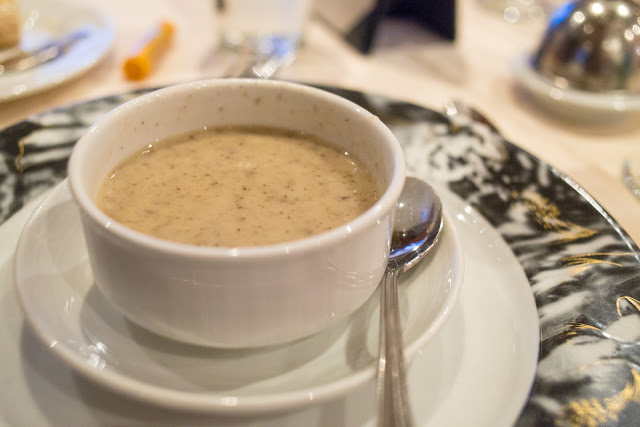 Mushroom soup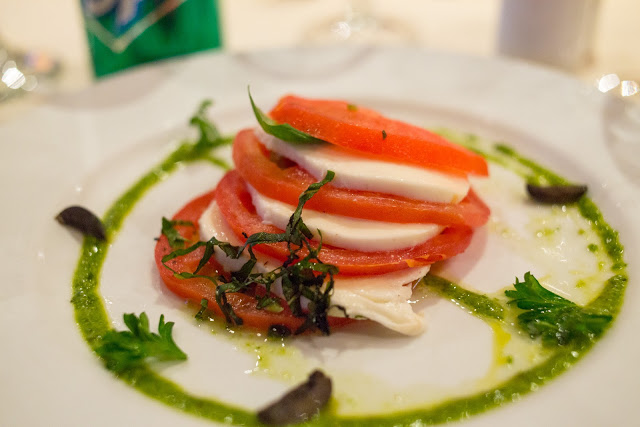 Caprese salad
This next beauty was a surprisingly delectable vegetarian pot pie, one of their specials. It was definitely not vegan though because it was oh-so-cheesy.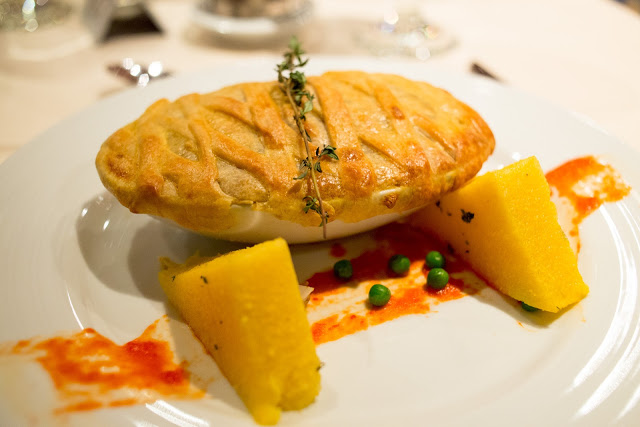 Vegetarian pot pie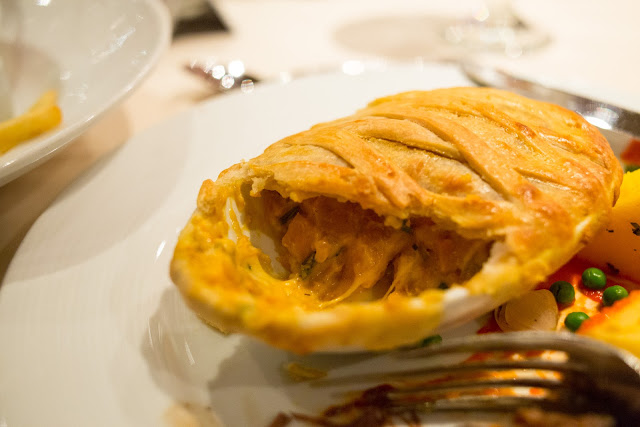 Vegetarian pot pie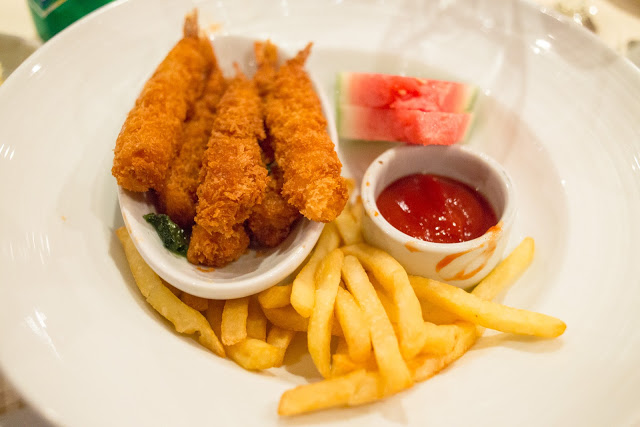 Fried shrimp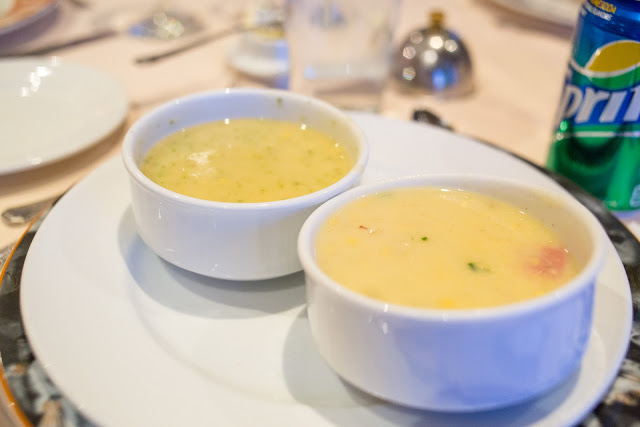 Michael couldn't choose among the soups of the day, so our server got him both.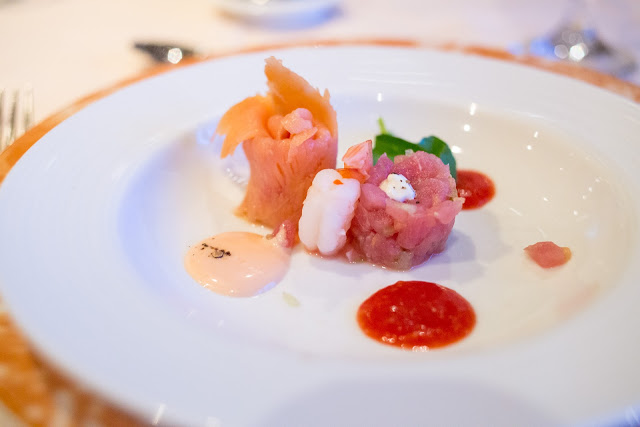 Sashimi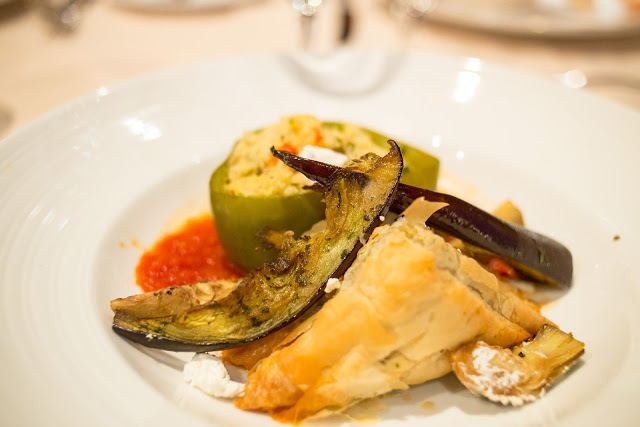 Spanakopita and stuffed pepper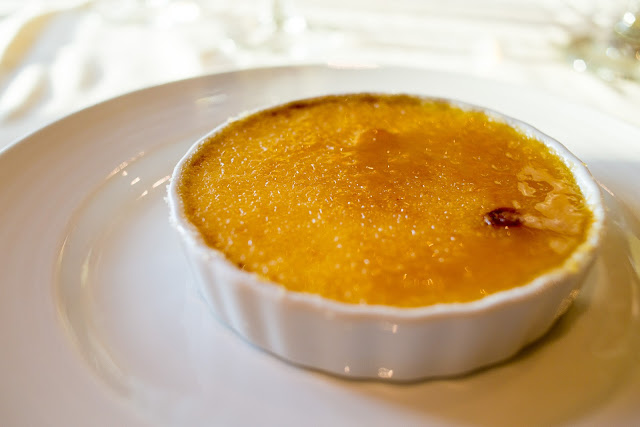 Creme brulee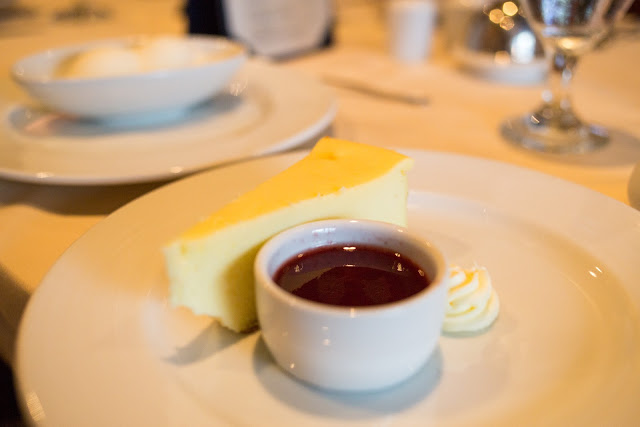 Cheesecake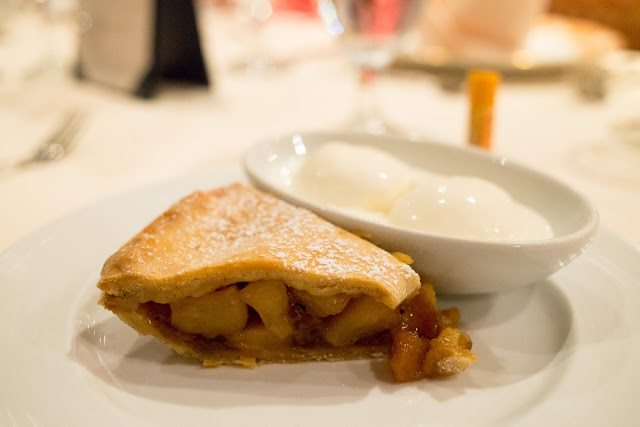 Apple pie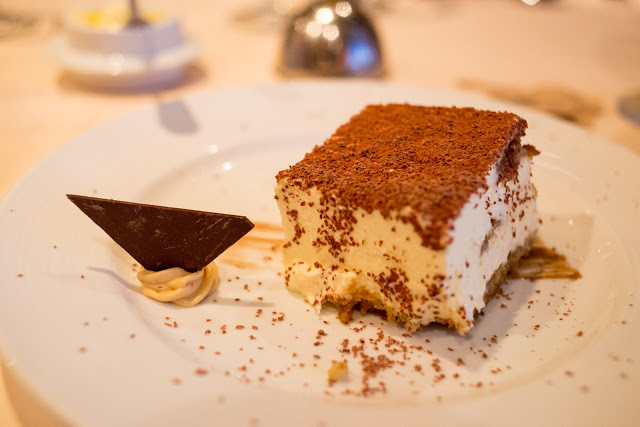 Tiramisu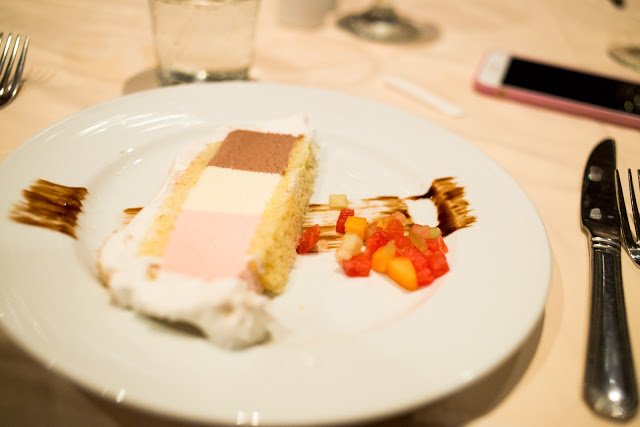 Baked alaska. Something I've always wanted to try due to the Sims video game haha!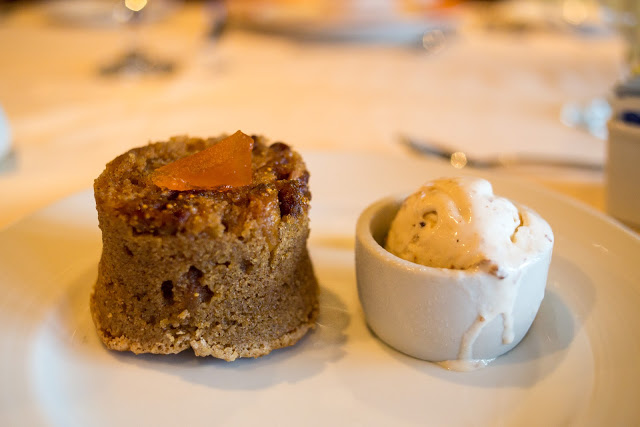 I believe this was a date cake. I remember being wowed by it.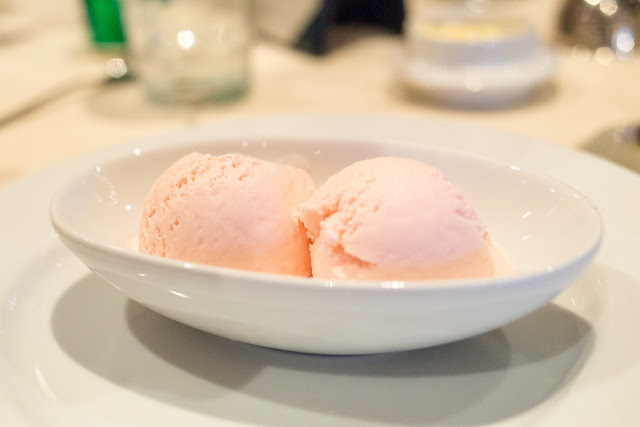 Strawberry ice cream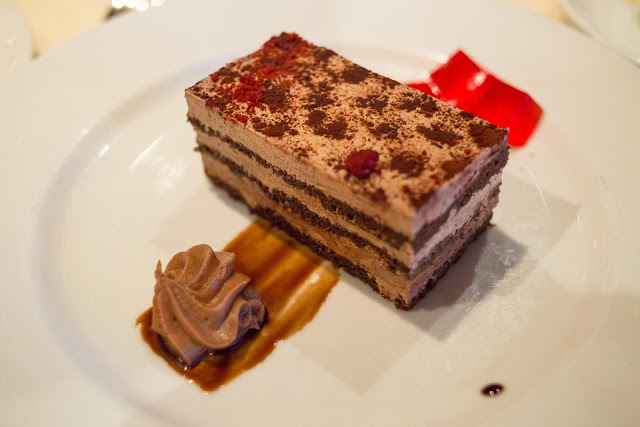 Low calorie chocolate cake (lol!) – to be fair their low cal desserts were surprisingly decent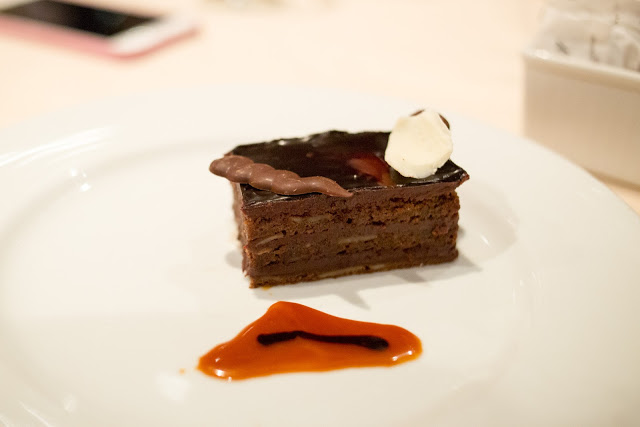 Opera cake
And I guess I shouldn't forget, some of our dinner outfits :P.
And the view from our usual table.
Specialty Restaurant – Steakhouse
Last but not the least, I should probably talk about their specialty restaurant – Steakhouse. Most large cruise ships will have one or more of these for the more discerning palate. For a fee ($35 for Steakhouse), you will get an appetizer, a salad, an entree, unlimited sides, and a dessert.
In all honesty, this meal wasn't that much better than what we'd had at the main dining hall, but the ambiance and the food were all perfect. It's definitely a lot more conducive to a romantic dinner than the main dining hall, if that's what you're going for. If you have the budget for it, it's worth the additional fee!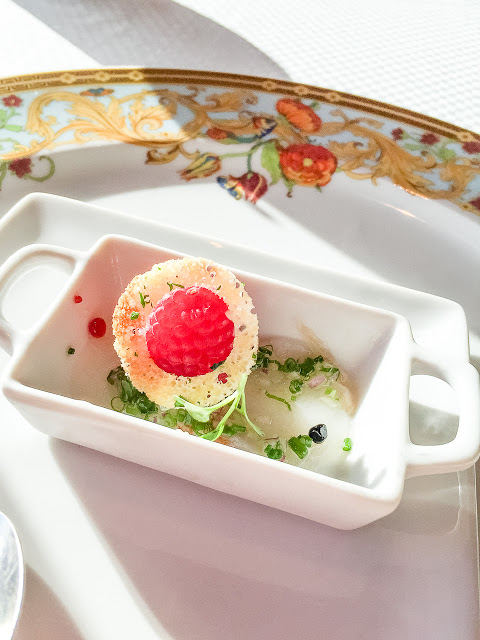 Amuse bouche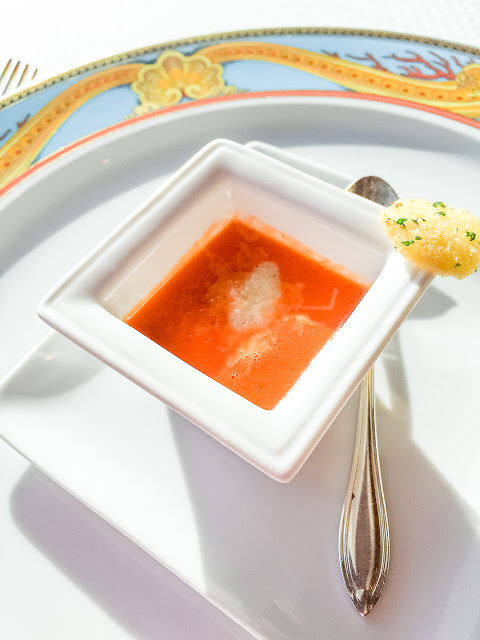 Yet another amuse bouche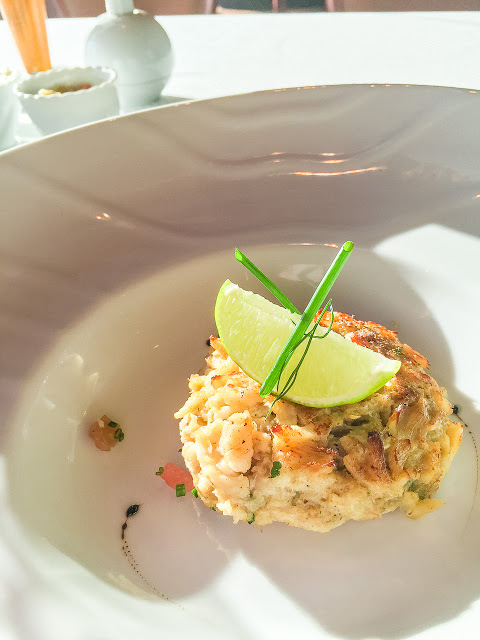 Crabcake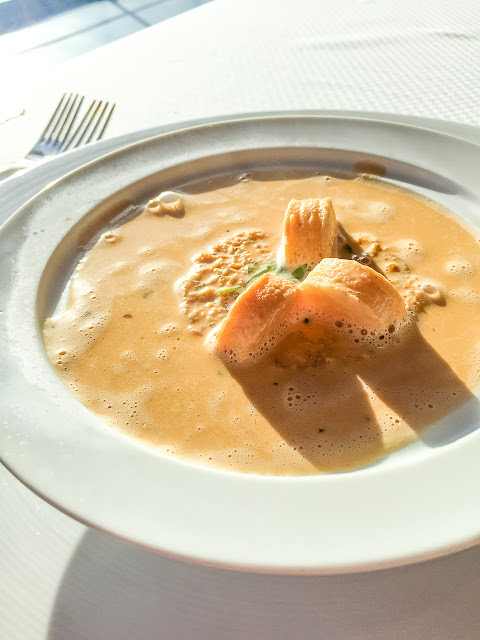 Lobster bisque with vintage cognac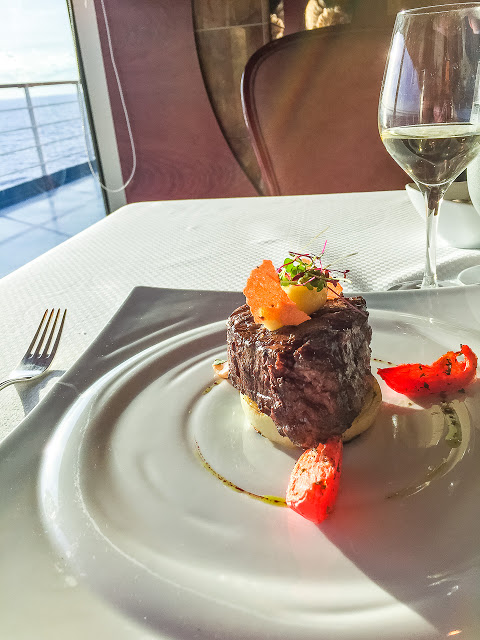 9 oz broiled filet mignon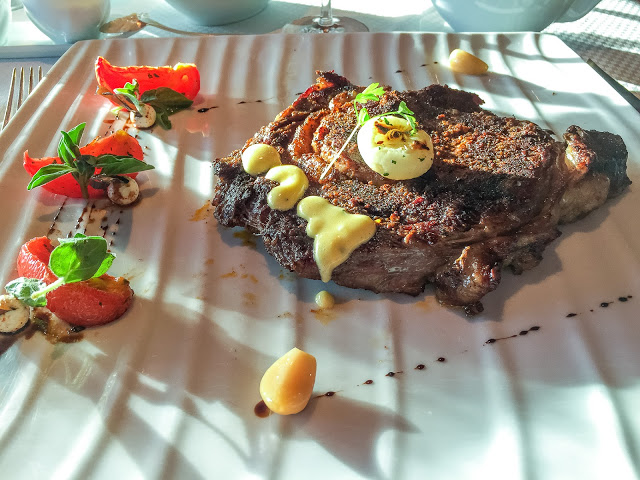 18 oz spice-rubbed prime ribeye steak with bearnaise sauce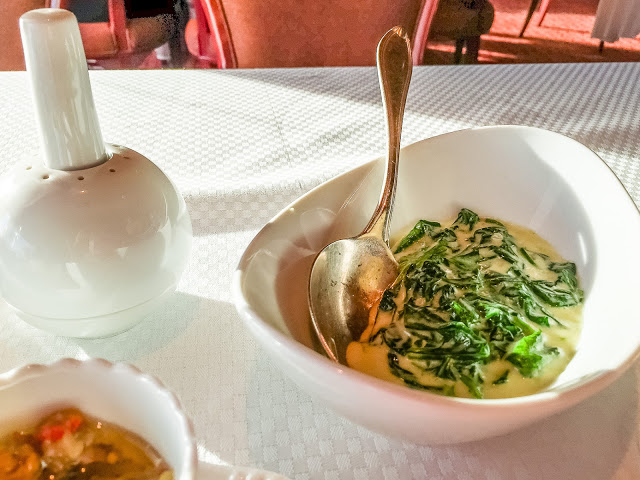 Creamed spinach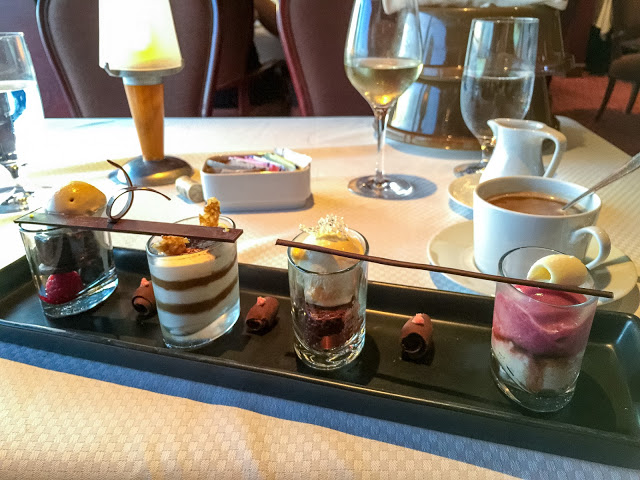 Chocolate Sampler – Bittersweet Chocolate Cake, Banana Pannacotta,
Tiramisu and Chocolate Marquise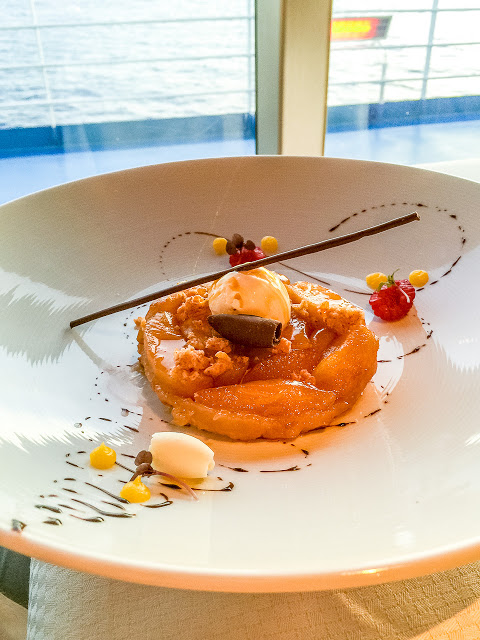 Caramelized Washington apples
So, still with me? Did you already go for a snack (like I did while writing this post)? If you made it this far, it looks like you might be into this whole cruising thing. Or, you could be thinking "Did you really just eat everything in sight that entire time?". Yes, we did a lot of eating, but I still haven't told you about the best part of cruising: shore excursions! I've decided to split those posts by port, so if you're interested, check back next week!