We were already having an amazing time halfway through our day in Kyoto, and still there were plenty more sights to see.
Tofuku-ji Temple
Kyoto is known for its many, many temples, and we were mostly there to hit a few of them. So our next stop on our crazy Kyoto day-trip was another temple, the Tofuku-ji temple. This is a zen temple know for its autumn colors. Alas, it was at the peak of summer that we went, so we mostly enjoyed the architecture and the greenery.
Our guide immediately brought our attention to the 22-meter tall Sanmon gate, which is the oldest Zen gate of its kind.
I can also vaguely remember our guide talking about a very old looking structure that served as a lavatory, where they trained monks by teaching them to control their bodily functions. This may or may not be correct, but I do have some photos of the structure.
Also notable was the Tsutenkyo bridge. There were several photos of it in autumn, when the maples leaves paint a fantastic scenery, but again, we were there in the summer, and it was all green
The rest of the temple was somewhat of a blur to me, but nonetheless still beautiful.
Kamo River (Duck River)
On our way to our next destination, we passed by the Kamo River in Kyoto. The river is interesting in that many, many structures are built on stilts alongside it, and you can see several couples (or friends) hanging out and lying down on its banks. Our guide told us the structures are all bars and restaurants, and that Kyoto actually has a very interesting and lively nightlife along the river (which we sadly could not witness due to the fact that we were leaving that night).
Gion
Our next stop was Gion, known for being Kyoto's geisha (locally known as geiko) district. The area is dotted with tea houses, in which geikos still entertain patrons with music and games. It is also home to geisha training houses, where the maikos (geikos in training) are trained.
Since we were getting there at an awkward time, we only saw a few geikos and maikos, and mostly saw young women dressing up as geikos for the experience (and likely the photo ops).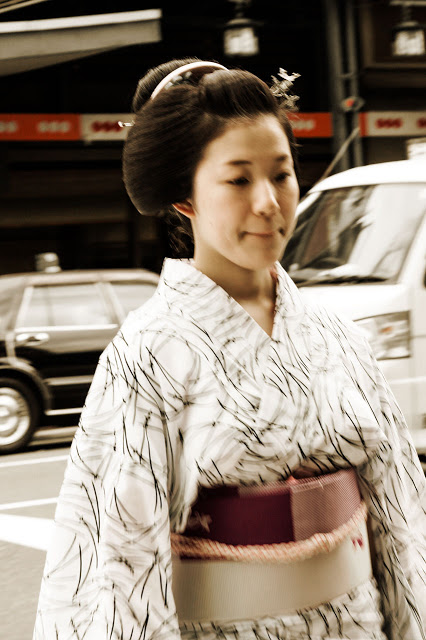 Our guide indicated the woman in the picture was a Maiko – Geiko-in-training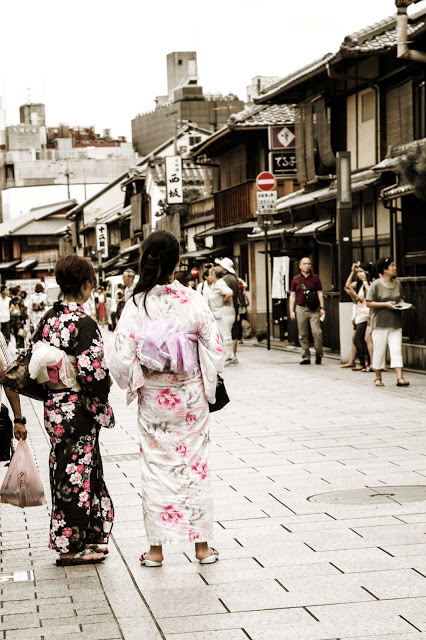 Tourists dressed up as geisha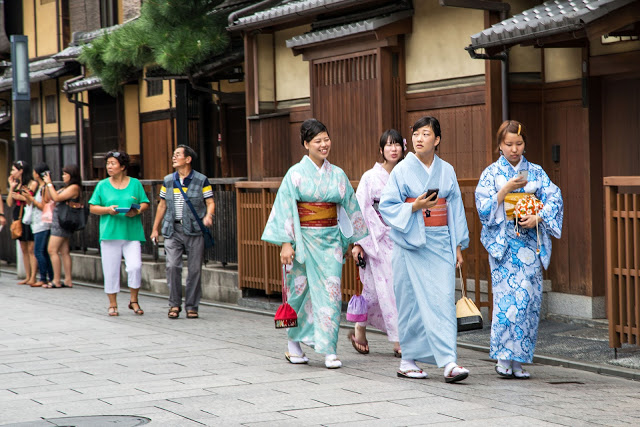 Tourists dressed up as geisha
Tenryu-ji Temple and Arashiyama Bamboo Grove
Our next (and last, boohoo) stop was a combo of the Tenryu-ji temple and Arashiyama bamboo grove. The bamboo grove is accessible from the temple, so it makes sense to do both.
The Tenryu-ji temple is another Zen temple known for it's beautiful, sprawling gardens. Our guide noted to us that the design of the garden was a good example of shakkei (borrowed scenery). The surrounding mountains are perfectly incorporated into the design of the gardens.
Exiting the temple from the north gate will bring you to Arashiyama's bamboo grove. This was probably my favorite part of this entire trip. Already huffing and puffing from rushing around Kyoto, I didn't think I could get any more breathless, but I did. There's a quiet beauty that permeates through everything and everyone in this forest, which had even toddlers speaking in hushed whispers, despite there being no written sign of any kind to be quiet. It feels like being transported to another world or time, and is truly a once-in-a-lifetime experience.
Our last stop, quite fittingly, was a little shrine at the end of the grove, with a few adorable, and one very lovely prayer from a stranger.
Back at the Kyoto Terminal, we went hunting for some train food. In true Ash/Michael fashion, we bought a half dozen doughnuts from Mister Donut (my favorite donut shop as a kid). If you don't remember, we had the same meal at some point during our South Korea trip, and did not regret it one bit.
Back at our hotel, we discussed our many, many options for dinner in the area, and I decided I really needed to satisfy my hankering for takoyaki (octopus balls). We stopped by a little shop for okonomiyaki and takoyaki shop that was completely filled with office workers having a night out with their officemates, and ordered takoyaki and yakisoba. We figured you couldn't go wrong with a shop frequented by tired and hungry.
Michael, who as you probably already know is a huge fan of chicken and pork cutlets, was drawn to a little fast food place called Coco Curry House by photos of fried cutlets drenched in curry. That quickly went into our little dinner pile as well.
And finally, for dessert, we had the Paris-Brest from Henri Le Roux. A lovely end to a beautiful day. Kyoto will be missed.