Our second day in Tokyo was spent eating and shopping, starting with the meager but delicious free breakfast at our hotel, which consisted mostly of various sweet rolls, plain yogurt, and yogurt toppings.
We headed over to Shibuya for some shopping and lunch but couldn't find a single one of the stores we were looking for (directions are hard in Tokyo y'all, despite having a myfi!), so we ended up at the Tokyu Toyoko Store restaurant level when we decided we were too hungry to figure out a specific place to go.
Shibuya
Tokyu Toyoko Store Shibuya Station, 9th Floor West Building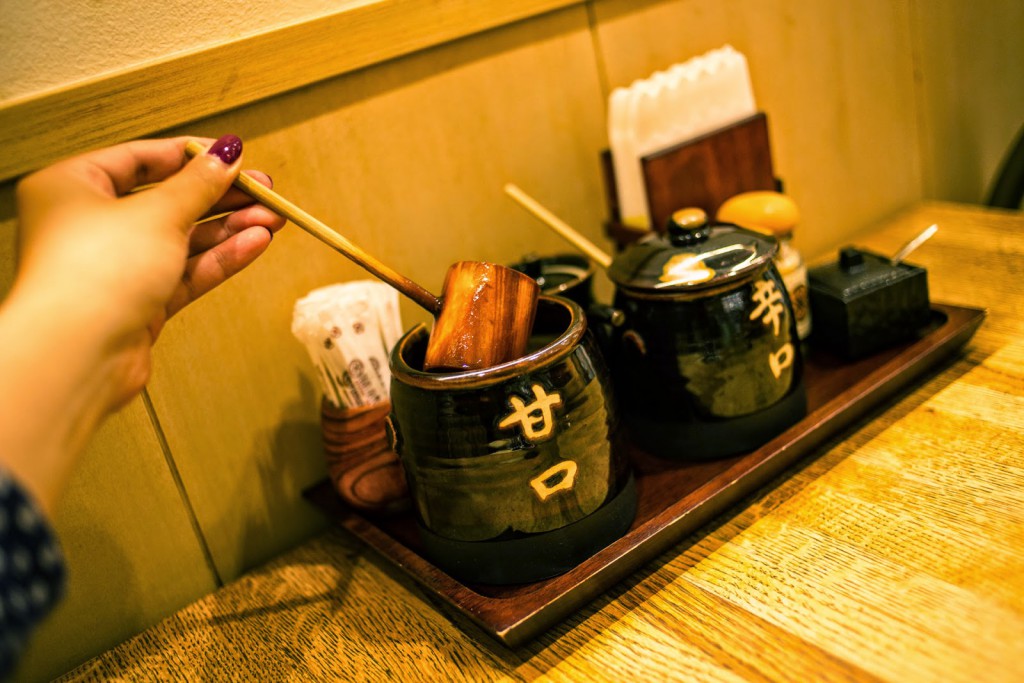 Tonkatsu sauce at every table
Michael got the regular pork tonkatsu with some kind of gravy and a few sides. It was crispy but not greasy, perfectly made.
I had an oyakodon (chicken and egg rice bowl), which was excellent. It was soaked in delicious broth, and I very quickly devoured it. I was also a big fan of the mochi cubes that came with the dish. It tasted like it was topped with powdered molasses, or something similar.
Tokyu Toyoko Store Shibuya Station, B1
2-24-1, Shibuya, Shibuya-ku
Free of hunger, we were then able to walk around the Toyoko store through the various levels, but I didn't get rid of my photographer shyness until we got to the Tokyu Food Show in the basement level. I just could not contain myself. My first glimpse of the now trendy specialty food areas in the basement level of malls in Tokyo was probably one of the most exciting moments of my life. I'm not even kidding.
Despite how many adorable pastries there were, these little cheesecakes and chocolate cakes were what I went for first. They were sooo good and one of the treats I wish I'd brought home. The chocolate cake was a cross between a regular cake and a fudge brownie. The cheesecake was a cross between a cheesecake and a blondie. Unfortunately our haphazard itinerary meant I wasn't able to come back to the Tokyu Food Show to get more of these.
We went for the egg pudding in eggshells next. They were labeled oeuf pudding (if you haven't done like, 5 minutes of Rosetta Stone French like me, oeuf means egg in French). They were pretty standard (but delicious), I'll admit. But they did come in a few flavors like strawberry, mocha/coffee, and chocolate.
One of the things I love about buying food in Japan is that their packaging is usually top-notch. This was most evident in their food. Most of the cakes/pastries were wrapped up with dry ice, and little plastic forks so you can eat them on the go if that's your jam.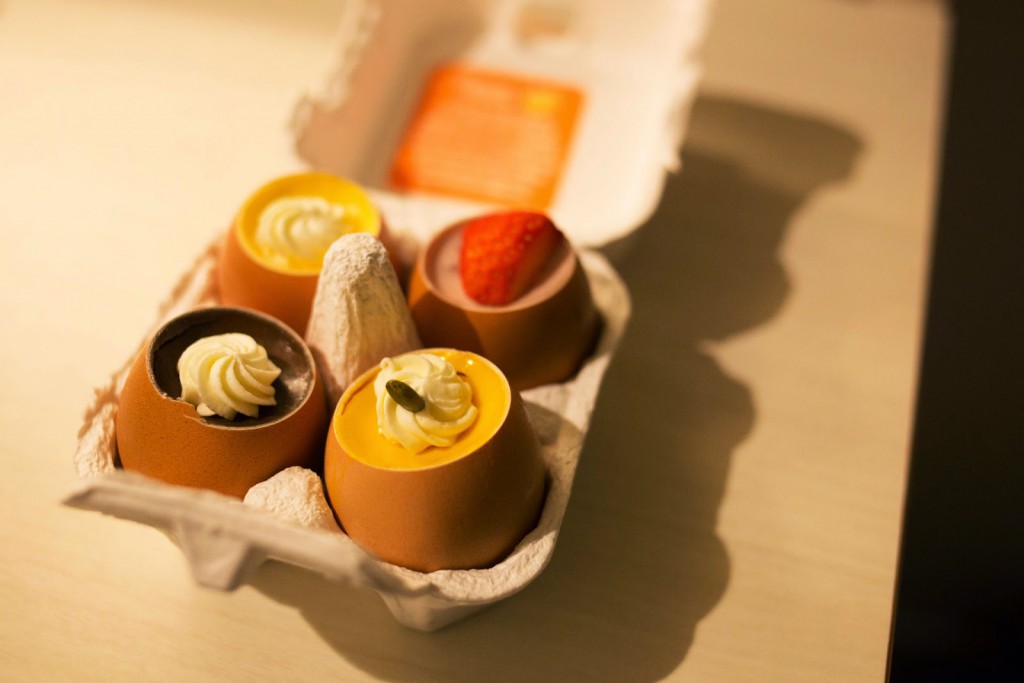 Oeuf Pudding
I was immediately drawn to this chestnut cake next. I recognized it because I see it a lot in Japanese bakeries in NYC.
I ate it for dessert when we got to our hotel that night. Mike had a tiny bite, but in general he isn't into "strange" desserts, so he let me have the rest. This was my first experience of what turned out to be the norm for Japanese cakes. They all look fairly complex to make, always with several different layers of flavor/texture.This one had (from what I could gather) chestnut cream, whipped cream, cake, and even a little surprise berry in the middle, and it was as tasty as it was pretty.
It wasn't all cakes, though. They also had a lot of fruit-based desserts that were decorated so beautifully that they weren't any less enticing.
One of my deepest regrets from our visit to Japan, other than not being able to stay there for a month to spend a lot more time in Kyoto and visit Osaka, was that I was not able to bring home more of these honey bear cakes. You're probably thinking "what?!?!". But seriously, these were so good I basically finished the entire box the minute I opened it. I guess I would describe them as similar to the honey spiced madeleines by Dorie Greenspan, but soaked in even more honey. Plus they look like bears. 🙂
I took some time to peruse these round, gourmet chocolates with a good variety of flavors and designs. These make more sense to me than the chocolate bars found here, because they are a lot smaller (would probably fit in the palm of your hand), so they each can be enjoyed in one sitting without having to "wrap it up for later". I have no idea why I didn't buy any. Perhaps I was already guilty from having bought so many, knowing I would find more treats to buy later in the trip.
Mike bought some cookies from a place called Andersen, so I bought a few that were shaped like a pig, pandas, and a lemon (I'll post these next time, because I had them for breakfast the next day).
After Shibuya we went back to the hotel for a bit since we needed to plan what to do next for a day. We were supposed to be heading over to a ryokan (a hotel with hot springs) in the Mt. Fuji area by train for the night, and the train was leaving from Shinjuku station, so we headed over there after a bit of a rest.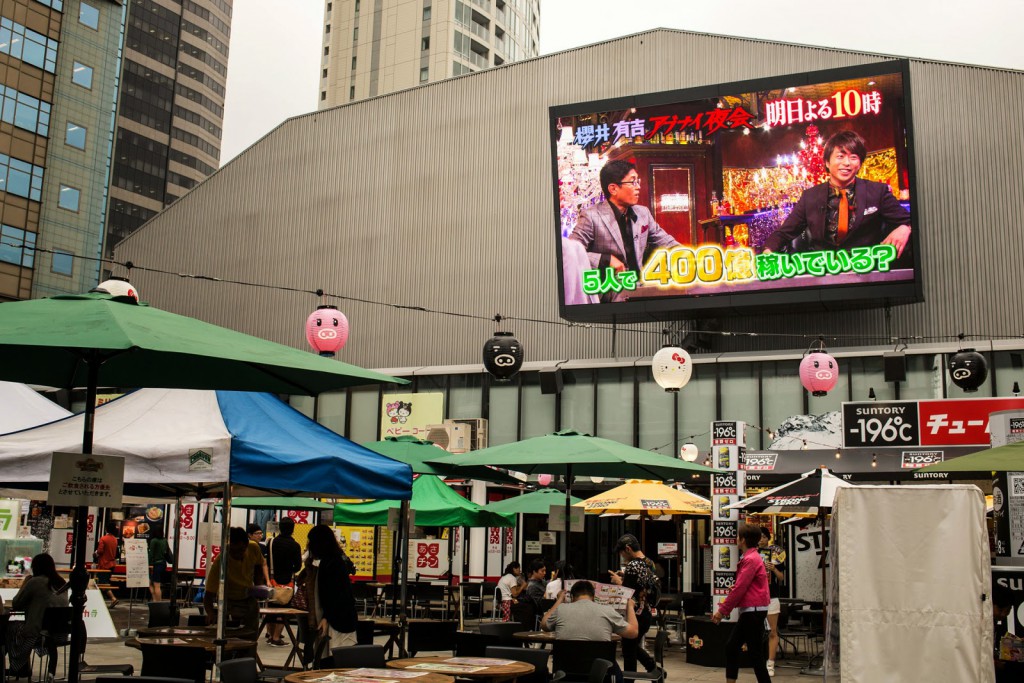 By the Akasaka station near our hotel
Shinjuku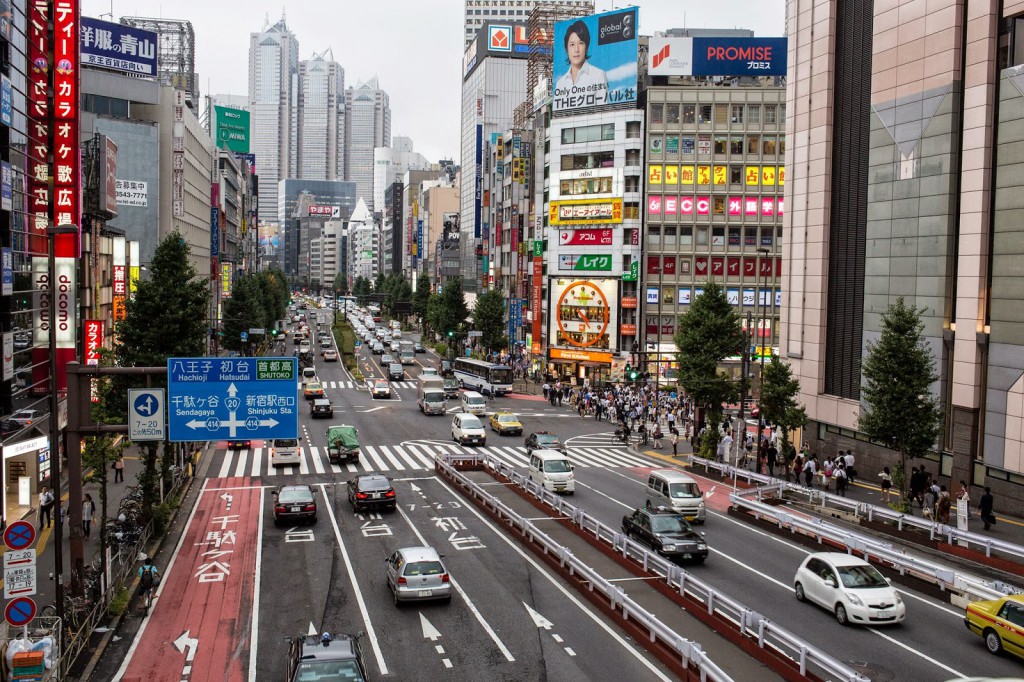 View from the overpass outside Shinjuku Station, Tokyo
We ended up completely missing our train. (There are at least 4 train lines in Tokyo, it's confusing y'all.) So, we sulked a bit at the Starbucks right in front of the Shinjuku station, and I revived my spirits by having a grande matcha frappuccino while Michael had a pastry (I don't remember what exactly, it was probably a scone). It was actually rather pleasant at that Starbucks. There was outside seating and there were people passing by on their way to other places. Also it looked like a scene from a JDrama I saw could've been filmed there, but I'm not quite sure which one.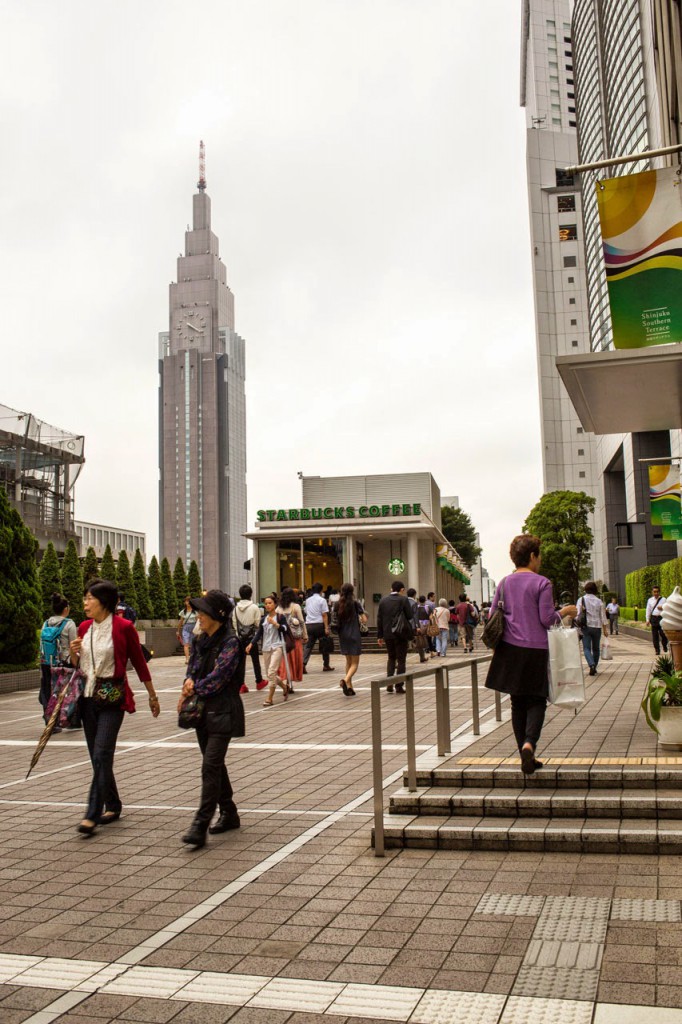 A Starbucks in Shinjuku
Shinjuku, Tokyo
I should probably write about Gontran Cherrier also, which was in the same plaza as Starbucks in Shinjuku. We'd noticed this bakery back then, but we didn't try the food there until the morning before we flew back to NY, and I'm not writing about that day since all we did was get lost then eat a bunch of bread and do some more shopping (balanced that out pretty well).
This chain is (obviously) originally from Paris, but like all the other European-style bakeries in Japan, they made it their own by adding quite a few fusion pastries. AND they certainly baked the pastries perfectly.
Their menu online looks very limited online, but trust me they have a LOT more stuff here, and everything was just SO, SO good, like basically every single pastry we had in Japan. Their ham & cheese croissant was probably the best one I've ever had. They also had a fig, bacon, and brie baguette that was simply amazing, and their croissant was fantastic as well as pretty.We also bought a plastic bag of different-flavored dinner rolls (think green tea and squid ink), which we devoured on the plane ride home.
MYLORD mall, 2nd floor, Shinjuku station
Next, we headed over to the MYLORD mall over Shinjuku station to do some shopping to further revive our (or I should probably say MY) spirits. ;P There I found one of my favorite brands ever, Natural Beauty Basic. Another blog has described this brand as a "cross between Gap and Zara (but with better quality fabric, fit and stitching)". I found this to be true (all their skirts and pants have a nice lining, and the sweaters I got from there have certainly survived two seasons of being washed every week), but in addition, their clothes are sized perfectly for petites. There I also found the striped sweater than I proceeded to wear that night (don't judge), and half the coming fall and winter season, among a startling amount of other clothes. (Hey, I had no idea when I would be coming back to Tokyo!)
Shibuya
Shibuya Crossing
After coming back to the hotel for another quick wardrobe change, we headed to Shibuya for some shopping and dinner. We immediately saw the famous Shibuya Crossing as we headed for Shibuya 109. According to Time magazine, this is one of the must-see places in Tokyo.
"When the lights turn red at this busy junction, they all turn red at the same time in every direction. Traffic stops completely and pedestrians surge into the intersection from all sides, like marbles spilling out of a box. You can observe this moment of organized chaos from the second-story window of the Starbucks in the Tsutaya building on the crossing's north side."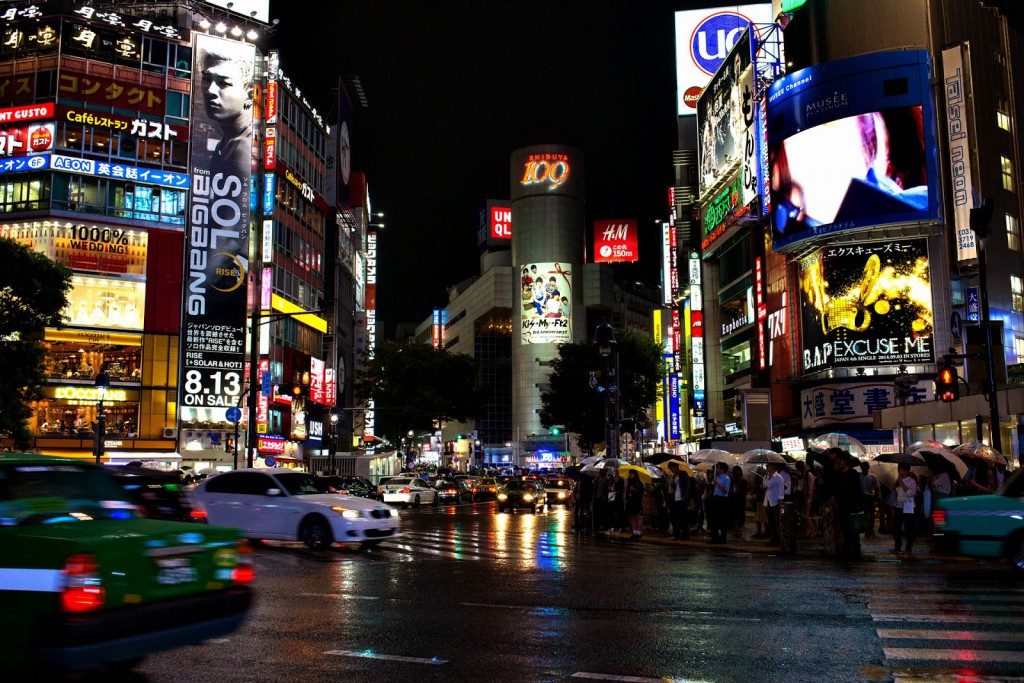 The famous Shibuya crossing and Shibuya 109
2-29-1 Dogenzaka, Shibuya-ku, Tokyo
We didn't go to the Starbucks as suggested by Time, because we had a lot more to see. Our first stop was Shibuya 109, which is known for selling the type of clothes and brands Harajuku girls would wear. I quickly surmised I was too boring, old, and uh slightly chubby for most of the clothes they were selling. If you're young and adventurous in fashion and/or looking for some cosplay stuff, and MOST IMPORTANTLY, thin and petite, this is the mall for you.
I did get some rad eyewear. I bought two aviators, one with mirror blue lenses and one with a white frame and mirror pink/yellow lenses.
And I also bought a pair of old-fashioned frames, which turned out to look exactly like the ones Mindy Kaling wears on The Mindy Project, confirming that she is indeed one of my favorite people on TV.
1-22-7 Jinnan | Iwamoto Bldg. B1F, Shibuya 150-0041
We were completely confused for the first few minutes of our visit. So confused in fact, that I forgot to take photos of most of the experience, so some of these are from TripAdvisor. When you go in, you immediately see a vending machine where you can enter the items you wish to have. It will dispense some pieces of paper for your order.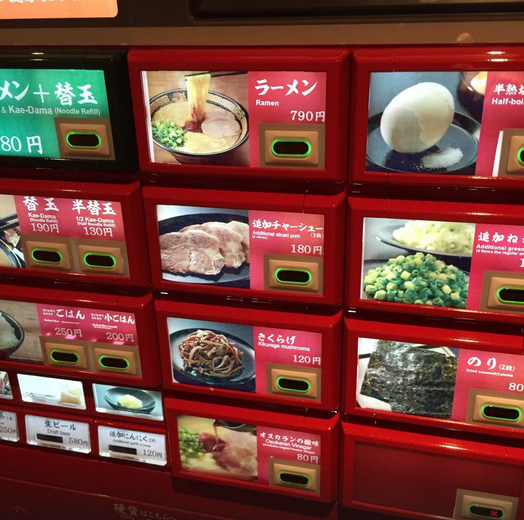 Photo from TripAdvisor.com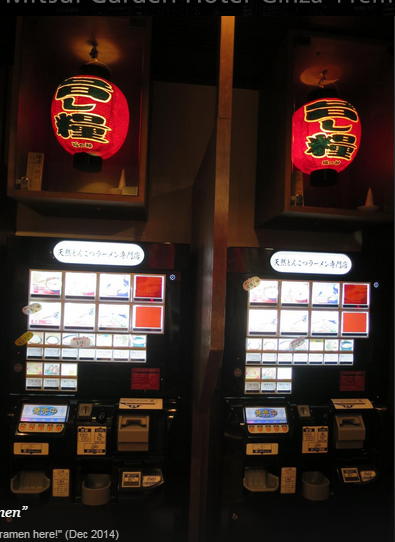 Photo from TripAdvisor.com
Most of the people working there don't seem to speak English, but the vending machine has photos and labels in English and the forms they give you will "teach you" in various ways what to do. They seat you on some benches outside the dining area for a bit and then let you know where you're supposed to go. While waiting, you fill out some information on a form regarding your ramen preferences.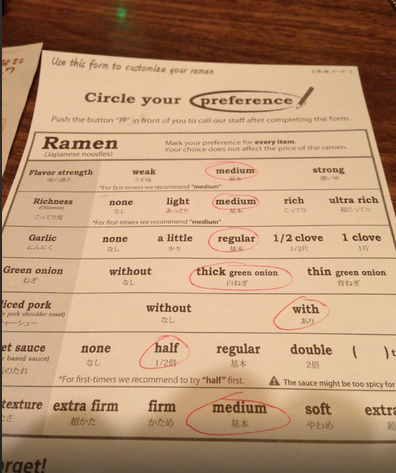 Photo from TripAdvisor.com
Each person gets their own stall to eat at/order from.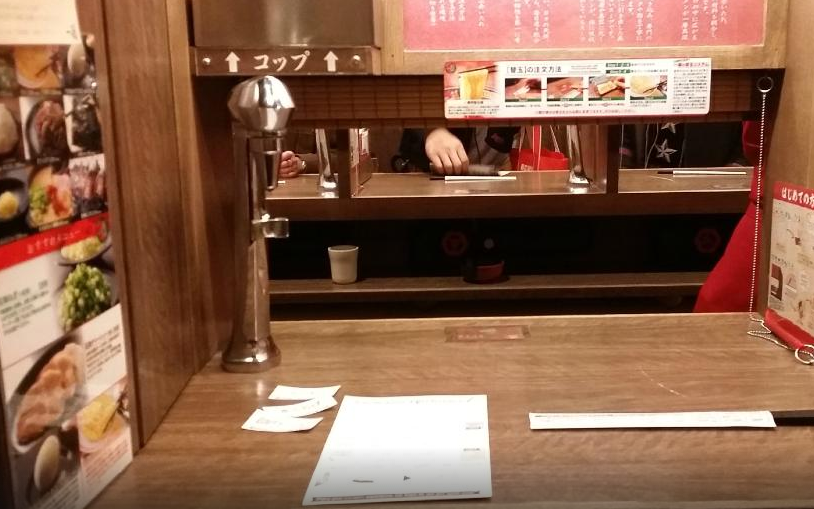 Photo from TripAdvisor.com
The servers will take your food "stubs" and also hand you another form for additional items to order. Apparently, ordering additional items in this manner is called "kae-dama".
After much confusion/fun, we finally got our orders. 😀
According to this site, hakata ramen "features a soup made primarily with pork bones, which are cooked for a long time over extremely high heat. Such a method of cooking releases the bone marrow into the broth and gives the soup its characteristic richness." The noodles are thin and straight, and the ramen is usually topped with wood-ear mushrooms and green onions. As you can see from this photo, that's spot-on.
I ordered mine with slices of pork and a half-boiled egg.
The ramen was delicious and inexpensive, and the experience was a wonderful end to a day of walking, eating, and shopping. I would highly recommend trying this place for the cheap and tasty ramen, as well as the experience.
Shinjuku Gyoen National Garden, Isetan, and Harajuku
Kyoto: Tofuku-ji Temple, Gion, and Arashiyama
Lake Kawaguchiko, Hakone Ropeway, and Teppanyaki