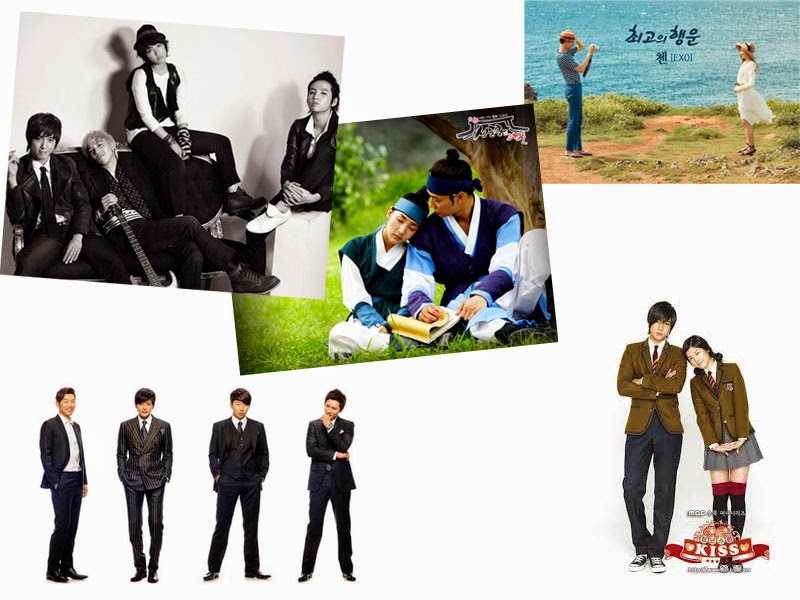 One of my friends recently asked me what my top 3 Kdramas are, and then today I found a Kdrama soundtrack playlist on Spotify with songs from dramas I've never seen. That got me into thinking, what are my top 10, and how many have I actually watched over the years? 

My top 10 have changed over the years (as I slowly outgrew high school dramas), so this isn't exactly definitive, but I was amazed to find out the total number I've seen is a whopping FIFTY SEVEN. Not to mention the ones that I started and didn't finish for various reasons.

I know not everyone is as open about this guilty pleasure/escape mechanism as I am, but I know you're out there, and you know who you are! Thought this might interest you, especially if you're looking for a few to add to your list to watch. I AM ALSO VERY OPEN TO SUGGESTIONS TO ADD TO MY LIST! The first 10 are my top 10 obviously (also the ones I've watched more than once), 11-20 are additional dramas that made me laugh, cry, or laugh/cry a lot, in no particular order, and the rest are in no particular order.
**UPDATED 4/2016: I added some Taiwanese dramas I love, and some more kdramas I've seen. Just thought it would be nice to keep a running tally.**

Finished:
1. A Gentleman's Dignity
2. It's Ok, That's Love
3. Autumn's Concerto (Taiwanese)
4. Bromance (Taiwanese)
5. You're Beautiful
6. Wild Romance
7. Sungkyunkwan Scandal
8. Fated to Love You (Taiwanese)
9. Playful Kiss

10. Love Rain
11. Descendants of the Sun
12. Boys Before Flowers
13. Secret Garden
14. Rooftop Prince
15. Goong
16. Gu Family Book
17. King 2 Hearts
18. City Hunter
19. Full House
20. My Lovely Sam Soon

21. Hotel King
22. Scent of a Woman
23. Queen In Hyun's Man
24. My Girlfriend is a Nine-Tailed Fox
25. My Girl
26. School 2013
27. Baby Faced Beauty
28. Oh! My Lady
29. Mary Stayed Out All Night
30. That Winter, The Wind Blows
31. Big
32. Winter Sonata
33. Take Care of the Young Lady
34. Missing You
35. Heirs
36. You're the Best, Lee Soon Shin
37. Skip Beat (Taiwanese, with Korean actors)
38. Heartstrings
39. Protect the Boss
40. Lie to Me
41. You Who Came from the Stars
42. The Moon That Embraces The Sun
43. Faith
44. The Master's Sun
45. Flower Boy Ramen Shop
46. Greatest Love
47. The King of Dramas
48. Beethoven Virus
49. The Prime Minister and I
50. Panda and the Hedgehog
51. Operation Proposal
52. Oohlala Couple
53. Personal Taste
54. To The Beautiful You
55. My Princess
56. Spy Myung Wol
57. I Do, I Do
58. Lovers in Paris
59. Stars Falling from the Sky
60. Oh My Venus
61. Oh My Ghostess
62. Scholar Who Walks the Night
63. EXO Next Door
64. Cheese in the Trap
65. Meteor Garden (Taiwanese)
66. High End Crush
67. Coffee Prince
68. Oh Hae Young Again/Another Oh Hae Young
69. Iljimae
70. Love O2O (Chinese drama)
Unfinished But Planning To Finish:
Dae Bak
Sensory Couple
Kill Me, Heal Me
Running Man (Technically not a drama)
Doctor Crush/Doctors
Whirlwind Girl (Chinese drama)

Unfinished Because I was Bored or Annoyed:

Goong S/Prince Hours
Pretty Man
9 end 2 outs
Spring Waltz
Autumn in My Heart
Nail Shop Paris
Dream High
Arang and the Magistrate
49 Days
Baker Kim Tak Goo
Good Doctor
Flower Boy Next Door
The Greatest Marriage
Full House 2
Inspiring Generation
Hong Gil Dong
Marry Him If You Dare
Can't Lose
Painter of the Wind
Bubble Gum

List to Watch:
Iris
East of Eden
Empress Ki
Shining Inheritance
All About Eve
Angel Eyes
Pinocchio
Please Come Back, Mister
One More Happy Ending