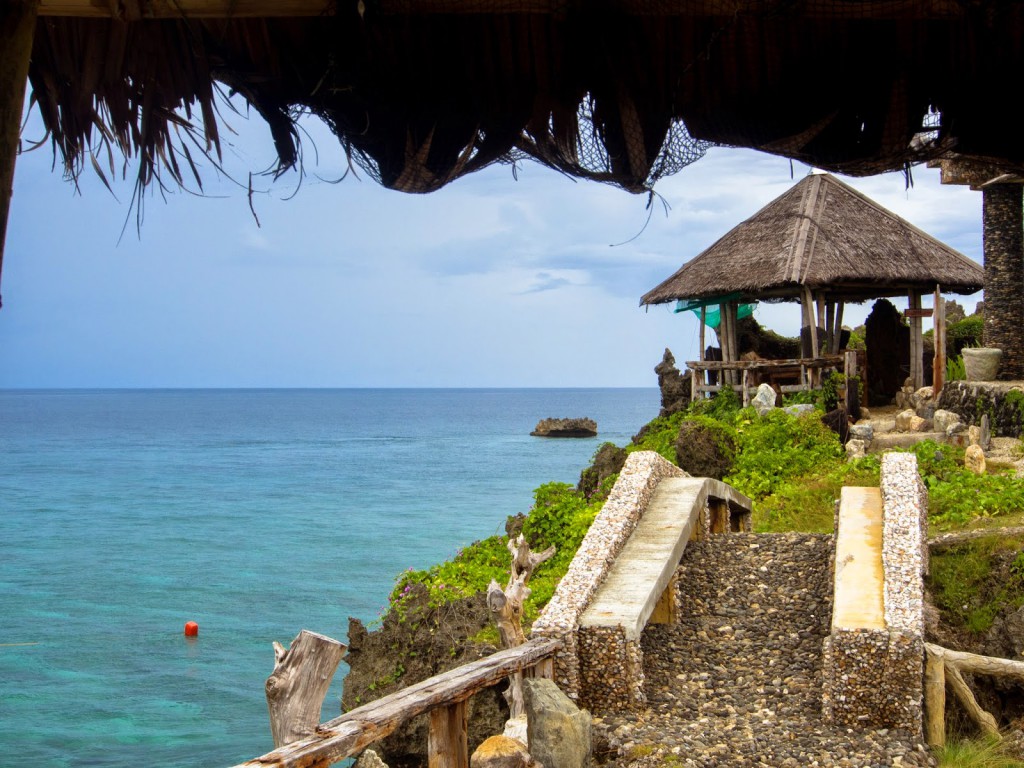 Today was a lots-of-cream-and-sugar-in-my-coffee kind of day. This usually follows a dessert-for-dinner kind of night (which I guess is a happy night). Sugar really is my drug. The more I have it, the more I can't seem to live without it. So, on this dreary and lazy day, I was daydreaming about the warm sands, blue skies, and crystal clear waters of Boracay.
My favorite parts of this year's Boracay experience were definitely the three days of island hopping we did. It might seem redundant to keep doing island hopping adventures for three days, but these are all very different experiences, and each are worth a try at least once. I felt like a bit of an idiot after doing them actually, because I just then realized that a lot of the seemingly unique things I've seen elsewhere in the world, like the endless number of grottoes of Capri, and the cliff-facing huts of Jeju island, can be found right in Boracay, I just hadn't bothered to make the effort to see them before.
Our first island-hopping adventure was wonderful, although if you're a scuba-diver or have had very good snorkeling experiences before, this would probably be the one to skip.
We booked the tours through the
My Boracay Guide
site (it was fairly easy, and I live in NYC). I'm sure you can get tours that are a bit cheaper if you are willing to risk not getting a spot and want to haggle when you're there, but if you're not, I would say booking through that site is the easiest way to go.
It was gloomy when we set off on the first day. We were picked up from the Diniview Sands Villa (which I will post about later) by our guide. We were brought via a multicab to one of the port beaches (there are at least two, but I unfortunately have forgotten their names). Our first guide's only job was to bring us to the boat (it's the same for all the island hopping activities booked through My Boracay Guide). We were met by two boatmen when we got there, and they had us sign waivers for the tour. We had to wait a few minutes here because there were a lot of people signing them, and then we were off!
It took a bit of time for us to get to where we were going, and they anchored us by Crocodile island. A few minutes after anchoring, a guy selling coconuts sailed by us, and we each bought one to drink before snorkeling.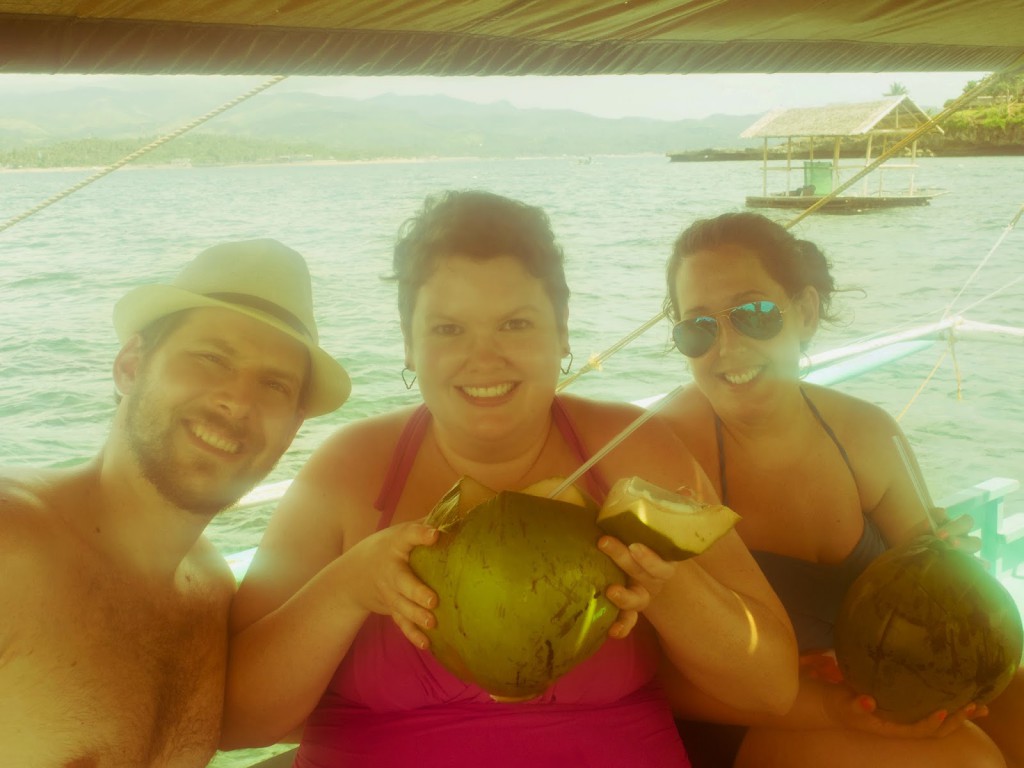 At this point, you can probably tell my lens had fogged up and was beyond hope.
Unfortunately, I wasn't equipped with an underwater camera during this trip, so I can only show you photos of us (c/o our apparently trustworthy boatmen) from the boat. I wish I'd planned to take underwater photos, because it was such a great snorkeling experience. I could hardly believe the quantity and variety of fish and coral that we were able to see. We were all surrounded by different types of fish AT ALL TIMES. I'm not really a "serious" diver, so I'm sure there are plenty of other better places to go in the Philippines, like say Coron or El Nido, especially if you're a scuba diver, but if you're simply there to look at ANY marine life and happen to be in Boracay, this is a good place to go.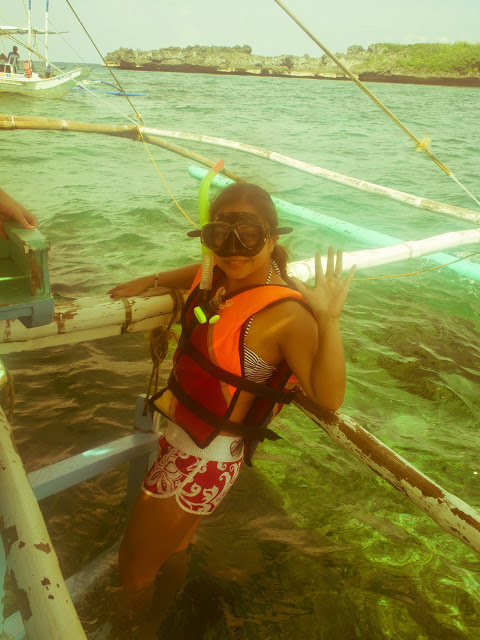 I'm ready!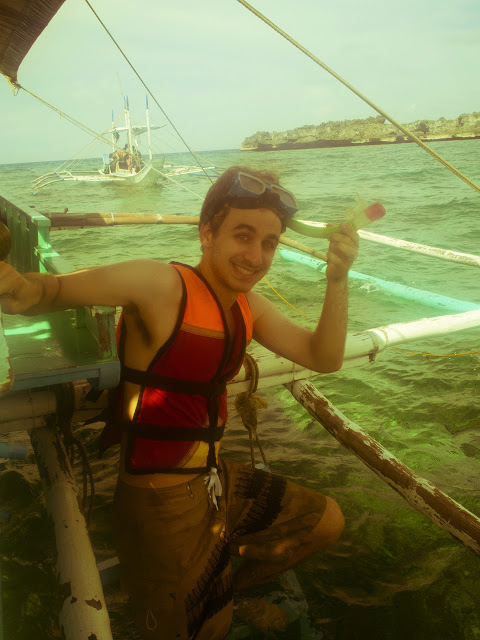 Mike's ready!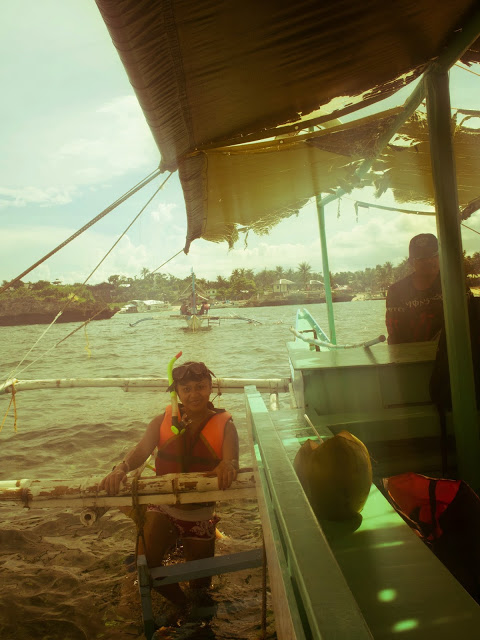 Finally done with snorkeling, and ready to eat!
After snorkeling, we were taken to a restaurant that seemed to service only people coming from island hopping tours for lunch. It was simple fare of crab, menudo (not sure about this, but it was pork with a tomato-based sauce), pancit (Filipino stir-fried vermicelli), chicken skewers, stir-fried cabbage, rice, mangoes, pineapples, and bananas.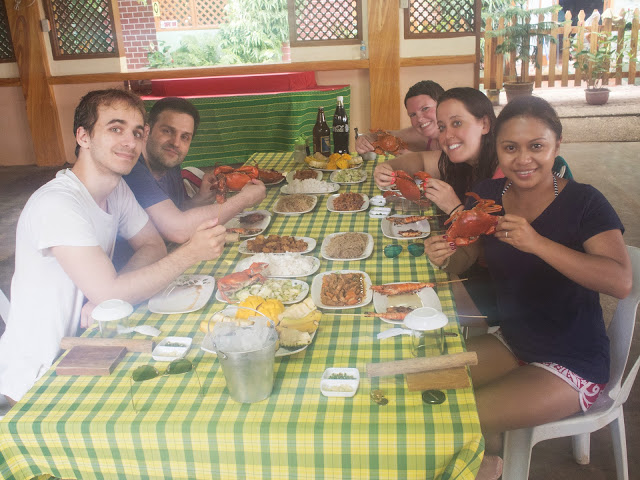 That's me with the crab and the sun-kissed (or sun-smothered?) skin.
After lunch, there wasn't enough time to do anything else really, so we were taken to Puka Beach, which was our last stop before heading back. People make a big deal of this specific beach, and I've been there several times, but I've never thought much of it. I guess there are a lot less people on it than at the main beach, and there are some nice shops to buy beach jewelry, but the beach itself in my opinion is not any better than Diniwid Beach or the private beaches of Shangri-la. If you want real evidence of how underwhelmed I am by Puka Beach, here's my single photo of it :P. I guess it didn't help that it had already gotten pretty dark by the time we got there.
Despite this, our tour ended on a good note and we were definitely ready for more adventuring the next day.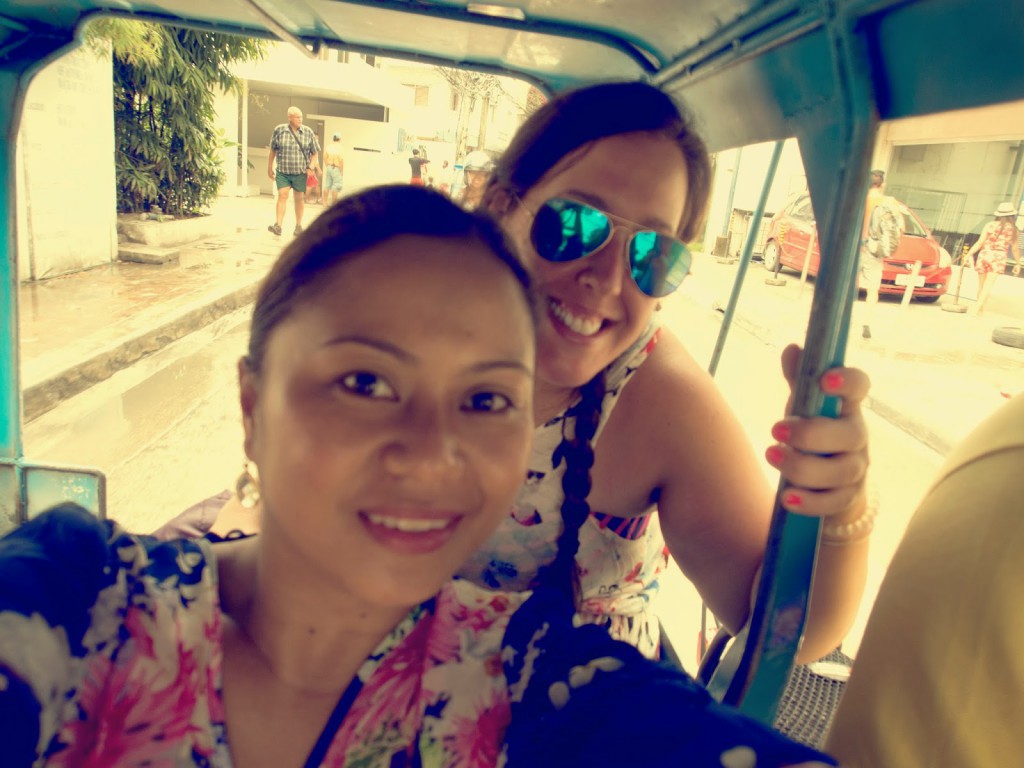 Heading back out for another tour, this time on tricycles.
It was a lot sunnier on our second day of adventuring. We spent most of it on Crystal Cove, which is probably my favorite little island to visit around Boracay.
Crystal Cove reminded me so much of Jeju Island in Korea. Jeju is of course much bigger and has so much more to see, but the my favorite part of Jeju, which is hiking across cliffs overlooking the water, can be simulated on a smaller scale at Crystal Cove.
Swimming in and around the three caves on the island is also a really cool and unique experience (this part for me was reminiscent of Capri in Italy). Ask your guide for a life jacket if you can't tread for too long in the water like me, otherwise you won't be able to experience this as you should. Also note that the waves can be pretty intense around the caves, so make sure you don't wander off too far if you're not wearing a life jacket. My companions and I had a few moments of panic when we realized we were being hauled by the current too far from the mouth of the cave, and it was extremely exhausting to swim back against it.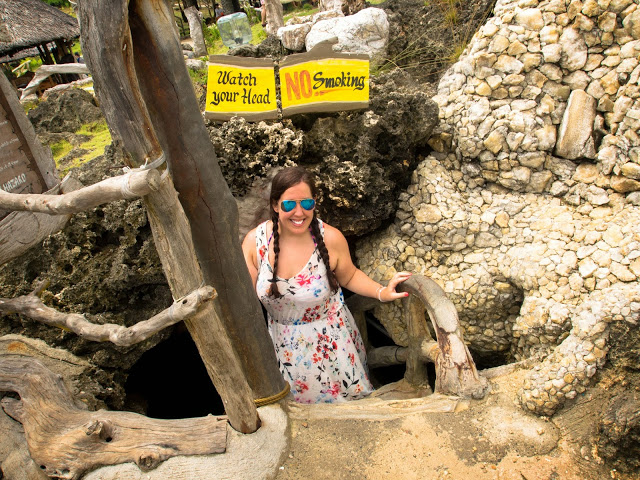 Kim entering one of the caves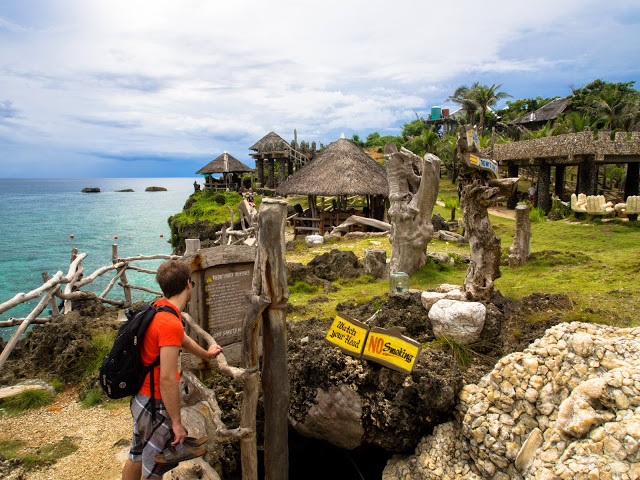 Mike looking into the opening to the cave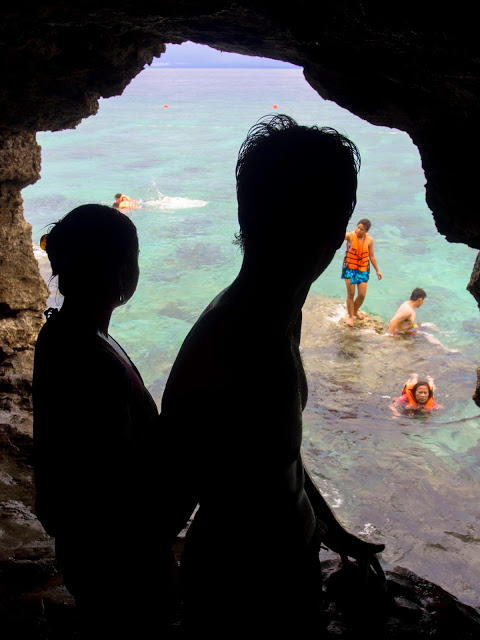 Mike and I, done with swimming.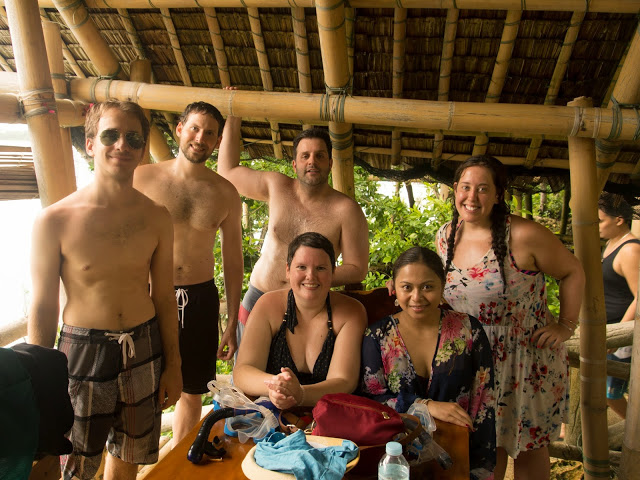 Resting before the next cave.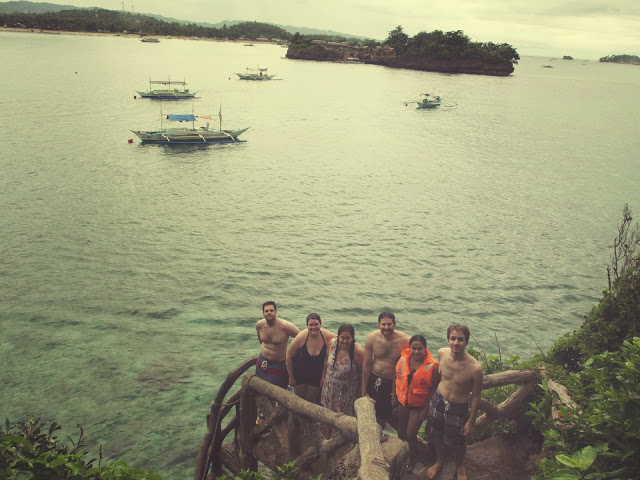 Going into the second cave
If you don't want to go for a swim, just hanging out and taking in the beauty on the island will definitely suffice. My one regret about going to Crystal Cove is that I wasn't able to spend enough time taking photos (also I ran out of battery charge on my camera, so keep yours charged fully everyday).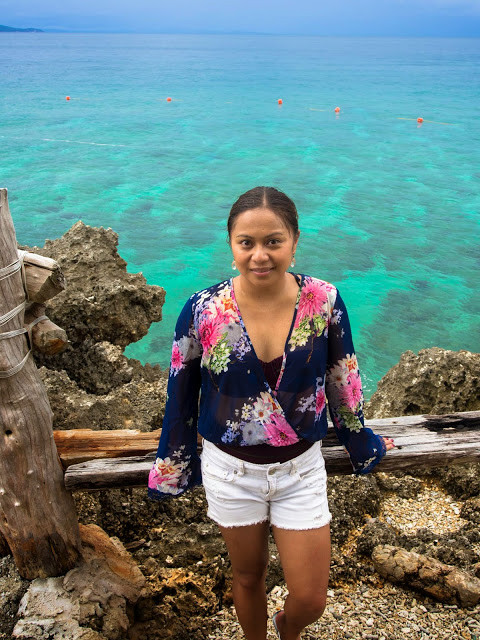 Me.
You can even see one of the islands being used for cliff-diving from Crystal Cove. If you're adventurous, this might be something up your alley.
Before heading back to the main island, we were given a late lunch of shrimp, roasted chicken, egg drop soup, mangoes (you're going to eat a lot of these if you do all the possible island hopping activities), and watermelon. There are slight differences in the lunches offered during the tours, but they are all simple but good food, almost Paleo-friendly if you don't have any of the rice. 🙂
After lunch, we were exhausted and ready to call it a day, at least for the tour.
We'd only spent a few hours at Crystal Cove, but they were truly unforgettable, and I truly wouldn't mind coming back someday.