On our latest Cape Cod adventure, we decided to stay in Eastham to be closer to Provincetown and explore the areas of the Cape we don't usually hang out at. We also brought along our guests Jules and Kent, who were visiting from the Philippines. We rented an adorable two bedroom cottage thanks to AirBnB. We drove in on a dark and misty Friday night after work, and had to blare songs from "Fun." to keep Mike awake enough not to drive us off a cliff. We were also concerned that the owners would not be around to give us the keys, but we were assured that they would leave the front door open and the keys on the table for us to be able to roll in whenever. I discussed with my sister how amazed I was at the notion that people would just leave their house open and unattended, but she commented that this was pretty much the case at all beach towns (they've rented houses like this regularly, especially in the Outer Banks of North Carolina).
One of the things that got me excited about Eastham was our proximity to PB Boulangerie. Nothing like an awesome French bakery a few minutes from the beach, right? Our last venture to PB was not much of a success, though. We didn't realize at the time that they only really opened their bistro for dinner, and everything good had been wiped out by midday from their bakery. So instead of packing a few cakes and tarts on our way to the beach, all I could get was a measly baguette and a Boursin. This isn't something to sniff at, but as you can see from these photos of our latest visit, there's so much more to be had.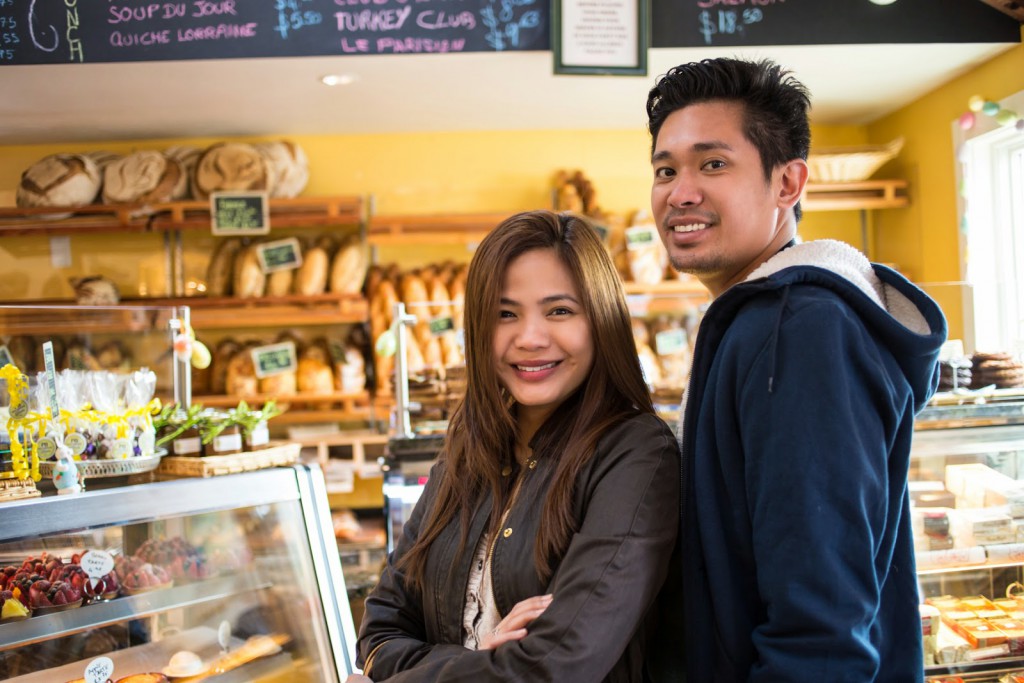 Jules and Kent at PB Boulangerie
Mike and I ordered a lemon and apple tart on top of the two croque monsieurs we ordered. They were fantastic and obviously freshly made. We had to wait for them to heat up the croque monsieurs and the massive turkey club sandwich (which Kent ordered), and to make my mochaccino, so we chatted a bit about what our day would be like while staring hungrily at the tarts. We found out that one of our planned stops, the Truro Vineyards, was still closed for the "winter", so we decided to just spend a bit more time at the beach after Provincetown.
Mike was so enthusiastically cutting his croque monsieur that his fork broke. This amused a little old lady passing by so much that she cackled at him, patted him on the back, then got him a new set of utensils from the utensil table. A bit of early morning amusement. The croque monsieur was decent enough but a bit dry and not quite as good as the one we just had at Nice Matin in New York City the week before. The turkey club was (clearly) massive, but Jules and Kent seemed to enjoy it.
Provincetown


Provincetown is only about a 30-minute drive from PB, so it was still relatively early when we got there. It was also very cold and almost completely empty, the complete opposite of how it was when we visited last Labor Day weekend. (The crowd in the main square rivaled that of the one at Times Square that day.) We braved the cold and the wind to take photos on the boardwalk while some seagulls stared suspiciously at us.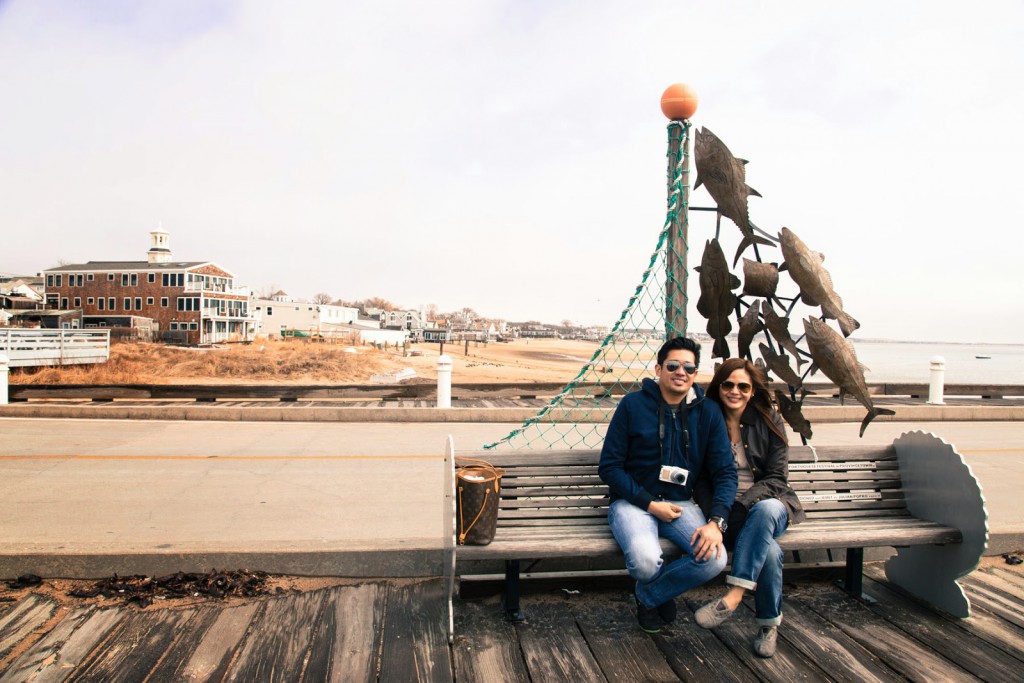 Jules and Kent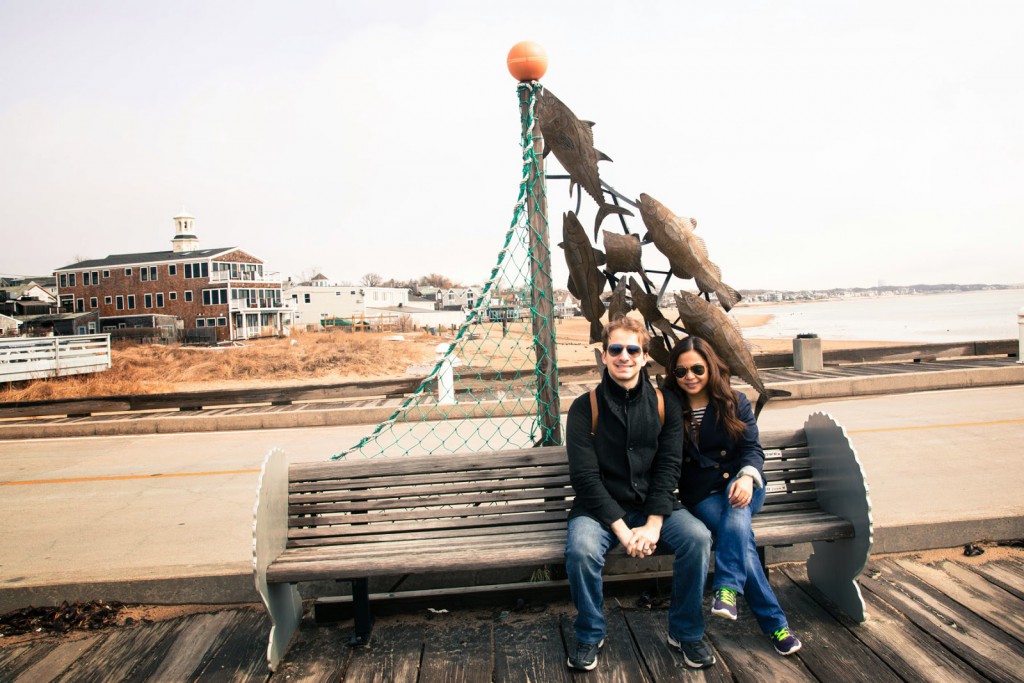 Mike and me
We entered a few of the shops that were open and bought a few squares of fudge. We decided to skip visiting the Pilgrim Monument due to how cold it was, but I did get this one photo in.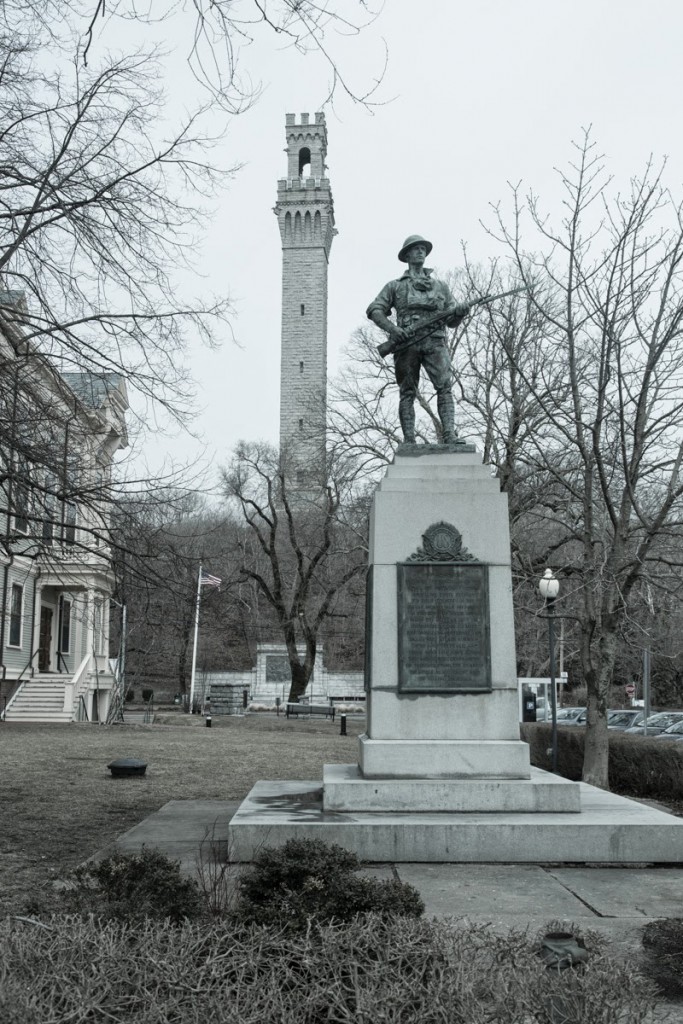 A view of Pilgrim Monument
After finding out that our planned lunch spot, the Lucky Dog (which sells a hotdog that has mac & cheese piled on it!), was also closed (we were a few weeks shy of everything opening for the season), we settled on having lunch at the Central House at the Crown.
Central House at the Crown
247 Commercial St
Provincetown, MA 02657
We were brought to Central House by decent reviews on Yelp and err… the fact that it was open at the time. We moved our car near it hoping to save ourselves some walking time, not realizing it was actually just 3 blocks away (oops).
I ignored their massive wine list and ordered a pink drink called the "Ptown Sunset" (Reyka Vodka, St Germaine liquor, grapefruit juice & cranberry). It accomplished the two things I wanted it to: be delicious, and make me slightly tipsy.
Jules and Kent had the clam chowder, which had little neck clams still in their shells, and big ol' blocks of potatoes. They assured us it was good, while Mike grimaced at the whole clams whilst contemplating going to Captain Parker's for his favorite clam chowder the next day.
I was mostly pumped about having their "lobster roll" which uses warm naan instead of a regular "roll". It was absolutely delicious. I prefer the texture of naan over any of the rolls I've ever tried, the lobster was much tastier than others I've tried, and the fries were well-seasoned and crispy (but not oily). I gleefully attacked mine while Jules and Kent fought over theirs.
Mike had a grilled chicken and avocado "club" that he promptly turned into something else by requesting that they remove all vegetables and aioli, then pouring ketchup on top of it. This was all for the best, since he was completely happy with it.
After lunch we walked back to a little alleyway full of shops we had seen earlier. Waters Edge Cinema, which is an indie theater, is on the 2nd floor of it, and it was showing "The Grand Budapest Hotel" at the time. Mike and I perused the cast list on the poster while Jules and Kent laughed about silly refrigerator magnets in one shop.
After putzing around a bit more and debating whether to get "Ugly Dolls" at a board game store (both husbands said NO), we said goodbye to Ptown and headed down to Marconi Beach, which is part of Cape Cod's "National Seashore".
Marconi Beach


Marconi Beach was mostly empty except for a few surfers when we got there, but absolutely gorgeous. It was chilly, and there was quite a bit of wind, but the sun was out and we were able to hang out there for a bit before finally retreating to the car. During the summer there are quite a few people here, but it never seems overly crowded due to how long the beach is. It could also be that there are soooo many beach areas at the cape that people really don't need to crowd at just one. This is my second favorite beach so far at the cape, next to Mayflower in Dennis. Both beaches have pleasantly powdery sand, and are mostly clean of debris. Mayflower for me has a slight edge over Marconi because of how much shallow water you can walk through, though I'm sure surfers prefer Marconi.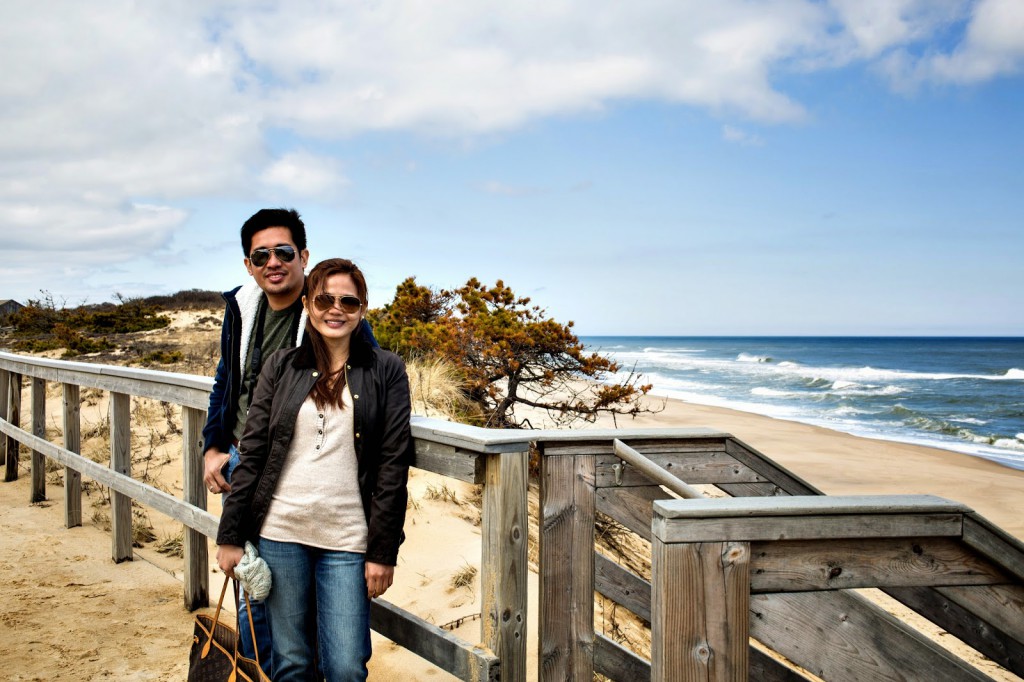 Jules and Kent at Marconi Beach
I got to practice taking jump shots with Jules and Kent, which was pretty fun, and also very Filipino.
And Mike took a few photos of me and Jules where my hair was cooperating despite the wind.
Local Break
4550 State Hwy
Eastham, MA 02642
We headed back to Local Break in Eastham for a low key dinner. It was completely packed with what seemed like locals when we got there. We got seated right away, though I was a bit uncomfortable due to a few people rudely staring at us. I'm not sure if it was that I was carrying a huge camera, or if it was that we were Asians and I guess clearly out of place. (I hope you realize this is all speculation on my end). Either way, we did get a table, albeit at the very corner of the restaurant.
I started things with a "Pop Pops Iced Tea" (deep eddy sweet tea vodka, lemonade, & fresh lemon), known at our regular apartment gatherings as a "Drunken Palmer". The guys had some beers, and Jules had a hard cider.
We ordered a plate of buffalo garlic wings. We waited, and waited, and waited, and it did not come. What we did get first were the Southern Style Chicken with mashed potatoes and brussels sprouts and the Po' Boy Sandwich with beer battered fried shrimp and chili garlic mayo. Mike's Steak N Cheese (shaved rib eye, three cheese sauce, onions) came shortly after. Everything was delicious (even Mike loved his steak n cheese, despite forgetting to get it without onions), so despite our initial misgivings, we were plenty happy with the meal. Also, it's a little less annoying to wait when you're in good company.
When the wings finally arrived, everyone was happy with them, except Mike who forgot that he is not into garlic. It was more the saucy, and less the crispy kind.
We ended the night with an almost-tussle between Mike and a local who was blocking the way out of the restaurant (Mike: "Excuse us." Local: "EXCUSE YOU!" Mike (outside): I almost punched that prick.), and a trip to the liquor store in the same plaza to get Mike's Hard Lemonade (mango-flavored), before settling in the cottage to watch "Rocky" and enjoy/be baffled at Rocky's seduction of Adrienne by describing that one time he bought turtles from the pet store where she works at, and the fact that Rocky mooed at one of the hanging cows at the meat factory.