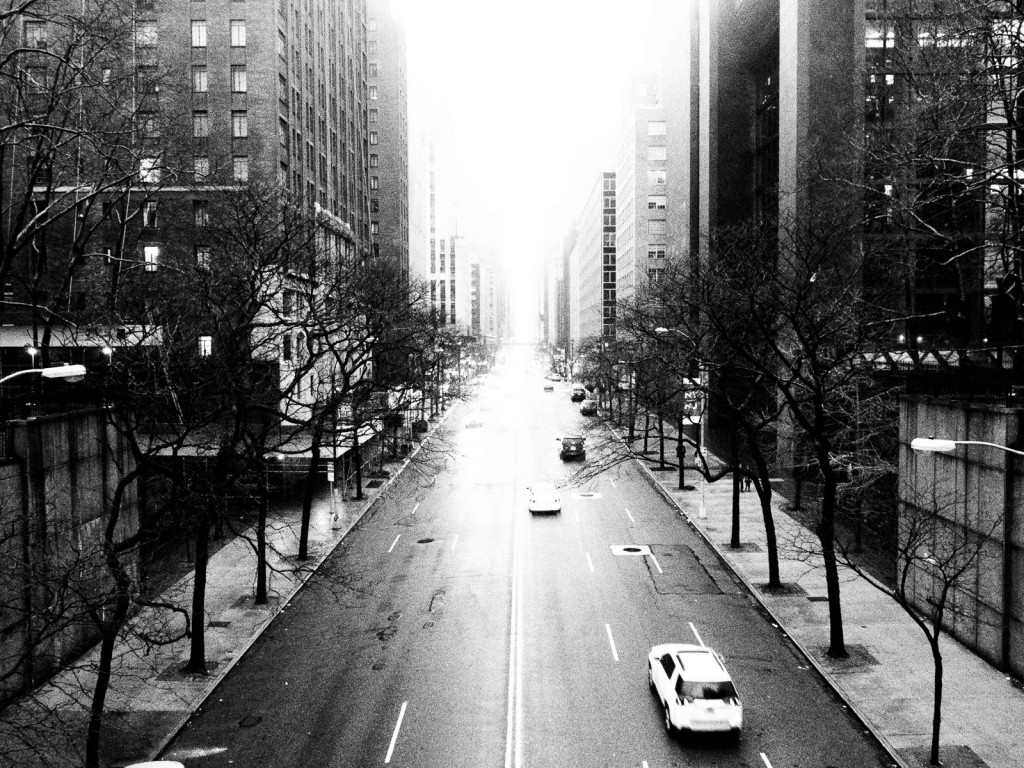 Deciding where to go on a foggy, then rainy Saturday afternoon was not easy. I had originally thought of doing the "Top of the Rock" for the FMS Photo a Day prompt "Looking Down", but I decided it wouldn't be worth it because of the weather. So, I thought of "looking down 42nd street" from the Tudor Place overpass instead.
I wanted to take some nighttime shots, so we headed out in the afternoon to start the walk. By the time we got to Grand Central, which is just a few avenues way from Tudor Place, we were STARVING. So we headed over to Num Pang Sandwich shop for some cheap grub.
Num Pang Sandwich Shop – Cambodian sandwiches
140 E. 41st Street
(Btw. Lexington & 3rd Ave)
New York, NY
From the outside, Num Pang looks like it could be huge, what with the massive sign and the winter entrance jutting out over the sidewalk, but the shop itself is actually small. And there are no tables. There's a small counter on one wall with some napkin dispensers and bottles of sri racha sauce where you can stand and eat your sandwiches, but I bet it's mad crowded during the week and it would probably be better to just take your sandwiches elsewhere.
Vietnamese sandwiches (or banh mis) have been popular in the city for quite some time now, but I've never really jumped on that bandwagon. First of all, I'm not huge on eating baguettes if not in the form of slices with cheese and jam on top. And in general, I'm not a fan of sandwiches with crunchy bread. But this was one of the highest rated cheap eats near Grand Central, and their menu, which is Cambodian-influenced instead of Vietnamese (though the pickled carrots, cucumbers, and cilantro are present as in banh mi), was somewhat attractive to me. Also, according to their website, they have become the highest rated sandwich shop in the NYC Zagat guide since they started, so I guess this was a good reason to give these baguette sandwiches another go.
Michael was a bit skeptical because they will not let you make changes to the dishes. As in, not even to leave out ingredients. But he was so famished that he decided to give it a go and just wipe off the vegetables instead of Yelping another nearby restaurant.
He had the hoisin meatballs sandwich with jasmine rice, basil, and stewed tomates. All the sandwiches are served with cucumber, pickled carrots, cilantro, and chili mayo. He said it was such a good sandwich (after getting rid of the veggies), and he even enjoyed the chili mayo (he hates mayo).
I had the coconut tiger shrimp sandwich, (thankfully a bit light on the mayo). And… THIS IS ME JUMPING ON THAT BANDWAGON.
Easily one of the best sandwiches I've ever had. The shrimp was perfectly cooked and juicy. It was a bit light on flavor, which was good because the mayo, cilantro, and picked carrots more than made up for it. The bread was sooo good, so I guess I'm now a fan of crispy sandwich bread? It was crispy on the outside but soft on the inside, so it was easier to eat this without it falling apart. I dotted sri racha on it a few times, and it was heavenly. This is what going to the gym is for.
Perk kafe
162 E 37th Street
(between Lexington Ave & 3rd Ave)
New York, NY 10016
After we inhaled our sandwiches, we realized it was way too early to walk to Tudor City for the 42nd street shot, so we quickly Yelped a nearby coffeehouse and found Perk kafe.
The space is nice and they have some decent seating despite how small it is. We had to wait a few minutes for some people to leave so we could hang out, but that just shows how popular it is.
Perk is one of those great neighborhood cafes that seem to really make an effort. The menu isn't that extensive, but they use Stumptown coffee, and they have almond milk for those who prefer it over soy milk (like me).
I ordered their cold brew coffee, something that I've wanted to try for a while now but haven't. It's supposedly less acidic (and I ate acidic/sour coffee). I definitely became a fan when I had it, and I might just pop over to Trader Joe's and buy myself a bottle.
Tudor City
140 E 41st St
New York, NY 10017
It started raining harder as we walked to Tudor City, and the fog wasn't going away anytime soon, so I was a little sad that my plan might not work as well as I had hoped.
We passed by this creepy looking church and Michael commented on it, so I tried out the black and white art filter on my Olympus for the first time to make it even creepier. Then I showed it to Michael and made ghost sounds, so he yelled at me. ;P
To get to the Tudor City overpass, you have to walk up these stairs, which aren't that hard to miss.
We hung around a bit, not sure what to do since I wanted it to be a bit darker before doing anything.
I took this test shot as we went across the overpass to check out the Tudor Greens park, and ended up using it for my photo a day. I love how well the fog and the barren trees clearly set the mood for that day.
Then we checked out Tudor Greens, which is a small but adorable park.
And then we walked over to the railings that look out over the United Nations (top is covered in fog here).
It wasn't easy to get a decent long exposure from this vantage point because there weren't enough cars driving on both lanes at the same time, so I just froze the action instead. I still like this one, but I prefer the first test one that I took.
Grand Central Market
105 E 42nd St
(between De Pew Pl & Park Ave)
New York, NY 10017
It seemed fitting to feature a Grand Central Terminal shop since we were heading home from there anyway and midtown isn't really well-known for unique stores.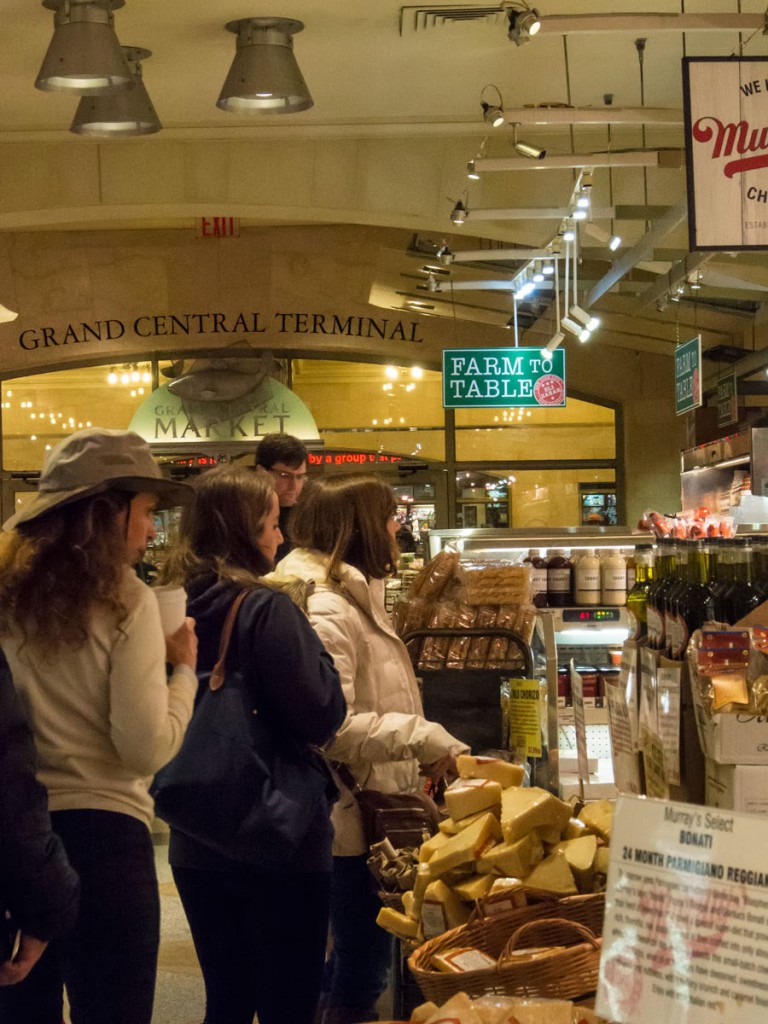 Grand Central Market is a corridor filled with individual food stalls. I knew there was a chocolatier and a cheese shop there from my research, but what I didn't realize was just how much more food they have. The amount of gorgeous-looking farm to table harvest is just amazing, given that you're shopping in a train station.
There are even meat and seafood stalls. and they look beautiful enough that you'd think you're at Fairway or Whole Foods.
There are a few bakeries too, and you'll find Zaro's cakes look more appetizing here than at their other location (where we usually get bagels), near track 17.
Murray's cheese has a stall, and you can even get French Raclette or Epoisses.
Murrays has a decent array of charcuterie as well.
Li-lac (which I featured in this post), is a chocolatier that has a shop in the West Village, and it also has a little stall here. We couldn't stop ourselves from getting a few treats to be rationed for the week (well mine are, Michael ate his milk chocolate graham cracker and caramel bar on the same day).
There's a lovely spice shop in there as well. They have little tins of tea paired with matching sugars for $13 (like hazelnut tea with hazelnut sugar), which I think would be a good little souvenir if you're coming back home from New York.
The more popular bakery here seems to be Eli Zabar, and they have palm-sized macarons, which I couldn't stop myself from getting (better than slices of cake, right?).
I grabbed a pistachio one, which was my treat for the day. The meringue rounds were as good as any, however the filling was buttercream, which seemed to me like a way to save on ingredients.
This walk was short, but fun. Considering how bad the weather was, we found ourselves having a great time. I can't imagine it being more perfect, but I'm sure it would be more refreshing in the spring or summer.


Map of this Walk


A: Num Pang Sandwich Shop – 140 E. 41st Street (Btw. Lexington & 3rd Ave) New York, NY
B: Perk kafe – 162 E 37th Street (between Lexington Ave & 3rd Ave) New York, NY 10016
C: Tudor City – 140 E 41st St New York, NY 10017
D: Grand Central Market – 105 E 42nd St (between De Pew Pl & Park Ave) New York, NY 10017