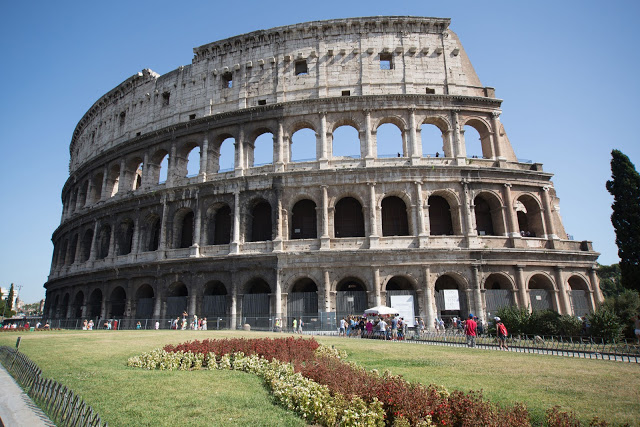 We started our second day in Rome pretty early despite having snoozed our alarms on both of our phones several times. We were all excited and ready for an early visit to the Vatican Museum/Sistine Chapel, which I noted from my last visit closes early afternoon (1:45 pm according to the guidebook). I congratulated myself on being sooo on top of things!
And then we got to the museum and realized that it's closed on Sundays. AAARrrGGGHhhh!
Apparently I missed reading that part of the guidebook.
After a short bout of depression over my now apparent lack of planning skillz (like, 2 minutes) we decided it's ok because we can come back early the day before our flight to see the chapel (did not happen), and headed over to St. Peter's Square to maybe see the basilica instead.
St. Peter's Square


St. Peter's Square (or Piazza San Pietro) is quite a breathtaking place in itself, which is a good thing because we did not end up visiting the basilica. It would have taken us an hour at the very least to get in due to the looooong lines, and that is NOT my idea of a fun trip. So we hung around the piazza for a bit instead, taking in its beauty, and rested a bit under the colonades as we planned our next steps. Honestly, I had seen it before and was not exactly brokenhearted over it, but I did feel bad for Mike. Maybe next time we come back, like when we're you know, retired already :P.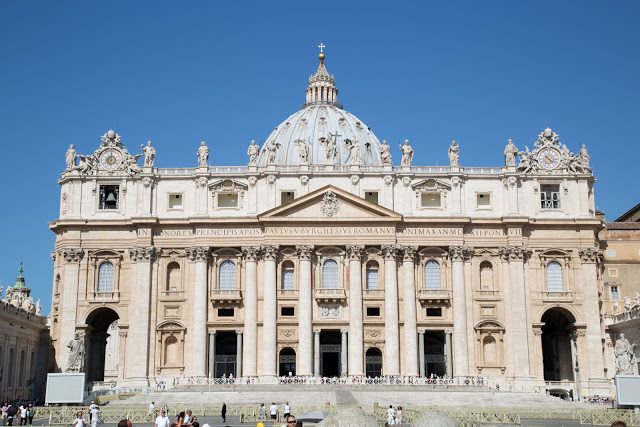 St. Peter's Basilica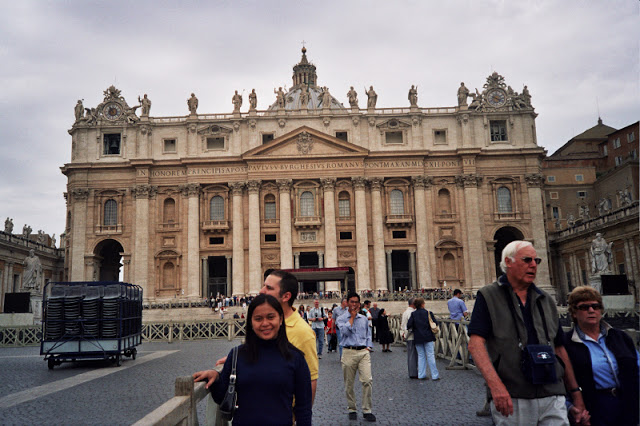 Throwback pic of me (circa 2005) at St. Peter's Basilica, on a much gloomier day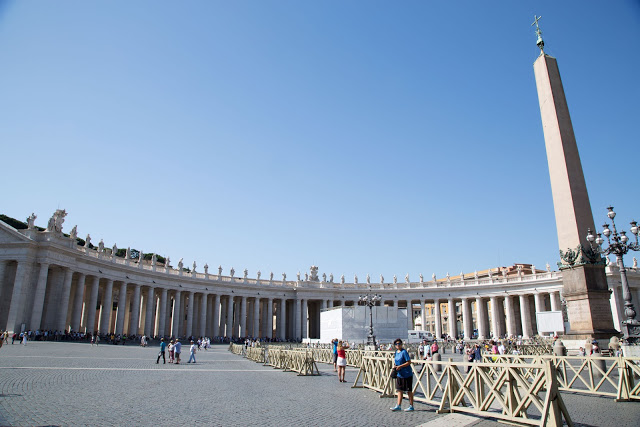 St. Peter's Square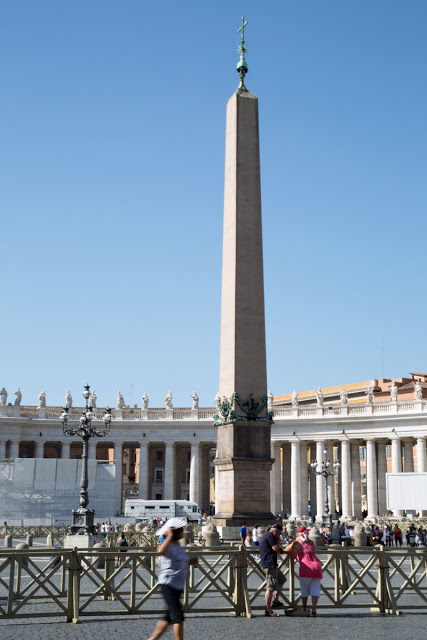 Obelisks everywhere.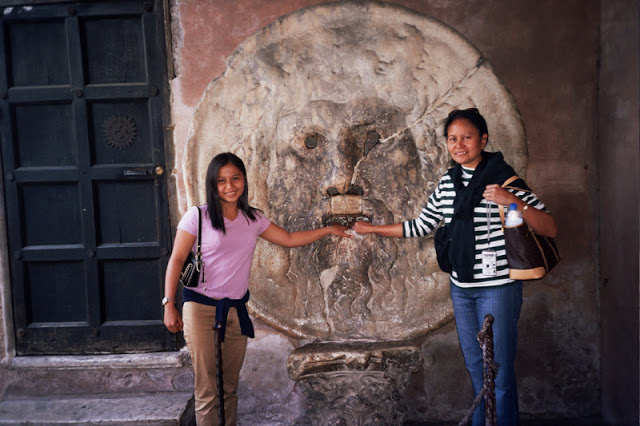 Bonus throwback pic of me (circa 2005) with my aunt at the Bocca della Verita
Food Shopping at Castroni Caffe
Via Ottaviano, 55
00192 RomaWe had planned to go shopping after the Vatican so we headed over to Via Cola di Rienzo, a well-known shopping street in the Vatican. There you can find the grocery store "Castroni", described by someone on Yelp as "the kind of shop foodies dream about", and rightfully so. Alas, the place was closed, and so was every other shop on the street. I can only assume it was because it was Sunday, and we were in the Vatican.
We had a cabbie try to take us to a shop in the Trastevere area, but were again foiled by the shop being closed (this time because the owners were on vacation). Drat! (Is what I would say if I were in a comic book)
At that point we were done, and knowing the fact that there were several Castronis in Rome, we asked the driver just to take us to ANY Castroni. After worrying for a few minutes that he was taking us back to the one in the Vatican, he finally dropped us off at one that was open. HOORAY!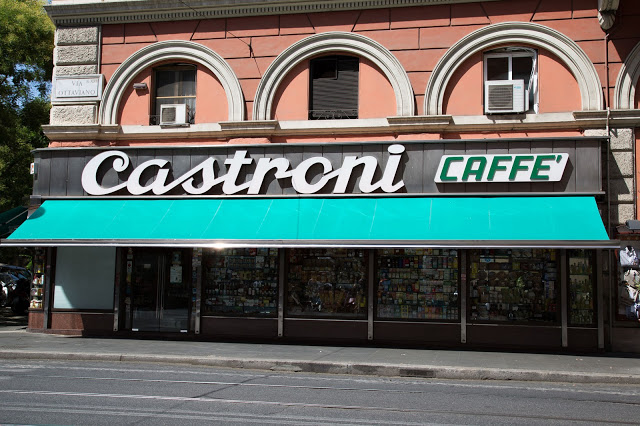 I believe the one at Via Cola Di Rienzo was the original and biggest one. But that doesn't mean I did not enjoy the one we went to. In fact, I could barely keep myself from buying every single item in the store (though maybe not the Shin bowls and Heinz ketchup).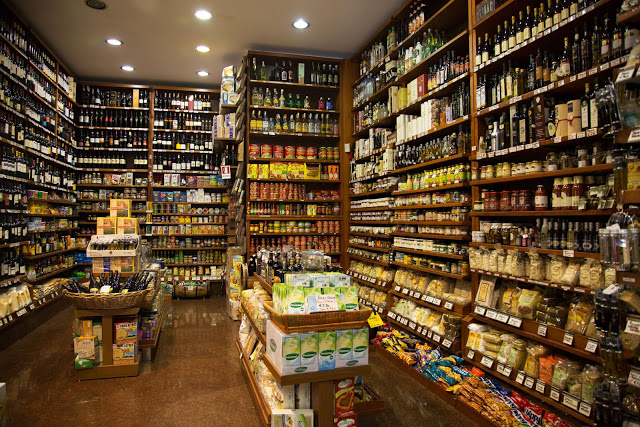 Heaven!!! (cue classical church music)
Also, did I just spot Chippy, Roller Coaster, Chiz Curls, and Piattos on the lower right hand side??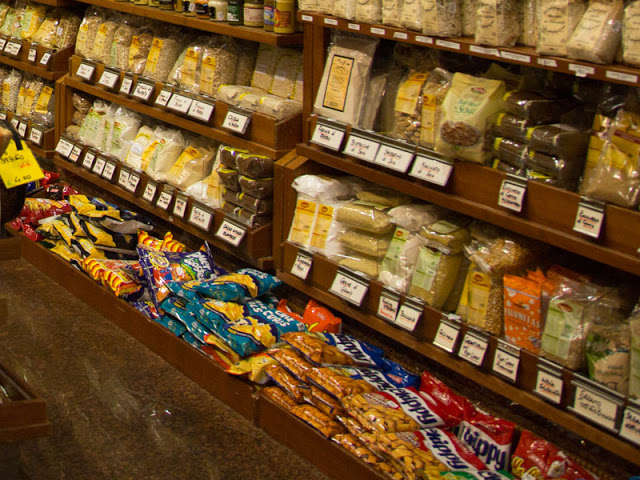 Zoomed in and sure enough, there they are! For those too lazy to click on the photo.
Also there's a V-Cut and that shrimp one I forgot the name of
If you're wondering what I'm babbling on about in the captions, these are all snacks that are common in the Philippines. Though I certainly did not go to Castroni for them (or even notice they were there until I was processing this photo).
MOVING ON, so, yes, I enjoyed myself quite a bit in there. Flavored olive oils, aged balsamic vinaigrette, and endless items I'd never seen in grocery stores here lined the shelves. Mike got uber excited over the following, which you would appreciate if you're a Simpsons fan: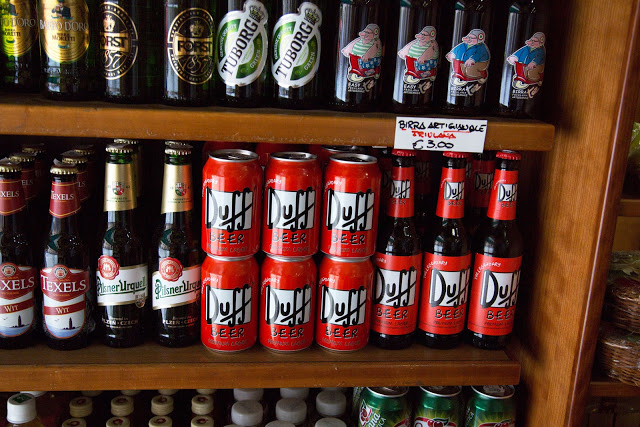 I am not going to bore you (or maybe cause you to hate me if you're a foodie) by posting everything I bought, but here are some of my favorites: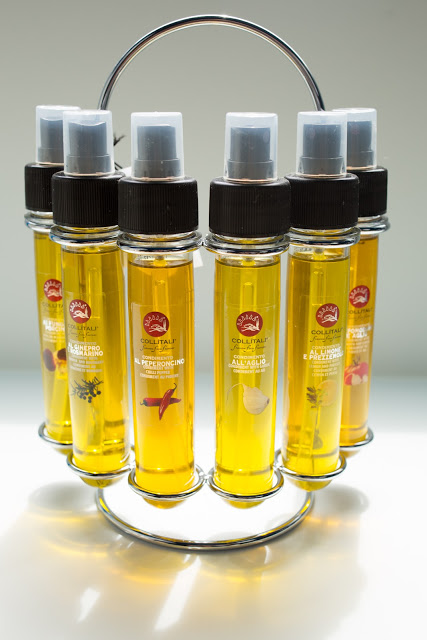 Flavored olive oil spray bottles (porcini, rosemary, pepper, garlic, lemon, and tomato and garlic)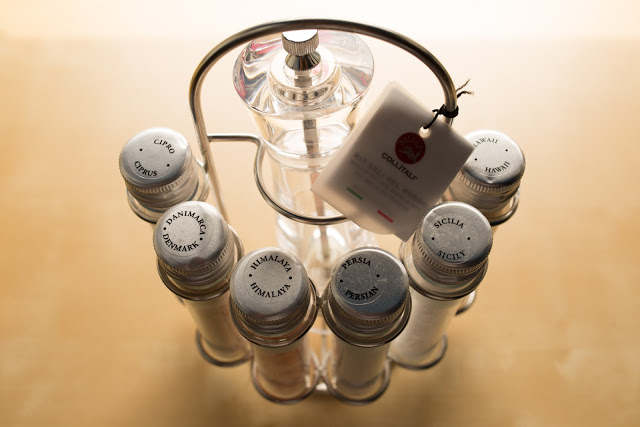 Salts of the earth ;P (from Cyprus, Denmark, Himalayas, Persia, Sicily, and Hawaii)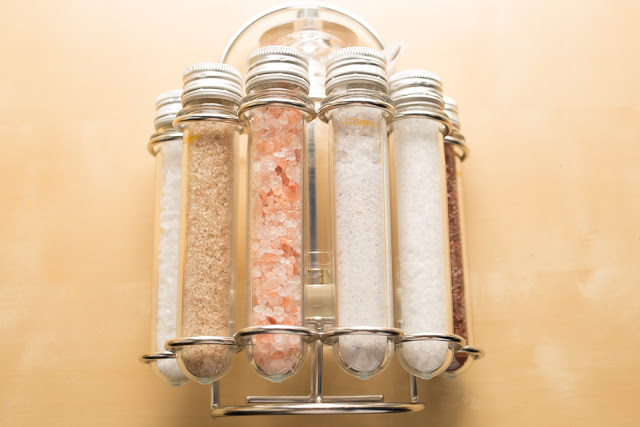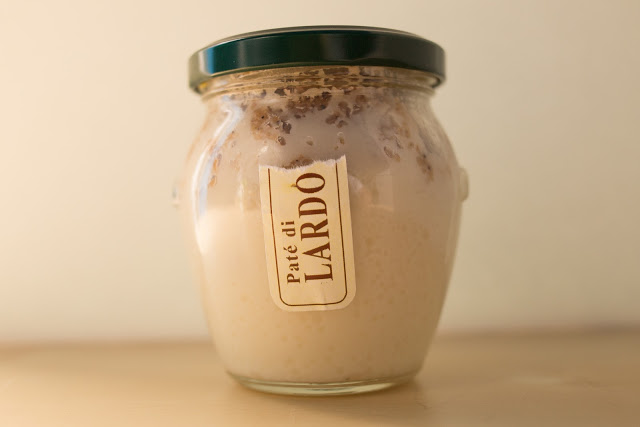 Lardo pate (clearly I couldn't wait to open it)
I actually first read about lardo in the book series Sword of Truth, and thought it was a fake kind of food the author came up with. I should've known it was a real thing, since his description of how it's made was so detailed.
Here's a summary of how it was described in the book (thanks to SOT Wikia):
Lardo was a delicacy from the land of Cavatura, in the southern Old World, made from the paunch fat of a boar. It was a favorite of Victor Cascella and the marble workers of Cavatura. Victor introduced Richard to lardo during the Lord Rahl's captivity in Altur'Rang. Kahlan was also quite fond of it, and she had memories of it being given to her by marble workers during construction at the Confessors' Palace. Proper Lardo had to be aged for a year in white marble tubs, and was only made by men.
Ok, the "only made by men" part made me raise an eyebrow (in my mind, because I actually can't do that in real life), but otherwise, it was an interesting concept to me when I originally read it. Also, yes I'm a fantasy series nerd if you didn't know it yet.
And here's a description of it from Wikipeda (yes that is my reference, lol):
Lardo is a type of salume (Italian charcuterie) made by curing strips of fatback with rosemary and other herbs and spices.
The most famous lardo is from the Tuscan hamlet of Colonnata, where lardo has been made since Roman times. Colonnata is a frazione of the larger city of Carrara, which is famous for its marble; Colonnata is itself a site where Carrara marble is mined and, traditionally, lardo is cured for months in basins made of this local marble. Lardo di Colonnata is now included in the Ark of Taste catalogue of heritage foods as well as enjoying IGP (Protected Geographical Indication) status since 2004.
Ok, so, it's cured fat. Sounds gross, but it's supposed to melt in your mouth and is commonly used like butter. The pate version makes it easier to spread on toast.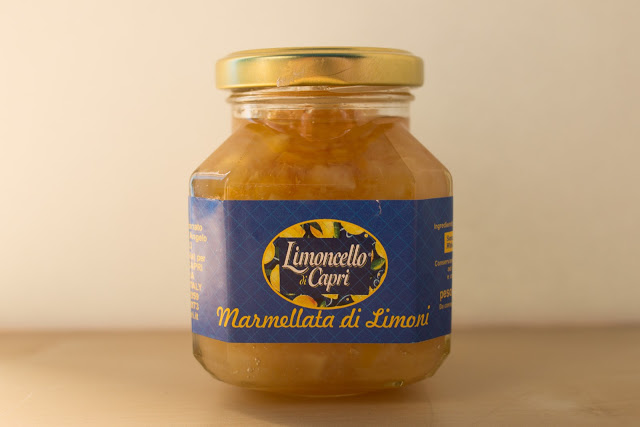 Lemon marmalade from Capri
Lemons are literally EVERYWHERE on the Southern Coast (restaurants set in lemon orchards, lemon trees by hotel pools, lemon trees in courtyards, lemon cream sauce, lemon candy, lemon soap, lemon cream cake, lemon profiteroles, and most of all, a drink we were offered for free at least 5 times, LIMONCELLO). At this point in the trip, I was only aware of the fact that Capri is famous for producing limoncello, and did not realize yet how ubiquitous lemons really are in Southern Italy. We weren't quite sure we were going to Capri, so I decided to buy this when I had the chance. I also bought a few bottles of limoncello, which I added to later.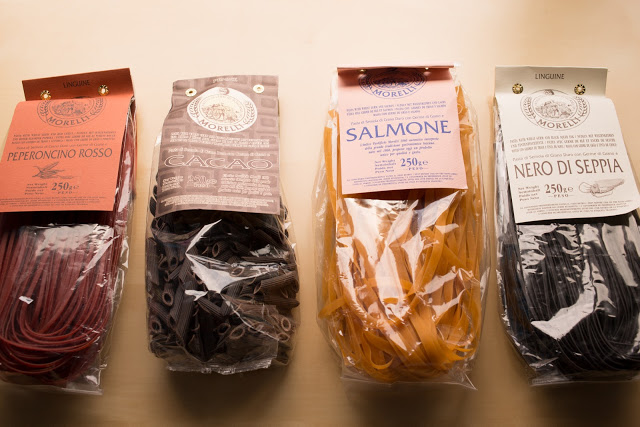 Pepper, cocoa, salmon, and squid ink flavored pastas!
I'm sure somewhere in New York I can find flavored pastas that are not just made with the usual stuff like garlic, tomatoes, and basil. In fact I just Googled "flavored pasta new york", which led me to Sfoglini, where they make "Everything Fusilli": "The traditional ingredients from the quintessential NY Everything bagel (Poppy Seed, Sesame Seed, Garlic, Onion, Salt) lend a refined garlic flavor and hearty consistency that pairs perfectly with butter and sea salt." Oh, New York. You just have to try and top everybody else, don't you?
In any case, until I made it to Castroni I had never seen these at Stop and Shop, Whole Foods, Trader Joe's, Fairway, or on any of my walks, so I just went crazy and bought quite a bit. I'm particularly dying to make a dessert pasta dish with that chocolate penne.
Da Vito e Dina
Via degli Scipioni 50
00192 Roma
I was doubly thankful to our cabbie since by bringing us to this specific Castroni, he not only allowed me to buy all the Italian food I wanted to bring home, we were also able to eat at Da Vito e Dina, which was a Traveler's Choice 2012 winner on Trip Advisor, and is rated 4 1/2 stars by 40 reviewers on Yelp (40 is a big number for Rome). I think I'll add my 4 stars to that.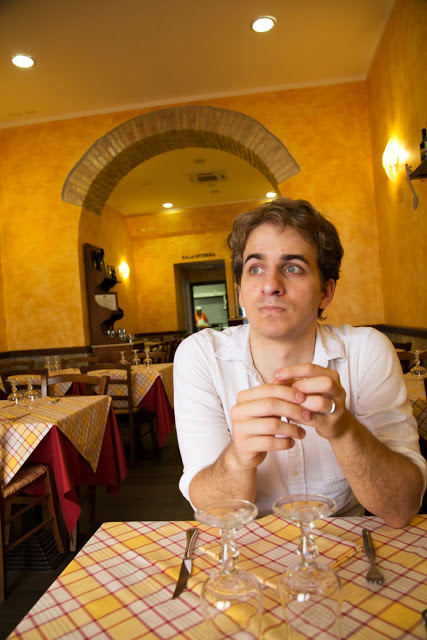 We went in at around lunchtime, but the place was quite empty. I was a little surprised, but I trust Yelp and TA, especially when the ratings match up, so we went ahead and ordered anyway. By the time our food had arrived though, the place was packed.
I had gnocchi with clams and mussels, which was light but very flavorful. I definitely finished all the shelfish and left only a few lonely gnocchis on the plate. Not that the gnocchis weren't good. In fact they were of the consistency I like: chewy but not gummy, soft but not falling apart. I just was saving room for dessert, as always.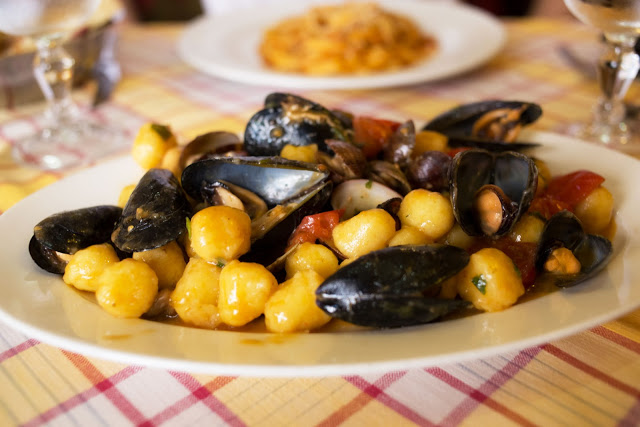 Mike had fettucine with meat sauce. I definitely remember him raving about how good it is.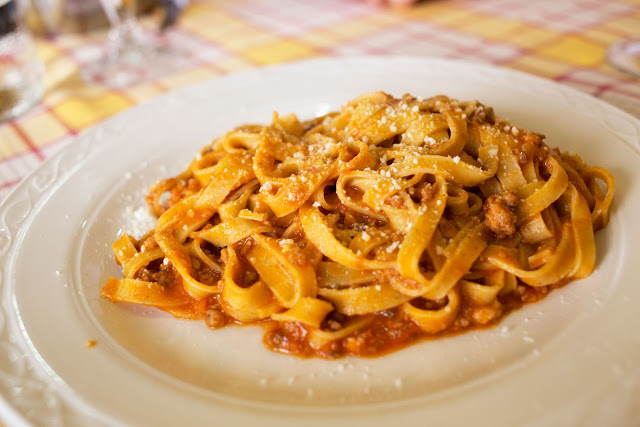 Which brings us to their homemade tiramisu, the reason why I would only review the restaurant 4 stars. To me, it was quite boring. GOOD, but boring. Although in all fairness, I wasn't blown away by any of the tiramisus I had in Italy, which is kind of ridiculous. I guess this dessert was originally meant to be light, and I want it to be bursting with creaminess and flavor. To this day, the best tiramisu I've ever had was still at a restaurant in France that my aunt brought us to. Someday I will return to document it, if it's still there. Now that I think of it, can I really remove a star from them just because they make tiramisu like everybody else in Italy seems to make it?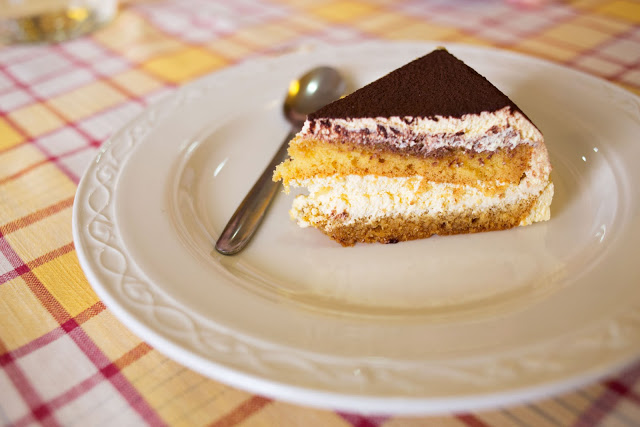 Mike had the lemon sorbetto, which is the first of MANY, MANY cups he had of it during the trip. He just didn't want to order any other thing. At the end I realized it's likely because he's always pining for Minute Maid Frozen Lemonade, and this was the adult version.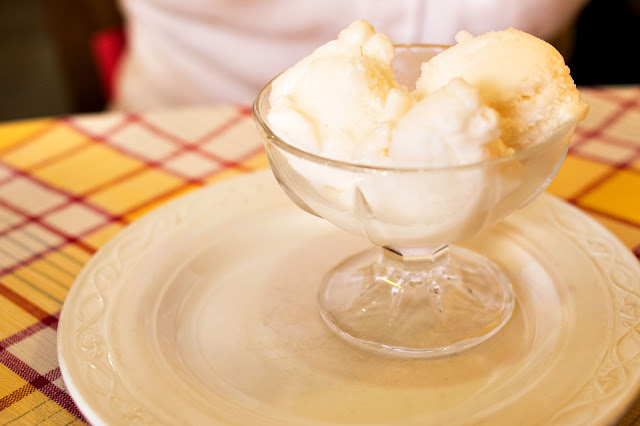 The Roman Forum


I don't want to bore you with too much history, but if you're not familiar with the Roman Forum, here's a description from EveryTrail.com. (We used one of their trails at the tail end of the trip, and loved it! In fact they have quite a few New York walks/hikes as well):
The Roman Forum is a top tourist destination and with good reason. It was the heart of ancient Rome. Here you will find the oldest buildings, including the former royal residency (regia) and the complex of the vestal virgins as well as the senate house, courthouses and various religious buildings.
We passed by it and took some shots from above since we were on our way to the Colosseum, and the sun was so high that I could barely take a decent photo. I got a few more at the end of our trip, but for now, here are some: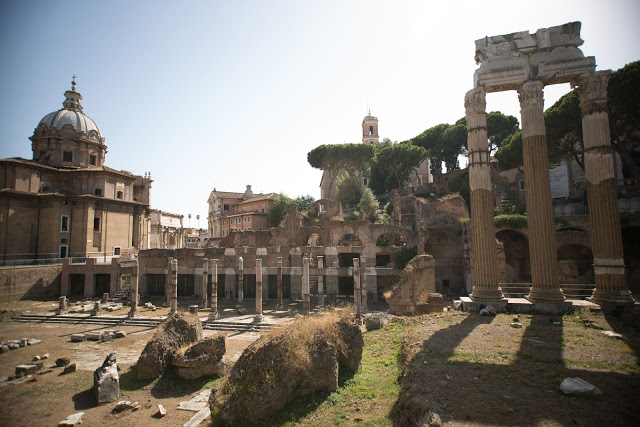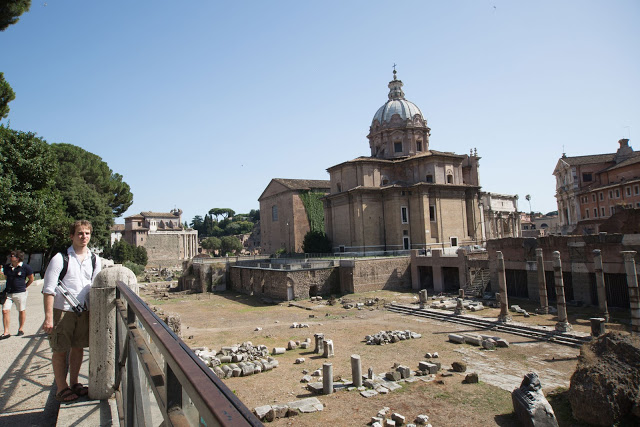 It's hard to imagine how it was back in its heydey, when people were walking around in the Republic, having lavish banquets on the street and inventing salads (what?), and so if you're going there and really interested in its history, I suggest getting this book before you go: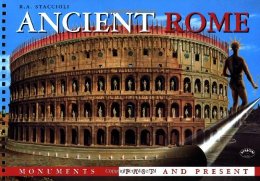 It uses overlays to show what monuments looked like then, what they look like now. Or if you just want to get a feel for it in a more interesting (though not necessarily factual) way, just watch the show Rome :-P.
The Colosseum
I'm pretty sure most people would know what the Colosseum was about: gladiators, animal hunts, executions, etc., and I don't feel the need to expand on that. However, I do feel the need to post multiple photos of it. You're welcome.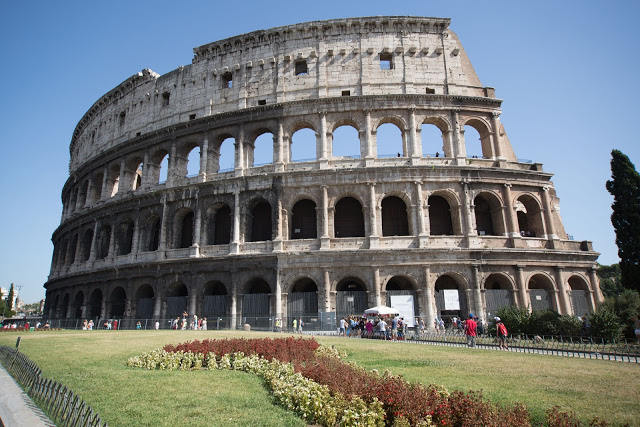 All by its lonesome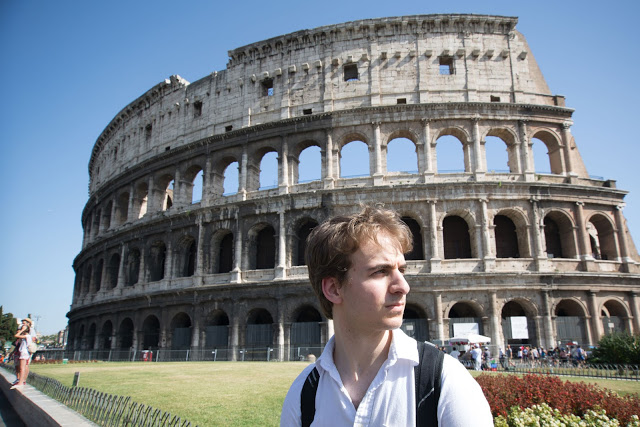 With Michael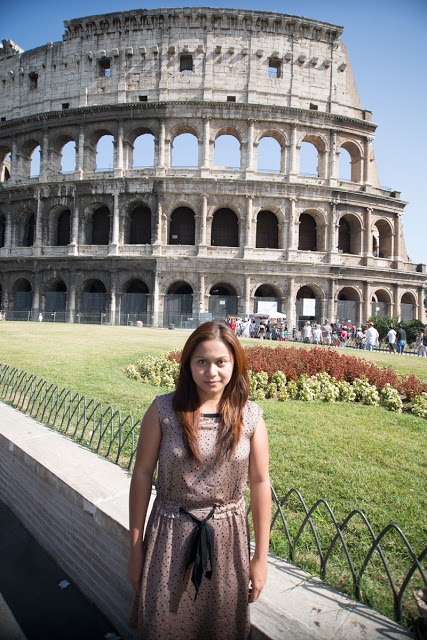 With me looking serious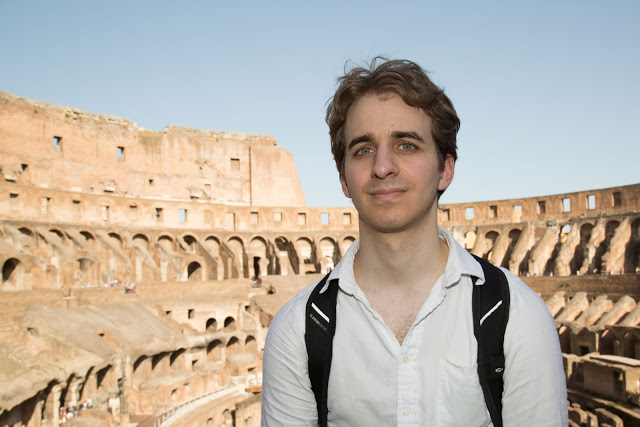 Michael
I was feeling nauseous and exhausted by the time we got to the line at the Colosseum, probably from the intense heat, but I sucked it up and carried on. It was worth it in the end, since it was here that Mike took my favorite portrait shot of me from the trip.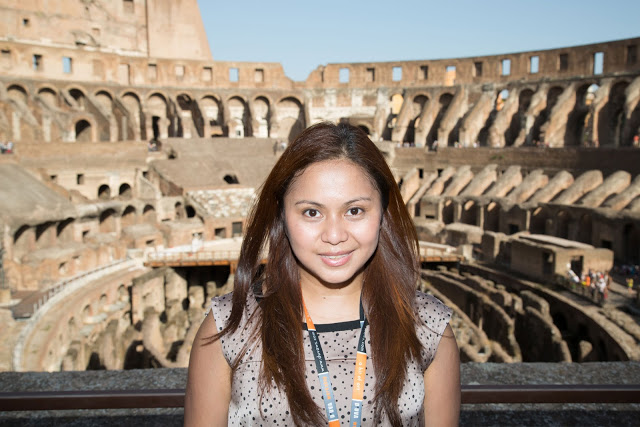 If you don't feel like paying for an actual tour of it, they rent out audio devices (you need to submit an ID) and they also have a mini museum on the 2nd level, where the gift shop is.
Via dei Fori Imperiali
We were exhausted and probably dehydrated by the time we left the Colosseum, so we stopped at an outdoor cafe along Via dei Fori Imperiali (the road that goes across the Forum towards the Colosseum), where we had a nice view but lame snacks/drinks. Michael's sorbetto was basically liquid, and my melon was plated in a way that I would've plated it if I was eating it by myself at midnight while watching reruns of 30 Rock. They were out of watermelon so I had to settle for  a melon shake, which I guess was somewhat decent.
We walked back to the cab stand near the Vittoriano (a "huge white monument built of pure white marble from Botticino, Italy, and was erected in honor of Victor Emmanuel, the first king of unified Italy"), admiring the buildings along the way.
We told our cabbie we wanted to go to the Trevi fountain, and he did not speak a lick of English, which I'm not complaining about since were were in a different country and WE should've learned more Italian, but it did result in us having our very first unpleasant experience of the trip. He kept talking and talking in the cab, seemingly agitated (but still driving and not gesturing for us to leave or saying no), and we thought it was annoyance because there was some kind of protest or rally going on near us, but when he dropped us off he did not reply to our "grazie" (which everyone else had replied "prego" to without exception up until that point), and as we were walking away he started talking to another cabbie and gesturing rudely while pointing/nodding at us. Until now, I still don't know why. Some of my theories are:
1. He was annoyed we didn't speak any Italian.
2. He was annoyed that we took a cab to a place that was a 10-minute walk away.
3. He was jealous of how awesome we were.
I'm leaning towards number 3.
The Trevi Fountain


The Trevi fountain is arguably the most iconic fountain in Rome, which was clear by the wall of people surrounding it when we got there. I was barely able to take this photo, with someone's head in it no less, but I refuse to edit it out. You'll find more amazing photos of it online if you really want to.
Legend holds that if visitors throw a coin into the fountain, they are ensured a return to Rome. This was definitely true in my case, so I suggest you do the same if you're ever in Rome and have fallen in love with it, just like I did that first time.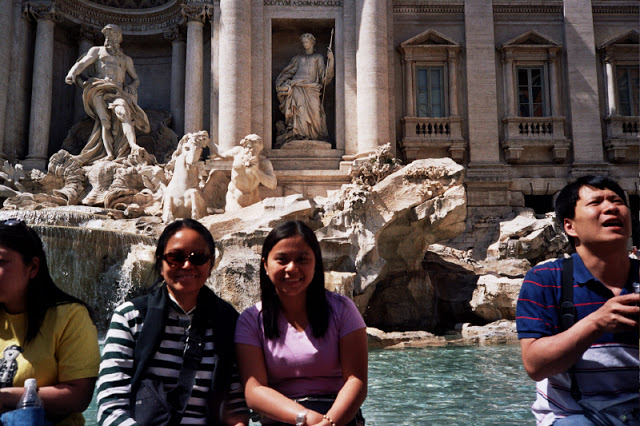 My aunt and I at Trevi fountain, circa 2005
Il Giardino di Albino
via zucchelli 29
00187 Roma
We had originally planned on going to Il Giardino Romano for dinner (featured on No Reservations), but by the time we got to Trevi we just wanted to go eat immediately somewhere nearby.  Luckily we found Il Giardino di Albino, which also has a Certificate of Excellence 2013 from Trip Advisor.
At this point the streets were quite crowded with tourists and people from that rally we passed by earlier, but the little street the restaurant was on was empty.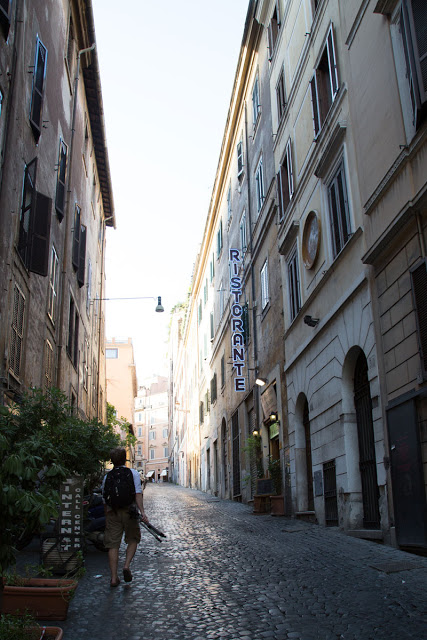 At this point I hadn't realized it yet, but restaurants having "Giardino" on their names means a restaurant that has (or only has) garden seating. This seems to be popular both in Rome and in towns on the coast. It's really nice and at times almost feels like you're at a wedding reception, but it can also be a little too hot, so if you're going to these during the summer, you've been warned.
I started with the prosciutto and melon, which is a common appetizer in Rome and suggested to me by my sister. It's really just slices of prosciutto on top of slices of melon. I like classic combinations of fruit and meat (ham and pineapple, duck and pineapple, pork and apple), so I thought I would like it, and so I did. Let me tell you, prosciutto in the US (even in New York) is not the same as prosciutto in Italy. It's fresher, more moist, a little less salty, and overall much better in my opinion.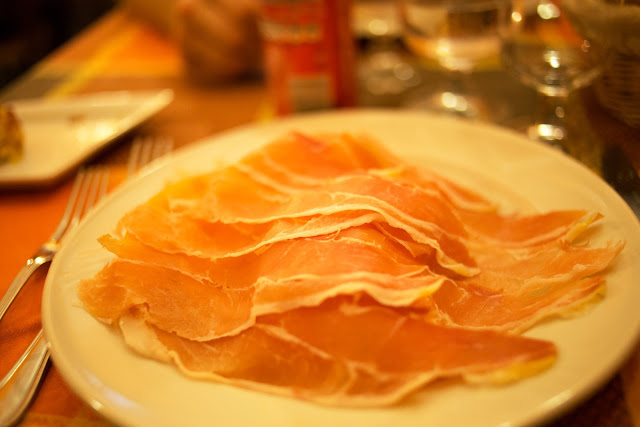 Prosciutto and melon
My appetizer was soon eclipsed by Michael's order, which was roasted figs and cheese (goat, I think) on top of toast. Mike found out that night that he wasn't a big fan of figs, and I found out I absolutely love them fresh. I ate most of his appetizer, so needless to say, my prosciutto and melon was lonely that night.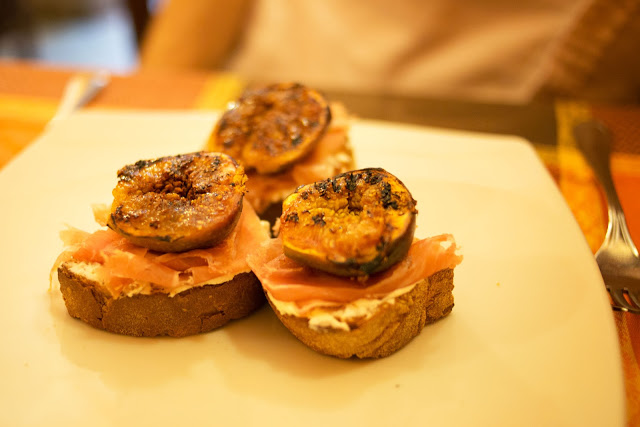 Roasted figs with prosciutto and cheese on toast
As we waited for our next course (note that Italians take their time at every course, so don't be surprised if they don't immediately come take your plates when you're done, or if you get back to New York and start to feel rushed at every restaurant like I do now), I took my usual photo of Mike and the restaurant. We listened to sounds of the guitar player serenading the American group in the room next to us with songs like "The Lion Sleeps Tonight" and "That's Amore" and the ensuing cackles of laughter and group sing-along time, while one of the guys (again American) at the table next to us kept exclaiming how this was the best Italian food he'd ever tasted. I wouldn't say I agreed, though I would say that fig toast was the bomb.
And then we finally got our osso bucco and spaghetti. The osso bucco was not the fall-of-the-bone type that I'm used to in NY, though the marrow was just as delicious, and the sauce was good.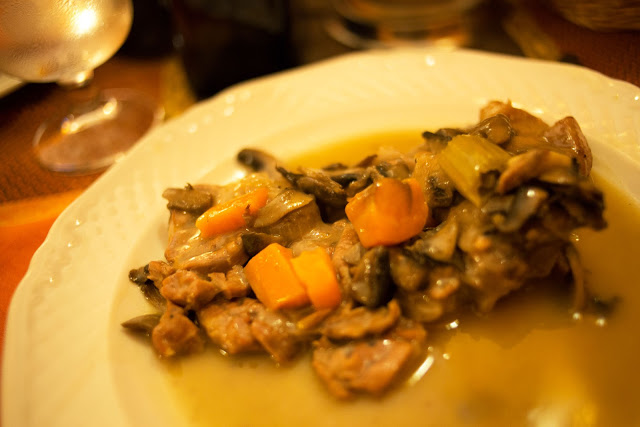 Osso Bucco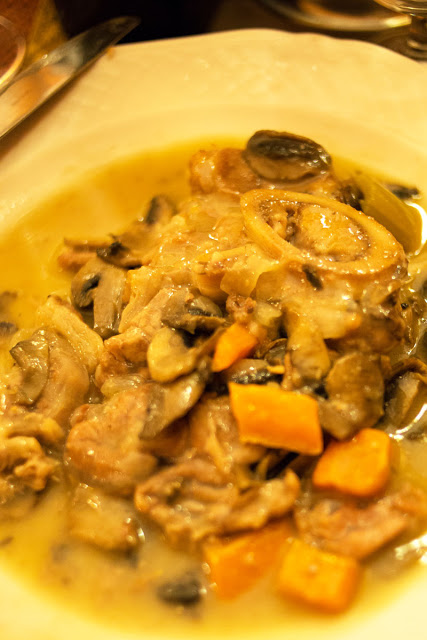 Osso Bucco
The spaghetti was decent according to Michael.
At the end of our pasta/meat dishes (we had given up on ordering antipasto, primo, secondo, and dessert for every meal this early on), we ordered a ricotta cheesecake to split. It was decent, though not very moist, and cut in such a weird almost careless way that I also got careless about taking a photo of it. By that I mean I did not.
After dinner we headed back to the hotel, since we needed to get up bright and early for our 4-hour drive down to the coast. At around 10:00 pm, past my tolerance for carrying around a DSLR camera, we had gelato at a place a block away, which made for a pretty good carby night's sleep.
Related Posts:
Not Bored in Rome, Italy, Day 1: Isa Hotel, Piazza Navona, The Pantheon, and Ad Hoc Restaurant
Not Bored in the Amalfi Coast, Italy: Positano
Not Bored in the Amalfi Coast, Italy: Capri
Not Bored in the Amalfi Coast, Italy: Sorrento
Not Bored in Italy: Sorrento and Pompeii