The Amalfi coast has been a dream destination of mine since we made a list of possible things to do on our honeymoon a few years ago. To get there, we needed to fly either to Rome or Naples, and  we ended up flying into Rome since it cost a bit less (and we're pretty glad we did, more on that later).
Since I had already been to Rome before (about 8 years ago), and we were really only going to spend 3 days there, we didn't do as much planning as we did for the coast, and mostly depended on two travel books: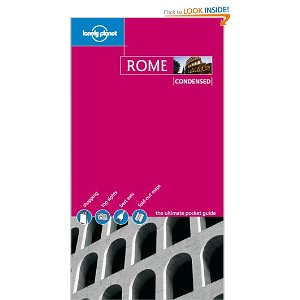 Lonely Planet Condensed Rome (borrowed from my sister):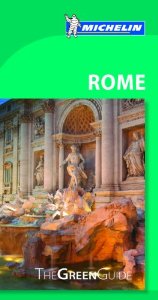 Michelin Green Guide Rome (borrowed from the Ferguson Library in Stamford):
Both are highly recommended. I liked the Lonely Planet one for the maps and highlights section (perfect for someone spending only a few days there), and I liked the Michelin one for its restaurant (duh) and shopping suggestions.
I certainly don't regret going back to Rome. It's easily one of the most beautiful cities I've ever been to, people are very friendly, the food is really good, and it's a great city to be out in late at night. Plus having the Roman ruins and the Vatican in one city (technically they're not, but you get the point), makes for some great sightseeing.
Our first "day" was really just a half day, since we landed at 12pm and got to our hotel at around two, but we were still able to do quite a bit.
Isa Hotel
Via Cicerone 39
00193 Roma
To be honest, I don't remember how or why we picked Isa as our hotel, since it's not even in the top 100 hotels in Rome on Trip Advisor, but I certainly don't regret it. The rates were quite low, it's within walking distance of the Vatican and the Piazza Navona/Pantheon area (if you're fairly used to walking around), and it was certainly lovely.
Getting in at 2 pm meant that it was siesta time, and that meant the streets were quite empty when we got to the hotel, as you can see from the view from our hotel window.
The breakfast buffet at Isa was quite simple. Like in ALL the hotels we stayed at, they had tomatoes, mozzarella, antipasti/cold cuts (prosciutto, mortadella, salami), an omelette station, and plenty of pastries.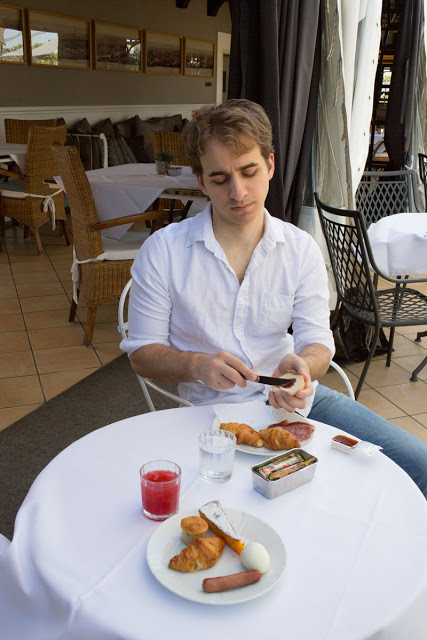 Mike seriously spreading some jam
Breakfast was always served on the rooftop, and the view slowly leeched the New York city stress I carry around with me constantly.
At night the rooftop bar is open, though I only shot a few photos during the day, since we preferred to go out at night.
After a short rest at the hotel, we decided to go out for lunch on our way to Piazza Navona and the Pantheon. We walked past the Castel Sant' Angelo (which I somehow did NOT take a photo of the entire trip, what?), the path behind the Castel lined with souvenir shops,
the Palazzio di Giustizia, one of the many, many impressive looking buildings in Rome,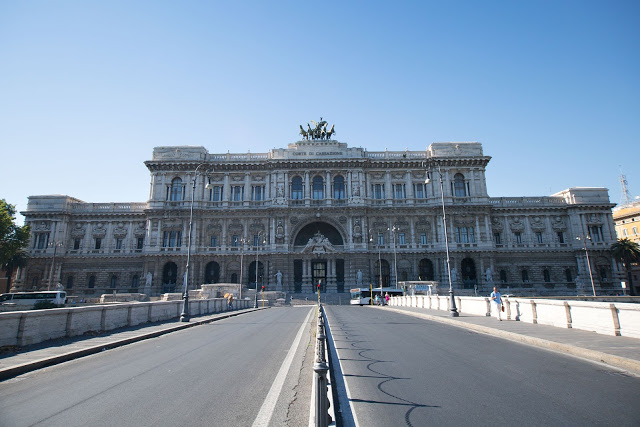 Palazzio di Giustizia
I may have risked my life standing on the thin divider to take this photo LOL
and across the Ponte Umberto I (ponte = bridge), which gave us quite a good view.
We walked down a few deserted alleys, with no one but tourists to keep us company (again, siesta), until we got to the restaurant we had picked, which is well known for good local fare.
Piazza del Fico, 29
Da Francesco is reviewed well on both Yelp (yes, Yelp can be a little helpful if you haven't planned your trip that well) and Trip Advisor (they have a certificate of excellence for 2013), but since we walked in during siesta time they were serving pizza and nothing else. I had been looking forward to some pasta, but at that point I was happy enough that we were seated during their precious siesta time.
I had a capricciosa, which is made with mozzarella, tomato, olives, artichoke, ham, and mushrooms.
The bread basket was somewhat interesting, though we had too many courses coming so we decided  not too eat too much from it. I liked the green sticks, which I'm guessing was pesto/basil foccacia.
For the pasta course, I had the "cubed" carbonara, which was a carbonara tasting plate, a trio of slightly different carbonara sauces.
My favorite was the truffle carbonara (creamy with a punch of shaved truffles, what's not to love?)
For our meat courses, I honestly don't remember much. Mike's was a saltimbocca, and mine was… something that looked interesting. I remember them being decent, but that we were so full at this point we could barely have more than a bite or two.
We tried to order a tiramisu to go (there was no way I wasn't having it on my first day in Rome), but they told us they didn't have any to-go containers, so I said never mind and asked for the check. They sent over the tiramisu with the check anyway, "on the house", since apparently we just HAD to try it. Now, when I say I "barely have any room" that usually means "I only have room for dessert", which explains the  the fact that I didn't leave anything in that container other than those berries on top. This had a lot more cream than I'm used to, and the soaked cake was all the way in the bottom, but it was heavenly nonetheless.