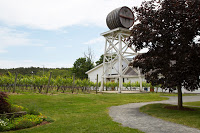 On a gorgeous Sunday Morning, sun up in the sky, not a rain cloud in sight, with a beautiful breeze lightly nudging our hair, we decided to risk it and try brunch somewhere other than our beloved Keltic Kitchen. It ended up being the perfect meal prior to an afternoon at the Truro Vineyards.
134 Rt. 6a
Main Street
Yarmouth Port MA 02675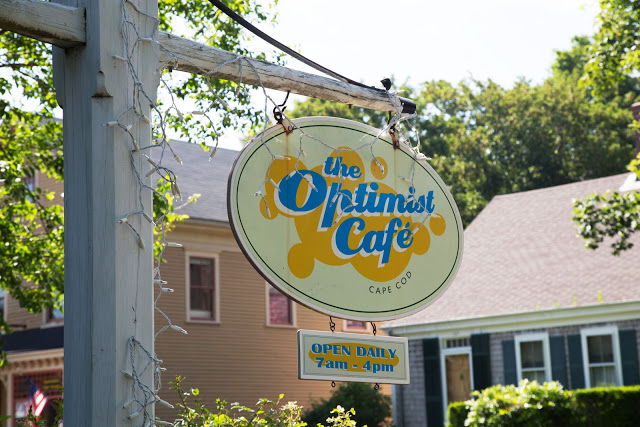 I figured going to a place called Optimist Cafe would be a good start. The cafe is in a beautiful historic home built in 1849 by Captain Frederick Howes (1812 – 1882), which was recently listed on the National Historic Register. We were there for brunch, but they also serve afternoon tea, which was obvious from their adorable sugar-packet filled tea cups.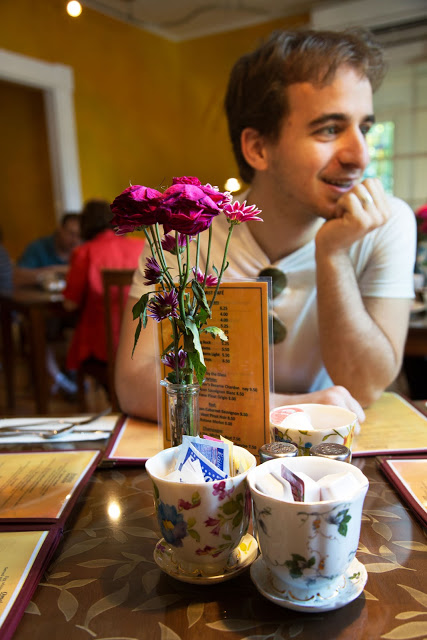 I convinced my friends to order the "Love Waffle", which is 2 heart shaped waffles served with raspberry cream and fresh seasonal berries. They weren't quite what I had envisioned "2 heart shaped waffles" to be, since they're actually several tiny heart shaped waffles in the form of two big ones. I may have oversold it a bit, since Mike also ended up getting the same thing. In his own words, he "mauled that thing", which is a big compliment, since he usually doesn't finish waffles or french toast, despite how much he loves them.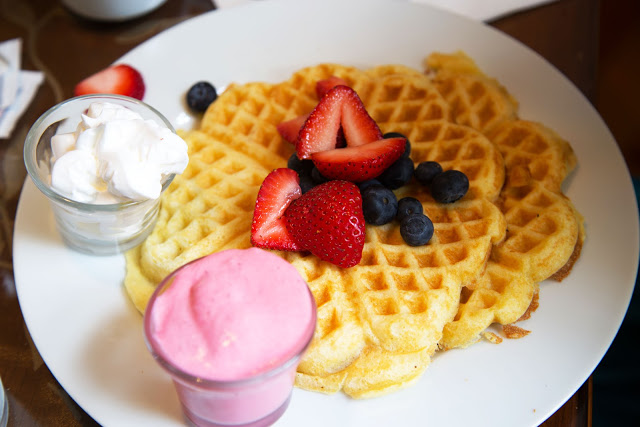 Love Waffle
One of our friends got the "Optimal Omelet", a 3 egg cheese omelet with Mist Potatoes and toast, and your choice of american, cheddar, swiss, goat or feta cheese, with an addition of bacon and sausage. This is one of those simple but satisfying affairs.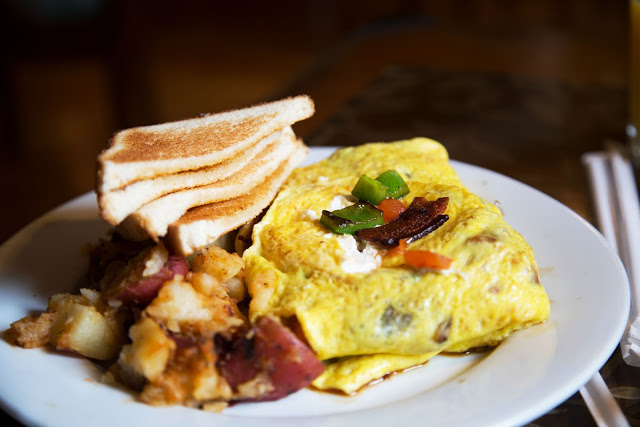 Optimal Omelet
I had "The Delight" which is a flaky croissant topped with scrambled eggs, loaded with spinach, ham and melted cheese, topped with hollandaise sauce and served with Mist Potatoes. In other words, it's an eggs benedict breakfast croissanwich with a side of home fries. Delicious, homey, buttery, and HEAVY is how I would describe this dish. Come hungry if you're planning to get it. Plan on needing a nap or a long workout after finishing it.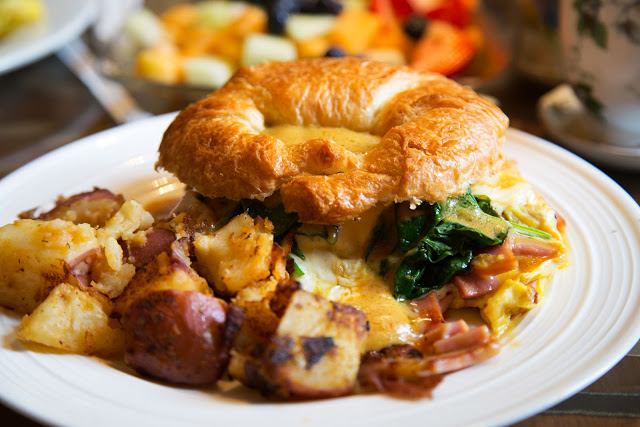 The Delight
We ordered some scones, which I had been obsessed with for the past couple of weeks due to my tea salon hunting for my sister's baby shower. These were cinnamon-raisin, and a lot crispier than the ones I'd been scarfing down at Alice's Tea Cup and Lady Mendl's in New York City. To be honest, I love the less crispy ones, but I know that's a matter of preference.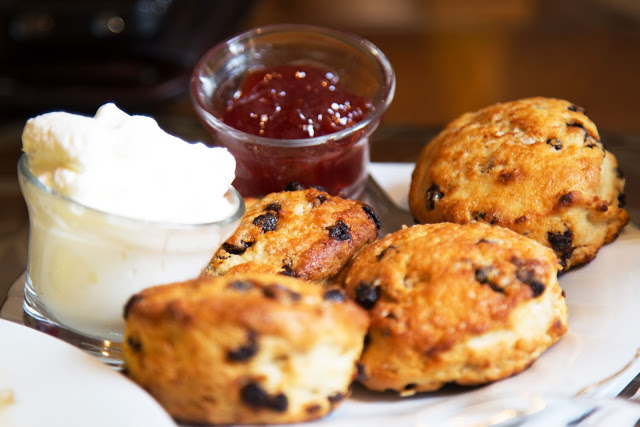 Cinnamon-raisin scones
We also ordered a big fruit plate for the table, to lessen or feelings of guilt regarding our unhealthy brunch choices. They were sweet and as you can see, looked very very fresh.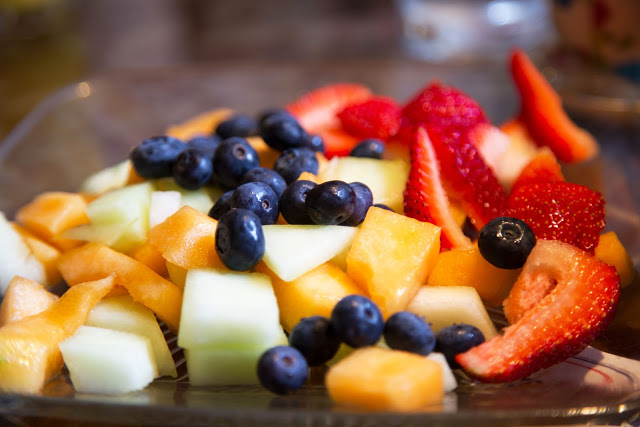 The interior of the cafe is a warm yellow color, with big tables perfect for groups such as us, who love to order random other dishes on the side.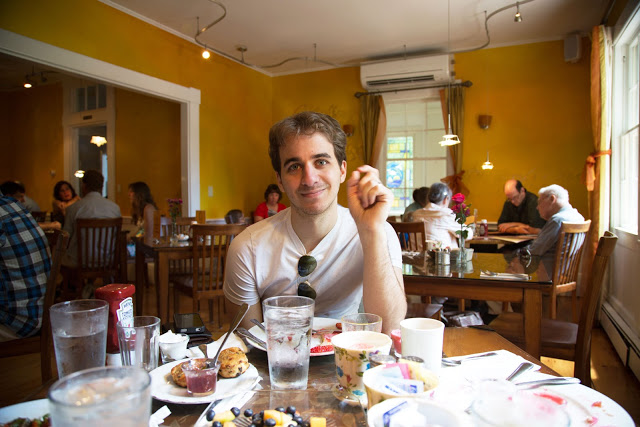 11 Shore Rd
North Truro, MA 02652




We've purchased plenty of the Truro lighthouse wines from package stores (liquor stores) in Cape Cod, but this was actually our first time at the Truro Vineyards. The drive is a little less than an hour, and on the way there, we enjoyed plenty of sing-along type 90's pop music from Songza's "At a 90's School Dance" playlist (I highly recommend this app).
Once you park, you're immediately greeted with the site of a beautiful lawn with a few picnic tables, and a lovely house where you can peruse their gift shop on the way to the wine-tasting in the back yard.
They have a tour at 1pm and 3pm every day during the summer, and wine tastings every 30 minutes. The wine tasting costs $10 per person, and you have a choice of 5 wines out of 10. If you want to taste all of them, it's a good idea to bring someone to pair-up with you, so you can share all 10.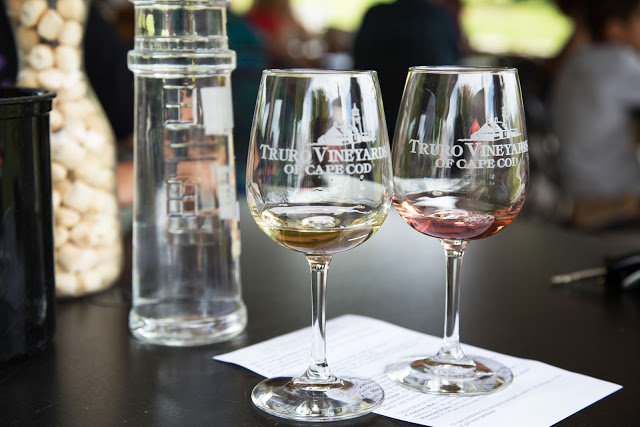 Wine tasting at Truro Vineyards
After tasting, we perused their lovely gift shop, where my friend bought a few bottles of wine.
Since we still had quite a few of their lighthouse cranberry red and diamond wines, we purchased their blush, and a few welcome additions to our kitchen such as a smoked maple chipotle finishing sauce (supposedly award winning), chilli pepper with garlic oil (there is no way I would not have bought this), and an apron that reads "well red" on top of a glass of red and a book. Hooray for puns! I may have added some dark chocolate covered blueberries as well, which I have to say are VERY addicting, and not at all bitter.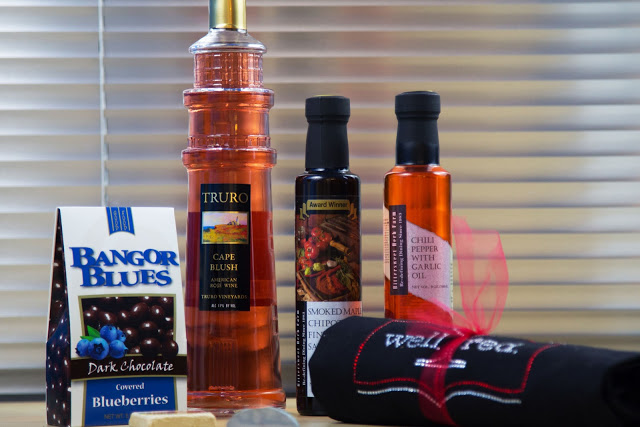 Truro loot
They have a good selection of pretty cork cages, and my friend bought one that reads "CORKS", while I agonized over the fact that I did not buy one all the way home.
We did not do the tour of the winery, since we were headed home that afternoon, but we still had a wonderful time.
15 Lecount Hollow Road
South Wellfleet, MA 02663
On the way to Truro, we passed by a restaurant with a parking lot filled with cars (a rare sight in that part of the Cape), and I got curious enough to Yelp it. It turns out that this French bistro, described as 'not just a "french bakery" or a "french restaurant"… truly a french experience!' on their Facebook page, was created by chef Philippe Rispoli, who hails from Lyon, and was an executive chef at Daniel Boulud Brasserie in Las Vegas, and was also a chef at Daniel in New York city. Needless to say, I excitedly urged that we have lunch there, and so we had brunch for the second time that day, since they were serving a Father's day brunch menu.
The interior of the place is warm, casual, and inviting. They have a separate bakery, where we purchased their AMAZING, must-try, white chocolate bread, and a white chocolate mousse stuffed with cherries on top of a pistachio cake crust, which I consumed in the car. If you're ever here, I must reiterate, GET THE WHITE CHOCOLATE BREAD.
From their Father's day menu, we started off with La Corbeille de Viennoisserie which I will very loosely translate as a bread basket. It is filled with a croissant, a pain aux raisins, a pain au chocolat, a cookie, and a brioche (DELICIOUS), with a side of Pascaline Rispoli jam (jam made by chef Philippe Rispoli's mom). Everything in the basket was good, but I surprisingly liked the brioche the most, especially with the fantastic jam.
The four of us ordered two dishes, twice. One was La Brioche Fraci a L'oeuf Brouillee (I'm skipping the accents here so LITERALLY, excuse my French), which is a scrambled egg stuffed brioche served with crispy bacon and smoked bacon cream. In other words, a French-ified breakfast sandwich. This thing is pretty impossible to eat with your hands. The scrambled egg is very fluffy and almost liquid-y, but delicious.
The other one was the Saumon Fume Maison, or simply, the house smoked salmon. It's served with potato latke and whipped creme fraiche on top. Now, in all honesty, I have never ordered a smoked salmon that I did not like. This one was very tender and tasted fresh, almost like the cured salmon I once made for myself, except much more delicious. The creme fraiche was an excellent idea. Since it's lighter than cream cheese, it makes the dish more subtle, and highlights the salmon. I liked the idea of using potato latke, but I wasn't a fan of how charred the top of this latke was. A little more golden brown, a little less charring, would have made this dish perfect.
Despite my one gripe about the latke, this meal was still wonderful. I would go back just to get a few loaves of the white chocolate bread.
This was another wonderful day at the Cape, and we were blessed with gorgeous weather. I hope your spring/summer is going as well as mine.