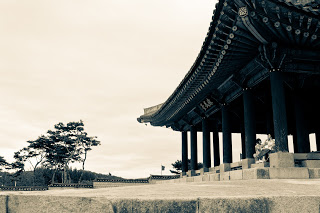 On our second and last day in Seoul we spent most of our day on a cultural tour of some of the spots that are in UNESCO's World Heritage list. But not before we woke up bright and early to have breakfast at the JW Marriott. Their breakfast buffet is definitely impressive. I would say half of it was American/European and half of it was Korean food. I felt a little awkward taking photos at first, but the one of the waitresses assured me it was fine.
Breakfast Buffet at the JW Marriott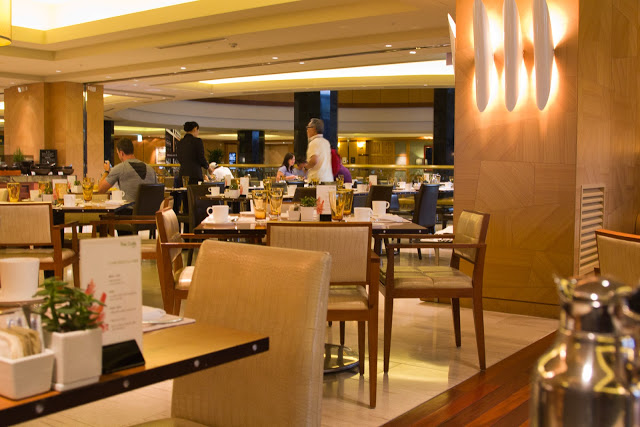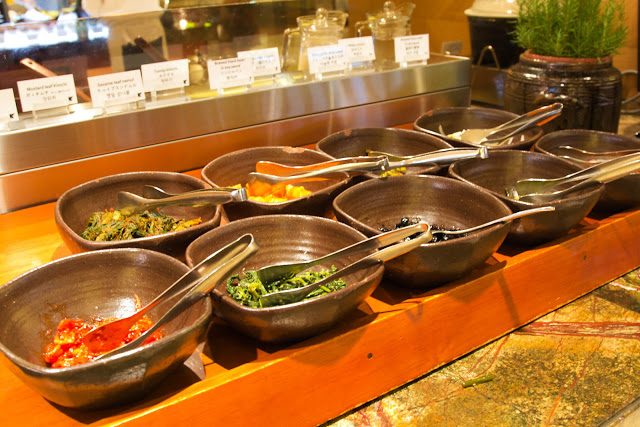 Different kinds of kimchi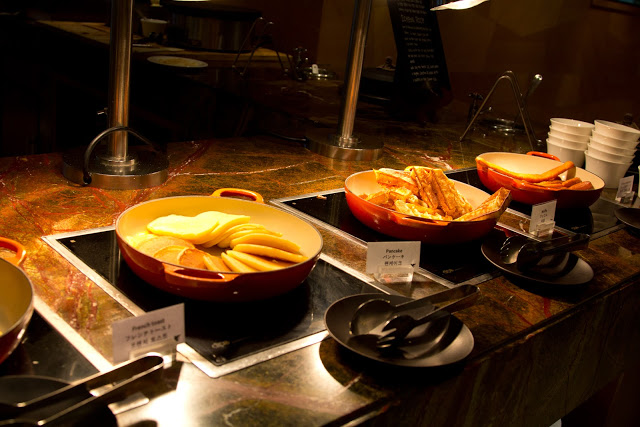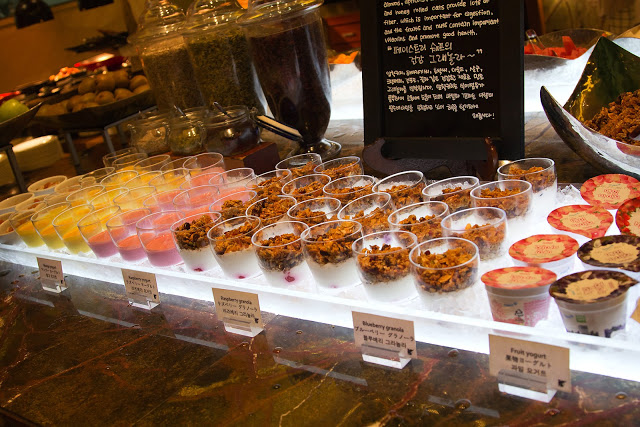 Yogurts and parfaits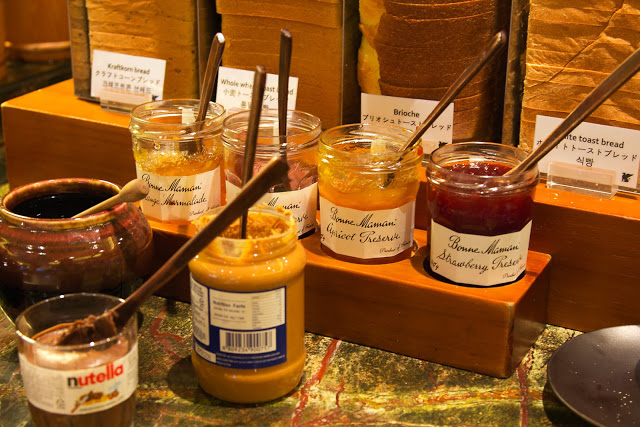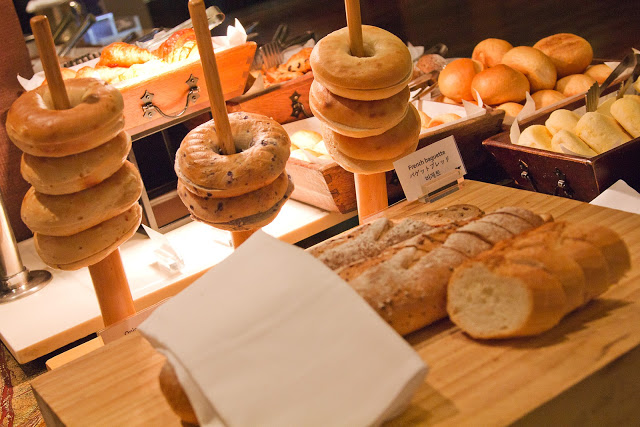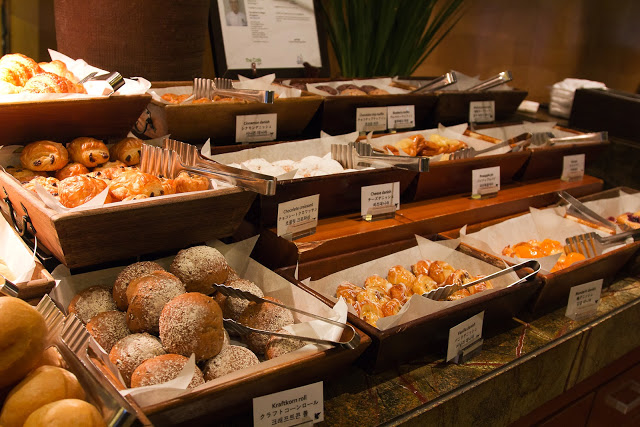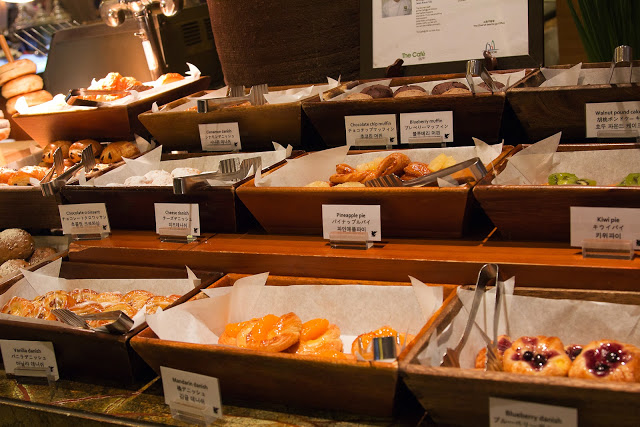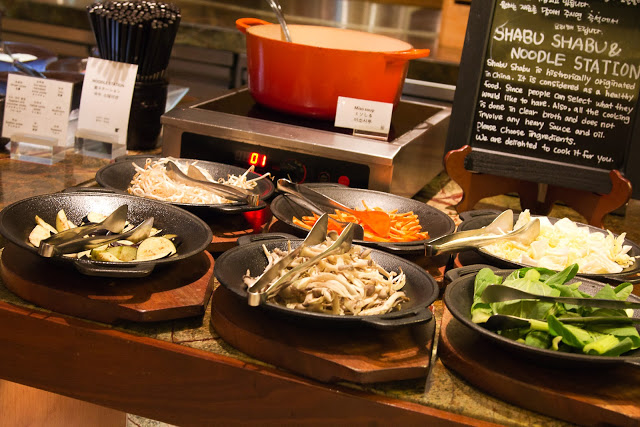 Shabu shabu station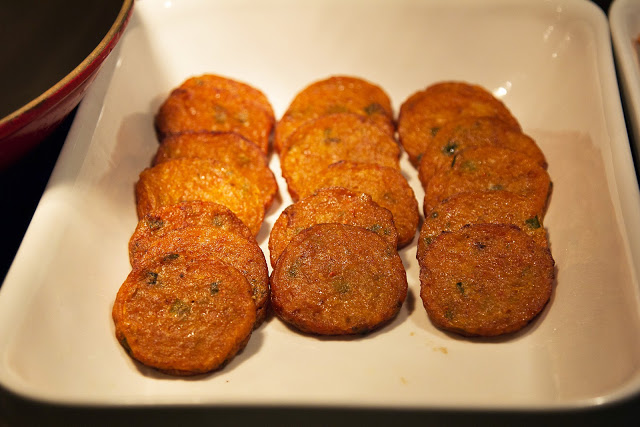 I loved these silver dollar scallion pancakes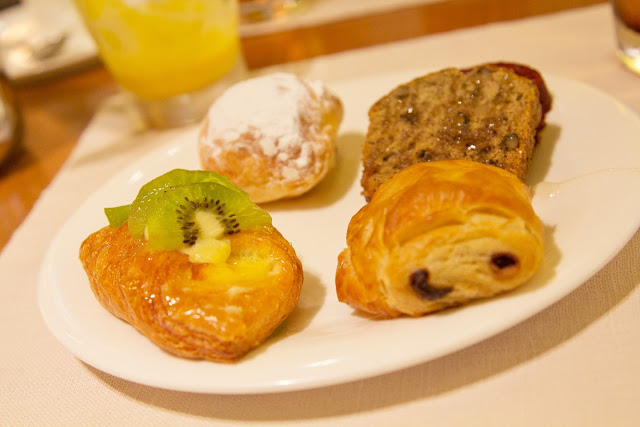 I went for the pastries, of course.
Changdeokgung Palace
We actually spent half the day on a private tour, because there was no one else had booked it in the morning (awesome!). After meeting our tour guide we immediately headed over to Changdeokgung Palace, one of the five grand palaces built by kings in the Joseon dynasty. I gawked at my first glimpse of Joseon period architecture: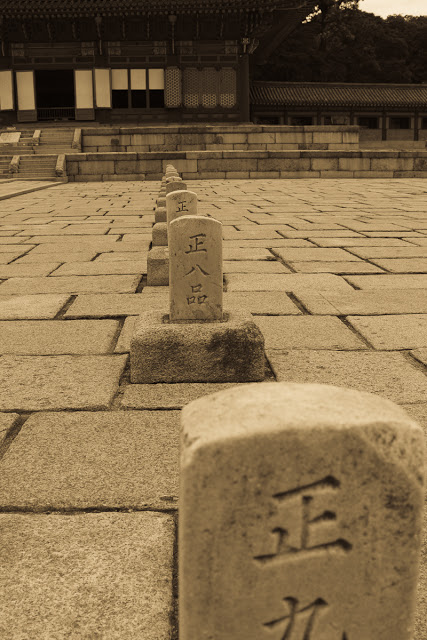 Stone blocks mark the places where officials used to stand for ceremonies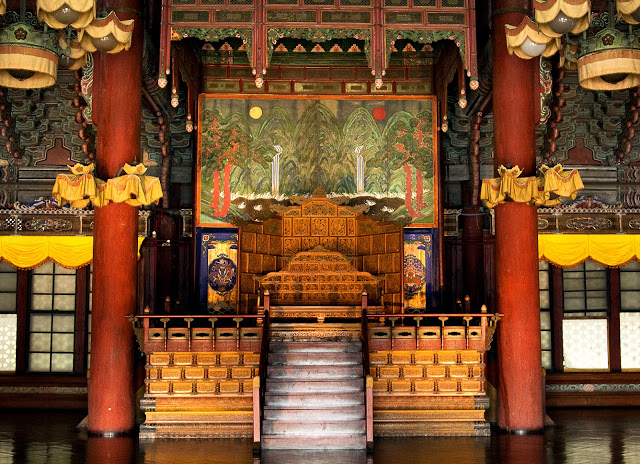 Throne room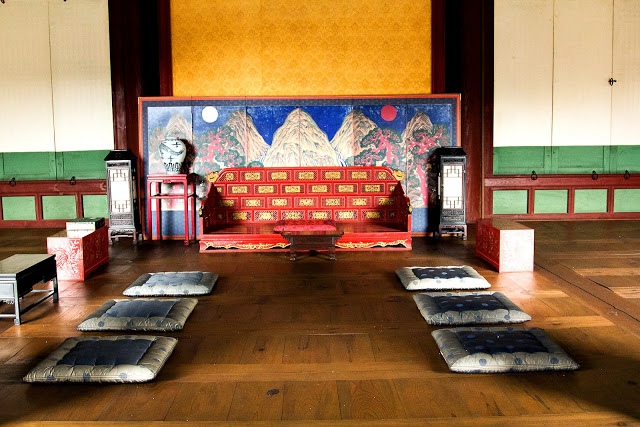 Where kings used to hold meetings with his advisers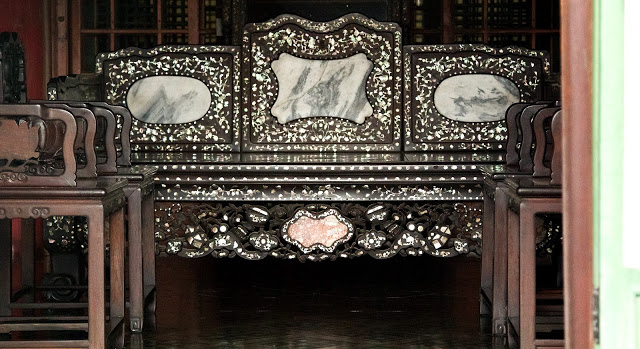 In the queens' room, set with mother-of-pearl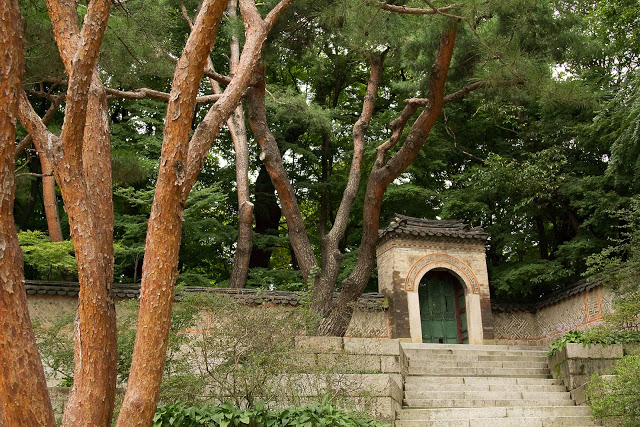 Entrance to the secret garden, only open to visitors who request a pass in advance
While Mike asked thoughtful questions like:
"What is the use of these metal hoops on the ground?"
The answer was that they were used to hold down tents for royal ceremonies whenever it was raining outside. I would've preferred it opened up into a secret entrance to an underground dungeon.
Jongmyo Royal Shrine
According to UNESCO, "Jongmyo is the oldest and most authentic of the Confucian royal shrines to have been preserved. Dedicated to the forefathers of the Joseon dynasty (1392–1910), the shrine has existed in its present form since the 16th century and houses tablets bearing the teachings of members of the former royal family. Ritual ceremonies linking music, song and dance still take place there, perpetuating a tradition that goes back to the 14th century." There was not much going on there except for the huge buildings housing the tablets and some rooms intended for ceremonies, and of course, the fact that it was my first time ever in a Confucian shrine (or any building related to Confucianism for that matter).
Hanok Village


After Jongmyo we were brought to a hanok village. I believe there are at least two of these in Seoul. They've restored some traditional houses and moved them to these villages to preserve the look and feel of the time. On some days you'll find some people decked out in full costume.
After that it was lunch time, and we were brought to a restaurant where we could enjoy either beef bulgogi or bibimbap. Since Mike does not particularly like bibimbap, we settled for the bulgogi. It was honestly just as good as any I've tried in New York, and that's not necessarily a bad thing. Of course, there was as per usual, no lack of side dishes.
Caffe Bene


After a very quick lunch (because at this point we were still in "let's get as much done as we can" mode), we left our tour guide and the driver to have their lunch in peace while we headed upstairs because I had spotted a "Caffe Bene" in the same building. I had been dying to try out this cafe (despite its being spelled with to Fs), because I see it all the time in dramas, and also because my all time favorite actor Jang Geun Suk is in all their ads. I know, I really am the queen of lameness sometimes.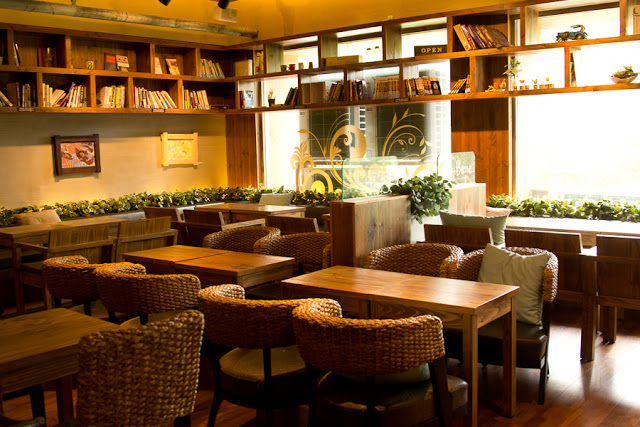 An empty Cafe Benne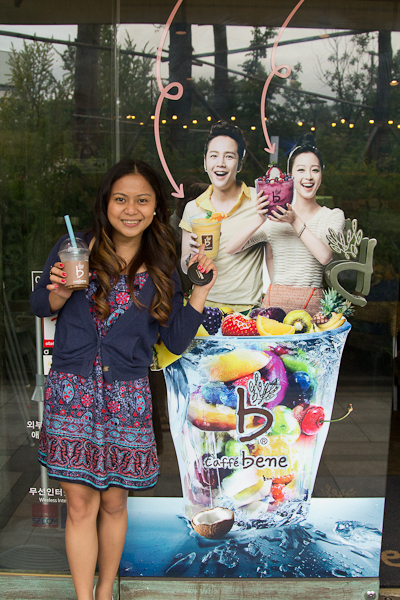 Haha. Fangirl.
After that we went to our last stop, Hwaesong Fortress (which was actually my favorite), and we were dropped off at Insadong market where I did most of my shopping. Don't miss my next post on these.
Related posts:
Not Bored in Manila 2012, Day 1 – Mesa Filipino Moderne, Fort Santiago, and Travel Woes
Not Bored in Jeju Island 2012, Day 1 and 2, Part 1 – Airport and Hotel Food, Jetlag, and Jeju Olle Trails Route 7
Not Bored in Jeju Island 2012, Day 2 Part 2 – Loveland Museum
Not Bored in Jeju Island 2012, Day 2 Part 3 – Dongmun Market, Han's Deli, and Gwang Won (Korean BBQ)
Not Bored in Jeju Island 2012, Day 3 Part 1 – Hallim Park and Jeju Olle Trail
Not Bored in Jeju Island 2012, Day 3 Part 2 – Spirited Gardens, Locadio World, Mt. Sanbang, and Cheonjeyeon Falls
Not Bored in Seoul 2012, Day 1 – Myeongdong, More Korean Food, and Hangang River Park
Not Bored in Seoul 2012, Day 2 Part 2 – Hwaseong Fortress and Insadong