After our second, short Jeju Olle trail hike, we headed over to the Spirited Garden, which is a big bonsai garden, and one of the most popular attractions on Jeju. This was also where we had lunch.
Spirited Garden
The garden offers a lunch buffet, and this was part of the package, so I didn't really have big expectations for it. But the food was decent, and they had the creamiest green tea ice cream I've ever had. The food was mostly Korean/Jeju island fare, featuring pork from their famous Jeju black pig. The taste is supposed to be different from usual pork, but all I could tell was that it was delicious. They also had a variety of side dishes, one of which was an eggplant side dish that I also had at Gwang Won and several times in Seoul. It's one of my favorite side dishes there.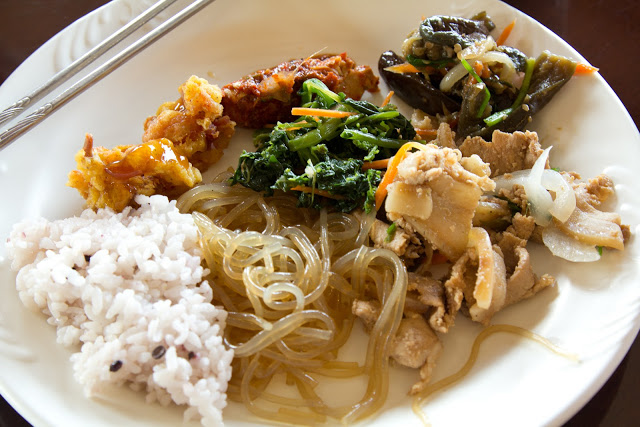 Buffet lunch @ Spirited Garden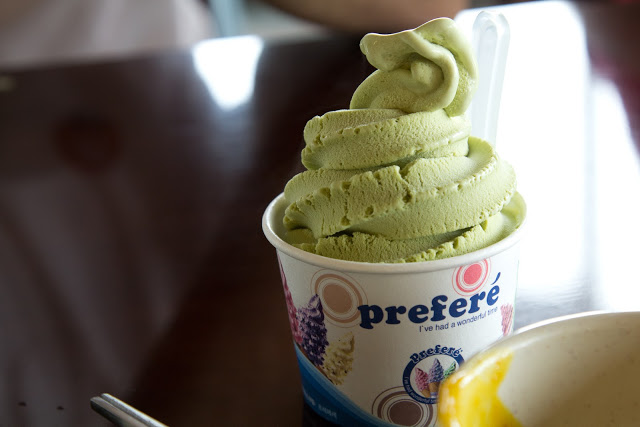 Super creamy green tea ice cream @ Spirited Garden
After a very satisfying lunch and chatting a little with some of the people in our tour group, we walked around the gardens for a bit.
Mike enjoyed feeding the koi that were placed in some of their ponds.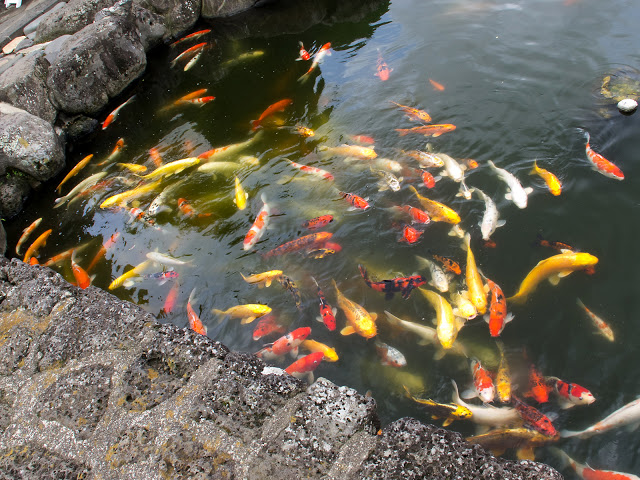 Food! Food! Food!
While I walked around and took a lot of photos. I have to say taking photos sometimes takes the relaxation factor out of places like this, but at least I will have plenty of photos to look at when I'm old and can't travel as much anymore.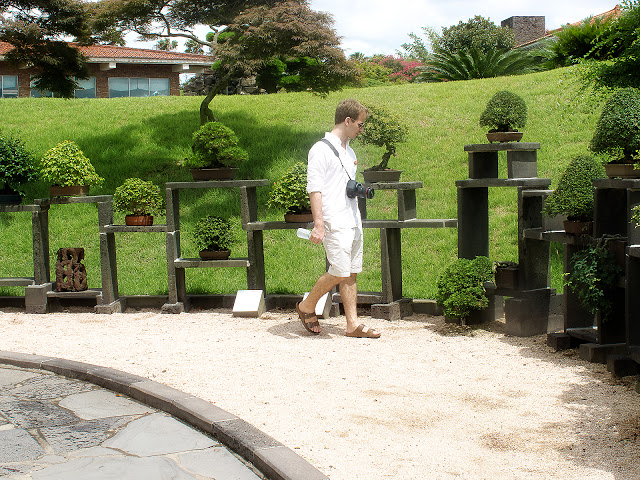 Mike admiring the bonsai
Locadio World
After the gardens we headed over to Locadio World, which is another of the many museum-type attractions in Jeju. This place is pretty interesting. The name is derived from "Location" and "Studio", and is basically a huge building full of rooms that look like filming sets. They also have plenty of costumes hanging on hooks, for those who want to pretend that they're filming a drama or a movie.
We were immediately directed to the topmost floor, which houses all the historical Korean sets. We got a very blurry photo of ourselves taken by our tour guide. At this point the battery on my DSLR camera was dead, so most of the photos for this post are courtesy of my semi point-and-shoot.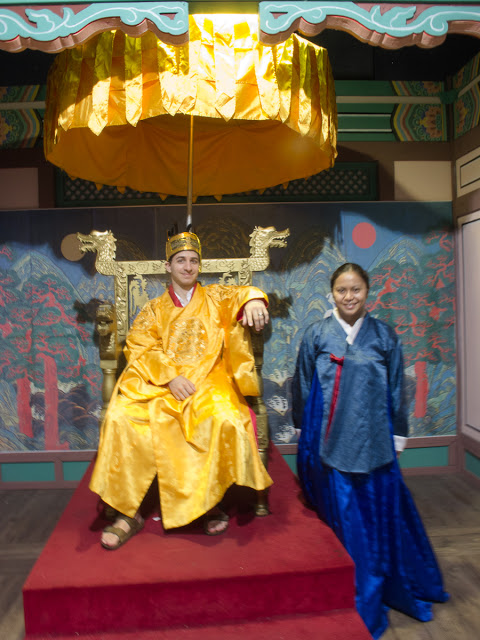 The birkenstocks gave away the fact that he's not a king, I think.
That and the fact that he's white.
Apparently, movies set during the Korean war and Japanese colonization are very popular, so an entire floor is devoted to these two.
Meanwhile, Mike was more interested in the "Western" sets. And somewhere along the way I forgot how to take photos that are not blurry.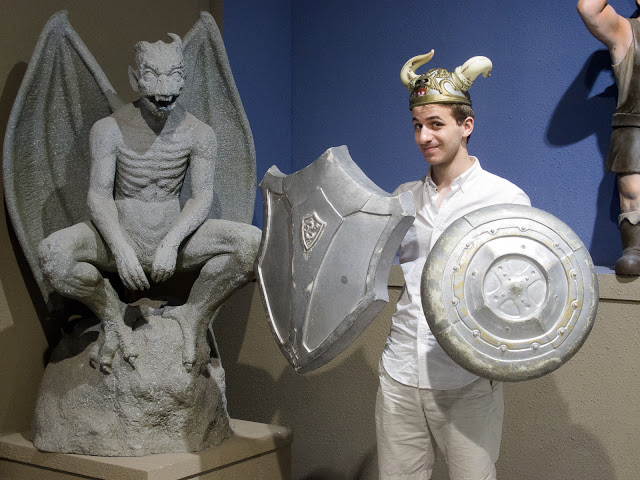 Don't ask me why he has two shields.
And then we took turns posing on a giant creepy hand.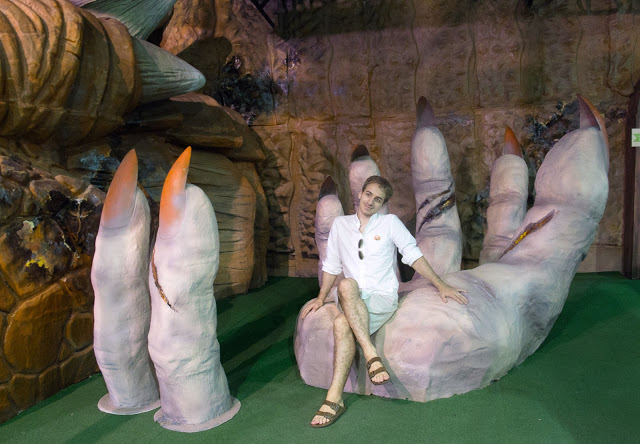 I'm not sure why, but it appears he's enjoying himself.
This was definitely a one-of-a-kind experience, and now that I think about it I wish I had my decent camera at the time. I would've had a lot of fun posing with the room that had giant bugs.
Mt. Sanbang
Our next stop was Mt. Sanbang. It's known for its buddhist temples, and the massive cave on it's face. The water flowing to the cave is rumored to bring good health.
We started by looking around the two temples. We probably would have appreciated them more if we were buddhists, but we thought they were beautiful nonetheless.
Then we started to walk up to the cave. It was quite a bit of a hike and it was VERY hot and humid, by the end of this stop we were about ready to end the day.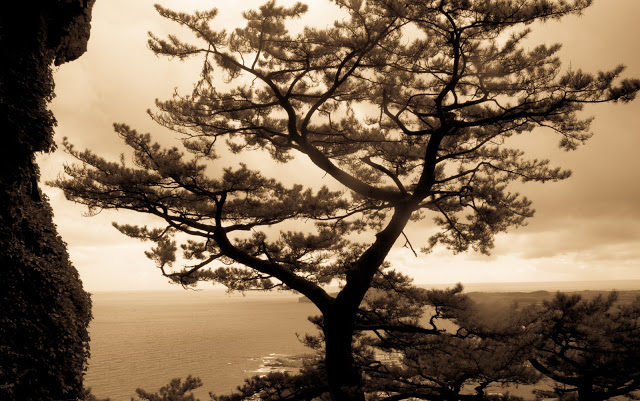 View from the cave
I've mentioned in a previous post how coffee can be found EVERYWHERE. I got this can from a small shop on the way down from the cave.
Cheonjeyeon Waterfalls


Our last stop on the tour brought us to the Cheonjeyeon waterfalls. There are three in all.
And, of course, there was more hiking involved.
According to legend, nymphs used to descend from the heavens and bathe in the waters of the waterfalls. I don't know about that, but if there really were nymphs I wouldn't be surprised that they would hangout here.
Towering above the waterfalls is the Seonimgyo bridge, which is so huge that we saw it from inside the cab on the way to our hiking trail the first day. It's definitely impressive, and the carvings of the seven nymphs make it unmistakeable.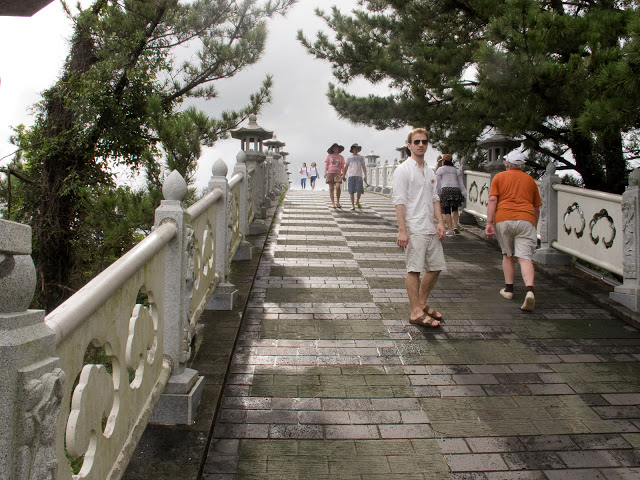 Mike trying his best to give me a hurry up and stop taking photos look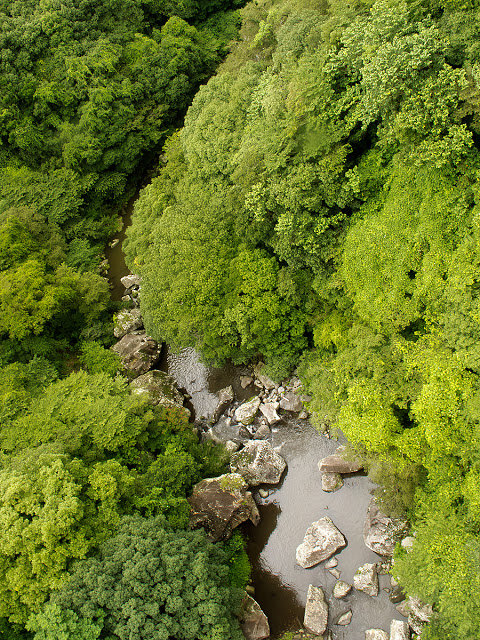 View from the bridge
Finally, we headed back to the hotel. After dropping off each and everyone else on the tour group, that is. The good thing about this was that I got a chance to chat with our tour guide about Korean dramas once everyone was out of the way. She was very impressed about my up-to-date knowledge (I was watching one that had just ended a few weeks before our tour), and we discussed our ages to figure out who will have to be called "oppa" (older male or kuya), "unni" (older female or ate), and the like. She told us we were the first New Yorkers she had ever had in her tour groups, but that she had toured with some Californians (is this the right term?) before. I'm not surprised, since the flight from New York is loooooong, not to mention somewhat expensive, if you're not used to going back to the Philippines almost every year like me.
Once we were dropped off at the hotel, we basically gave up the idea of going anywhere else since our legs were pretty much dead.
We settled for having their dinner buffet, which honestly did not feel like settling at ALL.
Having their buffet ruined the international buffets in the Philippines for me. The choices were not as plentiful, but every single thing tasted fresh and perfectly flavored. I especially LOVED their smoked salmon, which was the most succulent and flavorful I've ever tasted.
The bright and early the next day we headed over to Jeju International airport for our flight to Seoul. We had a bit of a scare (and this was the point where I felt like we were in the Amazing Race), when we realized at the gate that Mike had left his wallet at the hotel. Thank goodness I had an urge to buy Shu Uemura makeup at the duty free and that we picked a hotel 15 minutes away, otherwise it really would have been lost. He had to go back to the hotel to look for the wallet himself, because no one could understand him on the phone. Luckily he found the wallet, and we were able to calmly wait for the plane 30 minutes before boarding. In the meantime, since I had only had 2 cups of coffee at this point, I eyed the vending machines, which of course, had BOTH hot and cold coffee. Oh Korea, I have never felt so out-of-place and completely at home at the same time.
And then… Seoul.
Related Entries:


Not Bored in Manila 2012, Day 1 – Mesa Filipino Moderne, Fort Santiago, and Travel Woes
Not Bored in Jeju Island 2012, Day 1 and 2, Part 1 – Airport and Hotel Food, Jetlag, and Jeju Olle Trails Route 7
Not Bored in Jeju Island 2012, Day 2 Part 2 – Loveland Museum
Not Bored in Jeju Island 2012, Day 2 Part 3 – Dongmun Market, Han's Deli, and Gwang Won (Korean BBQ)
Not Bored in Jeju Island 2012, Day 3 Part 1 – Hallim Park and Jeju Olle Trail
Not Bored in Seoul 2012, Day 1 – Myeongdong, More Korean Food, and Hangang River Park
Not Bored in Seoul 2012, Day 2 Part 1 – UNESCO World Heritage Day Tour
Not Bored in Seoul 2012, Day 2 Part 2 – Hwaseong Fortress and Insadong
Not Bored in Coron, Palawan, Philippines, Part 1: Club Paradise