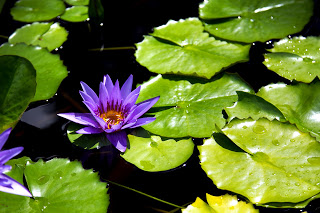 After a crazy day running around Jeju, we were looking forward to the leisurely bus tour we were going to be on on our third day. It ended up NOT being leisurely at all, and there was a lot more walking up and down stairs than we had expected. Still, it was a good tour, and we hit a lot of different spots without planning the whole thing ourselves. Another great thing about it was that the sun was out and the day was gorgeous, when we thought it was going to rain most of the day.
Hallim Park
We started out at Hallim Park, which was a cross between a botanical garden and a mini-museum for all things Jeju. It has different themed sections, some of which are:
Wild grass & flower Garden
Water Garden, Subtropical Botanic garden
Jeju Stone & Bonsai Garden
Subtropical Botanic garden.
Lava Caves
Mini Folk-Village
The foliage was certainly interesting.
The bonsai and stone garden was also pretty.
There were more statues pointing to the history of Jeju Island as a destination for those praying for fertility. These statues are for those who have a desire to conceive a son.
The lava caves (or lava tubes) were smaller compared to the others that are on the island (we unfortunately did not get to them), but they were certainly still beautiful.
Overall Hallim Park was a really nice stroll, and a great start to our tour. I tried a cup of barley beverage while in the middle of the park. Turns out this is actually good for your health, and helps lower cholesterol.




Olle Trail Route 11


Of course, since apparently we hadn't hiked enough, we hiked another part of the Olle hiking trail on this tour. It was worth it because we saw a different section of the coastline.
The rugged coastline of Jeju, strewn with lava rocks, is one of the most interesting sights I've seen in my life. I'm used to the sandy beaches of the Philippines, so this was definitely an amazing experience.
After this we headed over to the Spirited Garden, another (bigger) bonsai garden in Jeju, Mt. Sanbang, and Cheonjeyeon waterfalls. Read about them on my next post.
Related Entries:



Not Bored in Manila 2012, Day 1 – Mesa Filipino Moderne, Fort Santiago, and Travel Woes
Not Bored in Jeju Island 2012, Day 1 and 2, Part 1 – Airport and Hotel Food, Jetlag, and Jeju Olle Trails Route 7
Not Bored in Jeju Island 2012, Day 2 Part 2 – Loveland Museum
Not Bored in Jeju Island 2012, Day 2 Part 3 – Dongmun Market, Han's Deli, and Gwang Won (Korean BBQ)
Not Bored in Jeju Island 2012, Day 3 Part 2 – Spirited Gardens, Locadio World, Mt. Sanbang, and Cheonjeyeon Falls
Not Bored in Seoul 2012, Day 1 – Myeongdong, More Korean Food, and Hangang River Park
Not Bored in Seoul 2012, Day 2 Part 1 – UNESCO World Heritage Day Tour
Not Bored in Seoul 2012, Day 2 Part 2 – Hwaseong Fortress and Insadong
Not Bored in Coron, Palawan, Philippines, Part 1: Club Paradise