I asked my husband where he wanted to go last week and gave him some options in Brooklyn, and he replied with, "I wish we could do Chinese/Korean Flushing". Now, if I agreed to this, this would be the first time I go back to a neighborhood I've written about before, so I was a little hesitant at first. But I realized that I now have techniques for finding places to go to that I did not have before (Flushing was my 2nd walk ever). So I agreed and excitedly made a list and a map. (Pic: Me at Korean BBQ)
Patel Bros Grocery
4292 Main St
Flushing, NY 11355
This place is crazy. I've been to some grocery stores in Jackson Heights (well-known for having a big Indian community), but I've never seen as many options for frozen Indian food as they have here. Plus the stocks look fresh, not like they've been hanging around there for months. I was a bit sad that this was just the start of our walk so it was impossible for me to buy groceries. I ended up just getting dry spice packs for cooking Indian food. Here are some of the items that I got pretty excited about: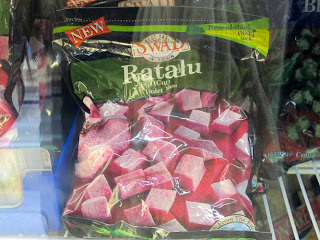 Purple yam, "ube" in Tagalog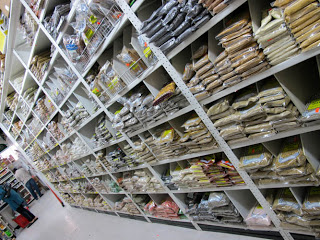 Shelves and shelves… and more shelves of spices!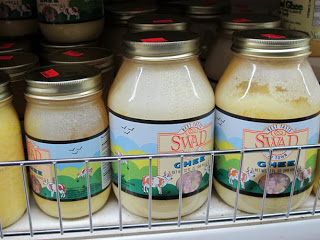 Ghee! I was sooo tempted to get a bottle. (Ghee is clarified butter)
On Main Street
Between Patel Bros. and Golden Mall
Our next stop was Fay Da bakery. This wasn't planned at all, but hubby wanted to get some pork buns and I didn't really plan out a stop to get those, so I figured since this is a respectable bakery we'd just get them here. This wasn't even the one I wrote about on my first Flushing walk, they're really just everywhere! I haven't had a chance to take many pictures here yet, coz it's always crowded, this time I was able to take more photos of their items.
Their cheesecakes look especially good (and different):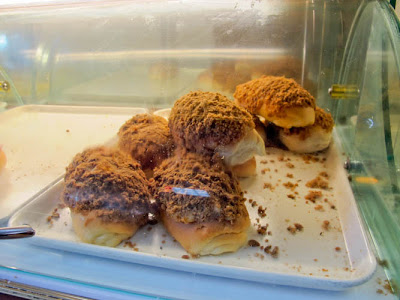 Dried Pork Bun
Hubby liked their pork buns. He said the buns are especially tasty, although the pork filling may not be as good as the ones from Chinatown. If you're a fan of the actual buns, though (like me), or if you're not in the mood to go around town looking for better pork buns, then this is a good choice.
Kebabs @ Golden Mall
41-28 Main St
Flushing, NY 11355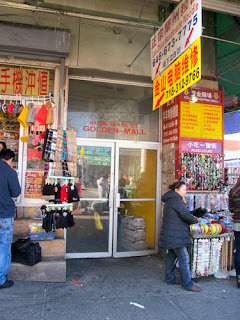 Entrance to the Golden Mall
I wanted to go into the Golden Mall just to show hubby what it's like, and also to get him some spicy lamb cumin burger from Xi'An famous foods. When we walked in, we were hit with smells from so much delicious food being made, which knocked our socks off. Hubby refused to eat food from there if we were gonna do takeout, because it usually isn't as good. I promised we'd return just to have lunch, since we'd already decided to do Korean BBQ as our last stop. So, spying some very good looking kebabs/sticks at this famous pulled noodle place, I bought myself some snacks.
Believe it or not, this place is pretty low-carb friendly. They add the spices to the kebabs when you pick one, and it's a dry rub. They even have sticks of eggplant, broccoli and other veggies, so if you're low-carbing you have your lunch right there.
The prices are really great, too.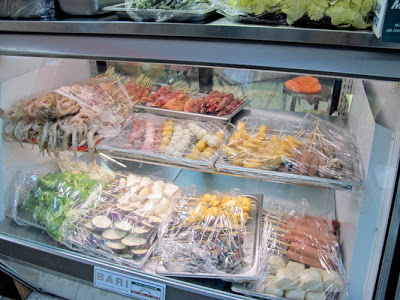 Sticks galore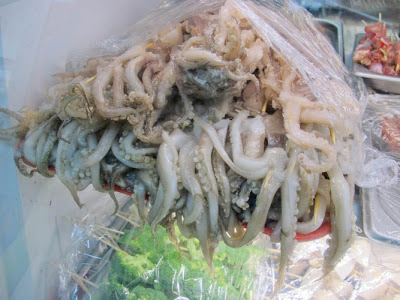 Care for some tentacles today?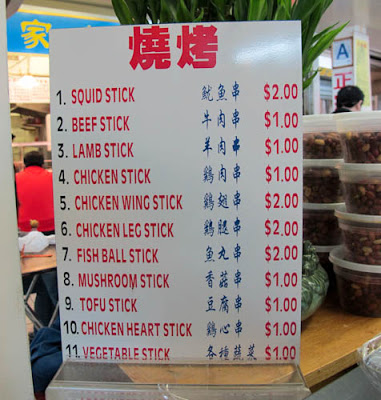 Cheap lunch!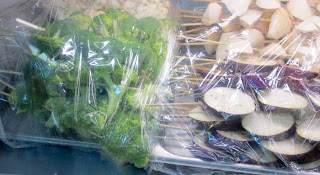 You CAN have something healthy in Flushing 🙂
I ordered the squid and lamb sticks. They asked me if I wanted them spicy and I said yes. The squid was good, and definitely tasted fresh. The lamb, we decided, was one of the best lamb dishes we've ever had (hubby had a bite of it). We're definitely coming back here for a proper lunch, and YES I am still going to write about it ;).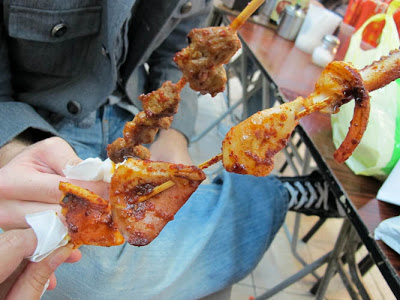 Lamb and squid sticks @ Lan Zhou pulled noodle
Morning Glory
136-77 Roosevelt Ave
Flushing, NY 11354
At my last Flushing walk I had ignored this store because it looked kinda small and uninviting from outside. This time around I did my research on Yelp and found that people love this store, so I added it to my list. It helped a bit that it looked a bit more festive from outside: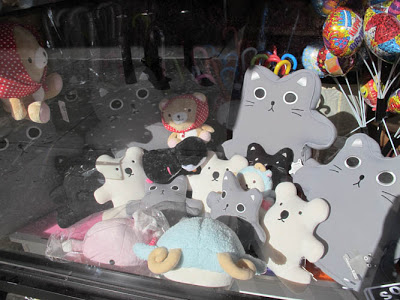 ADORABLE window display!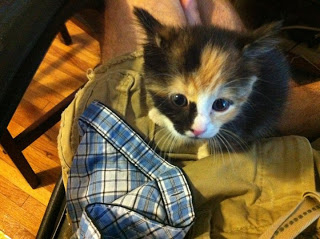 But my cat is more adorable
Just like Banzai from across the street, this place is Sanrio heaven, but also much more. They definitely have more stationery items here, and they're oh-so-adorable. Here are some of the items I found: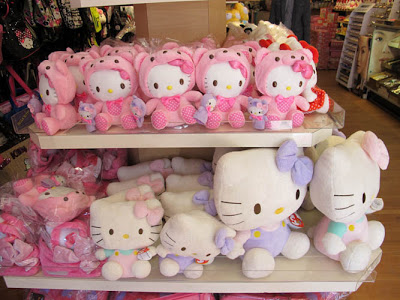 Gotta have Hello Kitty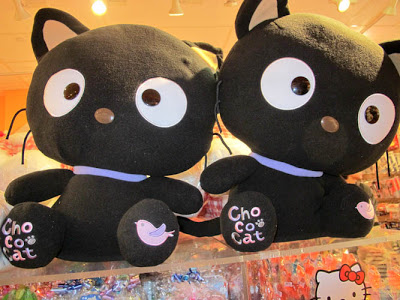 Choco cat. Sort-of a private joke between me and hubby, from the Korean drama "Greatest Love"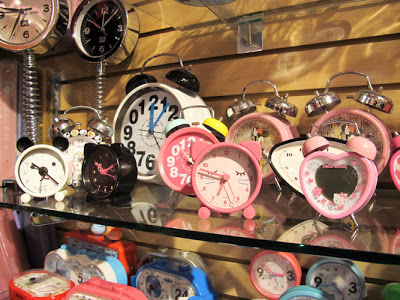 THE place to go for adorable alarm clocks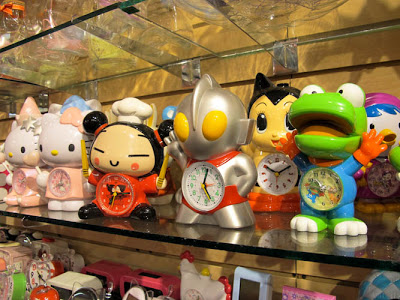 THE place to go for adorable alarm clocks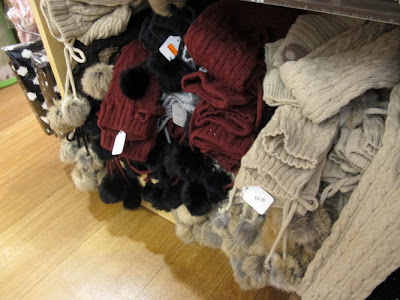 Arm warmers! I bought two 😛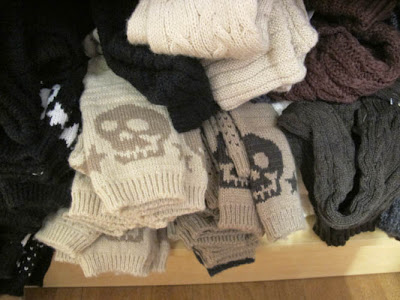 Skull arm warmers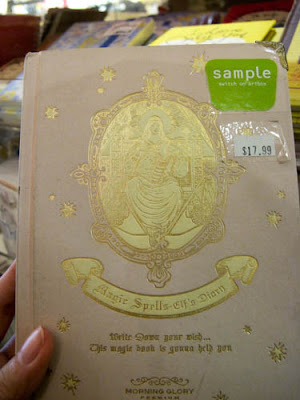 The cover of this planner sort of makes it look like a bible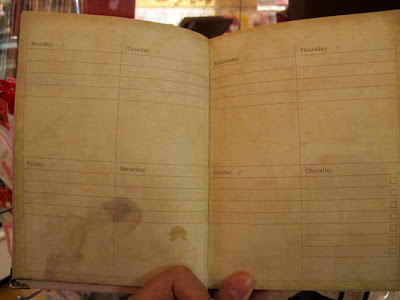 But the inside is gorgeous, like an old journal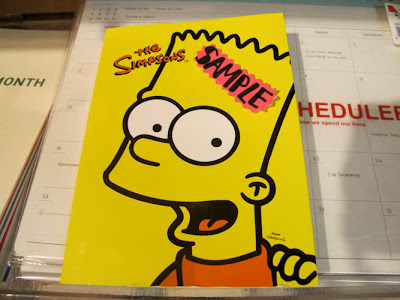 The Simpsons planner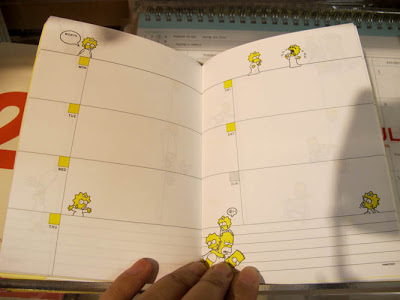 The Simpsons planner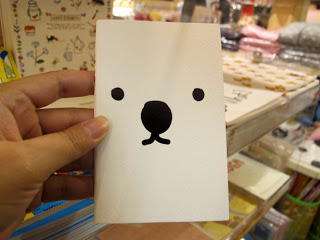 Super simple, yet super adorable mini notebook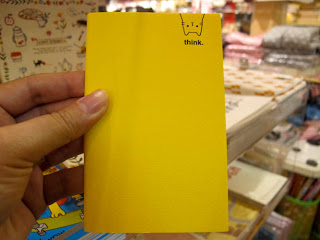 More notebook cuteness
41-08 149th Pl
Flushing, NY 11355
There is no lack of Korean BBQ restaurants in the area we drove over to (it was too far away from the main drag), I counted 3 more visible from where we ended up eating. This was the one with the best reviews on Yelp.
Hubby was a bit scared due to the fact that none of the signs outside were translated to English, but the fact that they posted that they're Michelin-rated made him feel better. Don't be discouraged by this because the servers speak decent English and they're very helpful and friendly. They gave us descriptions of all the side dishes we asked about, and even explained to hubby how to do a lettuce wrap Korean BBQ style. The menus also have English translation.
We ordered the pork and beef BBQ. It seemed a little steep in the beginning at around $18 per type of meat, but when the side dishes came, we realized why it was expensive:
If this were a food blog I'd be describing these to you one by one, but since this entry is already huge, I'll just describe two of the more unique ones that I liked:
The steamed egg came out sizzling in a tiny pot. That's definitely water (or broth) in there, so it's on the healthier side. I loved the texture of the egg, which was similar to scrambled eggs but softer.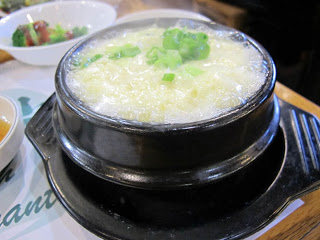 Steamed Egg @ Hahm Ji Bach
They had some sort of savory gelatin dish that I couldn't stop eating, for some reason. I guess it reminded me of strips of fat on pork dishes, which is a favorite of mine as a Filipina, but I can't really eat that nowadays as much as I want to.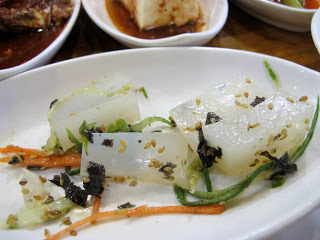 Savory gelatin @ Hahm Ji Bach.
That's a LOT of side dishes. I've never seen this many at a Korean BBQ before, and I've had it once or twice in Koreatown and in Flushing. We decided next time we come here we'd need some more people to help eat everything. The meat itself was very fresh, and tender when cooked.
It's a lot of food, but Korean BBQ is definitely low-carb friendly. Many of the side dishes are vegetables, and the usual practice of wrapping up the meat in lettuce leaves is obviously a healthy way to go. Of course, for those who don't care about that kind of stuff, they have white rice and brown rice as well.
The key to Korean BBQ is in the sauces, if you haven't ordered marinated meat, so make sure to try all the dips they have. My favorite was the chili paste, which I THINK is called "gochujang", but I'm not entirely sure it's the same thing. It's what they use for bibimbap as well.
In addition to the BBQ (clearly we didn't realize how much food this was gonna be), we ordered some sort of chili beef noodle bowl (I can't for the life of me find the item on their menu now). It was absolutely delicious. The beef was really tender and the broth was spicy and very flavorful.
All-in-all I LOVED this Korean BBQ place and wouldn't hesitate to come back. I'd like to order more of their prepared dishes in the future though.
The Best Thing About This Walk: I can't decide. I loved all the food, but the stores were also pretty impressive.
The Worst Thing About This Walk: I didn't write about it, because I didn't even want to think about the experience, but the saleslady was incredibly rude to me at this place called "Teamwork", across the street from Morning Glory. It wasn't even worth going in there because their jewelry is tacky (think fake and very fake looking diamonds and gold), and the only things I liked were some generic looking hats and scarves which you can basically find everywhere. Not to mention the hats were $20, which I wouldn't mind paying if they were unique, but they weren't.
Would I Come Here Again? Scheduled to do it this weekend, to have lunch at the Golden Mall
What Would I Do Differently? Never go to Teamwork again.
Map of this Walk
A: Patel Bros. Grocery – 42-92 Main St, Queens, NY 11355
B: Golden Mall – 41-28 Main St, Flushing, NY 11355
C: Morning Glory – 136-77 Roosevelt Ave, Flushing, NY 11354
D: Hahm Ji Bach – 41-08 149th Pl, Flushing, NY 11355