220 West 57th Street
New York, NY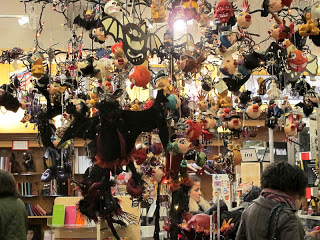 Halloween ornaments @ Lee's Art Shop
This is one of my favorite stores in NYC. In fact, right now I can't think of any other store I like better. I'm sure I'll come up with more if you gave me ten thousand dollars to shop anywhere I want, though. No, it is not because there is the possibility of running into BrAngelina and their many children here, especially since I hate HER, but it sure adds to the novelty.
Lee's is first and foremost, an art shop. You can buy paint, boards, brushes, easels and even drafting tables. You can get pretty much anything your artistic heart desires (not that I would know, but they sure do have a lot of this STUFF). That's not all there is to it, though.
I love the random, adorable and unique things you can find at Lee's. Their displays are fantastic (who knew you could buy ornaments for every holiday you can think of?) and always cheery (even the scary ones). It's a treasure trove of gift-wrapping, scrapbooking and arts and crafts material. But, since I'm not a very artsy person, what I love the most are their ready-made items. No need to make an effort to be artsy, just buy the stuff ;).
Most of their "art shop" related items are on display on the first floor. The second floor has furniture and lots and lots of lamps. The third floor has office and tech-related items.It's very difficult to describe all the random stuff you can find here so I took the liberty of taking a lot of pictures.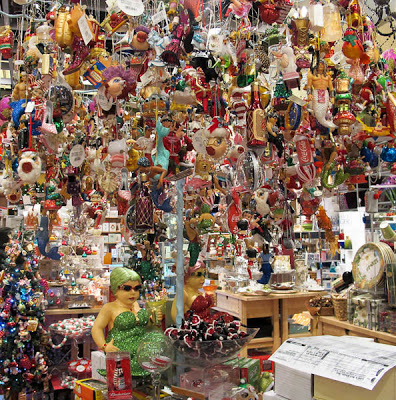 Ornaments Galore!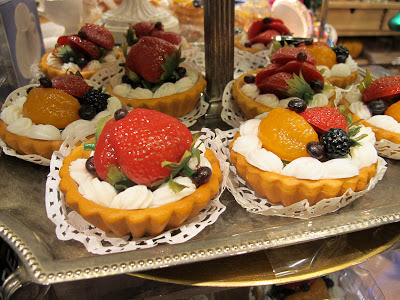 This is the first in a series of four pictures of fake food. Useful if you own a bakery,
or if you just like staring at food, even if you can't eat it.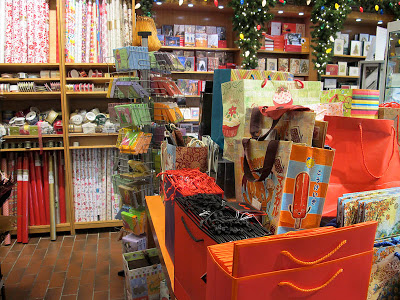 Gift wrapping stuff. They have two more shelves for wrappers, one double the size of this one.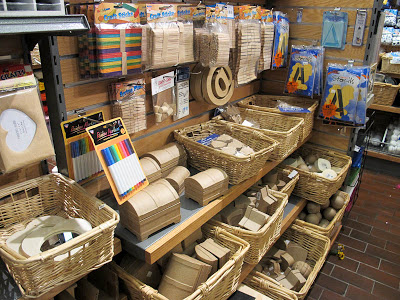 Arts & crafts cardboard thingies (I'm so good at describing these)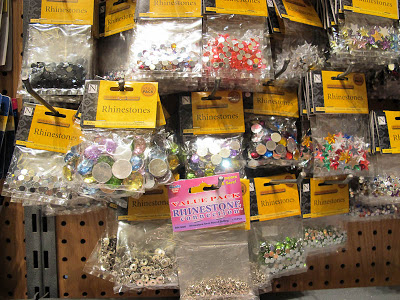 Lots o' rhinestones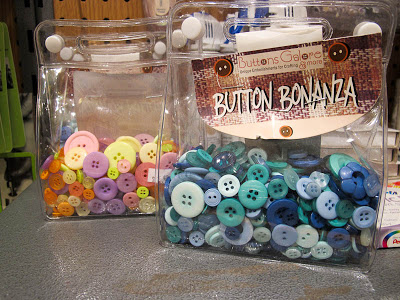 Random stuff like bags of buttons? I can imagine these
being used as mismatched teddy bear eyes… or sewn onto people Coraline-style (yikes!)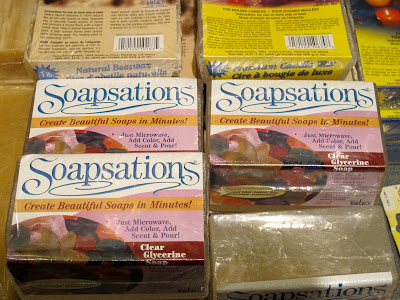 Make your own soap!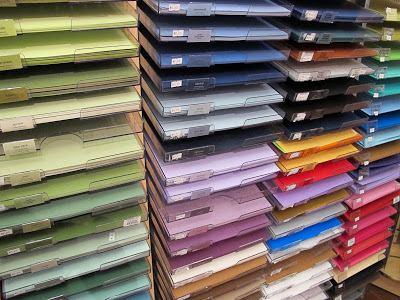 Scrapbook paper in a variety of colors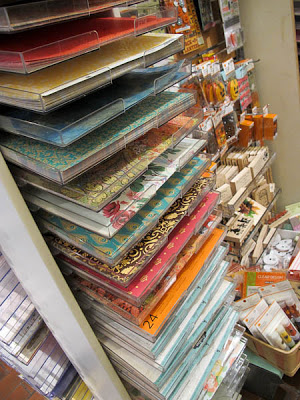 Scrapbook paper in a variety of patterns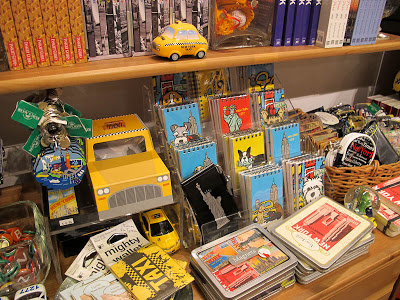 Not-so-normal NY related items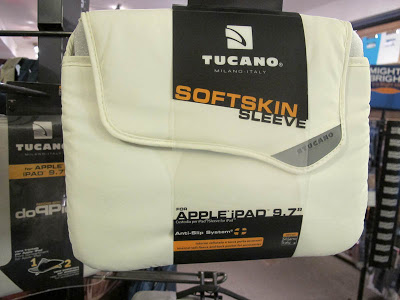 Ipad & Laptop sleeves/bags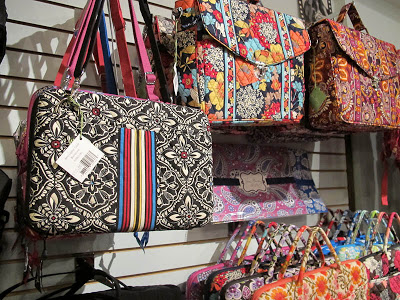 Vera Bradley laptop/mini laptop cases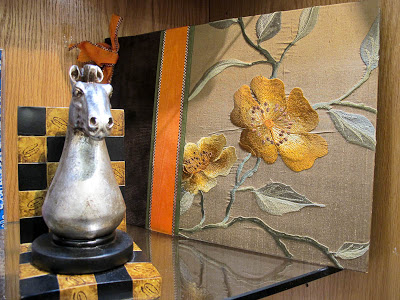 Book ends and photo albums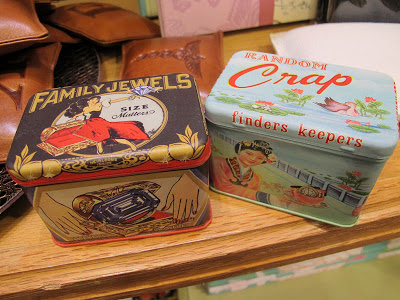 Empty boxes/tins for all your STUFF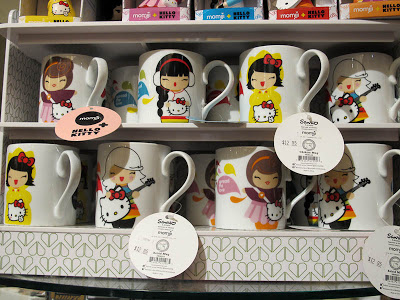 Momiji mugs
I've been wanting to do yearly scrapbooks (which I will start ANY DAY NOW :P), so I got some textured scrapbook paper and stickers:
Every year I buy a fun calendar/planner to write down my everyday activities on. Sort-of my journal-of-fun-stuff. This practice has become a bit obsolete due to my blogs, but I still write on it anyway, when I can. Last year I spent an entire week browsing online for the perfect calendar, and found the La Vie Est Belle planner on fredflare.com. It was ridiculously expensive at the time, but it was just so quirky and fun that I had to get it. It was in contention with the Tokidoki planner for a while, but my problem was that I couldn't find any pictures of the inside of the Tokidoki anywhere. The images are pretty abundant on Google now, but I swear I couldn't find any back then. At Lee's I found ONE Tokidoki 2012 planner, not even wrapped in plastic anymore (but in good condition), so I quickly snatched it. Here are some pix of it. I particularly love the dog dressed as a cactus running after the skeleton it stole a bone from. It's so pretty I kinda don't want to write on it.
Otarian – a vegetarian fast food joint
947 Eighth Ave
New York, NY 10019
This may be my last post of a vegetarian place for sometime, because as you may or may not know, I've switched back to South Beach, which is really my go-to diet. It's for health reasons, let's leave it at that.
Despite my giving up on vegetarianism I really did not have problems with it. In fact it's a bit disappointing, since I truly enjoyed finding places to eat, and this one was definitely a gem. I found it on menupages.com, searching for vegetarian places in the West 50's.
I really had no expectations from this place except to be served vegetarian food. It was only when I got there that I discovered it was a fast food joint, which actually wasn't a bad thing at all, since it was so obviously NOT a normal fast food joint, except for the fact that the food comes at you FAST (just to emphasize my use of that word).
If you were too lazy to read that, it says:
* They make their own eggless mayo
* There are 8 ingredients in an Otarian burger bun compared to 30 for typical fast food chains
* Otarian food does not include common allergens, such as wheat or gluten where possible
They also mark items on their menu that are vegan-friendly, for those who have taken it to the next level.
I may or may not have said something about having no principles regarding vegetarianism previously, but coming into this place it's hard to ignore the fact that you're showing your love for the planet just by being here, because they remind you of it every chance they get. I guess it's not a bad thing, it kinda makes you feel good about eating fast food for a change.
The actual food was actually pretty darn good. I had their Tex Mex burger, "Otarian's Mexican flavored bean, parmesan, mature cheddar & corn patty, oven roasted with barbecue sauce, layered with guacamole, salsa, mature cheddar, and garden salad" , which tasted like a Sloppy Joe with guacamole.
I also got a side of super duper crispy sweet potato chiplets, which are a stubbier version of french fries. I forgot to take a picture but check it out on their site.
The place itself was clean and had a pleasant atmosphere, and the service was excellent. I would highly recommend this to any vegetarians (I would to vegans as well, except I haven't actually tried a completely vegan meal here).
10 Columbus Circle
New York, NY
I used to frequent Time Warner Center when I worked in this neighborhood, mostly to go get lunch at Whole Foods (a natural and organic grocery store with a bakery and a hot buffet). It's an office building and a high-end shopping mall, with a collection of really nice restaurants and bars. It's not much of a unique find, since they mostly have regular stores like Williams-Sonoma, Cole Haan, Godiva, Esprit, Coach, etc., but it's always pleasant here and the building is so pretty. I like to walk around Williams-Sonoma and dream about buying all sorts of kitchen items for my future awesome kitchen. I stare at all the Godiva chocolates that I never buy, and ogle the new stocks at Cole Haan, which I also never buy.
Honestly I was only drawn back here because they used to have a Borders (for some reason I forgot they all closed). It was all worth it though because I got some cool material.
The New York Museum of Conan Art
On the 2nd floor of the building they usually have some sort of gallery or event going on. This time it was packed, and I was pleasantly surprised to find out it was a mini-museum dedicated to all art related to Conan O'Brien, the only late night comedian I have ever bothered to watch.
Below are some of the art: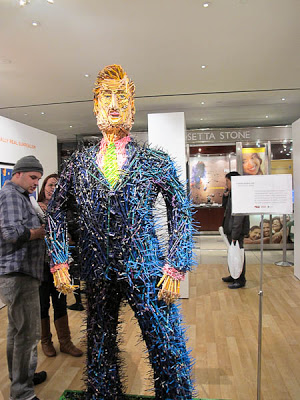 This one is made out of pencils, sharpeners and twist ties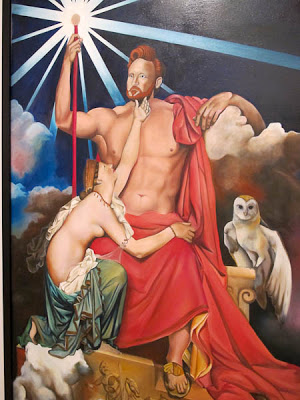 Errr..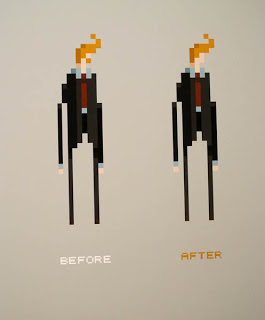 There were several other video-game looking art, which I loved.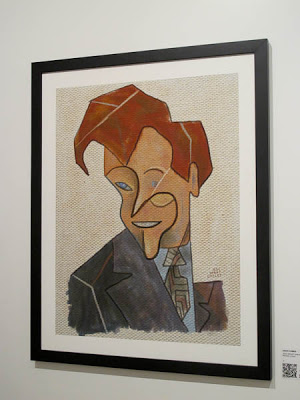 Picasso?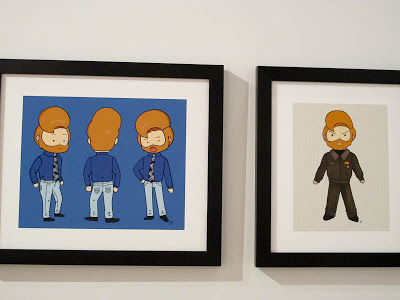 This reminded me of the Family Circus comics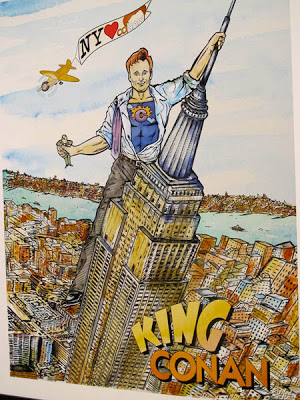 How very NY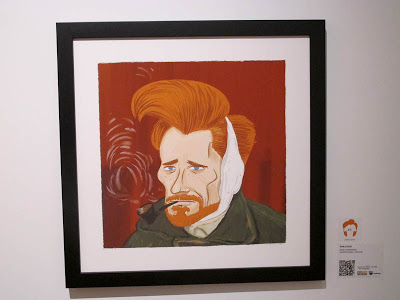 Van Gogh?
It was great that I accidentally found this gallery, although I was a bit miffed that when I tried to acquire the free t-shirt from checking in on Foursquare, I was given a poster instead, despite the fact that I saw they still had t-shirts available. Either they didn't have my size, or I was deemed unworthy to get a t-shirt. I tried not to let that ruin my mood, and my next discovery helped.
Sephora
There is no mystery as to what this is. Makeup heaven. It's not that surprising that I homed in on this store, but why am I writing about it?
When I found out that Sephora was going to start carrying Bobbi Brown cosmetics I was over the moon. Then I realized most of their store locations don't carry it, and you can only buy the stuff online, which makes absolutely no sense to someone like me whose complexion changes weekly (seriously). I hate going to the Bobbi Brown counters at Macy's or Nordstrom too, because the sales associates tend to get a bit pushy. At Sephora I can tell them I'm fine and take my time applying all the testers I want. I walked in here (despite my misgivings, because I was trying to use my money on more 'special' things) and was ecstatic! I found a Sephora with an entire shelf of Bobbi Brown cosmetics! And it wasn't packed with tourists like the Union Square location! 🙂 🙂 🙂 Happiness.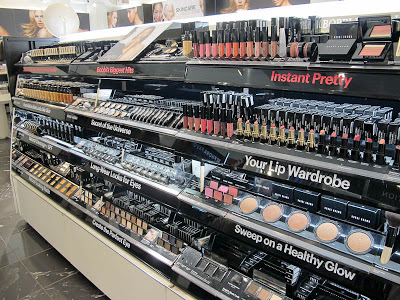 Bobbi Brown cosmetics @ Sephora in the Time Warner Center
Bouchon Bakery – A boulangerie-inspired French bakery, which sounds redundant I know
This bakery is pretty popular, and I believe one of the first bakeries in NY to offer macarons. I have never actually eaten here, and was dying to try it, but I was trying to stay away from bakeries so I stared longingly from afar. It's located on the 3rd floor lobby.
Coterie – A "European Ladies' Boutique"
1387 Avenue of the Americas
New York, NY
This wasn't really on my list of  places to see, and it was actually closed. But I saw an item on their display window that caught my eye: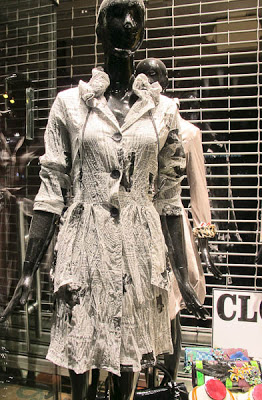 Newspaper-design Trenchcoat
Which reminded me of that Dior i'm-sorry-i-was-your-husband's-mistress, i'm-sorry-i-kissed-Aidan dress that Carrie Bradshaw wore in the Sex and the City series and movie.
If you're interested, the store is having a closeout sale.
This place is nestled in that very low-key block behind Carnegie Hall. It sounds like it's just a bakery and cafe, but they actually have real food, fresh-pressed juices and smoothies. Their downtown venue even serves low-carb food (which I have to try eventually). They have some organic food as well.
I bought a Cafe Au Lait, which was cheap at $2.18. I proceeded to sweeten it with Agave, which I've never seen before at a coffee house. They also have some other add-ons you don't normally see:
If it isn't already obvious from the entry, this walk was fantastic. These last two entries have made me realize how much fun you can have Midtown, which I've always viewed as a somewhat boring area.
A: Lee's Art Shop – 220 W 57th St, New York, NY 10019
B: Otarian – 947 Eighth Ave, New York, NY 10019
C: Time Warner Center – 10 Columbus Circle, New York, NY
D: Coterie – 1387 Avenue of the Americas, New York, NY
E: Blue Dog Cafe – 155 West 56th Street, New York, NY