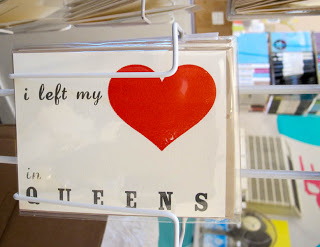 I will always have a soft spot for Astoria. This of course, for those who don't know, is where I rented my very first apartment in NYC. It was a fun period in my life. There's a lot of good food there, with plenty of variety. My street (Crescent) was pretty and tree-lined, it was near Astoria park, which is suitable for jogging, picnics and general merriment,  and I liked the mix of yuppies, hipsters and various ethnic communities. The only reason I moved was because it was my FIRST apartment, and I was of course seeing greener pastures everywhere. After having lived in 2 other neighborhoods, I'm considering moving back to Astoria. (Pic: Fun greeting cards @ Site)
The Walk
Astoria is full of restaurants, shops and stuff to see. When I lived there, I hadn't yet come up with the idea of going around New York for fun, so I pretty much stuck to what I already knew was good. This time, I was curious to find other gems, so I based my walk off of the Best of Queens: Shopping and of course the Why I love Astoria articles on TONY.
Site – a quirky indie decor store
35-11 34th Ave
between 35th and 36th Sts
Astoria, NY
"Owner Mackenzi Farquer has a knack for spotting fun, quirky, impeccably crafted items—and that's what her store, Site, is known for." – Timeout NY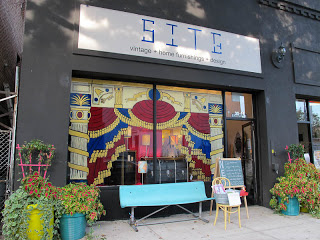 Site
It's a little frustrating to go around this store if you live in an already small apartment and can't afford to add more clutter to it. This store offers so many items that deserve to be on a display shelf for all to see, not hidden in a storage box. It's definitely one of the "gems" I was looking for, and the best part of it is their items are totally affordable.
Now, I know that "affordable" is really a relative term, so either you can check out their website, or you can come over and pick out something from their $10 bin: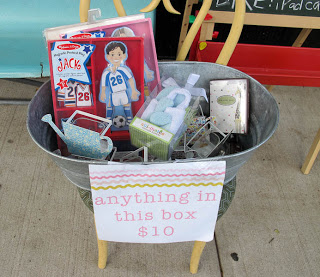 Here are some items I would love to clutter our apartment with: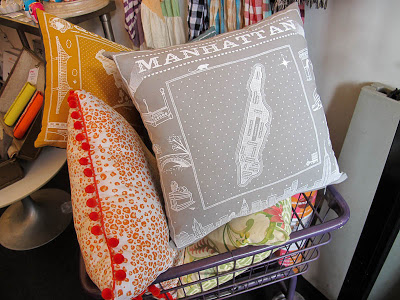 Borough inspired pillows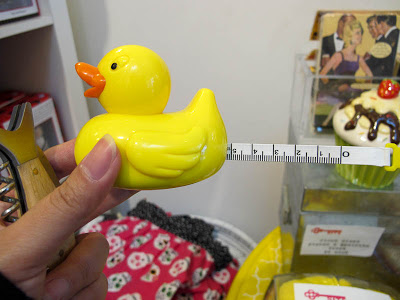 Rubber Duck Tape Measure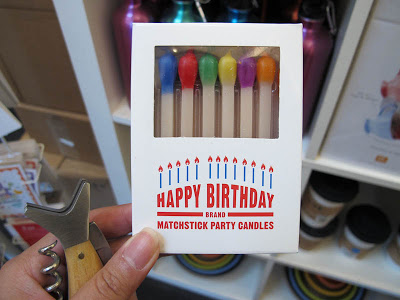 Matchstick Birthday Candles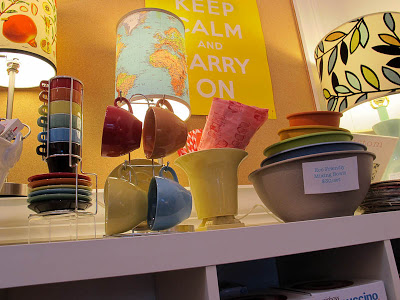 I would've bought those espresso cups in a heartbeat if they fit with the theme of our apartment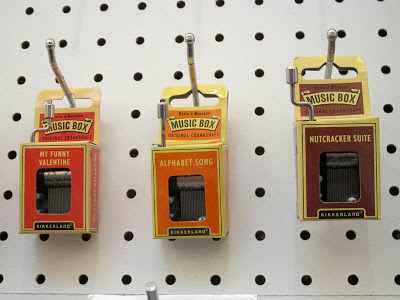 Tiny music boxes
Ninja Salt and Pepper Shakers
And finally, here's what I bought: a fish bottle opener and a cold to-go cup… 'coz it looks so happy :D.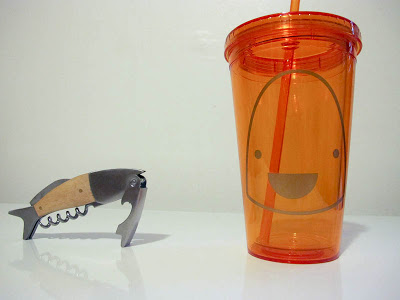 Don't be fooled by all my pictures of home-related items, though (I was clearly in a nesting mood that day for some reason). They have plenty of jewelry (made by local designers) and accessories such as scarves and bags.
33-09 Broadway
Queens, NY 11106
""Leng Thai blows my mind. Not only do they give you mountains of food, but the interior design is smashing and the back patio in the summer is strung with subdued purple lights and surrounded by trees." – Timeout NY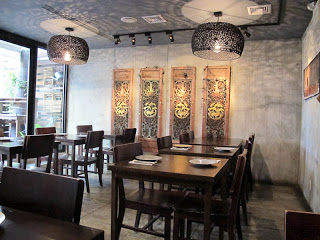 Interior @ Leng Thai Restaurant
I've always been a huge fan of Thai food, but recently my love for it has been strengthened by the fact that every Thai restaurant I've been to has been vegetarian-friendly. Some of their dishes have a certain sweetness reminiscent of Filipino food, and their spicy curries are nothing short of THE BOMB. I'm speaking of generic Thai food here, we'll get to the actual restaurant in a second.
It's no surprise, therefore, that I chose a Thai place despite the fact that Astoria is well-known for its many, many Greek restaurants. I will write about those someday, when I've done enough posts to warrant returning to my old haunts.
The first thing I noticed about the place was the decor. A lot of Thai restaurants I've been to have a bit of a sterile feel to them. I'm not sure if it's an attempt to "Americanize" or "modernize" their ambiance, but I really appreciated the unmistakably Southeast Asian feel to this place. Plus they have some pretty cool items that the owners have clearly collected over the years.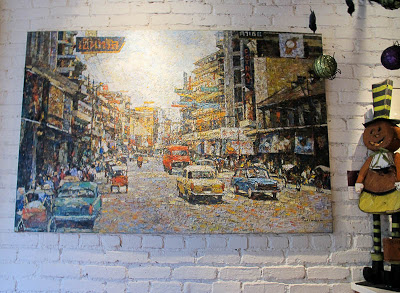 As you enter, you're greeted by this painting which I assume is of somewhere in Thailand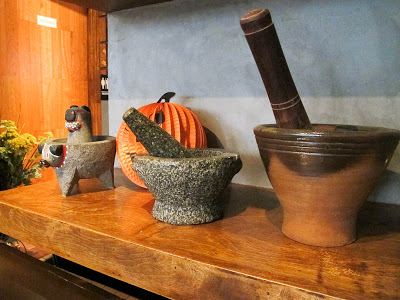 Mortar & pestle collection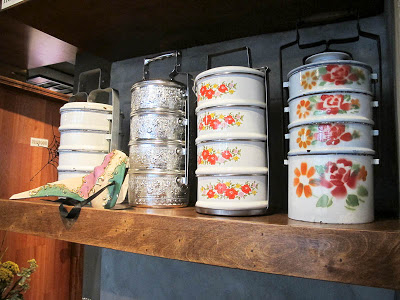 Lunch "boxes"! I had one of these as a kid. They actually had about 15 of them on display, but I only took 1 picture
The place is definitely popular because I went in at 4:30 pm and there were plenty of people there already eating (a very early) dinner. Now for the food, I started with the Yam Ma-Muang salad, which is a green mango salad with avocado, onion and coconut in a sweet lime vinaigrette. Green mango salad is a common side dish or snack in the Philippines, so it wasn't really an exotic choice for me. However, the addition of avocado and toasted coconut flakes was genius, and if this was indeed one of Leng's recipes (Leng is the father of the restaurant owners), then hats off to you, Leng. The portion was definitely too big for me, and I think I could have shared it with one or two more people.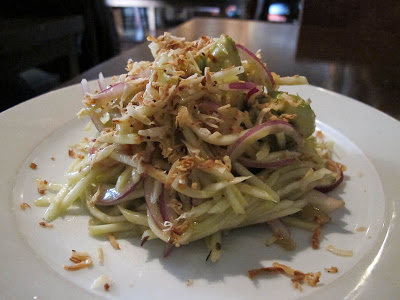 Green Mango Salad @ Leng Thai
For my main course, I got the Mock Duck Pad Khing. I actually had no idea what Pad Khing was, but I ordered it anyway because I was in the mood for some mock duck. Also there is very little food in this world that I will not eat (normal, no worms please), so I'm usually confident about ordering random dishes. I'm not gonna lie, it wasn't as delicious as I thought it would be, but it did have a homemade taste to it, and I somehow still ate all the duck in the dish and finished the cup of rice that came with it, so I guess I still liked it, huh? I usually hate any dish that so obviously has ginger in it, I like it to just be there secretly making the dish yummier without announcing itself to me, and this one came with julienned fresh ginger ALL OVER IT. I tried to push them all to one side, but they were hiding pretty well. Despite all that, like I said, I still kept eating this. I think it was because they put a type of mushroom I love but don't usually see in dishes here. Texture and color-wise I assume they put them in in lieu of duck skin. I see these in Filipino dishes once in a while, so if anyone out there is familiar with what it's called I would love to know.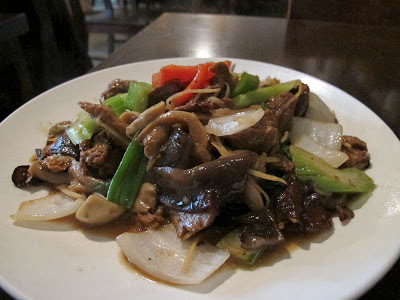 Mock Duck Pad Khing @ Leng Thai
Before I left, I went into their restroom, which was one of the nicest (and nicest-smelling) restrooms I've ever seen at a cheaply-priced restaurant (most of the main dishes cost less than $10). It felt like I had walked into the restroom at a spa. So lots of plus points there.
They also have a pretty nice garden area (described in the TONY article):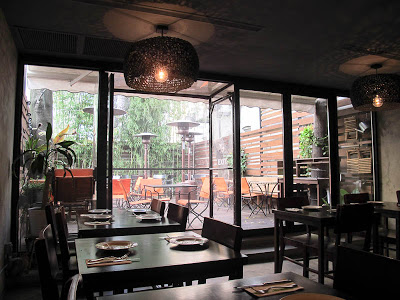 Leng Thai Garden Area
Overall I was satisfied with this place. I would come back to try their pad thai and see if I'm more satisfied with that main dish.
Loveday 31 – a vintage/consignment store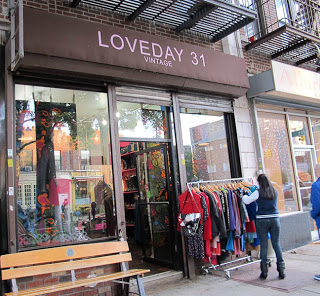 33-06 31st Ave
between 33rd and 34th Sts
Astoria , NY
I went to look for this store not realizing that I had actually checked it out once before when I went to Bareburger (which is right across the street). I didn't find anything I particularly wanted (still no success at consignment stores), but I did notice that they were selling leather jackets and coats for around $70, which isn't too bad.
Candy Plum – CLOSED
 
After Loveday 31 I was supposed to check out Candy Plum.The description on TONY is this:
"If Etsy were a brick-and-mortar store, Candy Plum would be its Astoria location. More than 25 local designers peddle their handbags, jewelry and clothing at this retro boutique that prides itself on one-of-a-kind handmade items."
I love etsy.com, so as you can imagine I was very excited to take a look at this place. Unfortunately, when I got there it was closed. Taking a closer look, I saw the entire place was empty and the floors stripped, so it's either they are closed for good or doing a renovation. I haven't found any information about whether they're still going to open, so if anyone has any info it would be appreciated.
Omonia Cafe – A Greek cafe/bakery. They made the wedding cake for the movie "My Big Fat Greek Wedding"
32-20 Broadway
Astoria, NY 11106
I hadn't planned on going to Omonia Cafe because I've actually been there before, but I was so saddened by Candy Plum being closed that I decided to treat myself to a slice of cake and some coffee (clearly I am an emotional eater). I was surprised to find they had actually opened a bakery right beside it, so it seems they're doing really well.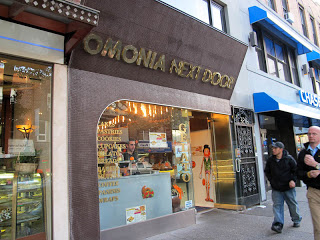 Omonia Next Door, a bakery
Walking into Omonia, I was assaulted by display after display of amazing looking desserts. Take note that they also make crepes, and the bakery next door sells more whole cakes and cupcakes.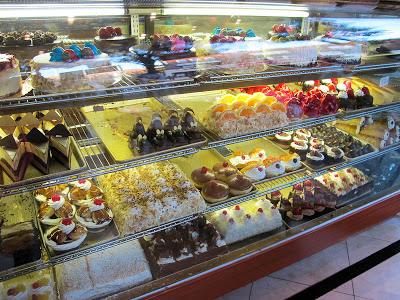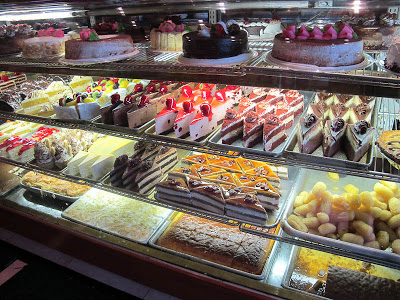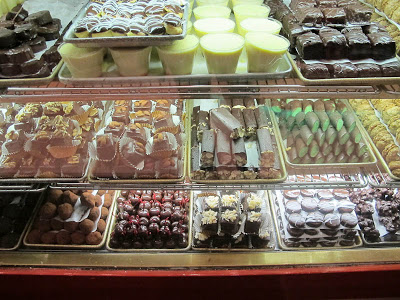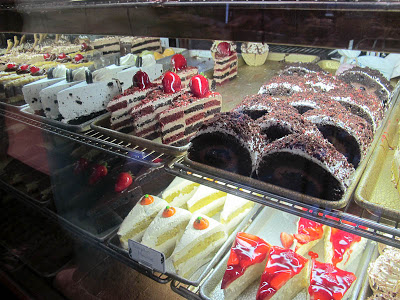 I sat down and went through their menu. They have a full menu of actual food, but I was there for cake. There were no pictures of the desserts, which I totally understand because they'd probably have to make a book for that. So I ordered the caramel cake, because I spotted a cake that looked like it could be that, and a Viennese coffee (espresso, chocolate, and whipped cream). This place is huge for a cafe, so there could be a lot of people in there and you'd still find seats. The walls are actually floor to ceiling windows one after the other, so it's great for people watching. There's even a bar, if you prefer to hangout and drink rather than gorge yourself on sweets.
My only complaint is that they play their music too loud, so it's not exactly conducive to reading (which was what I wanted to do). Also there was a huge TV which really served no purpose since it was showing news but there were no subtitles or sound, or if there was it was drowned out by music. I guess this makes it more of a nightlife scene, but I would've preferred a more cafe-like atmosphere. I'd still come back though, for the space, the coffee and most of all the dessert.
I actually ordered correctly and got what I wanted. The caramel cake was beautiful, and equally delicious. The cake layers are soaked in caramel goodness, and the filling is whipped cream and chocolate mousse. The Viennese coffee complimented it well, and I would definitely order it again. It was a wonderful end to my walk.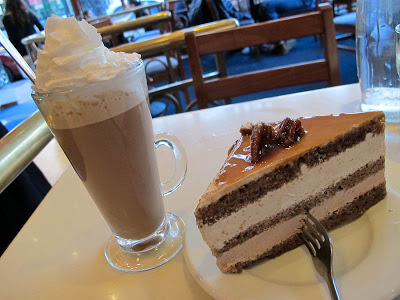 Viennese Coffee and Caramel Cake @ Omonia Cafe
The Best Thing About This Walk:  Site. I would come back if we decide to redecorate our apartment.
The Worst Thing About This Walk: Candy Plum was closed
Would I Come Here Again?  I'd like to try out Aroma 31, which is a fairly new French restaurant that had an amazing looking menu, and Tierras Colombianas when I decide to cheat on my diet, to eat this http://www.flickr.com/photos/syktek/4238687797/ (check it out!!)
What Would I Do Differently? See above. Also I'd like to do an Astoria park walk.
Map of this Walk
A: Site – 35-11 34th Ave Astoria, NY
B: Leng Thai Restaurant – 33-09 Broadway, Queens, NY 11106
C: Loveday 31 – 33-06 31st Avenue, Astoria, New York, NY
D: Omonia Cafe – 32-20 Broadway Astoria, NY 11106