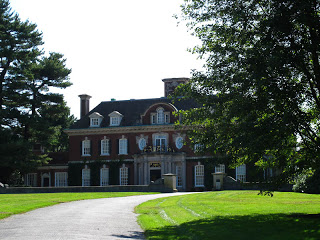 My husband and I accidentally discovered the Old Westbury Gardens a couple of years ago back when we were still engaged and we were driving home from a visit to Westbury Manor, our wedding reception venue. Huge wrought-iron gates greeted us at the entrance to the grounds, but a sign indicating their operating hours hinted that it was open to the public. We had no idea what was inside, but as you can see from the picture above, it used to be a country estate. It made me think of a (very scaled-down) version of Versailles, mostly because in both instances I was more impressed by the gardens rather than the house/palace. I wasn't at all prepared to take pictures back then, but I definitely fell in love with the place. This time around I was definitely ready.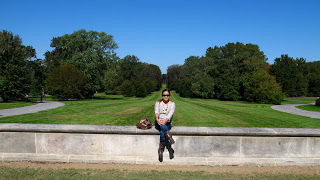 Me!
The Walk/Ride
This wasn't so much a walk as it was a car ride. The ride to Long Island isn't short, and you'll have a lot of crazy walking to do if you try and take the train to these places, especially if you want to hit the exact ones we went to. But if you're ever in Long Island with a car, and you can't think of where to go, these places are a good start.
71 Old Westbury Rd
Old Westbury, NY 11590
The first time I visited this place I thought it was familiar, which seemed ridiculous because I had never been there before. At first I thought it was because I felt like I had been transported into a classical novel, and maybe I had imagined this place as I was reading a Jane Austen book at one point or another. I'm proud to say my observation was somewhat historically accurate (a miracle considering I'm not a big history buff), because later research showed me that it was used in the movie "Age of Innocence" with Daniel Day-Lewis, which was set in the 19th century, as a lot of Austen's novels are. In addition, the main designer of the house was English, just like the original owners of the house. In fact it was commissioned to be built so that the lady of the house would be less homesick because of their move from England.
Of course, the real (and dumbed down) reason why the place was so familiar to me, was that it had also been used in several of my favorite TV shows 😉
Old Westbury Gardens on TV
• Sex and the City: Season five's finale episode, "I Love a Charade," originally aired September 8, 2002, featured an Old Westbury home in place of an estate in the Hamptons
• Gossip Girl: Season two's nineteenth episode, "The Grandfather," originally aired March 23, 2009, featured an Old Westbury estate as the "Vanderbilt" mansion
• 30 Rock: I haven't confirmed this one, but I'm pretty sure it was used as the mansion of Jack Donaghy's old boss, Don Geiss
Old Westbury Gardens in the Movies
It's been in a lot of movies as well. These are the only ones I've actually seen:
• The Age of Innocence (1993), starring Daniel Day-Lewis: the scenes depicting May Welland (Winona Ryder)'s Floridian mansion were actually shot in Old Westbury
• Cruel Intentions (1999): the home of Kathryn (Sarah Michelle Gellar) and Sebastian's (Ryan Phillippe's) Aunt Helen on Long Island, where Annette (Reese Witherspoon) is living
• Hitch (2005), starring Will Smith and Eva Mendes: Allegra Cole's
These shows and movies were/are pretty popular, so I assume you'll be trying to jog your memories as well, or go even further and actually watch the episodes/movies again. To try and assist you, or just to show you how nice of a walk this was, here are some photos. Sorry, there are no photos of the interior of the house, because they have a no photography policy. I feel bad about this because it's really a big part of the experience, and unfortunately I can't share it with any of you.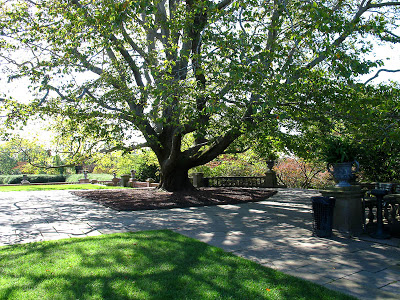 I know. It's just a huge tree. But I have a certain fondness for immense trees, either because of the book "The Little Prince" or because of movies like "Forrest Gump"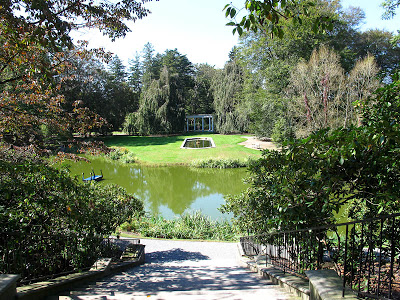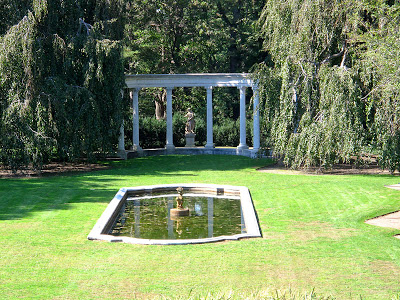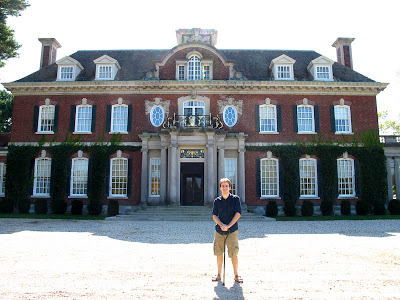 Is that Mr. Darcy in the cargo shorts? Oh, wait it's just hubby.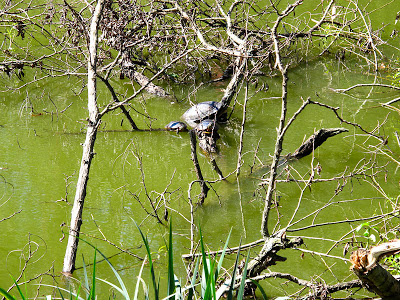 Not sure if you can see them, but there are three turtles in this picture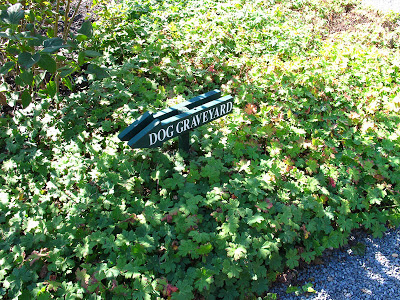 🙁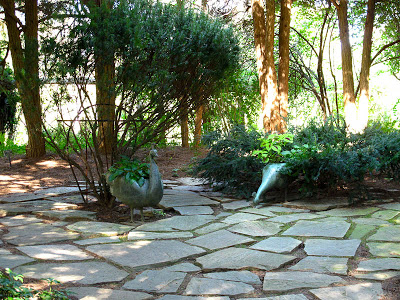 Shrubbery made to look like peacock tailfeathers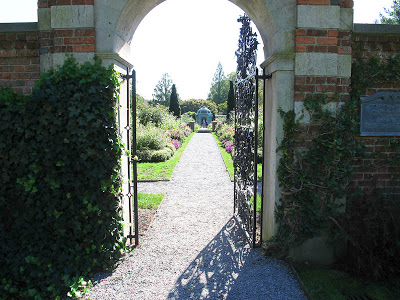 The opening to our favorite part of the gardens. Unfortunately, this and the next picture are the only ones we took, because as we tried to walk further in, we discovered that the path was abuzz with what seemed like thousands of bees! Yes, we're a pair of wimps, and yes I may be exaggerating a tiny bit.
As we bid goodbye to Old Westbury Gardens, we started discussing our lunch options. We visit Long Island pretty often because they have the nice malls and supermarkets, so we're already familiar with where to eat if we want a guaranteed good meal. After going around the gardens in the hot sun (it's somehow warm this week even though it's October), we decided we didn't want to risk having a blah meal. So we chose to go to Vincent's Clam Bar, which sounds like a seafood place but is actually (in my humble opinion) one of the best Italian restaurants in New York.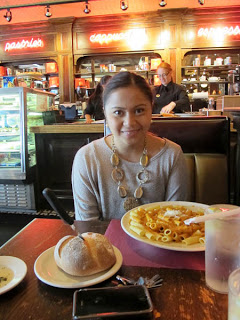 I'm clearly happy about my Rigatoni Alla Vodka
179 Old Country Road
Carle Place, NY
My sister was actually the one who introduced me to this place, way back when I was just visiting and not actually living in New York, so as you can imagine I've been to this place several times. However, I've never been to this restaurant as a vegetarian, so I was curious to see if I would be just as happy with their meatless fare.
We didn't order any appetizers because their portions are pretty big (in fact we were still eating my pasta the next day). The other reason was that they serve warm bread and olive oil dip, which is always good enough to start with.
I ordered the rigatoni alla vodka, and their vodka sauce was probably the best I've ever had, especially considering there was no meat to distract me from its actual taste.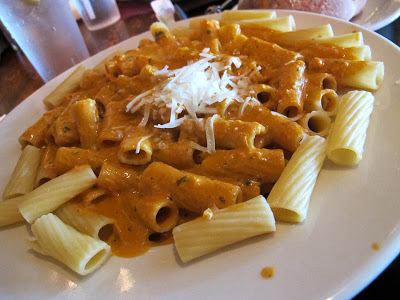 Rigatoni Alla Vodka
Hubby had a "trio" meal, which was part of their specials menu. It included cheese ravioli, eggplant rollatini and chicken parm, all of which were delicious (I actually took the eggplant rollatini, since he's not a fan of eggplant).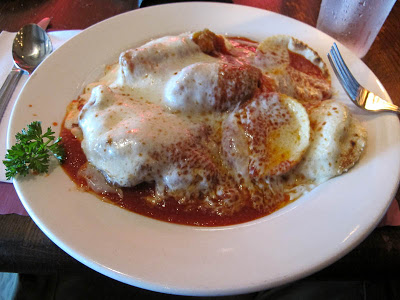 Trio special (eggplant rollatini, cheese ravioli, chicken parmesan)
For coffee & dessert I had a mochaccino and we split a cannoli (by "split" I mean I had the cream at the ends and he ate the rest of it).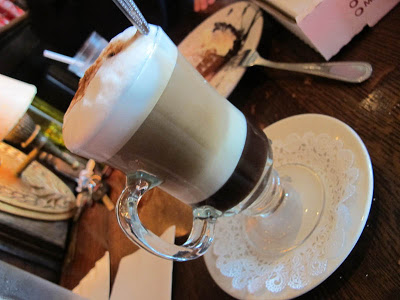 Mochaccino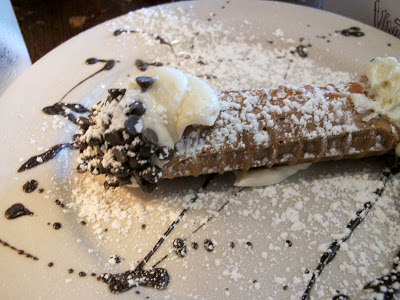 Cannoli
Map of this Ride
A: Old Westbury Gardens –  71 Old Westbury Rd, Old Westbury, NY 11590
B: Vincent's Clam Bar – 179 Old Country Road, Carle Place, NY