Life can suck. Like, it can be pretty, pretty bad at times, that it almost seems like it's hardly worth it. I'm 34 😱, and not some emo teenager. You would think that's something I'd be used to by now. But some days are just absolutely, 100%, the worst. So terrible that you can't imagine why you thought you were in pain all those times you had to deal with something when you were much younger. I've had so many of those days this year that I gave up counting them.
.
.
.
And then, there are the moments that you SHOULD be counting.
The moments that take your breath away.
I've had a few of those in my life, luckily. Or maybe on purpose? My wanderlust really stems from a mission to chase those moments, I think. You learn early on in life what elicits those moments for you. I get emotional about a lot of things. A truly fantastic story, either from a book, a movie, or a video game, can make me have to take a moment to appreciate how wonderful life is. The first time I hear a beautiful piece of music can definitely give me goosebumps. Plenty more to list here probably, but I can't think of them right this minute.
And then there's the big three:
A delicious meal
A mesmerizing view
… and truly wonderful company
Any of those will do. ALL of those together, well, that breath never stood a chance. All three were present for this one afternoon and evening in Poughkeepsie.
All right, all right, enough with the feelings. Let's talk about the usual details. To get to Walkway Over the Hudson, which was the main point of this trip, you need to take an hour and a half train ride on Amtrak from Penn Station to Poughkeepsie station. Metro North runs there as well, but not as often. If you're booking on Amtrak, you might want to get your tickets in advance. Certain times are cheaper. If you're driving there, there are parking lots by both entrances. Check out how to get there on their FAQ.
My friend and I had lunch at Schatzi's Pub, since we rolled into Poughkeepsie at around 12:45 pm. Not our first choice, but definitely the better choice. Their beer garden seating was beautiful and spacious. If you don't believe me just take a look.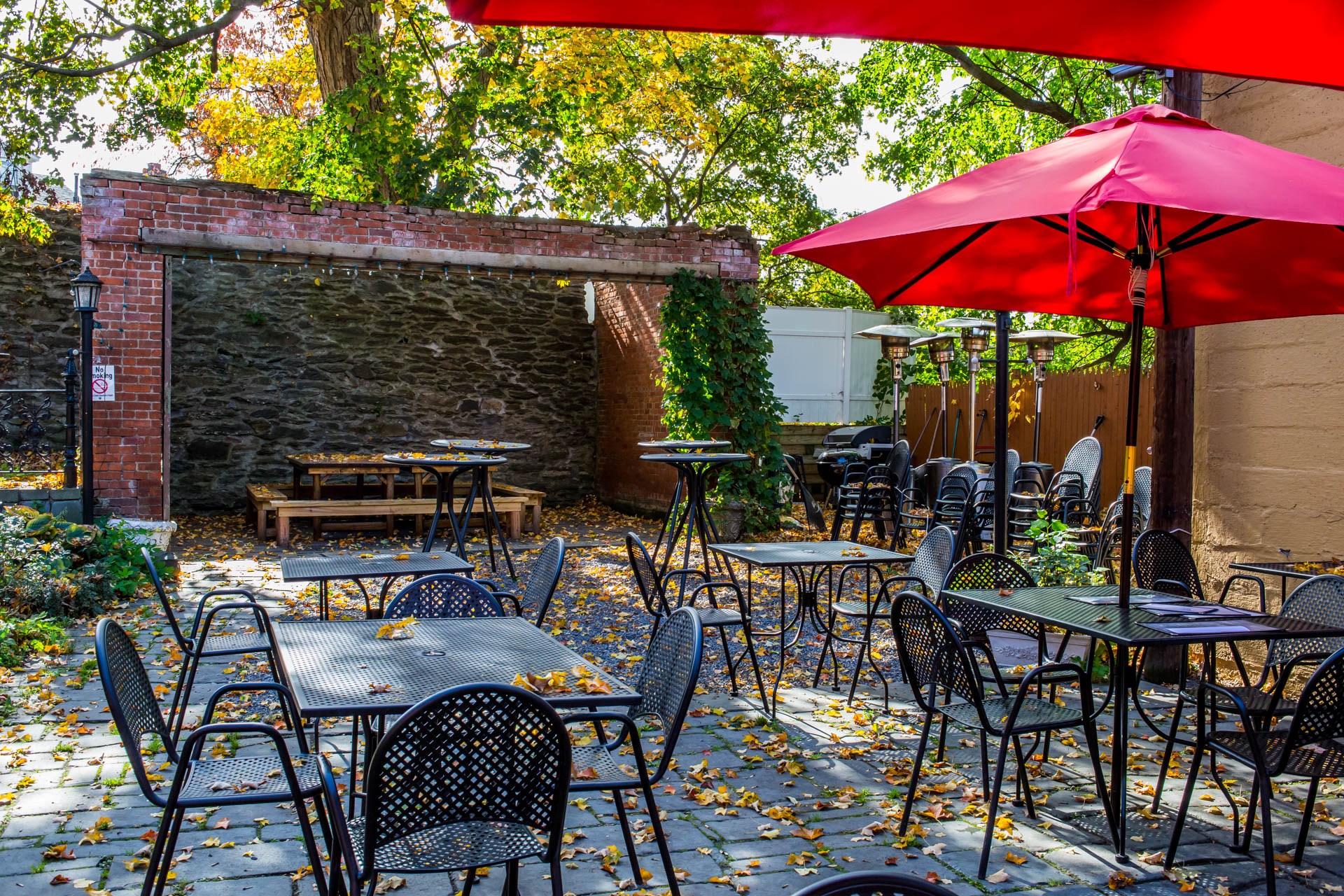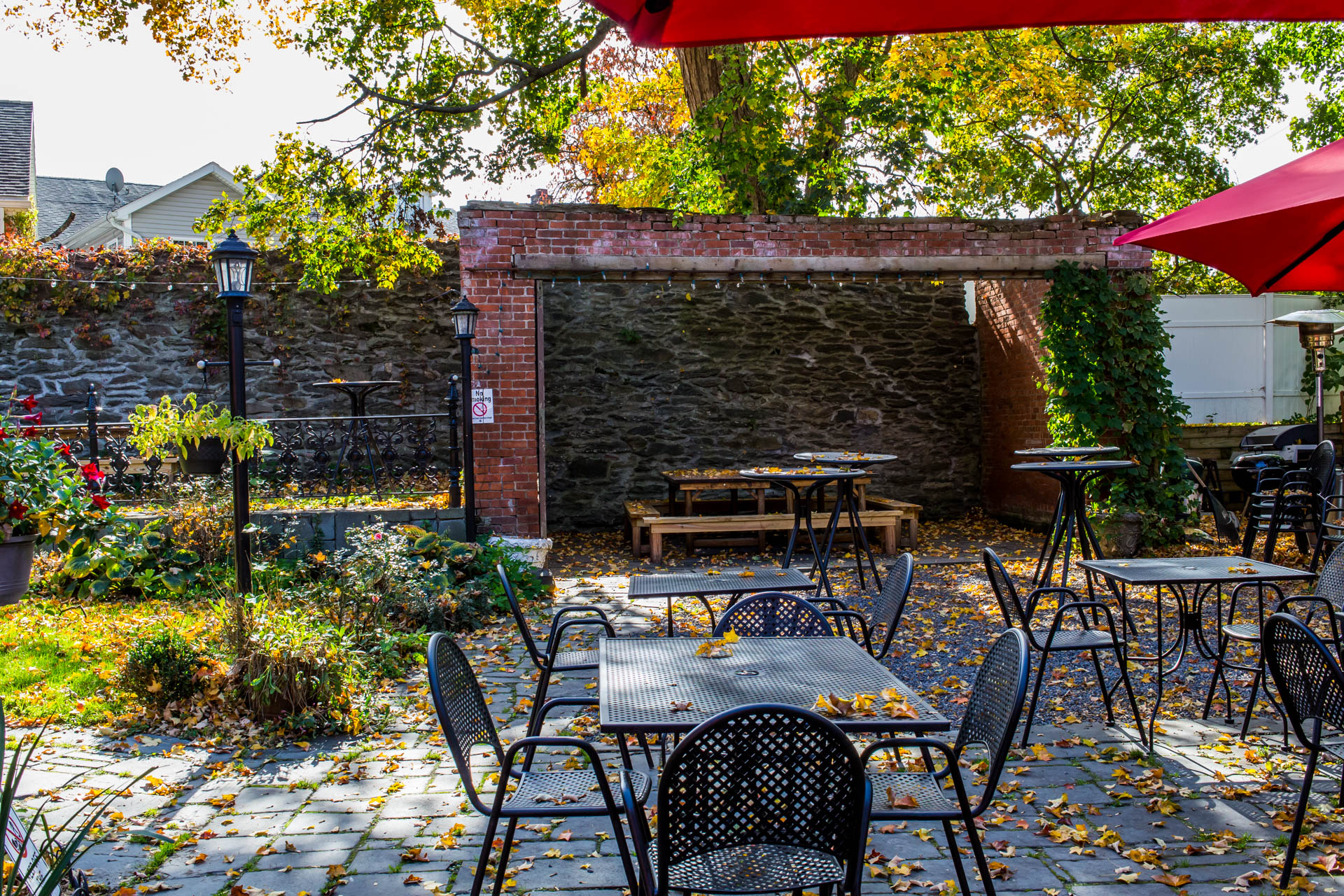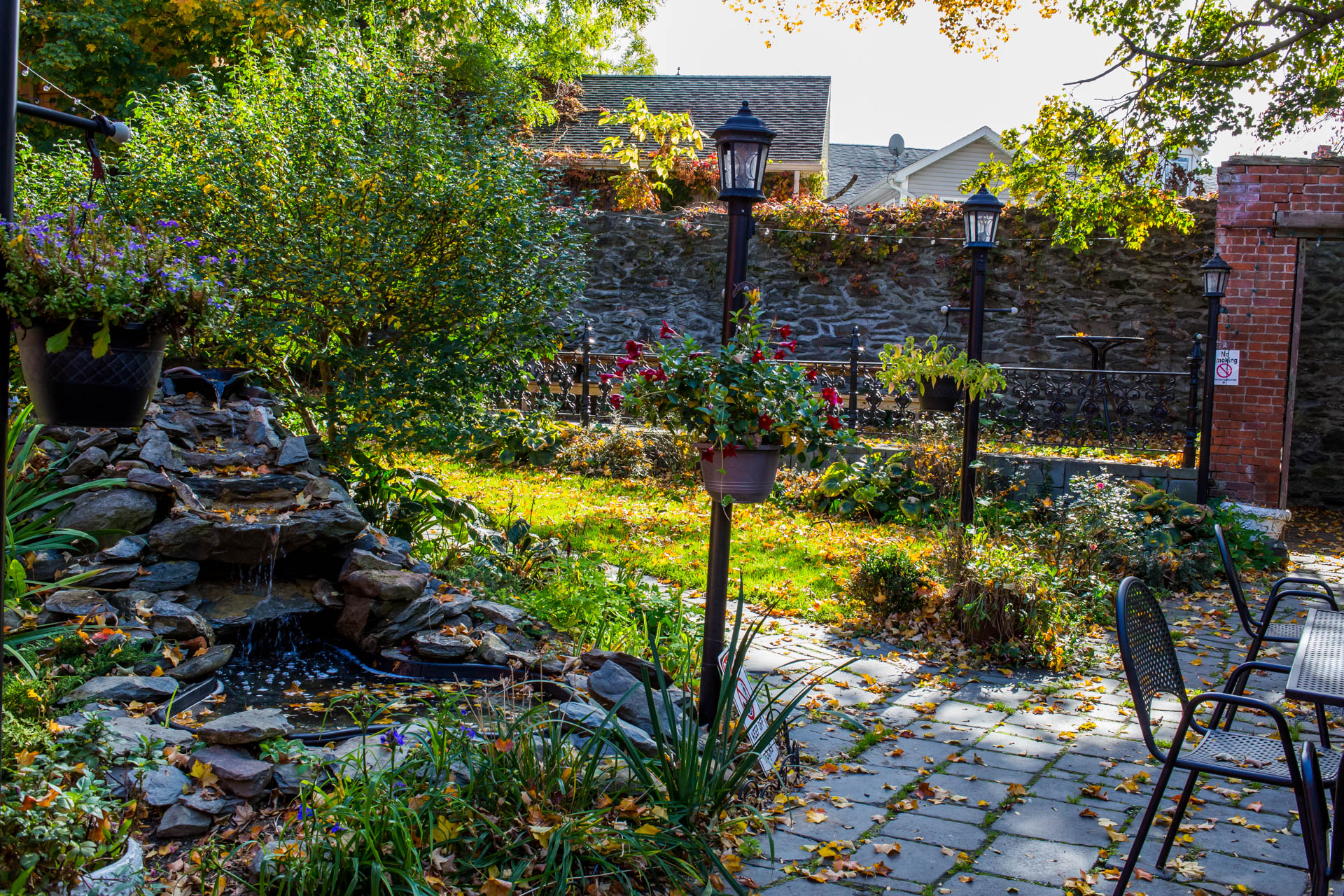 We had their beer flight to start with. I'm gonna be honest with you and say I'm not into beer. I haven't been since I asked my dad at age 10 if it tasted good and he had me try a sip. Of course, I thought it was disgusting. Great parenting technique! I do like a nice fruity beer once in a while though. A good lambic is always appreciated. I had one of these four and it tasted very light and citrusy, so I was surprisingly on board with it.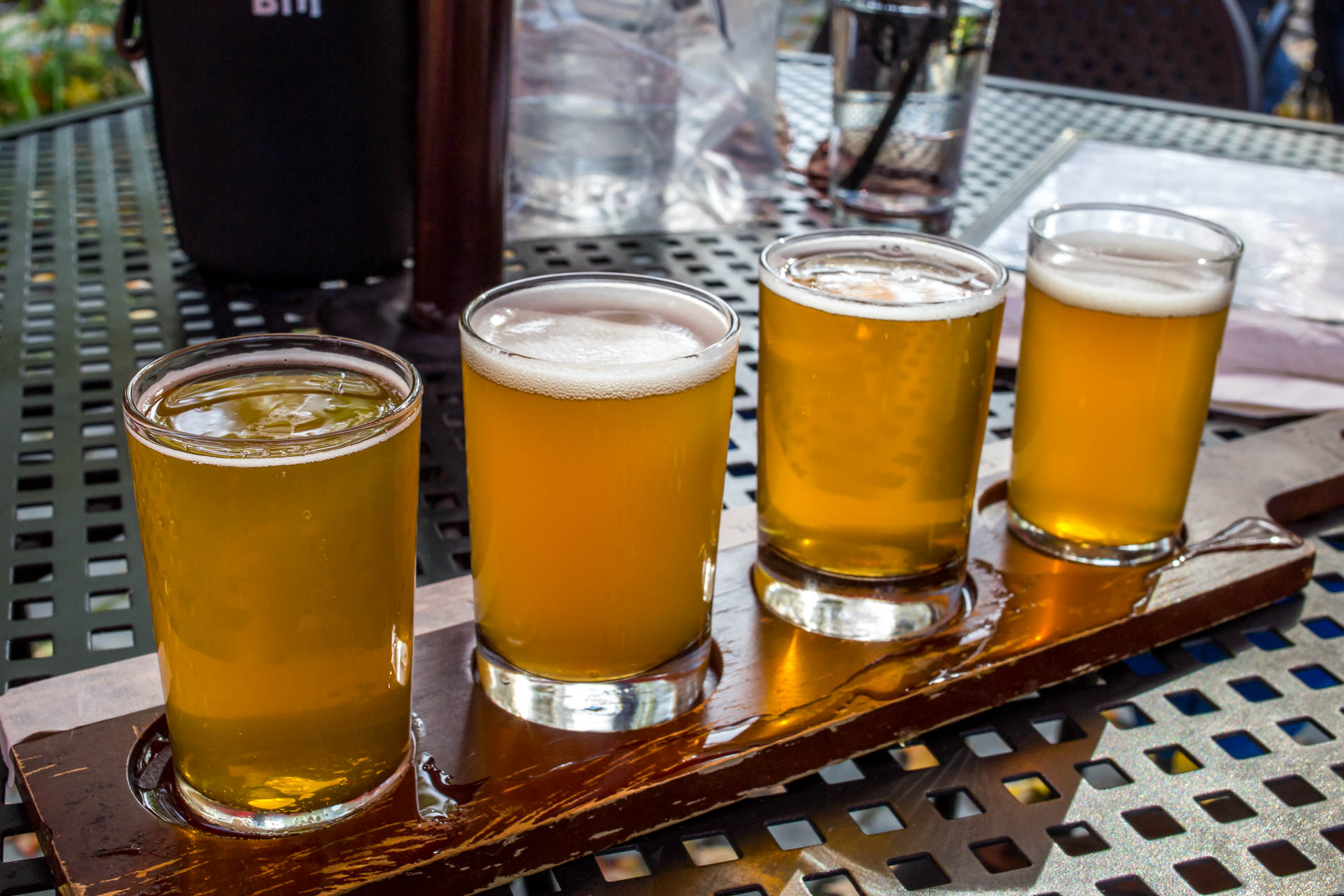 My friend had an amazing duck sandwich that weirdly had asparagus in it, plus some onion rings. I tried some of it and it was fantastic, with or without the asparagus. I can't describe it in too much detail because it's not on their menu online (whyyy??), but I would definitely recommend it.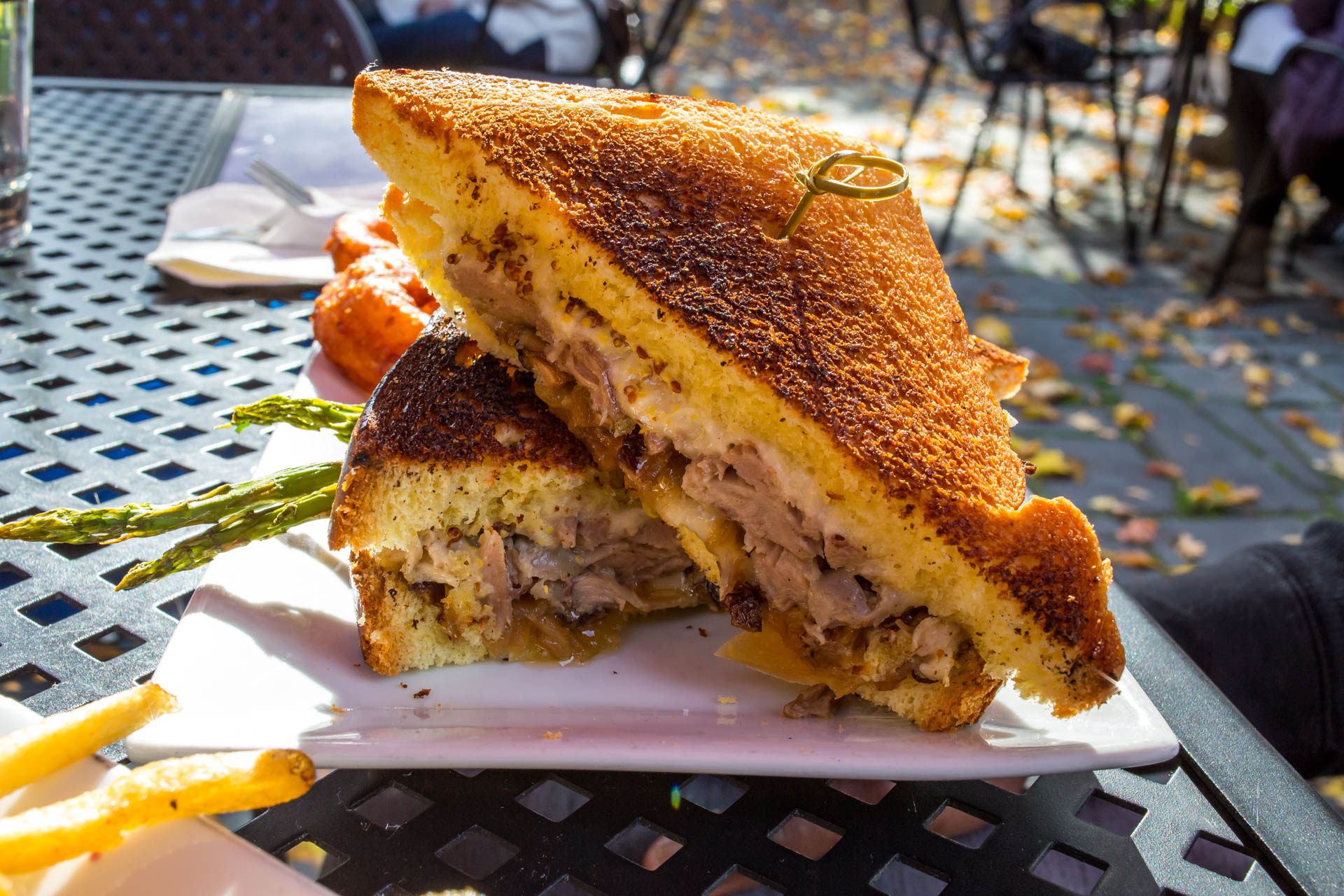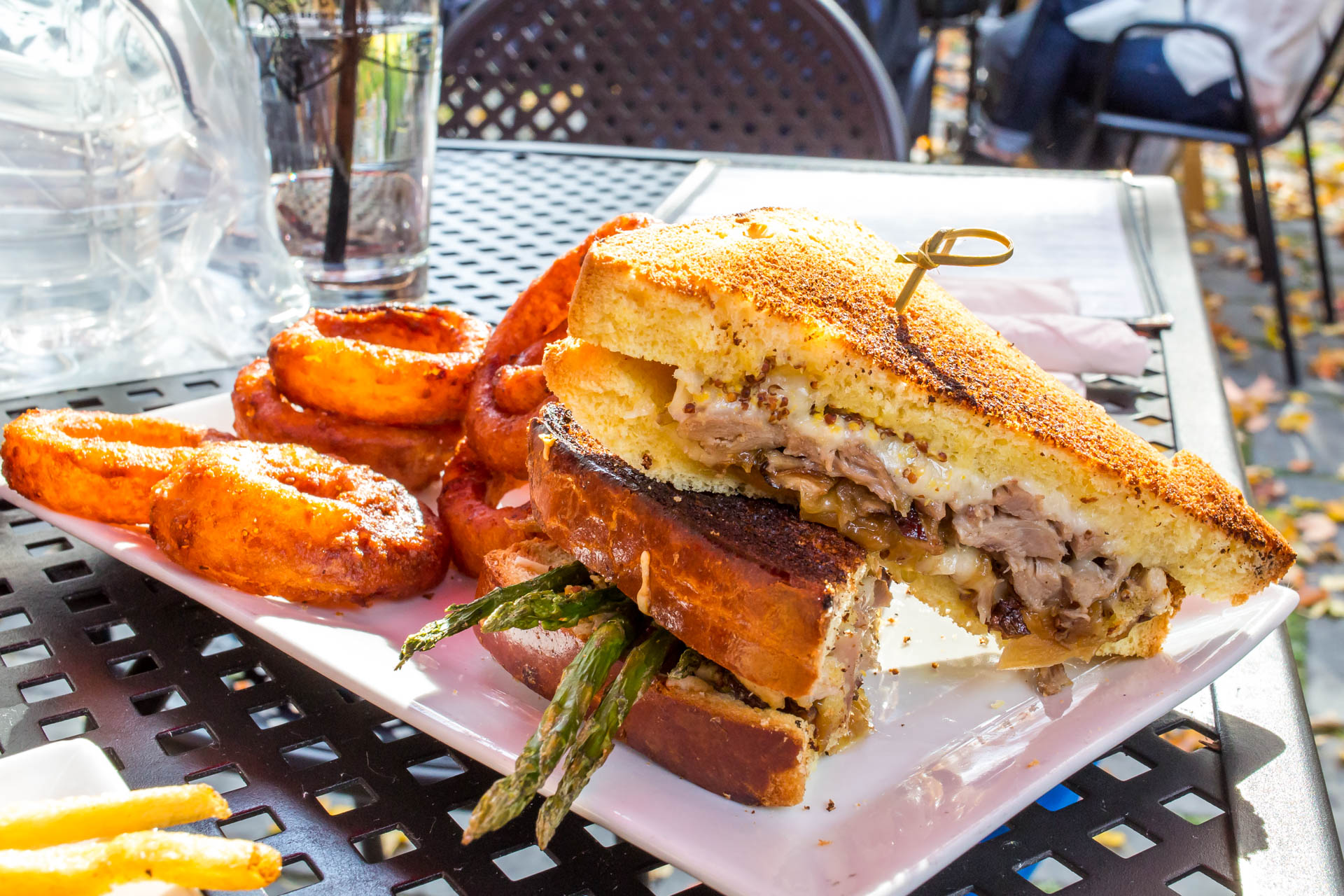 "The Schatzi's Burger" (described below)  was supposedly in a BuzzFeed listicle. So naturally the old millenial in me just HAD to have it.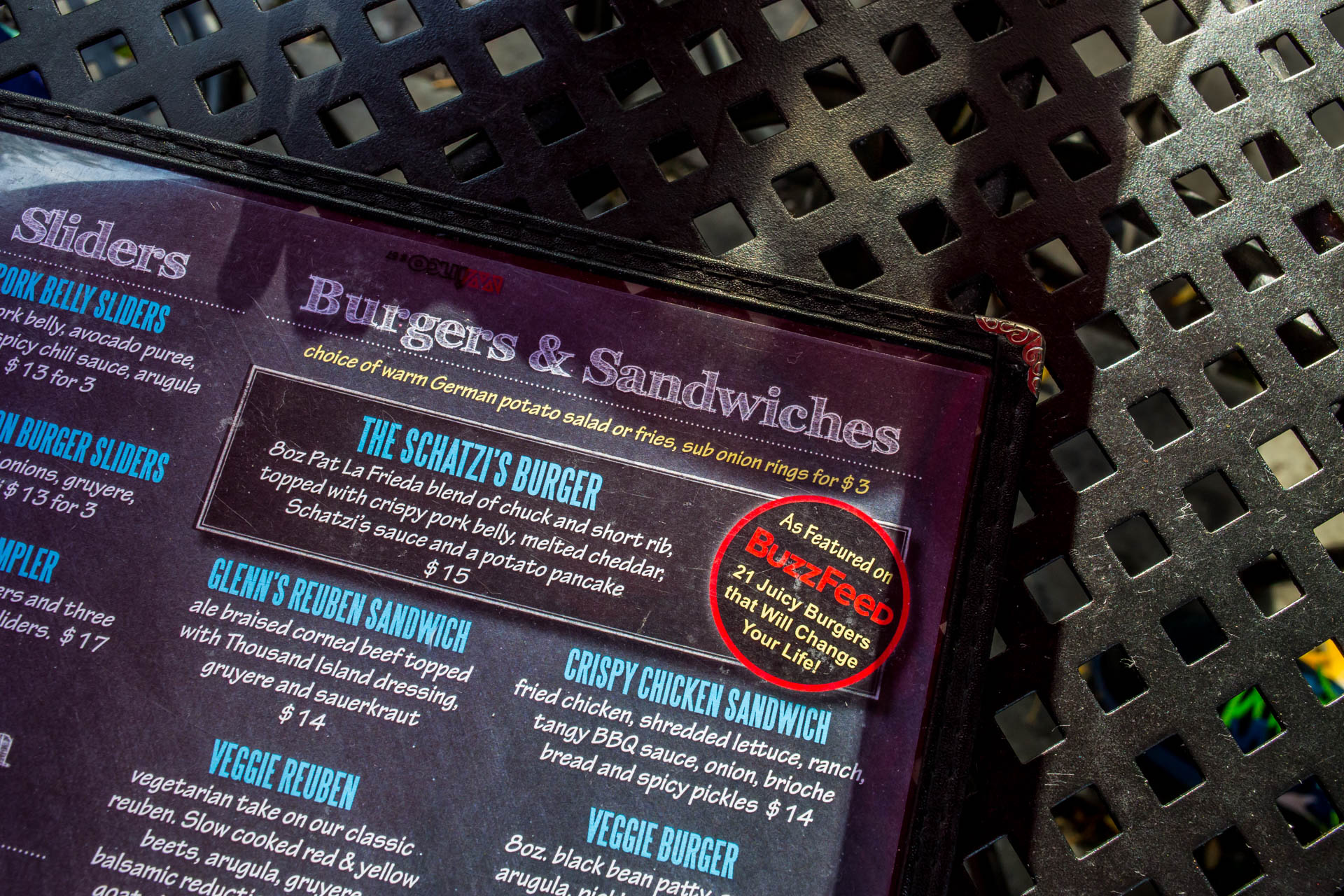 I was not disappointed. I mean, pork belly and a potato pancake inside a burger? That's not even fair. Although I WILL say I had to ditch the potato pancake later on in order to eat it like how a burger should be eaten. (I am struggling not to say something inappropriate here, and you should congratulate me for succeeding.) Also, the FRIES. OMG. Probably one of the best plates of fries I've ever had, if not the best. Super crispy. Perfect amount of salt. Shaped like McDonald's fries. Do it.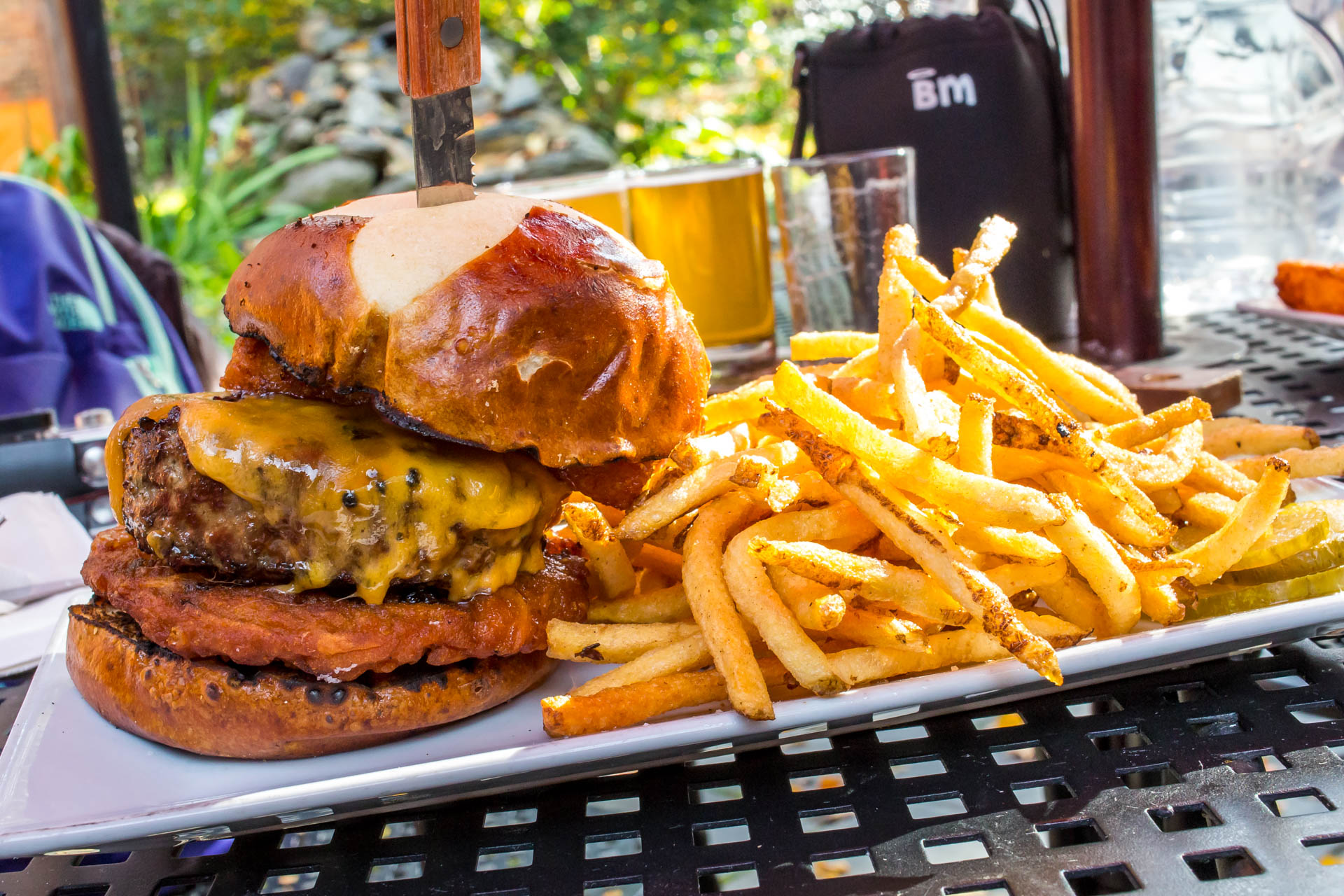 You should know that the entrance to Walkway Over the Hudson is about a 20 minute walk from the station. But you and I both know that if your goal is to do some hiking, this shouldn't be an issue. You can do it, I believe in you. 😀
If it's not obvious to you what the Walkway Over the Hudson is, here's how they describe it on their site:
The Walkway Over the Hudson spans the Hudson River and connects the City of Poughkeepsie in Dutchess County with the Town of Lloyd and hamlet of Highland in Ulster County, New York.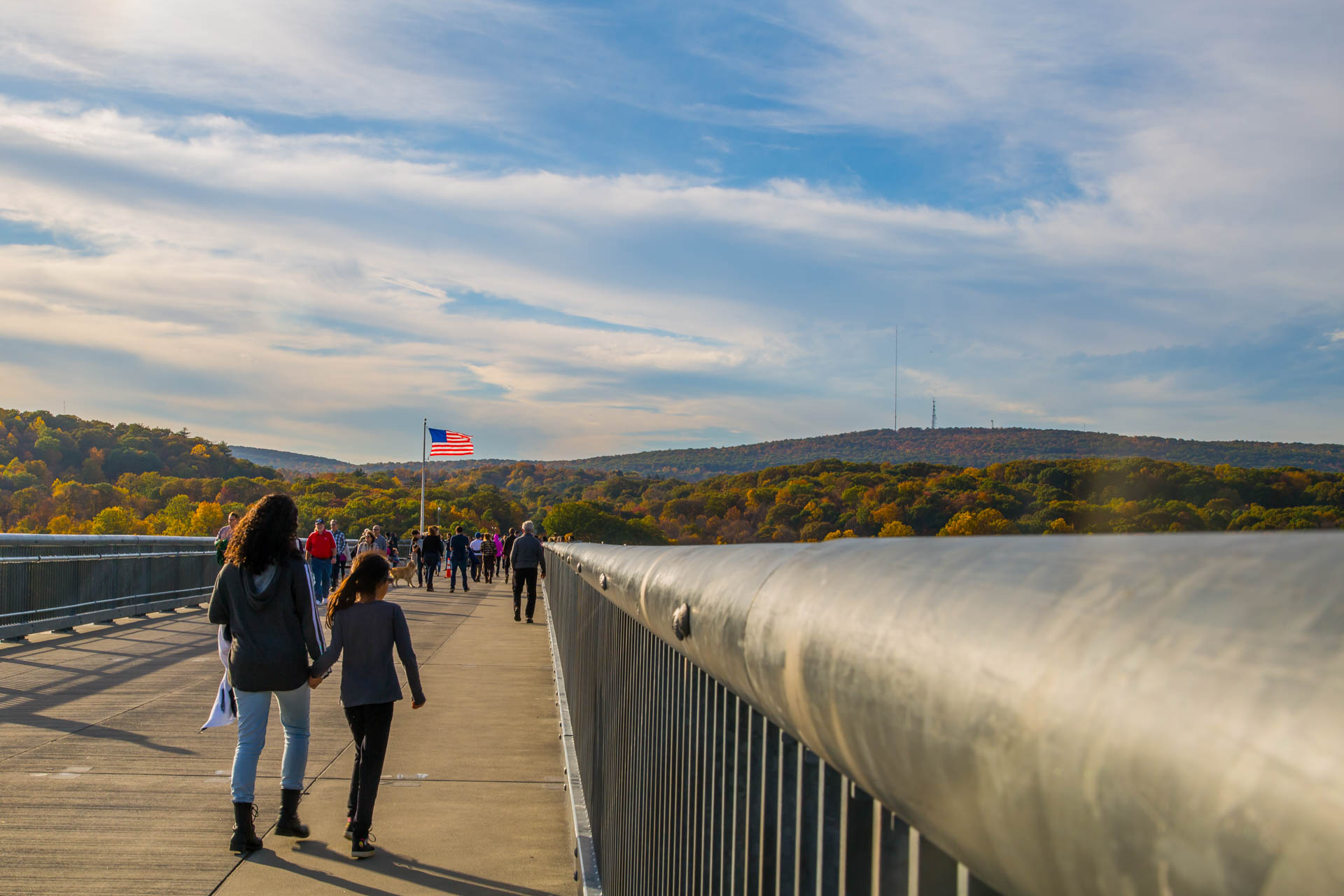 So, it's a long, flat hike perfect for beginner hikers or families with children. I recommend walking it in the fall. And be prepared for it to be about… 10-20 degrees colder up there. It can get pretty windy, so long-haired ladies beware. Guys… rock that man bun?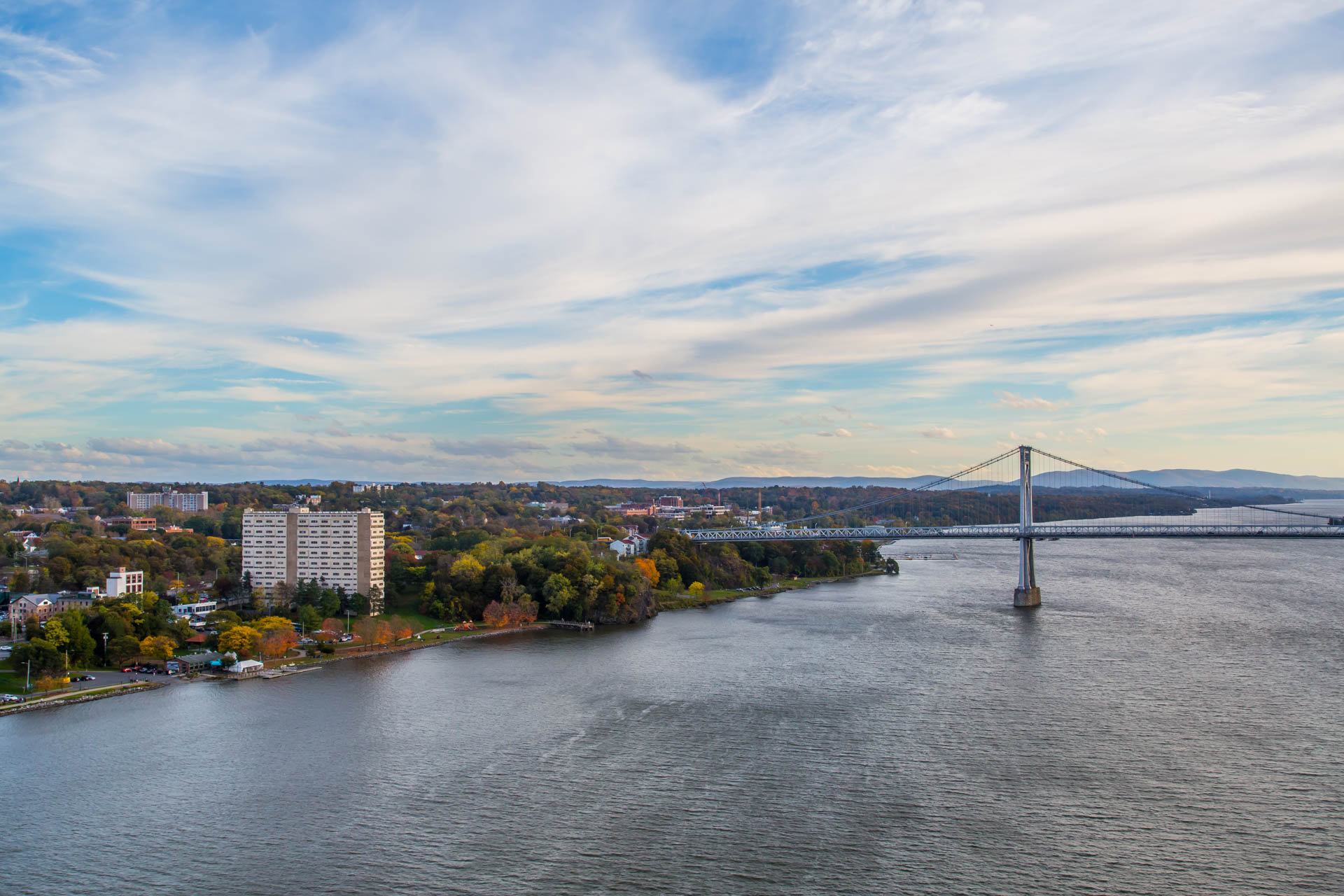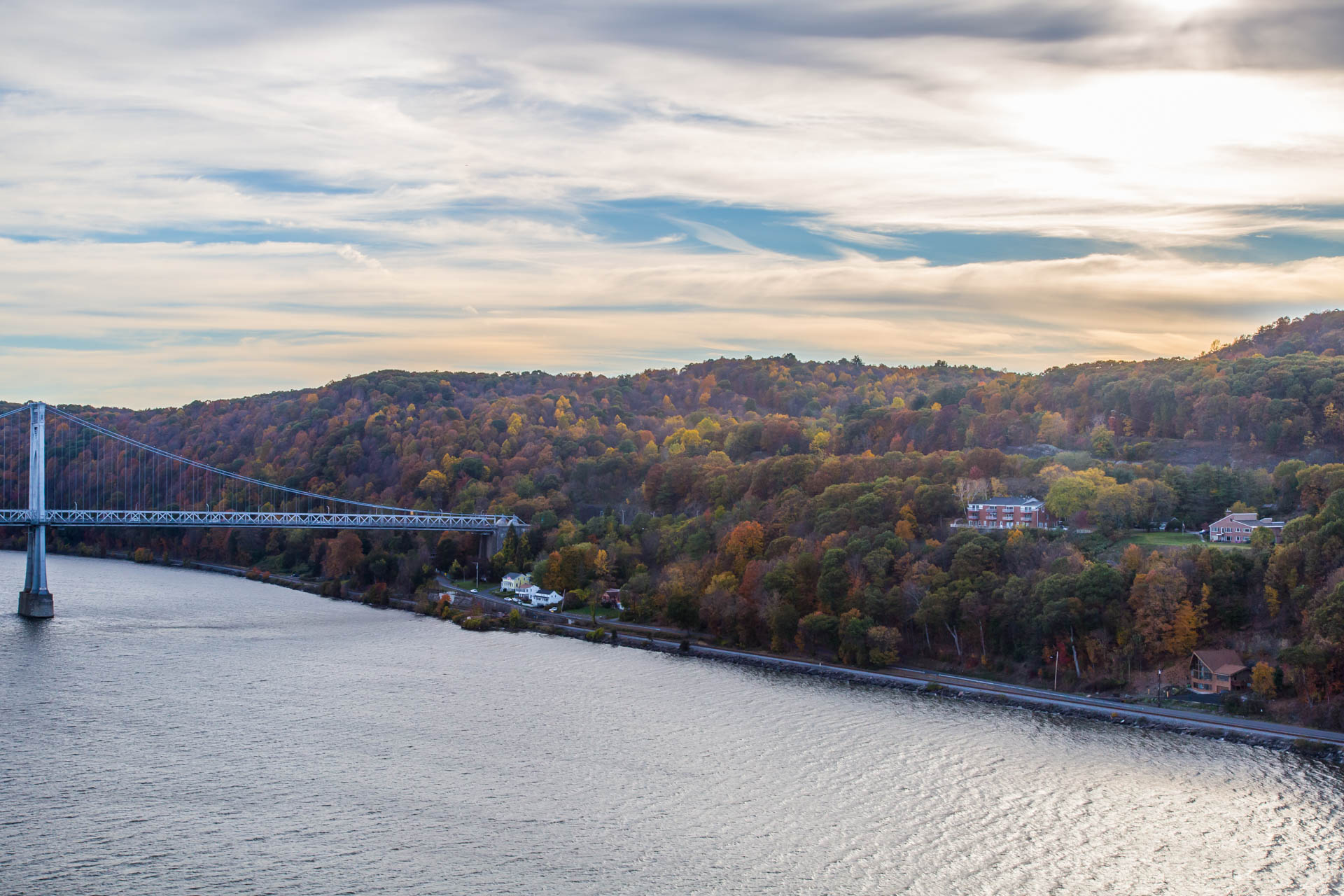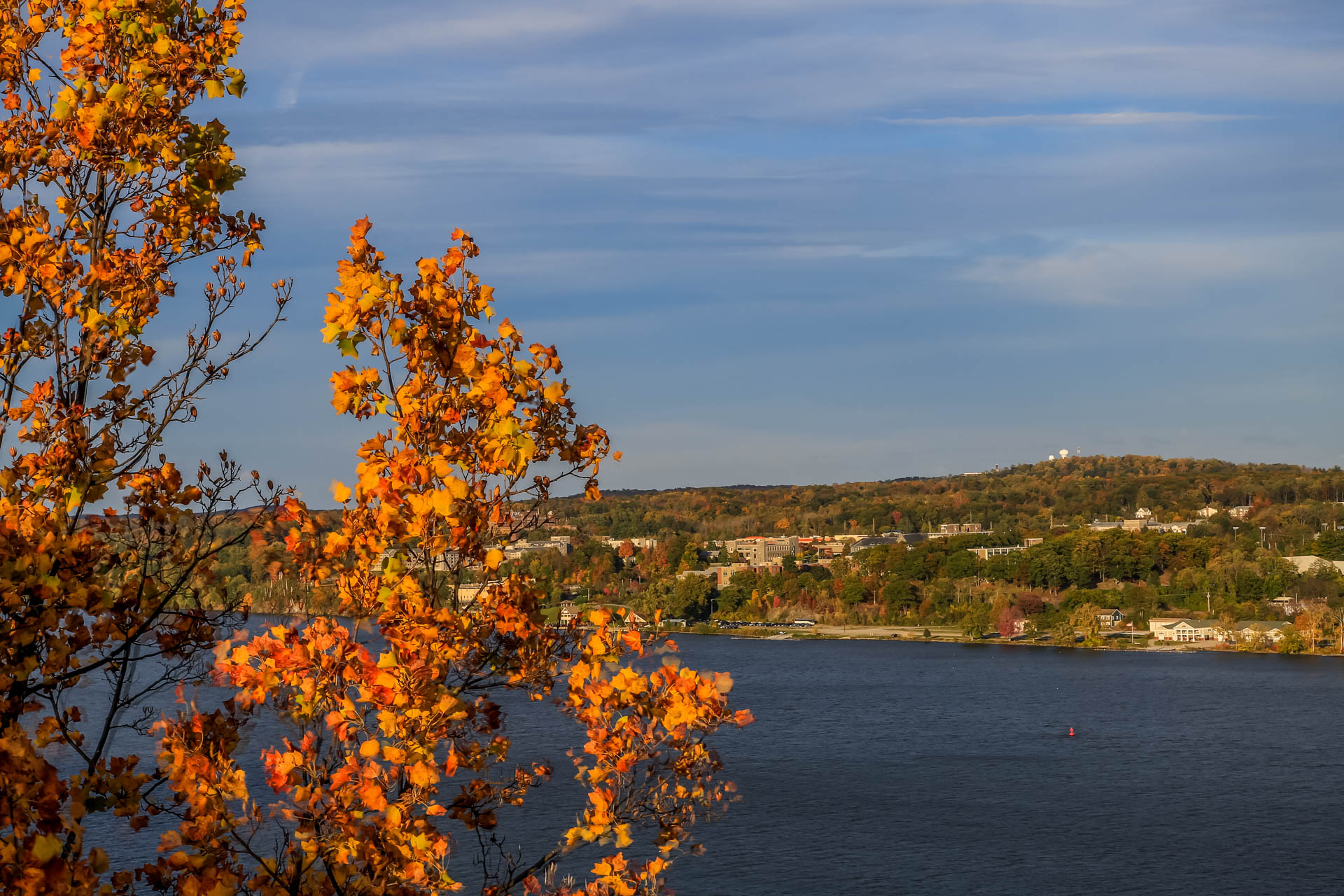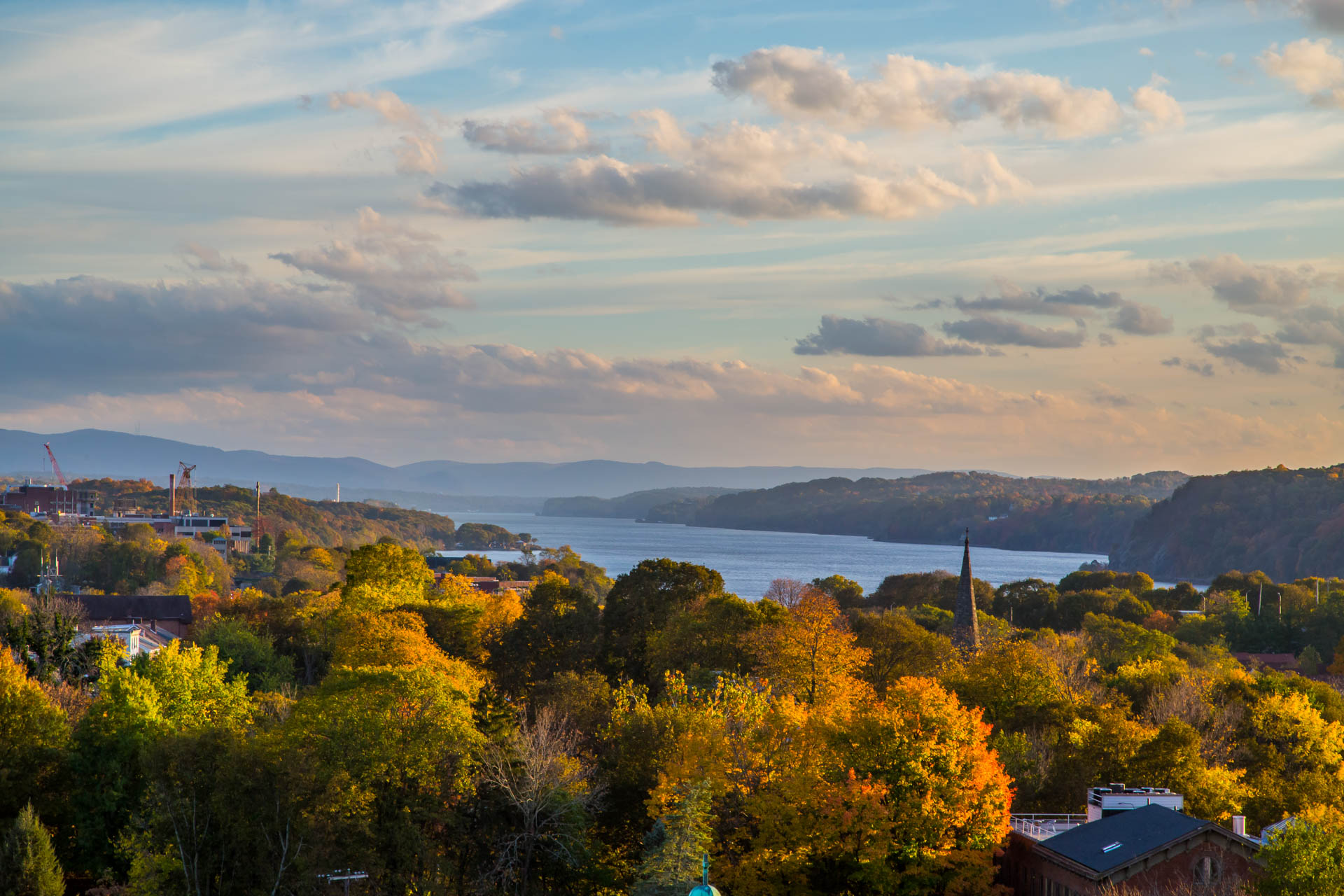 Another 20 minute walk (with plenty of excellent signage to lead you to it once you get back to the Poughkeepsie side of the walkway), will lead you to the Poughkeepsie Waterfront. Basically you make your way back to the station, enter it, cross to the other side and walk down to the water. It's hard to miss. Especially when it looks like this.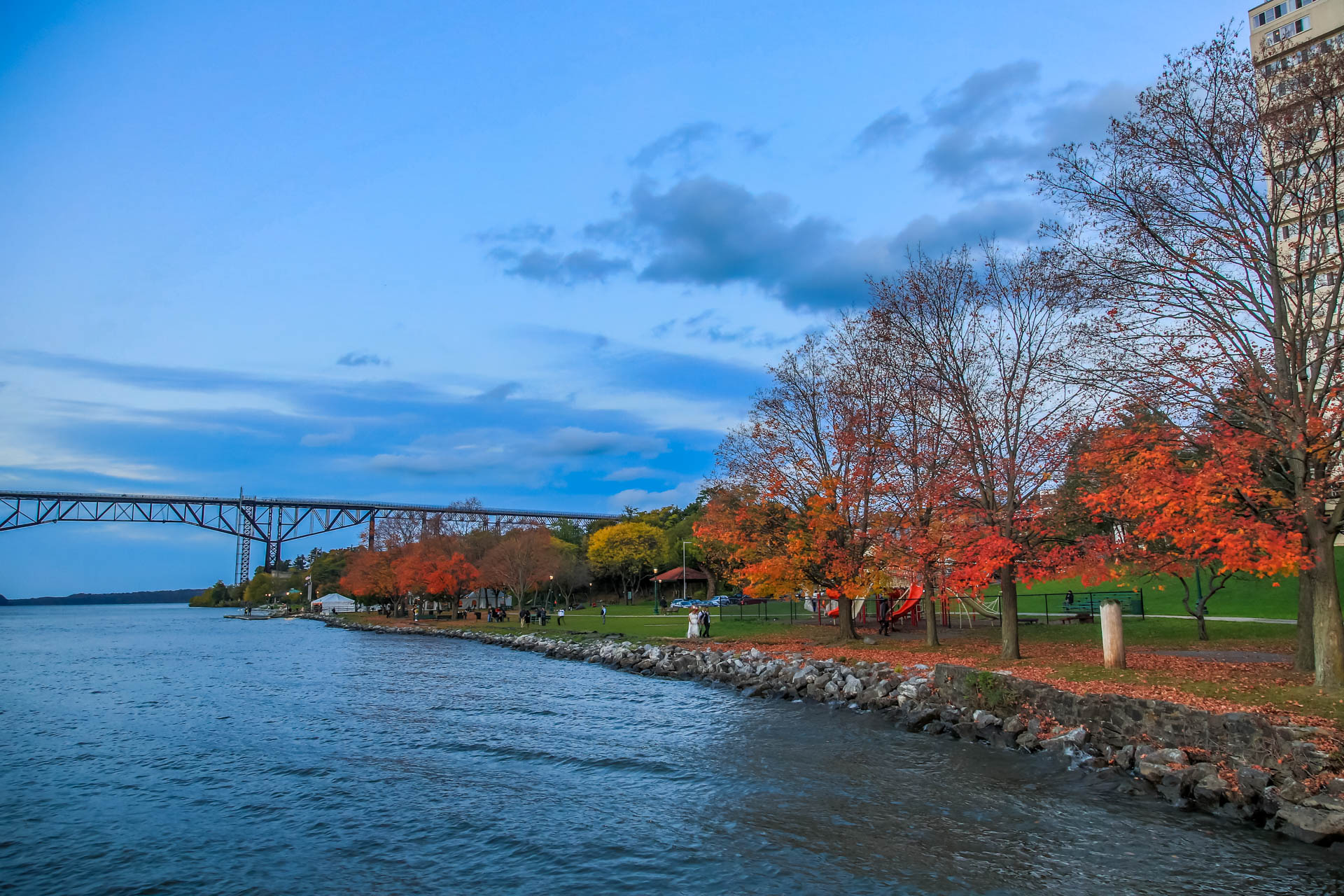 It was hard not to love Poughkeepsie, though it's not like I was trying not to. It has that feel of Brooklyn Bridge Park at night, with an almost overwhelming sense of peace because it's so much quieter there. And if like us, you happen to be there while a wedding reception is happening right by the water, I'll give you fair warning that it just might restore your faith that good things can still happen in this crazy world.