Hello all! I'm back after what is now turning out to be an annual summer-to-fall blog break, and hopefully will be a lot more diligent about this now that it's winter and mostly too cold to be constantly going out. I'm going to try and calm down my "itchy feet" by keeping them snug in some furry boots or silly socks. Today it's hovering around 30 degrees fahrenheit and snowing/raining in New York City, and it's a perfect day to think about the warmer days of this year while sipping on a cup of rooibos tea. Yeah… I try sometimes. Other times I eat too much popcorn while watching "Rogue One: A Star Wars Story" (which I highly recommend).
Ok, so anyway, our Mohonk Mountain House hike was the highlight of a camping trip we did last May. Our first day was spent at Minnewaska State Park, which has a whole series of trails to explore in itself. We did Mohonk on the 2nd day of a 3-day thing we'd planned, which got shortened to 2 days because a hurricane was coming on the third day. We weren't even sure we would make it to Mohonk because there was a high chance of it also raining that day, but I'm sure glad we pushed through. This is a real, climbing-over-rocks, sweat-pouring-out-of-you kind of hike. Especially if you do the labyrinth section, which is an entire section of combined rock-scrambling and spelunking. This hike also requires a "day pass" to be bought at the entrance to the grounds, right before parking. It costs $21 midweek and $26 on weekends and holidays. So the fact that there were several phenomenal views was very much welcome.
For anyone who's interested in camping around the area instead of spending hundreds of dollars (or thousands if you're staying a few days) on staying at Mohonk Mountain House, I recommend the Gunks Campground. It's not super cheap at $38 a night (unless you're a member, in which case it's $24), but it sure beats $400+ a night!
Since it's been a few months, I'm not going to be able to do a full write-up of the hike, but here are a few highlights beyond what's in the gallery:
Resting Huts Everywhere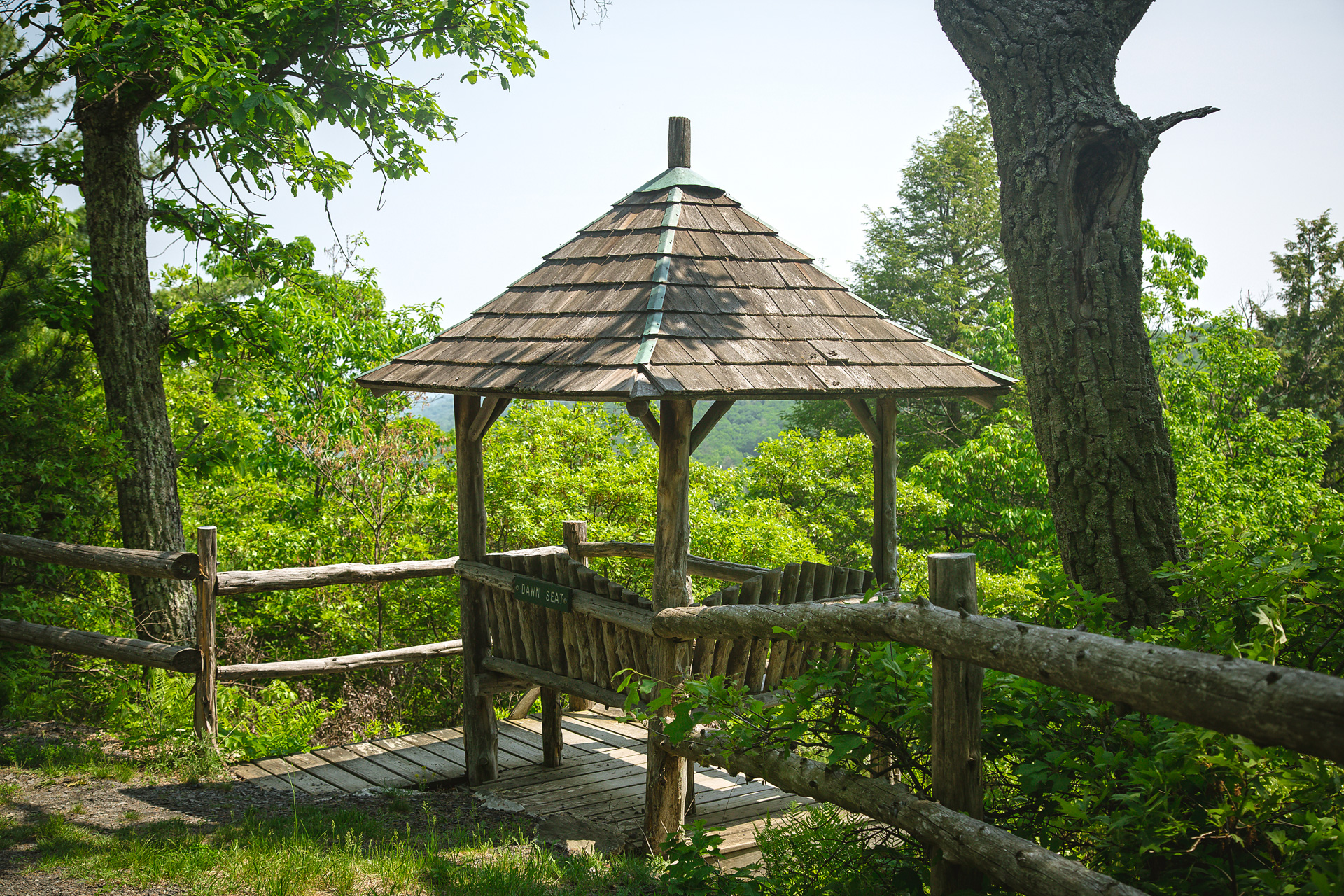 They are seriously everywhere on the trails, so if a group (or a couple most likely) is hogging one, go on ahead and look for the next one.
The Labyrinth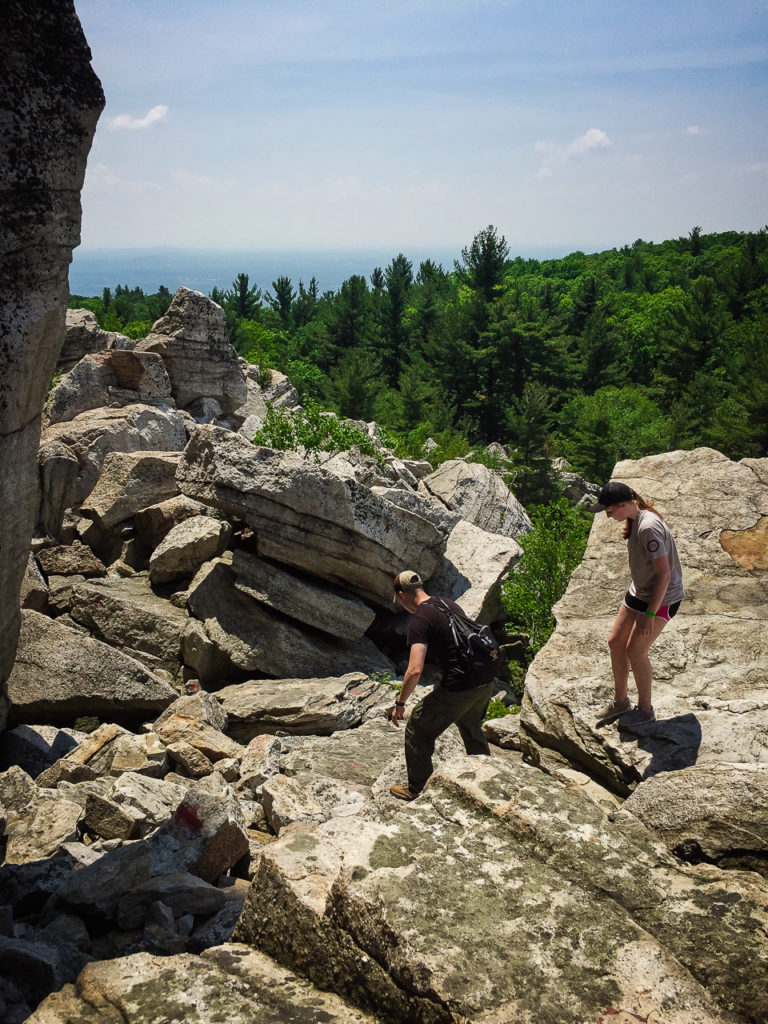 This part (which includes the lemon squeeze/crevice) is completely optional. You can take a path if you still want to see the view at the top. It's one of the "activities" you can do if you stay at the hotel or do a hike. So if you're not into it, just enjoy the grounds more at a more leisurely pace and skip it. However, it's fantastic if you're feeling adventurous. Like I already said, it's a lot of rock-scrambling and spelunking. There's also some climbing up and down wooden ladders and waiting around for people to squeeze into/out of tight spaces. Or, in my case, jump over a crevasse (I was the one people were waiting on). Actually their sign has a better description of it…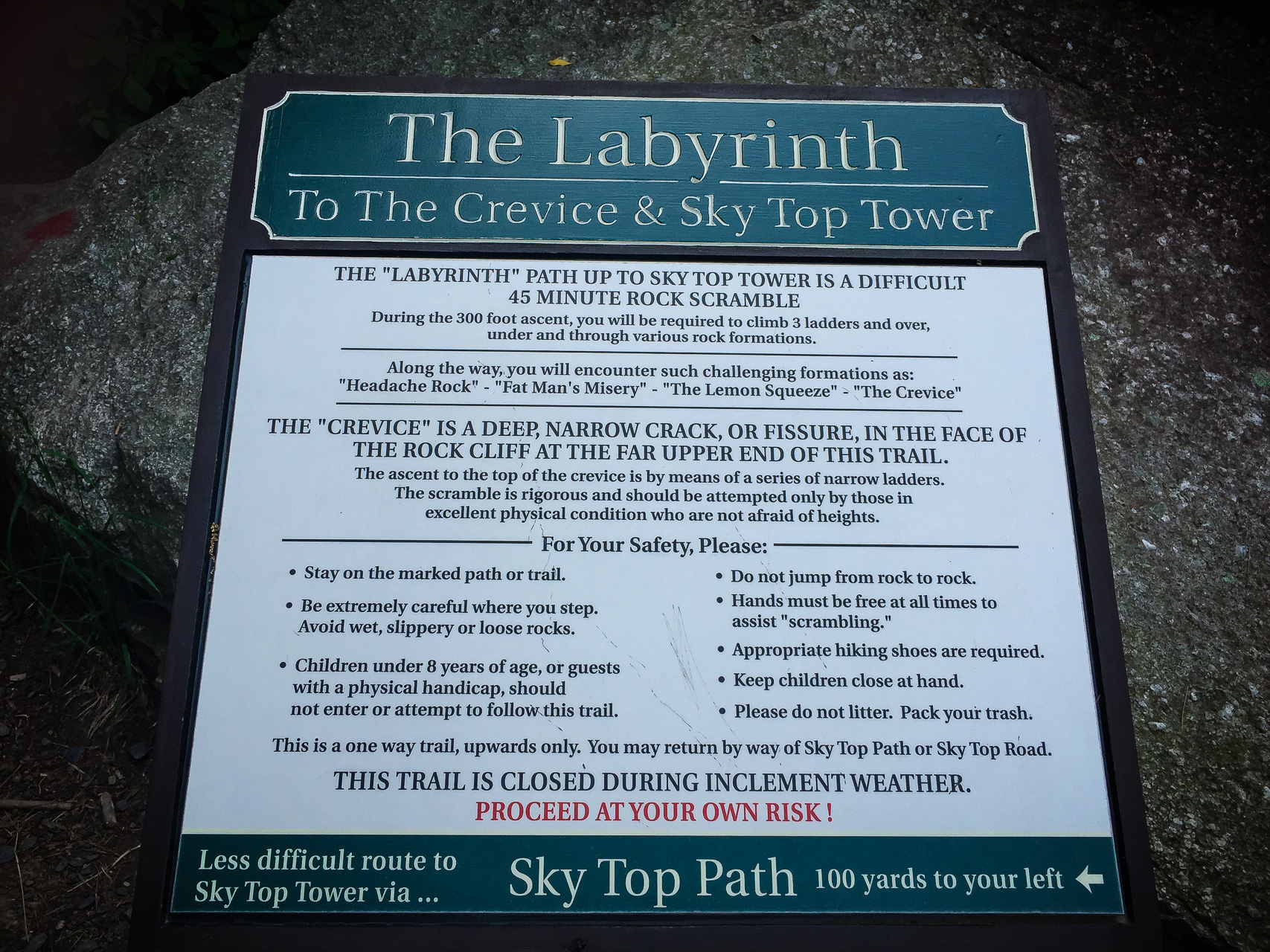 The Lemon Squeeze/The Crevice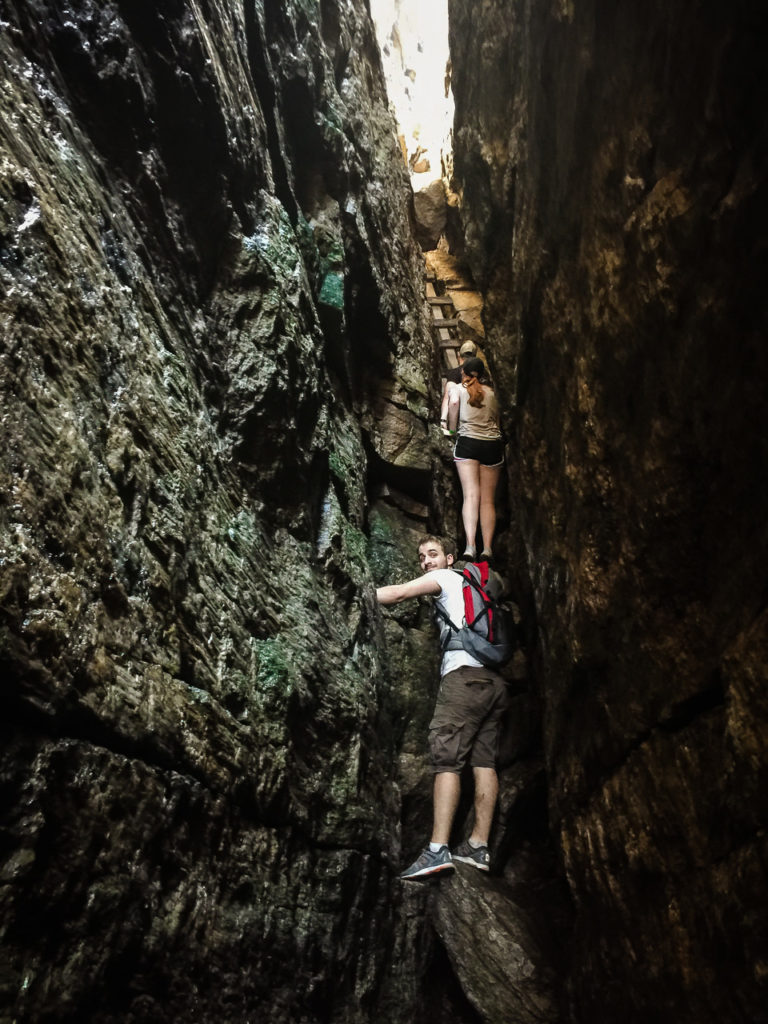 The lemon squeeze and crevice are at the end of the labyrinth. There's a steep climb up a wooden ladder with slick cave walls on either side of you. At some point near the top you have to step on those cave walls to get all the way up (or if you're more fit than I was, pull yourself up). It's a bit scary and very tight (but also badass), so I wouldn't recommend it to people who are even slightly claustrophobic or have a wide torso. I also wouldn't recommend going up wearing flip flops. You can have a backpack with you, but you'd have to be nimble enough to push it up to the edge yourself (which is what Mike did), or have someone climb up ahead and grab it for you (which is what I did, with Mike's help).
The Gardens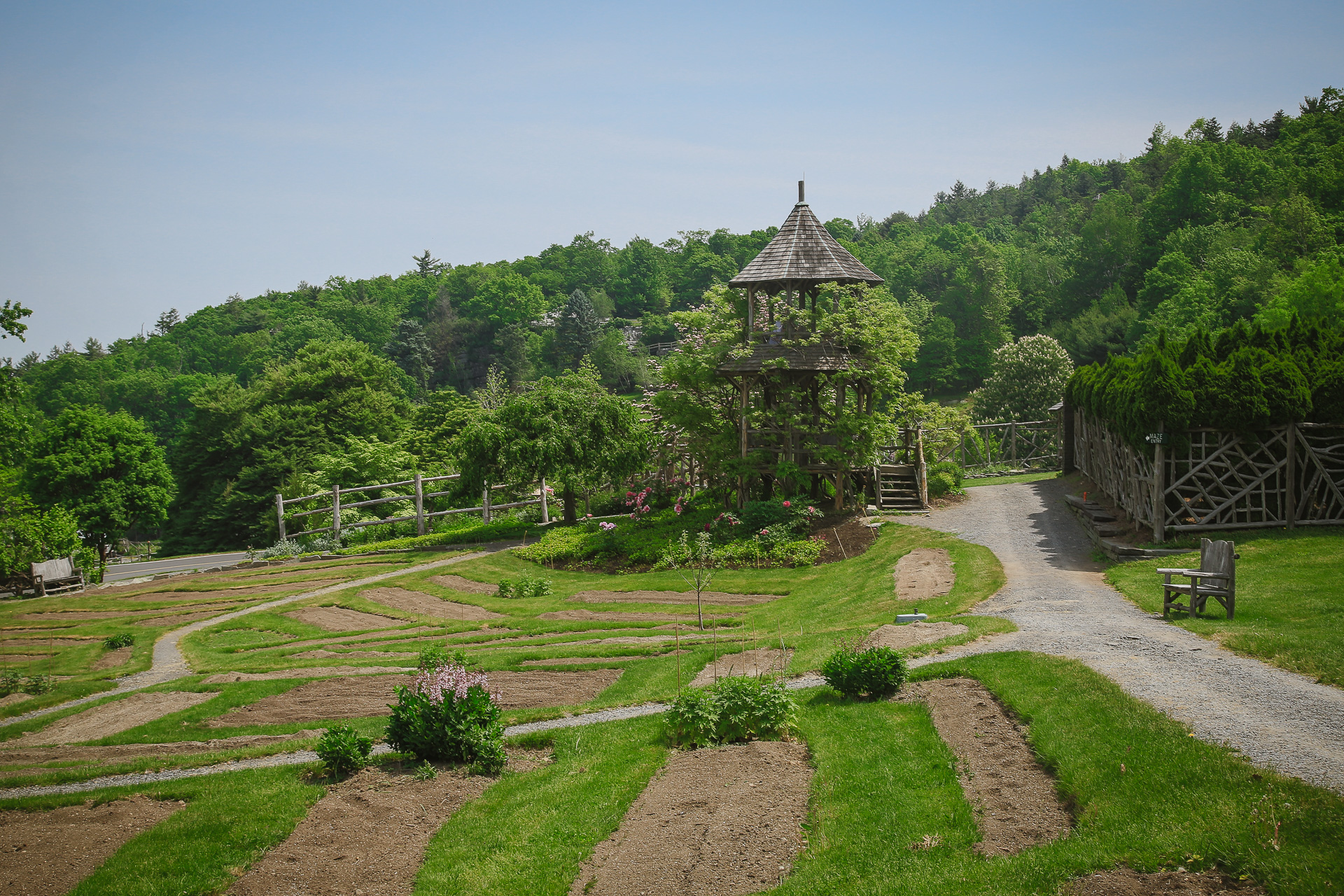 If you find the idea of the labyrinth too intense, you can always chill at the gardens. It's quite peaceful and a good place to put your pack down and relax, and also gorgeous at certain times of the year. The fact that there are plenty of other activities to do means it's not very crowded.
Tons of Other Activities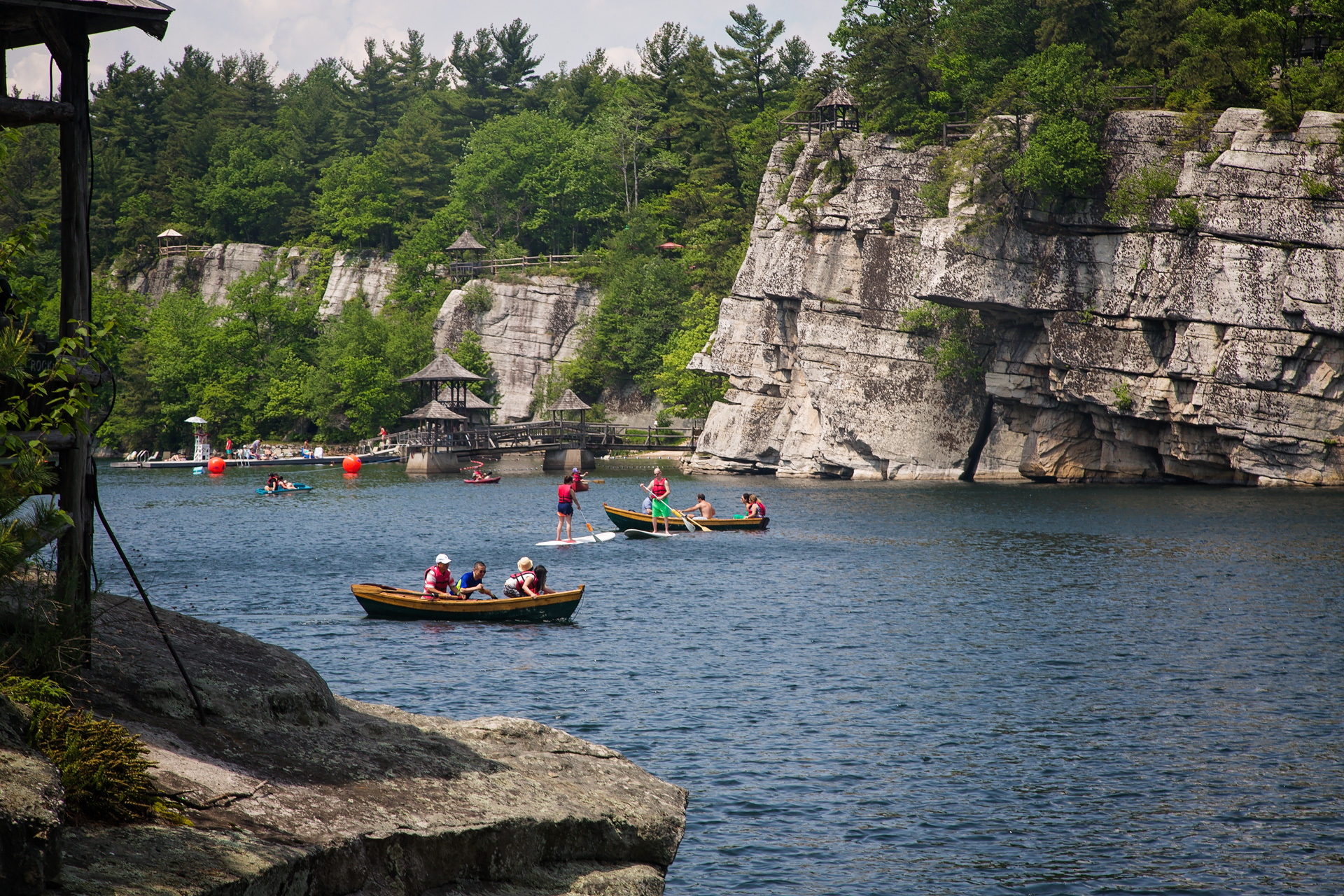 If you're not into hiking, or decided to spend a few days here, they have so many other activities and even have a few dining options. Have a fun time doing water sports then hit one of the restaurants for dinner. Or do a nice brunch and get a massage at the spa. This place is definitely not lacking in things to do. Whatever it is you end up doing, I would still highly recommend this place.