Hey y'all! I'm back, but more tired and unable to write than I've ever been. Not sure if you've noticed, but I've only written really short posts this past month, because I just couldn't bring myself to write anything meaty. And now I've used the word "write" three times in two sentences. If that isn't a sign of "writer's block", I don't know what is. It's been mostly due to work, and studying for work, and stressing about work, and dreaming about work… you get the picture. But, I've found that similar to photography, if I wait until I'm feeling inspired to write something, I'm never going to get anything done. So I guess we'll see how this goes, and I apologize in advance for my crappy(er) writing. The photos also leave much to be desired and some are completely unprocessed… But I swear it was a great trip.
We got to Cape Cod on a Thursday night, and didn't really have time to do anything other than rest and plan the rest of our trip, and go out for dinner. The drive to the Cape is at least four hours long, so luckily my in-laws keep a good stash of tea, positive-thinking mugs, and a lovely cottage to help initiate a relaxing vacation.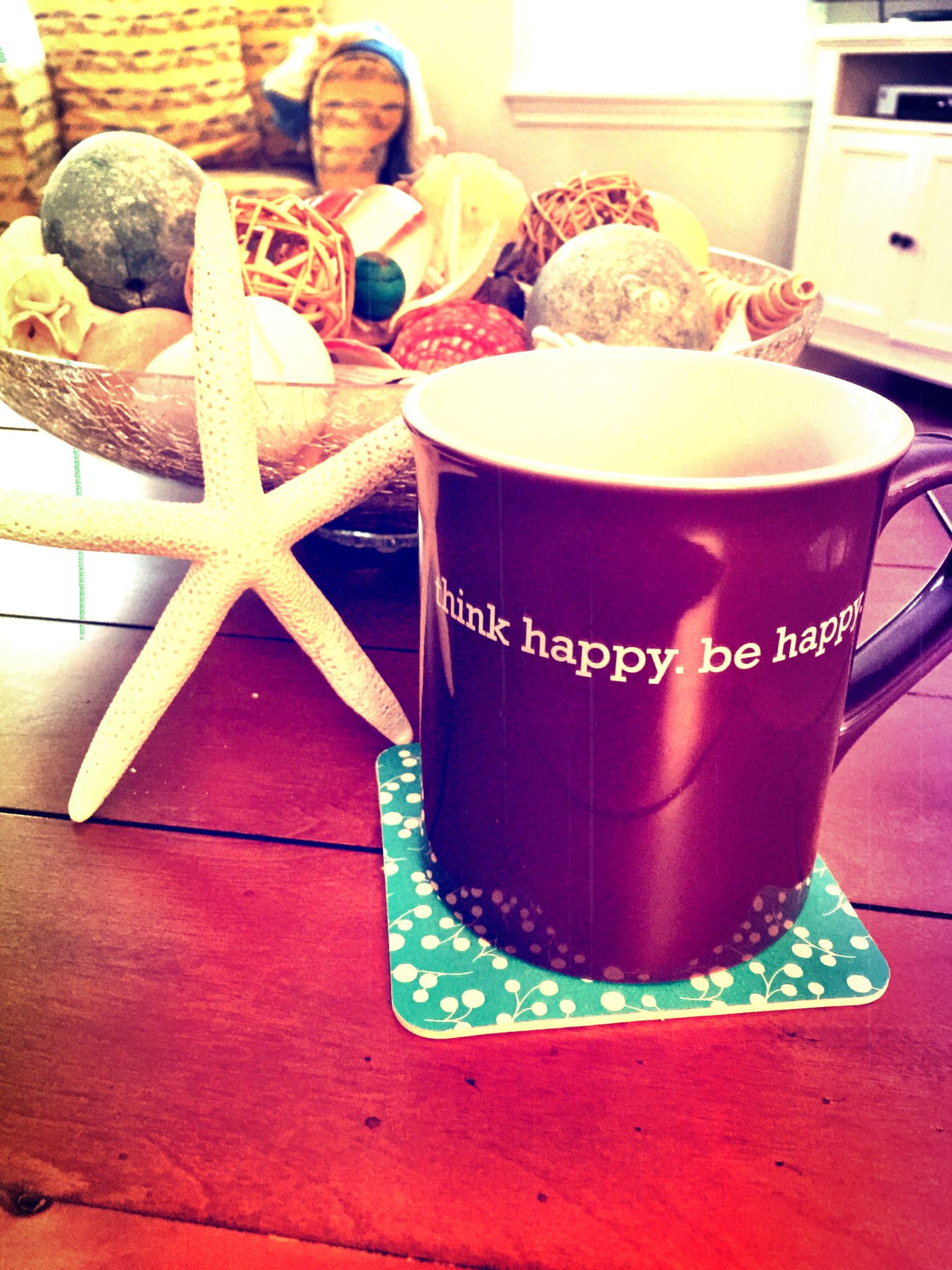 592 Main St
Hyannis, MA 02601
We decided to hit "Tumi Peruvian & Italian Kitchen" since we were curious to how well Peruvian and Italian food would go together. Turns out, really, really well.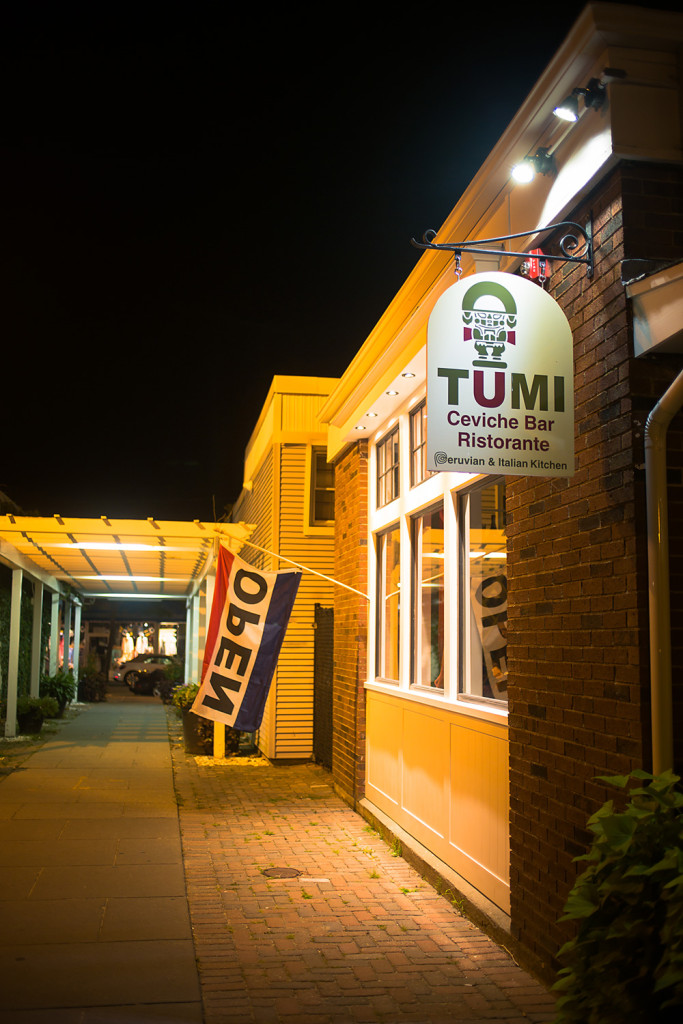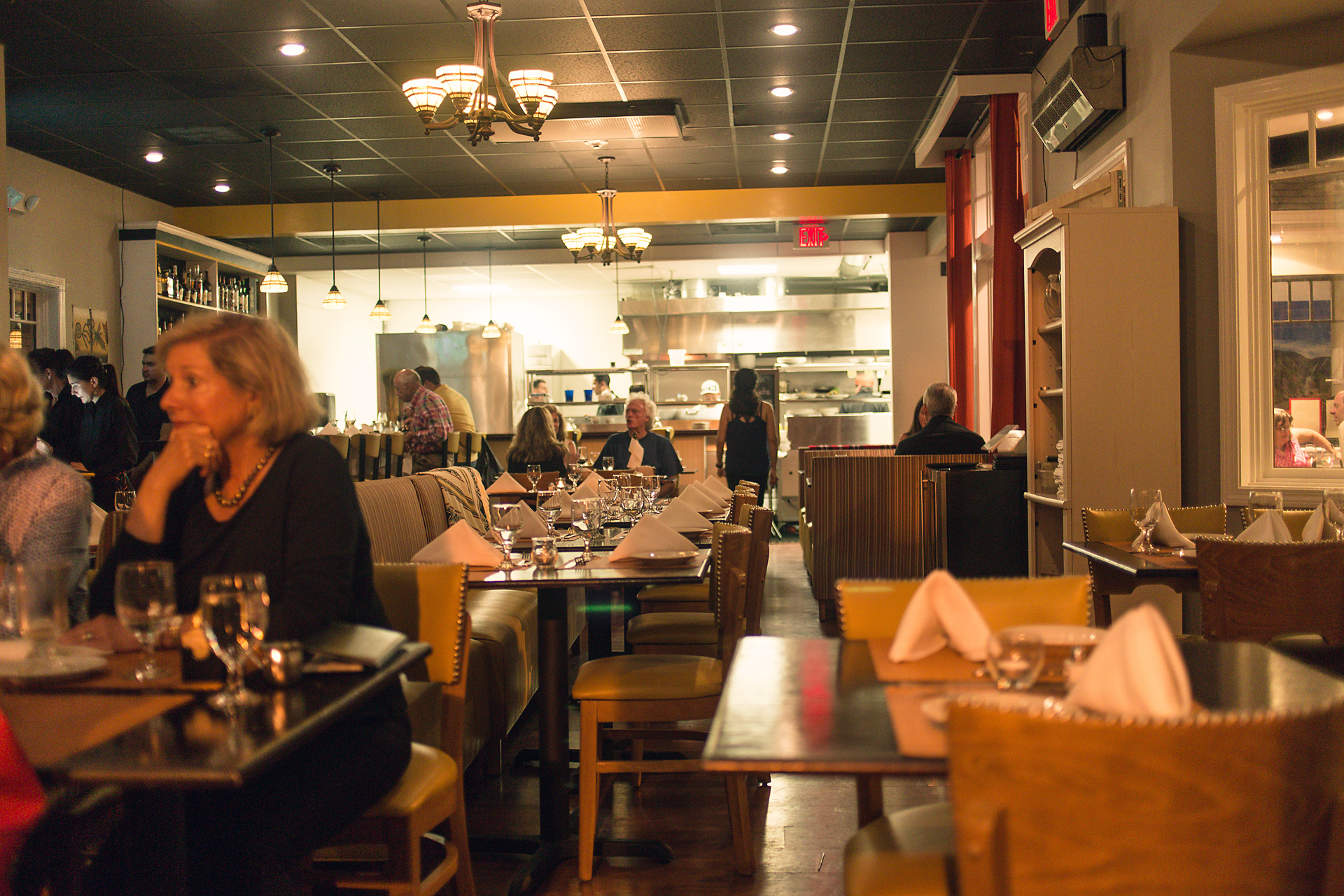 We had their ceviche of the day for our appetizer. I believe it had crab, and I know it had sweet potatoes and large, roasted kernels of corn, which gave the ceviche a nice smoky flavor.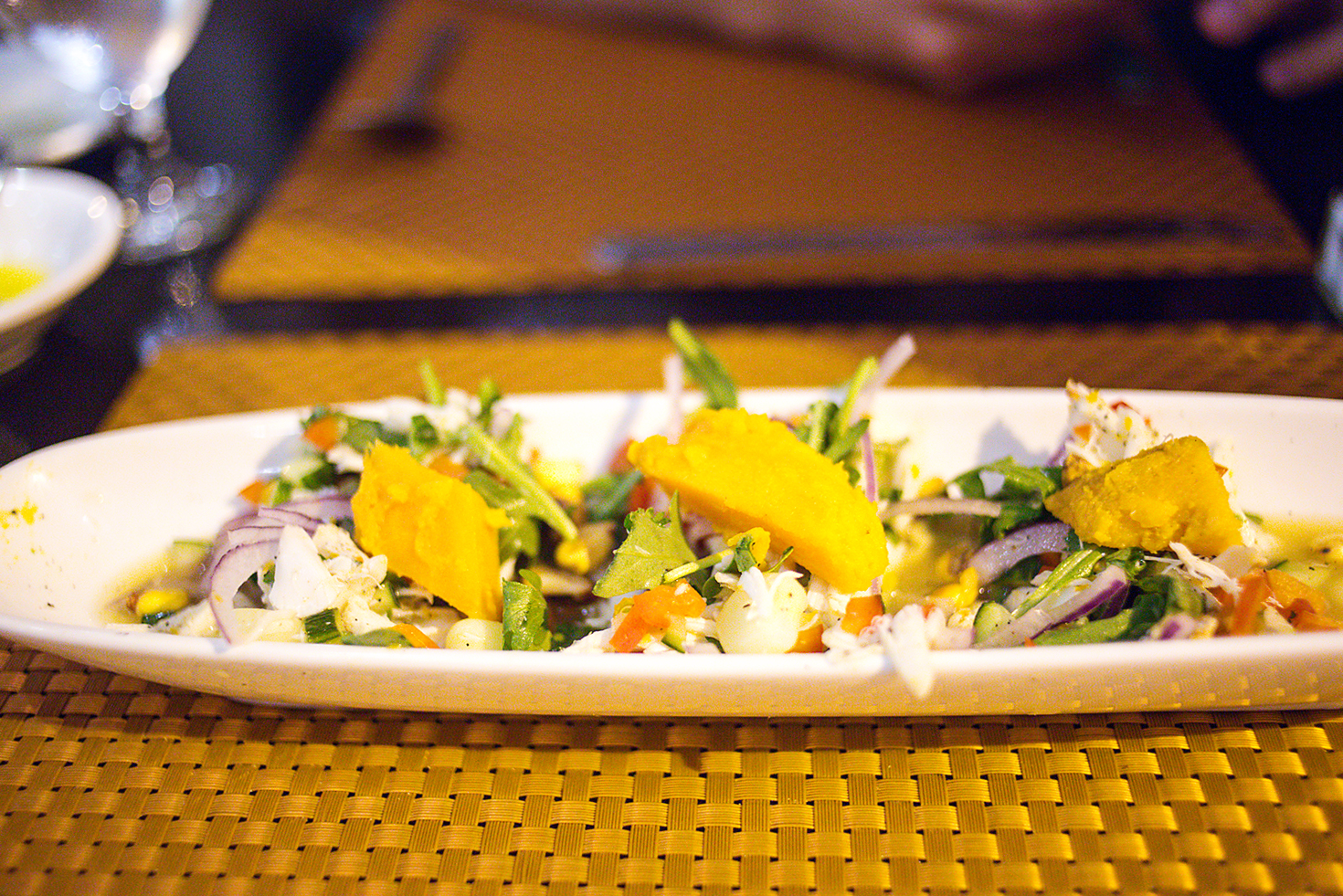 Mike had their fettuccine carbonara, which looks pretty boring in this pic, but was actually one of those dishes that take you on a "journey" through different textures and flavors. It had an interesting kick at the end which we thought could've been attributed to red pepper flakes, except it didn't look like it had any red pepper flakes in it. Interestingly, we came back to Tumi about a month later and this dish was no longer spicy. Perhaps it was an accident in the kitchen that led to the spicy carbonara. At the very least, they make their own fresh pasta, so if you're into that it's worth trying one of their pasta dishes.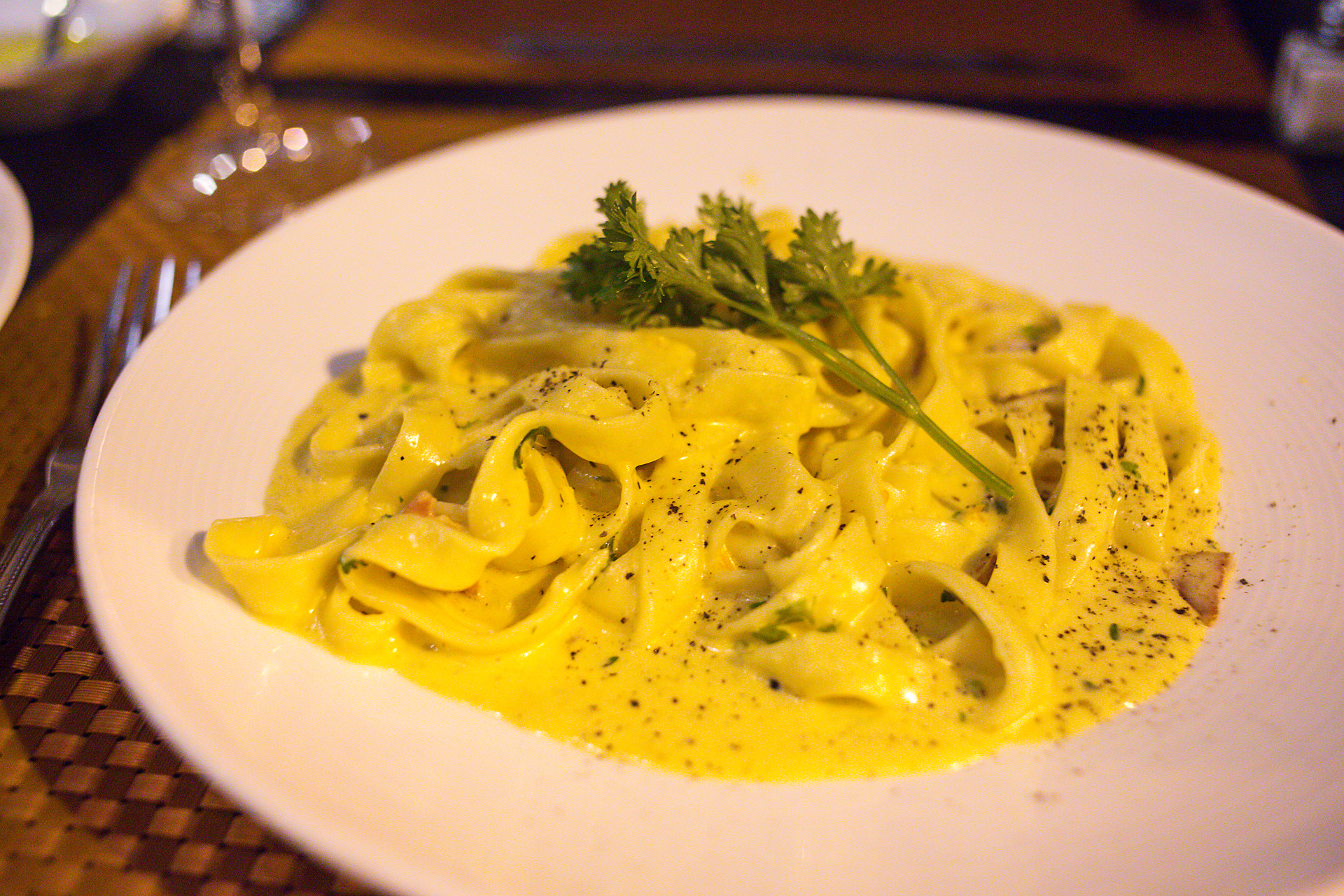 I had their lamb osso bucco (Peruvian style, braised lamb shank with aji amarillo, Peruvian beer, vegetables, cilantro, served with shiitake mushrooms risotto, white kidney beans) as my main, and it was one of the best I've ever tried (and I order this A LOT).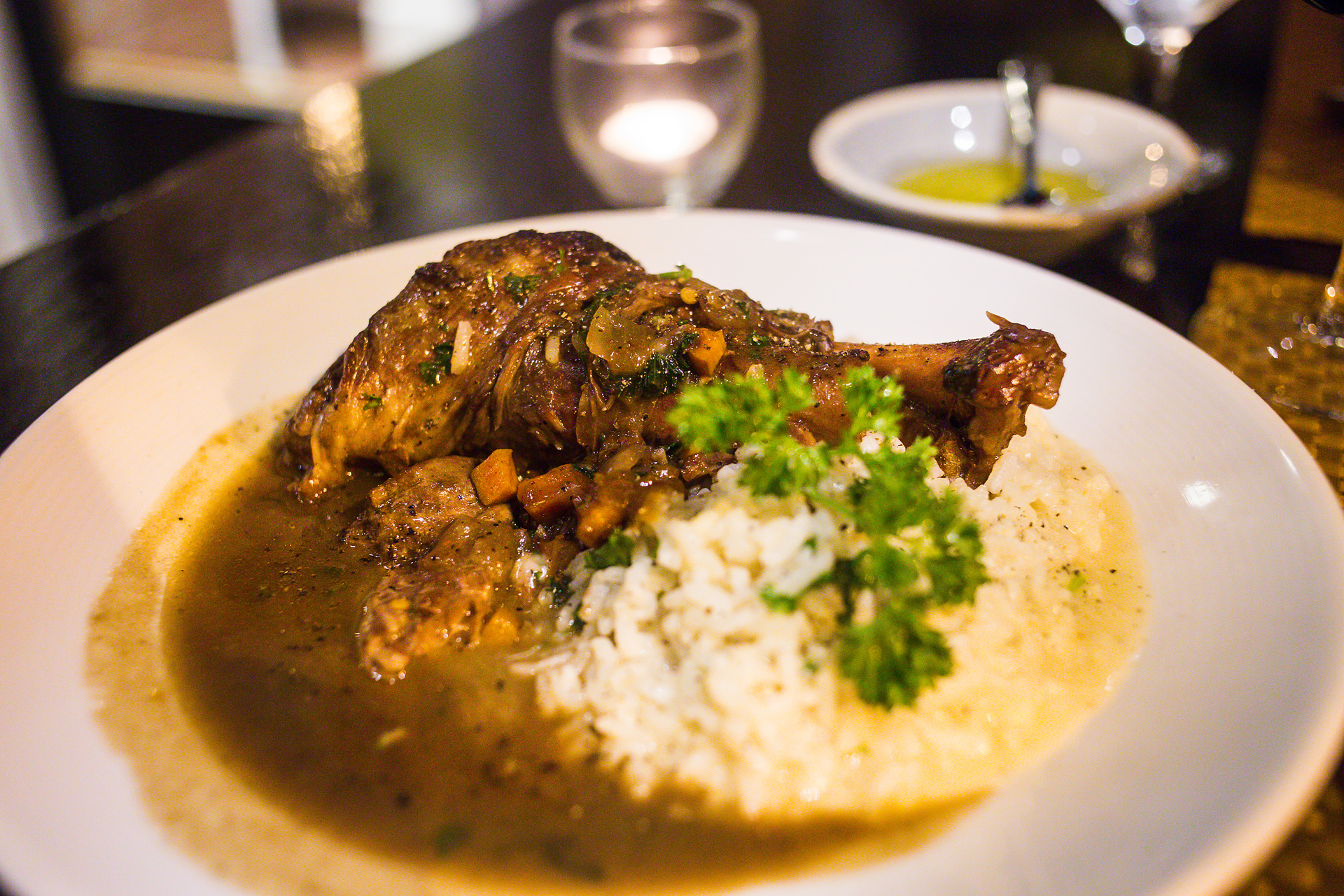 For dessert, we had their tres leches, which was decent enough. I make a pretty good one as well though, so I wasn't wowed by it.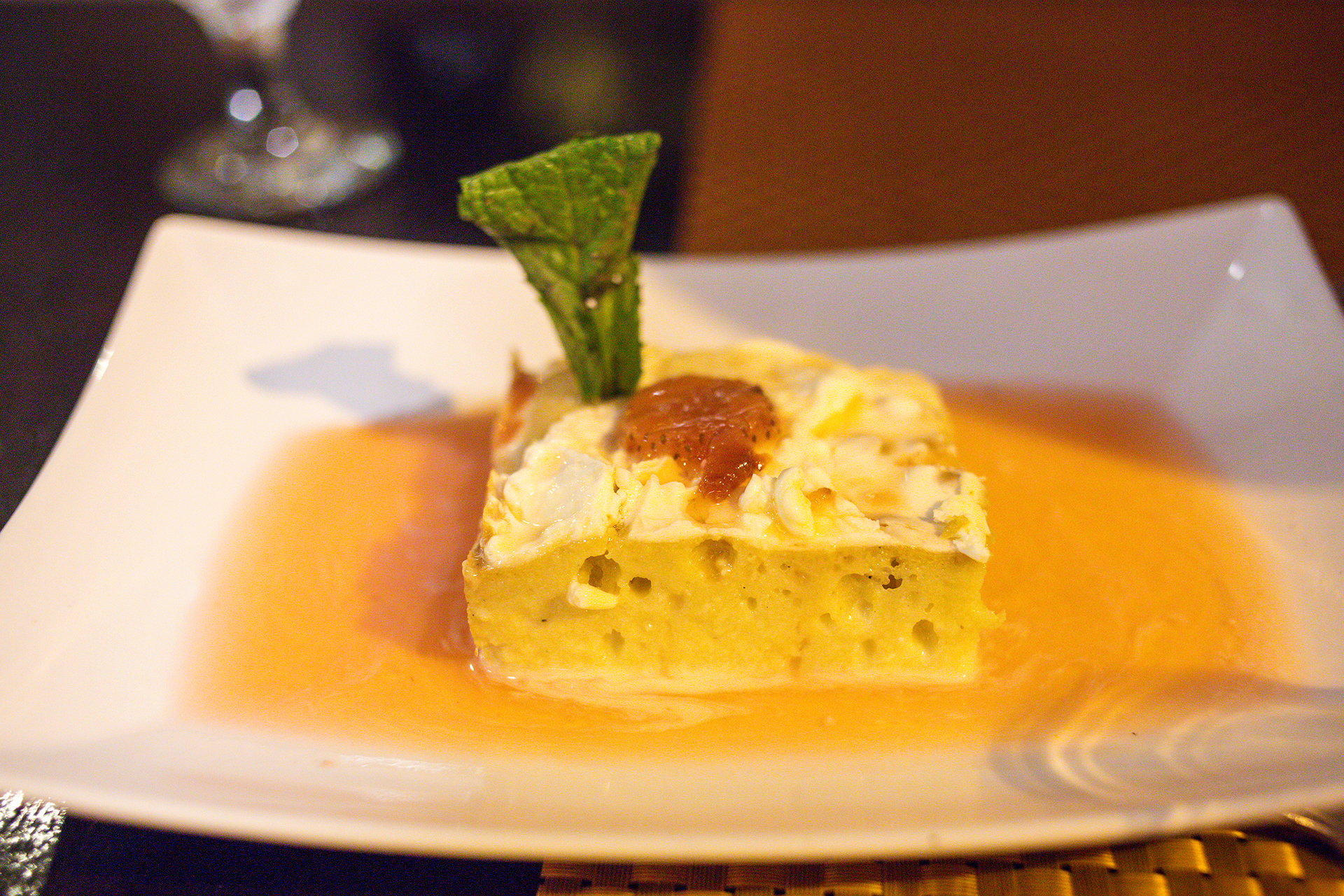 Lastly, we ordered a lovely Zinfandel, probably one of the nicer ones I've tried (in my vocabulary that means slightly sweet and less tannic than usual). I took a photo of it because I'm always on the lookout for reds I can actually stand (I'm quite a girly-girl when it comes to my wine).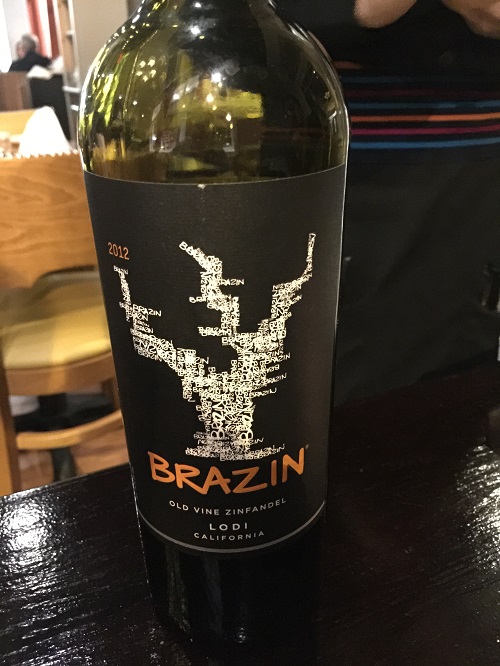 Overall I did enjoy our dinner at Tumi, and would highly recommend it.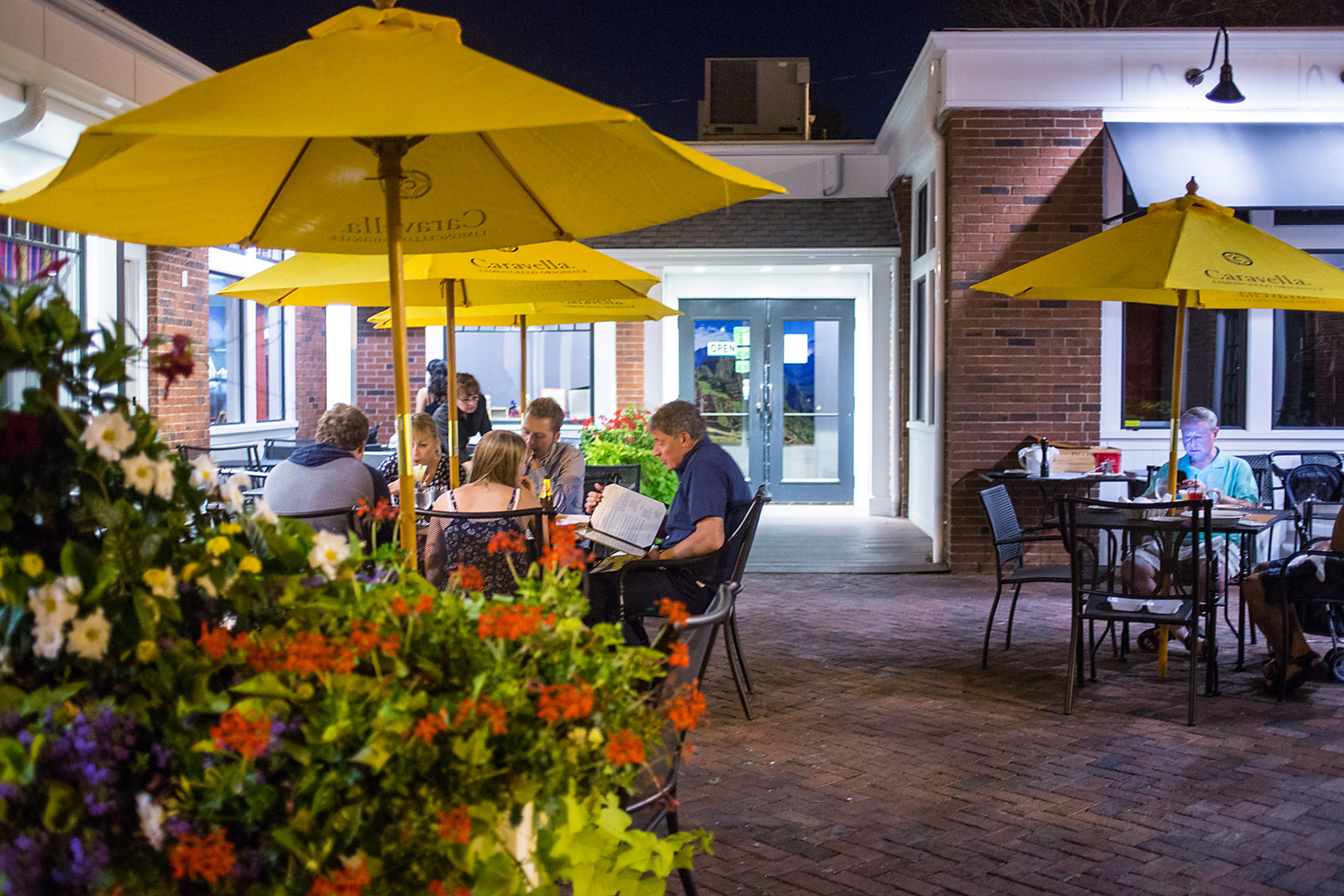 Crow's Pasture East Dennis Trail
Route 6A, East Dennis, Cape Cod
Early the next day, we set off to go on a hike with our little furball Gizmo… but not before I put on some collagen eye masks and had coffee in a very sunny mug.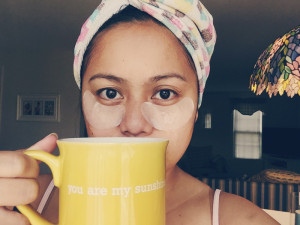 Very relaxing pre-hike activity right? Yes, well, I definitely needed it, since we would be feeling quite a bit of stress in about an hour or so.
But before that, another selfie, and this time, looking ready for a full day of fun! This look is one of my favorites. I'm currently sporting traditional all-black and straight Asian hair, and this curly, messy, ombre style reminds me so much of summers and beaches.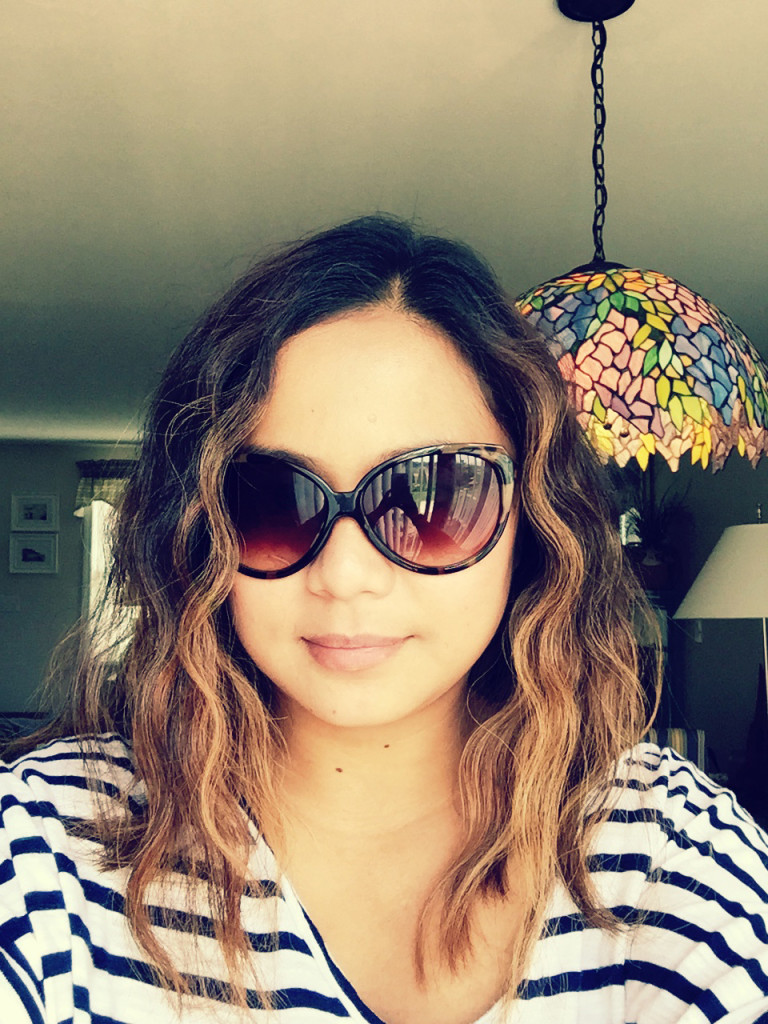 I picked Crow's Pasture because it's one of very few trails nearby (Dennis/West Yarmouth/Hyannis) that allows pets (if  you're interested in seeing a list of pet-friendly trails at the Cape, look here). We got our hike instructions from this site , which doesn't really have much, but it did get us to the parking lot, as well as inform us that the trail leads to a beach.
It started out really nice, and we definitely hit the "narrow wooded trail with a big marsh on the right". Gizmo happily pranced along the little trails, while I worried constantly about whether all three of us would be full of ticks at the end due to the sign at the beginning of the trail not to wander off the path due to ticks. Ack!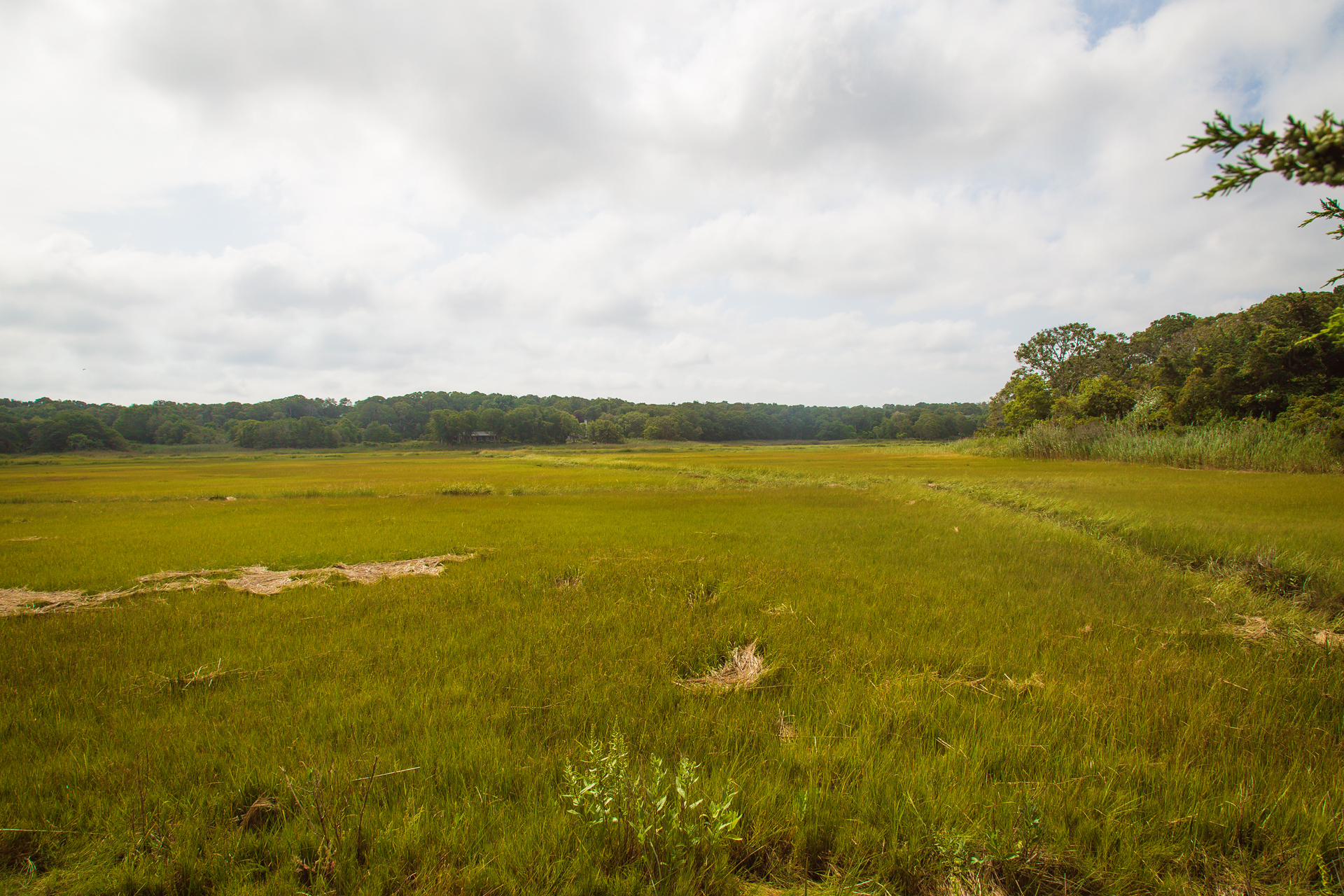 After going through the woodsy area, we arrived at a sandy road clearly made for driving. In a later pic you'll see that some cars actually are permitted to drive at the beach, hence the sandy road. We walked here (under a hot sun) for quite a bit to get to the beach. At this point I was a little concerned that the hike was a lot longer and more difficult for our pet than I thought, but he was a good sport and just kept on prancing.
And then we hit the beach, which at that time looked more like… I'm gonna go ahead and say "tidal flats", because it was flat and muddy, and definitely quite a ways from water you can actually bathe in. We excitedly brought Gizmo through the little sandy path… it was our little New Yorkie's first time at the beach ever!
And then he completely freaked out and started rubbing his face all over the sand. Mike was so surprised he dropped the leash.
Somehow we got him to calm down a bit and continue…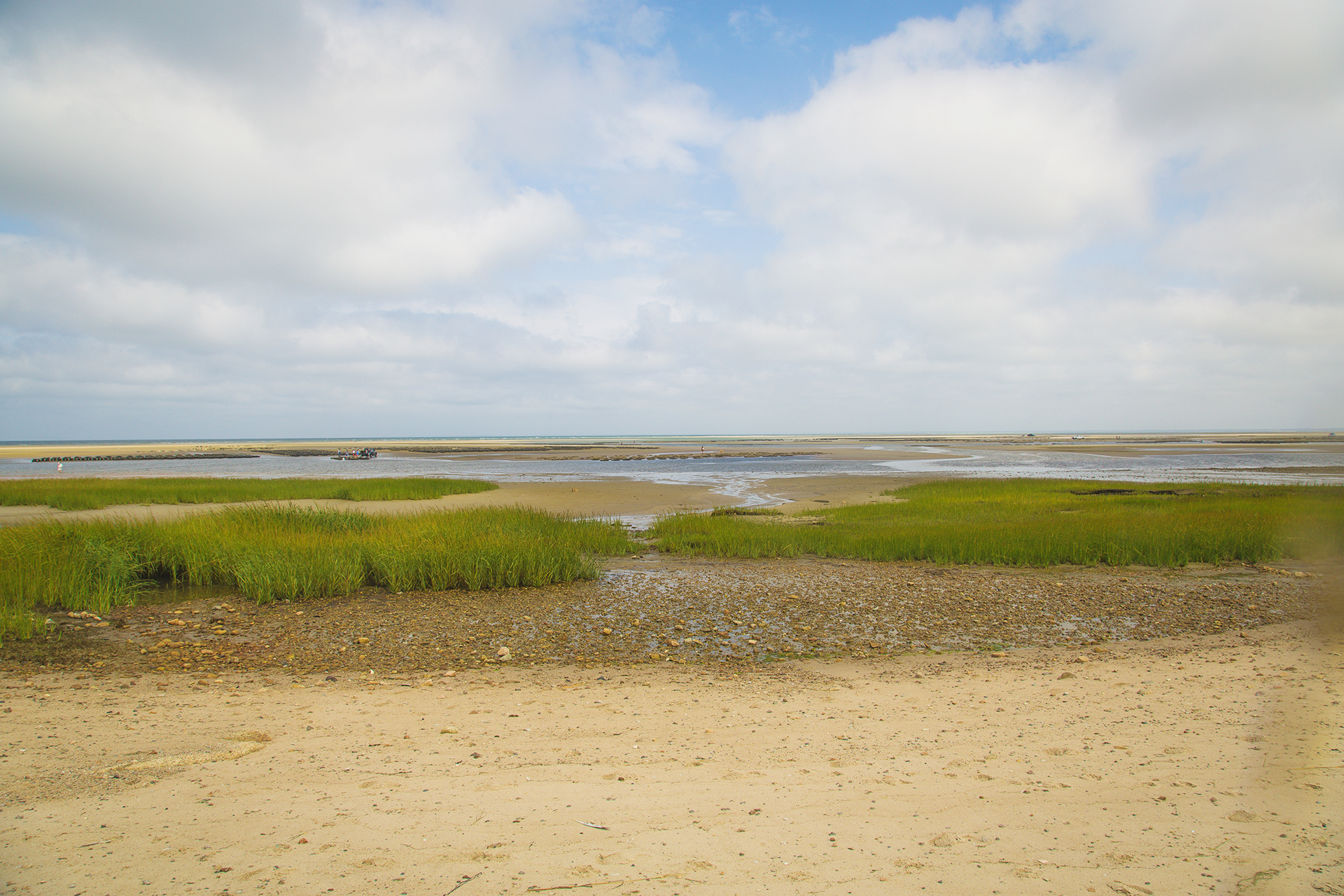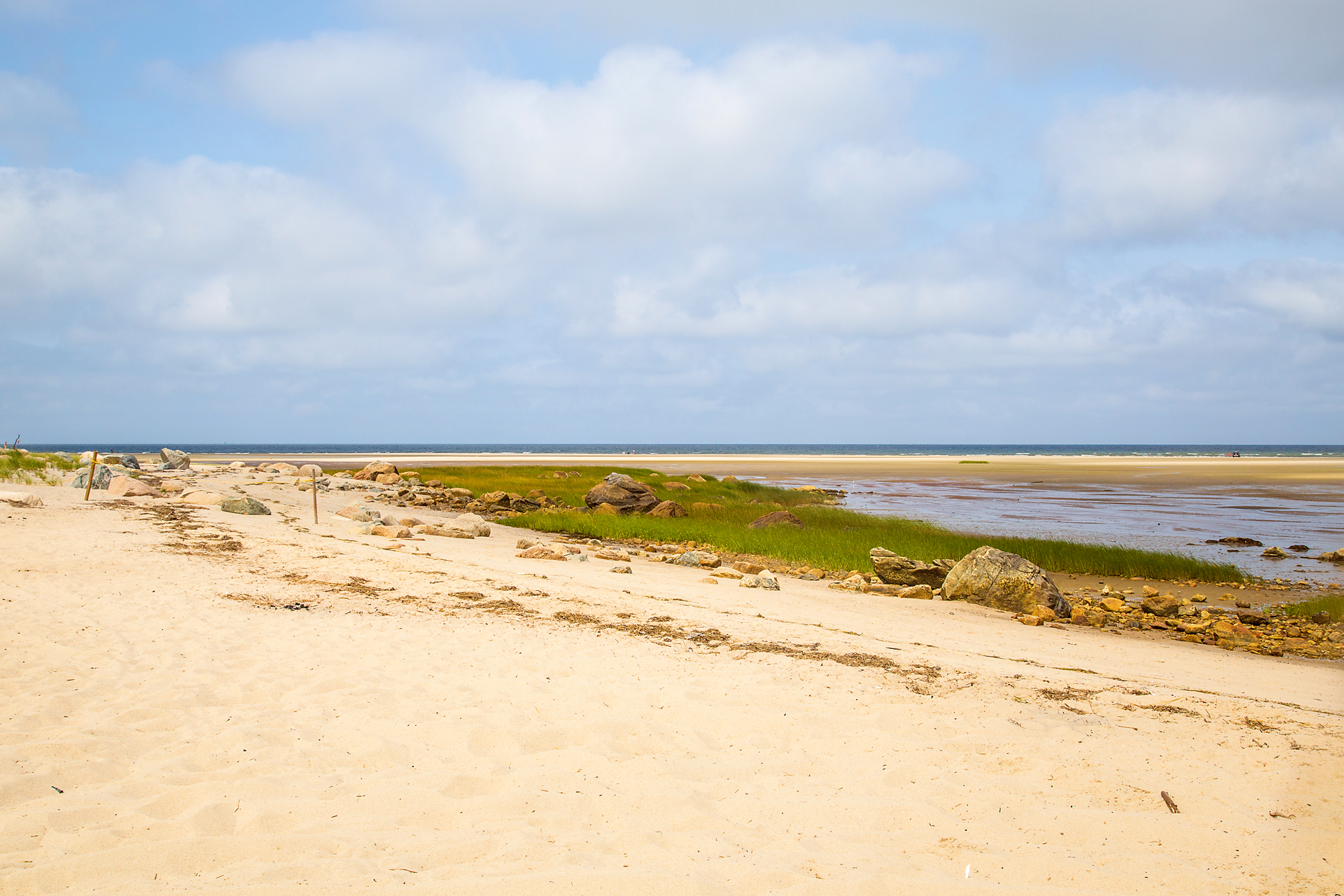 And then I made the huge error of suggesting we walk past the mud and towards the deeper water so Gizmo can cool off. Hot and probably thirsty, he started drinking water from the puddles and rolling around and rubbing his face in the cool mud.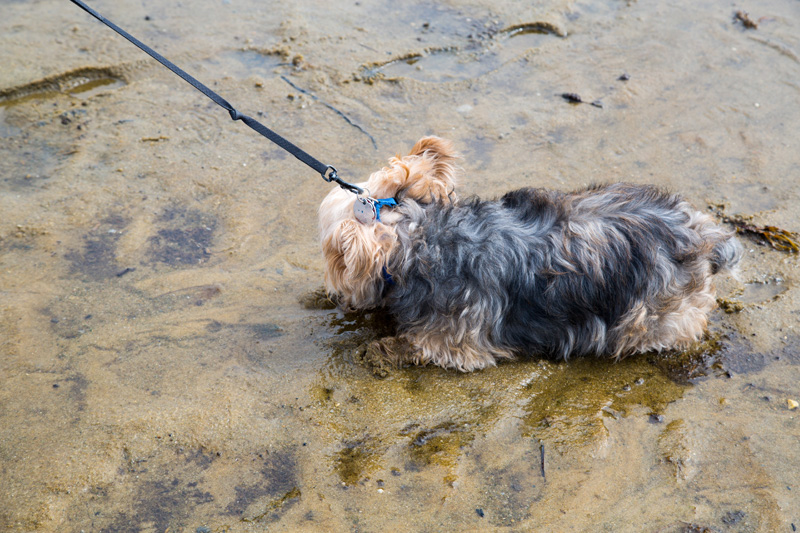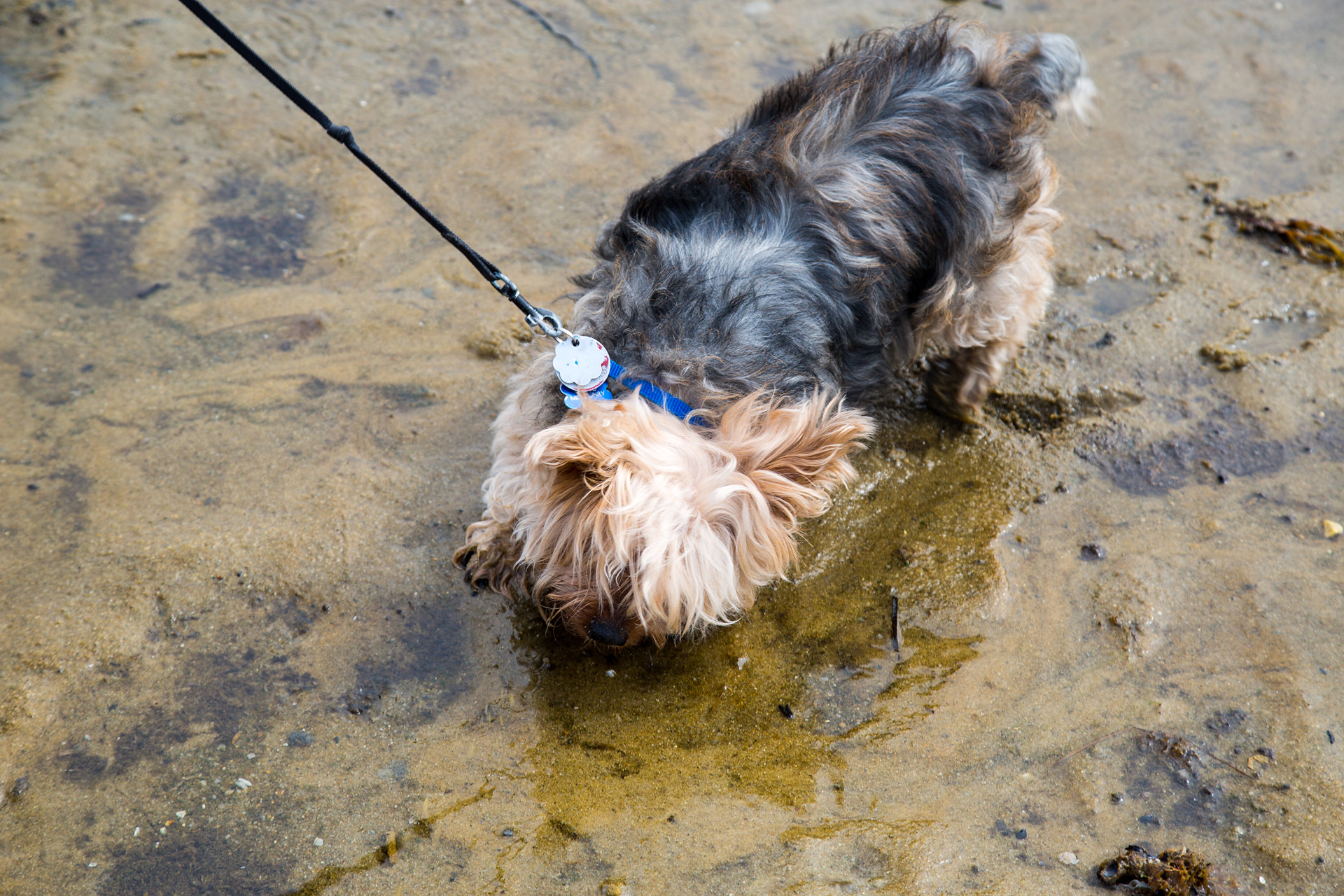 Then he plopped down in the mud for a few minutes and refused to budge. Luckily we'd brought bottles of water, so we tried to wash a bit of the mud off his face and have him drink some of it.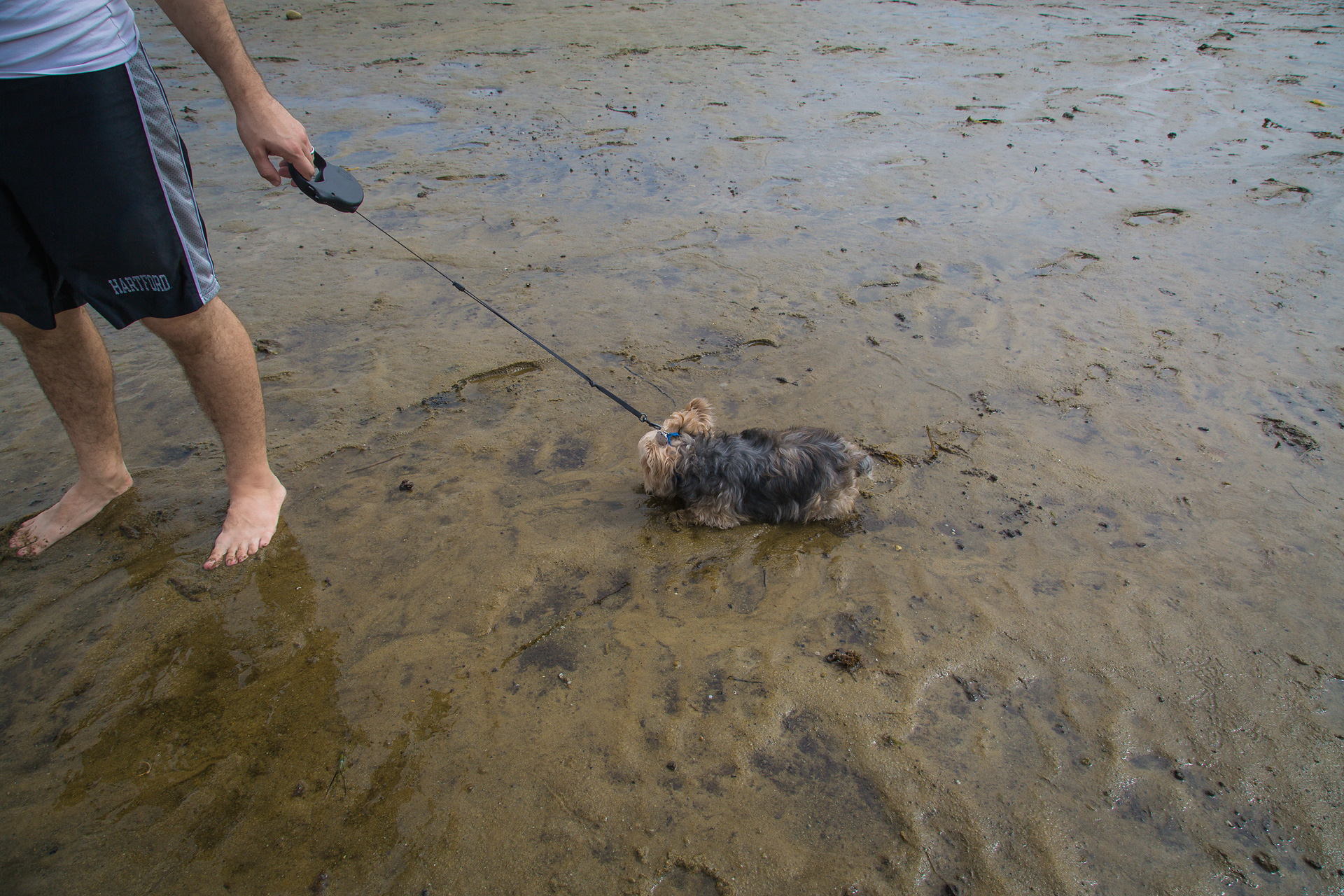 This was definitely a lesson learned in planning hikes with our dog. Next time we hit the beach with him, we'll probably go there directly first, so he can enjoy himself and not feel the need to roll around in mud.
We had to wash Gizmo twice, once outside to get rid of most of the mud and sand, and then a proper bath in the tub. After that it was definitely time for lots of wine, and some Law and Order SVU.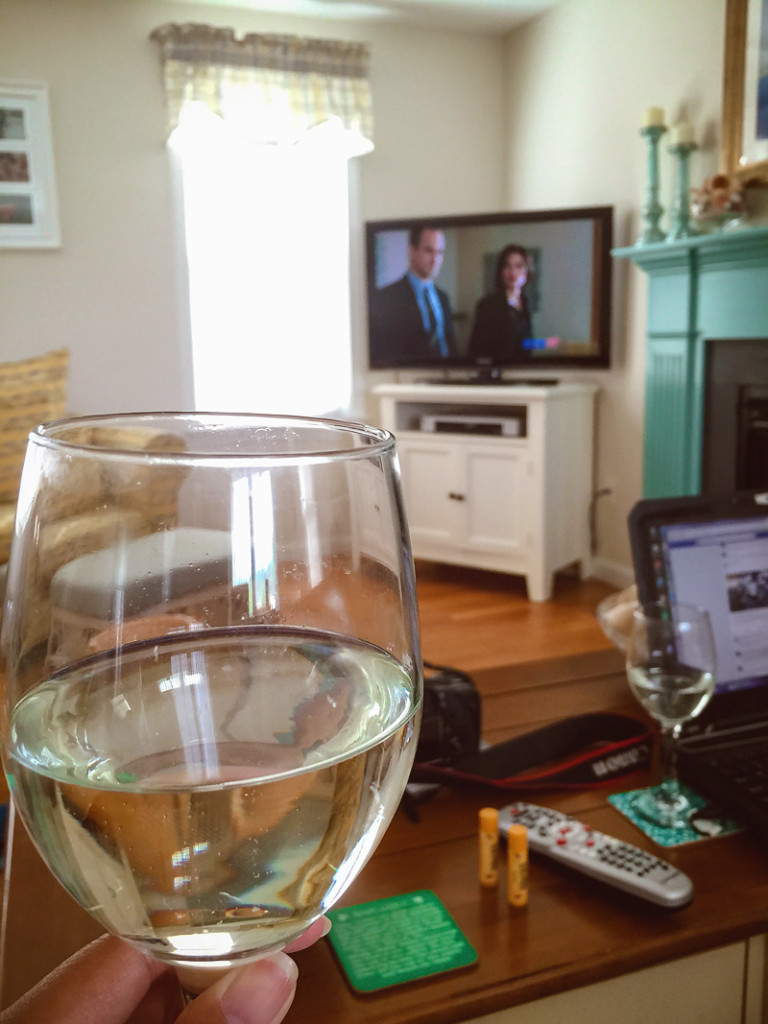 Someone also did quite a bit of cuddling on the couch. He definitely earned it.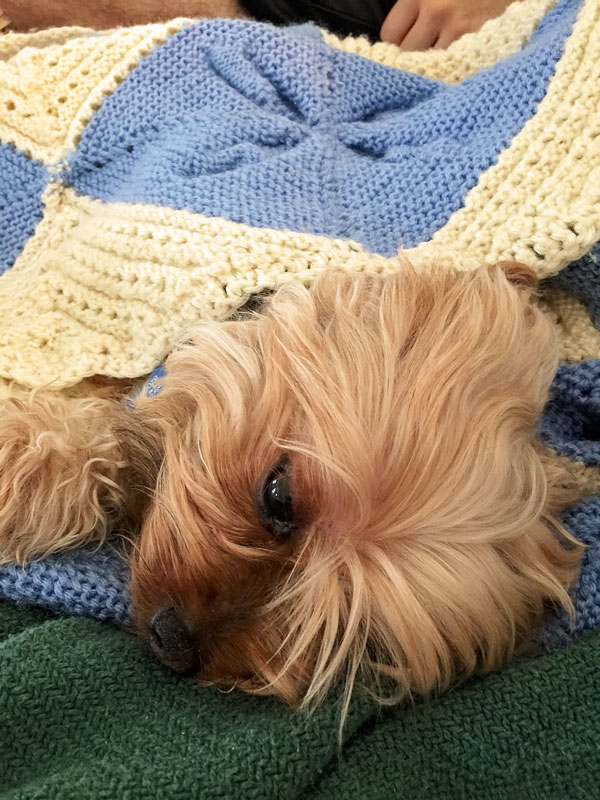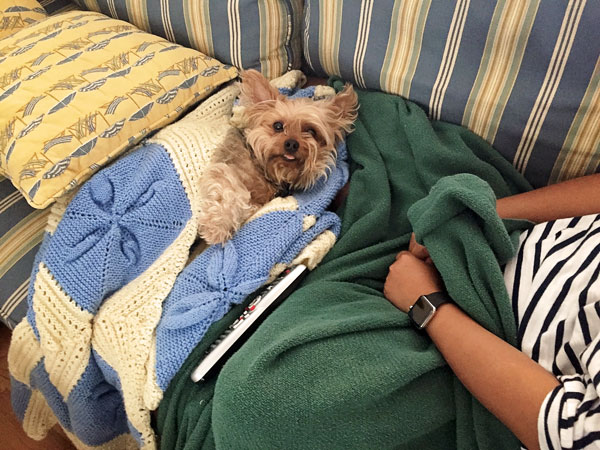 1199 Route 28
South Yarmouth, MA 02664
After recovering from our "adventurous" hike, we hit the Cape Cod Creamery, one of our favorite ice cream shops at the Cape. Although, truth be told you can't really go wrong with most ice cream shops there. But, the Cape Cod Creamery is especially fun, with their blue and yellow themed stores and their fun Cape-themed flavors like "Dennis Double Chocolate" and "Cotuit Coffee".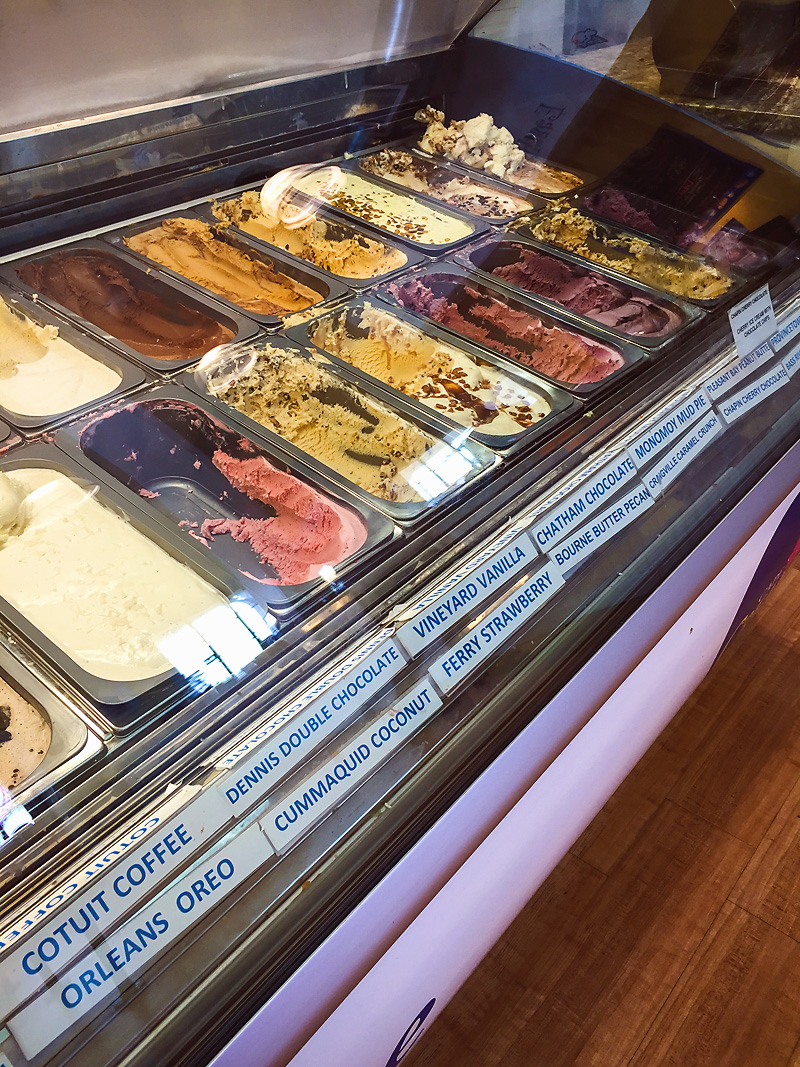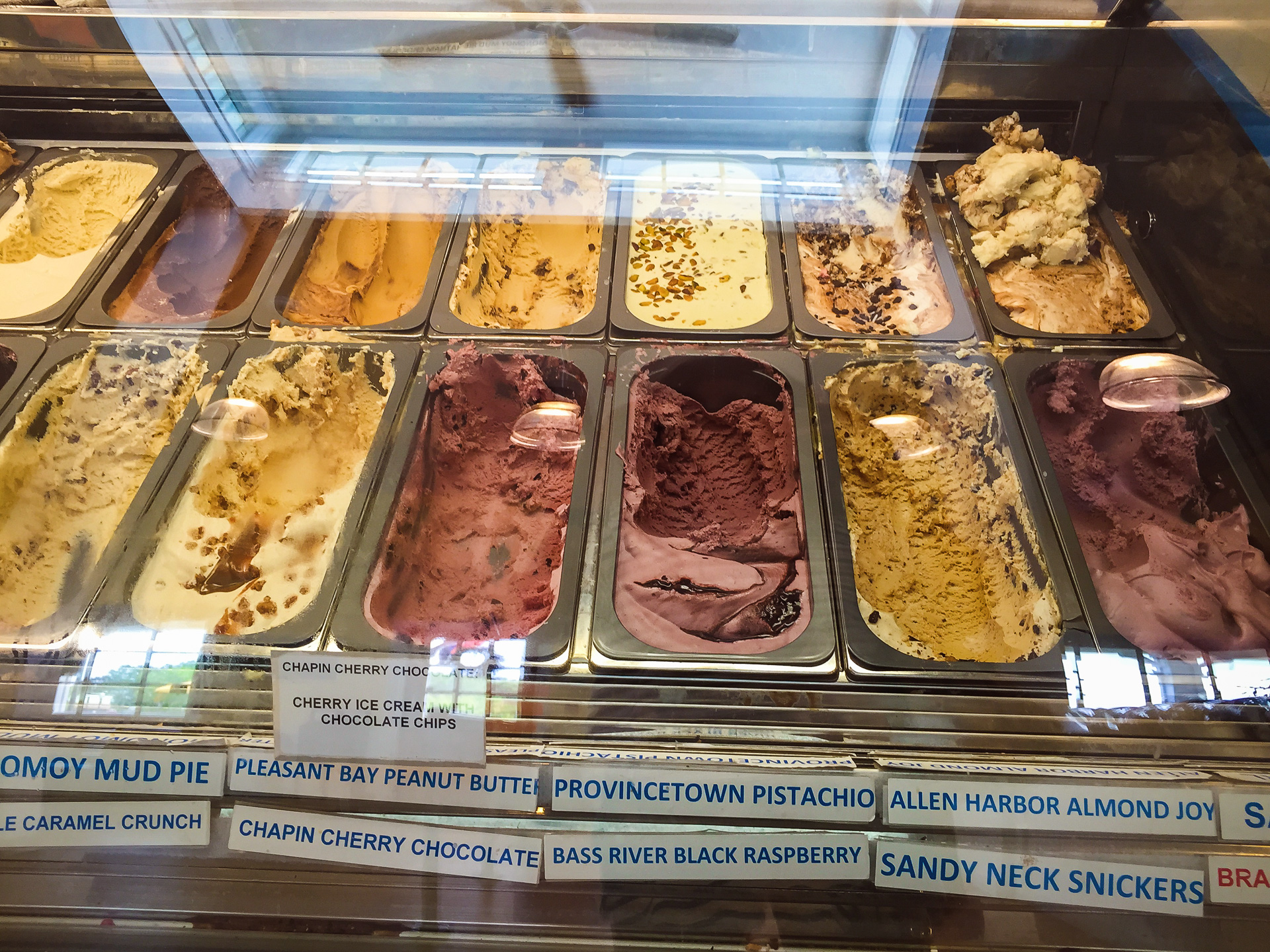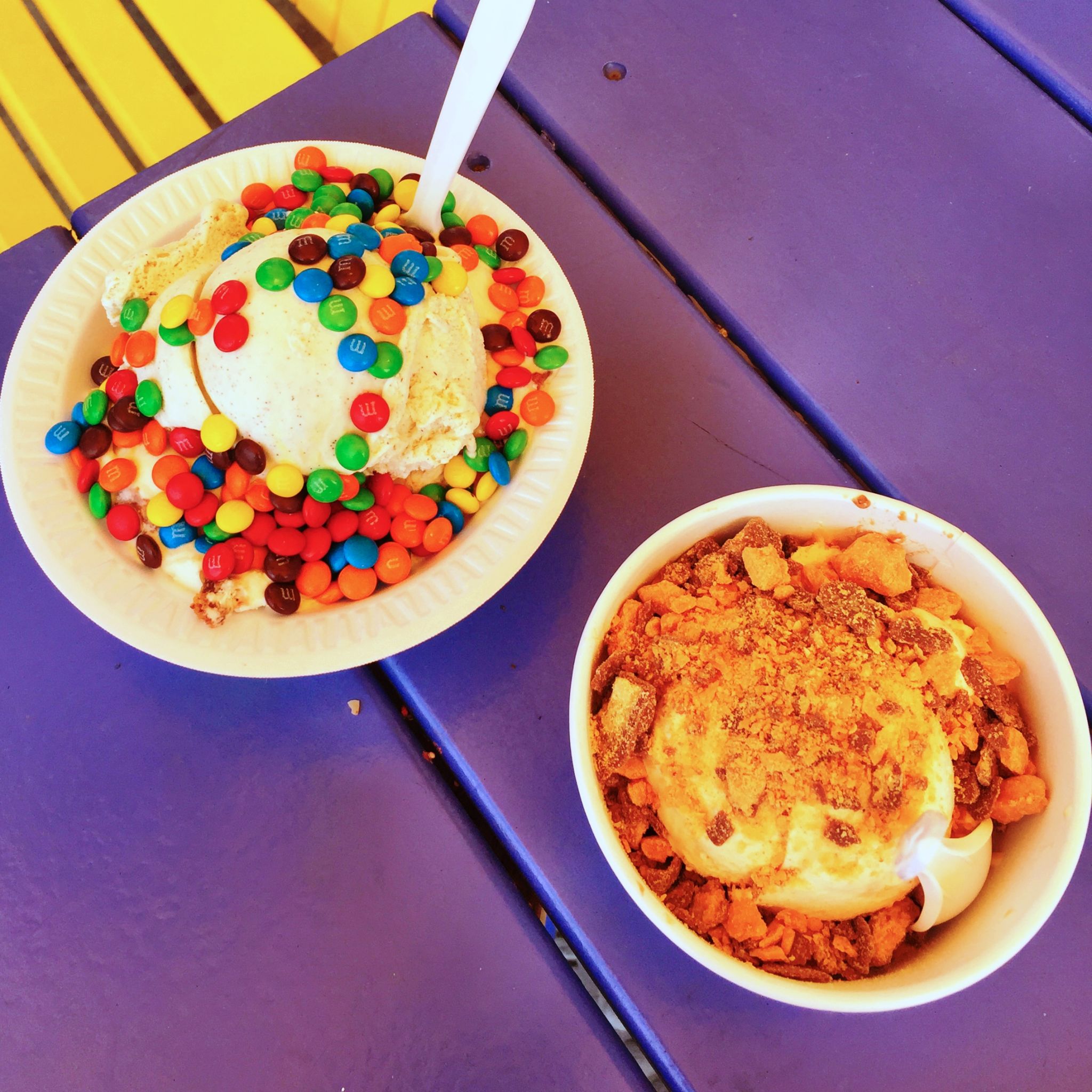 339 Barnstable Rd
Hyannis, MA 02601
For dinner (after some more time hanging out with Gizmo) we decided to go with a place you'd more likely see in Queens than at the Cape, a small Thai restaurant. We'd always been wary of ethnic food outside of the city, but the reviews were good and we kept passing by it, so what the heck.
I started with a Thai iced tea, because that's how I roll when at a Thai restaurant. It was great, but most Thai places serve a decent one so I wasn't all that impressed yet.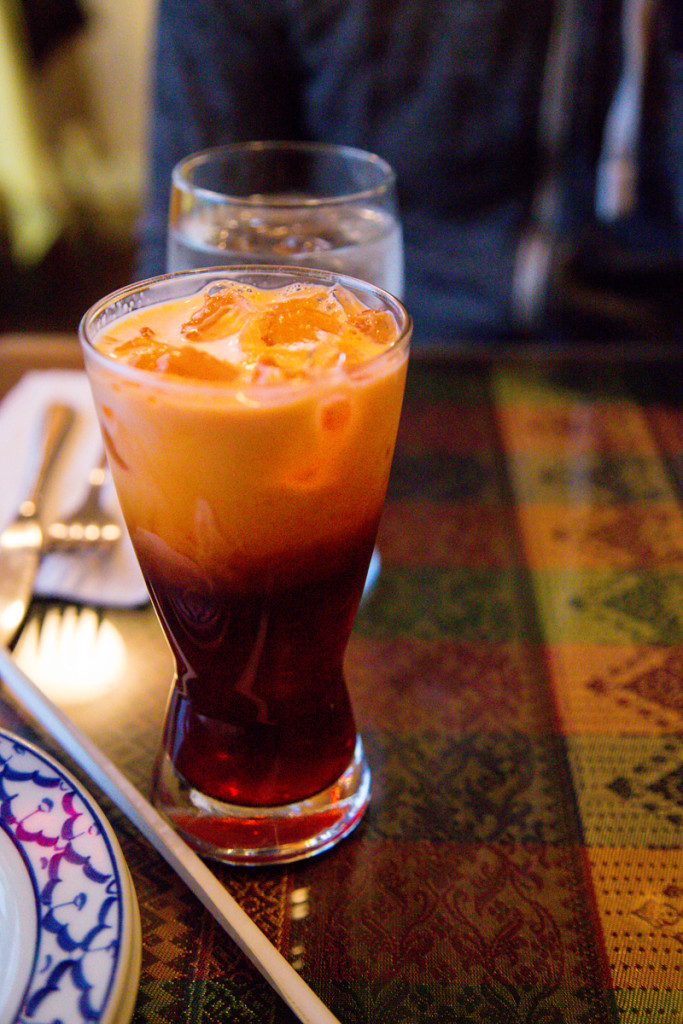 For appetizers we got their sample, a mix of shrimp spring rolls, chicken satay, fried chicken wings, and something else I've already forgotten. They came with several dipping sauces, two of which were peanut and nuoc cham (or something similar). They were all good.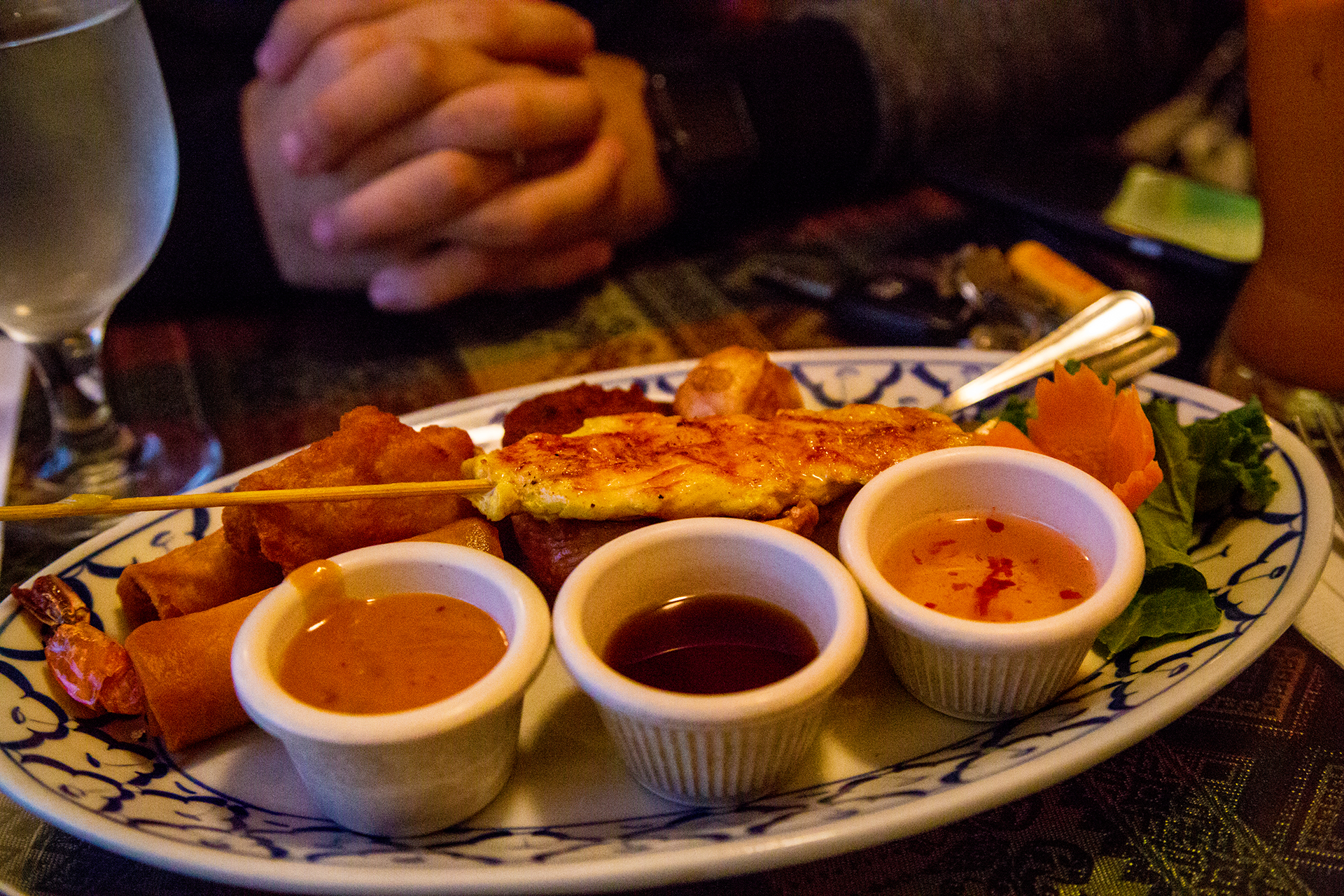 Michael had their basil fried rice with chicken, or whatever was the equivalent. He thought it was just as good as the ones he'd had in the city.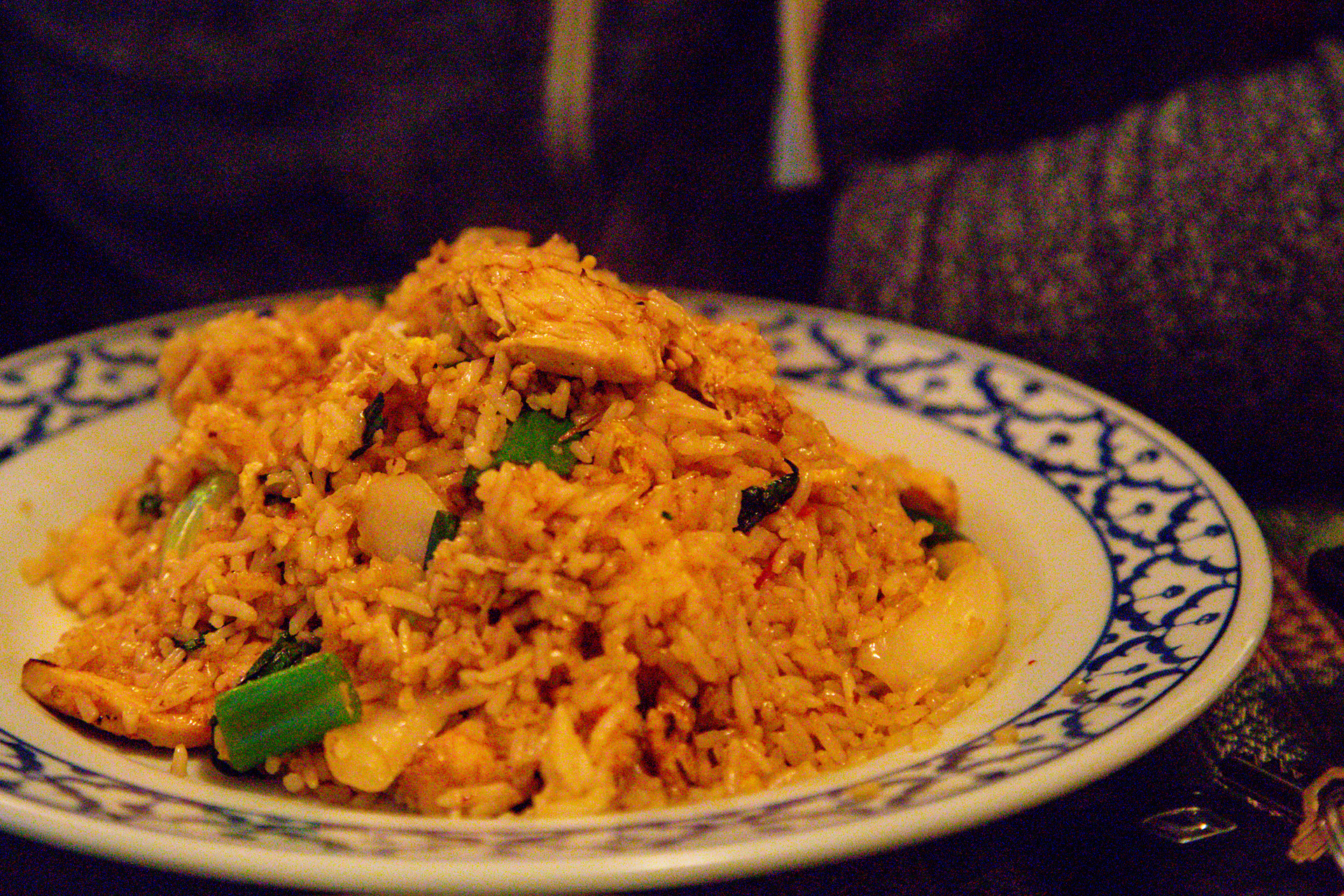 I had the mango fried rice, which in hindsight was not the most exciting choice, but I loved it nonetheless.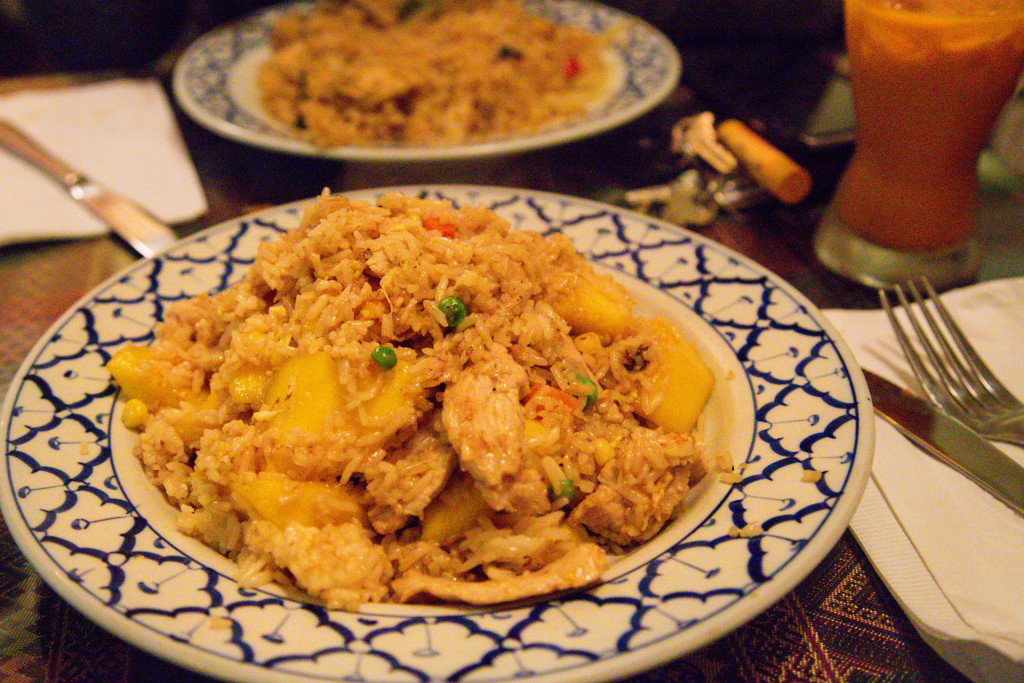 Overall the Thai place was decent, but not phenomenal. But if you're having a craving for it and are in Cape Cod, it's good place to satisfy it.
After dinner, more TV and cuddles on the couch, because why not? We hit the bed feeling relaxed and ready for more activities the next day.
Whew! I got through this one!
*You've probably also noticed that I've re-designed this site (yet again). I've been wanting to move it to WordPress for so long and finally pulled the trigger, and I think it turned out pretty well. PLUS, it'll be so much easier to re-design it again when I feel another urge to do so. But that meant I've been doing work on top of work, so I've had very little energy left to do anything else except read, watch TV, and force myself to work out once in a while. Oh well. At least now the site looks like I made SOME effort building it.