That title is a mouthful huh? And that's not even all the things I found on this walk with Kim in Astoria. There really is no excuse to be bored in NYC, especially if you're open-minded enough to explore all the boroughs.
31-90 30th St
Astoria, NY 11106
We did this walk on the first cold week of this winter season. It started raining as I walked to the subway, so I was forced to buy an umbrella hoping to spare my camera a trip to a Canon repair shop. As a result, I was a few minutes late. As I was speed-walking towards Pao de Queijo where Kim was already waiting, she texted me "OMG LITTLE CHEESE BREADS". I didn't reply but quickened my pace, looking forward to some cheesy bread and a meaty sandwich after an hour of running that morning and a very light breakfast. I got there in time to find a basket of cheese breads still warm from the oven. We sat alone in a charming little dining area with an exposed brick wall painted white and a variety of small plants sitting on the ledge of a wall of large windows. I'm describing this to you because we were too busy chatting and eating bread for me to take any photos, although we did take this selfie.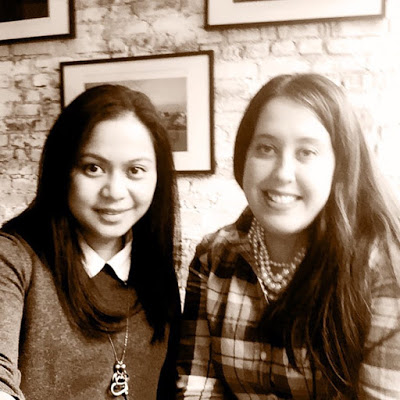 But not before we consumed these little balls of heaven.
But the main draw of this place (at least for me) is their burgers. All of them come with some basics: corn, potato sticks, lettuce, tomato, and mayo. The corn and potato sticks are especially interesting, and they lend a good sweet and salty contrast to the pile of meat (and in our case, eggs) that goes into your perfectly stuffed burger. I ordered the X BRAZIL (on the left in the picture below), which comes with sliced beef, cheese, bacon, egg, Brazilian sausage, and Kim ordered the X TUDO, which comes with beef burger, ham, cheese, bacon, and egg (on the right in the picture below). These already look scrumptious as is, but trust me when I saw you're going to want to drizzle these with one or two of the sauces they give you. I loved the green (aji) sauce specifically. According to my research, it's made with mayo, coriander, jalapenos, cumin, garlic, and spring onions, and I have no doubt I will be making a batch pretty soon. The flattened, sturdy bun and the lack of sauces in the sandwich make it a perfect snack to take home though. Michael enjoyed half my sandwich the next day, and it was completely unsoggy and just as good.
31-29 31st St
Astoria, NY 11102
Other than food, nothing cheers me up more than a visit to a great bookshop, and here's one prime example. I love how this one was set up. They have little blurbs about staff picks in every section right in front of the book, like you would see at a wine store.
Lovely book-related decor like this typewriter and the gorgeous book stand below it give the bookstore character.
And book lovers' soy candles? With inspirations like "Sherlock's Study" and "Hatter's Tea Party"? Seriously, indie bookstores are wonderful.
And, as a bonus, this bookstore has an online store, where you can shop for things to be shipped to you or for pick-up. Hopefully that'll keep it open as long as possible. Longer than the Barnes & Noble in my neighborhood at least, which closed this month. 🙁
3215 33rd St
Astoria, NY 11106
Next up was Lockwood, a little gift shop with some of the best unique buys I've seen. The only other store I could think of with as much cool stuff in it that I would actually buy is MoMA Design Store in SoHo.
You're immediately greeted with a table of featured products for the nearest holiday to buy gifts for, and in this case it was Valentine's Day.
Have no fear though, you will be saved from mediocre items by things such as this "You're the Sriracha to my Everything" greeting card. In addition, you can get your date as tipsy as needed with the matching sriracha margarita cocktail mixer.
I was (barely) able to stop myself from buying the "Sherlock's Study" candle at Astoria Bookshop, but I could not say no to these macaron-design keepsake holders. I bought the white one, and it is now at home on my dresser.
For Michael I bought this Duke Cannon"Working Man's Face Wash", which I thought went with one of his current part-time jobs: working at construction sites. Truth is he really needed a replacement face wash, and this one has vitamin C to "fight fatigue & scurvy" (lol), while also giving a portion of the proceeds to US veterans.
In hindsight I should've bought one of these "Cat Lady for Life" totes for him as well. He was called just so by one of his male coworkers recently after finding out he owns a cat, so he responded by taking out his phone and showing photos of Penny to a chorus of "Awwws" by other coworkers. DAMN RIGHT.
And then there were these dinosaur taco socks, which Kim fussed over.
There's also a great childrens' section, for mommies who start to feel guilty buying only stuff for themselves :P.
If you think you aren't quite done shopping yet, check out their clothing store next door. I bought a few pairs of non-basic gloves for 75% off there (my excitement over the gloves is why there are no photos). It's worth a trip.
32-02 34th Ave
Astoria, NY 11106
We were a bit tired from all that shopping, so we decided it was time for tea. Specifically, hot milk tea with bubbles. Haven't tried this before? Neither have I. But according to Kim, it works. So go try it at Tea and Milk.
2905 Broadway
Astoria, NY 11106
Michael and I lived in this neighborhood for about a year and a half, but never went to any of these places I've just written about. But, as Kim and I disappointedly walked out of Astoria Bier and Cheese, which we'd originally planned on having dinner at but was completely packed with yuppies,  I suddenly got a strong craving for Japanese snacks, and immediately thought of a place I'd already been to but missed: Tamashii Ramen. It ended up being the perfect choice.
It was filled with people but not packed, so we easily got a table in the corner, all the better for our incessant chatter.
We both immediately turned to the sake and soju menu, where Kim was drawn to the "Yuki Honoka", characterized with "snowy delicate flavors". This one would be a perfect accompaniment to sushi. It tastes extremely clean, as if you're drinking something healthy.
I ordered the "bonkbunja" or raspberry soju, which is naturally sweet, with the slight taste of burnt caramel or molasses. I had never had this before, and was completely in love after the first sip. It's definitely something I would keep in my liquor cabinet from now on.
For our dinner, we ordered takoyaki (Round Japanese snack made with wheat flour-based batter and filled with minced octopus), okonomiyaki (Japanese style pancake with cabbage, onion, shrimp and squid. Topped with dried shaved bonito, kewpie mayo, and okonomi sauce), pork buns, and agedashi (fried) tofu. Our waitress enthusiastically approved our choice of having sake and snacks for dinner. These were all terrific, especially the okonomiyaki, which was crispier than the ones I've previously tried. If I was the type to go to the same place and eat and drink the same things every night, Tamashii would be an excellent choice.
At some point though, we were taking too long and being too noisy and inappropriate to hang out by the families (with kids) that came pouring in halfway through our meal. No one really pointed this out to us, but we were still sober enough to recognize it. So we moved on to a cash only Irish pub somewhere on Broadway. Don't ask me what it was called. At the time I was just at the point of barely caring. It was almost empty due to the cash-only policy, but they had cheap ($4) and decent beer, clean bathrooms, and even a pool table in the back. If I remembered what the pub was called I would recommend it. Just bring cash y'all.
And then we stumbled to the subway stations. Kim's was half a block away, and mine was about 10 blocks away, in the cold. Which was ok, because I had a small cheese puff tucked into my bag to snack on. Worth it! Another perfect Not Bored walk in NY.
Map of this walk