On our shore excursion at St. Kitts, we opted to explore the island in a way that was a bit more exciting than your usual coach bus: stand up paddleboarding. This was booked through Carnival and went rather smoothly (and quietly). It's interesting to note that despite having both younger and middle-aged people in this group, everyone was very subdued until we actually started stand up paddleboarding. I think maybe there's something about actually doing an adventure-type-thing that makes people feel less like they need to be "woo girls" to have fun? Or maybe it was just a roll of the dice, and I should just try to stop analyzing people's behavior on tours. Either way, everyone was quietly putting on sunscreen to prep for 2 hours in the sun as we sat in the van bringing us to the paddleboard launching area.
*Boring photography note you can skip: I'm going to go ahead and make the same observation you probably would after reading this entry: my pictures look overly-saturated to the point of being cartoonish. It's a combination of having only my GoPro and iPhone at hand, being in a hurry to take and process photos so as not to cut too much into my "fun time", and having a different "style guide" (as web designers would say) for posting on Instagram, which many of these photos were created for. I considered re-processing all of them, but I think they're representative of how I think this entire cruise experience was: vivid, colorful, and exciting.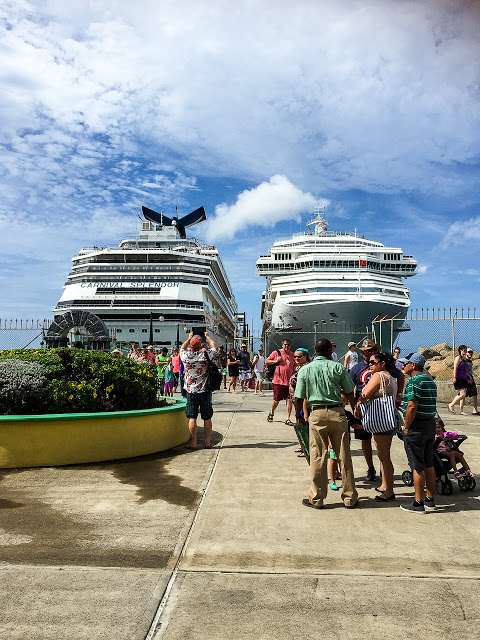 Docked alongside a Royal Caribbean cruise ship at Port Zante
I was worried most of the previous night that I would not make it through 2 hours of stand up paddleboarding (something I'd never done) without whining and requesting to be towed back to the shore (something I HAD done when I went windsurfing as a teenager). But I was so glad I forced myself to go, because this is now one of my favorite things to do in the summer. The other reason I'm glad we went with SUP was because this time, we were docked alongside another cruise ship, and I was not looking forward to wading through the crowds of tourists in the shopping area of St. Kitts by Port Zante.
The shopping area had a mixture of souvenir shops, jewelry stores, bars, and restaurants. There wasn't much that interested us there. The only notable spot for us was the Rum Barrel, which offers free wifi. We didn't end up going there though because we'd spent too much time exploring the island, but it's good to know about it just the same.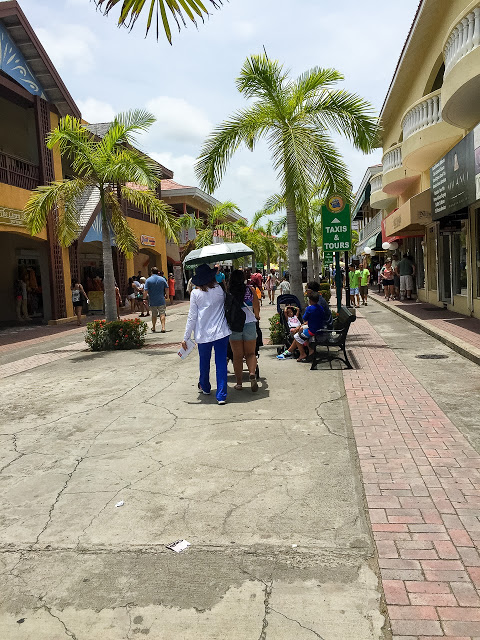 Port Zante shopping area
We were driven to a different part of the island to go stand up paddleboarding, during which we were able to observe how different the island was from St. Thomas. The drive through St. Kitts showed us that this was very much a developing country, and it was interesting to me that a lot of it looked very similar to the Philippines, despite being on the other side of the world (starting with the shopping area pictured above).
We were dropped off at a small, charming, and cozy-looking beach. There were very few people around, and there were probably the same number of monkeys lazing about.
We had two American instructors, both with girlfriends studying in St. Kitts. They had followed their ladies out there (awww) and taught paddleboarding to get by. This knowledge made my inner-feminist feel all warm and fuzzy inside. Shortly after which I felt cold and scared by the fact that I'd just signed on to paddle on a board out in the open water for two hours. We were given a quick tutorial for what felt like 15 minutes, measured for paddles, given bags of snorkeling gear to strap to our boards, and then we were on our way. It only ended up being uncomfortable for about 10 minutes while I got used to balancing and talked myself into standing up. You start out kneeling, which is a surprisingly comfortable position to be in until you can muster up the courage to try standing.
Once I realized I could keep up with everyone else in the group, and that it was ok to fall since half of our group had already done so, I was able to relax and enjoy the view and the light workout. The tour was supposedly part water-safari, but didn't really see any creatures of the sea.
We ended up at a different beach from where we started, where we had about 20 minutes to snorkel. Mike and I mostly putzed around and then hydrated with some water we bought from the bar at that beach. Then we were picked up by the van and dropped off at the port.
We still had a few hours to kill after being dropped off, so we argued over whether to hang out at the shopping area or go visit Ottley's Plantation Inn, a sugar-plantation-turned-luxury-resort. I'd found it on TripAdvisor while researching, and one of our instructors confirmed that it's one of the nicest spots to eat on the island. We had a hard time finding a cab who would take us there, since most cruisers just wanted to hit the beaches or go shopping, but we finally found one and we were off. It took about 20 minutes to get to the plantation, but it was totally worth it.
The resort was surrounded by clusters of trees, so we weren't really sure what to expect driving in. It was quiet and we didn't see a single person when we got to the restaurant, so we thought it was closed. Michael had to walk further in to find a hostess, but we were eventually seated. Again, I was surprised by the similarities between this resort and those I've been to in the Philippines. The decor and the structure were all very familiar. Even the fact that they made me change into something more appropriate for the venue (despite having a big pool in the middle of the restaurant).
I didn't let the need for a wardrobe change bother me for too long, since the restaurant had wifi and they had a very lovely and very delicious cocktail. It might have been sangria. Like in the Philippines, restaurants in the Caribbean don't really display their menus online. Whatever it was, it made me forget all my worries.
Also my wardrobe change consisted of donning this "Beach Please" shirt over my rash guard, so it really wasn't all that bad.
Our food consisted of some local empanadas, some kind of chicken sandwich, and fish tacos. I don't remember what was in them, but I do remember them all being very delicious. Especially my fish tacos topped with I think mango or pineapple salsa. Absolutely perfect.
During our meal, the only other person in the restaurant (who introduced himself as one of the owners), asked us where we'd come from. He was extremely surprised that cruisers had made it all the way to their resort, and encouraged us to walk around and enjoy the grounds. We obviously did not think twice about doing exactly that.
At the end of the day, we were extremely hot, exhausted, and ready to order double entrees for dinner on the cruise ship. But what can you expect after having so thoroughly sampled the charms of St. Kitts?