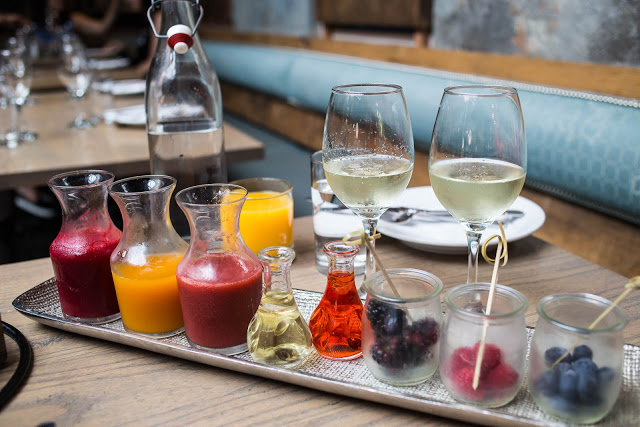 For 4th of July weekend, Michael and I had a mini-staycation involving a very hot and exhausting trip to Jones beach, quite a few restaurants, and a lot of love for NYC. It wasn't a perfect staycation. The weather was too hot on our beach day, and my excitement over the discovery of frozen wine at the food stand at Jones Beach was dampened by the fact that their refrigerator wasn't working and they were all melted. Luckily, our actual 4th of July day was stellar, thanks to the fact that uh, there's a lot of good food in New York City.
140 W 13th St
New York, NY 10011
We started with a lovely (and boozy) brunch at Sotto 13 in the West Village. This is probably one of the most Instagrammable brunches I've ever been to, thanks to their gimmicky Prosecco and Bloody Mary bars, and their very hip interiors. This is not exactly a family brunch spot though, as evidenced by the numerous groups of yuppies who came in a few minutes after we did.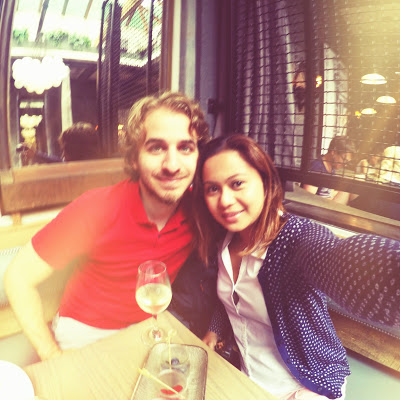 Michael and I at Sotto 13
We chose to try their social brunch, which is a family-style set of dishes including one pizza, two plates, one side, and some alcoholic beverages depending on how many guests there are. We chose a bottle of sparkling white to go with their DIY prosecco bar.
Their lovely prosecco bar option includes three seasonal fresh fruit purées, two liquors, and garnishes to craft your own brunch cocktails. I don't remember what fruit purees came with ours, but the liquors were eldeflower and some kind of bitter.  The fruits were blueberries, raspberries, and blackberries.
We had quite a bit of fun mixing them up.
Our first plate was the pulled pork hash (fried eggs, slow-roasted pork, potatoes peppers, onions & salsa verde). This was delicious, though I would have preferred more pulled pork and less potatoes.
Our second plate was the foccacia french toast (brown butter & rosemary berry compote, maple syrup). I have no idea what else they put in this thing, but it was basically like crack. Since Michael was the one who chose this plate, I had to prevent myself from stealing the entire thing from him.
For our pizza, I believe we chose the capicola (bacon red onion marmalade, ricotta cheese). This was interesting to me because I'd never had capicola on a pizza before. It had a bit of a kick, and was certainly delicious.
After brunch at Sotto 13, we took a short break at Chelsea Market to buy a few things from Sarabeth's and have some coffee and a scone. But we didn't stay long, since we were itching to get to our next stop.
52 Gansevoort St
New York, NY 10014
We'd passed by Gansevoort Market on our way to a restaurant a few days before and vowed to check it out on Yelp after. What we saw there made our stomachs growl, so it didn't take us long to come back and check it out. The exterior is very industrial, and the building looks like it truly belongs where it is: The Meatpacking District.
Like the nearby Chelsea Market, Gansevoort Market offers "a curated selection of locally produced goods and fare". Unlike Chelsea Market, it was still not insanely crowded at the time we visited, and there are no large grocery and general merchandise type shops. It's primarily focused on ready to eat food.
Our first stop wouldn't surprise you if you know me personally. Dana's Bakery is a small shop specializing in macarons with interesting flavors and colors, mostly inspired by American treats. Here you will find "Thin Mint", "Fruity Cereal", "Peanut Butter & Jelly", "Cookie Dough", and "S'Mores" macarons. The colors are also lovely, and will please any macaron-lover out there.
I ordered the S'mores, Peanut Butter & Jelly, Pistachio, and Fruity Cereal flavors. They were all good, but my favorite was the Peanut Butter & Jelly one by far. It also helped that it's a nice purple color.
I was lured into The Bruffin Cafe by their sweets (which are to-die-for, more on that later), but their namesake is actually a savory croissant/brioche-like pastry shaped like a muffin and filled with different meats and cheeses, inspired by different countries.
In the last decade I've developed a love for French food through a few family and food centered visits to my aunt who lives in France, and by poring through and testing recipes from Dorie Greenspan's cookbook "Around My French Table". So I'm sure you can guess which one I picked. "The French" is filled with lardons (a French word for bacon), gruyere, and brie. It is very good, even when eaten cold. I wouldn't hesitate to buy this for a long car or train ride in lieu of getting fast food on the road.
If you're looking for something sweet, The Bruffin Cafe will not disappoint. Unable to stop myself (and thinking I would have these for a snack later while watching the 4th of July fireworks somewhere), I ordered two sweet pastries. The first one, called a "castanza" is a flat caramelized pastry filled with caramel buttercream & toasted almonds. It is chewy, flaky, and intensely flavorful, with the almost burnt caramel and almonds blending perfectly with the slight saltiness of the buttercream. I would only suggest getting this to someone with a major sweet tooth, but if you do, it's absolutely heavenly.
My second choice was the "red velvet brulee gateau", which is a small, round, red velvet cake with a bit of creme brulee in the middle. This one was incredibly moist and very, very good. It's probably now my second favorite red velvet-flavored item in the city, beaten only by Two Little Red Hens' red velvet cupcake.
Michael chose to get a hero from Cappone's Salumeria. His sandwich had prosciutto, smoked mozzarella, and sun-dried tomatoes in it, and he definitely enjoyed it.
Arms laden with treats, we found a table in the market's common eating area to split the bruffin we'd just bought.
We walked around a bit more, tempted to get more food but knowing we were way past our limit.
Most of the little shops were tempting, but none more so than Bangkok BAR. It's one of the smaller shops, dishing out food from large pots made with "traditional family recipes and ingredients". I was especially curious about their rice bowls, and this will probably be my first stop when next we find ourselves at Gansevoort Market.
We reluctantly dragged ourselves away from the market, but were comforted by the fact that we can come back any time.
When we got home, we found out it was supposed to rain during the fireworks, and I started feeling a little sickly (if I were to guess I would say it was a very early hangover from our boozy brunch). So already having sated our appetites for activities with a major foodie day, we settled in on our couch and snacked on our haul while watching random shows on Hulu. Honestly, was a pretty great 4th of July.