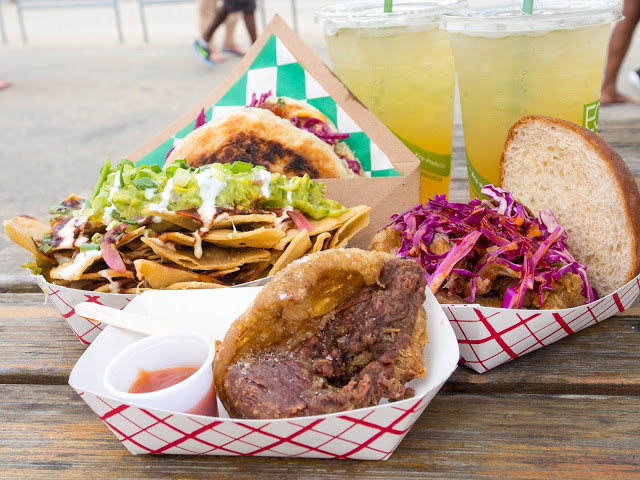 Perfect weather greeted us the day I showed Mshel around Brooklyn. This could've made for a flawless day as well, but when we tried to get up to the One World Observatory on our way to Brooklyn, the line was absolutely insane. We decided we didn't have enough time to wait in line so long, and had to settle for admiring the view of One WTC from below.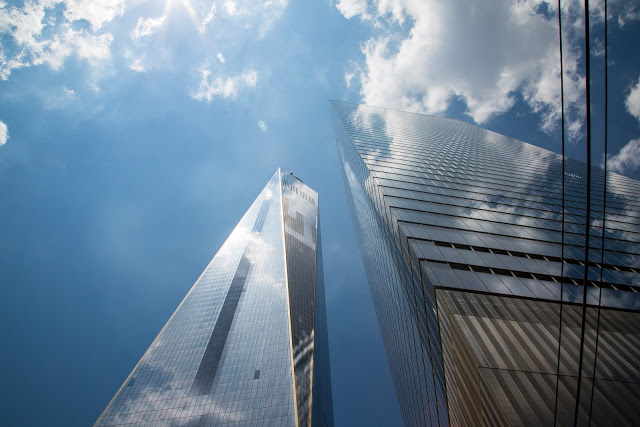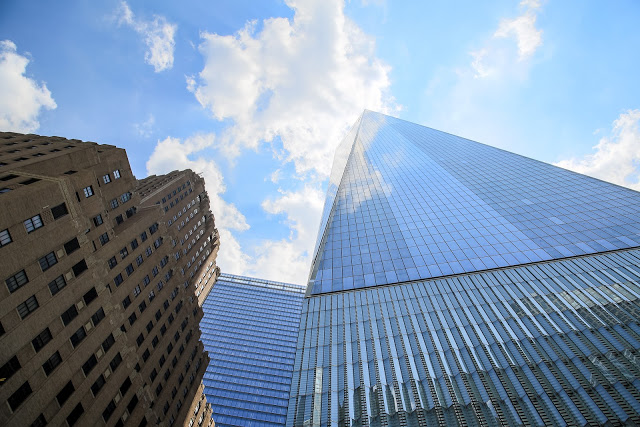 We went to see the World Trade Center Memorial Plaza as well. Despite being heavily crowded, there is still a somber quality to the place. The area is also cooled by the massive waterfalls, and is very conducive to reflection.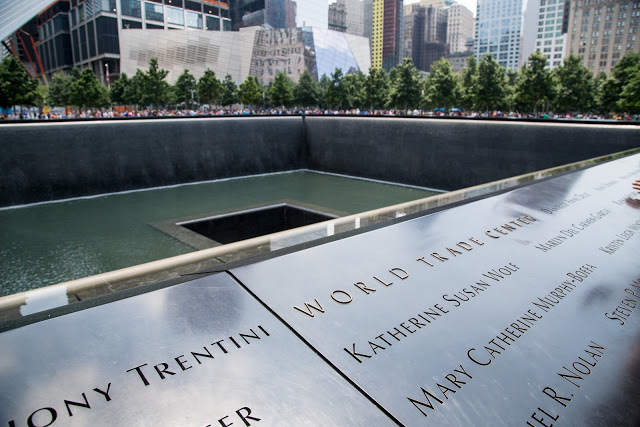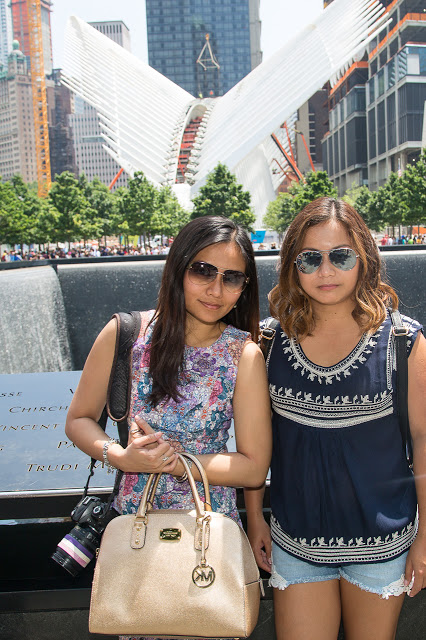 Our visit was unexpectedly punctuated by an unplanned stop at the 9/11 Memorial Museum Store at Vesey, where it is basically impossible to go without openly weeping or at least getting teary-eyed. They are constantly running stories of 9/11 victims and survivors on a big screen. It's worth a visit if you're in the area. After having paid our respects, we headed over to Brooklyn for Smorgasburg.
East River State Park
90 Kent Ave at N. 7 St.
TimeOut New York describes Brooklyn's Smorgasburg as "a glutton's paradise", Mario Batali describes it as "The single greatest thing I've ever seen gastronomically in New York City", and I agree with both 100%. So it was not surprising to me when Mshel complained about the fact that she'd never been there despite having visited New York quite a few times. "How could you keep me from all that food, Ash?", she whined.
Just kidding. I added that for effect. I'm probably more the type who would say something like that than she is. What can I say? There are too many amazing things to do in New York City! In any case, we finally hit this outdoor food market, which more than lives up to all the hype.
Wading through hundreds of hungry and sweaty New Yorkers, we hit our first stall: Goa Taco. Mostly because we saw THIS.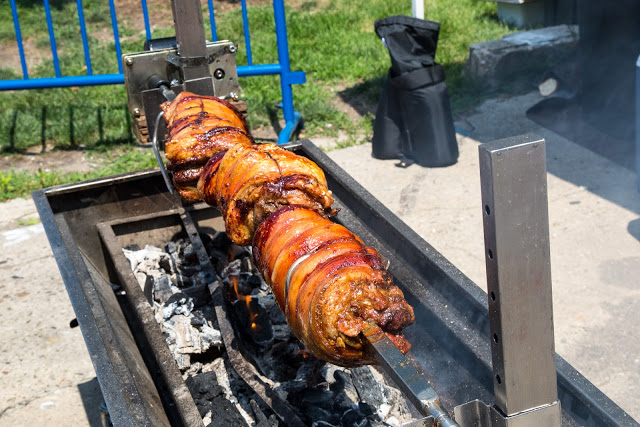 Slow-roasted pork belly at Goa Taco
The slow-roasted pork belly serves as the protein and crunch in their popular "slow-roasted pork belly paratha taco". If you're not familiar with what a paratha is, it's an Indian flatbread which is a cross between a tortilla and a croissant. It's made by folding ghee or clarified butter into the dough repeatedly, similar to how a croissant is created. And man does it punch up the taste of soft tacos by several notches! The addition of pickled cabbage and chipotle mayo cuts the oil and saltiness in a way that keeps you from getting tired of eating it. On top of all that, they add in some crispy pork rinds, just in case you still didn't think this was heavenly. IT IS.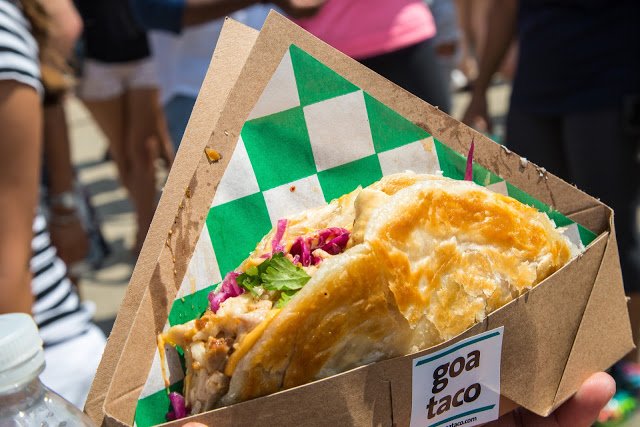 Slow-roasted pork belly paratha taco
If you're already drooling at this point, I should probably point out that you don't have to go all the way to Brooklyn to try these. Goa Taco has a store in Manhattan.
But WAIT. There's more. We wandered over to the Duck Season stall as well because I'm ALWAYS looking for good duck. And boy did I find it. Duck Season's crispy duck confit is very plain and unassuming. But, to date, it is the best duck I've ever had in my life. As in, this is one of the things I would ask for if I were on death row. The outside is very crispy, but delicate enough that there is barely any resistance as you bite into it and get to the layer of fat. That next layer is out-of-this-world if you're into visible fat, and even if you aren't! It almost dissolves in your mouth with a lightly salty taste, and there was not a single part of it that was rubbery. The inner layer of meat is full of flavor and very tender. They serve it with a choice of sauces, and I chose the classic duck sauce to cut into all that fat.
Despite the fact that there's a LOT of space at this park, most of the tables were taken, so we settled down on the grass to attack our food.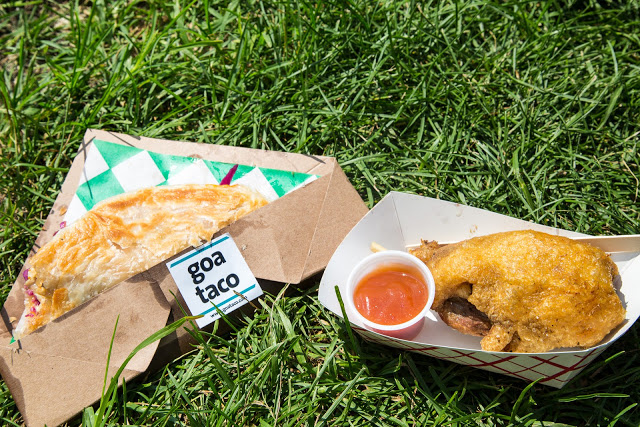 Slow-roasted pork belly paratha taco and crispy duck confit
Crispy duck confit
To end our Smorgasburg pig-out session, we had some ice cream from Blue Hill, an organic ice cream brand from Brooklyn. I thought it was good, but definitely not among the best I've had in NYC (I would suggest Cones and Ample Hills if you're looking for good ice cream.) Nonetheless, this satisfied our dessert cravings, for about a few hours. 😛 Oh and if you're wondering why there are three cups we were actually with Michael and our friend Kim at the time, as evidenced later in this post!
If you're still skeptical about whether or not it's worth going into Brooklyn for Smorgasburg, you should know that when Mshel's flight got delayed about a day, she specifically asked if we could come back to have more, and so we did! This time we hit the Smorgasburg at Brooklyn Bridge Park's Pier 5, where there are plenty of picnic tables to choose from. If you're curious what that area looks like, we took plenty of selfies there later that first day (and in this post).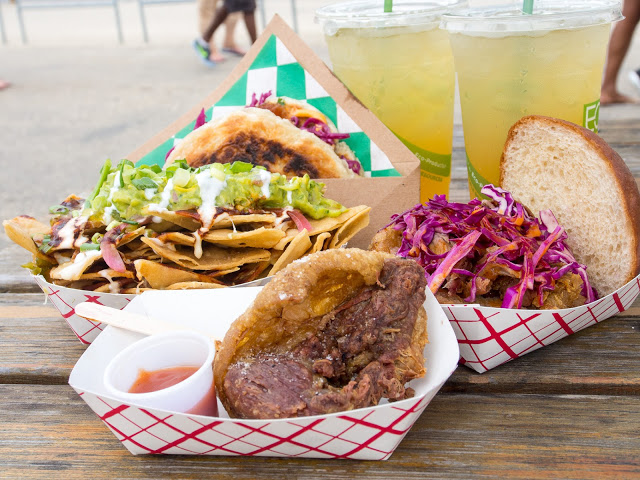 Goa taco, El Gato Nachos, Duck Season crispy duck confit, Duck Season sandwich, and Rockville Market Farm's Vermont maple lemonade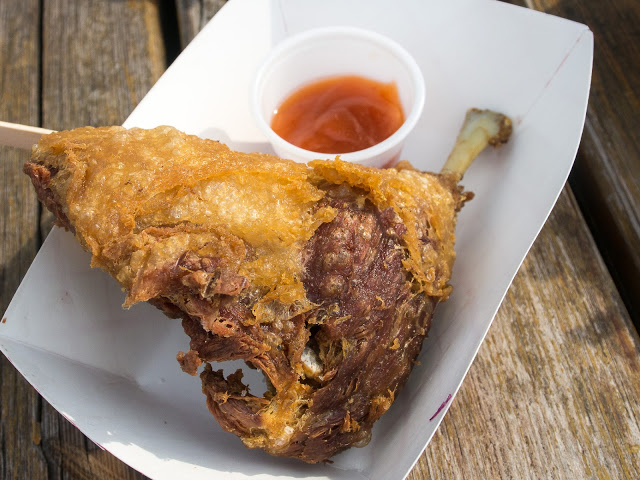 Duck Season's crispy duck confit
On our second Smorgasburg visit we added Duck Season's signature sandwich. It's made with pickled cabbage, XO sauce and chickpea gochu karu hozon spread (both from Momofuku Labs), on a brioche bun. This sandwich was underwhelming I thought, despite the stellar ingredients.
We also tried the nachos from El Gato. To be completely honest I have forgotten what was in this. I do remember it being hella awesome though.
After Smorgasburg we took a bit of time to enjoy East River State Park, with its tiny beach and gorgeous view of the Manhattan skyline.
And then we walked up to Brooklyn Heights, discussing whether there would be anywhere else in the world we would live in given the opportunity, and I thought to myself that I would be hard-pressed to leave New York City.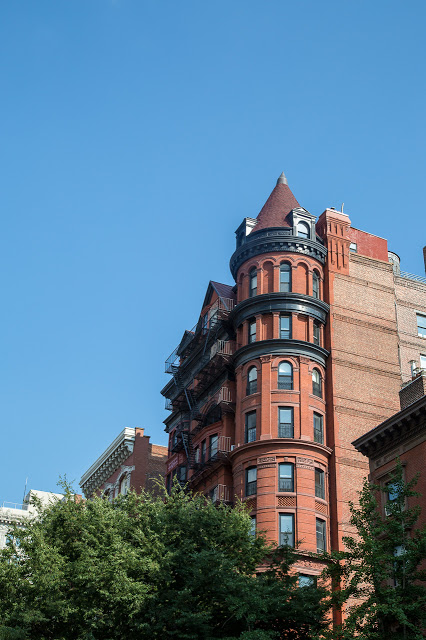 Walking through Brooklyn Heights
We enjoyed views of Pier 5 and the skyline as we walked through the Brooklyn Heights Promenade.
We also found one of the most charming private gardens I've ever seen.
And of course, got a view of Tom Fruin's popular stained glass water tower.
Pier 5, Brooklyn Bridge Park
When we got to Pier 5, we found the Ample Hills ice cream store, where we proceeded to devour more ice cream, and this time, it was phenomenal.
I had Nonna D's Oatmeal Lace (brown sugar cinnamon ice cream with oatmeal lace cookies) and Mshel had something fruity I've forgotten (I wanna say blueberry?). Meanwhile, Michael probably had vanilla, because he's predictable that way, and Kim had a crazy-good coffee ice cream on a pretzel cone that I somehow did not take a photo of. WHAT?! Oh, just go get one yourself ;P.
And then we took ALL THE SELFIES.
That last one was from a selfie stick. I will never be able to master using one. I love my GoPro!
Bellies happy with ice cream, we somehow decided it was time to head over to our dinner place (lol), passing by many of Brooklyn Bridge Park's sporting areas along the way.
Pier 6, Brooklyn Bridge Park
Brooklyn, NY 11201
Exhausted and thirsty from walking around in the heat, we decided we should probably go have drinks somewhere. We passed by a small restaurant called Fornino, and Kim informed us that the pizza there is supposedly good. So, we ended up buying a small pizza on top of some sangria. I was a bit concerned about having pizza about an hour before we were supposed to sit down for dinner, but I totally ate my words when I realized this is probably the only pizza crust I've ever loved in New York. The sangrias were only ok, good enough to quench our thirst.
117 Columbia St
Brooklyn, NY 11231
Americanized Thai food is one of my favorite cuisines to have, so when a seemingly authentic Thai restaurant garnered one Michelin star, I immediately put it on my list of places to try. That was a few years ago, which you'd probably know if you pay attention to New York's list of Michelin-starred restaurants. It took Mshel visiting for me to finally try this place, and I certainly wasn't disappointed.
Michael, Kim, and Mshel were immediately drawn to the whiskey-marinated spare ribs. This was definitely delish and came with two good sauces.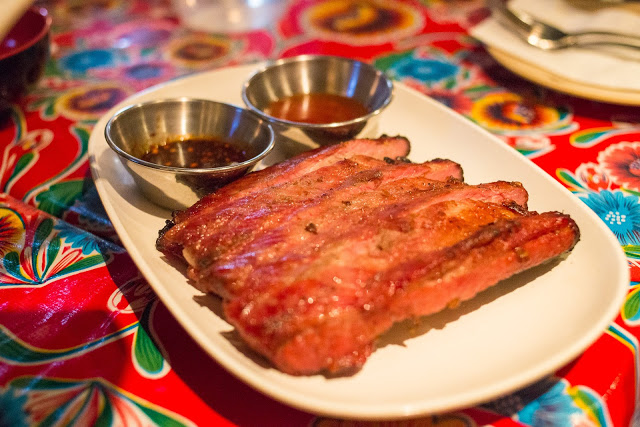 Sii Khrong Muu Yaang (Whiskey-marinated spare ribs)
After that, I was responsible for ordering the rest of the dishes (with everybody's blessing). One of the dishes was the Khao Soi Kai, which is a really mild coconut curry. If I had to pick a dish that underwhelmed me, this was probably it. I really like the curries you'd normally find in an Americanized Thai restaurant (panang, massaman, red and green), but this was too mild for my taste.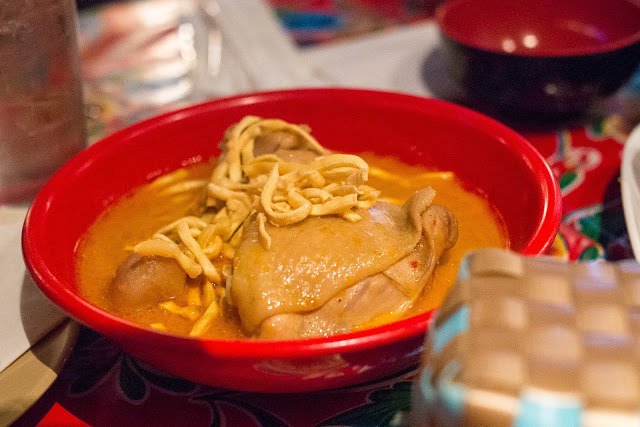 Khao Soi Kai (which I believe is also called Chiang Mai curry noodles) – Northern Thai mild curry noodle soup with coconut milk
The sticky rice came in this little woven box, which totally reminded me of how certain provinces in the Philippines serve their rice.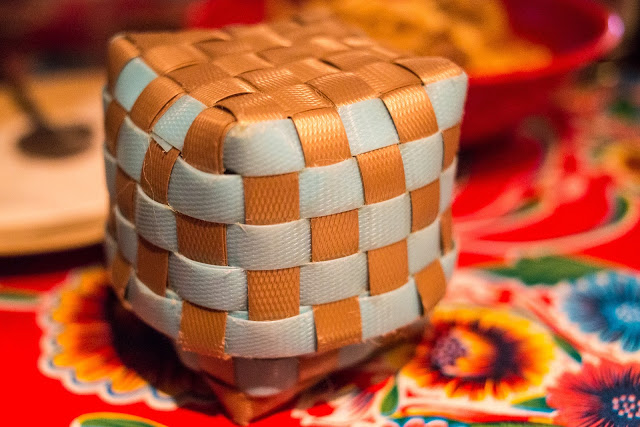 Sticky rice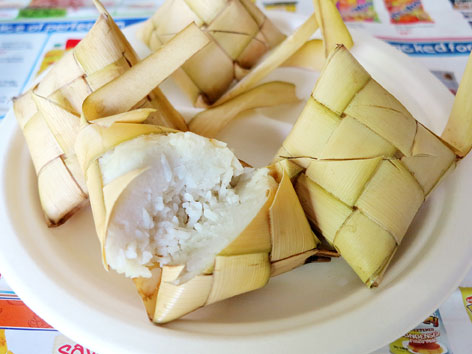 A "puso" of rice, from the Philippines – rice wrapped and boiled in a triangular casing made of woven coconut leaves, see here: http://eatyourworld.com/destinations/asia/philippines/cebu/what_to_eat/puso
Next I ordered the Hoi Thawt, supposedly a street vendor specialty in Thailand. I had seen Anthony Bourdain eat things similar to this (things with a lot of different tastes and textures) in one of his shows, so I was excited to try it. I was a huge fan of this, and remember thinking I should try to find a recipe to make at home. I think my friends were a little intimidated by hodgepodge of ingredients though.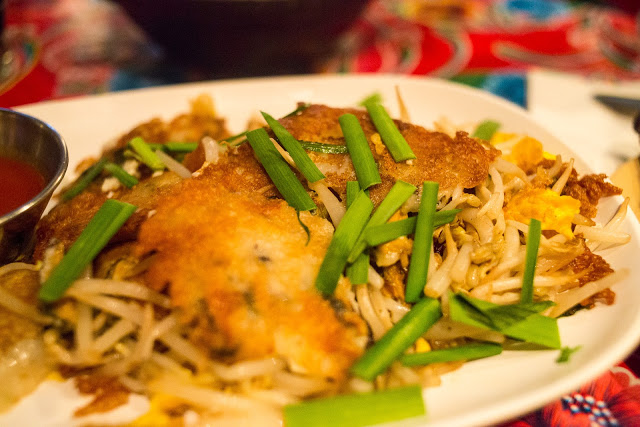 Hoi Thawt – Crispy broken crepe with steamed fresh mussels, eggs, garlic, chives, and bean sprouts, served with Sriracha sauce
Next was the Kaeng Hang Leh, sweet pork belly and pork shoulder curry. This was another favorite. I could imagine eating this nonstop with a huge bowl of rice, but since we'd been eating all day, I was only able to sample a few bites.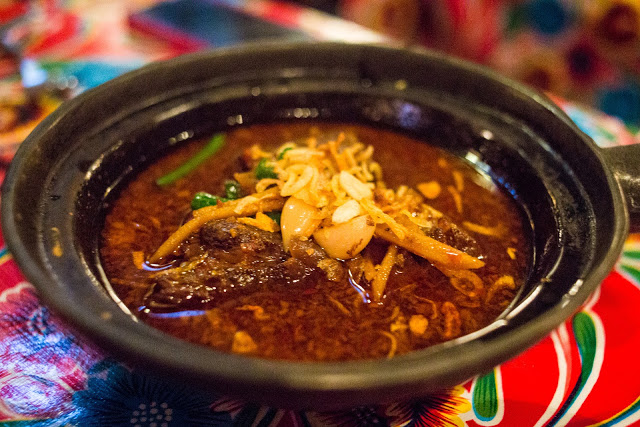 Kaeng Hang Leh – Northern Thai sweet pork belly and pork shoulder curry with ginger, palm sugar, tamarind. turmeric, Burmese curry powder, and pickled garlic
Last but not the least was Ike's Vietnamese fish sauce wings. Our server had suggested we get these, and boy was she right.They're sweet, salty,  and crispy. Remember when I commented about Jean Georges not being known for punch-you-in-the-face flavors? This dish is the exact opposite of that.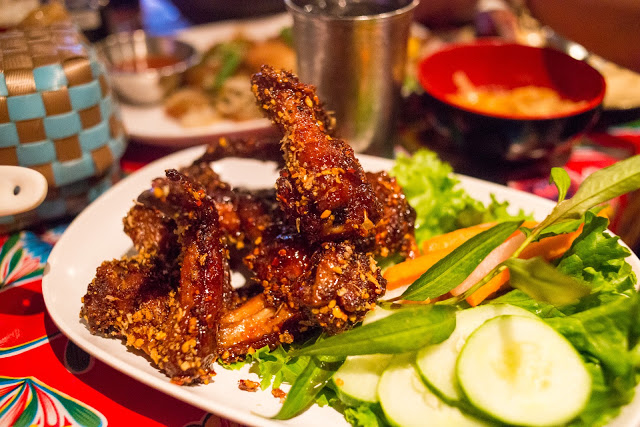 Ike's Vietnamese fish sauce wings – Organic Amish chicken wings marinated in fish sauce and sugar, deep fried, tossed in caramelized fish sauce and garlic, with a Vietnamese side salad
And of course, we had to have some evidence of the fact that we were actually there, despite being a bit sweaty from all the eating and walking.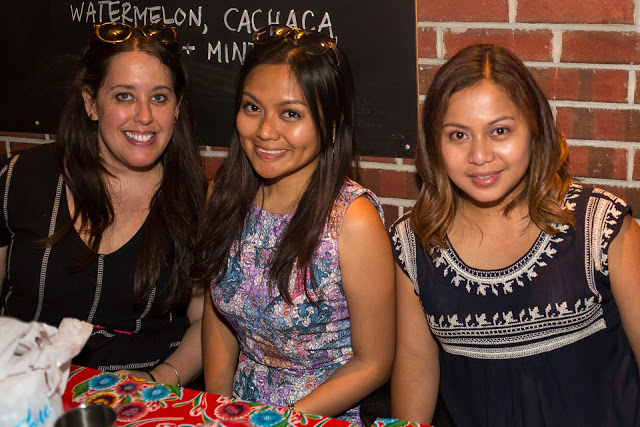 Thanks for being the photographer, Michael!
269 Court St
Brooklyn, NY 11231
To end our night, we walked to The Chocolate Room in Cobble Hill, where I crazily tried to convince everyone to get a third batch of ice cream. I think Michael was the only one who did (awww). I ordered a few pieces of chocolate to ration throughout the next week. They have some very interesting combinations like strawberry, lemon, and thyme, or burnt caramel with Hawaiian sea salt, so if you're into unique flavors you should definitely head over there.
Whew! That was a lot of walking, and quite a lot of EATING. This post made me tired and full at the same time. Also, it explains all the pounds I gained over the summer. 😛 BUT it was all worth it, and trying everything in sight with my bestie for a few days every year is one of the things I truly live for.
Not Bored with Mshel Day 3: Sant Ambroeus, Central Park, Artichoke's Pizza, and Banoffee Truffles