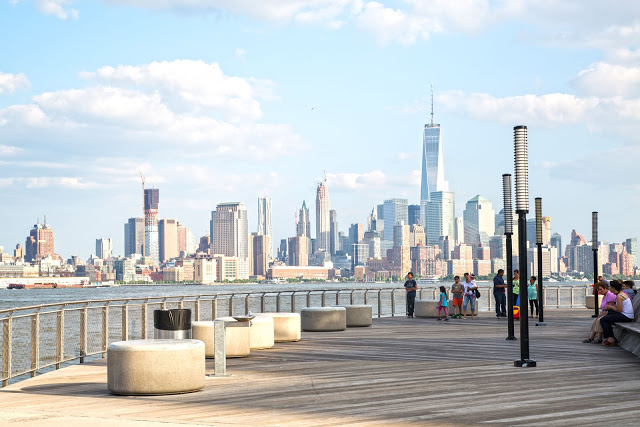 One gorgeous summer weekend in New York City, my bff Mshel came to visit. As per our M.O., we jam-packed our itinerary because we believe the following Mindy Lahiri philosophy: "You have to have an itinerary. That's how you maximize fun time per hour."
We had pastries at Maison Kayser, pizza at Grimaldi's, and a lovely lunch at Jean Georges. We hung out at Bryant park, waded through the tourist crowd to take a selfie at Strawberry Fields in Central Park, took in amazing views of the Manhattan skyline all while catching up on what's going on in our lives. We ended the night with an insane, sweaty, and exhausting hour at a club in Manhattan (after which I decided that going clubbing once a year is quite enough for me).
8 West 40th Street
New York, NY, 10018
We started out by buying pastries for breakfast at Maison Kayser, a chain of bakeries that originated in Paris. Mshel, always the polite gal, told me after we'd already bought a few things that Eric Kayser
has a bakery in Manila
, but that there seemed to be more of a selection here, at least at its Bryant Park location. Nevertheless, it was a perfect place to grab breakfast that we could enjoy at the park.
Arms laden with boxes of treats and coffee, we headed to Bryant Park across the street.
Bryant Park is one of my favorite places in Manhattan. You get to enjoy being surrounded by trees, but at the same time, be able to see the lovely New York Public Library and the towering buildings of Manhattan beyond them. Not to mention, you can also connect to the Free wifi that some of New York's public parks offer.
I had two of the eclairs. One was pistachio and one was another nut-flavored one, either peanut or hazelnut. Both were really good, but I remember loving the pistachio more. The shell was soft but not soggy, and the filling was flavorful and not overly sweet. Two eclairs was a little too much of course, so I took home half of each.
Mshel had the Sainte Honoré, which is basically a beautifully arranged collection of caramel cream puffs topped with whipped cream. How can you go wrong with this classic?
Strawberry Fields, Central Park
West Side between 71st and 74th Streets.

Strawberry Fields is a living memorial to the world-famous singer, songwriter and peace activist, John Lennon. During his career with the Beatles and in his solo work, Lennon's music gave hope and inspiration for world peace and his memory and mission lives on in Strawberry Fields.
This tranquil section of Central Park was named after one of Lennon's favorite songs, "Strawberry Fields Forever." Recorded in 1966, the song's title comes from an orphanage in Liverpool, England where Lennon used to go to play with the children. His aunt, who raised him, disapproved but he insisted it was, "nothing to get hung about." Hence, the song's famous lyric.
After chatting over breakfast and walking around Bryant Park, we immediately headed up to Strawberry Fields in Central Park. Considering that this memorial is supposedly marked as a Quiet Zone in Central Park, there was quite a bit of a crowd there. Despite that, and a group of Central Park employees cordoning off part of the area to trim trees, the place still kept some of its serenity thanks to a guitarist nearby crooning Beatles songs and the dappled sunlight streaming through the trees.
On our way to Jean Georges, we realized we had failed to use the flower crowns we'd bought from The Market NYC the day before (something I'd written about on this post), and paused to capture this memory at Central Park.
Trump International Hotel and Tower
1 Central Park West
New York, NY 10023
Jean Georges is located at Trump International Hotel and Tower, at one corner of the big rotunda of Columbus Circle, from which you can also see Time Warner Center (home to Bouchon Bakery, Per Se, Whole Foods, and a whole lot of high-end shops), and the southwest corner of Central Park. There's a lot going on here that makes going to Jean Georges seem like such a New Yorker activity.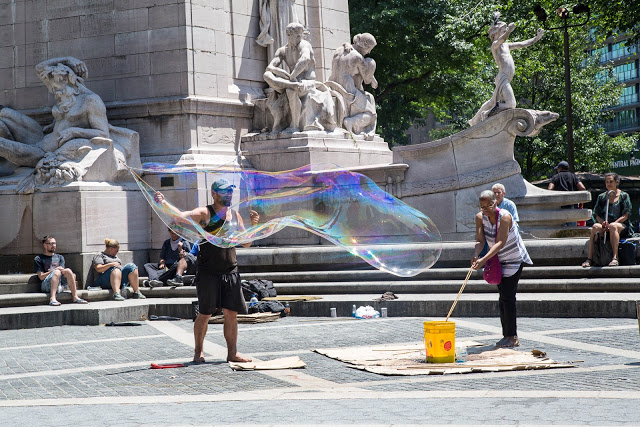 At the southwest corner of Central Park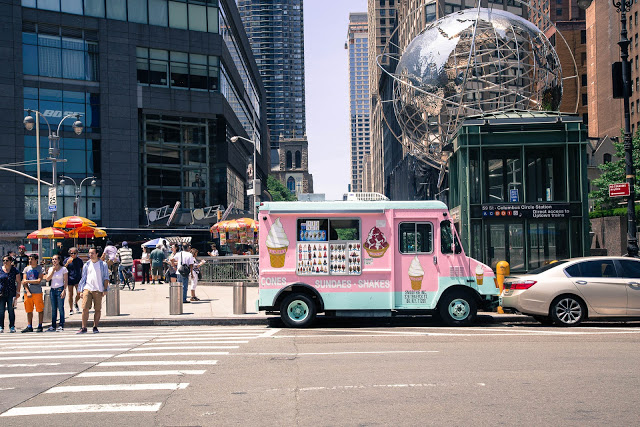 Facing Time Warner Center
Of course, there's also the fact that Jean Georges has three Michelin stars, and has been popularized by several TV shows as one of the fanciest places to eat in New York City. (Dan and Serena have their first date here on Gossip Girl, and Monica and Chandler from FRIENDS have dinner here on their anniversary.) In real life, you can have a semi-affordable 2-dish lunch at Jean Georges for $58, with supplemental fees for nicer dishes like caviar, foie gras, and scallops, and an additional $12 if you want a dessert tasting.
The Jean Georges dining room is clean and airy, with high ceilings and windows, and lots of light. The mostly white and beige decor are punctuated by some gold and yellow, perhaps an homage to the fact that it is inside a Trump building.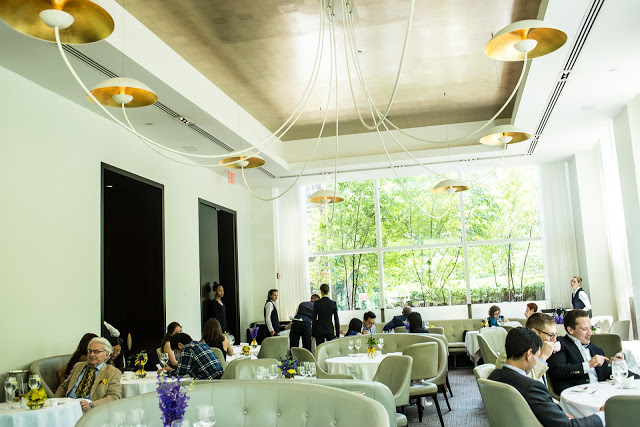 Jean Georges
As with most restaurants, we started with a piece of bread and butter. I didn't think this was any different from a regular piece of bread and butter, to be honest. To date, the best I've had was at the aptly named "Butter".
As a complimentary amuse bouche we were given jalapeno corn fritters, persian cucumber with dill, and strawberry gazpacho. The corn fritters were tender, with a creamy and spicy sauce (possibly mayo or yogurt). All these tiny bites were just exciting enough to wake our appetites.
We ordered their house made ginger-lemon and cherry-yuzu sodas to drink. Jean Georges is not know for punch-you-in-the-face-with-intensity flavors, except for maybe their ginger-lemon soda. For me it was an amped up taste of home in a fancy setting. It is (understandably) similar to the citrus-ginger Filipino drink salabat.
For my first course, I had the peeky toe crab dumplings. These came with a soy reduction that was pleasantly sweet with medium spiciness, topped with (almost?) raw green beans and greens that were also a tad sweet. Interestingly, I thought this dish was the tastier of the two I had, considering I had veal scallopine as my second dish.
Mshel had diver scallops with caramelized cauliflower and a caper raisin emulsion. I've always felt that scallops are very lacking in flavor, but am always excited by the smoky sweet taste of caramelized cauliflower. Together with the caper raisin emulsion, this dish was very subtle but still tasty.
For my second course I had the sauteed veal scallopine with flying pig ham, mushrooms, and lavender. To me this dish was a bit lacking in flavor, but I did love all the different kinds of mushrooms. However, if I was basing my judgement of Jean Georges on this dish, I probably wouldn't give it 3/3 stars. I've had much better veal scallopine elsewhere.
Mshel's second course was the black bass crusted with nuts and seeds with sweet and sour jus. I thought this dish was more along the lines of what I would expect from Jean Georges. First of all, the bass was clearly very fresh, something that usually separates the more expensive restaurants in NYC from the mid-range ones. You would expect a punch of flavor from the crust, but somehow it still has a subtle flavor. Much of the excitement comes from the sweet and sour jus, which is a great balance of sweet, sour, salty, and creamy.
Jean Georges desserts are artfully arranged tastings centered around a theme. For example, current offerings are chocolate, fig, stone fruit, and strawberry. Mshel and I chose caramel and chocolate at the time.
Yet again, my dessert tasting reminded me of home. The first bite was a flaky, sugary pastry with a side of caramelized bananas, the pairing of which was reminiscent of a turon. The second bite was a soft meringue with the tiniest bit of caramel or custard in the center, reminiscent of a brazo de mercedes. In all honesty, I've completely forgotten what the third bite was, and JG noob that I am, forgot to write down the items before they changed their menu, as they seem to do every so often. It looks like it could've been ice cream or panna cotta.
Mshel's chocolate-themed tasting was clearly the winner, however. Leftmost is milk chocolate custard with piedmont hazelnuts, smoked salt meringue, and candied orange. At the center is warm chocolate cake with vanilla bean ice cream. On the right is white chocolate ice cream with yuzu sorbet. She and I both loved the white chocolate ice cream with yuzu sorbet the most due to the unexpectedly perfect contrast of flavors, but the entire tasting was lovely.
Dessert is really optional though, especially if you are already full from the two courses. The reason is that the meal comes with complimentary petit fours. I made note of 3 out of 4 things on our plate. First was praline chocolate, another was a blackberry gummy, and the third an apricot macaron.
Last but definitely not least, a cart comes to your table with their house made marshmallows. These are little pillows from heaven. Don't snub them.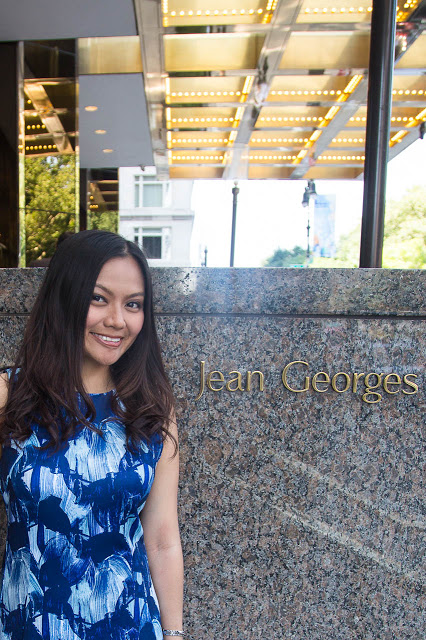 Mshel at Jean Georges
Lee's Art Shop
After Jean Georges, Mshel and I hit Lee's Art Shop, a place I've written about before. They're pretty relaxed about randos taking photos inside, as evidenced by this photo of us.
Hoboken, NJ
After Lee's Art Shop, we took two trains to get to Hoboken. The Hudson River Waterfront Walkway, which stretches up the eastern part of Jersey facing the Hudson, is one of the best places to view the Manhattan skyline. Plenty of people jog and cycle here, but on that particular day, we were there merely to chat and enjoy the view.
Grimaldi's
411 Washington St
Hoboken, NJ
Hoboken is big on Italian food, with many restaurants making their own fresh mozzarella. But somehow, faced with the task of looking for something on the affordable side, I picked Grimaldi's for dinner. It did help that it was a short walk from where we ended up on the walkway. If you're unfamiliar with this place, it's one of the most well-known, touristy spots for pizza in New York City. Yes, they have great pizza. But I've always tried to stay away from it because I've always felt that very little in life is worth waiting in a long line for.
Luckily, we were in Hoboken, and were able to wait comfortably at the bar for two seats outside, where the lighting was decent despite the fact that the sun had set on our busy day.
They had a few drink specials and I ordered one of them. However their cocktail menu isn't available online, so I have no idea what it was. I believe it was some cutesy Jersey name like Hoboken Sunset or whatever. I do remember it being good.
For our appetizer, we ordered this insanely delicious fried fresh mozzarella, which reminded me of the "mozzarella sticks" at Tony's Di Napoli, but better. In fact I'm gonna go ahead and say I enjoyed these more than I did the pizza (which was also good, and good enough to reheat 2 days later).
For our pizza I had sausage on my side, and Mshel had sausage and pepperoni on her side. I personally like my pizzas to have a medium crust, somewhere between thick and thin, so this crust wasn't quite the best for me. But the toppings were fantastic, so I still enjoyed it.
And of course, I couldn't help but take a few shots of my bff in this lighting.
After dinner we rolled back into the city and met up with my friend Hyg at a restaurant that turns into a club after hours in Alphabet City. The place was packed with drunken revelers dancing to hiphop and R&B music, a lot of which was popular back when I was in high school, so… yeah I was one of the drunken revelers.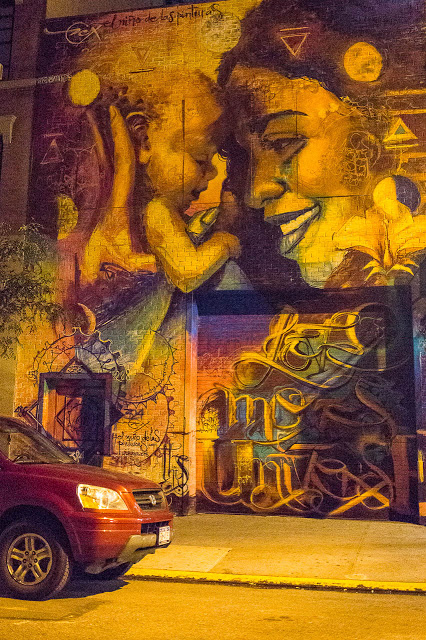 One of the many murals in the East Village
Post-bathroom break selfie lol
And with that successful end to our night, we trudged back home and woke up somewhat late the next day. 🙂
Related Posts:
Not Bored with Mshel: Smorgasburg, Brooklyn Bridge Park, and Pok Pok NYNot Bored with Mshel Day 1 and 2: NY Comic Con, Ayza Wine and Chocolate Bar, David Burke Townhouse, and MoMA
Not Bored with Mshel Day 3: Sant Ambroeus, Central Park, Artichoke's Pizza, and Banoffee Truffles