Our third day in Tokyo was spent going around Shinjuku and Shibuya yet again, with a bit more emphasis on sightseeing and shopping, though certainly not lacking in good (but relatively cheap) food. We started with a quick breakfast of the treats we'd bought from the Andersen bakery (which it turns out, has a branch in San Francisco LOL) the day before, and for me a Starbucks matcha latte in a little paper cup with a straw that I'd found at a local drugstore. I guess these paper cup lattes are the equivalent of the bottles of Starbucks Frappuccino you can buy in the US. Our loot from Andersen included a green tea and red bean madeleine, a sandwich cookie, and a pig-shaped butter cookie. I went for the pig-shaped cookie and the little cheesecake from Quattro. Mike had the sandwich cookie and some more of the sweet buns from the hotel.
Happily full with treats, we headed over to Akasaka's train station, but not before we hit a stationery store I'd taken note of a few days ago. We bought some random stuff like a cute postcard of Tokyo, clips/magnets that looked like musical instruments, and some washi tape. If you're in that area I recommend going there for adorable, cheap, and one of a kind souvenirs and postcards. They also have maps of different areas of Japan.
Shinjuku Gyoen National Garden
Shinjuku Gyoen was constructed on the site of a private mansion belonging to Lord Naito, a "daimyo"(feudal lord) of the Edo era. Completed in 1906 as an imperial garden, it was re-designated as a national garden after the Second World War and opened to the public. With 58.3 ha(144 acres) in size and a circumference of 3.5 km, it blends three distinct styles, French Formal Garden, English Landscape Garden and Japanese Traditional Garden, and is considered to be one of the most important gardens from the Meiji era.
Next we headed out to the Shinjuku Gyoen National Garden, a rather long but nice walk from the Shinjuku station. Looking at it now, there's actually a station that's a bit closer to the park, the Shinjuku Sanchome station (which also happens to be right by the Isetan department store we hit for lunch/pastries a bit later). We passed a few interesting stores on our way there, but since we had a lot of things to do for the day, we decided to skip wandering aimlessly into stores and go directly to the garden.
It was drizzling when we finally got to the garden, and it was very quiet, with not a lot of people around. It ended up being quite a relaxing walk.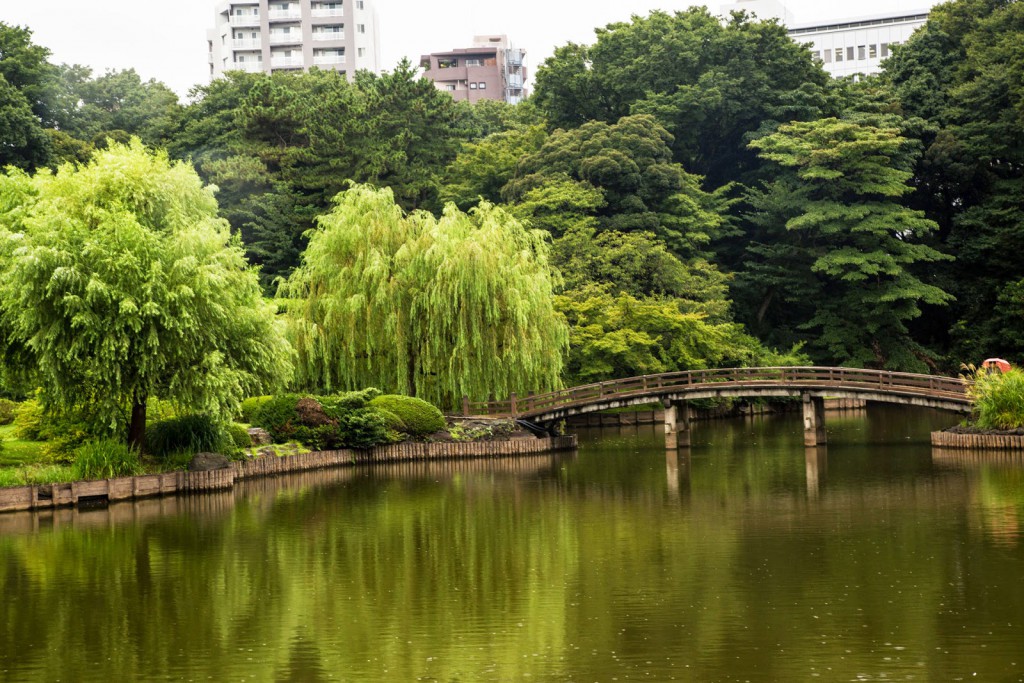 Japanese Traditional Garden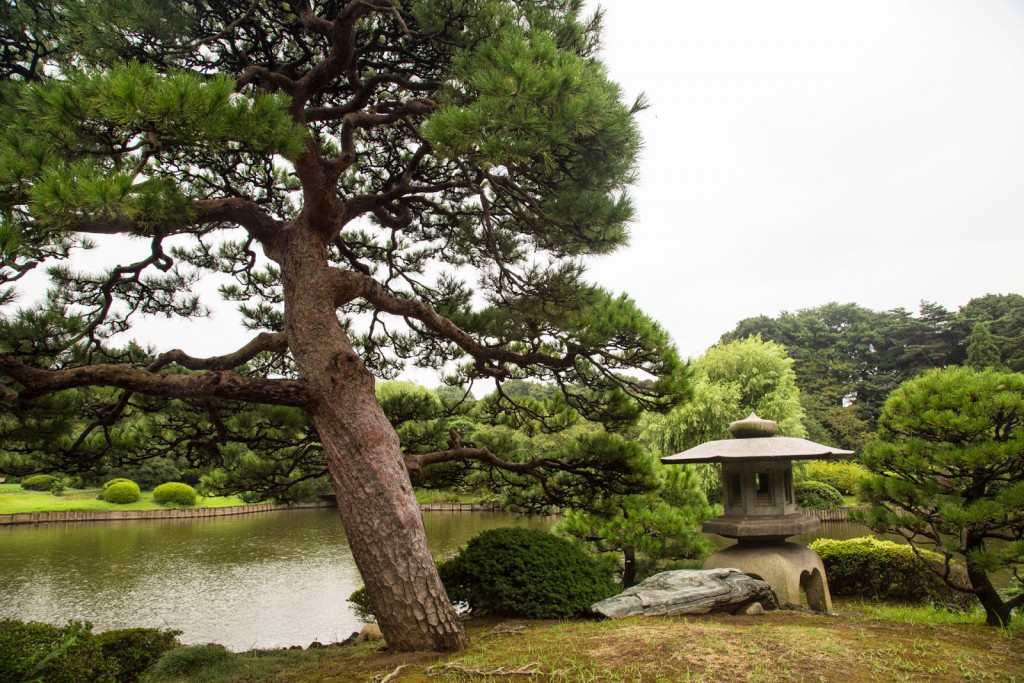 Japanese Traditional Garden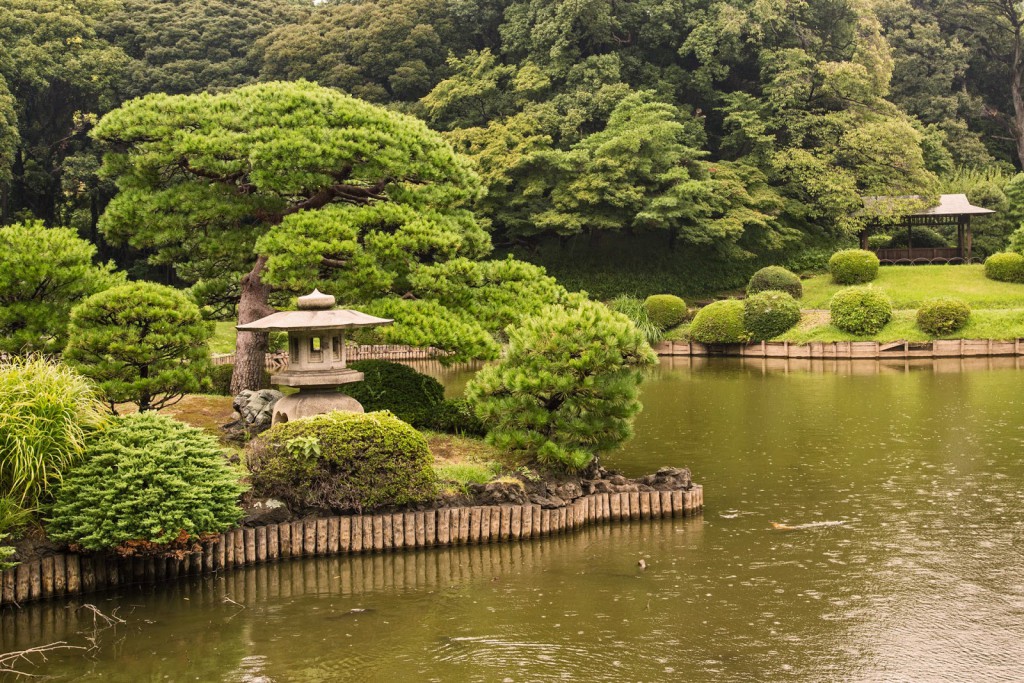 Japanese Traditional Garden
But parks are one of my favorite places to take photos, so naturally, I took quite a few of Mike.
With a few "I'm bored of smiling" shots like this one.
And posed for a few myself (bad hair day)!
The park was gorgeous, despite the fact that it was the middle of summer and there weren't a lot of flowers to be seen. There were different sections, styled according to different themes such as the Japanese Traditional Garden, Taiwan Pavilion, French Formal Garden, and English Landscape Garden.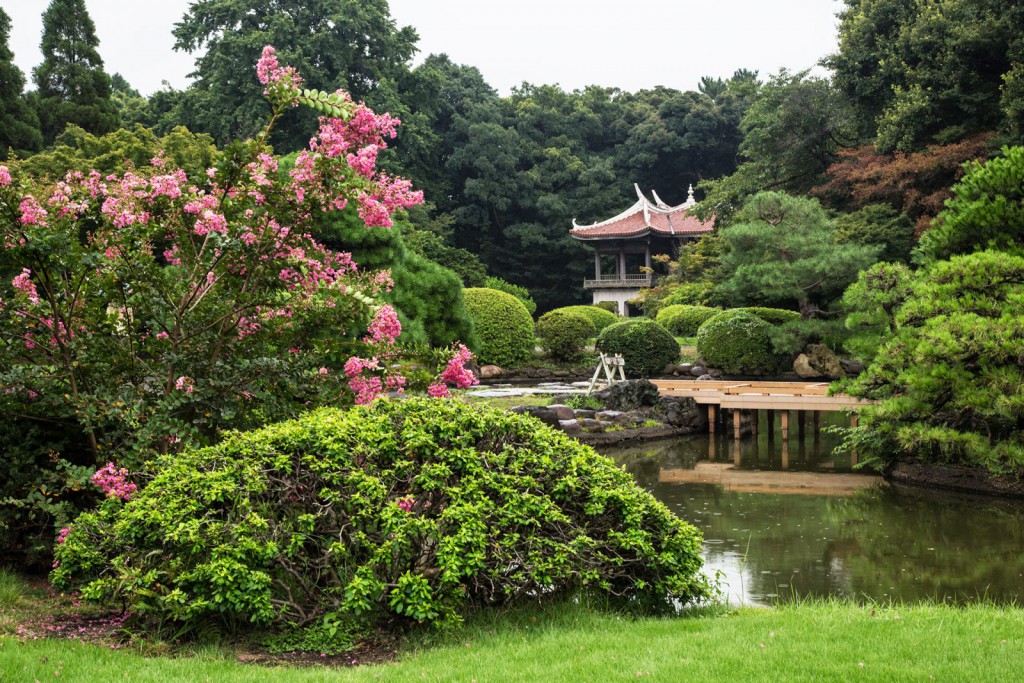 Taiwan Pavilion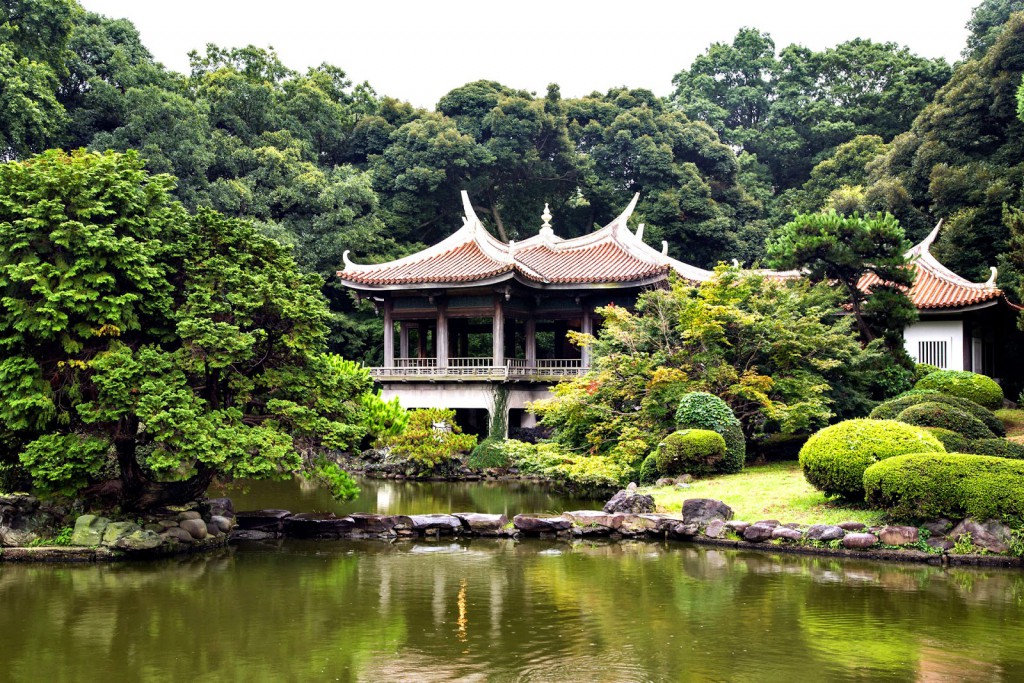 Taiwan Pavilion
We hung out a bit at the empty Taiwan Pavilion, making it possible to pose dramatically like so.
But I have to stay, the French Formal Garden was by far my favorite. Despite being 'French', I felt as if I was in the setting for one of those dramatic Kdramas where the characters are walking (or biking) in the middle of a tree-lined path.
So naturally another photo session ensued.
Towards the end of our walk we came to some large bleak looking trees. A few crows were hanging out cawing at each other, and we took that as a sign we should move on.
160-0022 3-14-1, Shinjuku
Shinjuku-ku, Tokyo
On our way to the garden we had passed by an Isetan department store, so, starving after about two hours of walking, we headed over there for a snack. We had some trouble figuring out how to get there because we couldn't get Internet access by the park, so we patiently waited and tried hailing a cab. After a few minutes of standing around, a kind English-speaking Japanese man asked us if we needed help, and we told him we were having problems hailing a cab. He told us a lot of them don't stop for foreigners because they cannot speak English, so he hailed one for us and instructed the cabbie to take us to Isetan. A similarly kind stranger had asked us if we needed help on our first day there, and so at that point we realized it must be normal for random people to ask you if you need help without expecting anything in return.
Since we were starving, we hit up their basement food section again (we had gone to something similar at the Tokyu Toyoko department store).
We were immediately drawn to these drool-worthy bento boxes, and procured one for ourselves.
And despite the fact that the label announced this bento box had a whopping 834 calories in it, we immediately found one of those standing tables and scarfed it down. And I don't think you'd be surprised to know that it was the best bento box I've ever had ;P.
Okay, you probably want more details. The star of this box was obviously the thinly sliced beef teriyaki (or maybe yakiniku, I'm not entirely sure), on a bed of rice. This was probably the only part of the box Mike and I struggled with sharing, since he's not overly fond of vegetables and therefore grabbed a bowl of orange chicken over rice in addition (which I apparently snubbed with my camera). The marinated egg was my next favorite, but I'm the type who would love having a side of egg with every single meal if I could get away with it. There was a bit of orange chicken on the side of this box as well, so I didn't have to bug Mike for a taste of his. The sweet pickled vegetables were a nice contrast to the beef. The chick peas with some kind of creamy sauce on it (reminiscent of maybe a pasta salad) was ok, but not my favorite. There was also a small lump of creamy corn and some seaweed and sauteed vegetables.
For dessert we had these pancakes and little wafer bombs filled with sweet bean paste. They were nothing special, but still good.
We wandered around some more and found some really interesting Japanese treats. Most of them seem to be either filled with sweet beans and/or wrapped in mochi.
We purchased a few of them to snack on later that night.
In addition, I purchased a tray of mini mooncakes with different flavors such as maple, mango, and chocolate. They were on the expensive side (270 yen each, which converts to  $2.25 per tiny mooncake), but they were delicious, gorgeous, and the box was adorable. I got a set for myself (mooncakes are one of my favorite Asian treats), and unfortunately ended up devouring all of them before taking any photos when we got back.
There were also European-style pastries at the Isetan food level. In fact Pierre Herme macarons have a stall there. But out of all the pastries I was drawn to the adorable Paris-Brest  pastry (rightmost in the following photo). If you're not familiar, it's hazelnut cream sandwiched by two donut-shaped choux pastry shells. I believe a few of the patisseries in NYC sell these as well, but it just looked so gorgeous I wanted to try it.
And of course, there were endless adorable pastries you just don't want to eat!
Omotesando, Harajuku
Next we took the train to the Harajuku area. Before hitting Takeshita Dori (street), which is the focal point of Harajuku's teenage fashion/culture, we walked the length of Omotesando, which is known for being the Tokyo equivalent of Paris's Champs-Élysées. Like the aforementioned boulevard, this avenue is lined with shops and perfect for window shopping and people watching. However, before doing any of those, I immediately dragged Mike into this coffee & cake shop whose name is unreadable to me. It was a bit interesting because it was in the basement of a building that also had a lingerie store, so as you can see, it didn't exactly look like the front of a coffee shop.
The inside was definitely NOT a lingerie store, but reminiscent of an English-style (I want to say Victorian?) tea shop.
They had some lovely-looking afternoon tea sets, but because we had just had lunch we decided to just split a cake.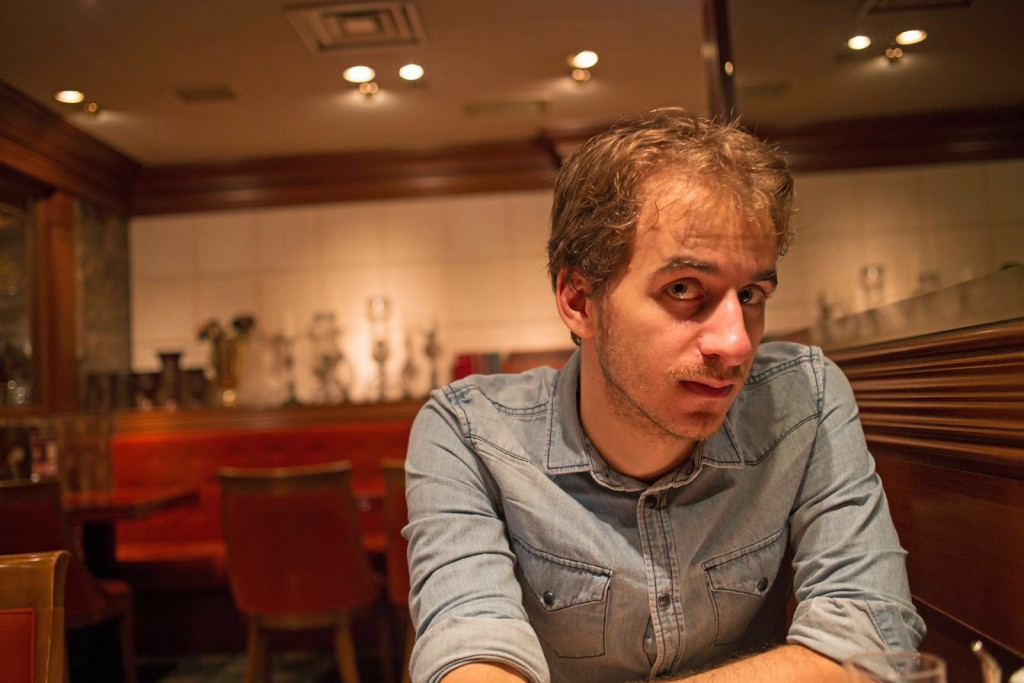 Mike looking a bit serious…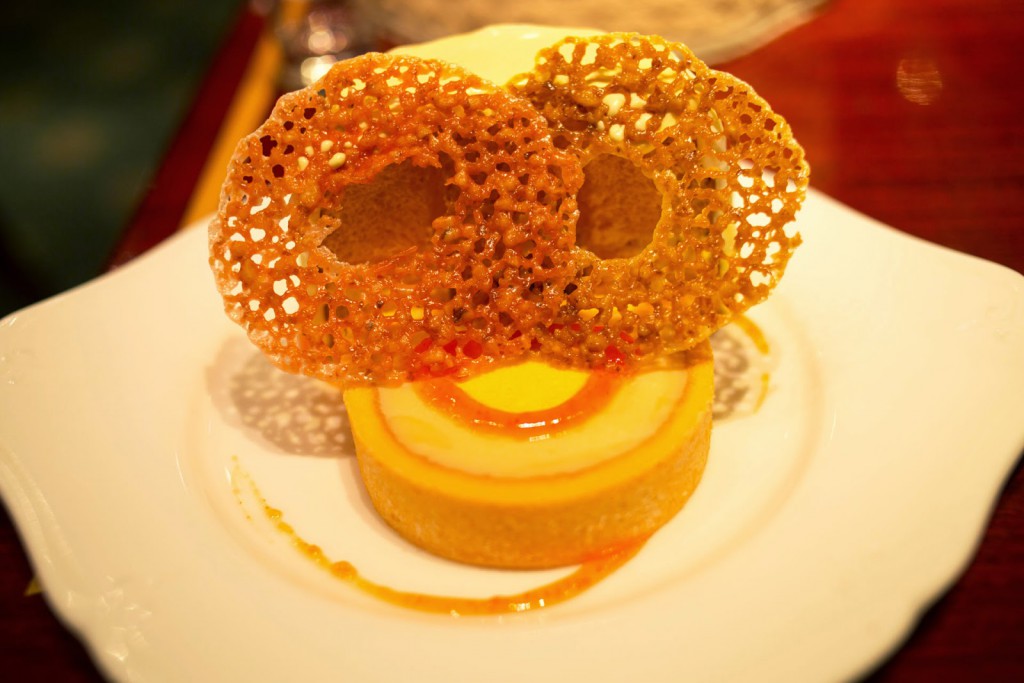 Cake looking extremely happy
As we tasted the cake, I was yet again amazed by how much detail goes into the pastries in Tokyo. There was so much going on in this cake that each bite was such a delight. The outer part of the "mouth" was what I can only describe as "taisan" cake (which is a very light and airy chiffon cake that has very small air pockets, popular in the Philippines), the middle layer of it was ice cream, and the innermost layer seemed to be some sort of nut paste (I believe it was chestnut). The "eyes" were nutty nets of caramel, and the rest of its head was made with angel food cake frosted with a fruity-flavored whipped cream. The entire thing had a very delicate fruity flavor, which might have been mango (I'm not exactly sure).
I also had a very simple but delicious iced milk tea, because why not?
After our afternoon tea break, we truly hit Omotesando and went shopping.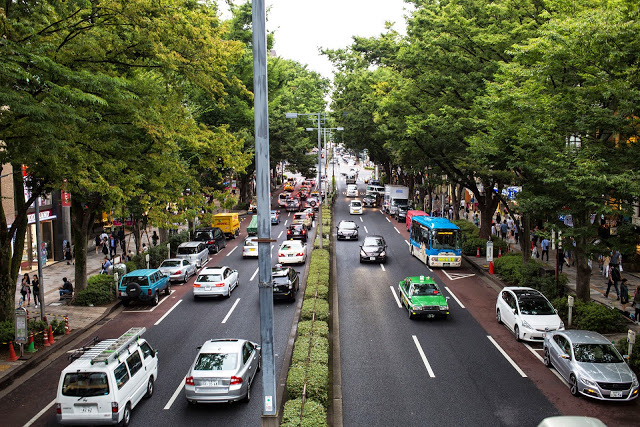 Omotesando
We hung out for a bit outside their MoMA design store to figure out what stores we wanted to go to.
We ended up going to Kiddy Land, one of Tokyo's most famous toy stores. It has five floors of toys, including a Hello Kitty Shop. I bought a few things for my niece and nephew, and of course, a little thing for myself.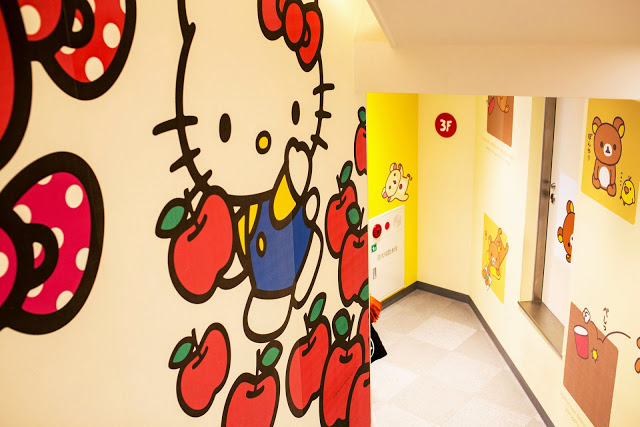 Kiddy Land
This nerdy Hello Kitty planner is my favorite souvenir from Tokyo.
Takeshita Dori
After Kiddy Land we continued on to Takeshita Dori. This street is really little more than an alleyway, lined with tons of affordable shops and restaurants. I had expected to see more girls dressed up Harajuku-style, but we mostly saw teenage girls still in their school uniforms. I expect some of them were probably the same ones that are more dressed up on weekends. Even Harajuku girls need to stay in school after all!
I didn't buy any clothing, but I did buy a LOT of socks from this store called Tutu Anna.
They had some really comfortable ankle stockings for flats, and the type of mid-length socks worn with heeled sandals, which I've been having problems finding in the US. I've worn the stockings plenty of times, but still haven't gotten the courage to wear those socks with heels (though they are very comfortable with ankle booties). If you're not sure what I mean, here's what they look like:
Then we went on to the Daiso Harajuku, which is their equivalent of a dollar store.
There I bought the some of the insane amount of washi tape I hoarded in Tokyo. Two of the ones from Daiso have been used to wrap presents for my family, and I couldn't be any happier with them.
Lotteria Harajuku
6-4-1 Jingumae
Shibuya Tokyo 150-0001
At the end of  our Harajuku walk, we found a burger place called Lotteria. We were famished at this point, and had been walking all day, so we were perfectly happy grabbing whatever from this place. It turns out this is a pretty popular burger chain which was founded in Japan by a Korean entrepreneur (hence the name Lotteria, named after its VERY popular Korean parent company, Lotte).
Their menu (translated here by Google) consisted of a surprising amount of shrimp-based sandwiches, but we went for their teriyaki burgers. I had the one with an egg in it while Mike had it plain with cheese.
Their burgers looked pretty simple/generic but were actually reallly delicious. I mean, maybe it's the Asian in me, but teriyaki-flavored meat PLUS an egg? Yum.
Overall it was quite a successful day of sightseeing, shopping, and finding good, cheap eats. I also remember this being the day I decided that I need to go back to Tokyo at some point, because we'd barely scratched the surface (especially food-wise), and we were headed to Kyoto and Mt. Fuji on the following days.
Kyoto: Tofuku-ji Temple, Gion, and Arashiyama
Lake Kawaguchiko, Hakone Ropeway, and Teppanyaki