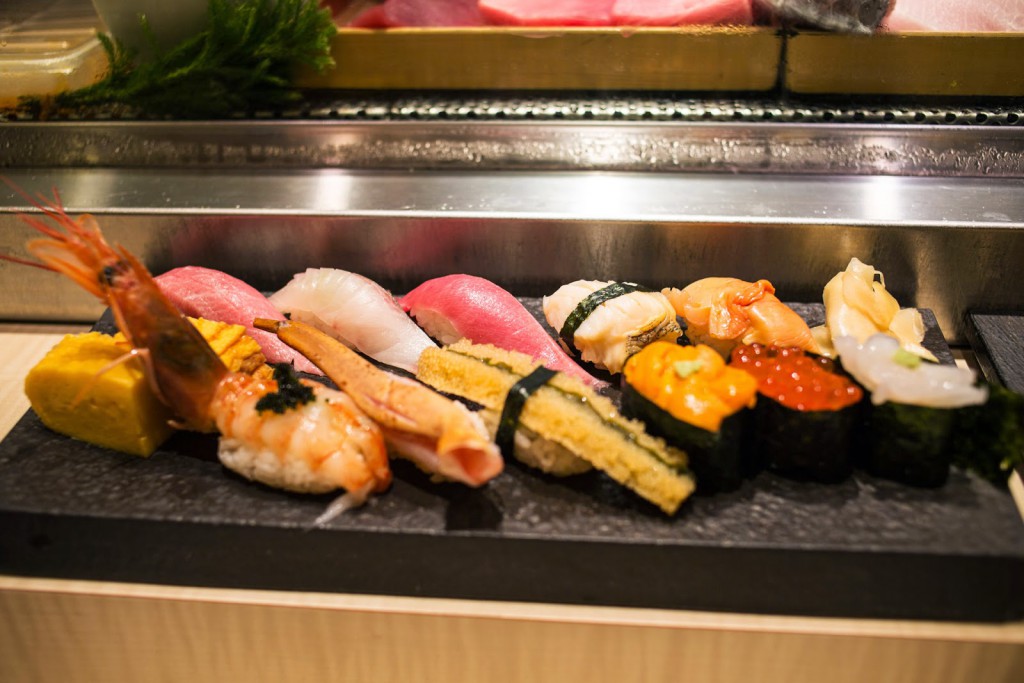 Ok you guys, I'm not gonna lie. Here's what we did in Tokyo:
Ate or planned what to eat next probably 80% of the time
Shopped 10% of the time
Got lost and therefore spent too much on train tickets 5% of the time (Don't even get me started on the JR Pass !**!@$%!*)
Went sightseeing 5% of the time
I guess this is usually the case with any city, and it certainly was when we visited Seoul. All the amazing food can be found in the major cities, y'all!
When we got to Tokyo, we had to take two trains from the airport to Akasaka, then walk around with giant bags looking clueless. We were stopped once by a very helpful young woman asking if we needed directions, but she also didn't know where our hotel was. This happened a few times to us, and people there seem to genuinely want to help people who don't speak Japanese, without expecting anything in return.
We stayed at the
Centurion Hotel Grand
 in Akasaka, one of Tokyo's business districts. The area is also chock full of alleyways where interesting things are going on. We noticed that people in Tokyo seem to start drinking with their coworkers on Wednesday night, and that it is not surprising to see most people either stumbling home drunk or puking on the side of the street, Wednesday – Friday. Honestly, it was all very entertaining. Wouldn't we all be more excited to get to work if we knew we were going to spend almost every weeknight getting rowdy with coworkers? 😛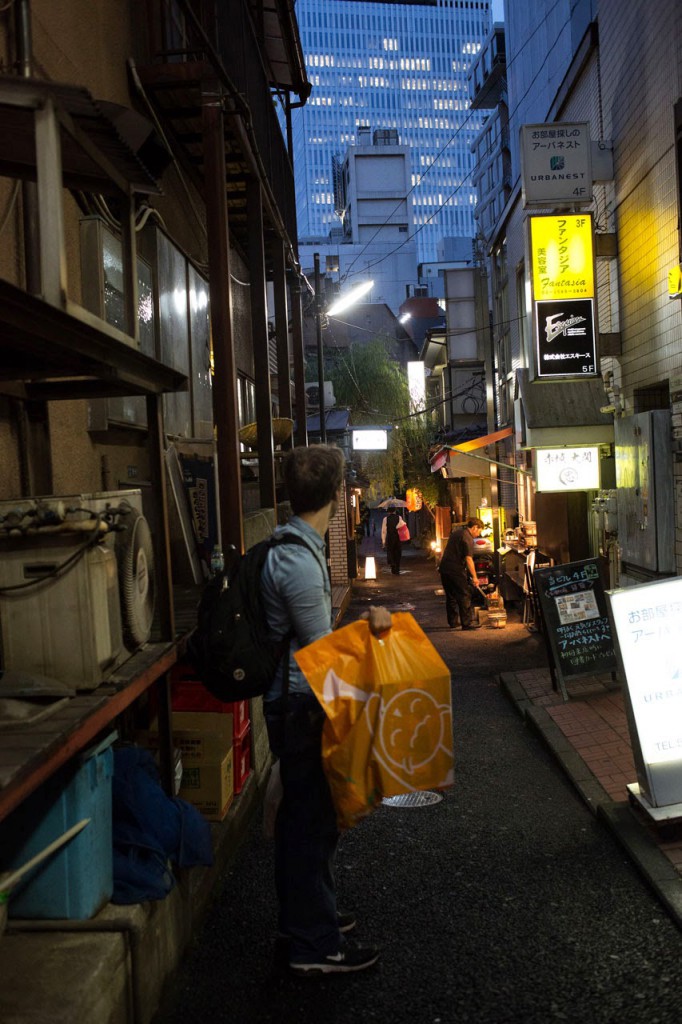 Michael watching someone grill food in an alleyway near our hotel.
The room was tiny, as small as a standard interior cabin on a cruise ship, with a slightly bigger bathroom. That means there's barely enough room for a normal person to walk between the bed (which is up against a wall on 3 sides) and a tiny desk with a mini-fridge. This is not surprising, because real estate is even more expensive in Tokyo than in Manhattan. But luckily we didn't spend a lot on it, since we got a deal. (The current rate as I'm writing this is $700+, but it's also sakura season and we went during the summer.)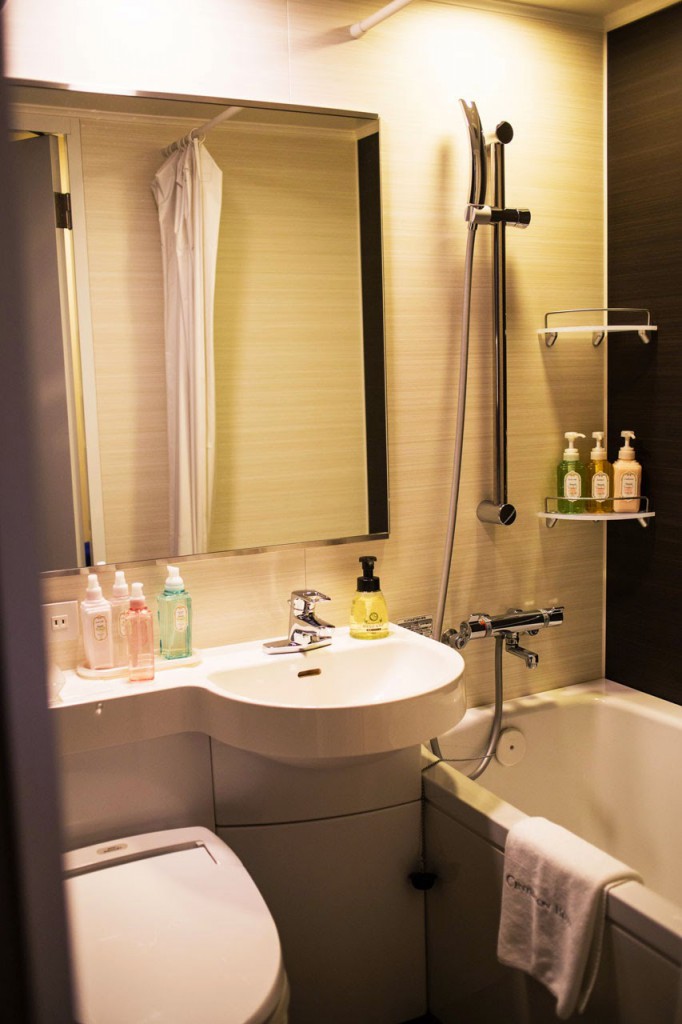 The tiny but well-equipped bathroom at the Centurion Hotel Grand in Akasaka
The place had fantastic amenities however, and they introduced me to the Japanese-style lotions that look and feel like water (labeled "moist water" below).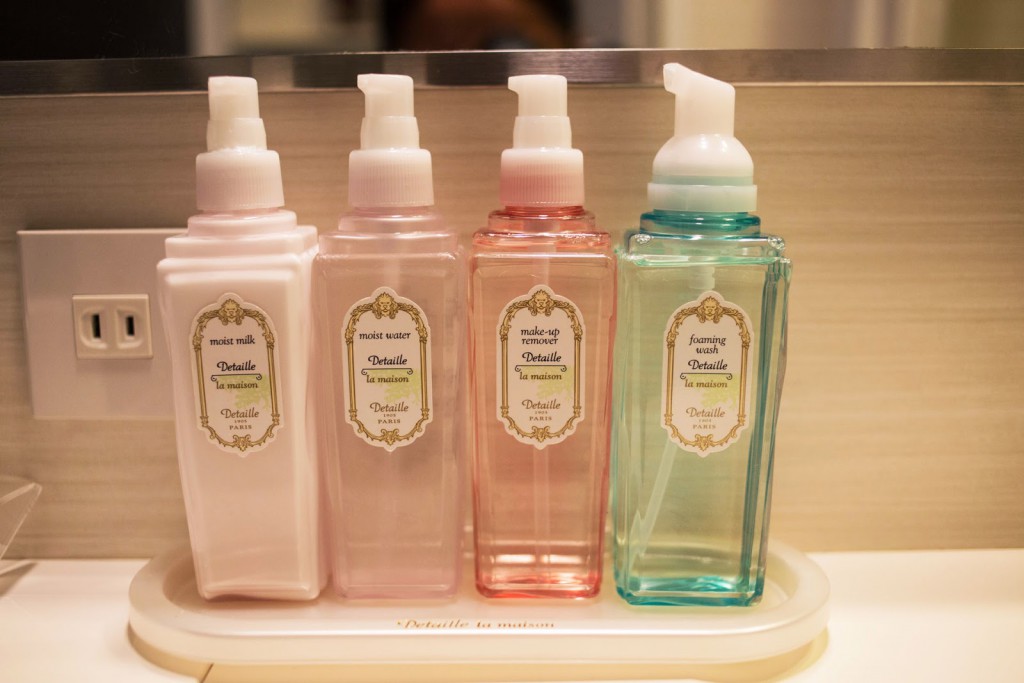 They even had hair ties (useful since I basically lose one of these a day) and a folding comb/brush combo.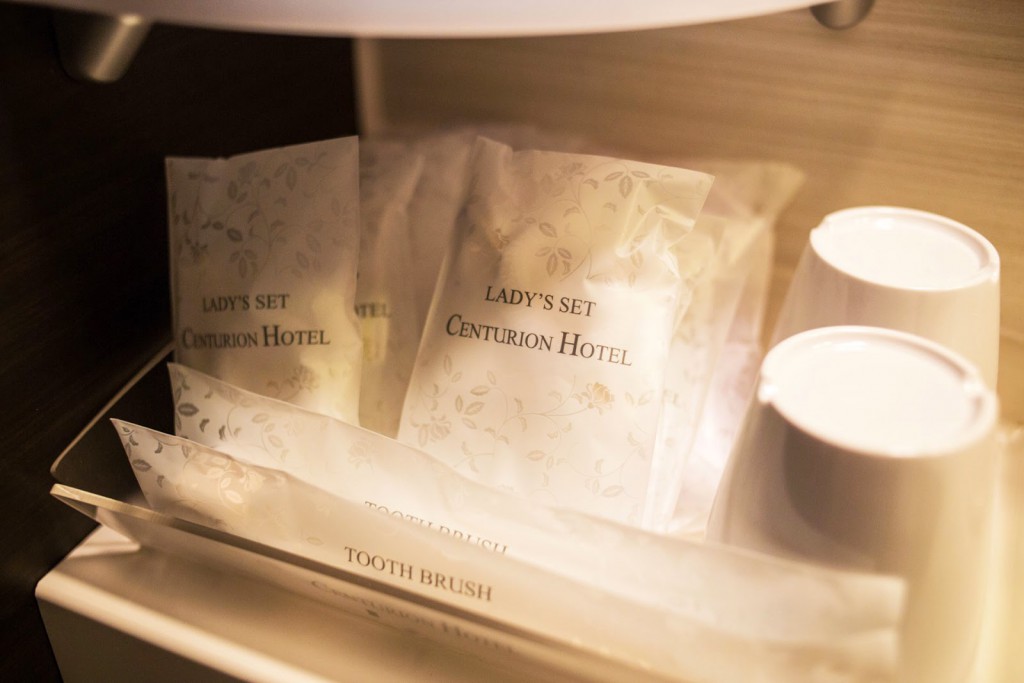 After inspecting the amenities and chilling a bit, we headed out for dinner at the nearby Akasaka Biz Tower, near the Akasaka station on the Tokyo metro.
Akasaka Biz Tower Atrium, 2F
107-6301 5-3-1 Akasaka, Minato-ku, Tokyo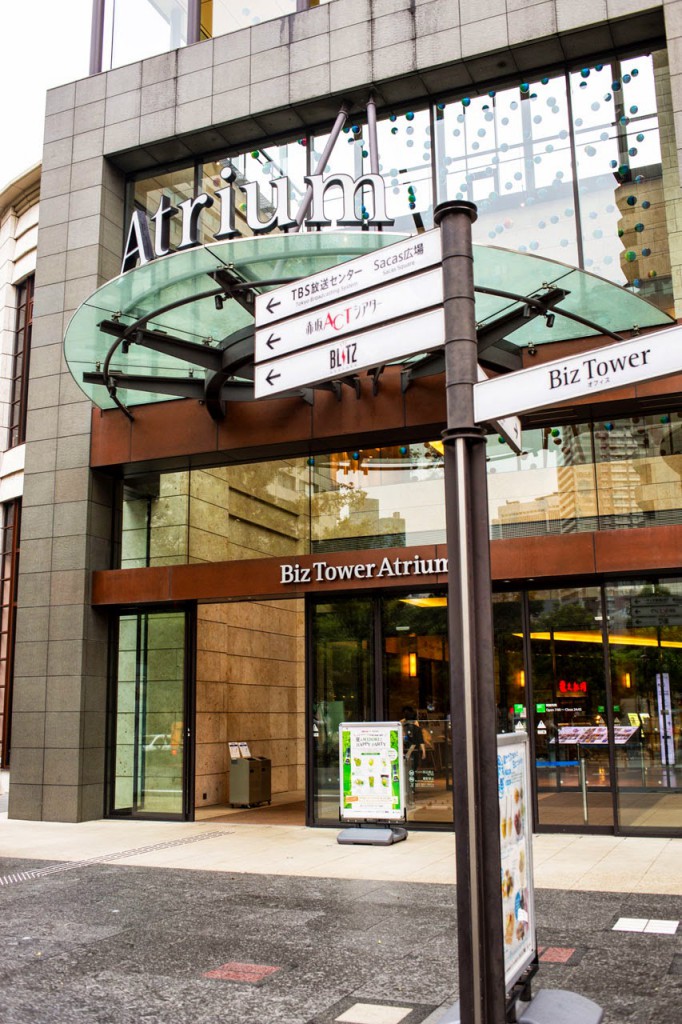 Umegaoka Sushi no Midori was one of the better (and cheaper) Japanese restaurants in the section of Akasaka we stayed at, and we were already too exhausted from spending an entire week in the Philippines to venture any further, at least on our first day.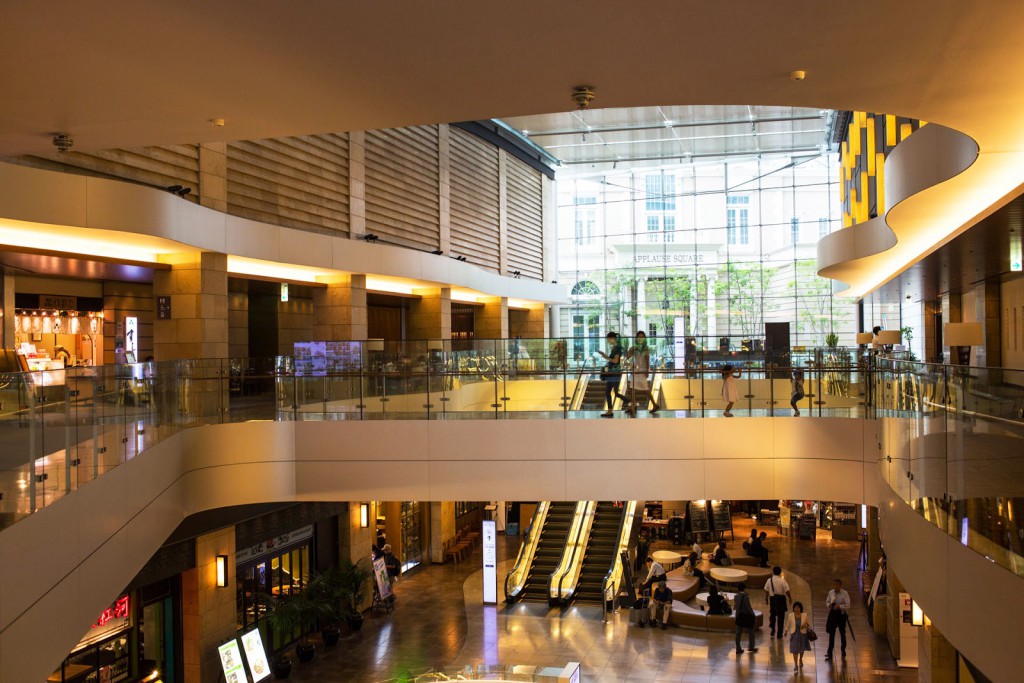 Akasaka Biz Tower Atrium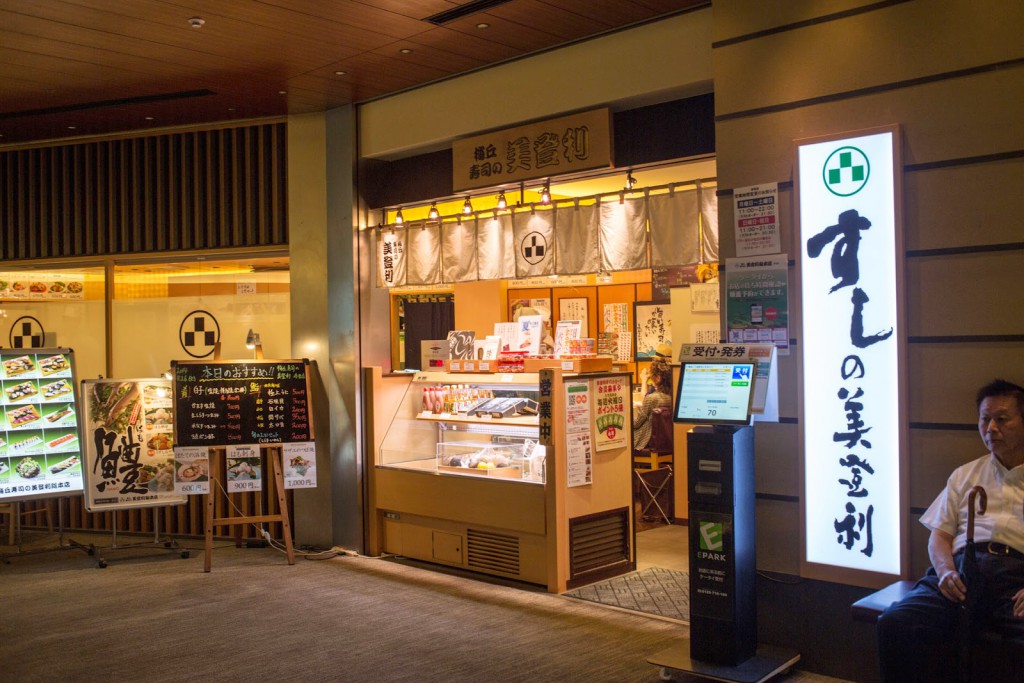 Umegaoka Sushi no Midori
We were somewhat confused about where to go when we got to the 2nd floor because all the signs were in Japanese, but it was really the only sushi place there so we eventually found it. (If you're in the area and curious what else is at the Biz Tower Atrium, here's a
directory
).
We were asked if we wanted to sit at the bar or at a table, and we (like idiots) decided to sit at the bar. We were immediately asked what we wanted to drink… in Japanese. As we stared confusedly at the all-Japanese menu, the lady beside me (who thankfully spoke English) took pity on us and explained that if you sit at the bar, you're expected to order fast (especially your first drinks). We repeatedly conveyed our gratitude, and asked her to order whatever is good to drink for us. She apparently had been a regular there for months, and ordered for us the same thing she was drinking, which wasn't even on the menu. It tasted similar to soju, was slightly sweet and refreshing, absolutely perfect for drinking with sushi. I made a note of what it's called somewhere, but lost it. So if you live in New York and can tell me where to get this drink here, I would definitely owe you one.
We ordered something like a large sampler set of sushi. It came with a small salad that was so delicious I kept coming back to it throughout the meal, despite the fact that the sushi was (obviously) the most amazing sushi I'd ever had. Now I understand what people are talking about when they say sushi in New York is crappy. Everything tasted so fresh, like it had just been fished out of the sea.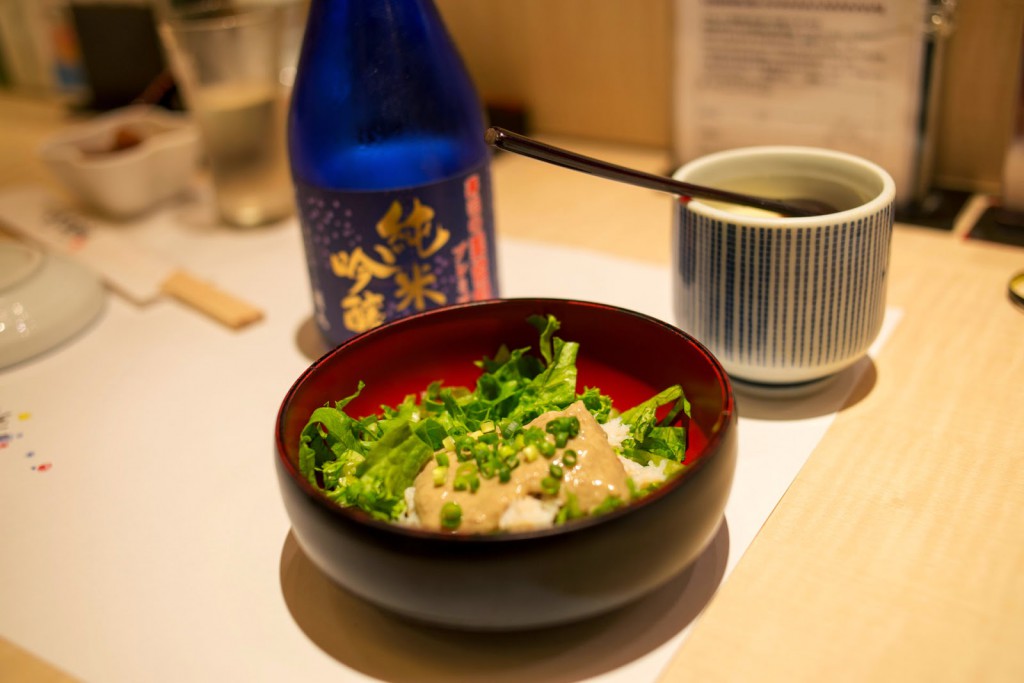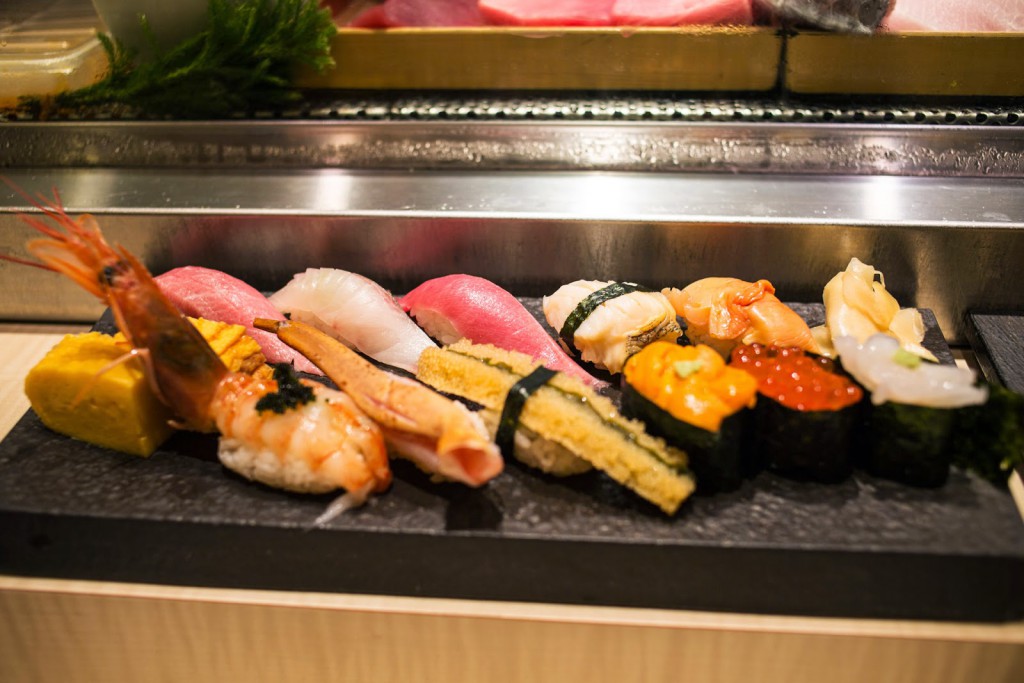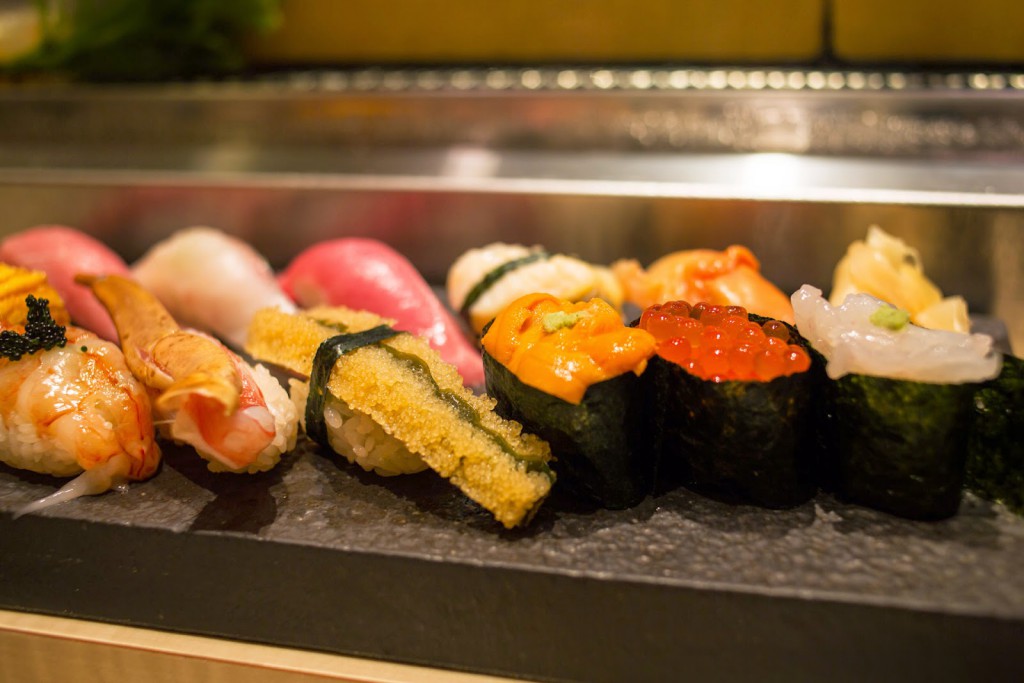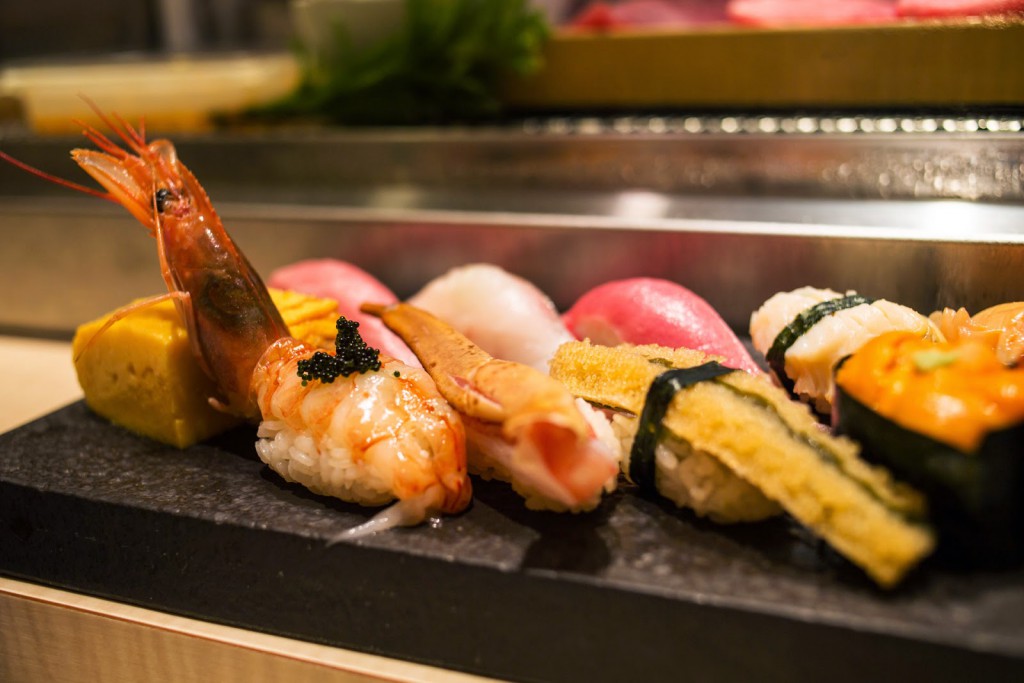 According to the Biz Tower directory, the original restaurant is located at the suburb of Umeoka at the district of Setagaya. Apparently, they are the "original inventor of the one piece sea eel" and their ingredients are "brought every day directly from the fish market 'Tsukiji' at an inexpensive price". It's one of my regrets from the trip that we never got a chance to see Tsukiji, but I was definitely happy we got to sample some sushi coming from there. The eel was so much fresher and so much more tender than any of the ones I've had elsewhere, and it was quite obviously their specialty, since it was beyond delicious. I would say it has ruined all other eel dishes for me, but I love eel so much that that would be a lie. 😛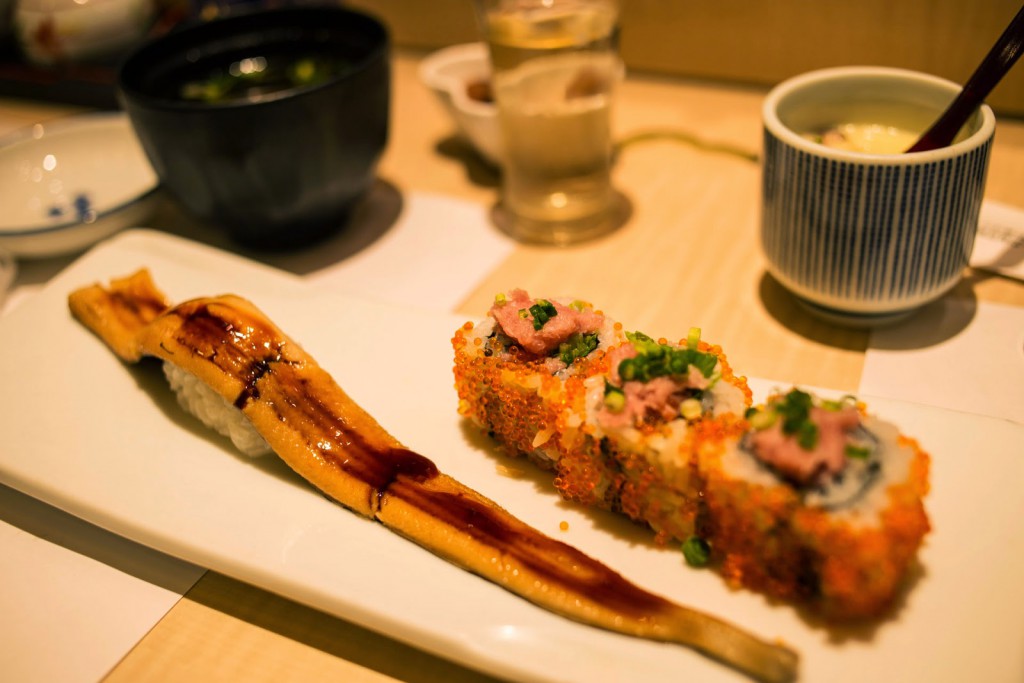 One piece sea eel
Izumi Shoji Hitotsugi Bldg. 1F
3-19-9 Akasaka, Minato-ku, Tokyo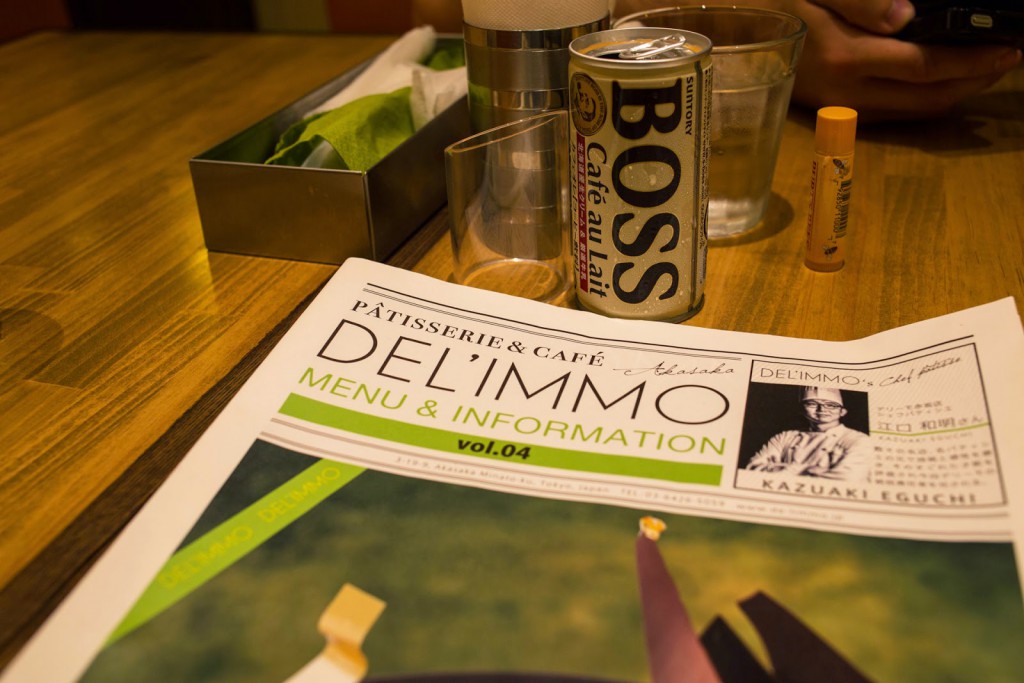 We stumbled upon this French-fusion patisserie and cafe by pastry chef Kazuaki Eguchi on our way back to our hotel, and it was an absolute delight. I wish we'd been able to buy more of their beautiful pastries, but we were still full from the massive plate of sushi. If you want to start drooling, take a look at their menu. They are known for their parfaits, pancakes, and gourmet chocolates.
I had already purchased a can of Suntory Boss Cafe au Lait (now I know about one of the brands that sponsored the Jdrama "Rich Man, Poor Woman") from one of the many, many, and I mean MANY vending machines on the streets of Tokyo. But I just couldn't resist ordering a massive cup of caramel latte from their menu.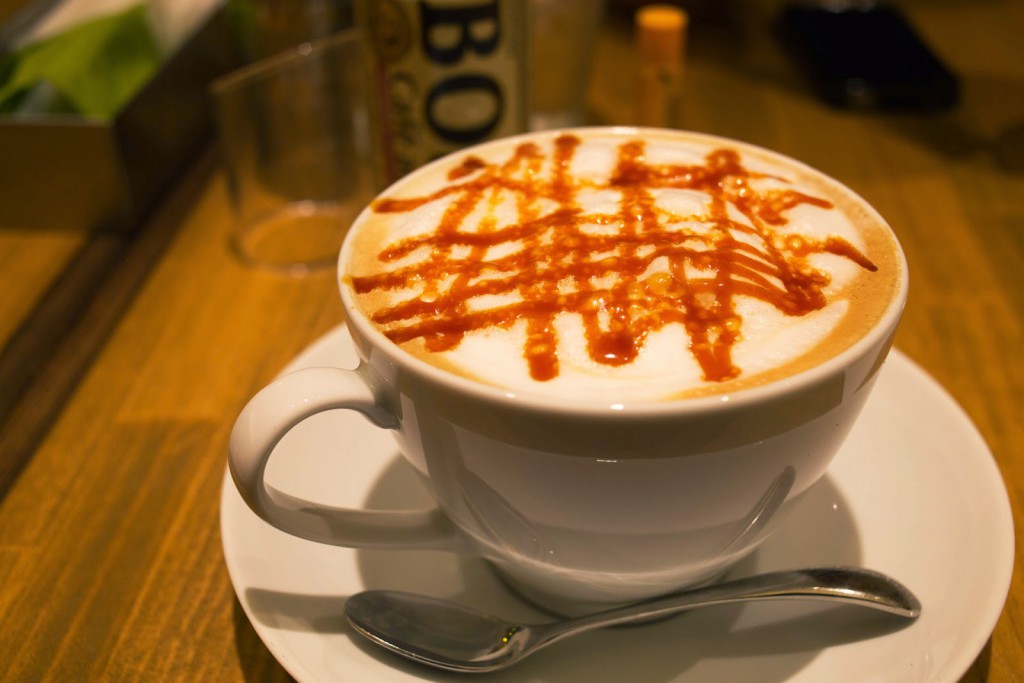 Caramel Latte
The latte was delicious, but the pastries were obviously the stars of the show. I ordered an othello and Michael had the sucre pancake. I remember the othello being a tad less bitter than the ones I've tried here. And, like everything else I'd had so far that day, it was delicious.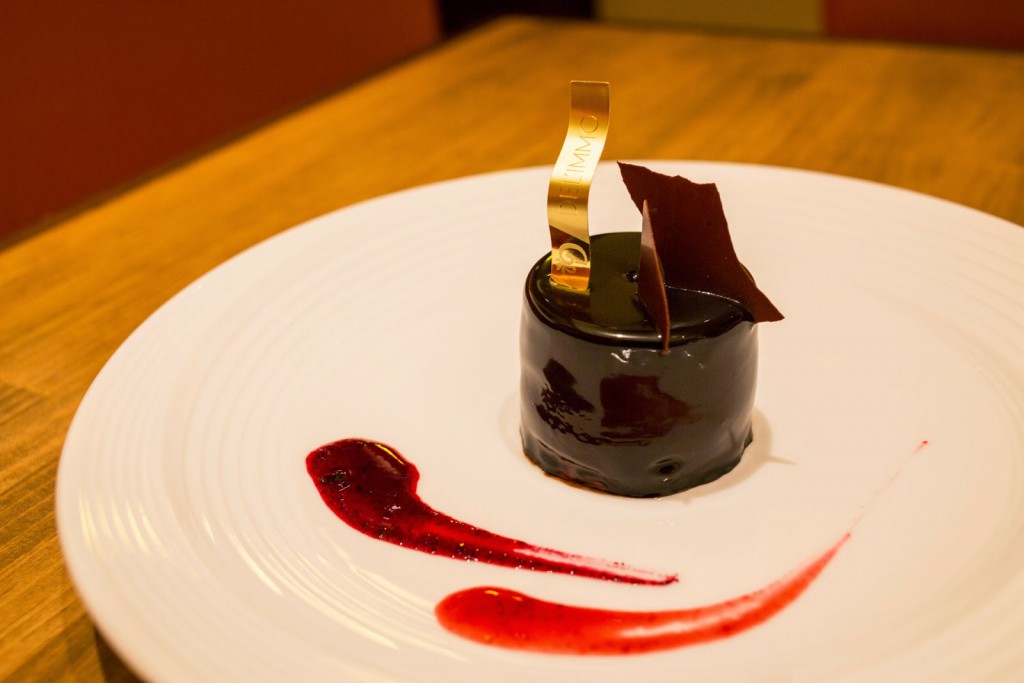 Othello
The sucre pancake was gigantic. I kind of wish Mike had ordered a "prettier" dessert (again, see their menu if you're curious), but he loves simple dishes, and I couldn't deny that this was fantastic. This is what I'd imagined Japanese pancakes to be like ever since I tried (and failed) to make a rice cooker pancake a few months before this trip.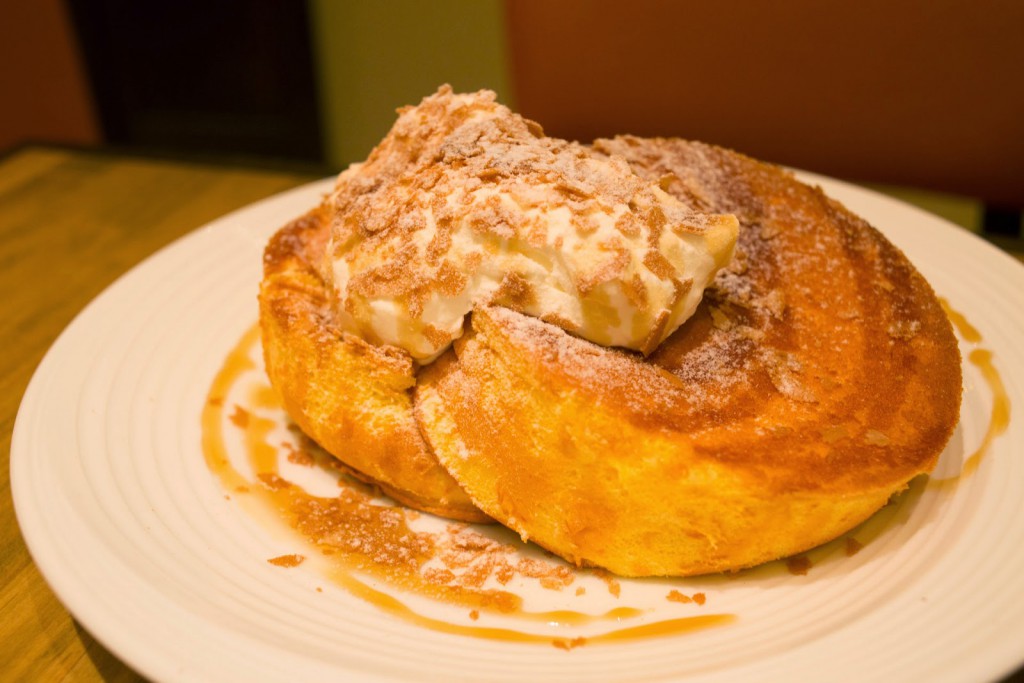 Sucre Pancake
After dessert we wandered around Akasaka for a bit, getting some essentials (and non-essentials :P) from drugstores and a gift/stationery store I absolutely loved. And then we hit the sack early since we were tired from our flight earlier in the day. I have to get into the shopping quite a bit, so I'll have to put up my loot on a different post. In the meantime, thanks for reading this despite my month-long absence from this blog, and hope you're liking Not Bored NY's new look!Related Posts:
Shinjuku Gyoen National Garden, Isetan, and Harajuku
Kyoto: Tofuku-ji Temple, Gion, and Arashiyama
Lake Kawaguchiko, Hakone Ropeway, and Teppanyaki