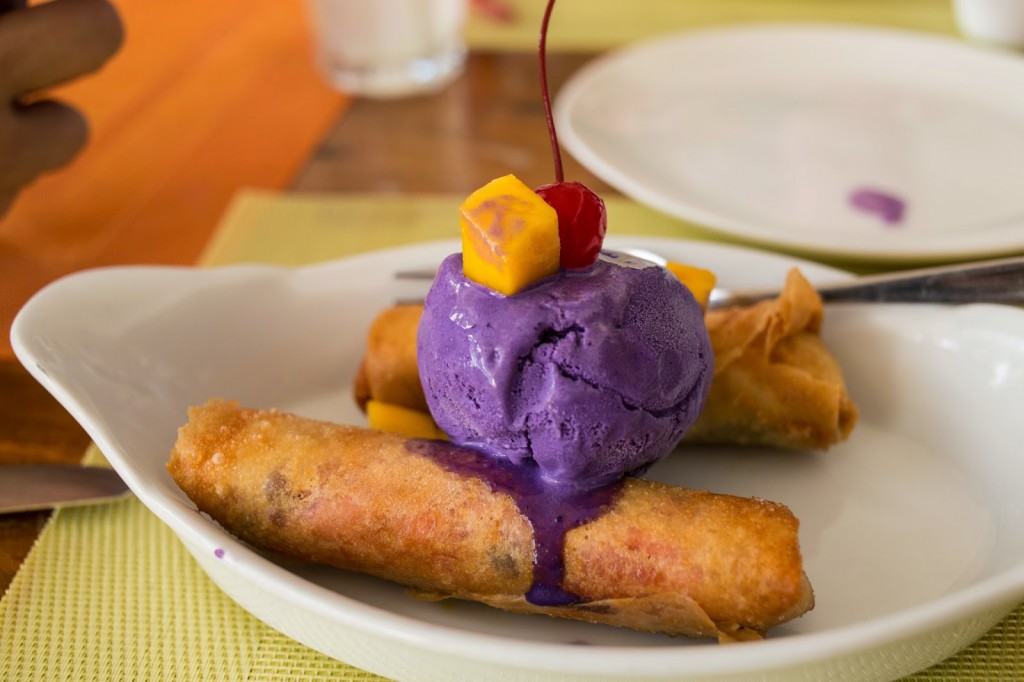 Our first foray out onto the white beach coming from Shangri-la Boracay, was in search of the most important thing to me in any travel itinerary: good food. This was, I believe, my 4th Boracay visit to date, so I'd been to the usual haunts like Real Coffee, Smoke, Jonah's, Aria, and Steakhouse Boracay, and I was itching to try other places (of which there were countless new ones since my last visit). I finally decided on trying Titos Resto & Grill, due to their Certificate of Excellence 2014 and gorgeous photos on TripAdvisor.
We went for lunch at Titos after already having a very delicious and very filling breakfast at Shangri-la, so we erred on the side of not having enough food this time around. Despite the lack of variation, we still had a good meal. The view from Tito's is fantastic (if you don't count the ugly bamboo "walls" protecting establishments from the wind during our stay), the windows are wide, and the lighting was therefore gorgeous. It is no longer a mystery to me why there are so many tempting photos of their food on TripAdvisor.
I was immediately drawn to their aligue (crab fat) rice, which I hadn't had in so long that I couldn't even remember the last time I did. One of our companions asked me if it was equivalent to the "green stuff" on lobster, to which I had no answer at the time, but Wikipedia (great source I know) informed me that it is indeed, the same thing. Whatever it is, I've always found it to be delicious. This particular dish however was a bit on the subtle side, which I guess was fine considering we mostly ordered saucy dishes.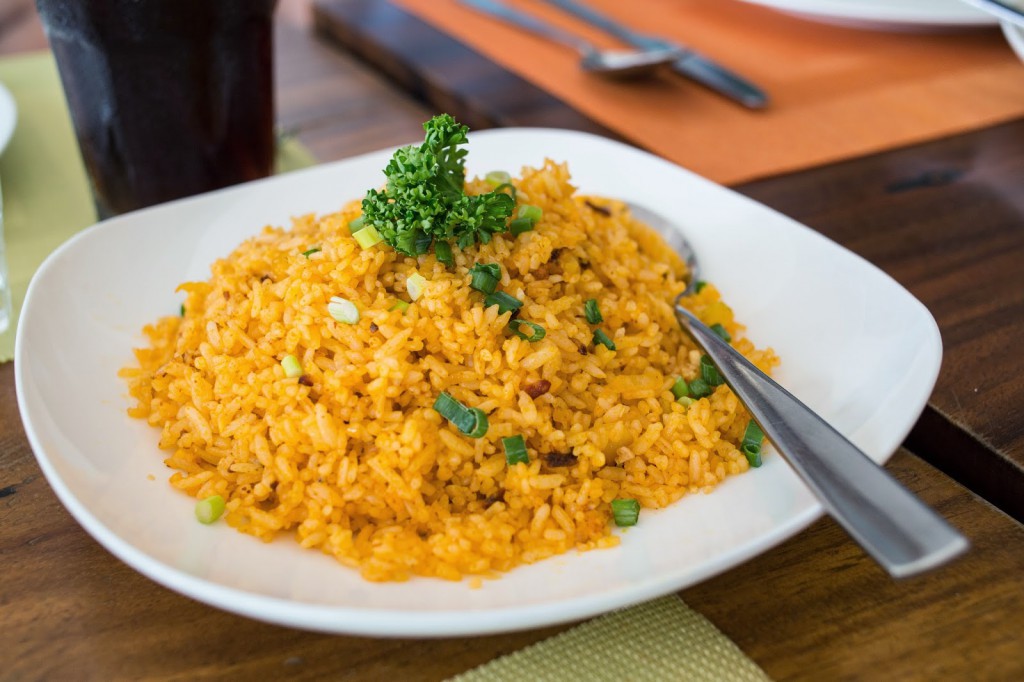 Aligue Rice
Our next order was the Bicol-Aclan Express, made of pork, coconut milk, shrimp paste, green beans, and peppers. This is one of Mike's favorite Filipino dishes, and he always orders it whenever we're at a Filipino restaurant. This particular one was chunkier, a lot less spicy, and more pork-focused than the one I was used to back home. When thinking of Bicol express I imagine little chunks of pork drowning in a mass of chopped up peppers and vegetables. This was delicious nonetheless, and of course it's much easier to eat when you're not reaching for your glass of water after every bite.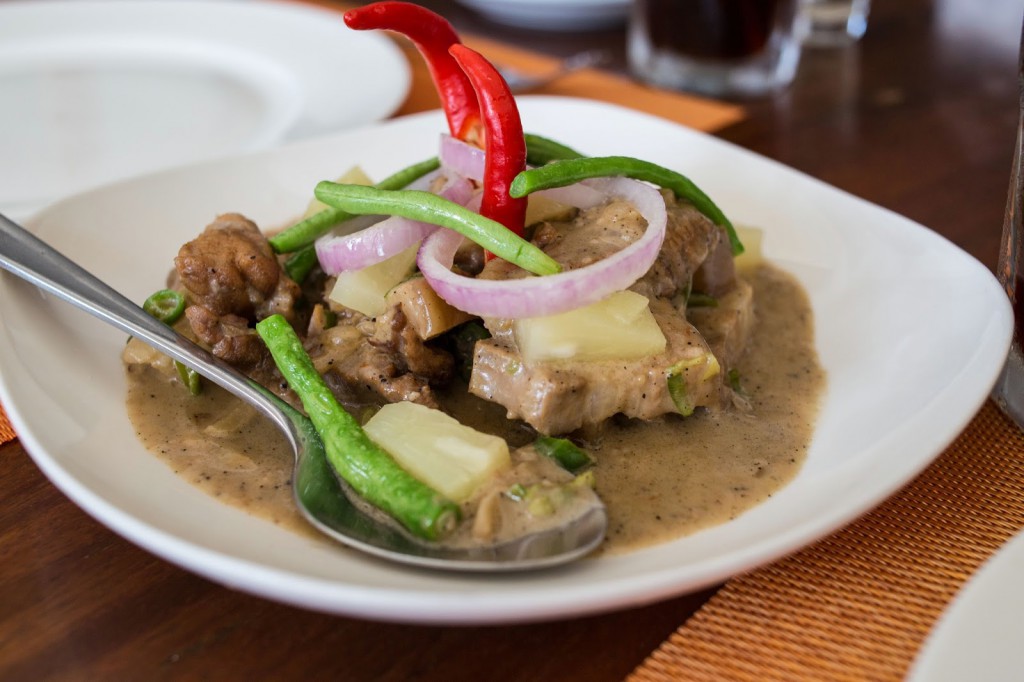 Bicol-Aclan Express
I had to order their adobo with kesong puti, just because it looked so mouth-watering in other photos I've seen. The adobo itself was delicious, with the usual melts-in-your-mouth tenderness I have come to expect from any decent pork adobo, and the sauce was good, and not too vinegary (which is something I hate in adobo), but the kesong puti got a little lost in the flavors here. I guess the problem is that the sauce for adobo is already very strong in flavor, and the kesong puti lost that battle. It was a good dish, nevertheless.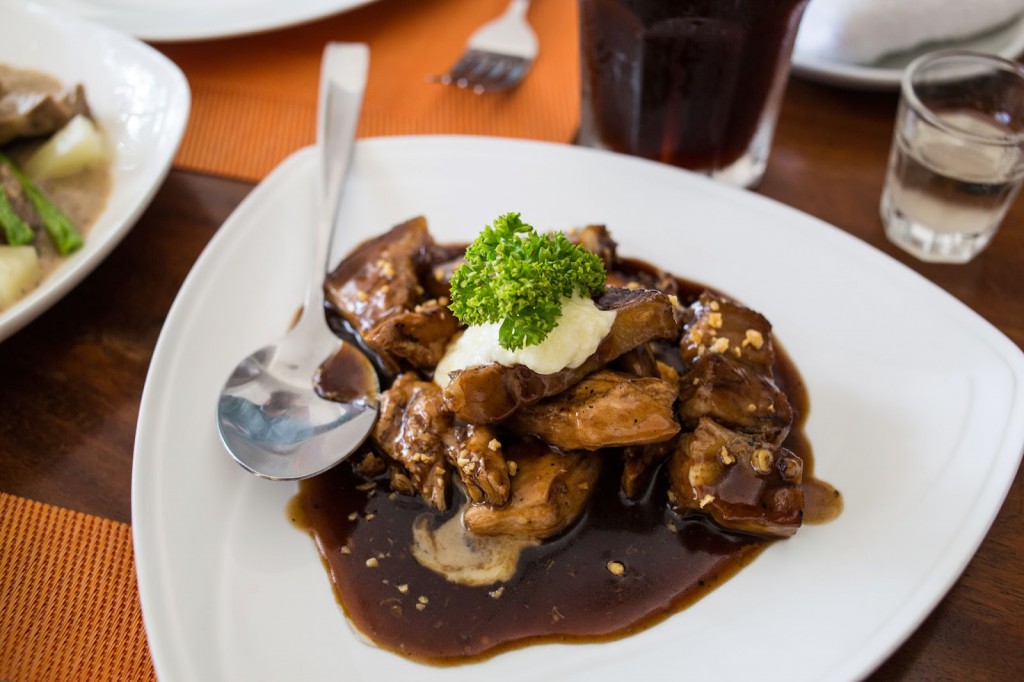 Adobo with Kesong Puti
We also had their lumpiang shanghai (fried pork and shrimp spring rolls), another dish Mike never fails to order at any Filipino restaurant. These were different in that they were twice the size of the usual lumpiang shanghai, and this dish was surprisingly the best thing we had at Titos. There's not much room to describe the perfect lumpiang shanghai: crispy, not too oily, and very tasty.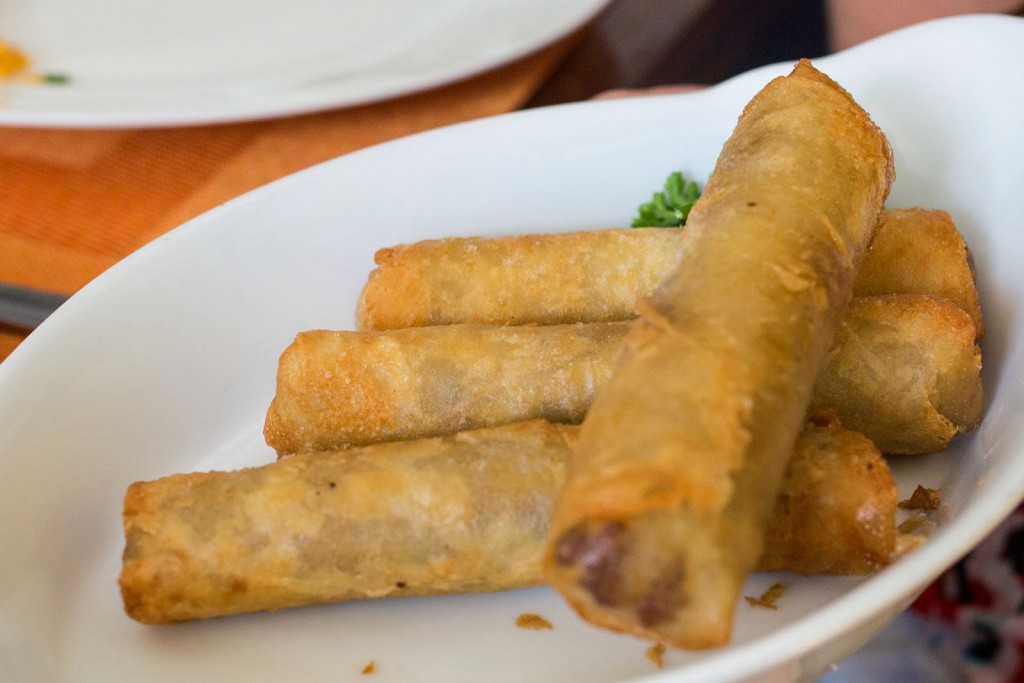 Lumpiang Shanghai
We had already ordered the adobo pizza at Shangri-la, so we opted for the "sisig" pizza this time. One of our companions took two bites before being told it was "pig-face" pizza, at which point he completely lost interest in it. LOL. I of course, being Filipina, do not hold the same contempt for sisig, but to be honest this dish was probably the weakest out of everything we had. Everything else about the pizza was fine, but the sisig itself, which is supposedly the focal-point of the dish, was quite rubbery and not very tasty.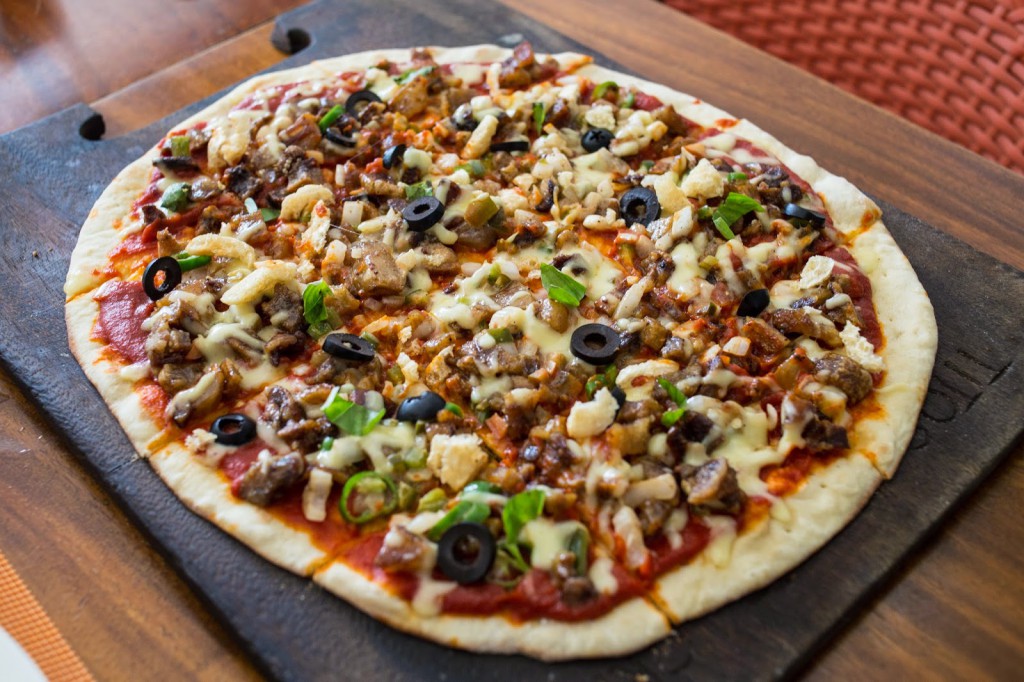 Sisig pizza
Halo-halo, the always gorgeous queen of Filipino desserts, was of course ordered by somebody at our table. Tito's version is very much similar to the classic ones you'll find at any summer stand in Manila. So much so that it reminded me of my childhood.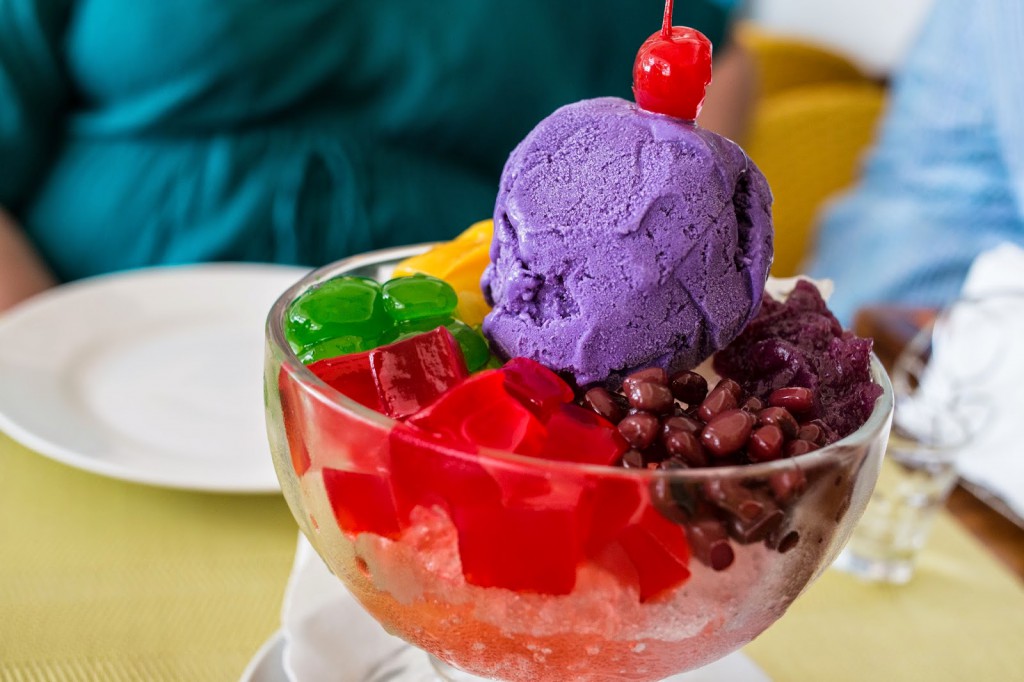 Halo-halo Grande
Mike ordered the Turon a la Mode (fried bananas topped with vanilla ice cream). This was another winner, though I didn't expect any less, given that their lumpiang shanghai was perfect, and I think you'd have to try pretty hard to mess up bananas, caramel, chocolate, and vanilla ice cream if you've nailed the frying part.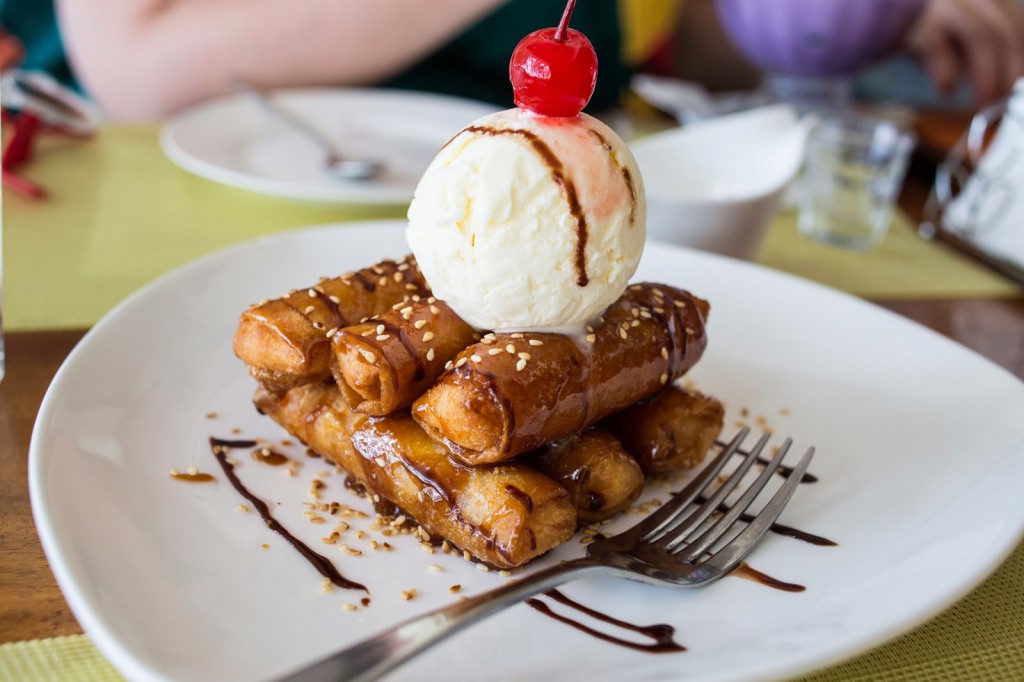 Turon a la Mode
I ordered their Fried Halo-halo because as per usual I was drawn to the strangest dessert on the menu. It's basically another fried "turon" using halo-halo ingredients for the filling instead of bananas. I should've known I would think it was "only okay", given that the funnest part of the halo-halo is the texture/blend of ice, milk, and random ingredients. Serving it in turon form ruined that, but it was still an interesting concept.
Fried Halo-halo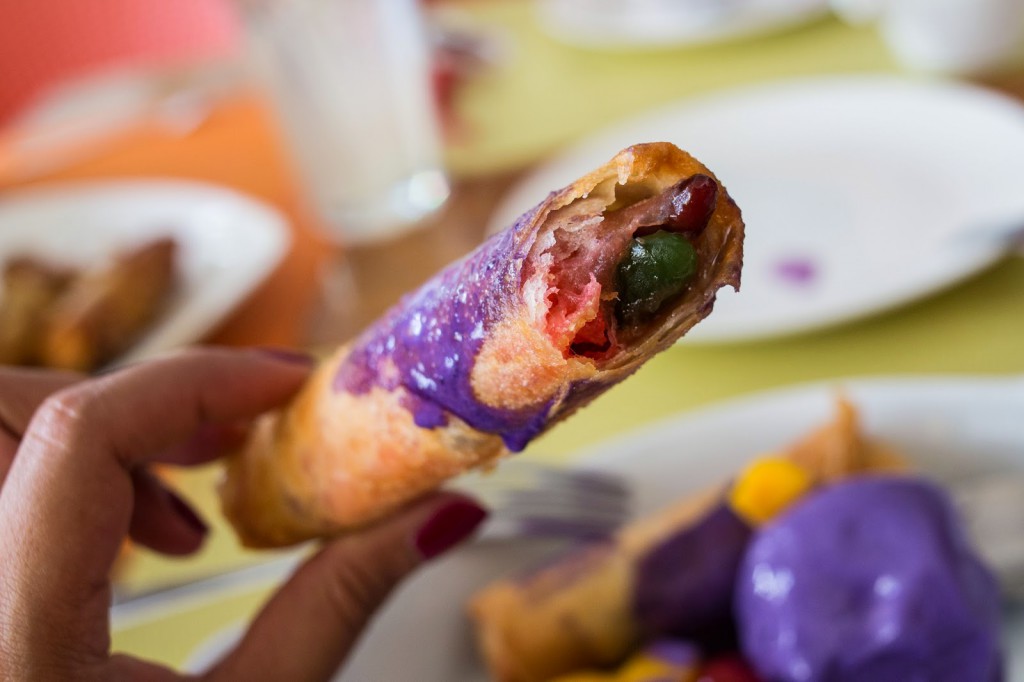 Inside the Fried Halo-halo
Overall I would certainly recommend going to Titos. The dishes are mostly good (and their menu is a good mix of classic and fusion dishes), the view is nice, and the inside of the restaurant is decorated in a modern and cheerful manner, perfect for a lunch in paradise. They even have some art hanging on the walls that you could buy, turning it into one of those restaurant-slash-gallery type things. My only regret is that we were too full to order the usual overflowing table of food I love to get during vacations.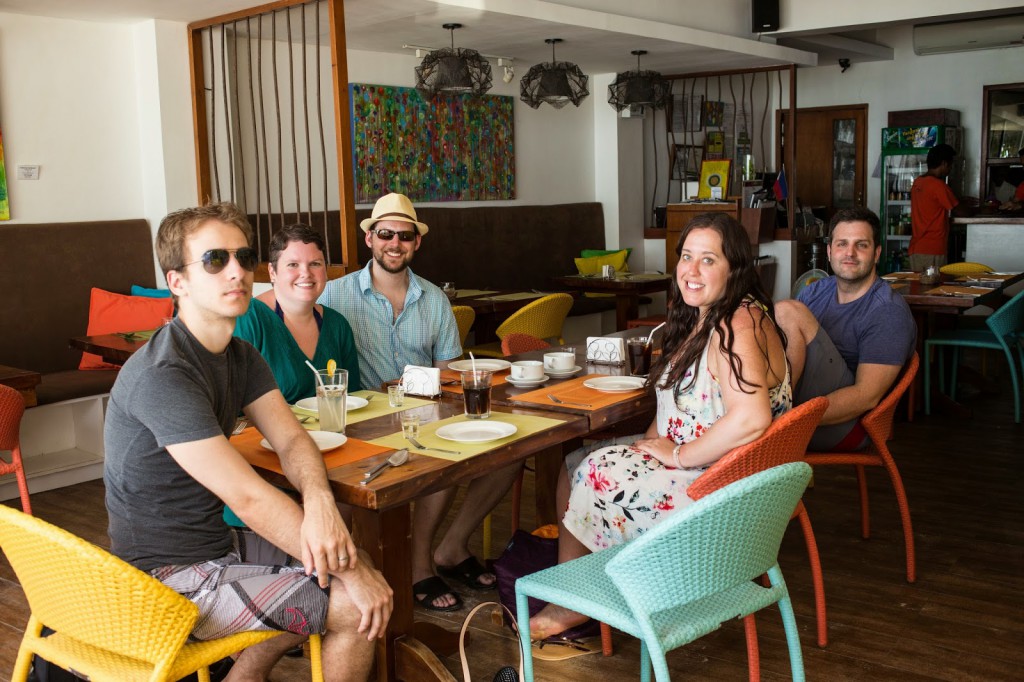 Titos Resto & Grill
Station 2, Beachfront | 2nd & 3rd floor
along White Beach Path (above Pat's Creek Bar)
5608, Boracay, Philippines